The border to Santiago:
Reaching Chile felt as thouh we had fought to escape the tight grip Bolivia had on us. We're not the only ones. Almost all of the travelers we've met or know through the grapevine have had issues whether it be with the people or untimely mechanical failure. When we saw the three small mobile homes next to the gate at Ollangue, we knew we were finally on our way out. Getting stamped out was quick but the guy who would deal with getting our bikes out was nowhere to be found…and then awhile later he appeared.
A few hundred meters up the road in heavy rains, we were in Chile ready to import ourselves and our bikes into the country. The process was easy albeit a little more involved since they did a fairly thorough search. During all of it we could immediately tell the people in Chile would be a lot nicer and more welcoming. This feeling would hold true.
The rain subsided and we kept our fingers crossed as we departed immigration. Our concern for the rain was not that we really cared about riding in rain, it was that we had over 100 miles of dirt to get through and rain can make these roads impassable.
The road while dirt was fast. What made it interesting was that it'd turn from pristine hard pack, to extremely loose sand, to tar soaked dirt. The loose stuff kept us vigilante, and made the ride one of the more dangerous parts of the trip in my opinion. Of course we could have just went 25 the whole time, lowered the risk factor but that's just not our style.
The landscape kept us passing through salt flat after salt flat, mountains, lakes, and totally unique views. With the sun laying low to our right, we didn't stop much to photograph. Calama was the first decent sized town we'd pass and was our goal. We didn't have any hostel booked so we'd be scavenging upon arrival.
When we reached the city my bike began running extremely poorly and soon became un-ride-able. I could sense Tim's frustrations as I pulled onto the sidewalk and began troubleshooting. He wanted to figure it out when we got to our hostel, so did I but the old girl had other plans. I added oil and gas figuring I'd address the simplest causes. She fired back up and idled fine. However, I knew in my gut that the actual fix would be required in the future and was likely a throttle position sensor.
Tim used lonely planet to find a place, the cheapest one of course. After some confusing conversation, we made it into our room, beat. I was demanded to shower and clean my feet which could have cleared a room at that point. To the best of my recollection we didn't eat dinner and simply fell asleep. The morning brought about phone calls to parents and free breakfast which we devoured.
We packed up, grabbed our bikes, and rode to the equivalent of a home depot so Tim could change his oil. I had changed mine using some Venezuelan mystery oil acquired in Bolivia. Then we rolled over to a supermarket and made sandwiches on the sidewalk. We were on a budget.
We left Calama, a town not really renowned for much, simply a layover. Today we headed to the hand in the desert. The Atacama is desolate. The landscape boring. The road straight. We stopped only for fuel and then continued onward. Our pace meant I was frequently adding oil. An hour before sunset we had arrived to the hand. We knew what to expect but in real life it was fairly impressive and kind of a right of passage for the Atacama. A couple from the UK pulled up on an xt225 and a kkr650. The four of us decided to camp behind the hand where there was a strong stench of urine but where the wind was manageable and the ground was level.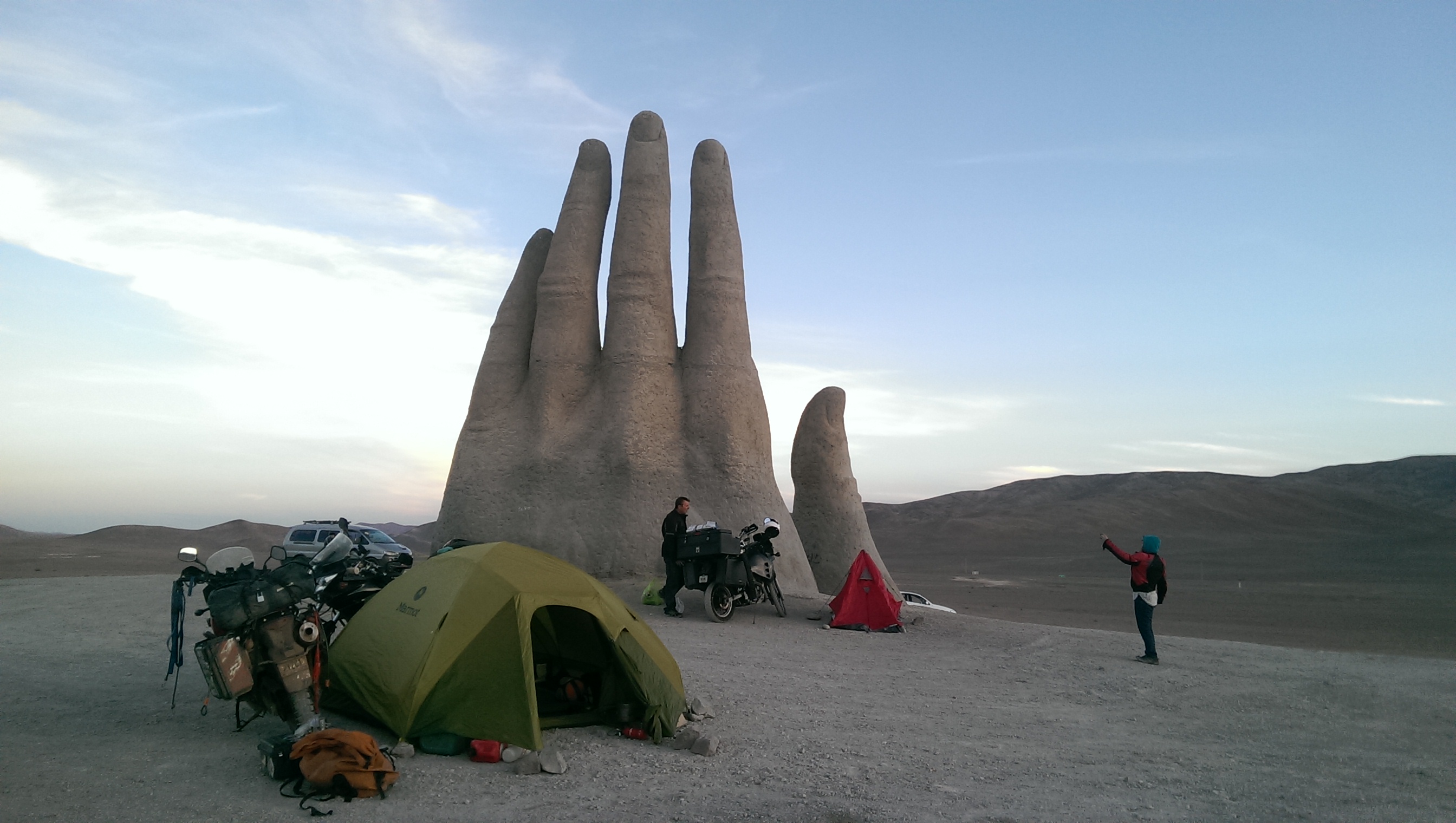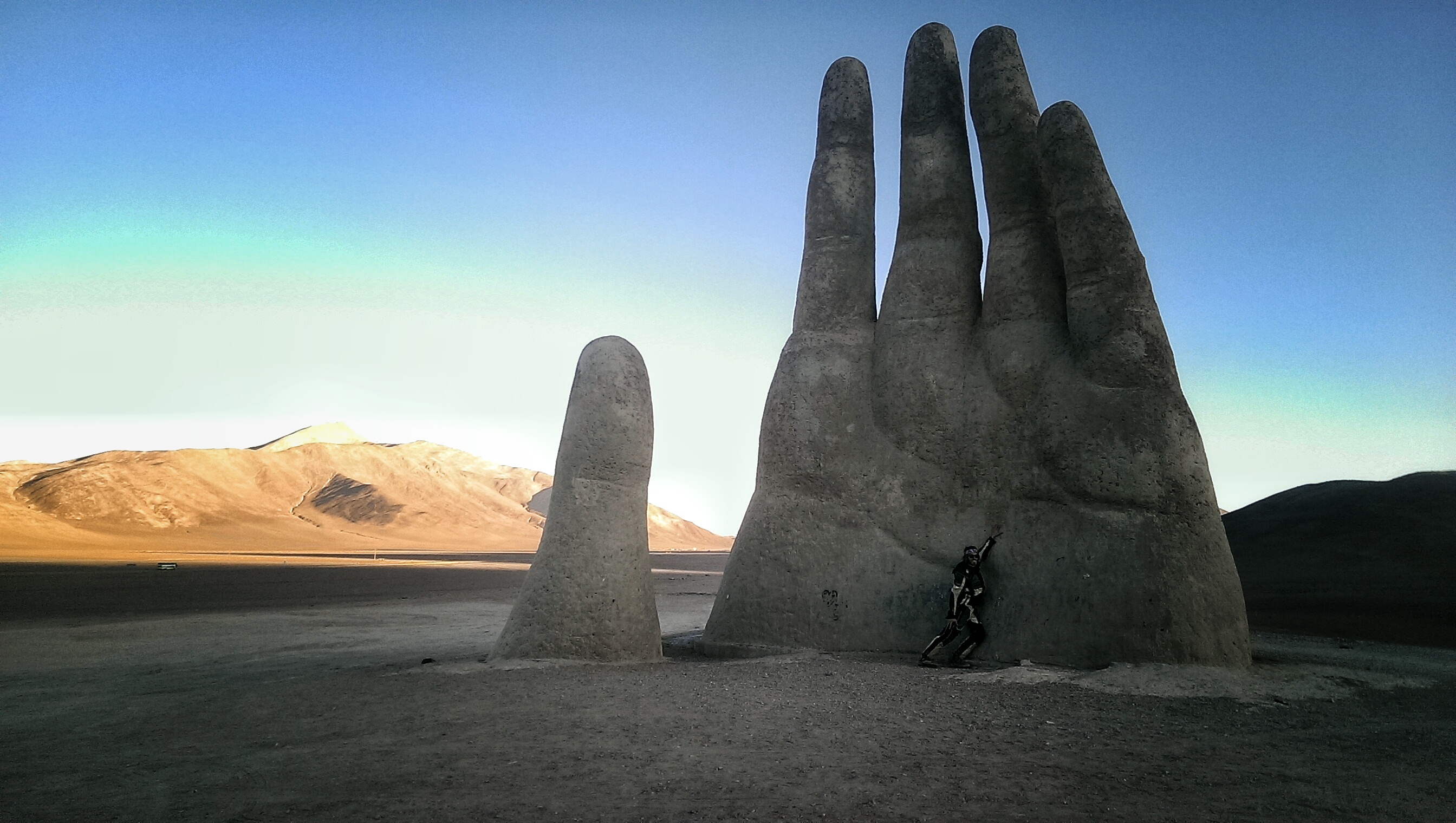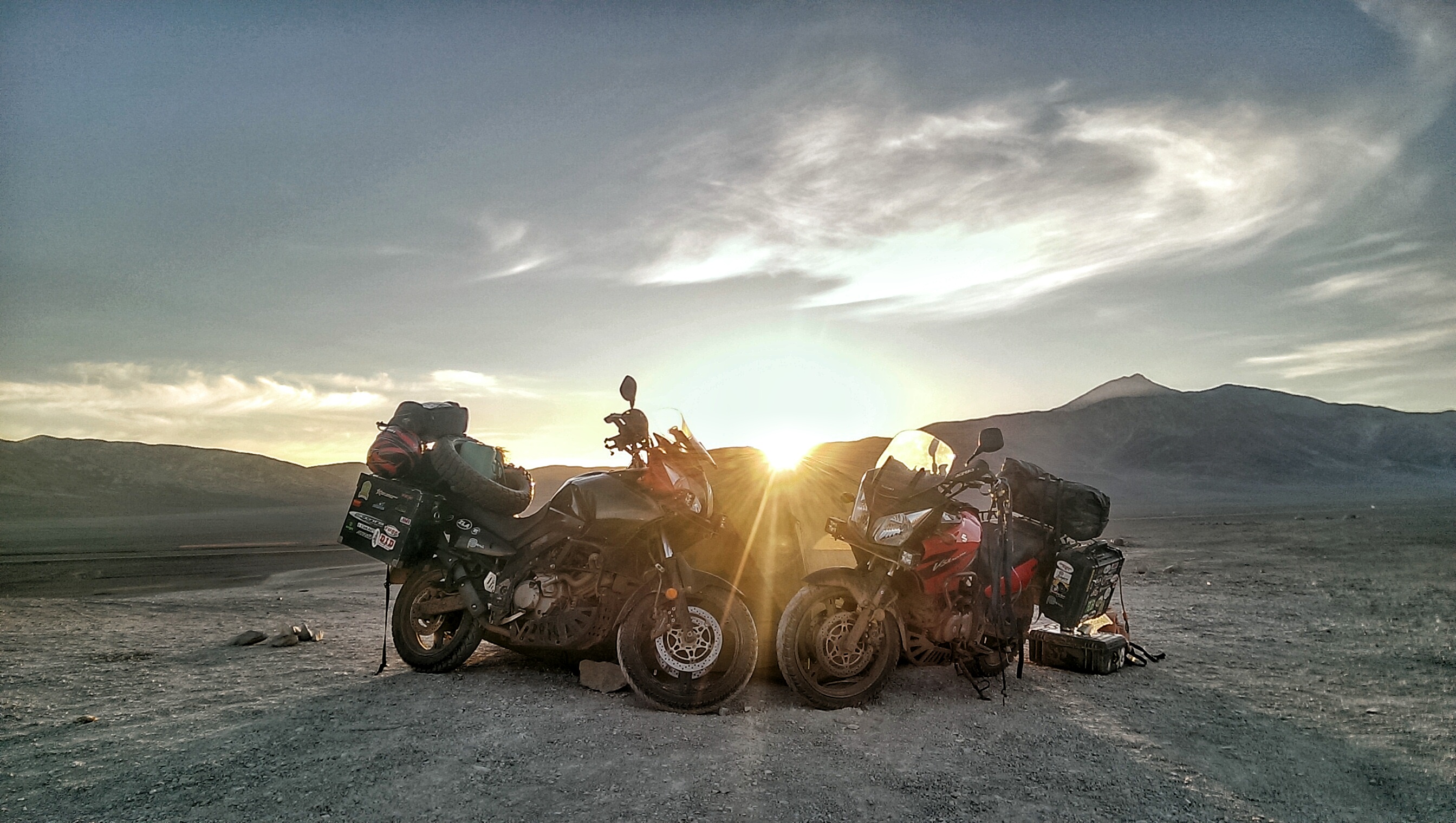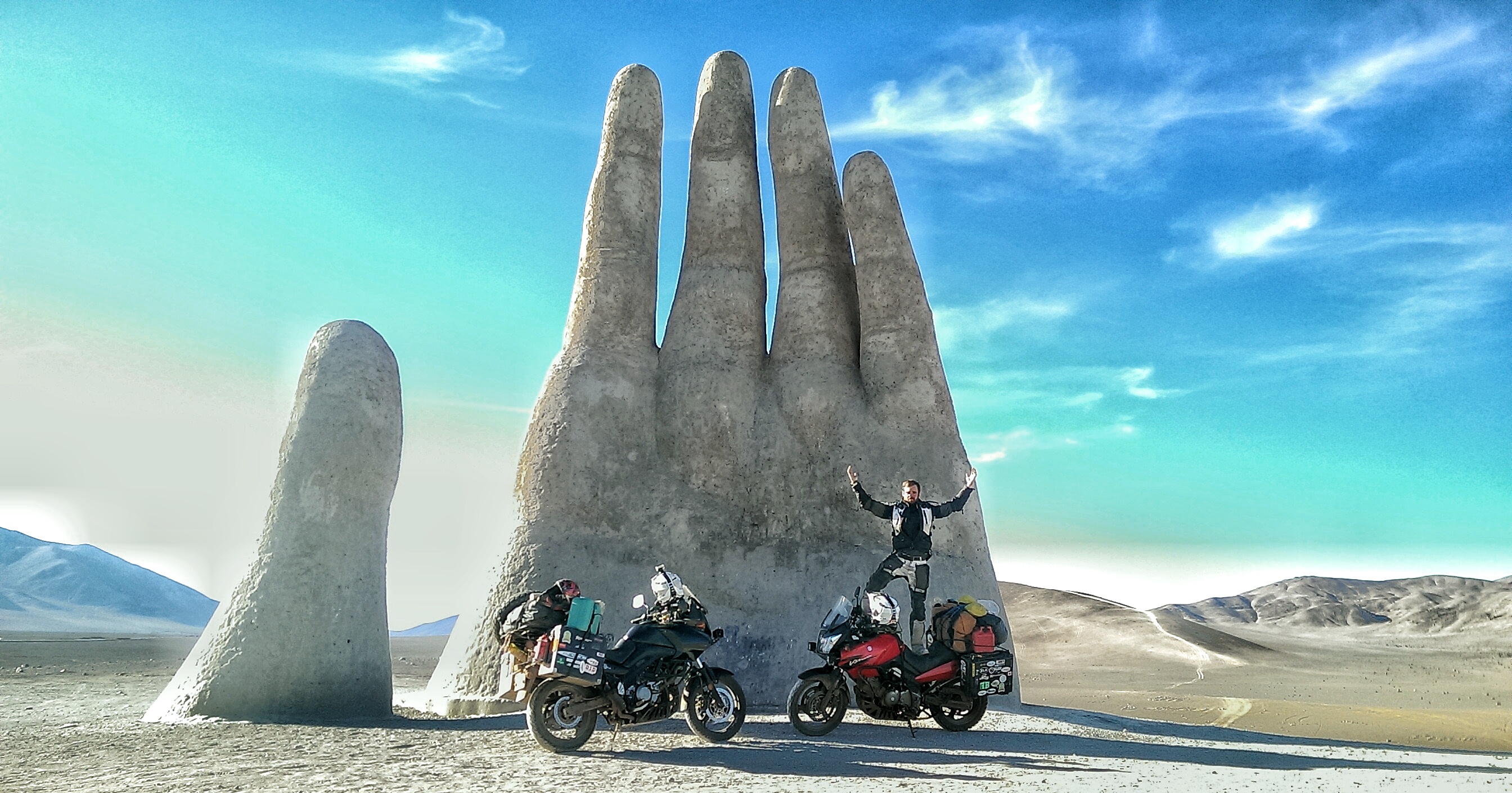 We had several days until our hotel reservation in Santiago so we had no need to hurry. Instead we shortened our riding days, took more breaks, and stopped in towns we normally would have merely passed through. It had been quite awhile since we had camped on the beach so we took the advice to go to Bahia Iglesa. We had arrived late in the afternoon so we got some food and then ice cream, which was fantastic. Afterward we made our way out of town and followed the first dirt road that went towards the ocean. After some time, we came to the edge of a cliff and realized we had found a truly incredible campsite. We setup camp and Tim immediately fell asleep while I went down to the water to take pictures and climb the cliff face.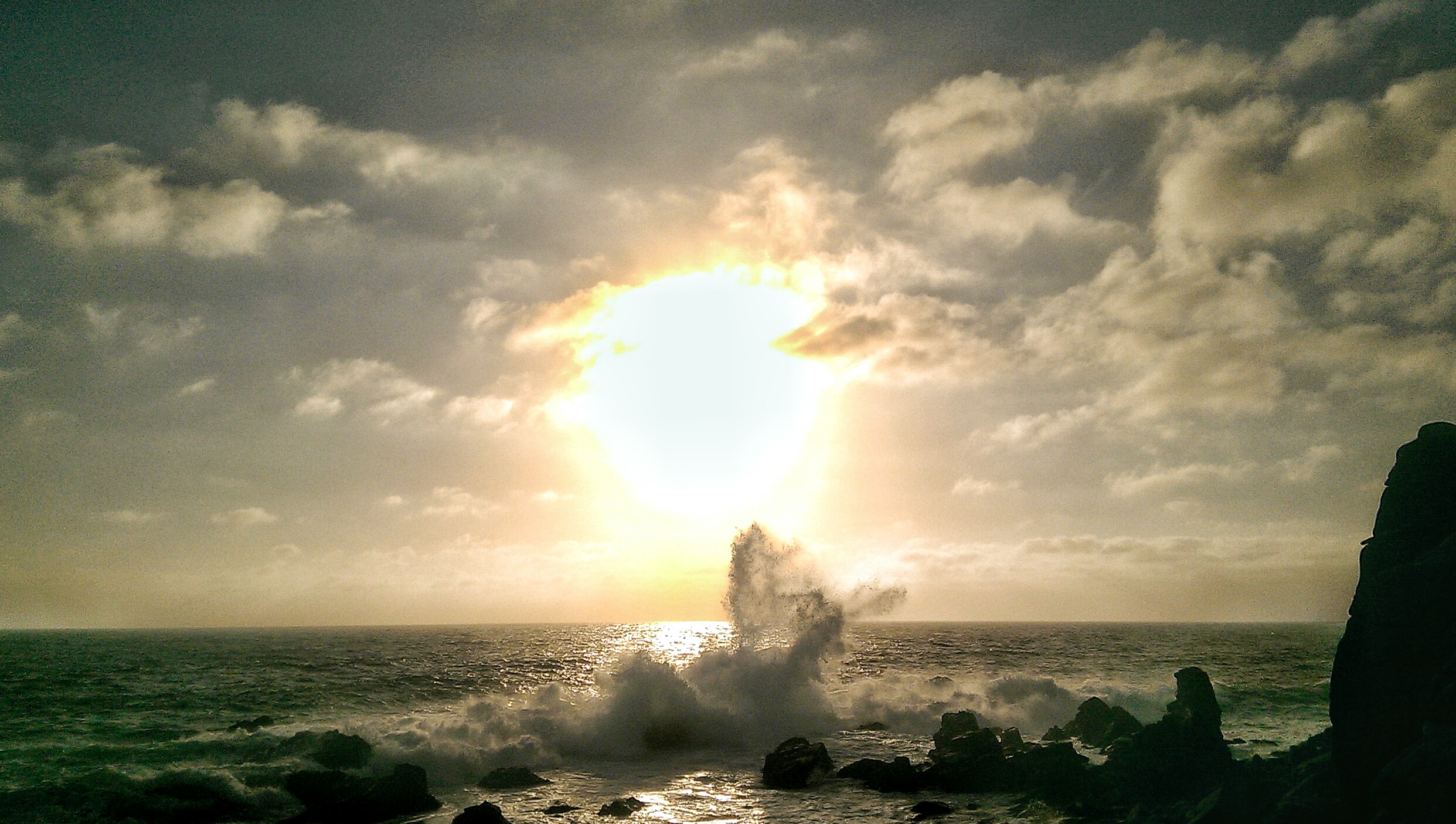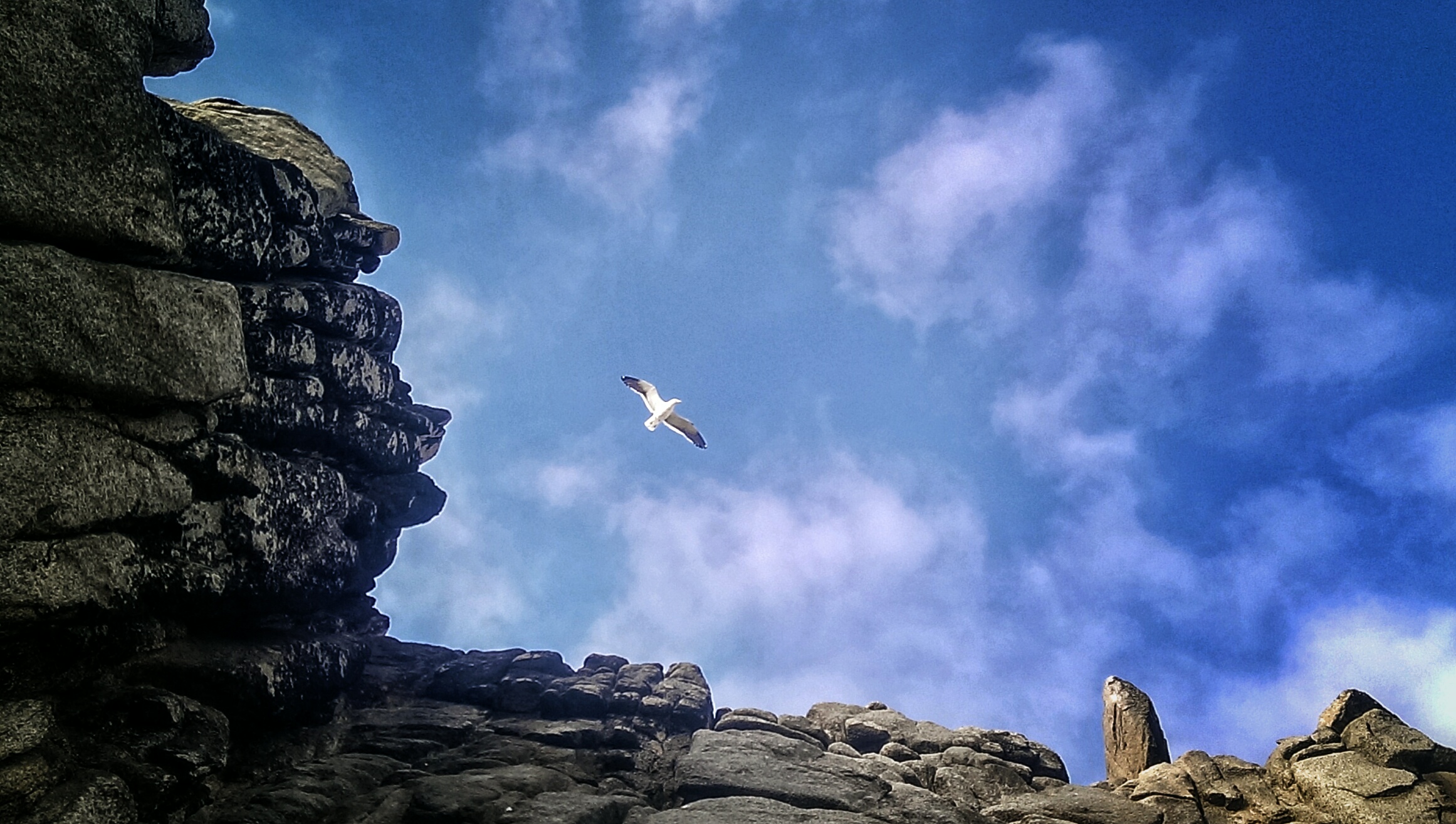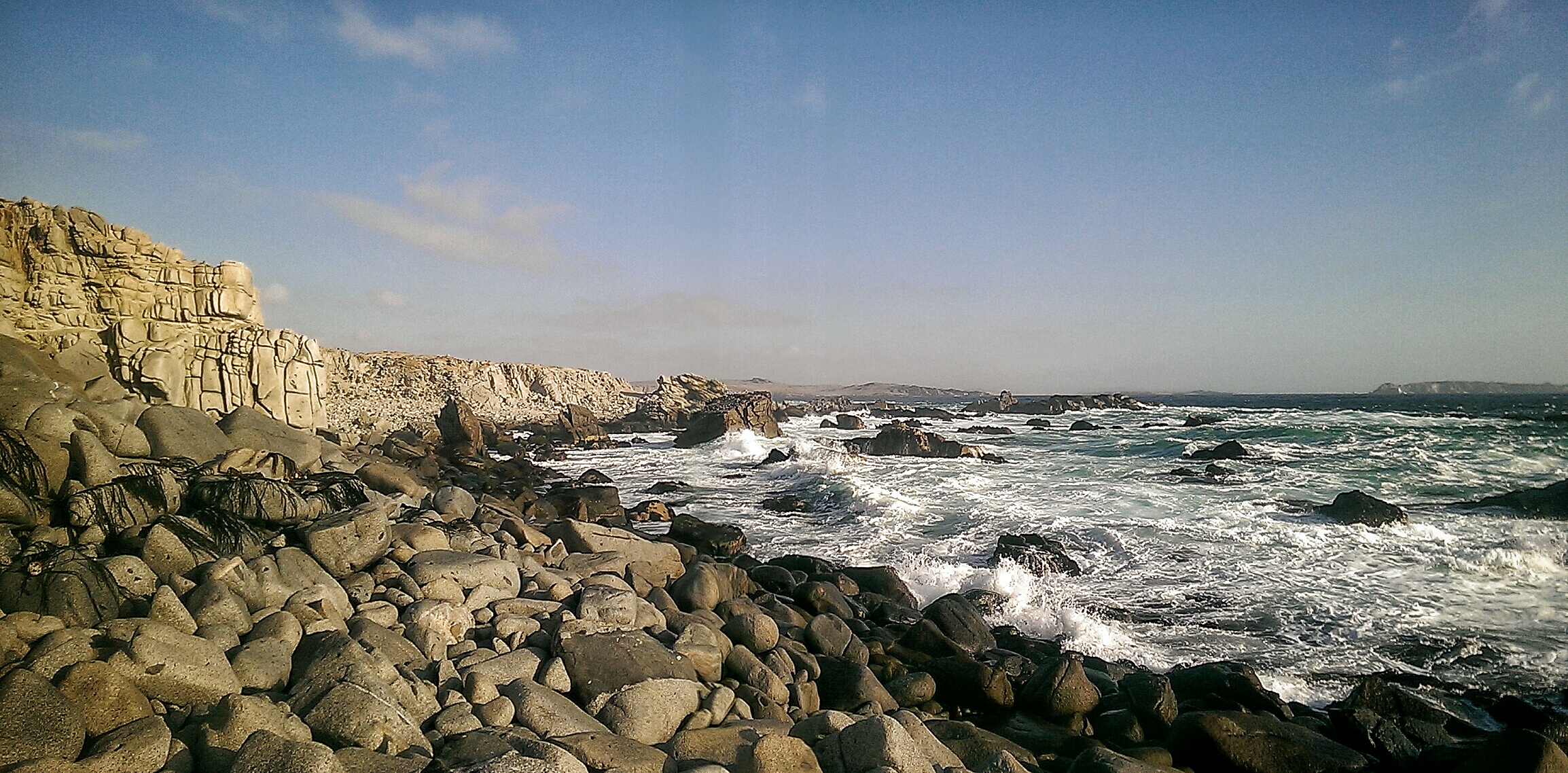 We both took the opportunity to enjoy an awesome sunset with waves crashing over the rock formations just off shore. The waves provided me with an incredible night of sleep despite a sleeping pad that slowly leaked throughout the night.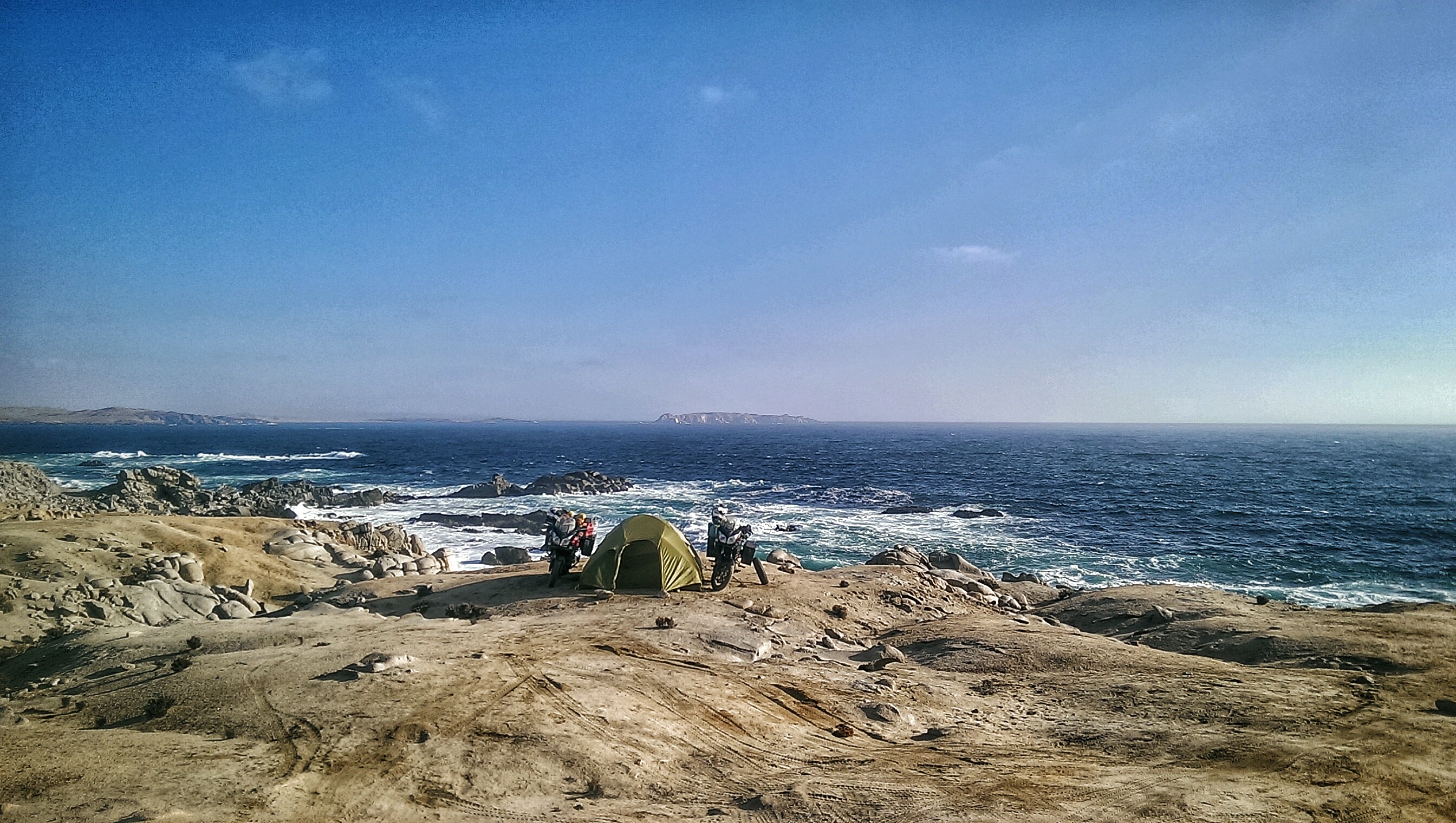 In the morning we finished up another bag of the oatmeal Matt had over-zealously purchased all the way back in Ecuador, or was it Colombia? A quick chain lube/oil add and we were back on the road with basically no plan for the day. The ride was becoming more interesting as we made our way further south and dipped into and away from the coastline. We stopped in a tiny town that shall remain nameless (because I forgot the name) and made ourselves PB&J sandwiches with the finest Ecuadorian salsa de mani. Soon after our departure we passed a couple who were clearly not locals riding 2-up. We pulled over and chatted. They had been traveling the world on a very modified FZ1, their pace was impressive.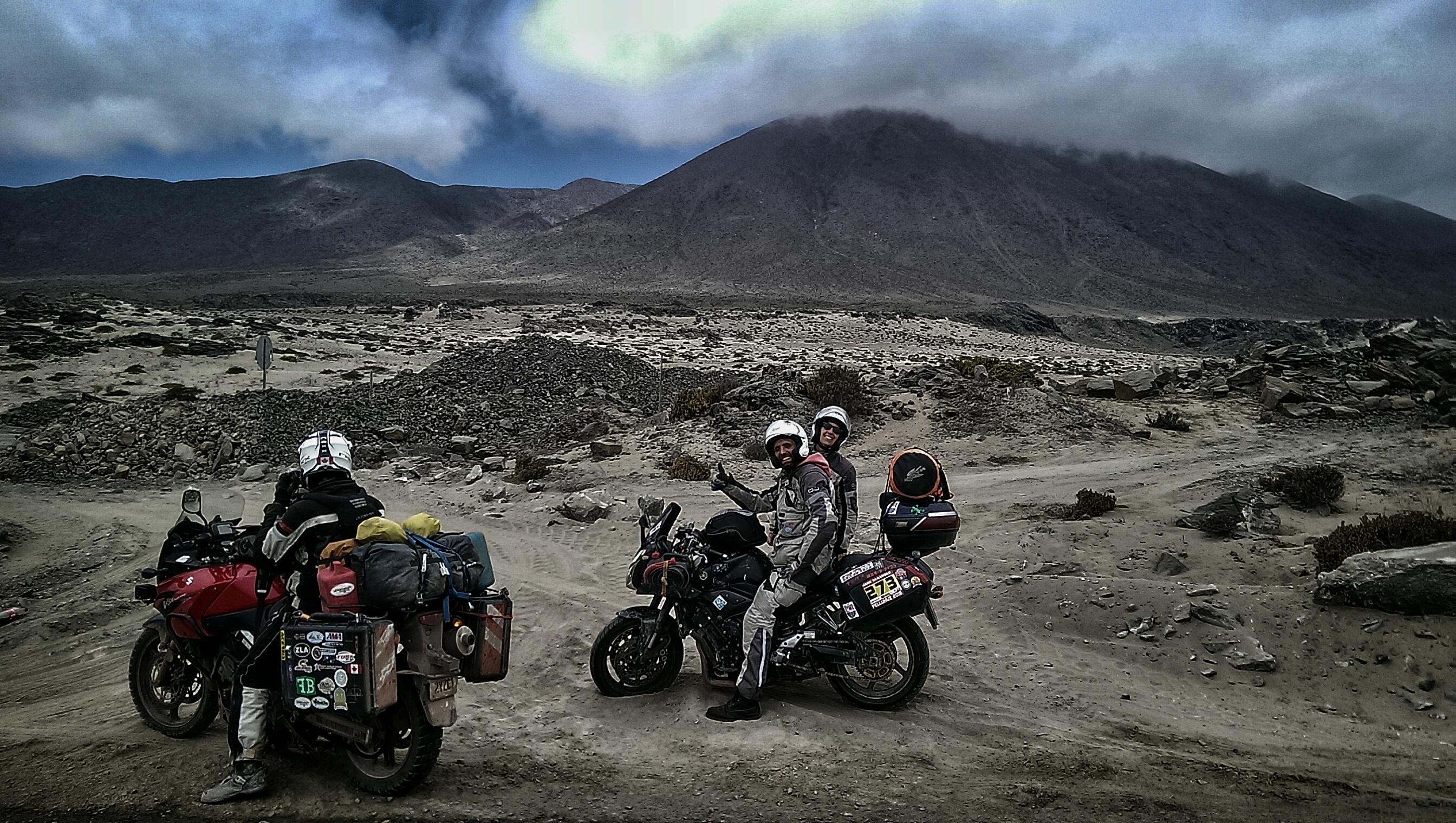 We ended the ride for the day in a small town with homemade sandwiches in a small park and stayed at a hostel right on the park. The proprietor was a cute old lady who made us breakfast in the morning, it felt like staying at your grandmother's house.
It was now the 16th, we had to be in Santiago in a couple days so we rode to La Serena where we spent entirely too long at Lider (they renamed Wal-Mart down there), I bought oil and we got ice cream. The we got wifi at a coffee shop and searched for a place to stay. This proved to be difficult. Places were either booked or too expensive. Eventually we lucked out and stayed at Hostal El Arbol. If you're in La Serena, I'd recommend staying here. Sure one of the staff may have overshared about his late night male encounters, his grandmother's death, or other things we didn't need to know, but the place was great. We cooked a great dinner.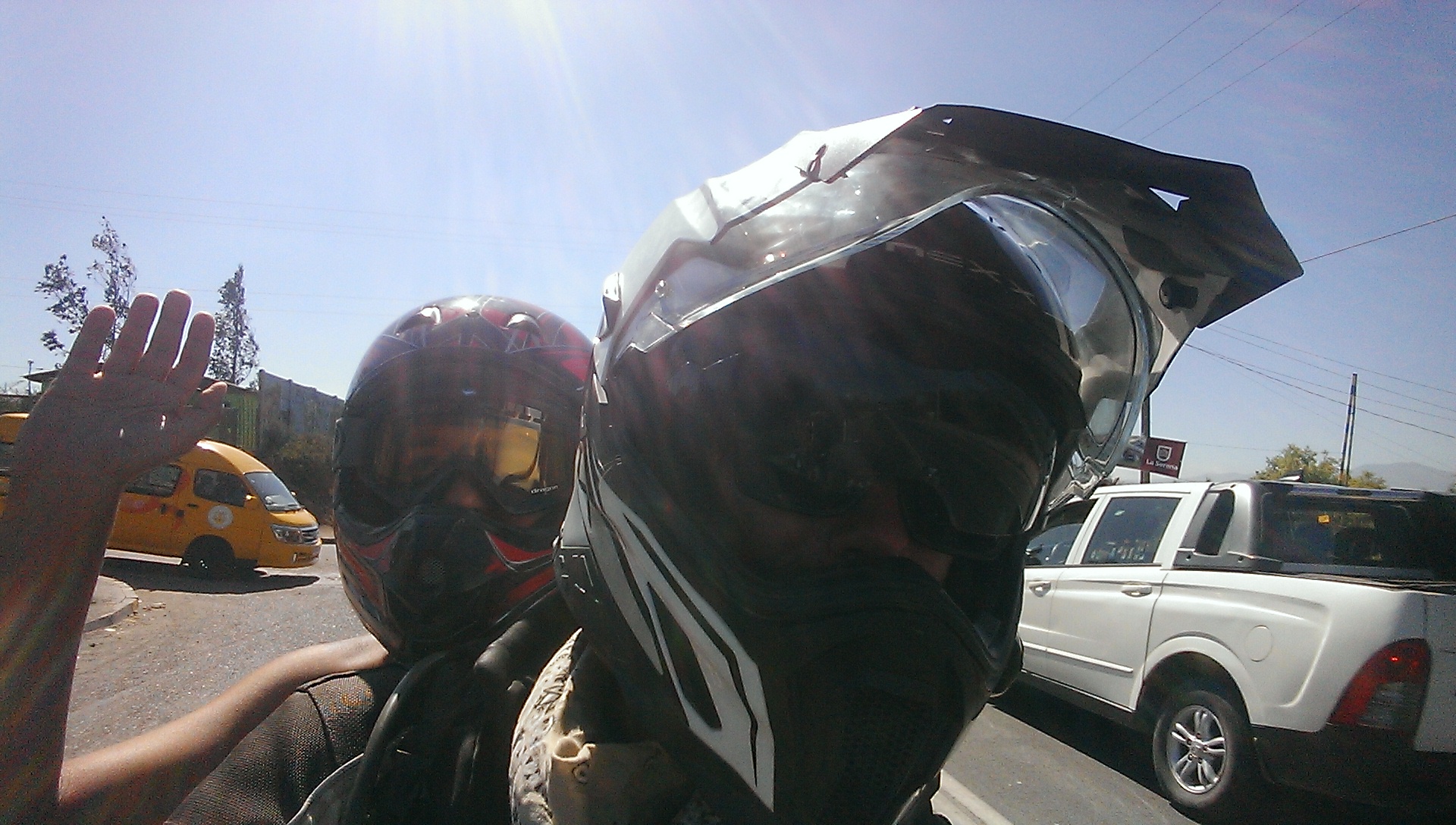 In the morning we were deciding what to do and then met Barbara who was going to a nearby town called Pisco where the stars fill the sky. So I threw her on my bike and we left for the 100k ride to Pisco. Once we got there we obviously got ice cream and then looked for somewhere to camp. The campsites were overcrowded with people we had no interest camping near. We expressed this to the owner who told us about her other location where we would be the only ones camping. So that's just what we did, I believe it was called The Condor.
After a late dinner, I fell asleep. Apparently I missed the best of the stars but that's okay. I saw enough. After a marginal breakfast, we were back to La Serena to drop Barbara off. It was a long ride to Santiago. We stopped only for fuel and empanadas. Our pace was brisk and the headwind was strong. We arrived around 8 to the Sheraton and saw nothing of Santiago that night. We just passed out.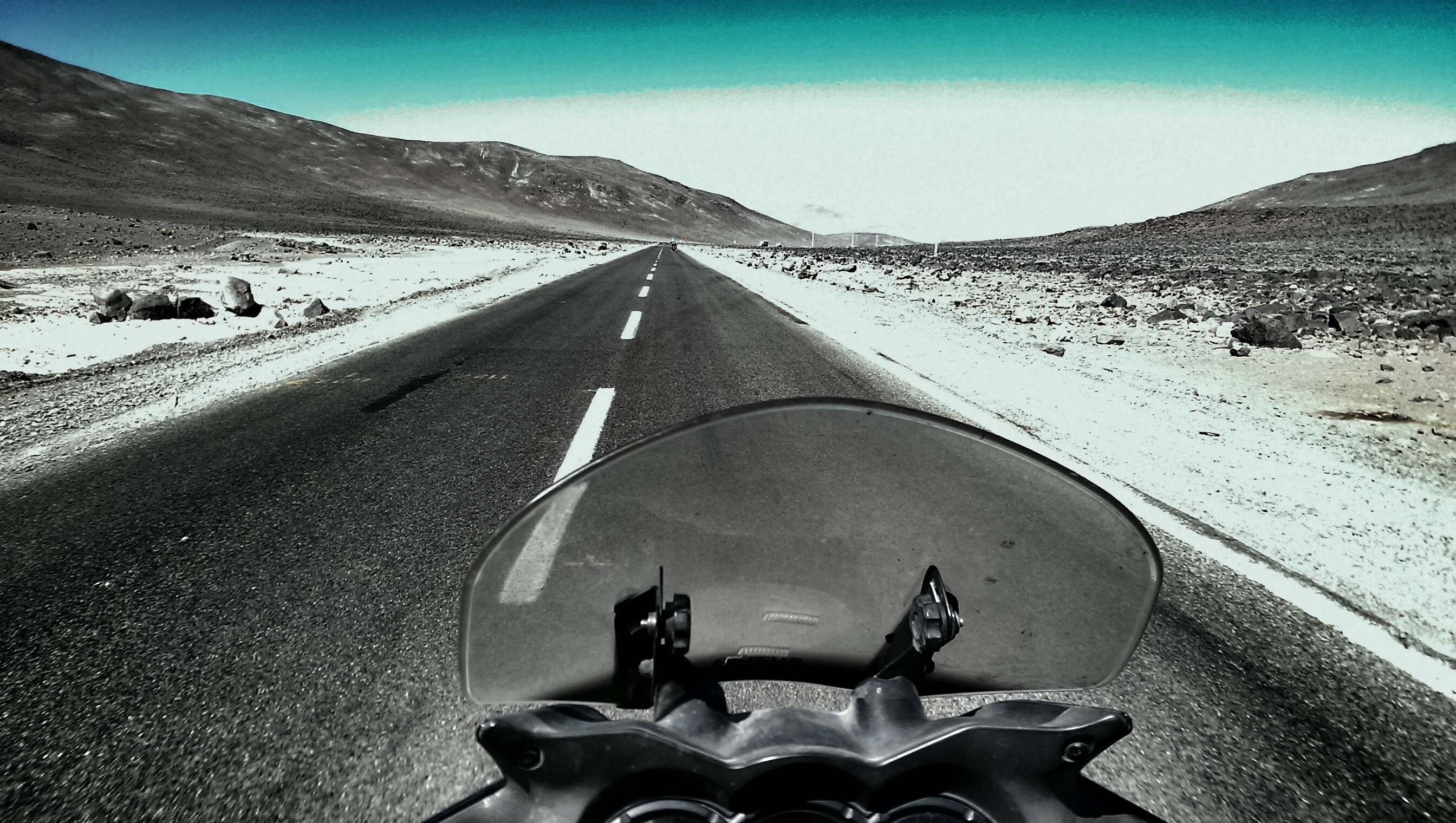 The next morning we indulged in the amazing breakfast we talked them into giving us for free. Then we organized and cleaned gear before saying our goodbyes. Tim would head off to Valparaiso and I would continue south while he spent time with his sister. So I rode a few miles to Hostel Atacama and would leave in the morning.
Once I was settled in at Hostel Atacama, I signed into WiFi where I noticed a Facebook message from my mom stating to call her immediately. I knew that this text was bad. My mind went through all of the possible outcomes before I had the courage to call. She didn't pick up. So I sat there a moment and then decided to call my dad's cell phone. He didn't pick up. I finally called my brother and got a voice on the other end. I could tell that it was difficult for him to speak since he was fighting back tears. And then he let out "You need to go home now" Without even listening to the rest of the conversation, I knew that something had happened to my father. He was in the hospital and there was no chance that he'd recover. I couldn't control myself at this point. After hanging up I lost it and the staff at the hostal came to console me. Another person staying at the hostal attempted to console me but it was un-welcomed, this man was clearly an alcoholic, and after several polite attempts, I eventually curtly told him I wanted to be alone. I called my mother again, my brother's wife answered and put her on the phone for me. She was calm at first but it didn't last for either of us. I then gave the news to Tim that I was going home. 20 minutes later I was on my way to the airport with no tickets and no plan for my belongings or motorcycle.
The flight home was spent trying to sleep while listening to my favorite album Osker – Idle Will Kill over and over. Every so often I'd cry. It had been over five months since I had seen my father and now I never would again. I knew he was proud for following my dreams and for who I had become but I wish I could have been there for him at the end. I thought back to the day before when I called to wish my mother happy birthday and my dad had handed the phone off to my mother. I didn't get to speak to him. I knew when I arrived in Newark that I wouldn't be going back to finish what I had started. I had gotten everything I needed out of this journey, now it was on to the next chapter to help my family. Tim would continue on alone.