Nicaragua
We arrived at the Honduras/Nicaragua border mid afternoon, our second border of the day with a total of three hours spent in the motorists-hell that is Honduras. As with every border, the first order of business was to ward off the barrage of pushers who view adventure bikes as a sure thing. Not today kind sirs, we're border experts with a willingness to suffer through bullshit.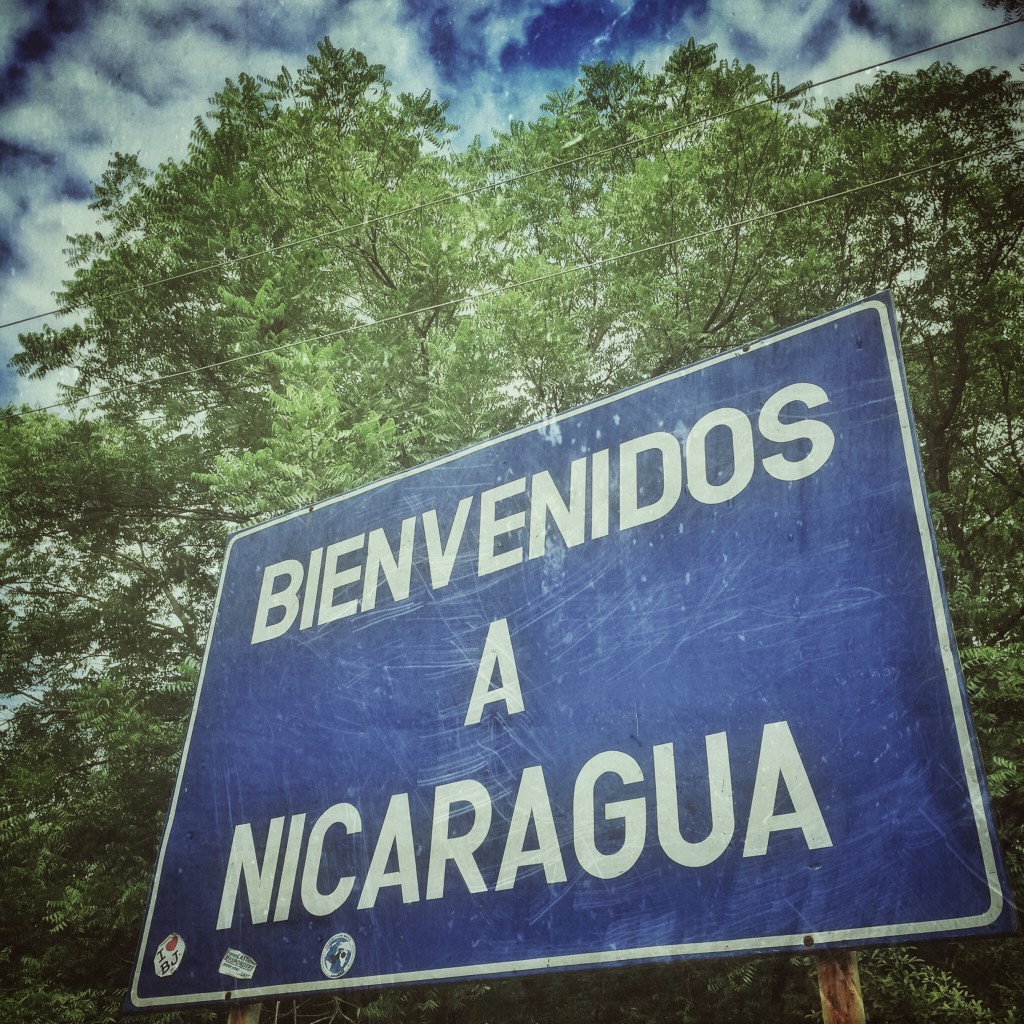 A couple hours later and we were successfully in a new country. Nightfall was fast approaching and so we made a b-line for Leon, the first moderately sized city we would encounter. Once we had navigated to the center we looked for somewhere to eat and suck up WiFi. We ended up at a bar that had pretty solid burritos, something I hadn't eaten in a few countries. Matt and Tim enjoyed a beer or two, a necessity after a very long day with not one but two borders crossed.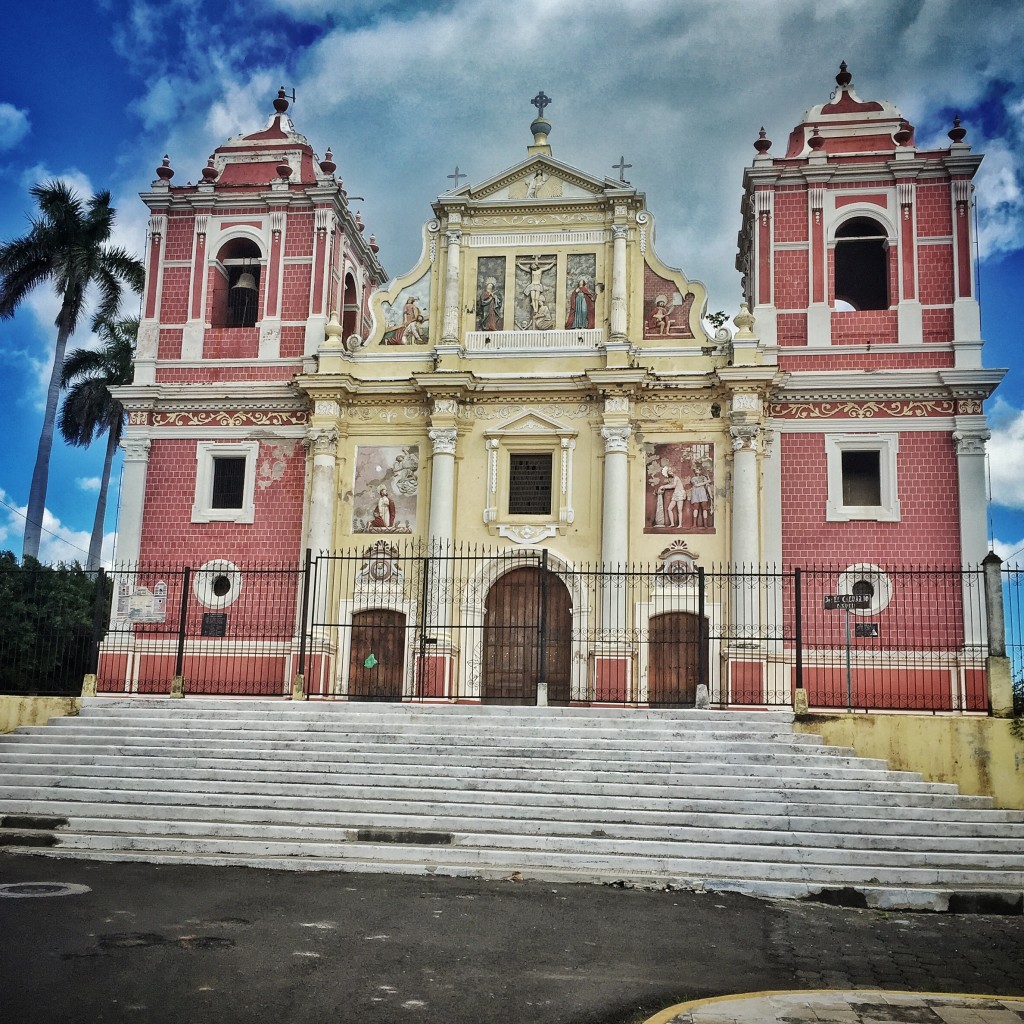 It happened to be one of those days where we didn't make any reservations for lodging and there was nowhere to camp. So we began looking for hostels, noting their locations in maps.me. The first up was Latina Hostel which had only two beds left despite the internet telling us they had more vacancies. We stayed for a few minutes and chatted with a dude riding a Ninja 250 all around Central America from the US. I was mildly jealous of his small bike despite it not being the model I would choose.

Directly to the right was another hostel, which also had no vacancy. Feeling slightly defeated we pressed onward to La Tortuga Balooga which looked absolutely awesome. A super inviting atmosphere with pool tables, music, and young people hanging out. Unfortunately they too were all booked up. They called around to other hostels and made us a list of ones that had beds. Our next stop was Sin Fronterras (without borders). It had space but no private bathrooms and no storage for our bikes. We sat around and pondered our options. Suddenly they came outside and told us we could bring our bikes inside. So we rode the bikes up a few stairs into the lobby, around a sharp bend, and parked them next to the breakfast nook. Awesome.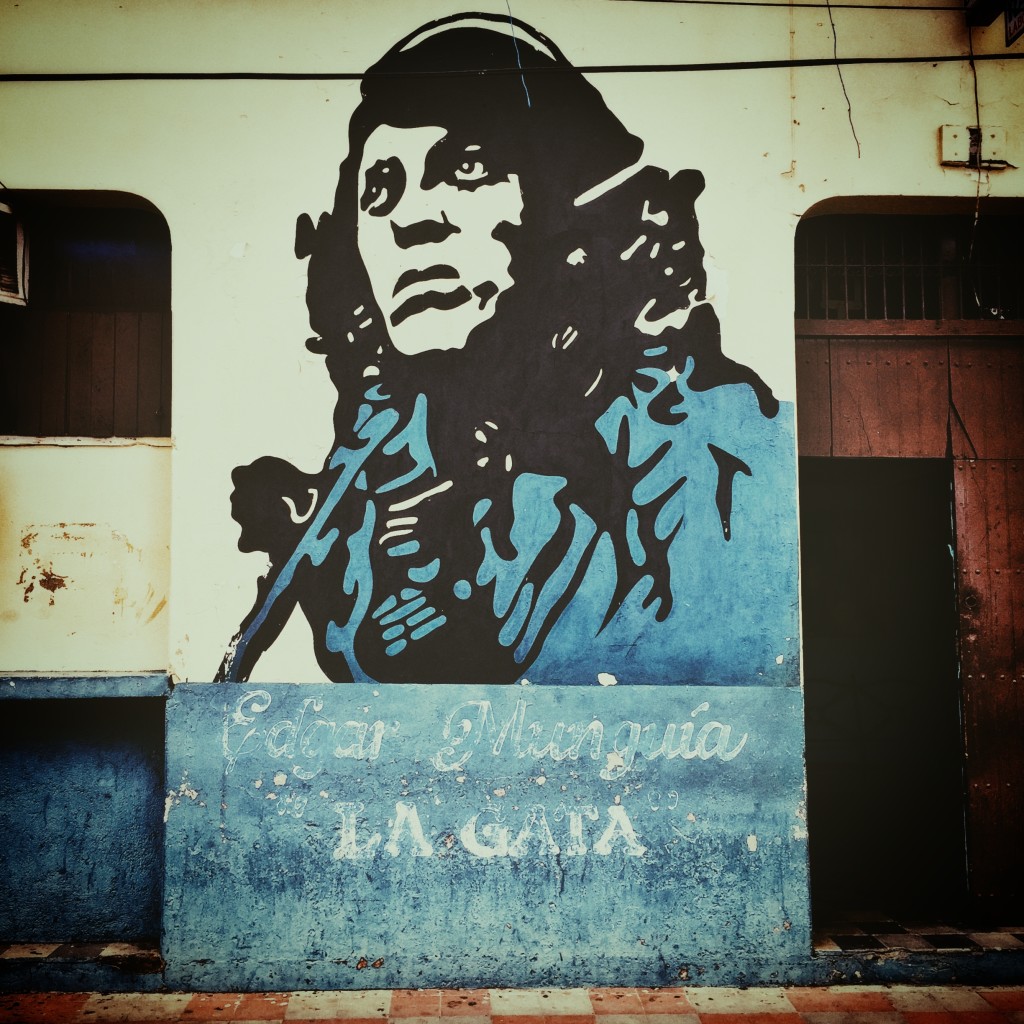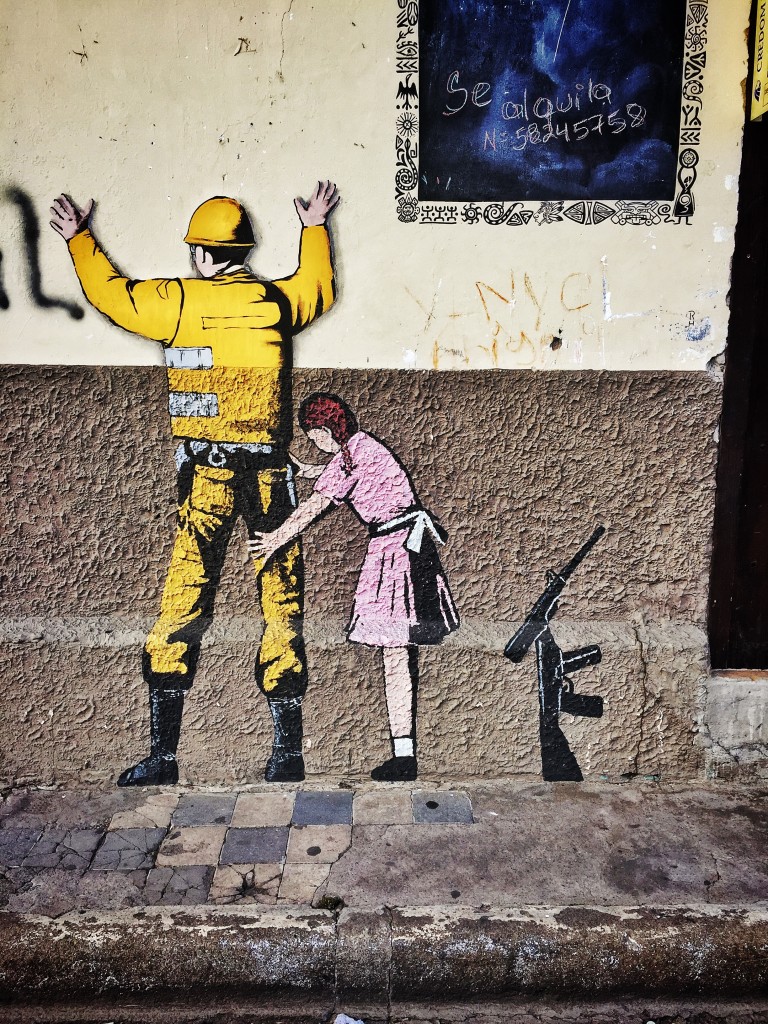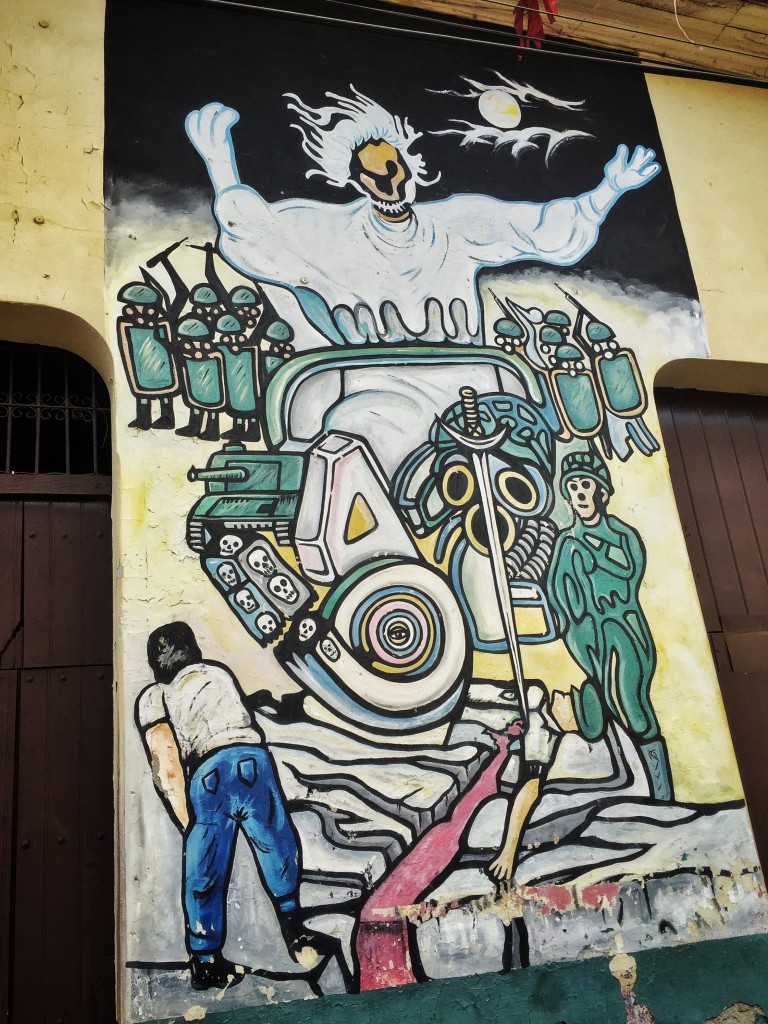 The next day was a much needed down day. We dropped off our foul-smelling laundry at a lavenderia that surprisingly was run by a man. From there we went to Quetzal trekkers, a guide company the leads hikes at nearby volcanos. We reserved spots in the two day hike that Matt had found that left the next day (Tuesday). We also received a lunch recommendation that we were told would fulfill our cheap/good requirement.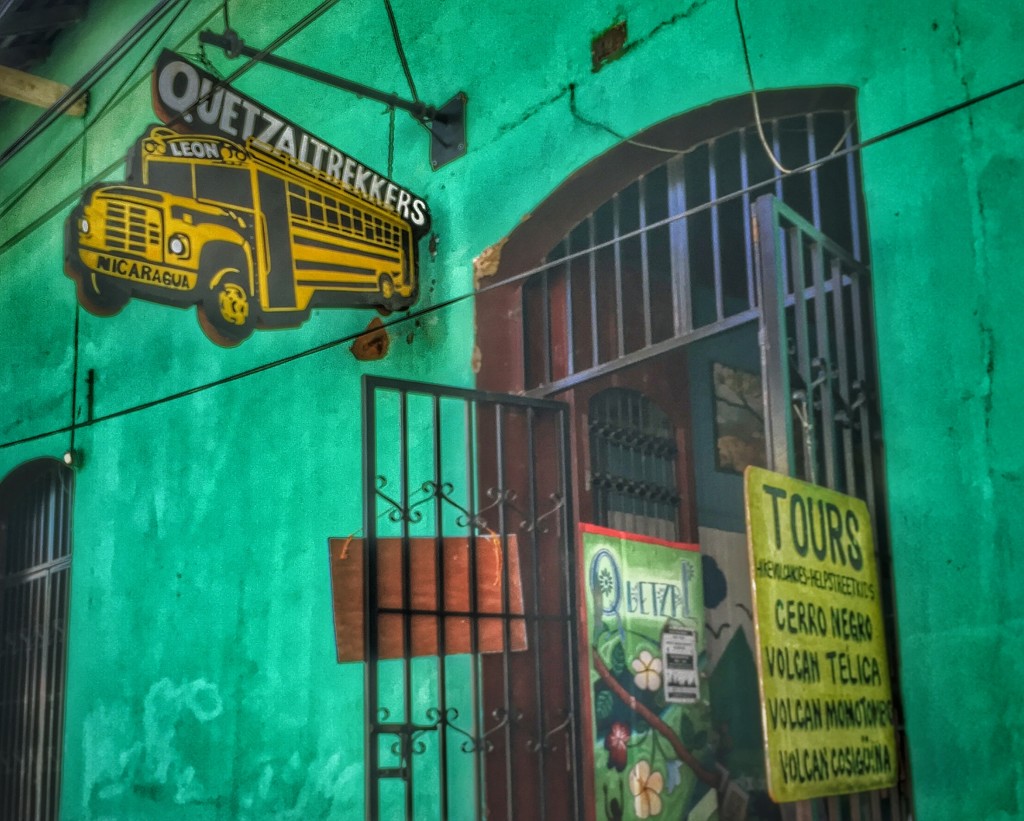 San Benito was just around the corner and for 40 Cordobas (less than $2) you're given a well balanced meal. You do have to be careful, they will offer you extras, they cost extra too.
We made our way to local market and walked around viewing the many wares being peddled. A few minutes in we lost Matt. We pressed on without him. While we weren't really in need of anything, Tim wanted a new bathing suit to replace his restrictive and ball-showing suit. I wanted to find nail clippers and maybe a passenger helmet. I also tried on a few plaid shirts since I stupidly only brought one. Ultimately despite many attempts, we both came up empty handed. On our walk back, Tim wanted a haircut so we stopped at a salon/barber. And once again, Tim was back to being sexy-as-phuck.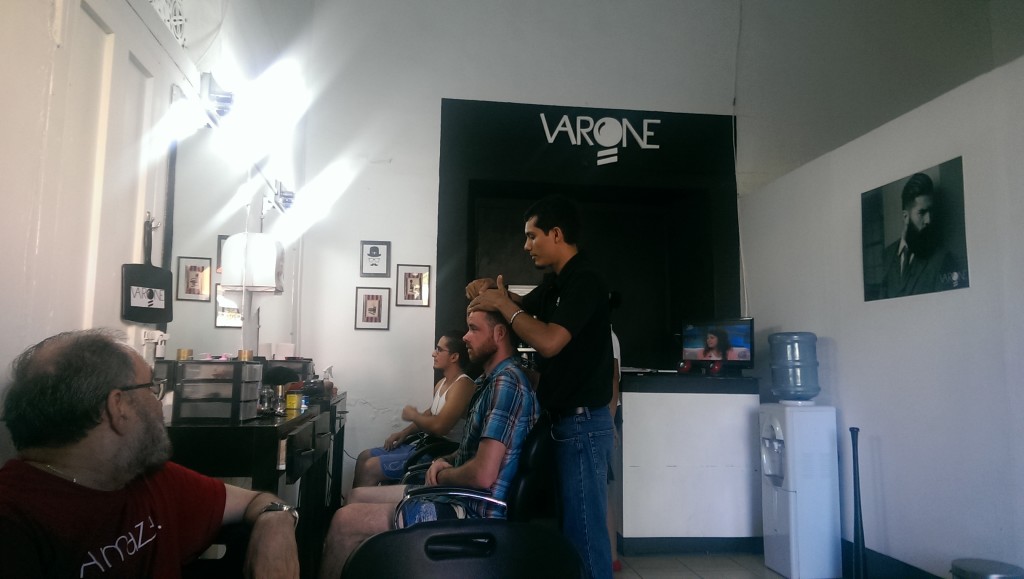 Back at the hostel we rendezvoused with Matt. I worked on the blog for the afternoon while Matt edited photos. With the camping trip coming up the next day, I wanted to get it out to keep the fans happy.
Dinner-time approached, Matt and I had unknowingly researched the same blog for places to eat. We decided to do a multi-venue approach. The first stop was to food vendors near a school. They sold taquitos which were delicious and cheap. Tim experienced his first soda in a bag. They do this so they don't lose their deposit bottles and to create more waste for people to throw on the ground.
The next stop was to the Cathedral Women. They're a staple in Leon serving up awesome foods behind the largest church. We indulged in a bit of everything. While eating, a girl named Renata chatted us up and joined us for dinner. Afterwards she brought us to a really neat ice cream shop called Kiss Me run by two American brother who do a lot to help the community. We quickly ran into a couple we had met in El Salvador, small world. We concluded our night with me watching everyone have a couple drinks, then off to bed to rest up for our early day of hiking.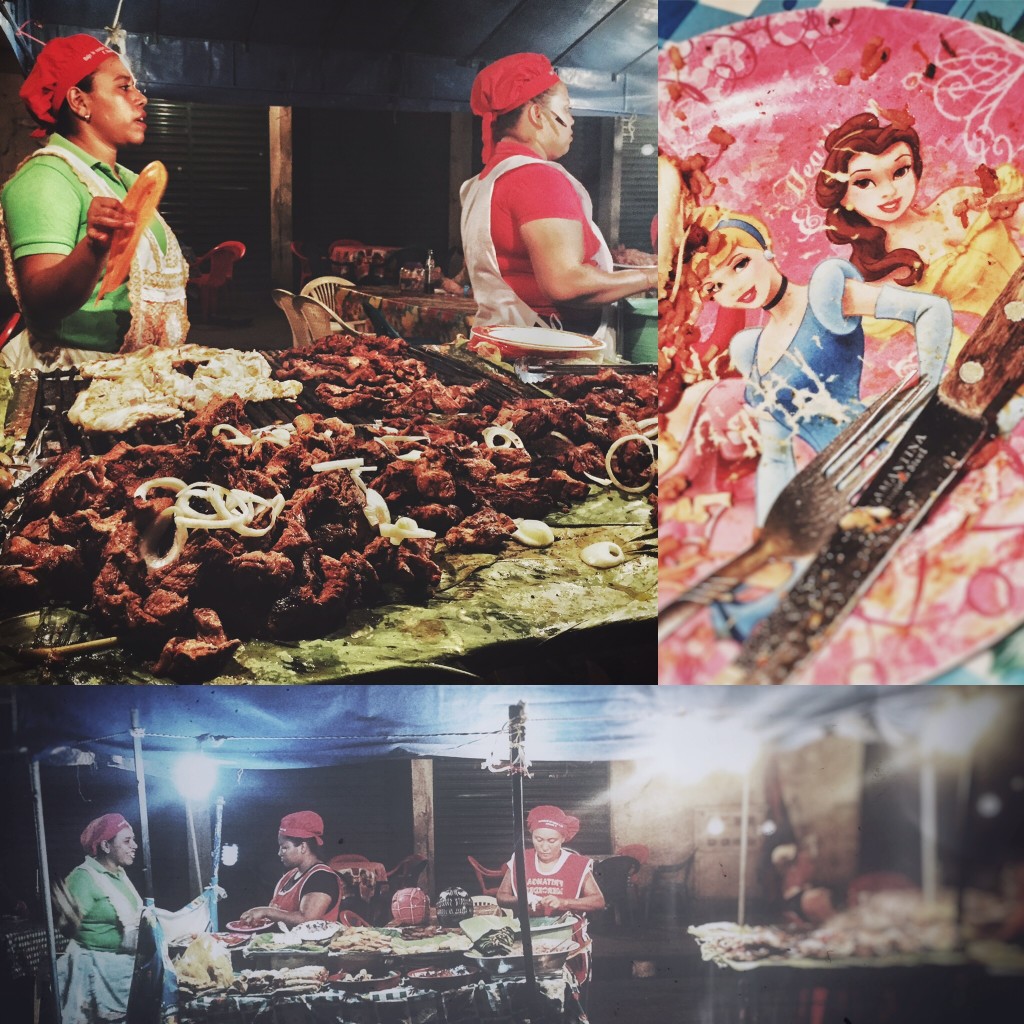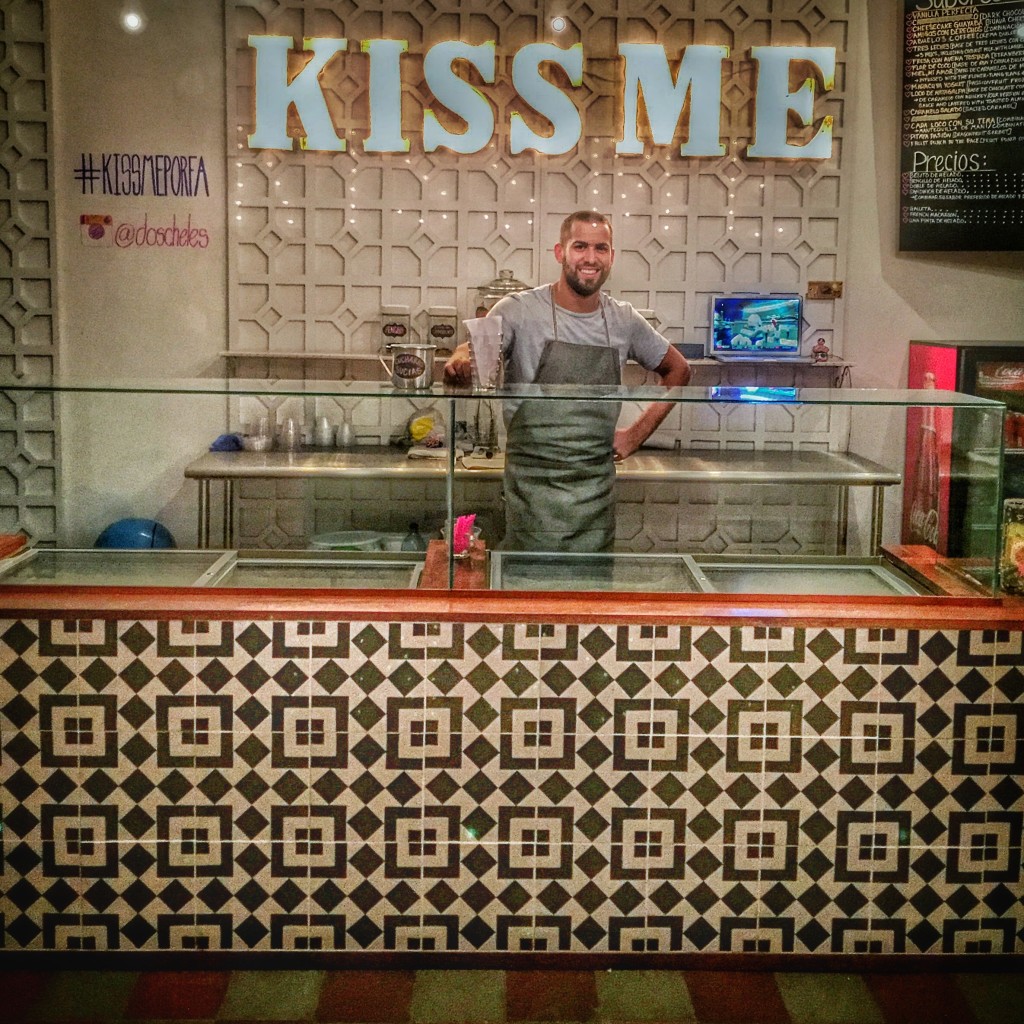 7:00 Tuesday we were at the Quetzal Trekkers office. We were pleasantly surprised to see six others had signed up. After ensuring everyone had their gear, we were treated to a family style breakfast where the group did their best to learn names and critical info. The 13 of us piled into the back of a big truck and began the trip to the first of the volcanos we would hike, Cerro Negro. The trip there was a good opportunity to continue learning about everyone. The group consisted of two tour guides from Germany/US, four Canadians, a Frenchman, a Brit, another German, and four Americans.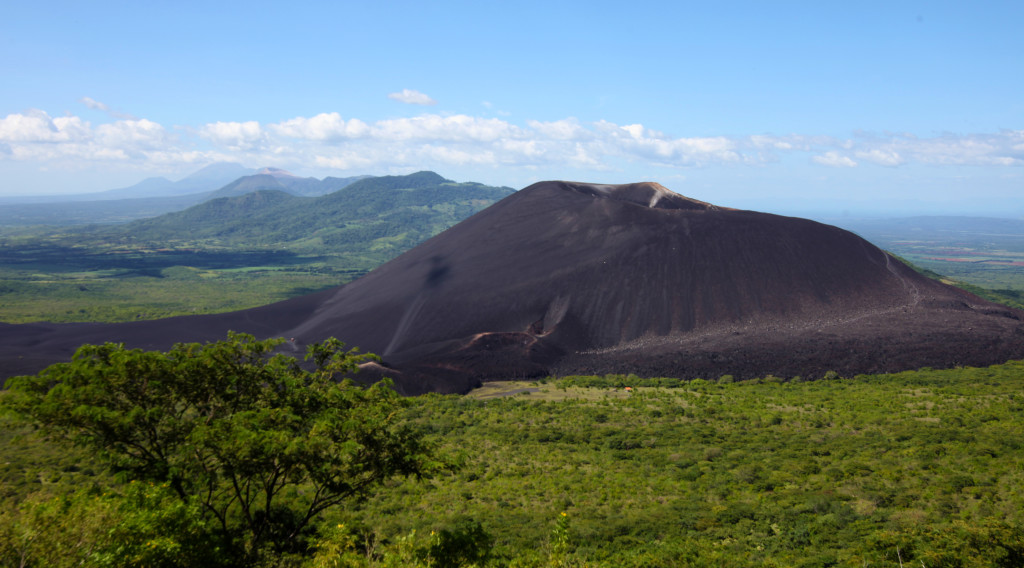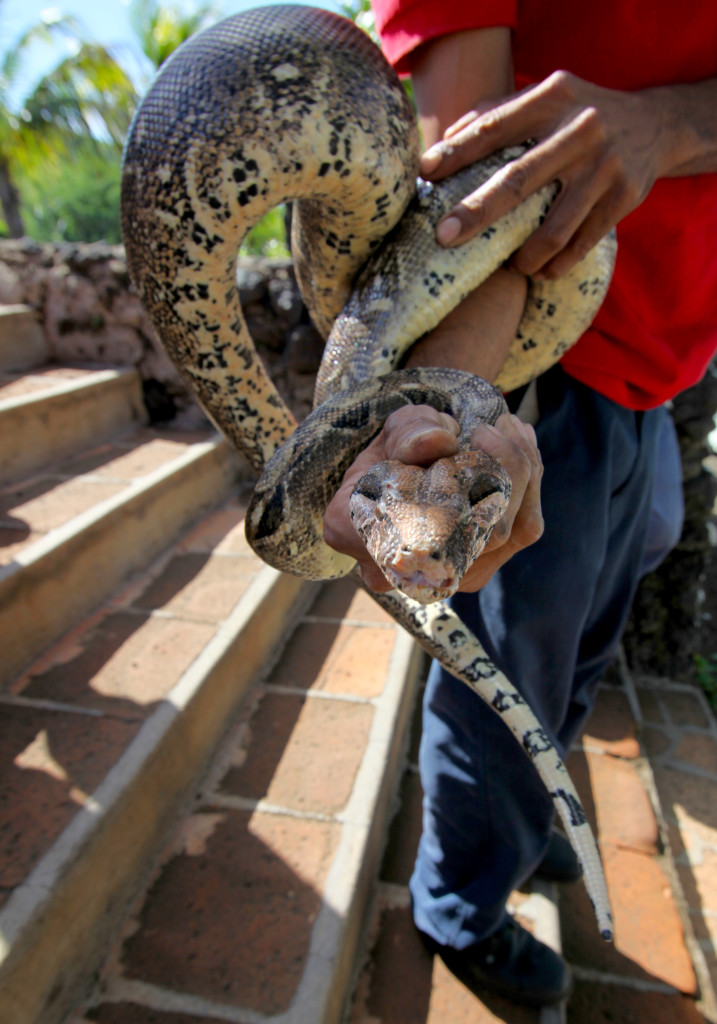 We stopped near the base of Cerro Negro and picked up our lunch, received some instruction of the upcoming activities, and headed out. Cerro Negro is famous for one thing, volcano boarding. We were essentially obligated to try this slightly ridiculous activity so we grabbed our boards and followed our way up the steep incline. At the top we were rewarded with marvelous views of the surrounding volcanos and had access to the crater, seeping sulfur into the air.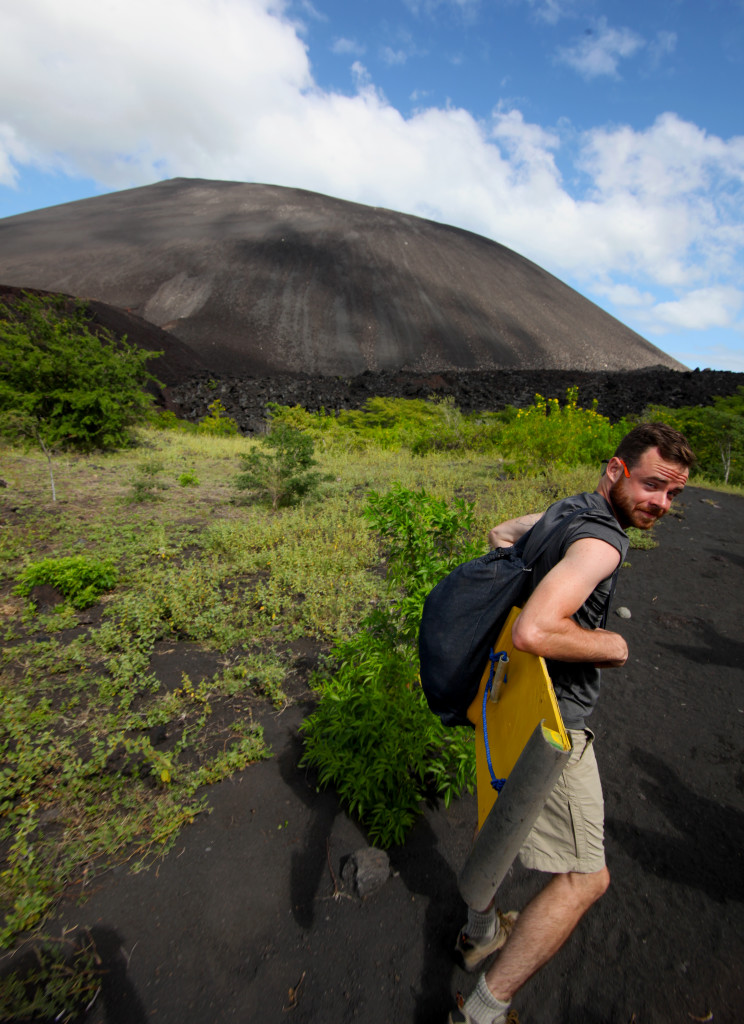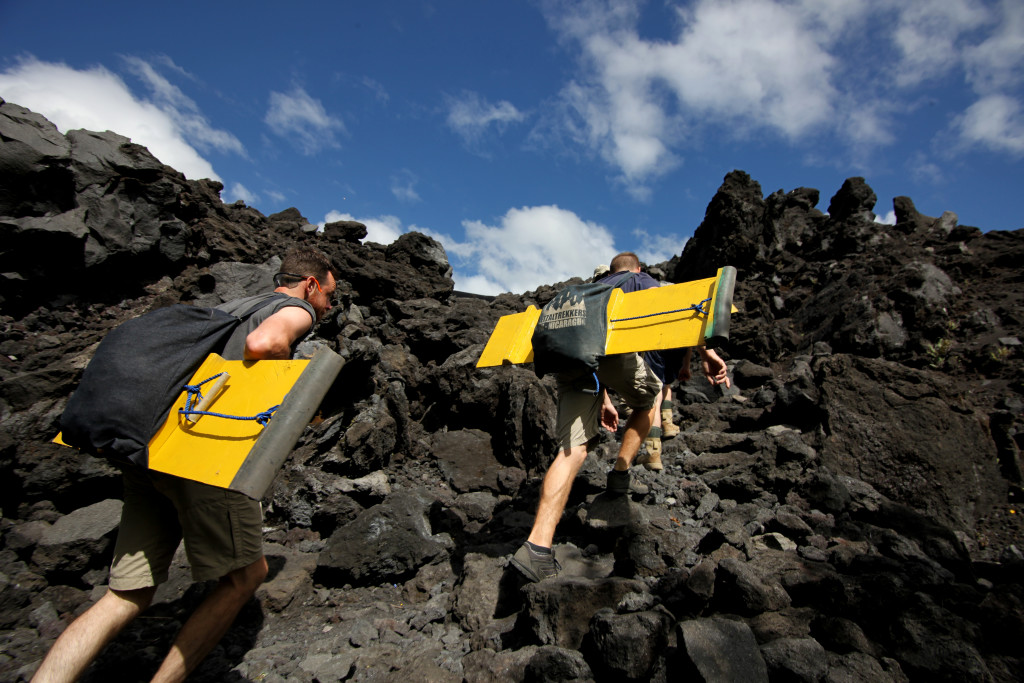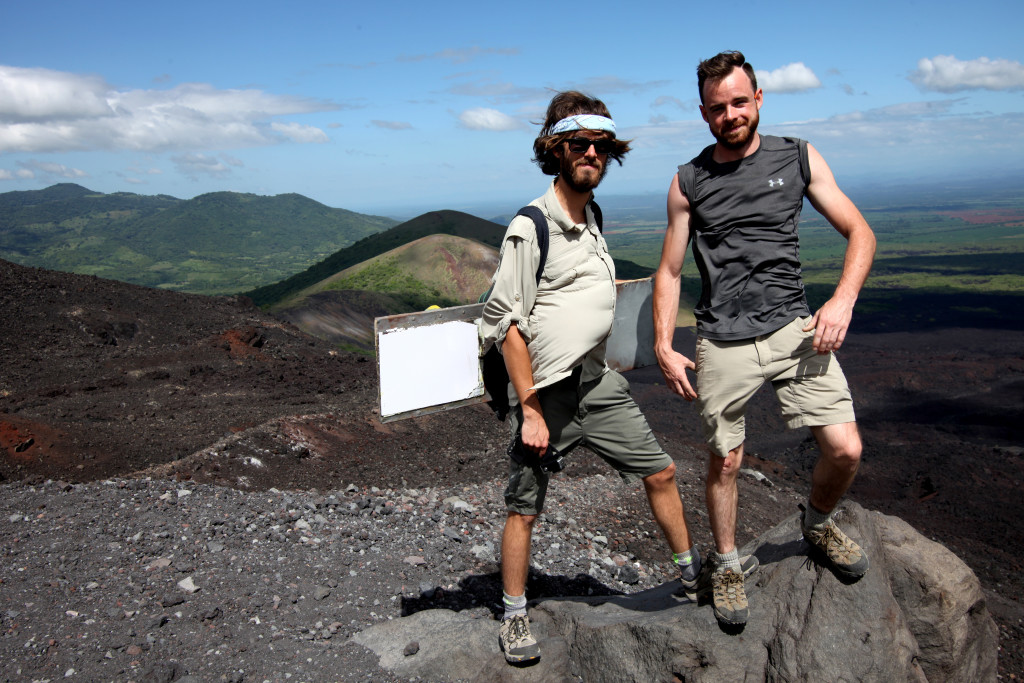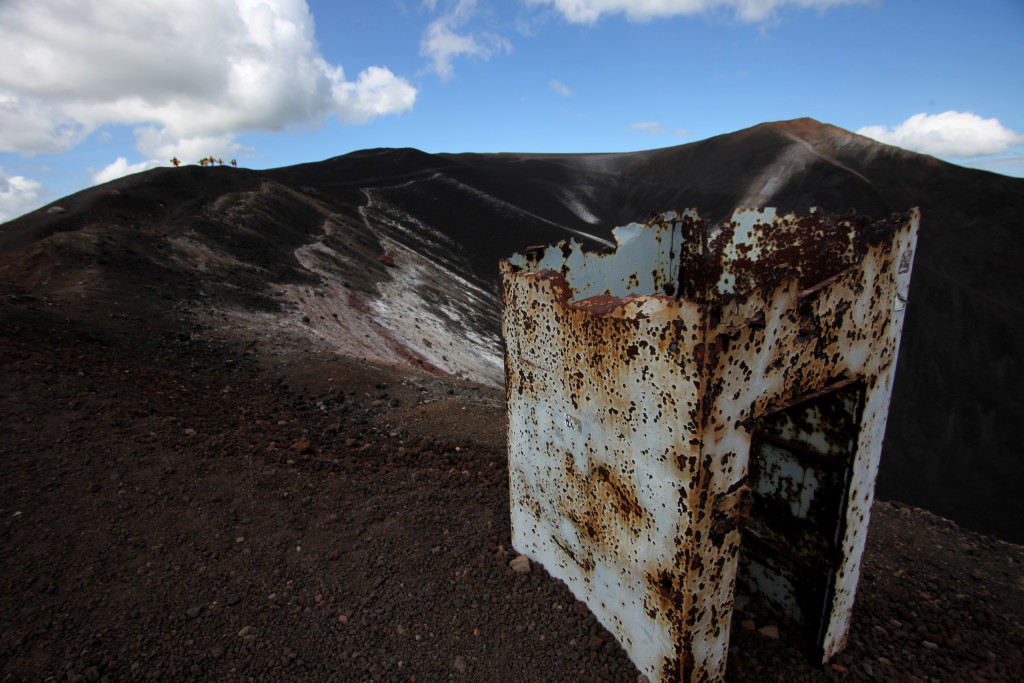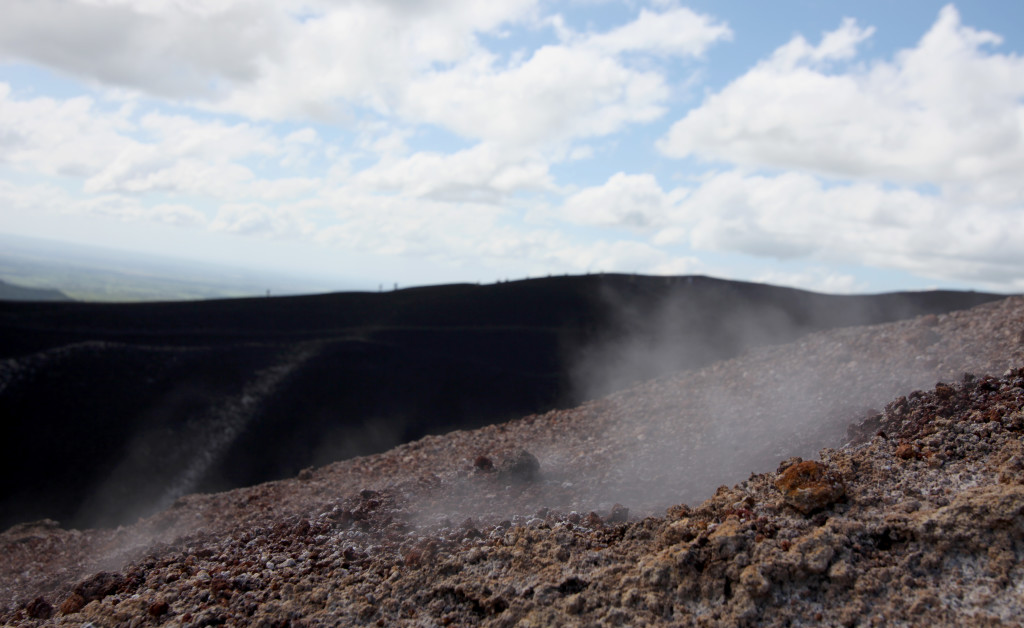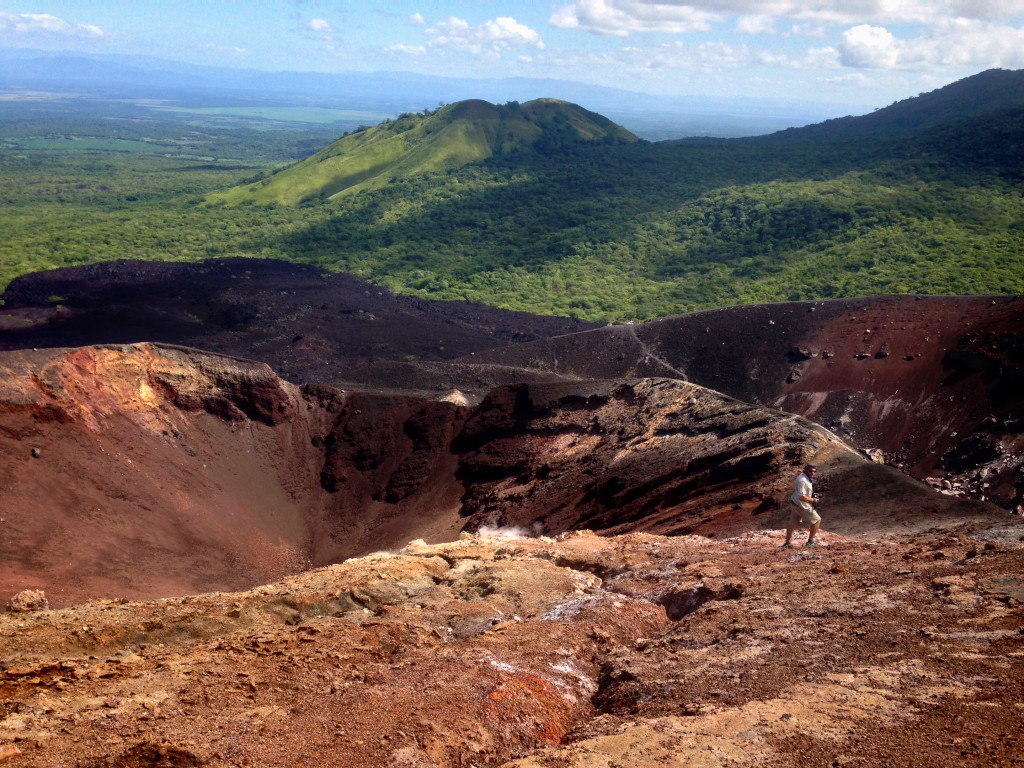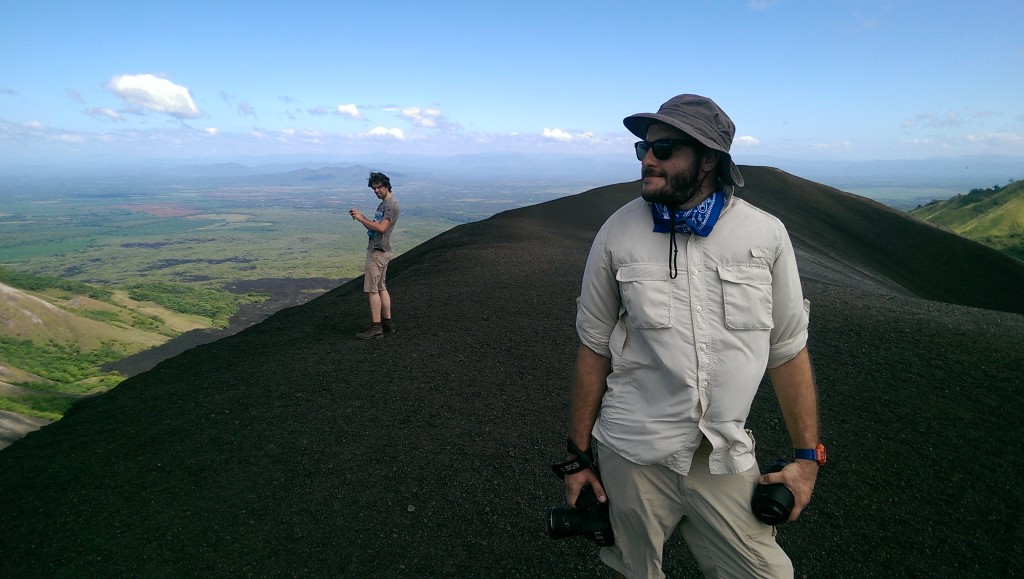 We donned our prison jumpsuits and received our crash course in volcano boarding. Keep your feet out, pull back on the rope, try not to fall off.this would never fly in the US.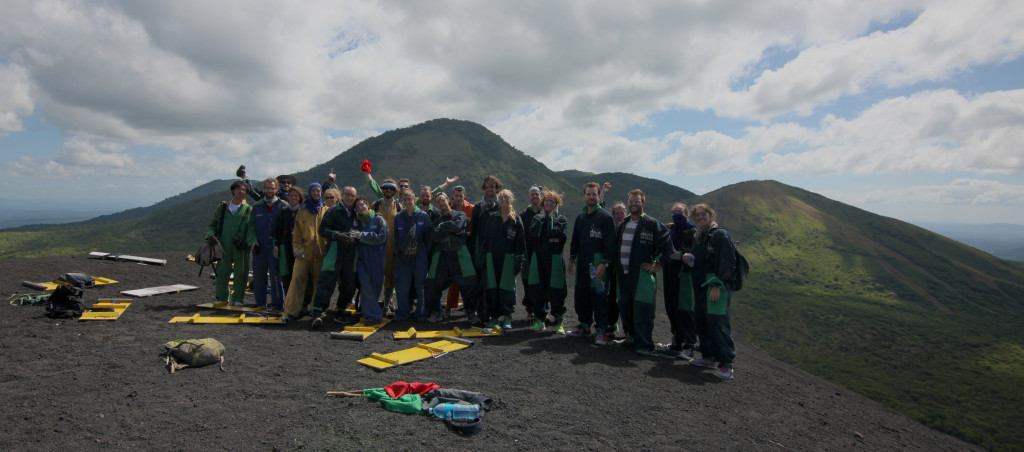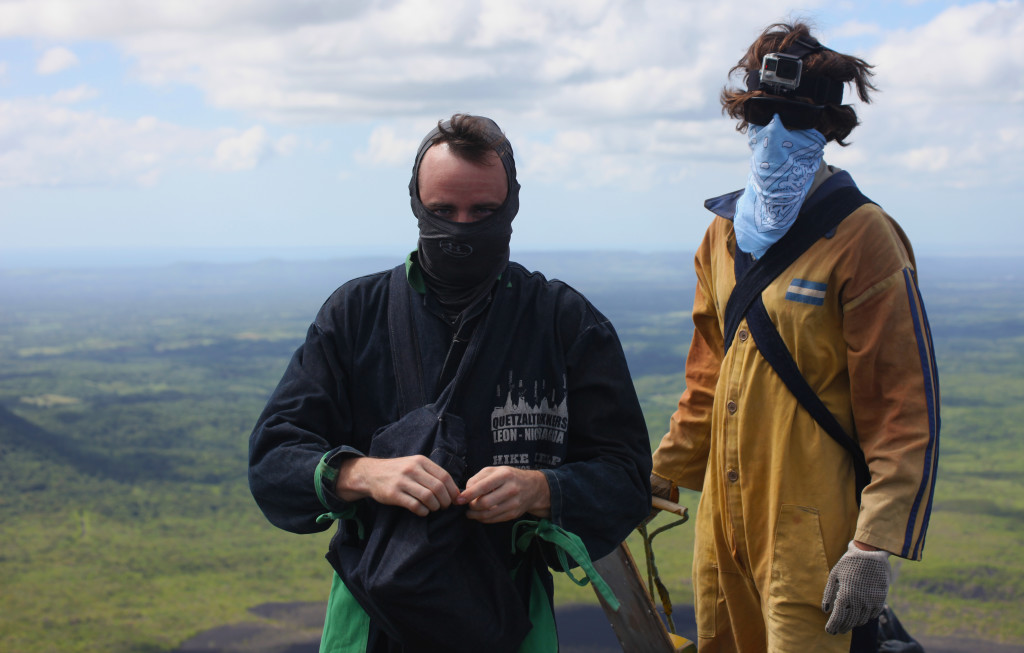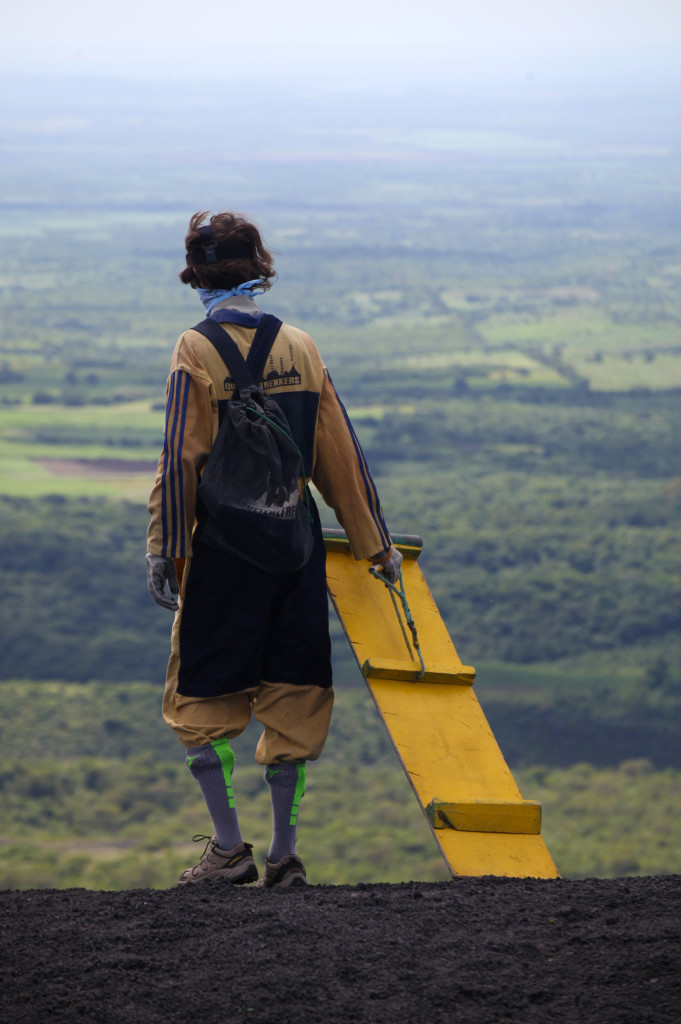 One by one we raced down the volcano on a wooden board with a rope attached to it, primitive is an understatement. When my turn arrived I pushed off and began my descent. I quickly learned why the safety glasses were necessary and why the bandana I tied around my face was a sound idea. As I used my feet to try and modulate my speed, tiny rocks showered over me. In concept it was similar to sledding but at the same time felt entirely different. At the bottom it was impressive to witness the speed, the falls, and the volcano-dust filled smiles. I think Courtneys face showed it best.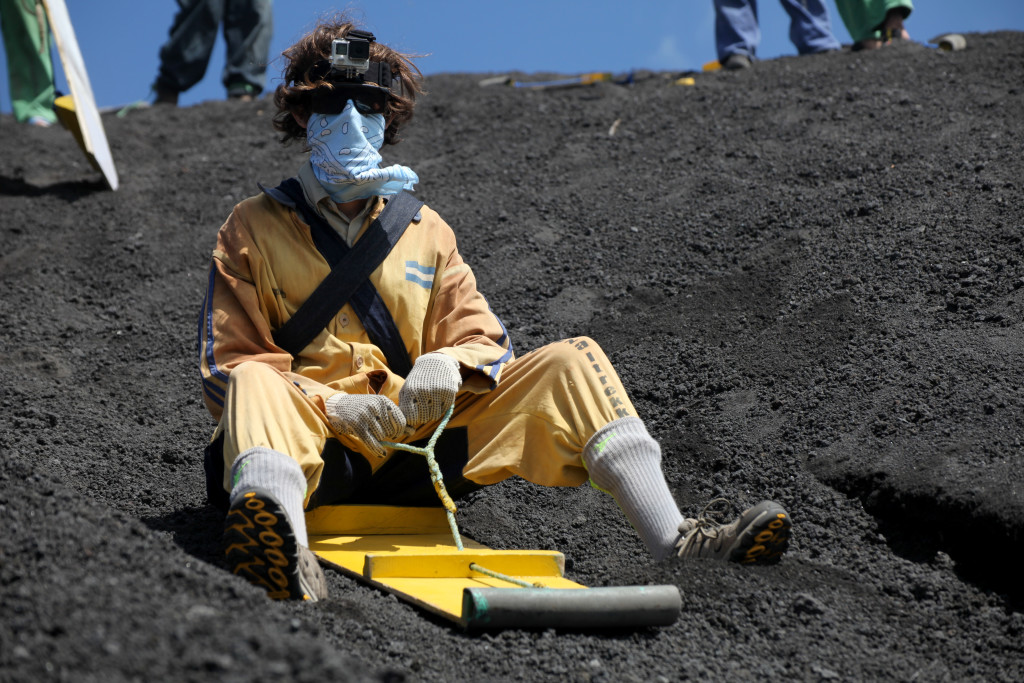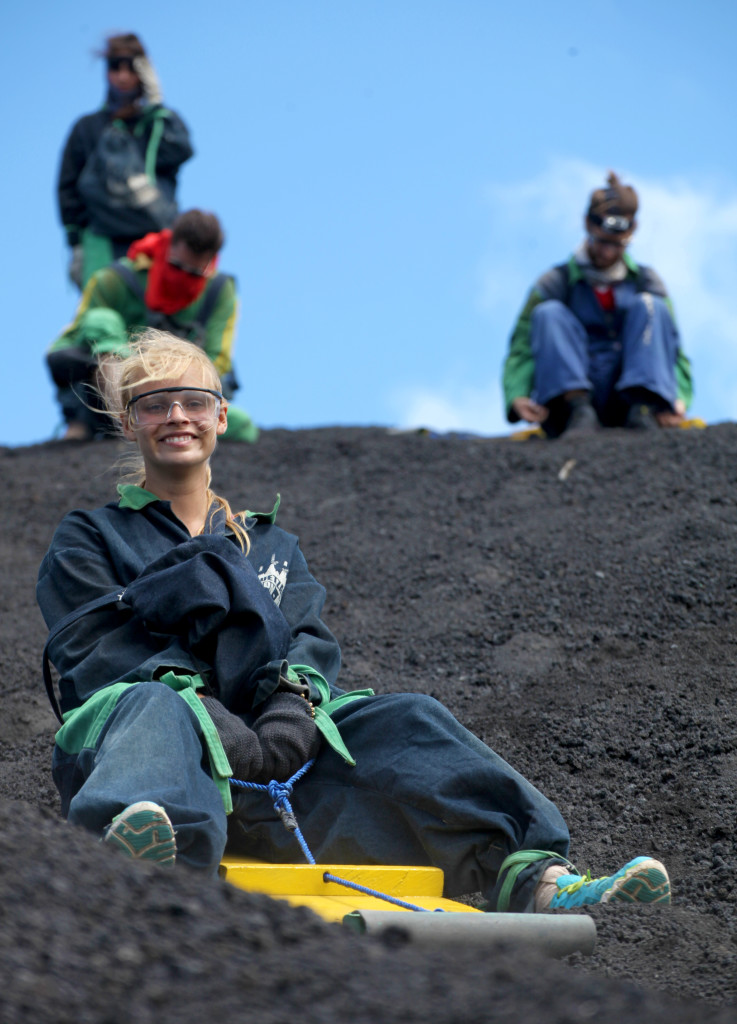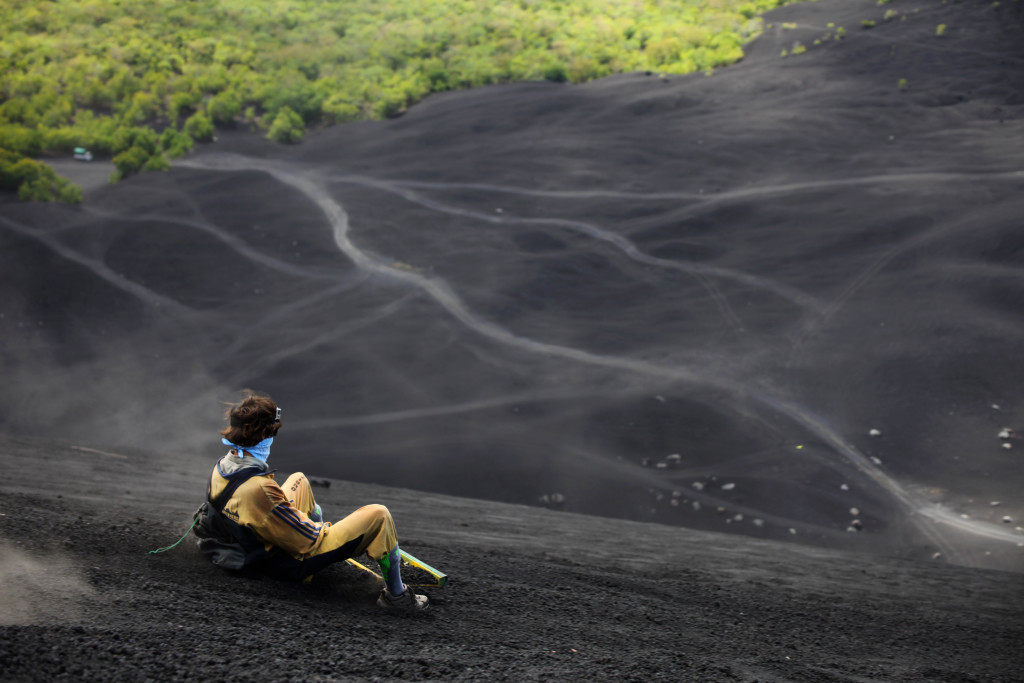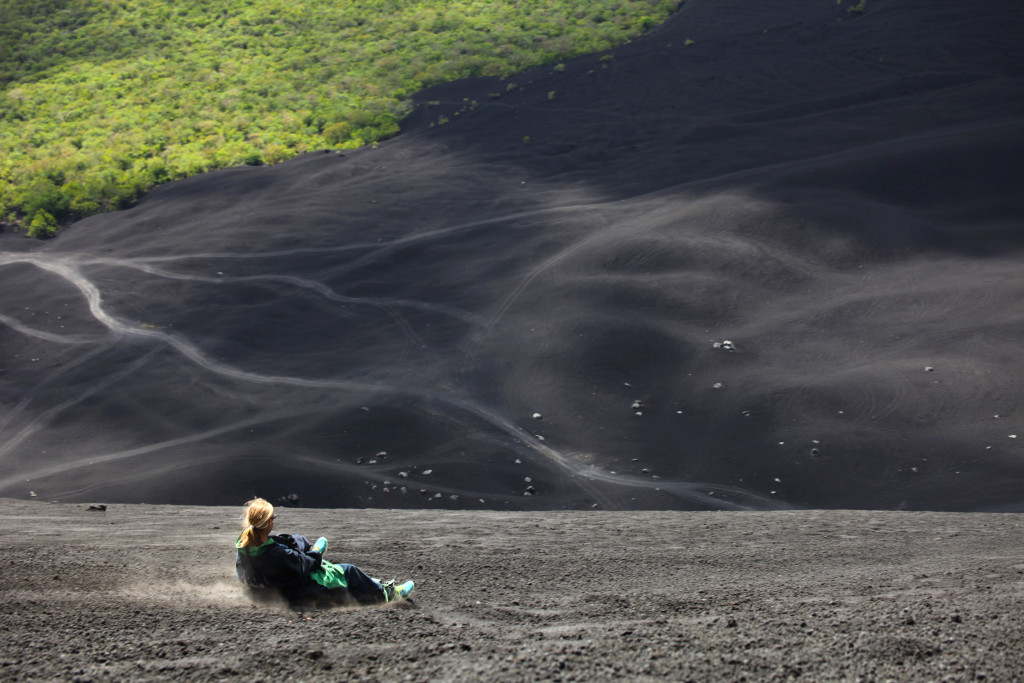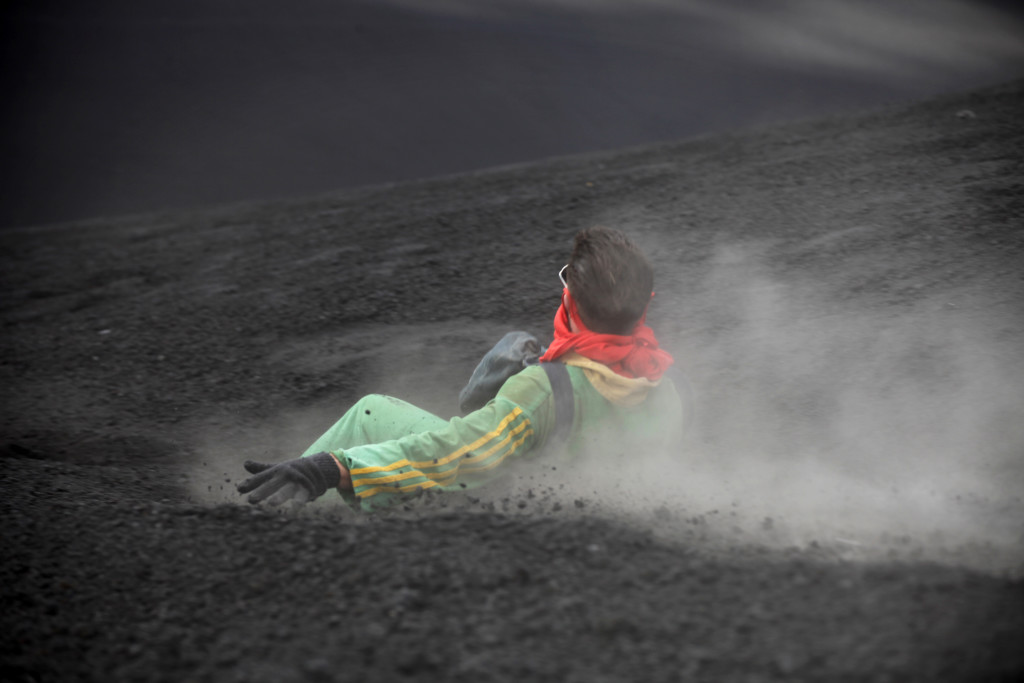 At the building below we did our best to wash off the dust which made its way into our ears, hair, faces, everywhere. Always good to start a hike dirty.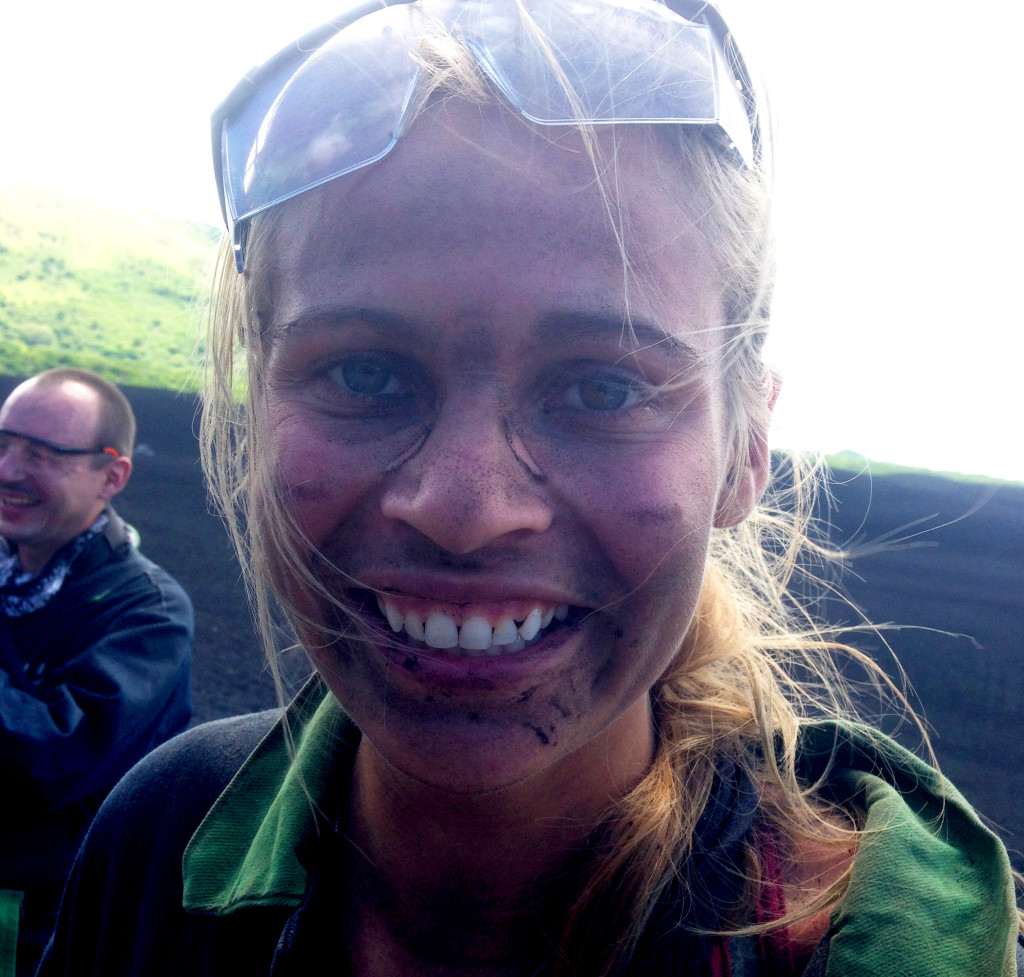 Marco and James warned us that the first two hours of the hike would be the hardest, which proved to be an accurate statement. The trail meandered it's way through a thick forest. The hard part was the fact it was hovering near 100 degrees. It now made sense why each person was required to carry 8 liters of water. A few hours in we stopped to eat our baguettes which tasted amazing. The hardest part had been surpassed and while we were still climbing, the ascent was more gradual.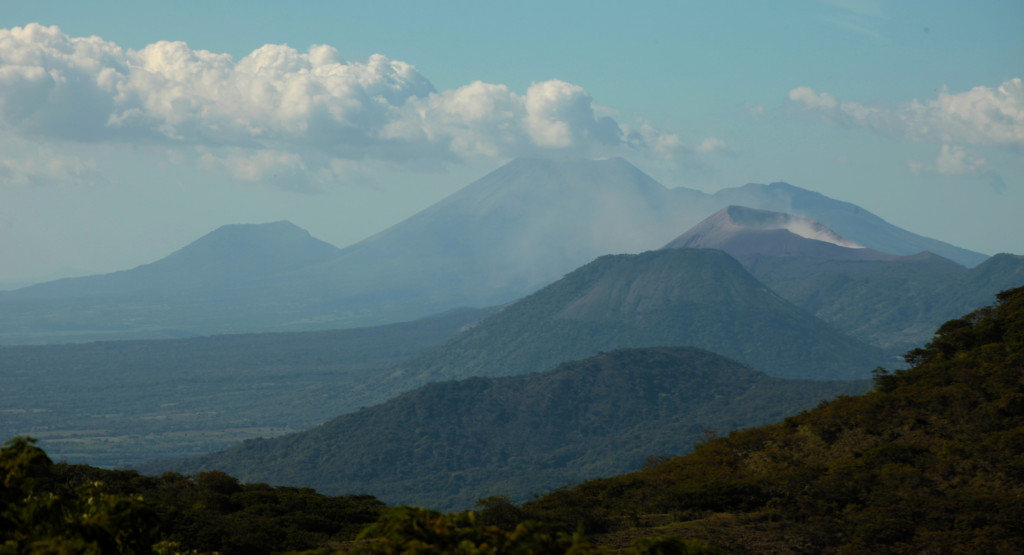 A half hour from camp we began collecting firewood and lashing it to our packs. It basically became an unspoken competition to see who could carry the most wood.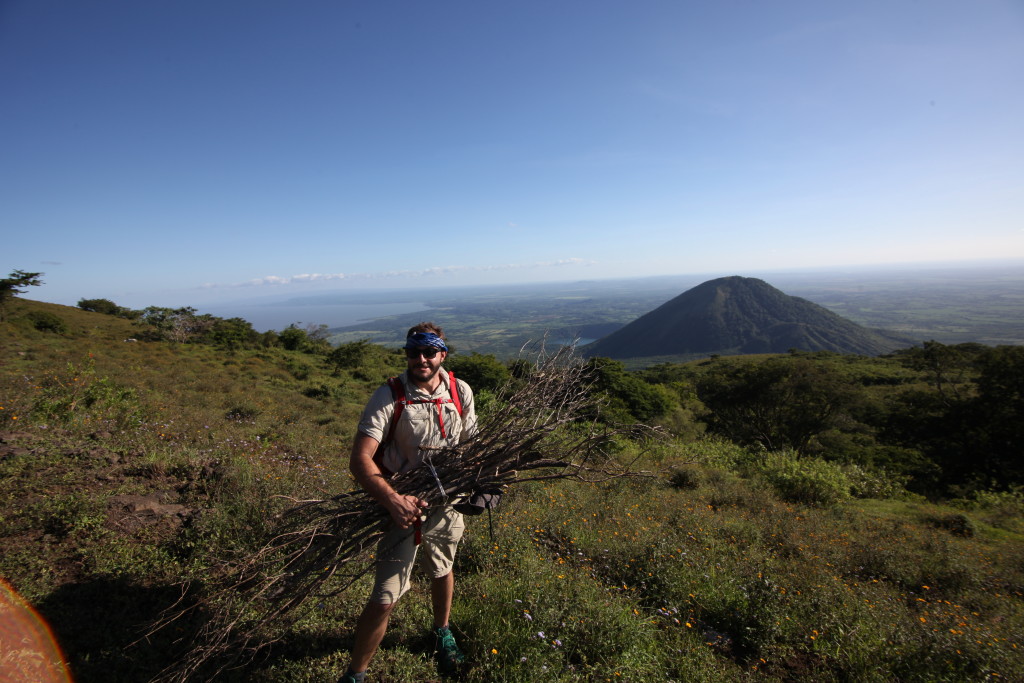 Camp was set just below the top on a flat spot inhabited by a large number of cows. This meant you needed to choose where you set up your tent and where you stepped wisely. It also created the game, rock or shit.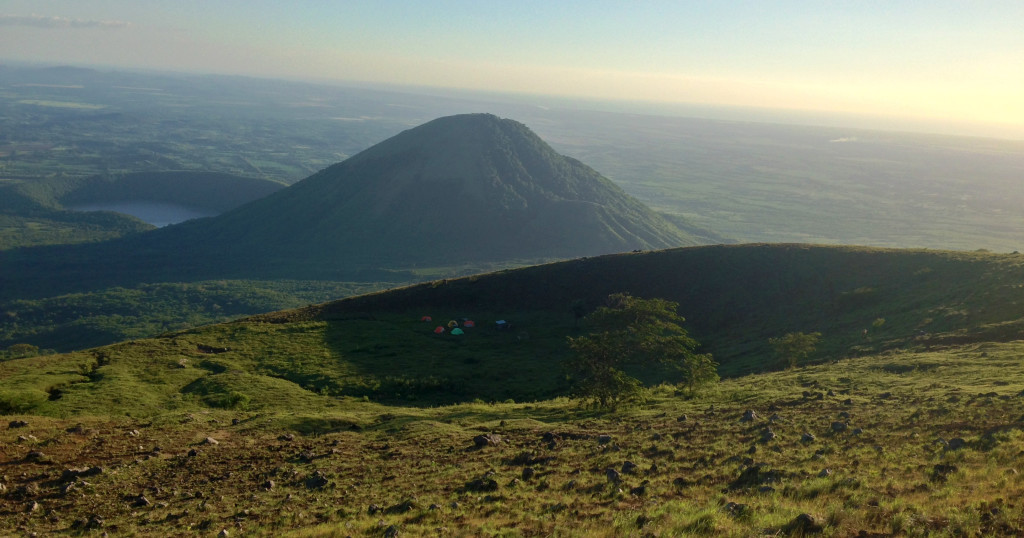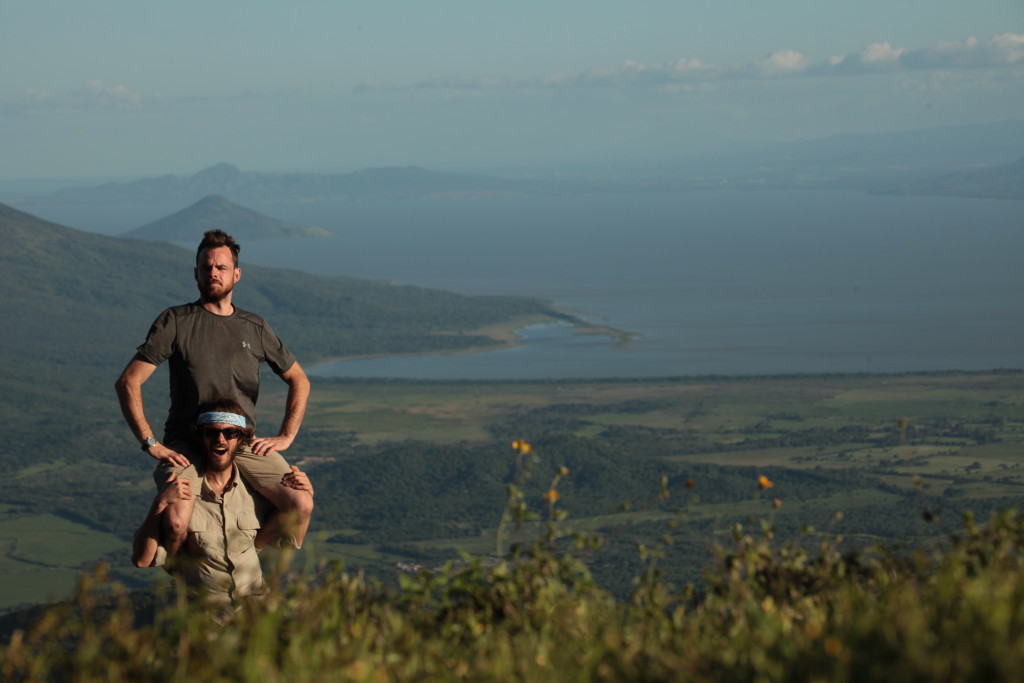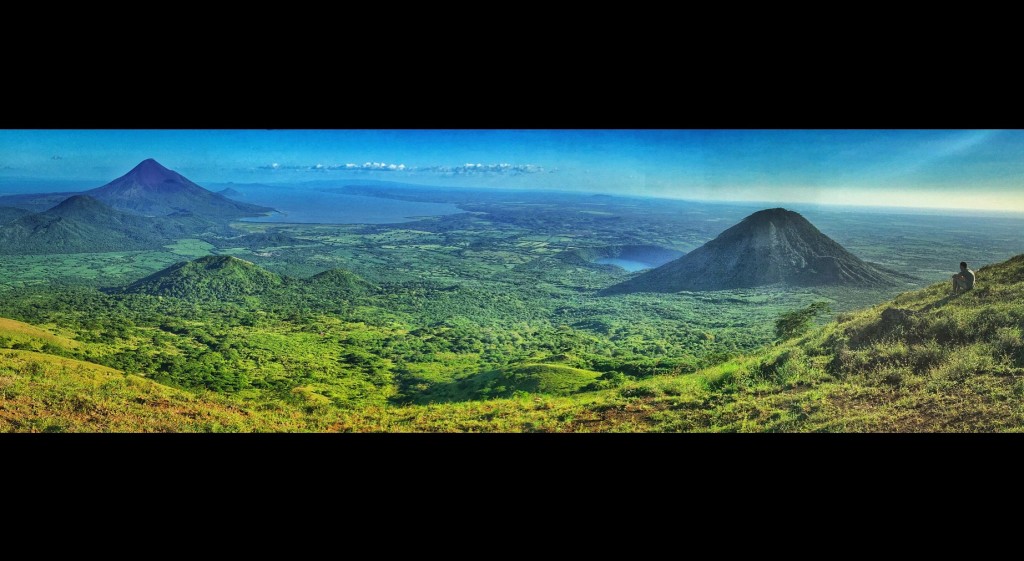 With sunset rapidly approached we grabbed our headlamps and set off for the top. The views were incredible and it's hard to imagine a better place to view sunset.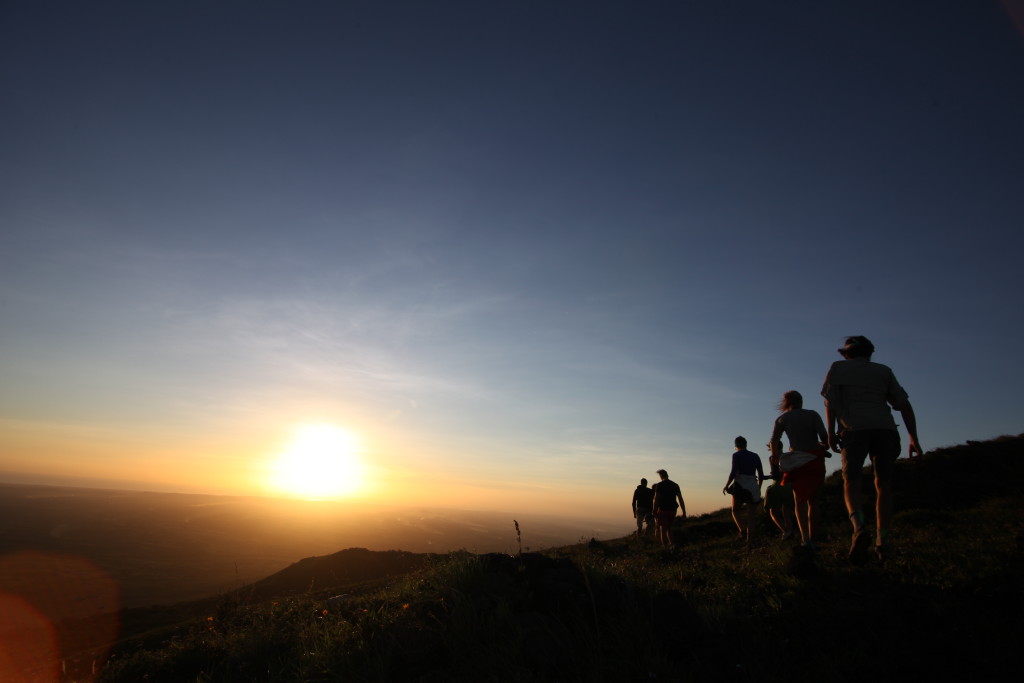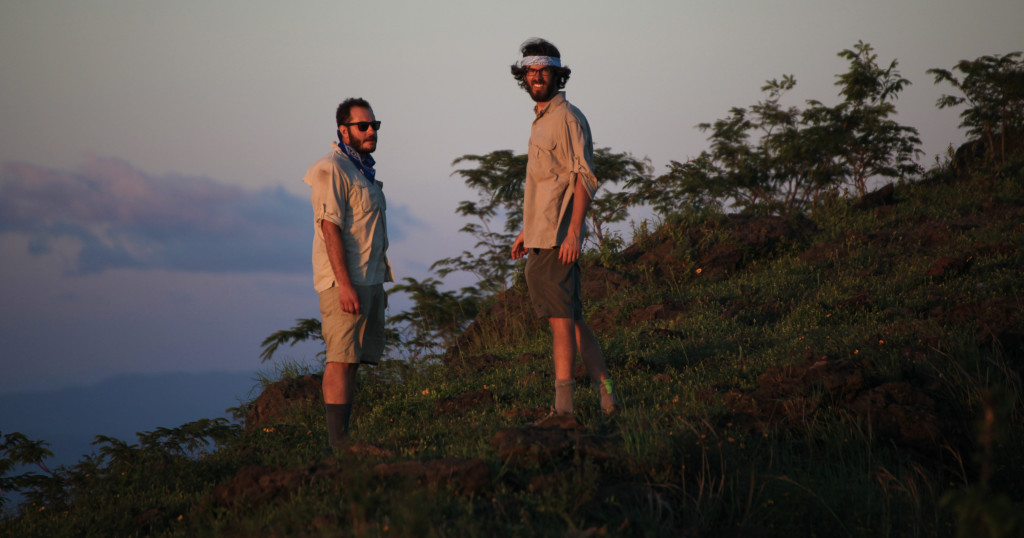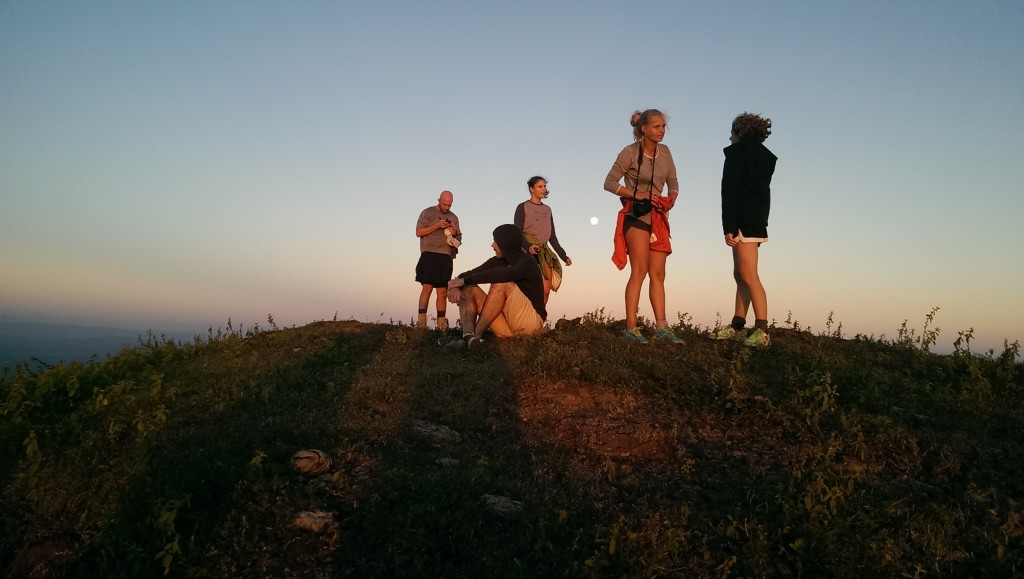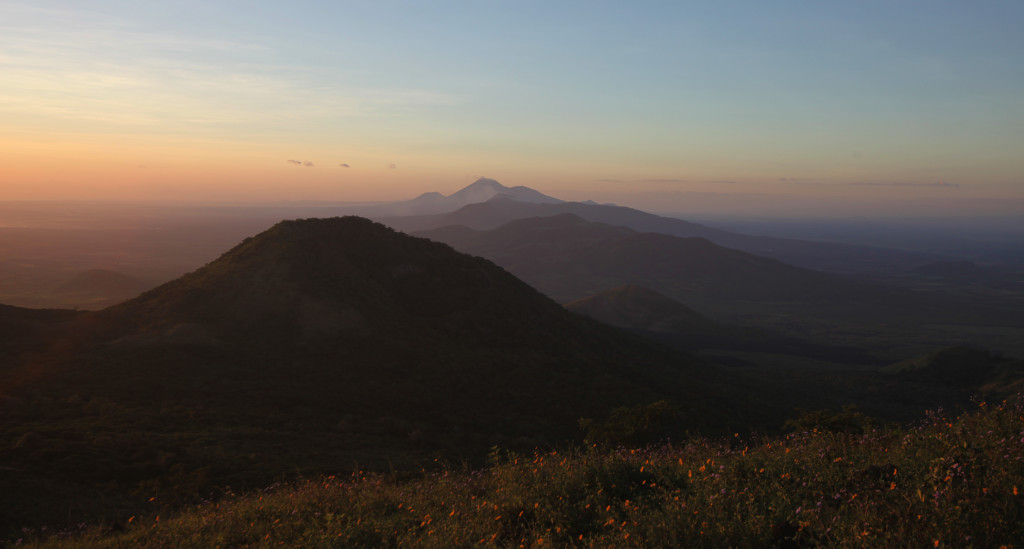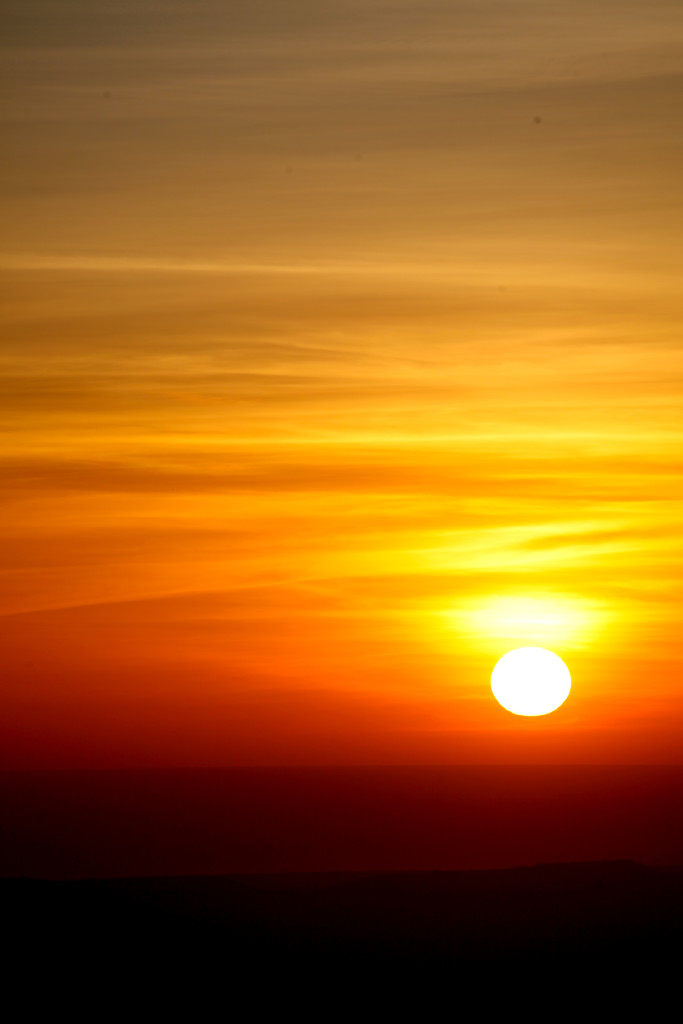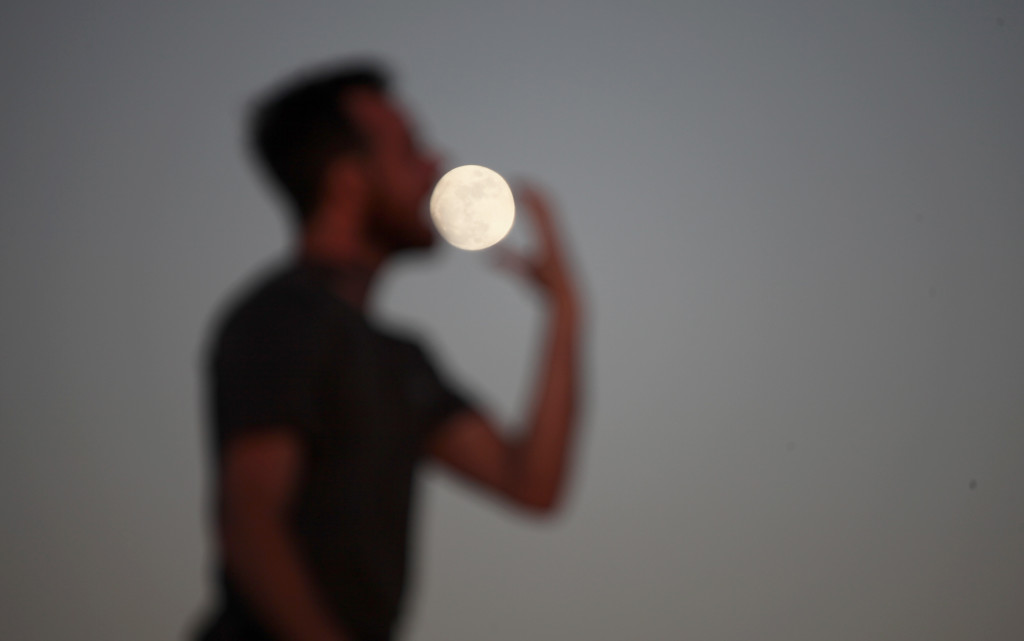 The hike down was a bit more challenging. We chose to take the more direct route which lacked a trail. We all made it, no one fell into the 40m sulfur crater.
We had been hiking, James had been cooking up a delicious chilli over a fire. Wine and chilli were a welcomed addition to the night. Good people, good food, and a great place made for a memorable night.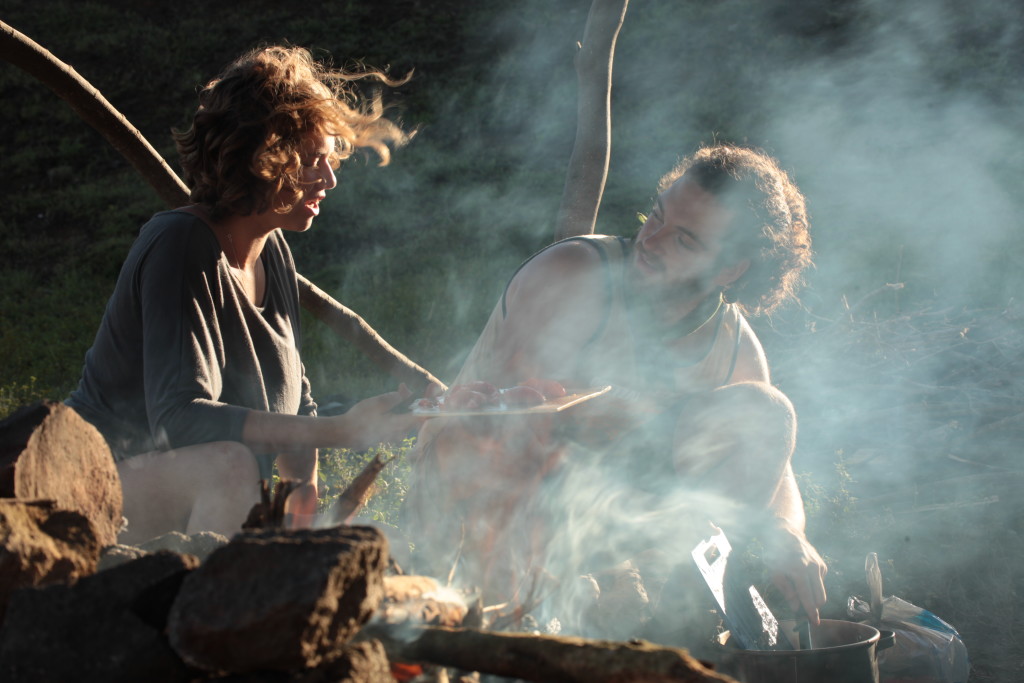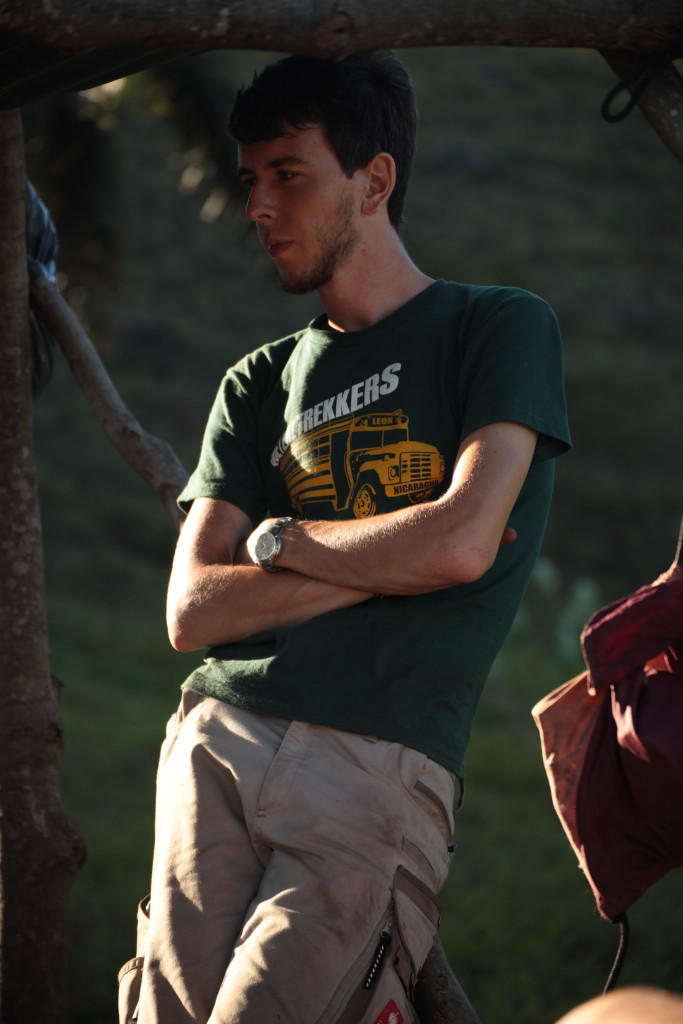 We retired pretty early, except Alex who tended to the fire until fairly late. While I got a great night of sleep, others were awoken by the cows, sleep quality appeared to vary wildly.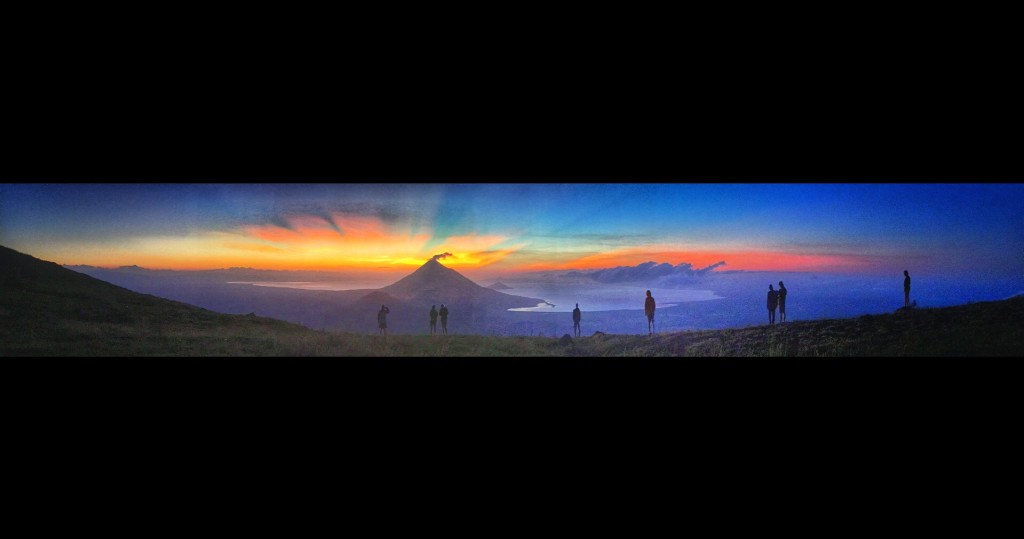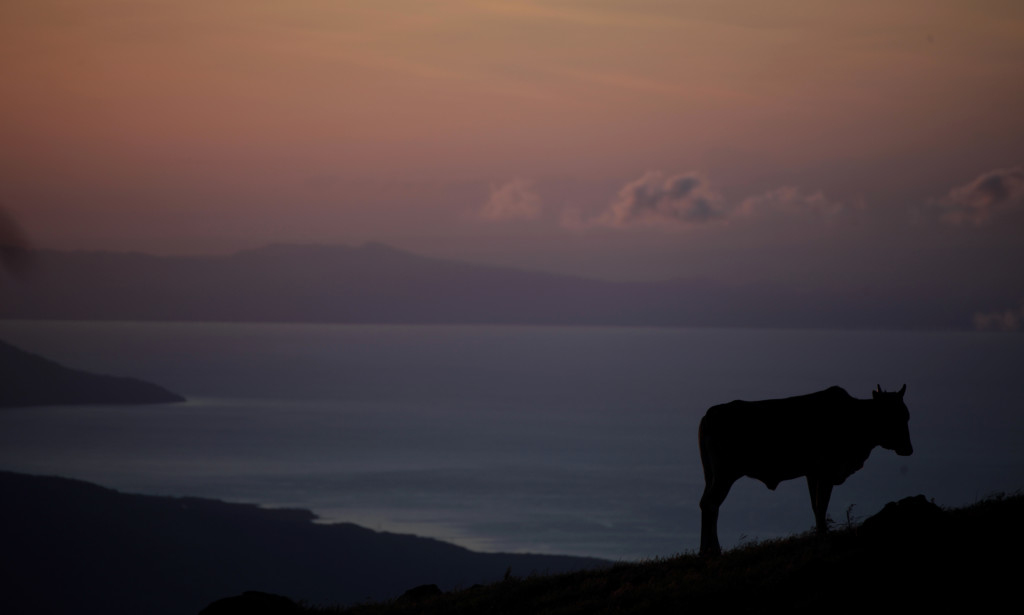 The next morning we ate a hearty breakfast of oatmeal and granola before making our way to the crater lake off in the distance.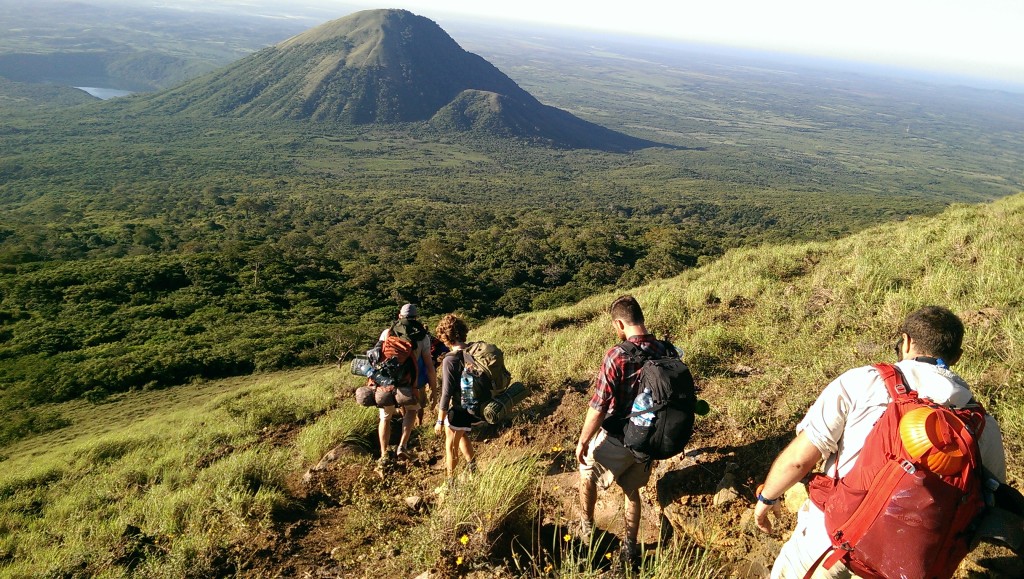 The descent was steep and Rocky for awhile before plateauing off through a thick jungle. This is where the group began separating from time to time, paces varying significantly.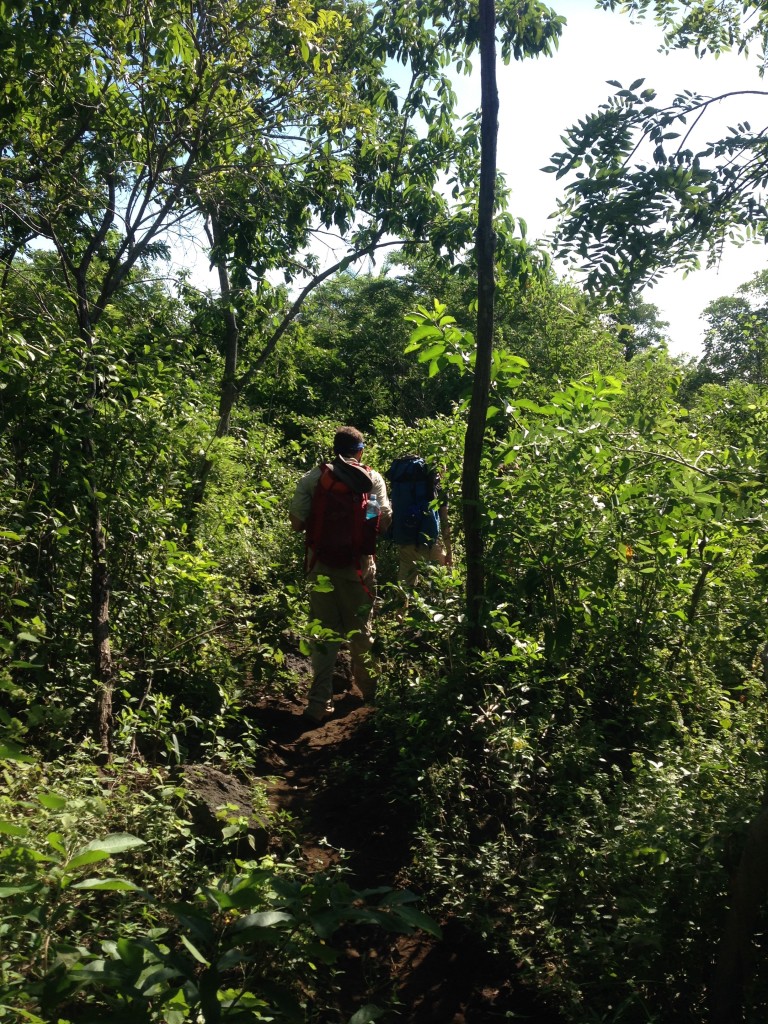 When we arrived at the lake a couple hours later we all felt rewarded. Dirty hiking clothes were replaced with bathing suits and we all basked in the beautiful water, swimming far out to the middle.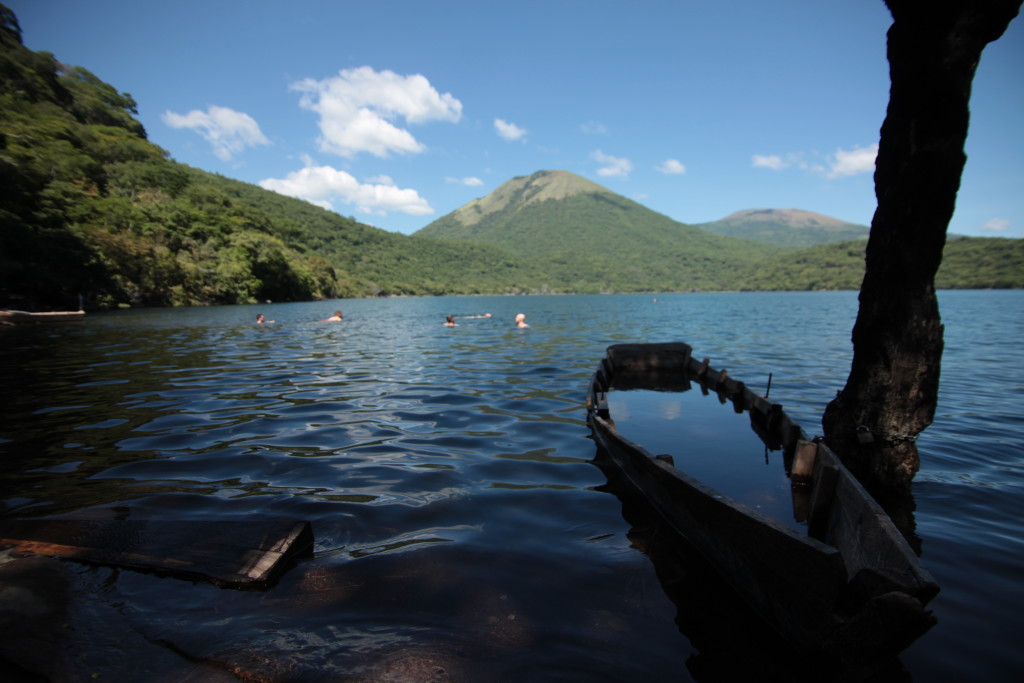 The lunch we were served was simple yet fantastic. Bean spread, mixed vegetables, and crushed chips wrapped in tortillas. We all at A LOT.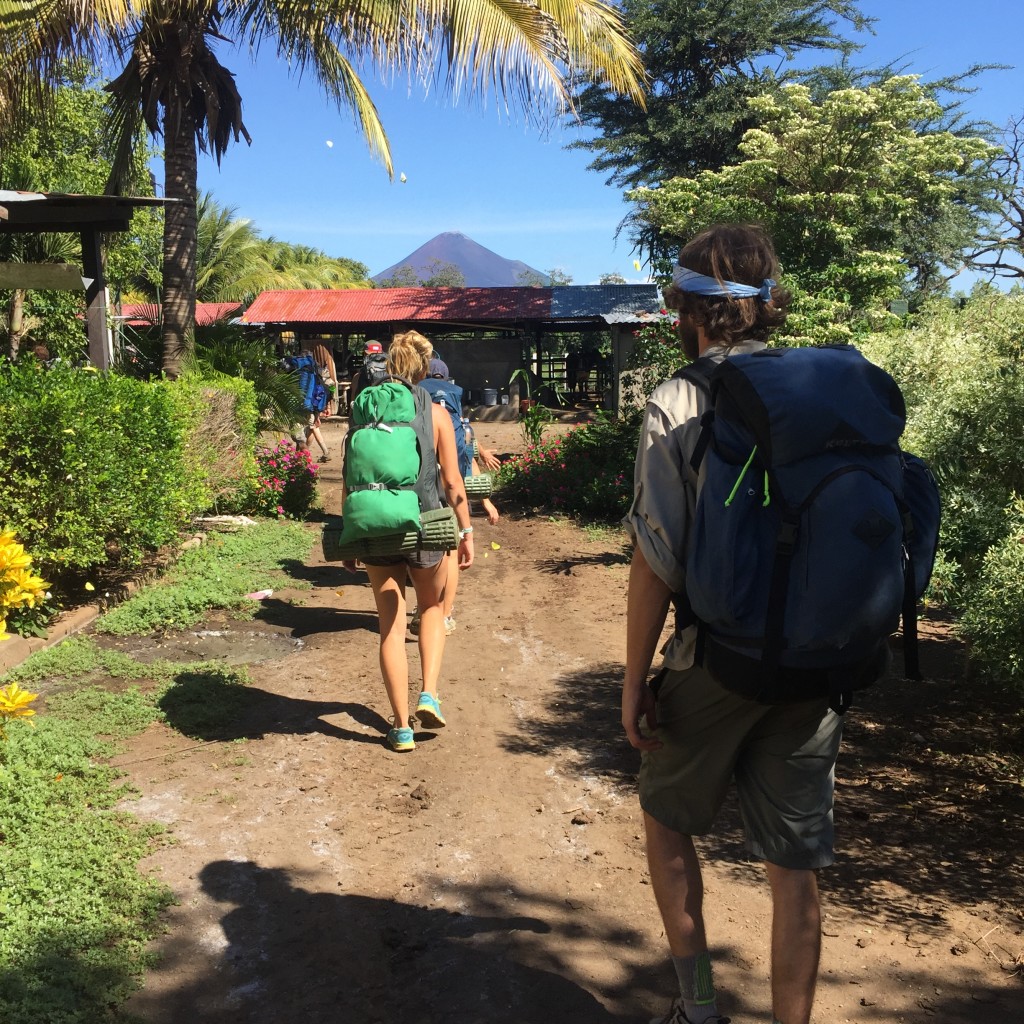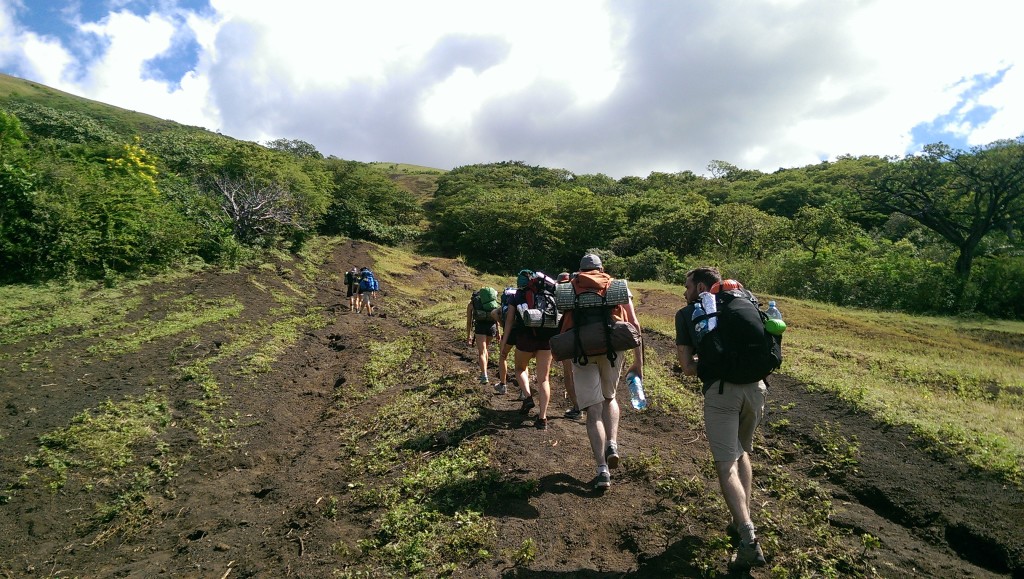 We hiked out to the highway about 45 minutes away and waited for a chicken bus to arrive. Finally we would experience the mode of travel most people use. Unfortunately they wouldn't let the three of us ride on the top like we had seen in other countries, how progressive Nicaragua.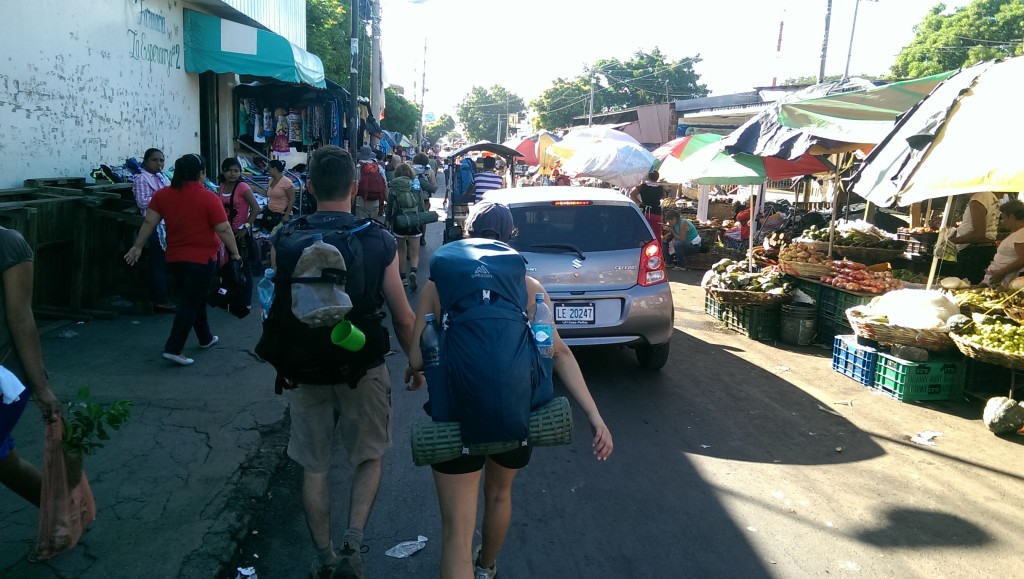 Two buses later we arrived at Leon. We navigated through the city back to the office. Before leaving we realized our upcoming plans for lake Apoyo alligned with two Canadians Courtney and Sarantia. We invited them to ride with us.
Tim and I headed to San Benito for a second lunch while Matt retreated to the hostel to rest.
That night we all did our own thing, my thing included a double dose of ice cream at Center City.
Unfortunately Courtney and Sarantia decided not to join us since they couldn't find helmets so we planned to meet at a hostel called Paradiso.
Our ride to Laguna Apoyo was quick and easy. We passed an inordinate number of vehicles in our path. On our way we stopped by Granada for lunch. It had a similar feel to Antigua, pretty but touristy. Our lunch was interrupted by a local offering to watch our bikes which were nearly within arms reach. We did not take him up on the offer, the money would have been spent on glue for him to get high off. Sad but true since we watched him do it in broad daylight.
We made it to Paradiso by noon but as usual we hadn't made reservations and they were all booked. Monkey Hut was the next stop, no dorm beds left and private rooms were too pricey, ultimately we ended up a place called Peace Project. It was the cheapest and suited our needs nicely. Once signed online, a girl I had been talking to about meeting in Granada messaged me. I was tempted to ride back, she was beautiful and seemed like someone that would make a positive impact on my life, I'm still kicking myself for not going back.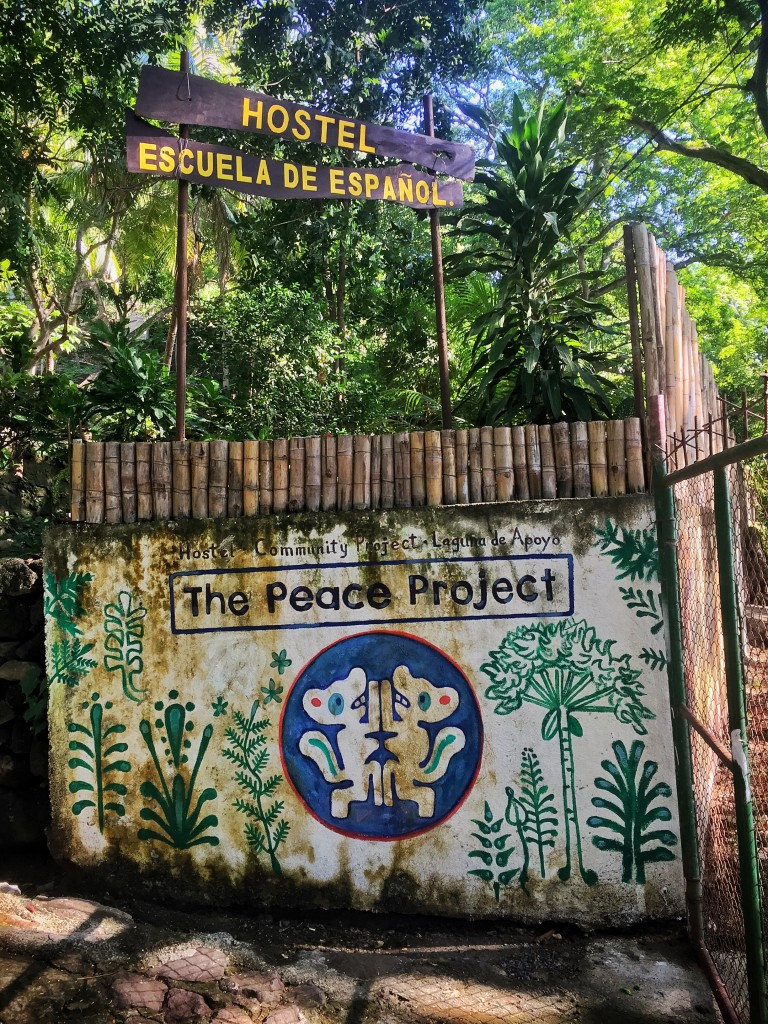 Sarantia and Courtney smartly had made reservations at Paradiso so we met up with them for dinner. Paradiso had really nice seating right on the lake and served up a good menu of food plus their smoothie game was strong. They also had a dozen or so dogs and cats which provided me with a lot of enjoyment. I've become a bit of a cat whisperer on this trip.
The next morning we kayakers over to meet the girls for breakfast before we paddled across the lake. The lake was quite rough which made it a workout, especially if your copilot is lillypaddling (I'm talking to you Courtney!)
We were searching for a hotspring where you could could cover yourself in warm mud but our search came up dry. In the middle of the lake we took a dip which felt amazing after baking in the sun. Once our arms were sufficiently tired, we headed back in for lunch.
After lunch we parted ways for awhile and went back to Peace Project to chill for a bit.
Dinner was had at the monkey hut and Paradiso (I arrived too late) I was accompanied at dinner by a handful of cats. I shared the remainder of my meal because how could I say no to all of that cuteness?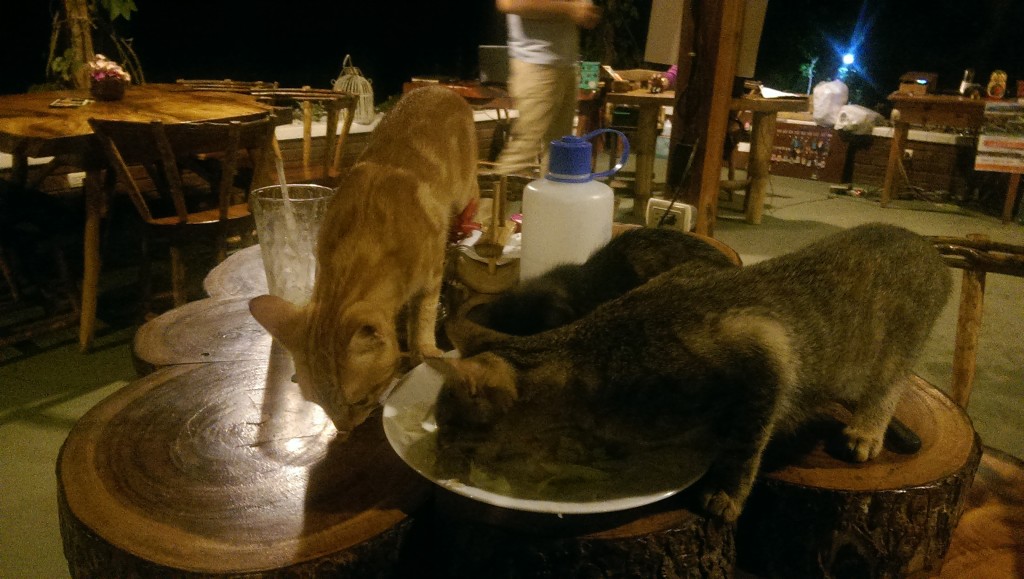 Unfortunately when the evening ended, we said goodbye to Courtney and Sarantia, they were heading back to Canada a few days later.
The next morning we rode south to a surfer town called San Juan Del Sur. Matt had made reservations at a hostel called Hola Ola which was right outside the town and up on a surrounding hill. It was immediately obvious that this hostel was rad. It had a pool, a cool sun porch overlooking the valley, and just a cool vibe.

For dinner we went to a highly recommended fish joint on the main drag. It did not disappoint. I washed it down with a cono grande.
Hola Ola turned me into a slug. It was so chill that I felt entirely content just laying around and hanging with the other travelers. Despite it being the major draw of the town, we opted not to go to the raging party that is Sunday Funday. The aftermath tells me that it was entirely ridiculous. Instead, I went to dinner with a couple girls from the hostel, and then we walked over to the after party. Matt and Tim decided to try the local brewery before joining.
The brewery, Cervecaria San Juan Del Sur, was actually spot on. Tim and I discussed the finer points of ExPat living, and international travel culture with a awesome New Zealander from Miami over a very impressive line up of draughts. They used local ingredients like Passionfruit, and made Pales, Stouts and even sours! Tim and I got special taste of home that night, and rightfully so as one of the owners told us they truck in all the hops, grain themselves from the States. – Matt

http://www.sjdsbrewers.com/
The after party was at a bar on the beach. One by one pickups filled with drunk people pulled up. I watched patiently, anticipating that at some point someone would fall out of the back. Somehow no one was hurt.
A commotion broke out outside as a guy was brought to the ground, knee in his back. A girl next to me from Canada pleaded with them to leave the guy alone. I later informed her not to jump to judgment. That guy had just mugged a woman.
Inside the party was bumping. The people watching was top notch. Everyone was confident in their dancing abilities. On the beach a guy spun fire while one girl courageously danced in the fire.
As the night got later I saw two times where girls wandered off on their own away from the party. Both times a drunk/homeless looking local attempted to lift their skirts or coerce them to come with him. Both times I got in the guys face and stopped the situation. I think the girls were likely to drunk to realize exactly what happened but I felt good about helping them out of a potentially dangerous situation.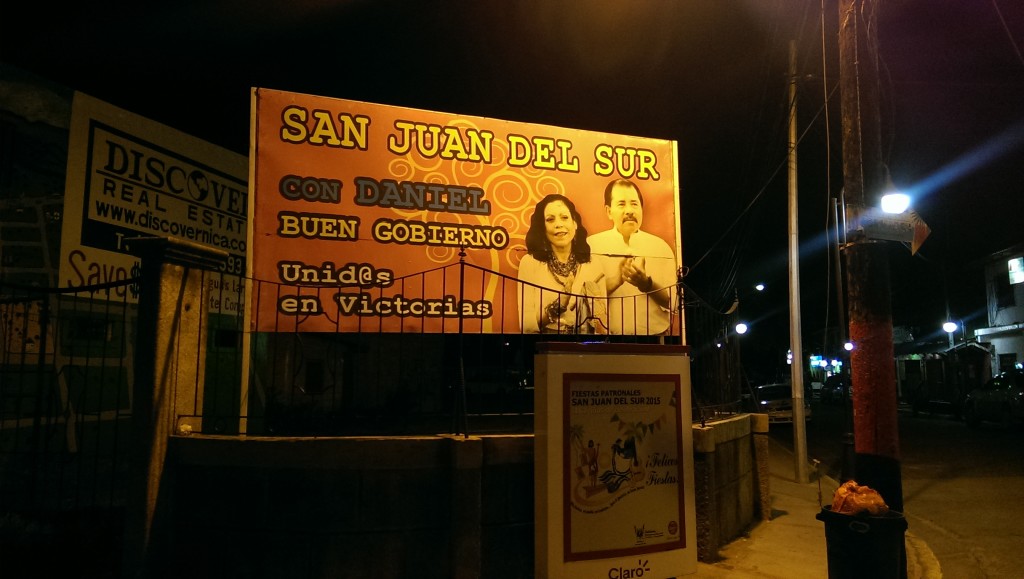 At 2am I walked back alone. The stretch between town and the hostel has a reputation for being dangerous. With this in mind, I walked with my knife in hidden blade (this is where the blade extends upwards towards your forearm). It's called hidden blade because it's difficult to see and also difficult to disarm. Unfortunately for me, some eagle eye cops must have caught the reflection while passing by on their motorcycle. It was instantly obvious they wanted to take my knife and cite me for it. I begrudgingly handed it over to avoid issue. I was met with the response that it was prohibited for me to have. I tried to rationalize with them that when everyone else has a machete, I should be able to have a pocket knife. They now asked for my information. I refused. What I did next would probably have gotten me shot elsewhere but these cops were 53 and had no guns so I wasn't remotely intimidated. I proceeded to remove the keys from his motorcycle and said I'll give you your keys, you give me my knife in Spanish. This is when the handcuffs came out and coincidentally when I decided that a $24 knife was worth walking away from. They didn't follow.
Monday was a lazy day. Matt and I got food at the market and he bought a fancy new bathing suit. I got some ice cream. Tim also bought a new bathing suit and I took his old one as a spare.

Matt hiked up to the second largest Jesus statue in the world, where you can a really great view of the town, especially at sunset. I spent the majority of the rest of the day writing the blog while laying around. Later on I joined Tanya to watch some beach volleyball. It was a pretty awesome sunset with the boats in the water.
Matt and Tim went out and got one last taste of Nicaragua. They threw back a few Tonas, and watched a parade go by, which seemed less like a parade and more like a cluster of folks lighting off homemade fireworks in the streets. Eventually they made it to King Curry, an incredible Indian joint run by an awesome German who surfs all day, and makes amazing super healthy food in a tiny kitchen by night.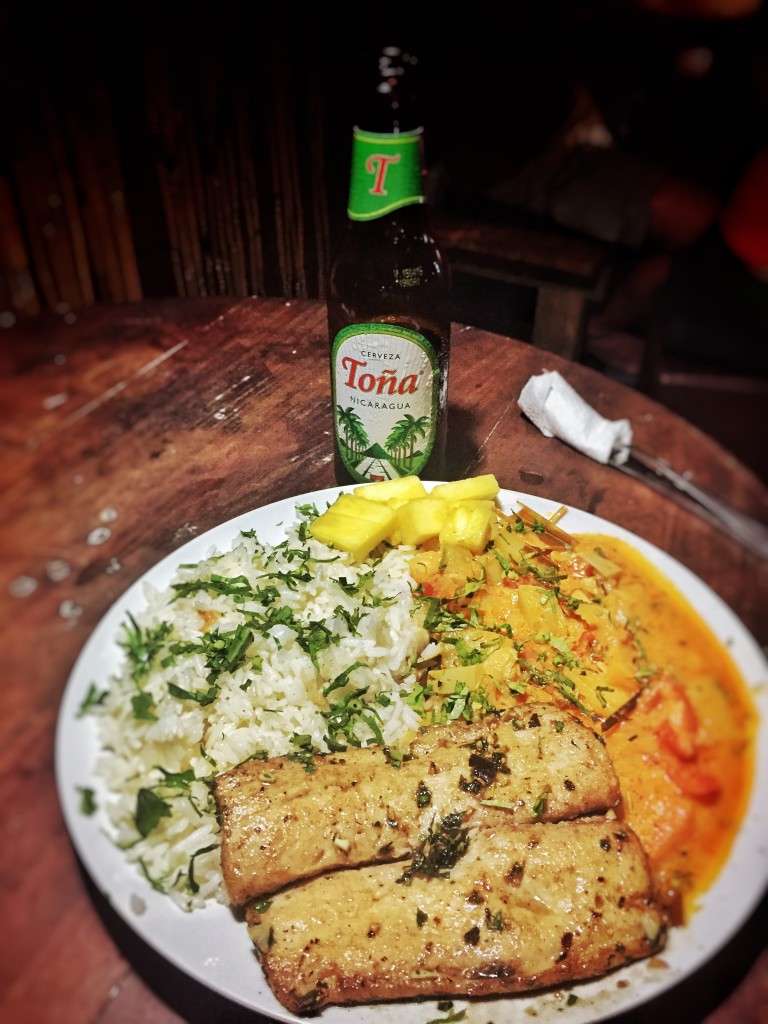 The next morning we said our goodbyes after breakfast and continued our journey south to the Costa Rican border. Everyone coming north had told us it would be a nightmare due to Cubans trying to come north to the US. We hoped for easy passage.