Our second week on the road and the good times have continued. We started the trip at a pace that would have quickly worn us ragged. Our time was spent immersing ourselves in the rugged landscape of the South West, some of us even fighting it at times. As we've slowed down our focus has shifted from the looming monuments in the distance to people who inhabit these landscapes.
Moab treated us to our first collective hostel experience. While shedding some weight and gearing up to hit the White Rim Trail we had the good fortune to meet a most excellent couple from the UK. Ed and Rachel have been traveling on their Honda C90's for over 14 months in North America and are currently finishing up the Trans American Trail. Meeting them was a truly humbling experience. They share the same Argentinian end goal but as Ed stated, "If you see us again, something has gone terribly wrong with your trip."
Check out there site: http://wanderonahonda.co.uk/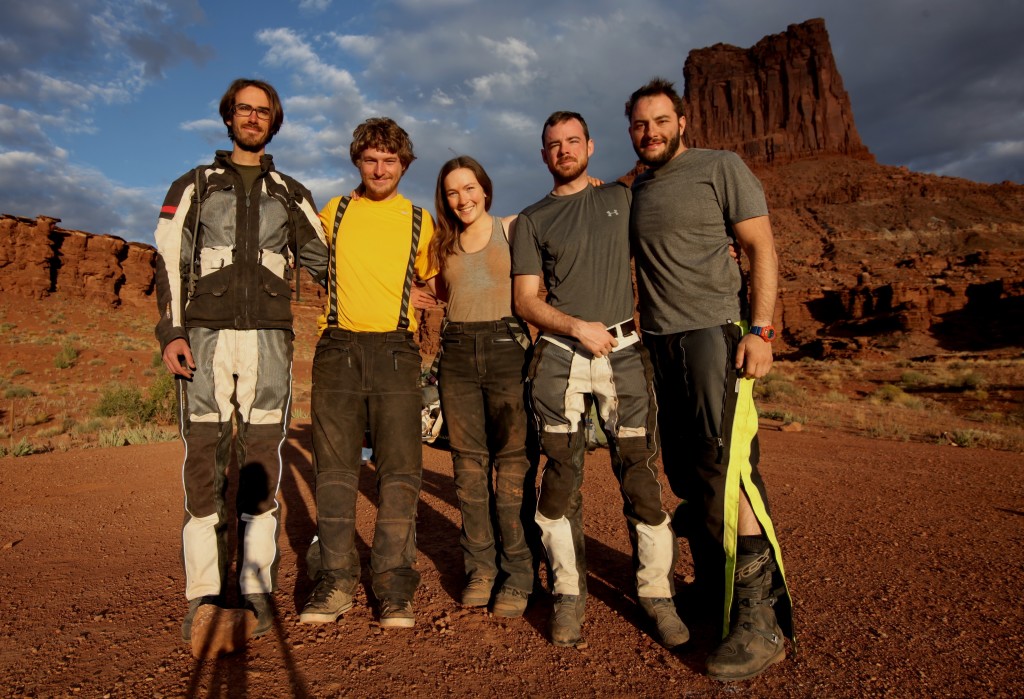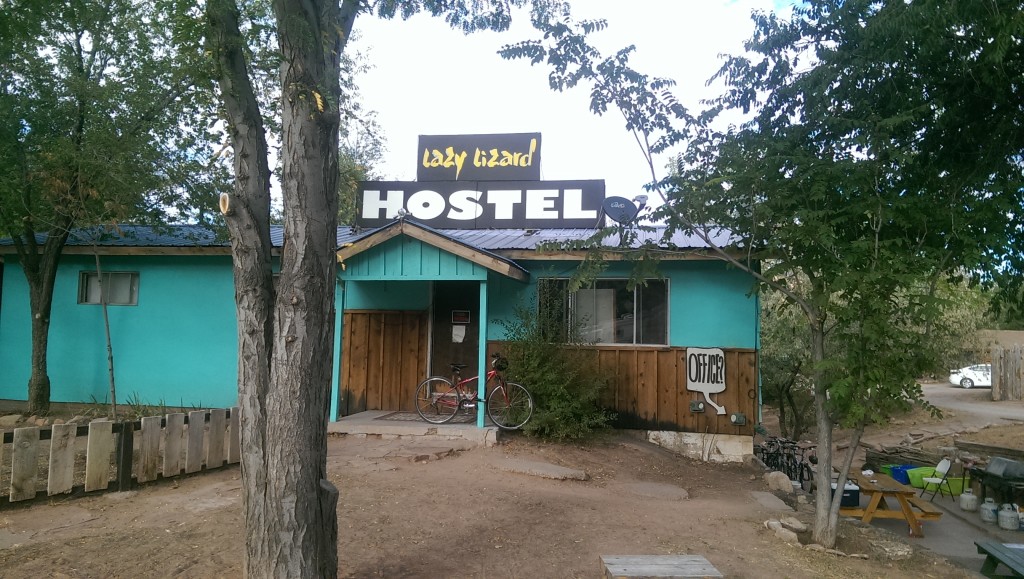 On our way out of Moab, Neal's keen love for food steered us well yet again. Although known for their pastries it was breakfast burritos all around at Love Muffin. Pat did indulge in a blueberry bacon muffin, which going off the expression on his face seemed nothing short of a mild sexual experience. We headed south to Arizona via Monument valley which was truly incredible. The unfamiliar landscape made it difficult to focus on the road but we eventually arrived safely in Flagstaff, Arizona to visit Matt's friends, the amazing Seth & Kande.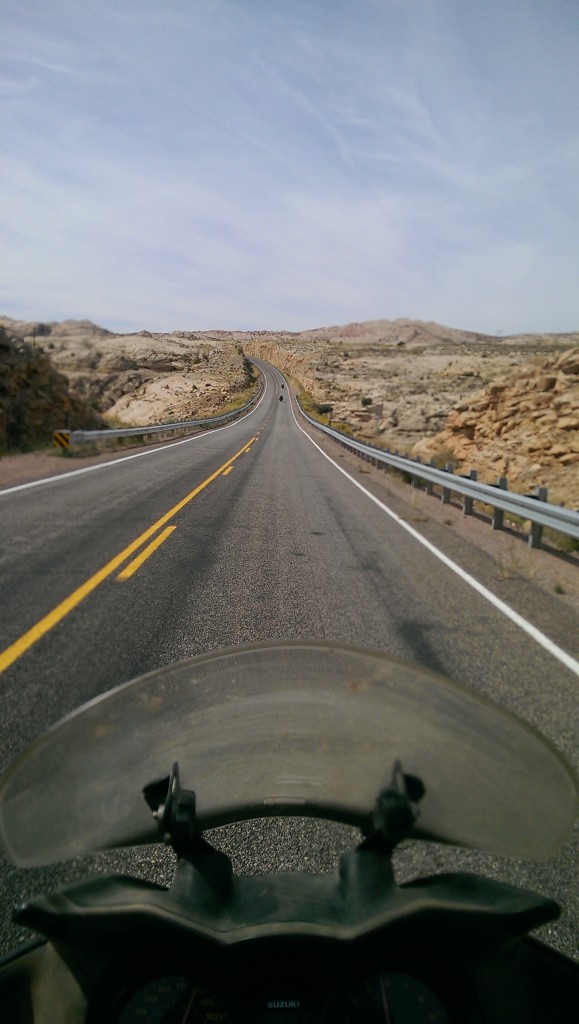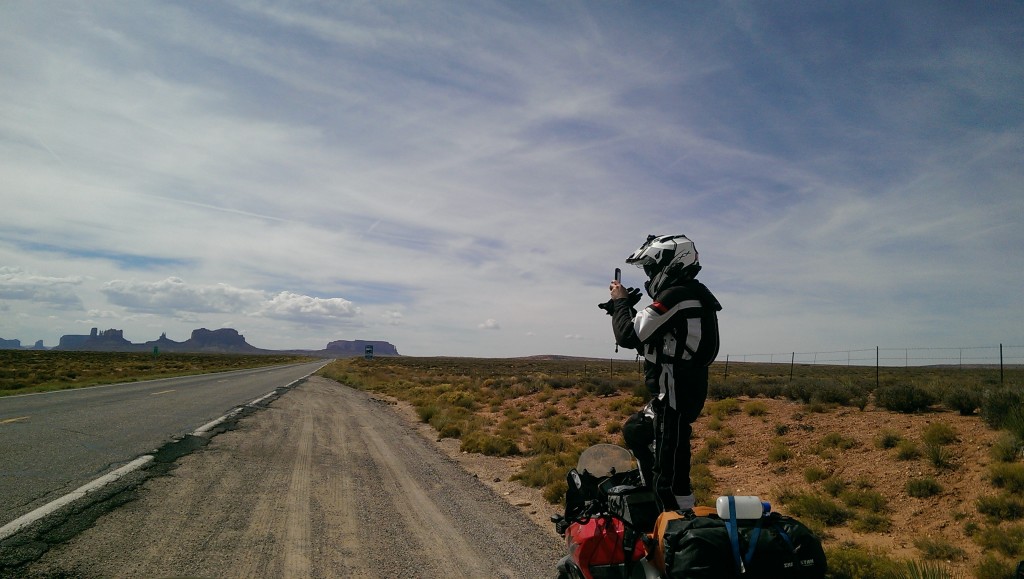 Seth and Kande operate an overland expedition company called ADVENTURE DRIVEN.They focus on excursions to both the Grand Canyon and Baja. They graciously took us in and immediately the nerdy motorcycle banter began. We barely had our boots off before Seth's kitchen exploded with maps of Baja, Mexico. The beta session quickly sidetracked from intel and route planning to stories and gear. Finally unable to formulate sentences, we needed to refuel with our proven dietary choice….more burritos.
The sobering morning cleared our brains of the cobwebs left by tortillas and cervezas. We finally hit the books and planned a route to include amazing beachside campsites, neat towns, and great eats. We spent a little while tooling around Seth's favorite room in his house, his immaculately kept garage. Unable to resist another night of amazing motorcycle nerdom, we crashed yet again and set out early the next morning.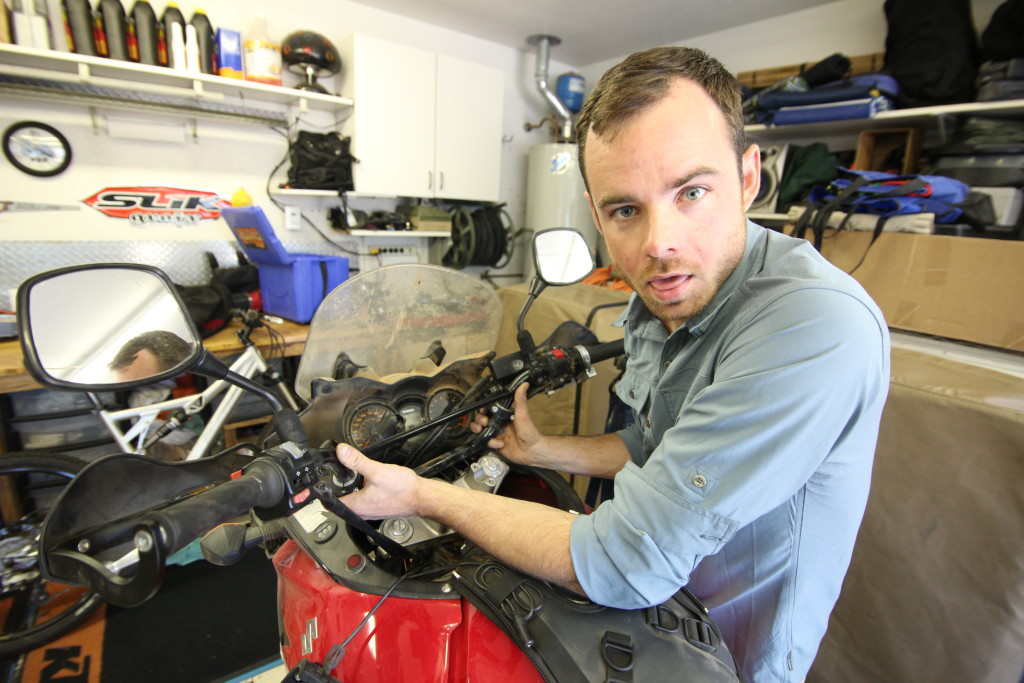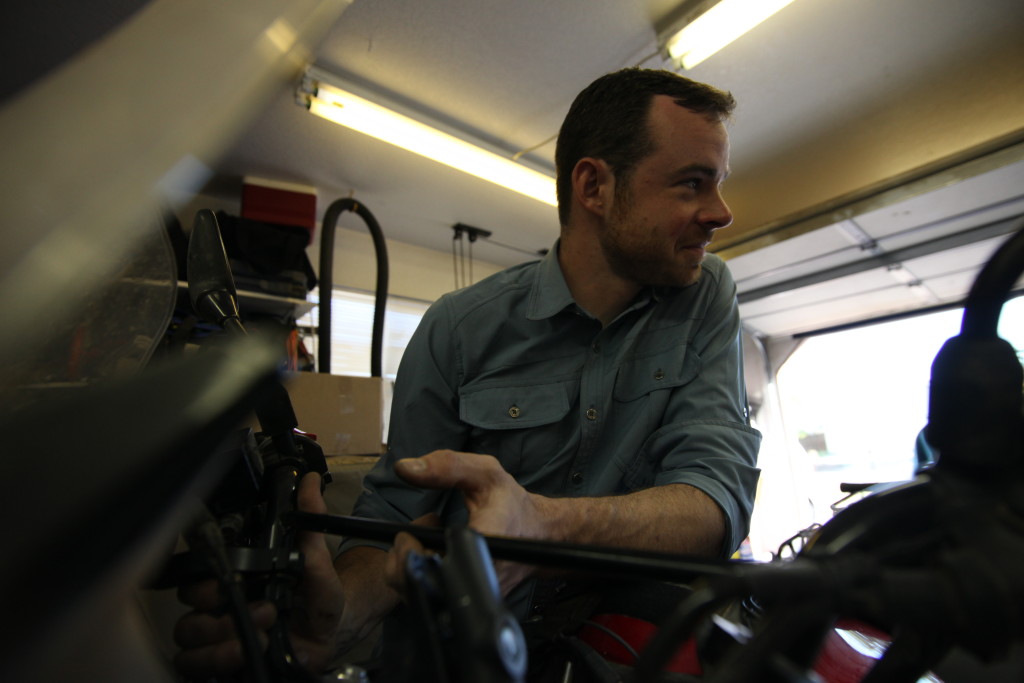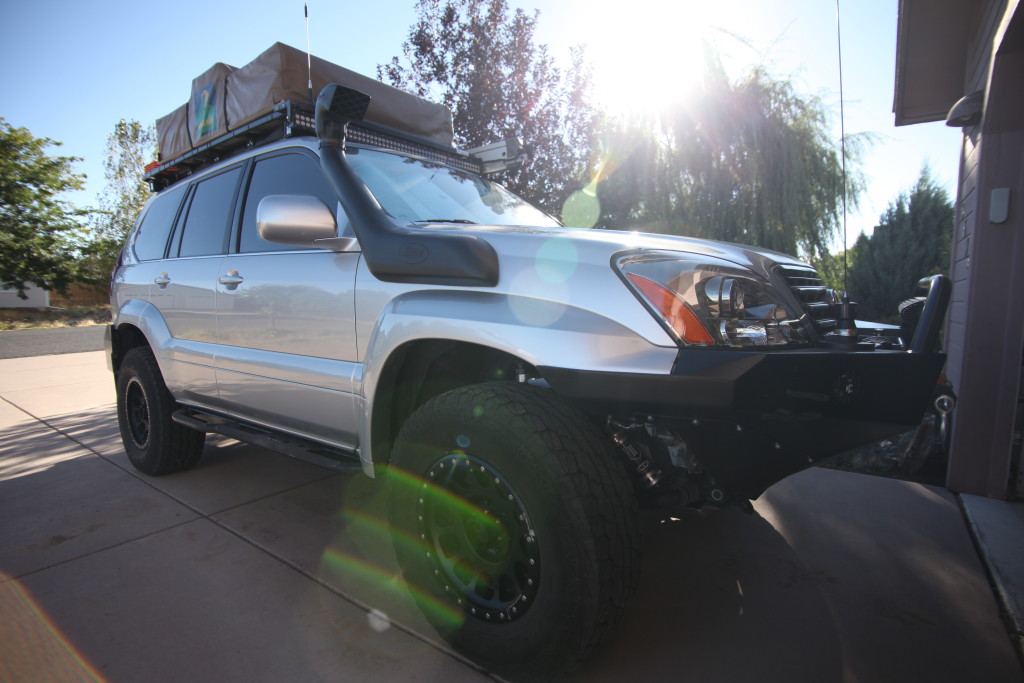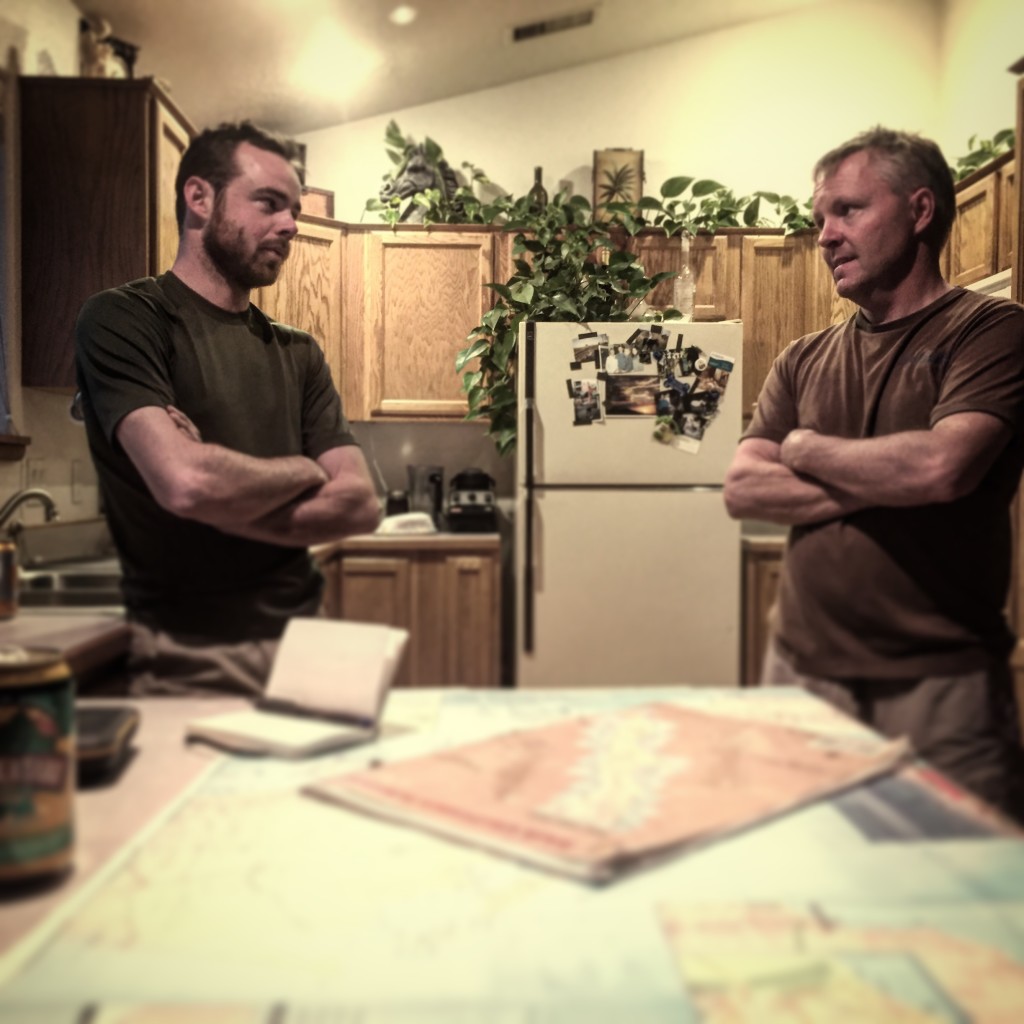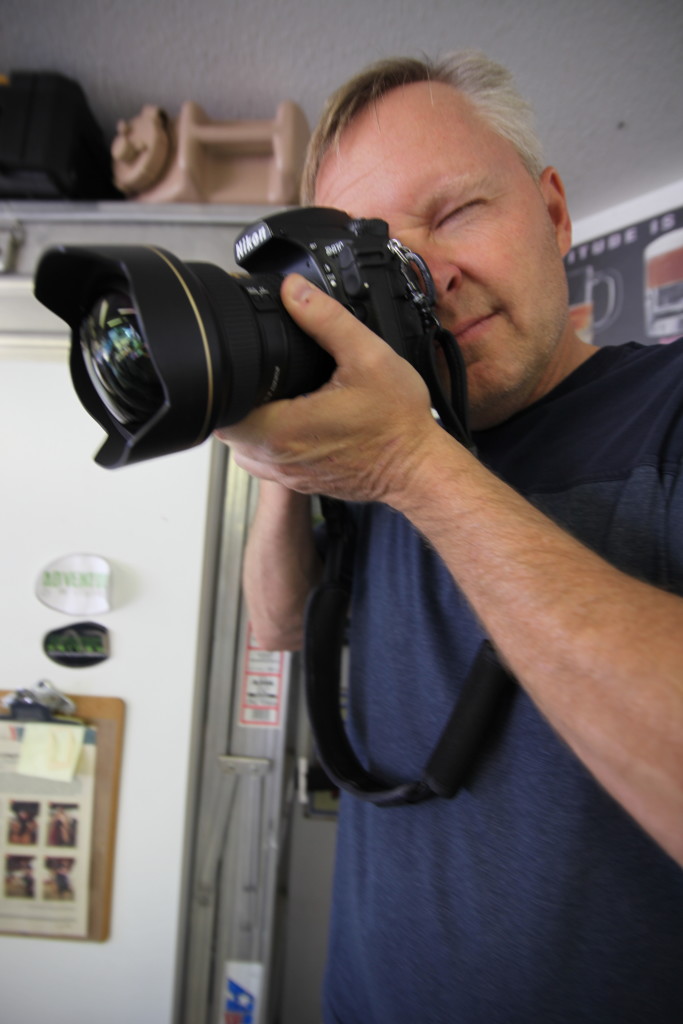 From Flagstaff it was onward to Las Vegas. This stop was strictly business, we had zero intention of having a "Vegas experience." I (Patrick) will be starting a firearm manufacturing company when I return home and had set up a meeting with the legendary, Bob Irwin of The Gun Store.
I walked into the shop, decked out in sandals, the latest in vagrant hiker attire, and cordially asked for Bob. After a few head turns I was directed to Bob's assistant who kindly paged him and allowed me into his office. From there on it was a stream of non-stop conversation for three hours. I was given a tour, saw the guns Bob designed, and ultimately learned a great deal. I hope our paths cross again after this trip.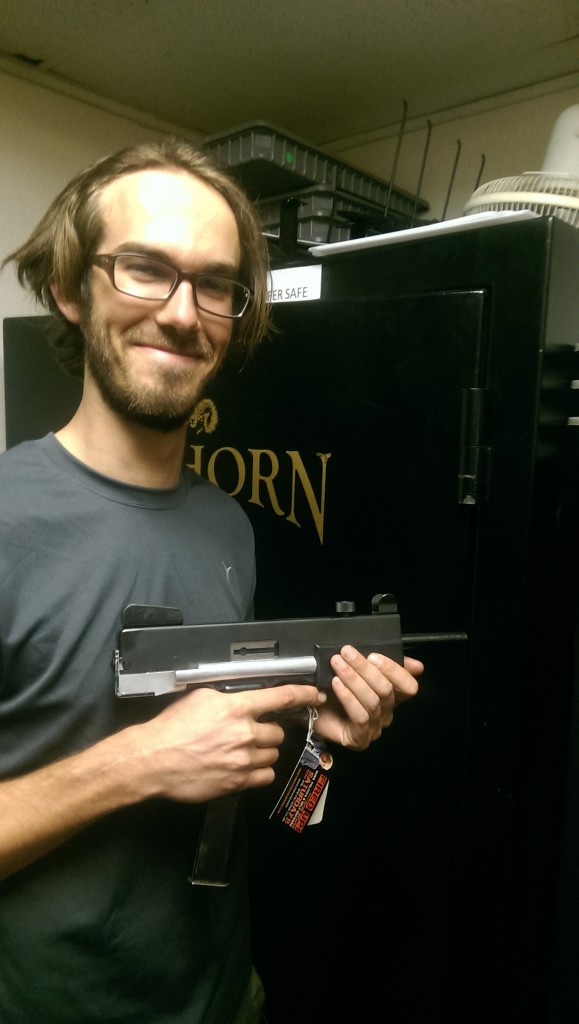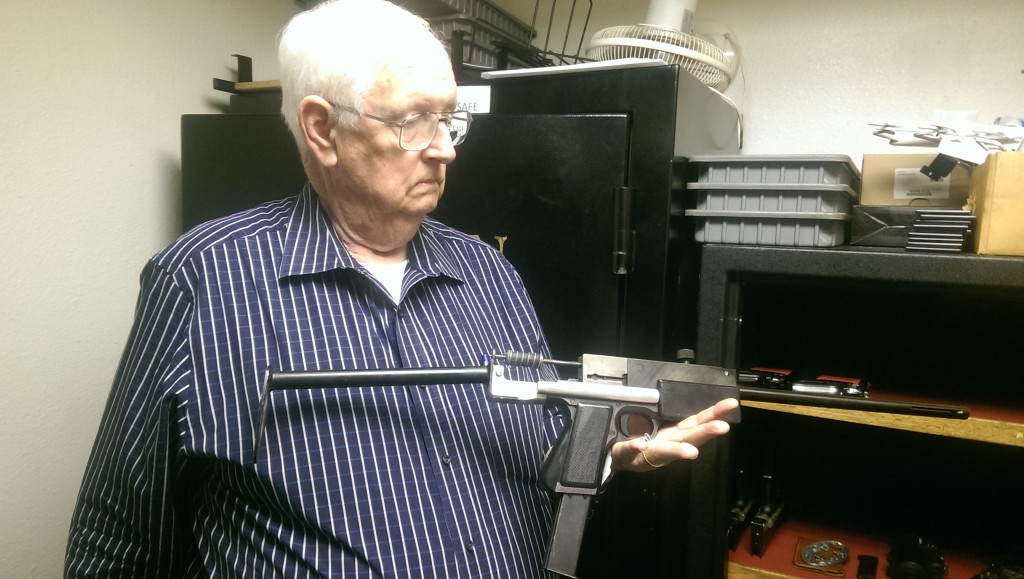 The gang reconvened for dinner at an unassuming Korean-Mexican fusion place, on the outskirts of Vegas. It was a hidden oasis, buried in the vast wastelands of strip malls baking in the desert heat. Aptly named Ko-Mex, it was freaking incredible. With our bellies full and our eyes tired from the constant raping of pulsing lights we set out to the Mojave desert.
After one last seizure inducing stop for gas we left the mind numbing landscape of Nevada and entered a Dr. Suess like landscape ]of California's Mojave desert. After a bit of searching and avoiding the suicidal kangaroo rats, we stumbled upon a war memorial which past travelers had camped near. While setting up the tent, we attempted to hide from an approaching vehicle. We cut our headlamps, but failed to realize our ultra reflective TRON suits could be seen from space in the desert darkness. After watching the vehicle fumble through the surrounding jeep trails, it eventually turned and stopped directly next to us. Blinded by their headlights, a figure exited and a soft feminine voice inquired "Hey can we camp near you guys?"After agreeing neither of us were serial killers, we decided they could camp.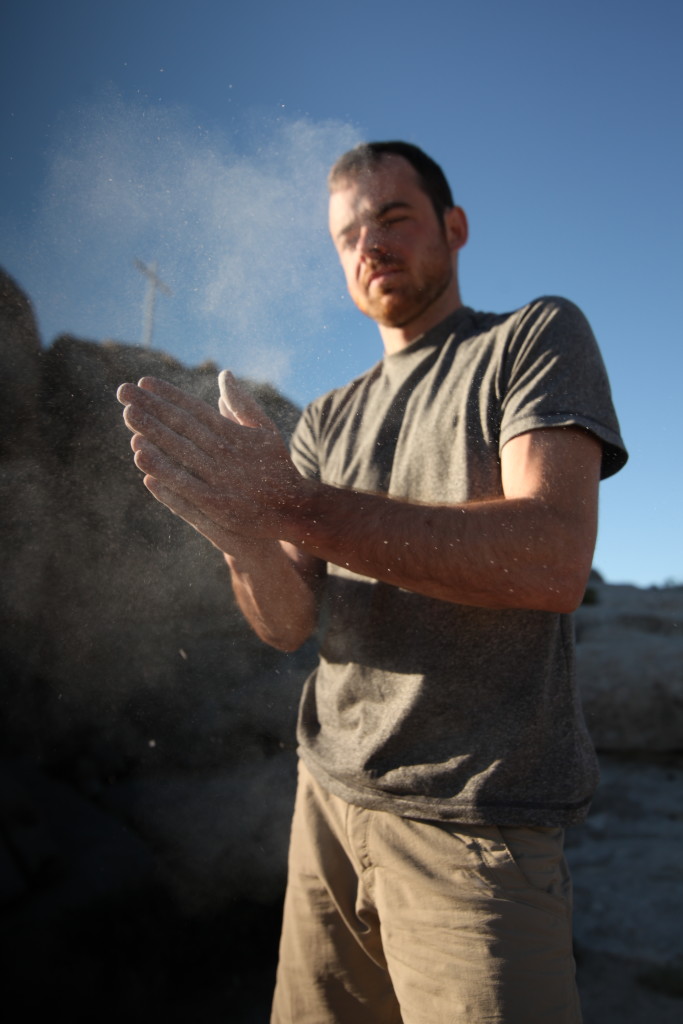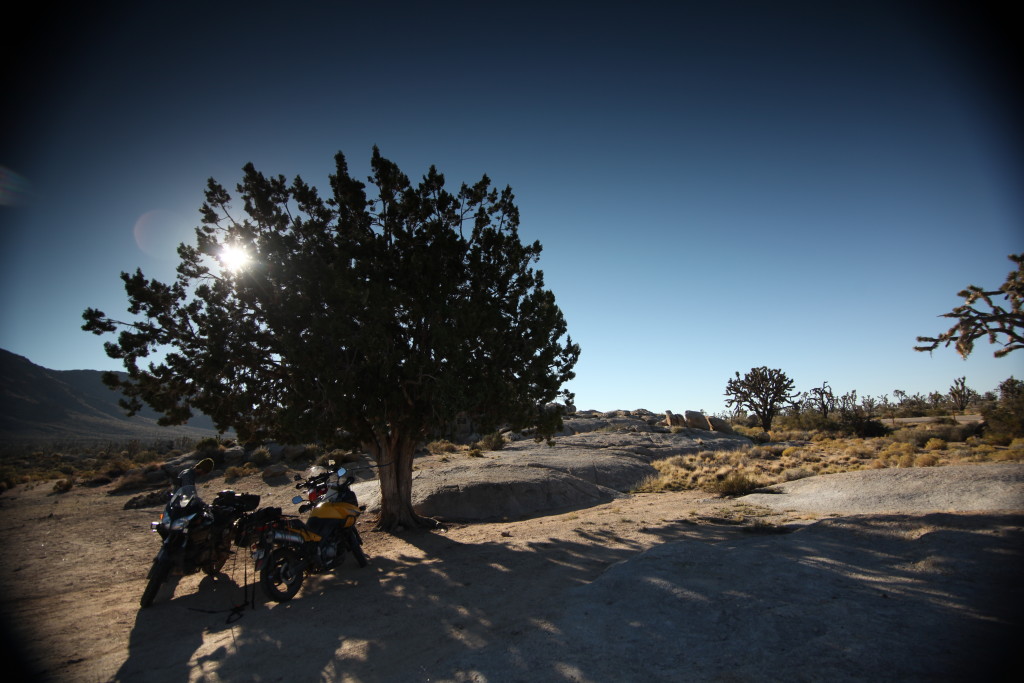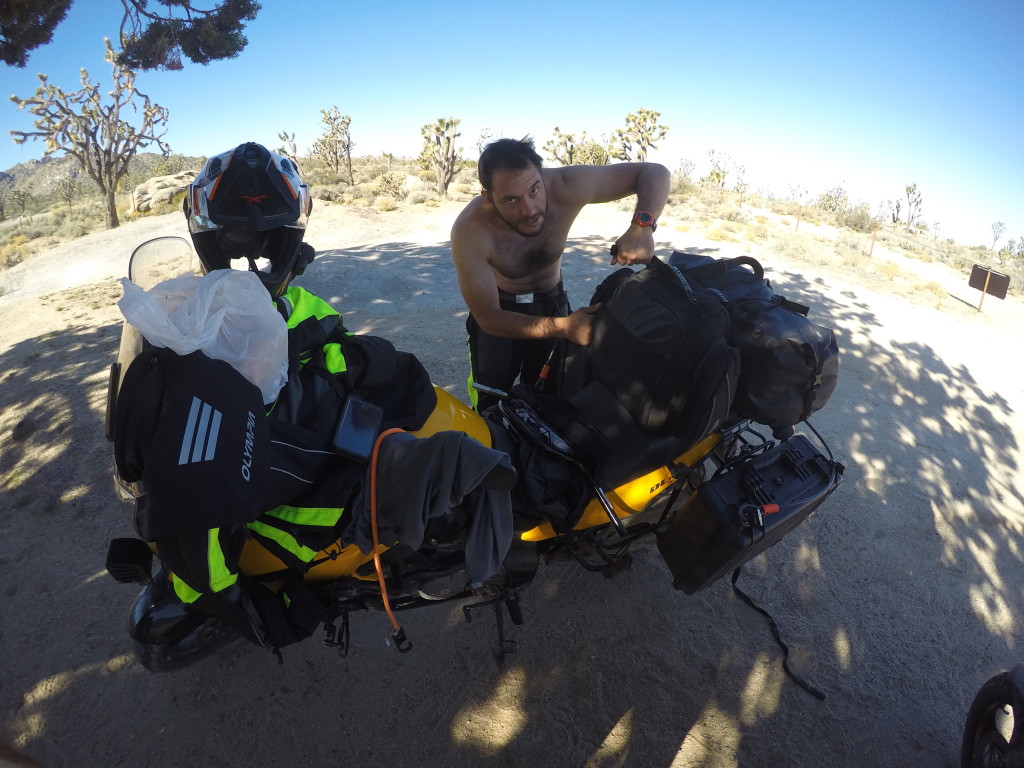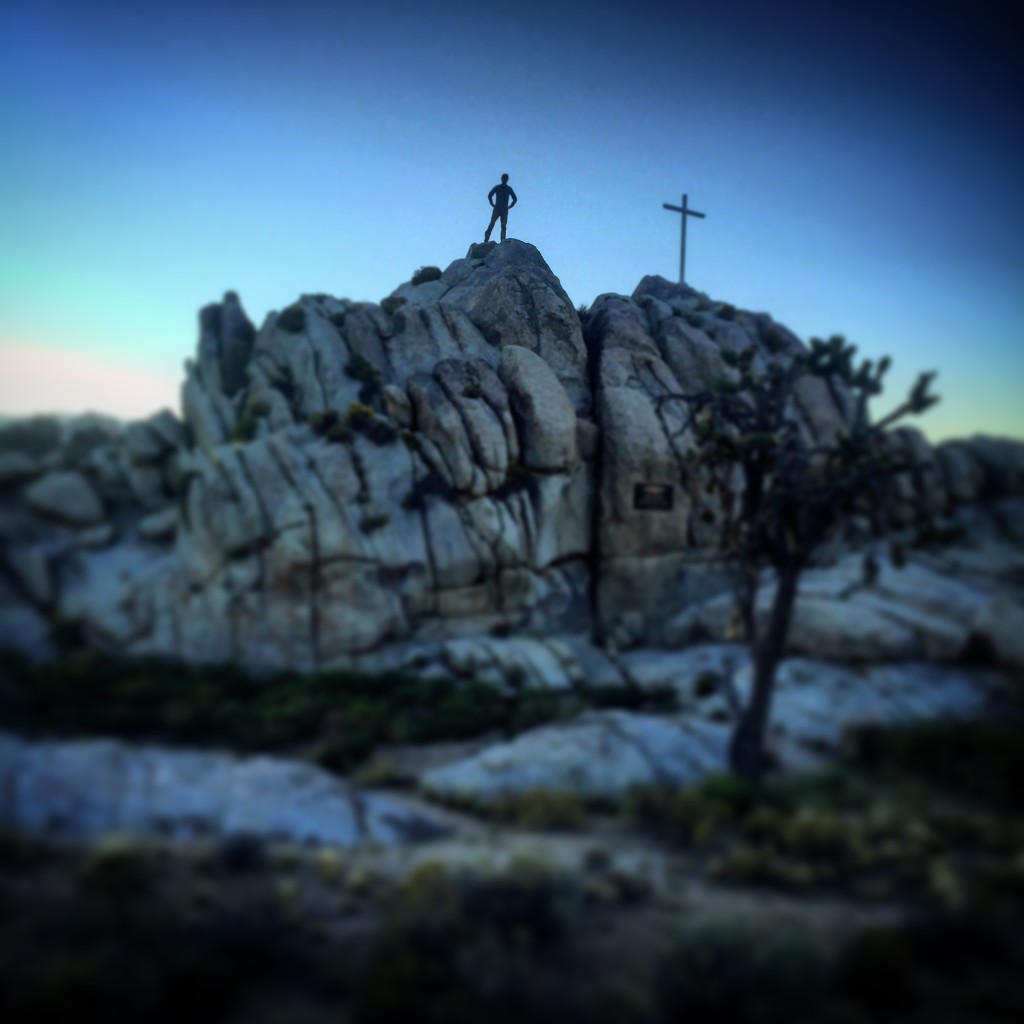 Around 2am we were woken up by howls, screeches and chirps. Hyena, chupacabra, jersey devil? Nope, just a pack of coyotes celebrating a kill. We awoke to a beautiful morning and realized there was bouldering nearby. Tim and Pat donned their shoes and got a bit of climbing in.
After a late morning start we hit the road for our last stop in the US, Fallbrook, CA. An advrider.com member named Carl reached out to me a month ago offered us a place to stay and ship necessary parts. I accepted his offer but I'm sure Carl was second guessing it when the mountain of tires and parts arrived at his door.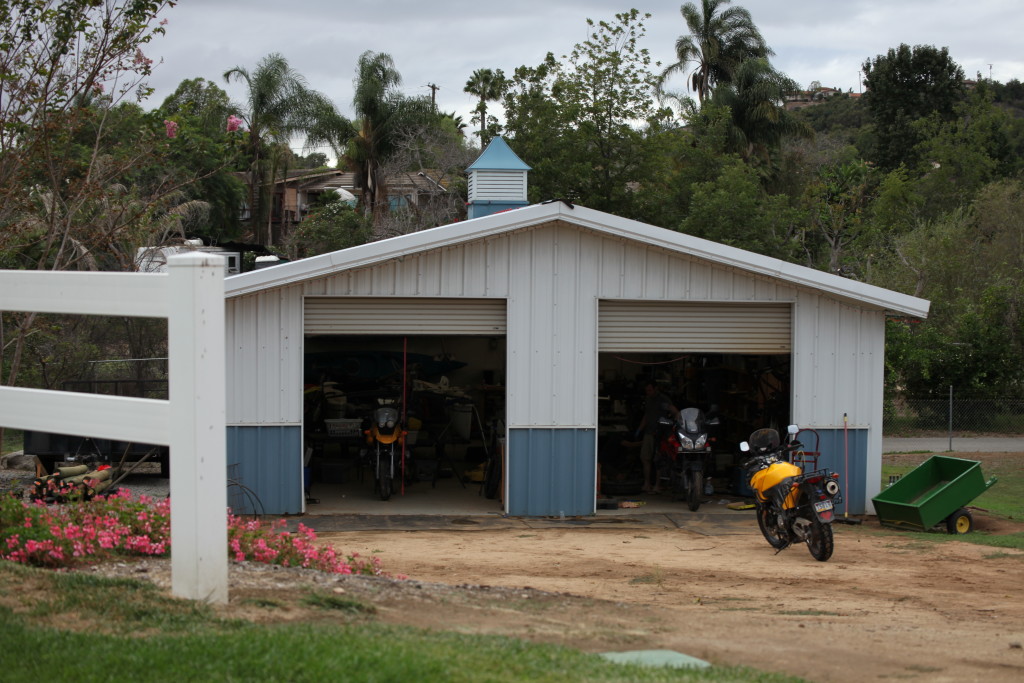 The road to Carl's house was curvy and fun but we took it slow, precious fresh California IPAs were aboard. Not a drop was harmed. We were greeted by the entire Hixon gang, Carl, his wife BJ, their two dogs Duke and Remmy, and their feline companions Ranger and Abby. They immediately got us settled into their beautiful home and treated us to excellent carne asada tacos. Two friends, Matt and Zoma, joined and we all had a great night of stories and jokes. I sort of felt like a real adult for a little bit. Ultimately BJ's chocolate chip cookies stole the show, or was it the chocolate chip pancakes in the morning?
Sunday was not a day of rest for us. We left Philly on old chains, sprockets, and tires so these all had to be replaced. Now this would normally be a lot of work but it was made even more tedious when we realized Matt's counter sprocket was torqued to infinity and held a healthy dose of red Loctite. Ultimately a combination of Tim's "MacGuyver-ness" and Matt's ogre strength broke it free while I changed the tires. 7:30 rolled around and we were treated to another fantastic home-cooked meal. Just a bit more preparation is needed before we cross the boarder.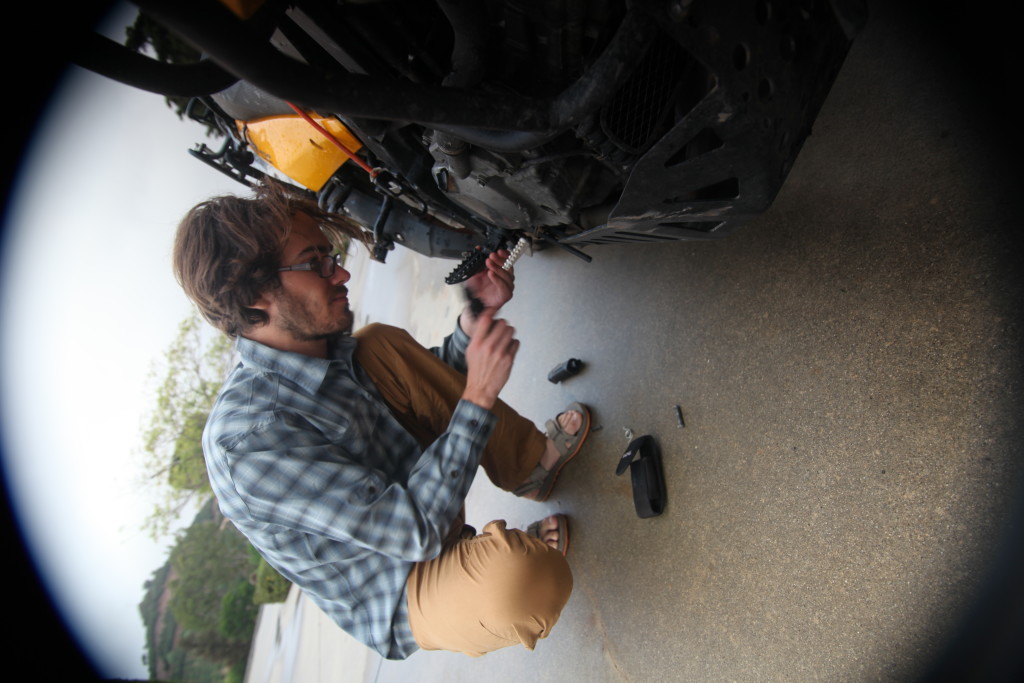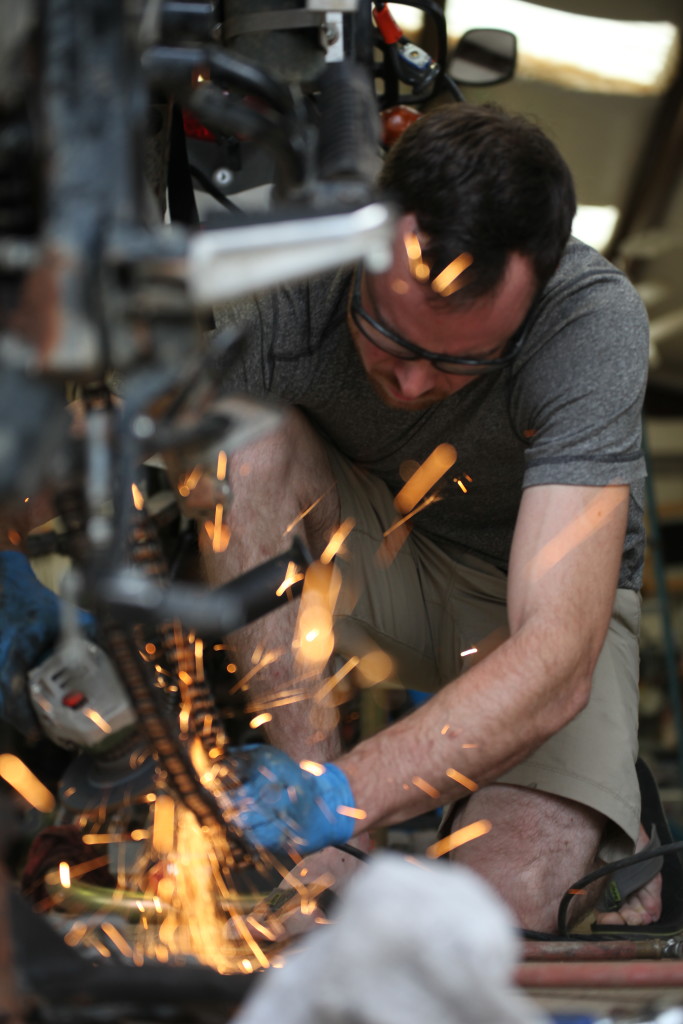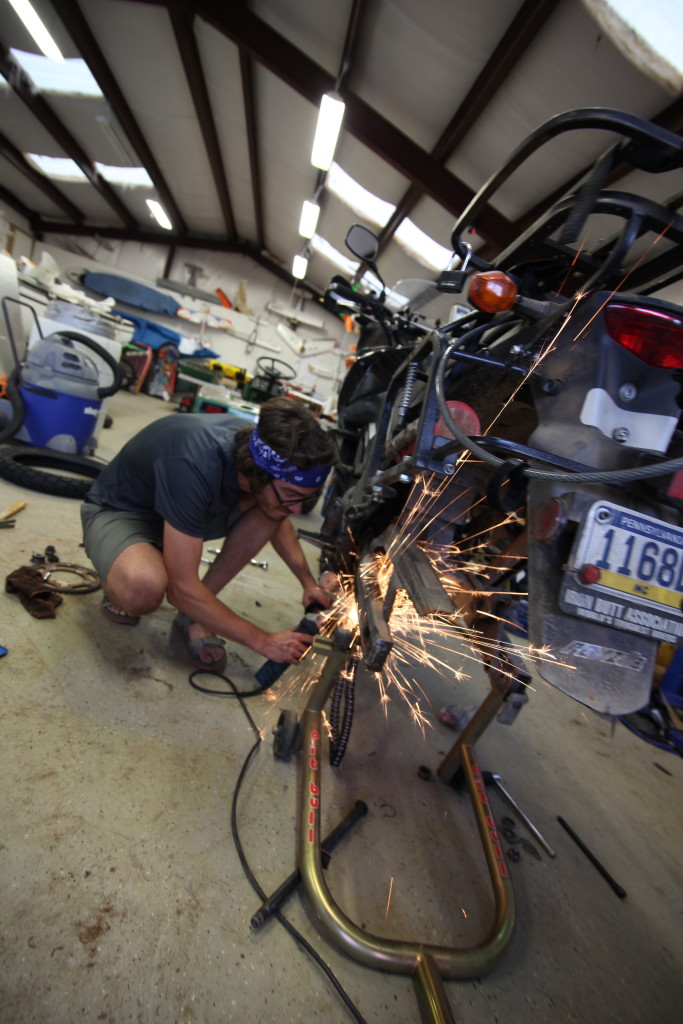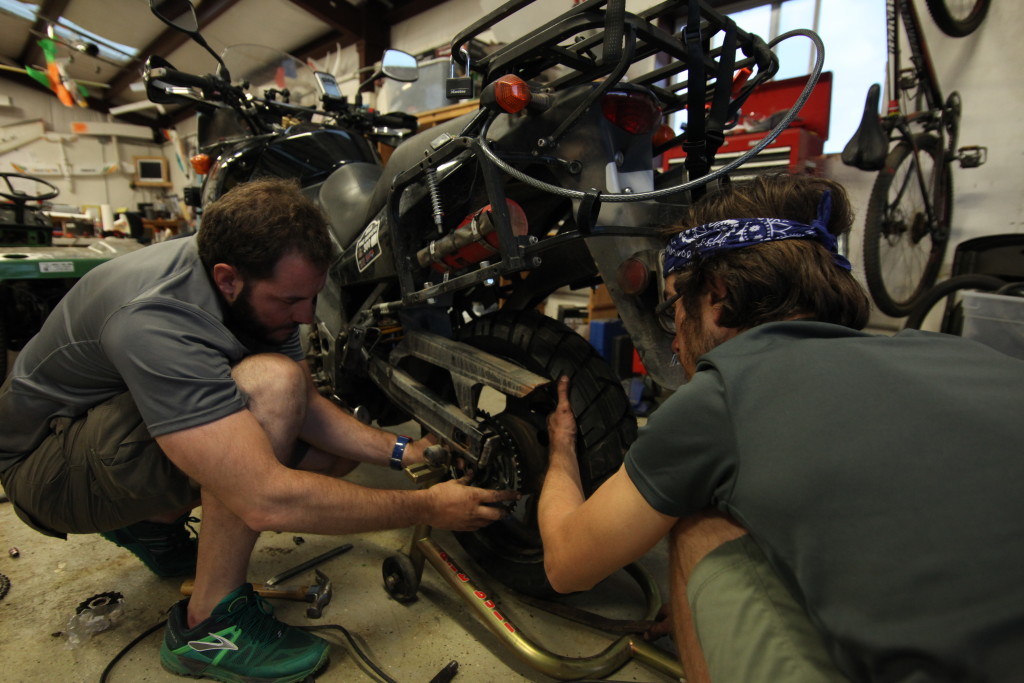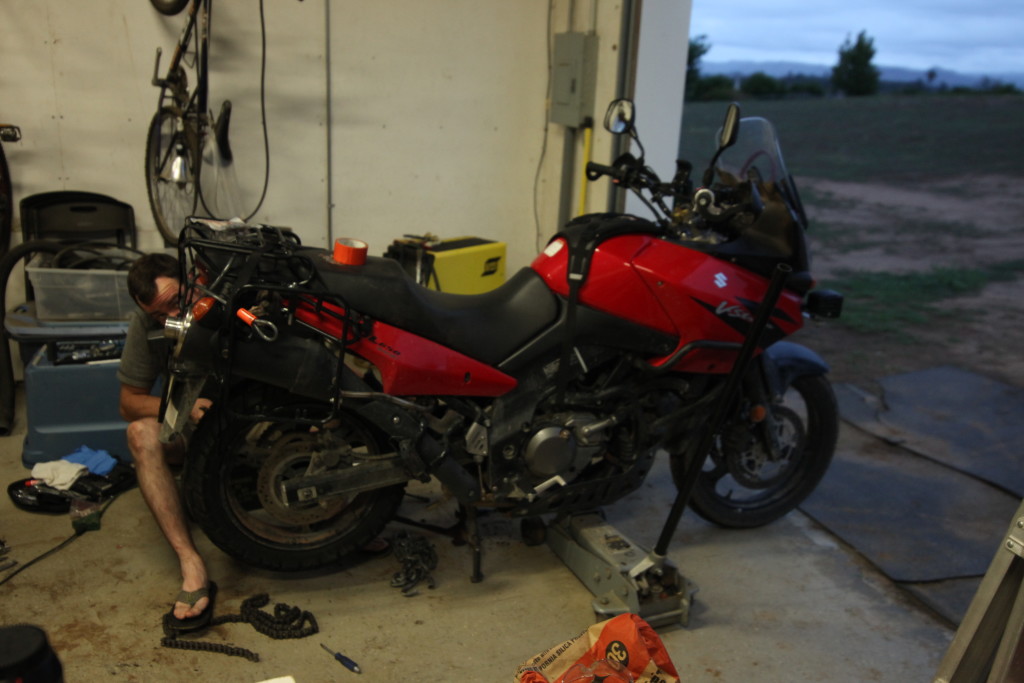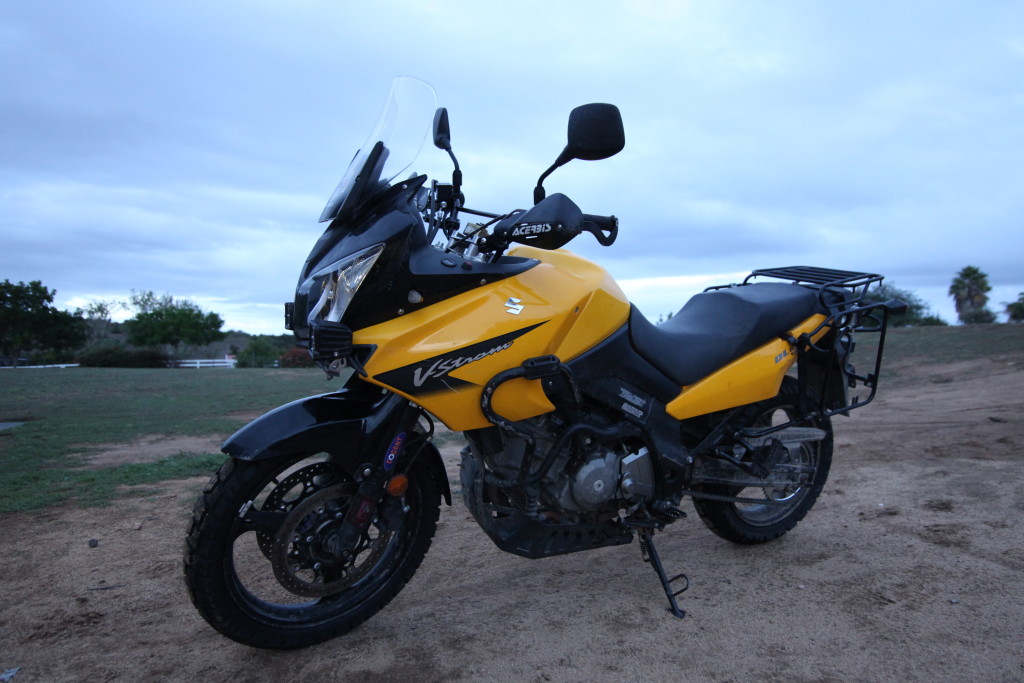 After another week of of wind blistered faces, and everchanging surroundings, I am truely humbled by the vast generousity, kindness and selflessness we have encountered by the amazing people we have met on this trip. We are only two weeks in and my faith in humanity is slowly being restored. While I am excited to see what beautiful terrain lies ahead, I am realizing that it is in the hearts and smiles of those who we meet along the way which will leave the mostly lasting mark on our collective memory.