?? Our journey takes us all over Southeast Asia. But due to the logistics of certain countries, we are, sadly, sometimes without a motorcycle. Vintage Rides offers motorcycle tours and guides for some of worlds best locations including; Laos, Indonesia, Nepal, Bhutan, Thailand, India (multiple areas), Mongolia, and Srilanka.
Astride a legendary motorcycle, ride along with the wind in your face, listening to the engine and its vibrations, on winding roads amid the high peaks of Ladakh and Nepal, on the Mongolian steppe at the heart of nomadic life, and in India, Sri Lanka and Bhutan. Ruggedly charming, the Royal Enfield will let you explore Asia differently at an easy cruising tempo – for a real taste of adventure!
If you are ever lucky enough to travel in these parts of the world and have the desire to do it via a stylish motorcycle Vintage Rides are the people to go with. Here is a preview of their Indonesian tour.          -Tim
---
?? Grâce à notre aventure on a la chance de parcourir l'ensemble des pays d'Asie du Sud Est. Malheureusement pour une raison logistique, nous avons dû abandonner l'idée d'avoir notre moto personelle pour visiter certains pays. Vintage Rides vous donne la possibilité de découvrir de nombreuses déstinations accompagné d'un guide, notamment Le Laos, L'Indonésie, Le Nepal, Le Buthan, La Thailande, L'Inde, La Mongolie et Le Srilanka. 
Au guidon d'une moto de légende, rouler le nez au vent à l'écoute du moteur et de ses vibrations, sur les routes sinueuses des hauts sommets du Ladakh et du Népal, dans les steppes mongoles au coeur de la vie nomade, en Inde, au Sri Lanka, au Bhoutan. Charmante et rustique, la Royal Enfield vous fera découvrir l'Asie différemment, à un rythme de croisière tranquille, pour vivre l'aventure – la vraie !
Si vous un êtes un amoureux de deux roues et avez envie de faire partie d'une super aventure tout en visitant certains des plus beaux pays du monde. Vous trouverez toutes les informations nécessaires à un voyage moto directement sur leur site. Vintage Rides est une agence basée sur Paris. Et oui une agence française!! On vous partage ci dessous une de leur experiences en Indonesie. Enjoy!
– Anaïs
---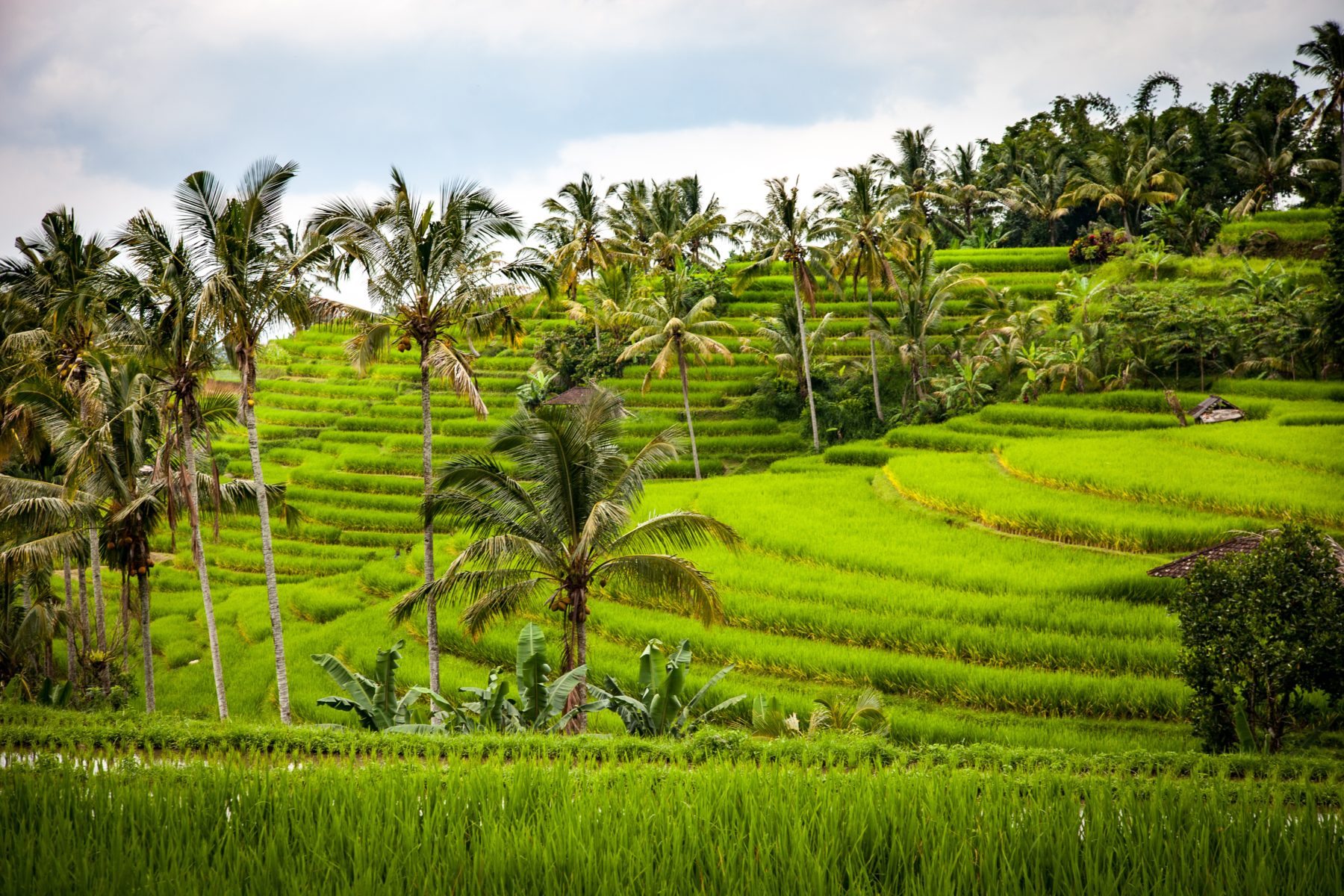 This trip had 3 differents parts: first, a smooth introduction to Bali, then an intense part afterward (about 5 days), and a fine end with a smooth return to Bali for the 3-4 last days!
The itinerary is beautiful and physical. But one thing that I'm sure of now: if you want to visit Bali and Java, do it with a Royal Enfield. You have the dolce vita side of Sri Lanka and the intensity of riding in the Himalaya during the part with the volcanoes. We ride full wheels in the sand in the caldera of Bromo, over 2000m high in altitude with landscapes of erupting volcano and a view of the ocean below.
I started in Ubud, which holds all of Bali's magic, with its daily dance shows, shops, and art galleries. It is a true treat for the eyes and the soul.
My first day riding towards Jatiluwih, known for its magnificent rice fields classified by UNESCO as a world heritage site, was spectacular. I was able to ride on small roads through typical villages and coffee plantations. I stopped at Sacred Monkey Forest, a nature reserve with pilfering monkeys.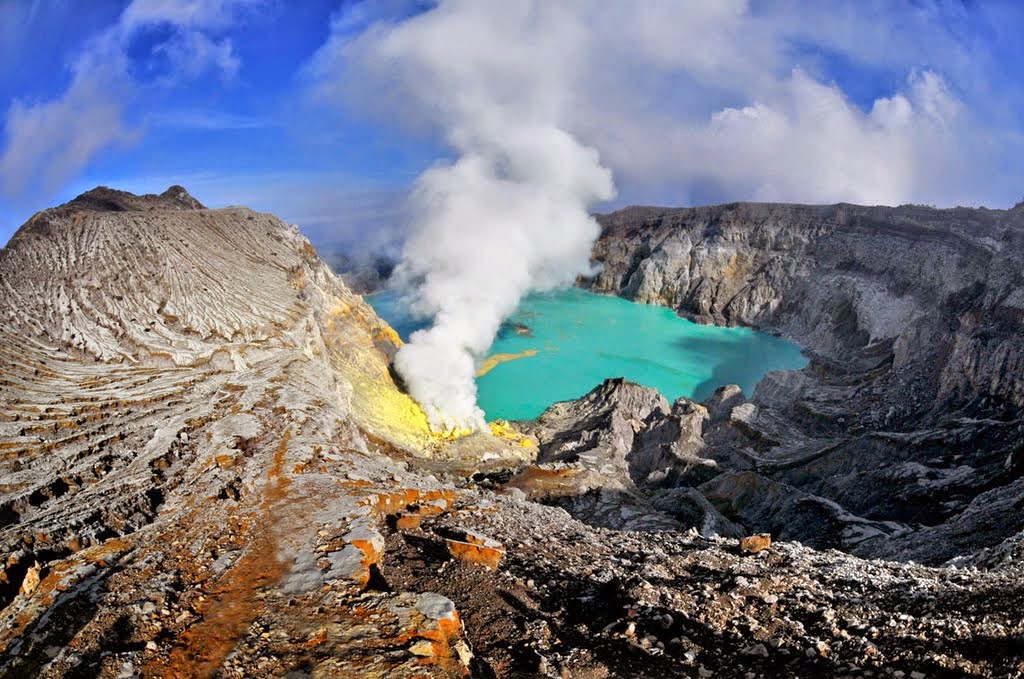 After a 2nd riding day of 30 kms (18 miles), I reached my hotel for the night at the foot of the Kawah Ijen volcano. To go up there, me and my riding groups began a 3 kms trek (approximately one and a half hour). On the rim of the crater, the sunrays unveiled astounding landscapes over the biggest acid lake in the world.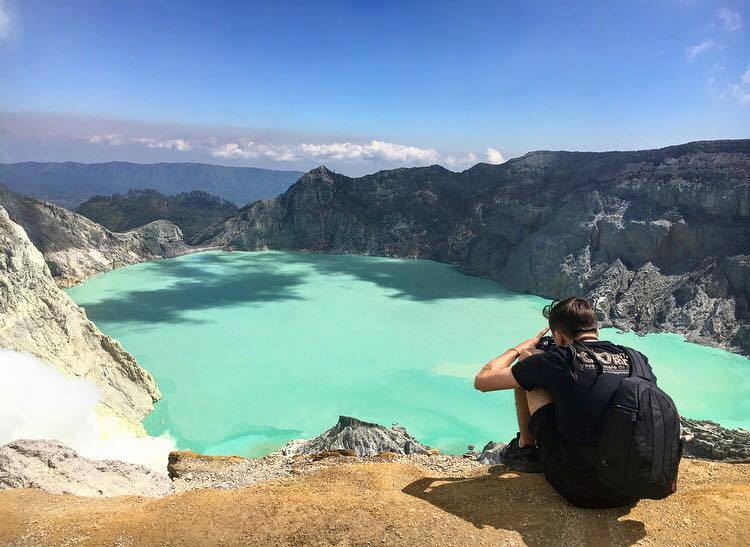 Another highlight of my trip was to go to Menjangan Island, a protected reserve for its exceptional coral reefs. Then after a long riding day on the island's magical turning roads, I went back to the Balinese coast. There's a possibility of visiting the one and only vineyard in Bali, which I highly recommend.
When I think about everything I did during this Indonesia trip: visit thousand-year-old Hindu temples, cigar factories, bathing in the sacred springs of Balinese or in wild waterfalls, eat grilled fish with my feet in the sand after swimming in turquoise water amidst multicolored corals and rays…  And riding through the famous terraced rice fields of the Isle of the Gods… I can't believe how one country can offer all of these crazy moments.