San Juanico to Mazatlan
After much needed relaxation in San Juanico, it was time to hit the road again. Heading out of town we were totally astonished to see a beautiful paved road…I guess you don't have to pass through tarantulas dens, and goat farms to get there.Rather than taking the completely ridiculous trail utilized two days prior, we opted to take the pavement south. As we had become accustomed to, the pavement was riddled with desviacions or detours. These detours were usually places where the pavement had been washed away and they ranged from quick/easy to challenging. One day Baja will utilize culverts to divert water under their roadways, but that surely hasnt happened yet.

The first major town we hit was Constitution. It had everything you'd expect, American businesses like McDonalds and AutoZone, banks, and a plethora of food options. We replenished our money Banamex, I had some trouble with the ATM and may have lost money, still not entirely sure. From there we were all set to leave town and continue to Cabo when we noticed a fully loaded BMW at a Starbucks-esque cafe (how BMW, right?). We pulled in and met Mike and Ulaf (Check spelling). Trip plans, bike talk, and banter ensued. We were all heading to the same place and it was comforting to know that we had all done a relatively similar amount of planning. We had the same questions left unanswered, like how will we cross from Panama to Colombia?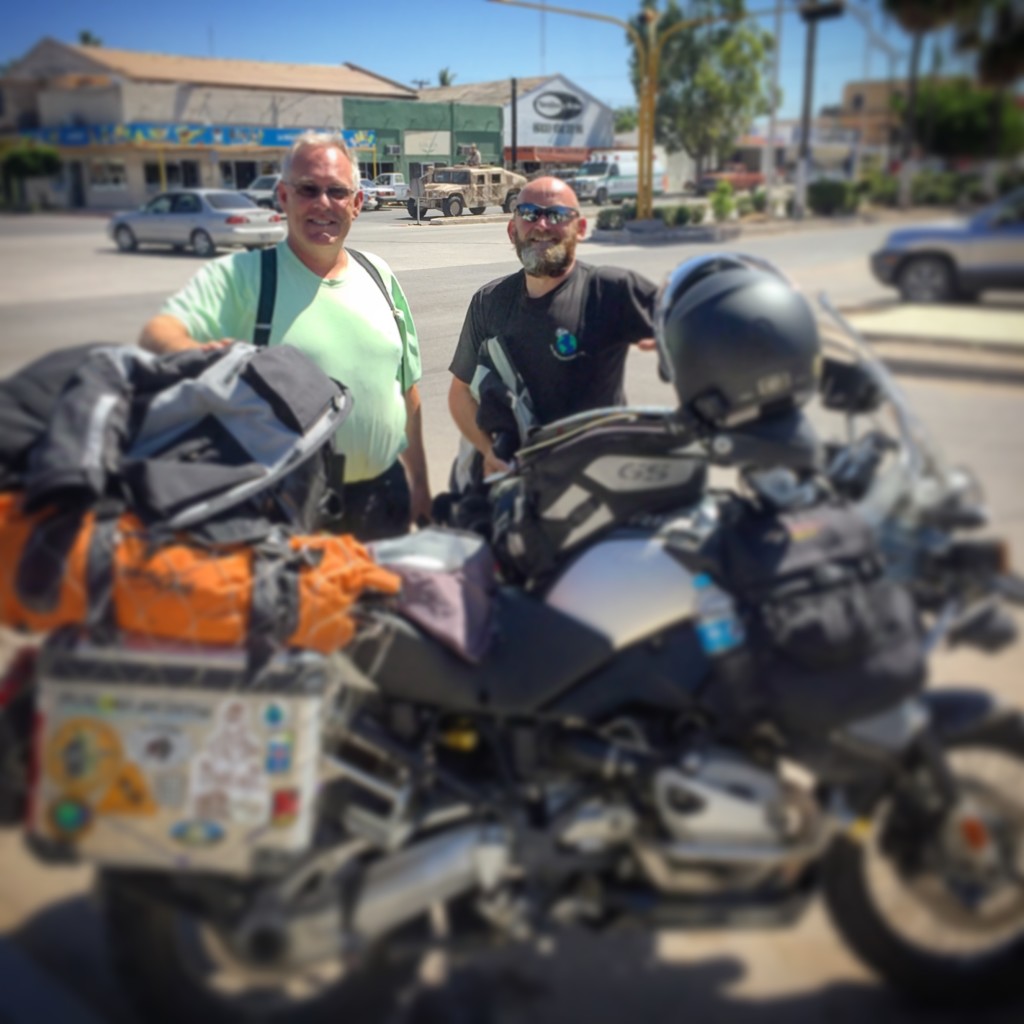 The five of us rode out of Constitution as a pack, maintaining a very good pace along a stretch of highway that just begged for speed. It was nice to be riding with new friends. Despite my lack of GPS, I took the lead since the roads were well marked and there were very few turns. It wasn't long before we hit another populated city, La Paz. This is where we'd eventually catch our ferry but on this day we were headed to Cabo, Old White Man Paradise.
After passing through La Paz central, suddenly blue and red flashing lights appeared in our rearview mirrors. Since we were going with the flow of traffic, we assumed that these lights were not for us. Unfortunately, the Policia had a different idea and pulled ahead of us and signaled to pull over.
Out of the five of us, not a one was proficient with Spanish so confusion ensued. Two officers tried their best to tell us that we had been speeding and that our options were to pay a ticket, or go to the police station. Matt took point on continuously saying that we would prefer to go to the police station to pay our ticket. This was not the answer they had hoped for. It was quickly evident that they wanted some quick money and that we were not giving it to them. They let us go on our way. Victory!
An hour later we arrived in Cabo. Mike and Ulaf split off and headed for their hotel. We headed to the water to figure out our plans. This part is always a bit of a process. First we have to find WiFi, then we have to locate somewhere to stay if there is no camping (there's no camping in Cabo). Eventually we found WiFi at a McDonalds and ended up at a nearby Fairfield Inn. All of the hostels were booked up.
We were greeted at the hotel by two KLR riders from Texas. They were touring Mexico and Baja. We shared our stories and then unloaded our massive pile of gear. After much needed showers, we hit the streets in search of food. This began what became a staple of the Cabo experience: guys in black clothing with gold jewelry approaching us on the sidewalk with offers of "blow and girls." The phrasing varied a bit but the message was the same. They were even so kind as to offer free samples. No thanks!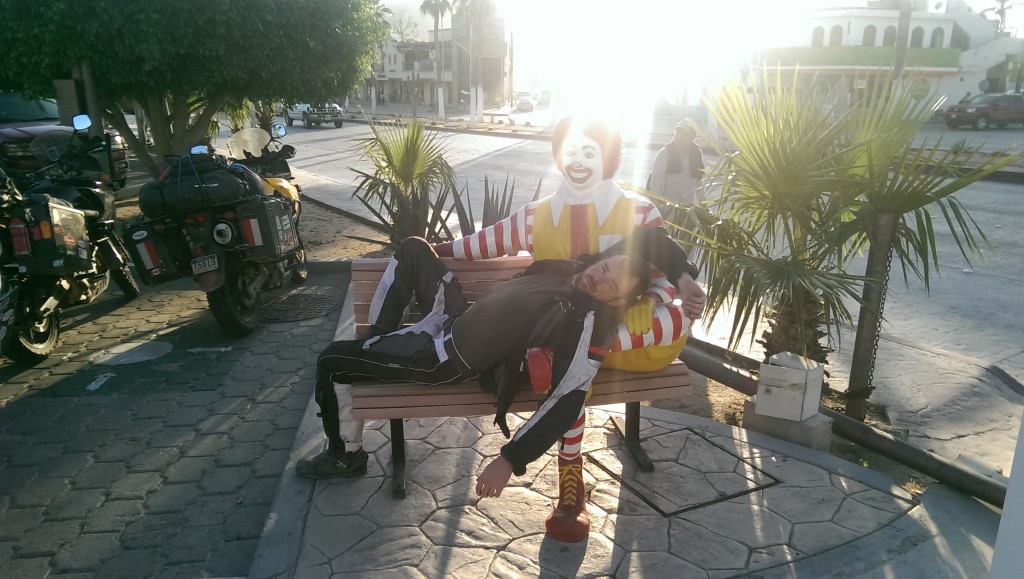 On Friday, we awoke and headed to the beach after indulging heavily in the free breakfast. It was a long walk to the beach which included 5 or 6 offers for drugs and girls, apparently the party never stops in Cabo. We also declined the offers for water taxis, we told them we would walk and they looked confused.
We walked through a construction zone and were at what appeared to be the locals beach. From here, I hit the water in an attempt to swim to El Archo, while Matt scaled the rocks surrounding the water and Tim stayed back to watch the stuff. We naively expected the arch to be nearby. After awhile Matt joined me in the water and we attempted to continue swimming further. Apparently it was a lot further away than we thought. We swam into the beach, through the snorkelers and walked over the crab riddled rocks. Tim emerged out of nowhere with all of our gear in hand. We opted to head back to the beach, tired from what ended up being a ridiculously long journey.
That night we went out. Matt and Tim got beers, I watched, business as usual. I decided to turn it in early and go to bed while they stayed out. At some point during this evening, Matt ate or drank something his stomach didn't like. He awoke in pain and was bed ridden for the day. It became a perfect day to catch up on things while Matt purged everything from his stomach. For dinner, Tim and I hit up a local street food vendor and ate what have maintained best tacos of the trip to date. Cabeza, Asada, Chorizo, amazing and cheap.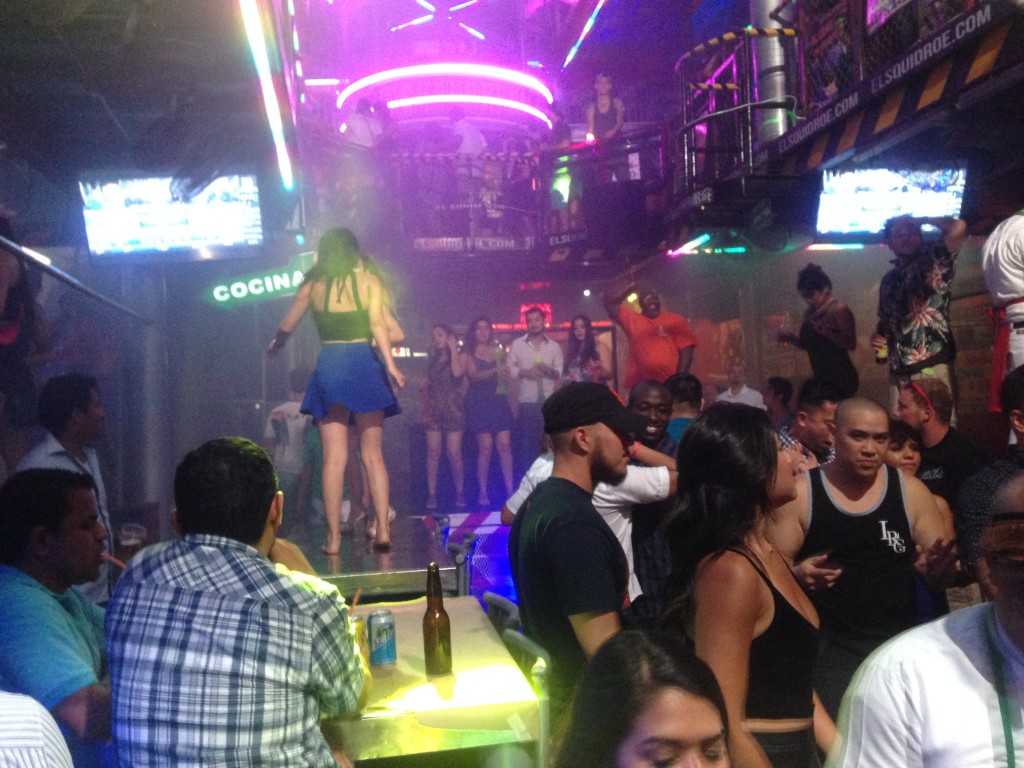 On midday Sunday, we left Cabo and headed to Los Barriles. We rode right onto the beach, where fisherman and swimmers were beginning to pack up for the day. Two fisherman assured us we could set up our tent anywhere, and so we did. The spot was pretty amazing, right in front of a small resort that appeared closed down. Camp chefs Matt and Tim began preparing dinner while I set up the tent. We slept with the rainfly off, providing an incredible view of the night sky. Something three Philadelphians enjoyed thoroughly.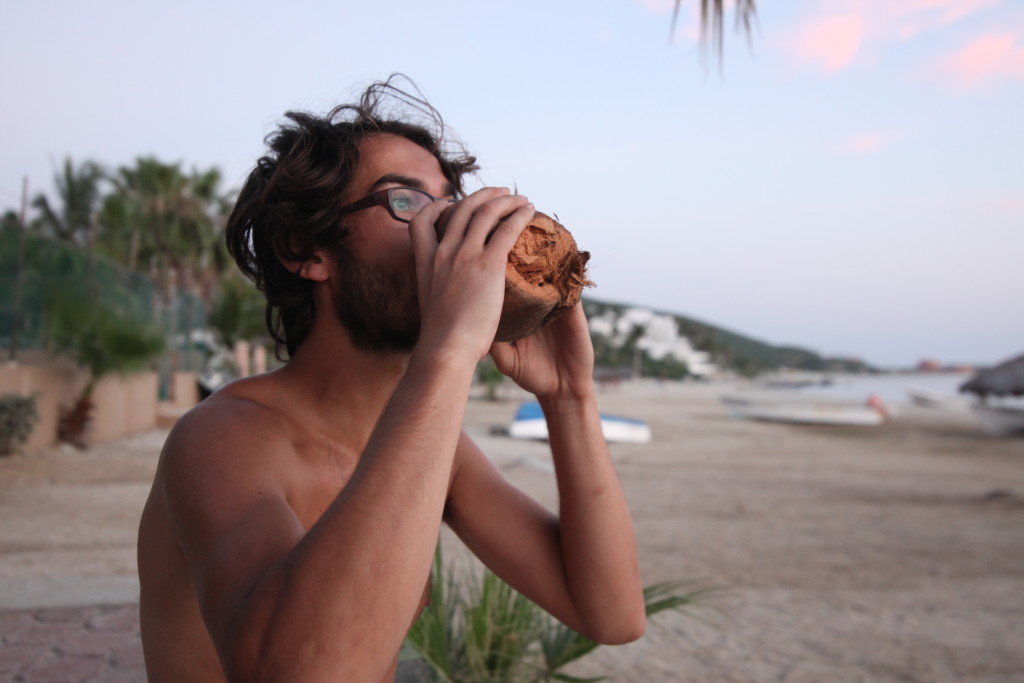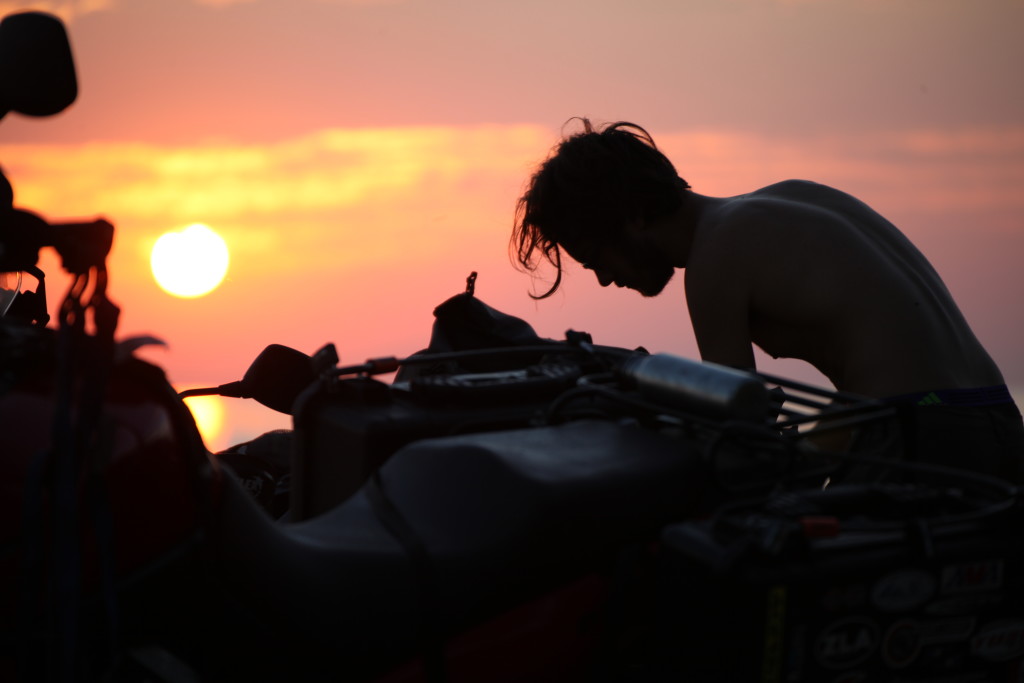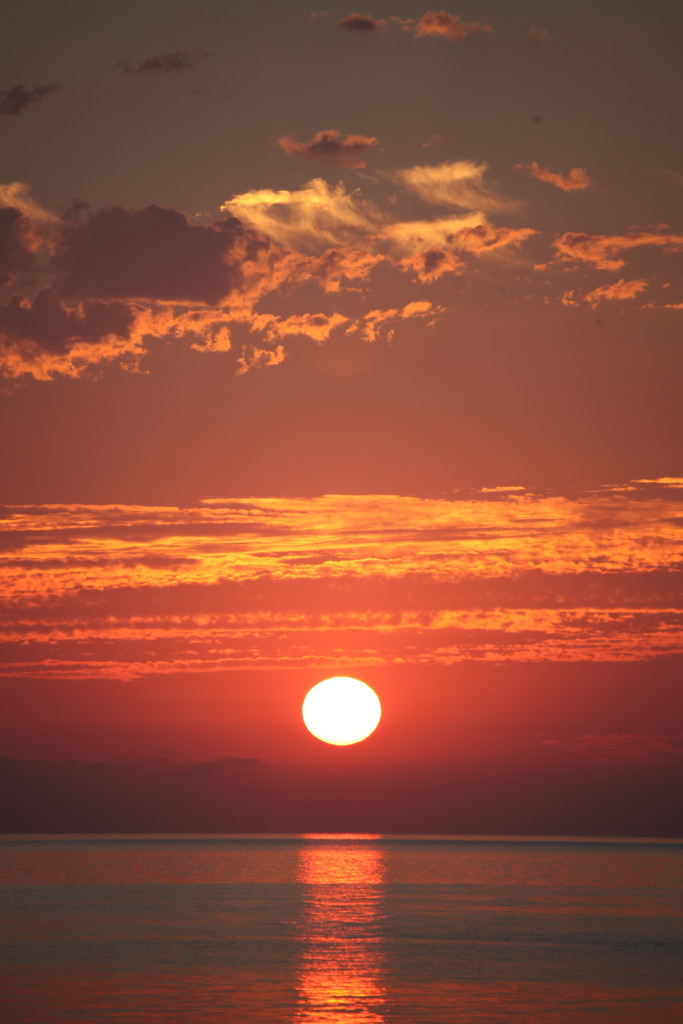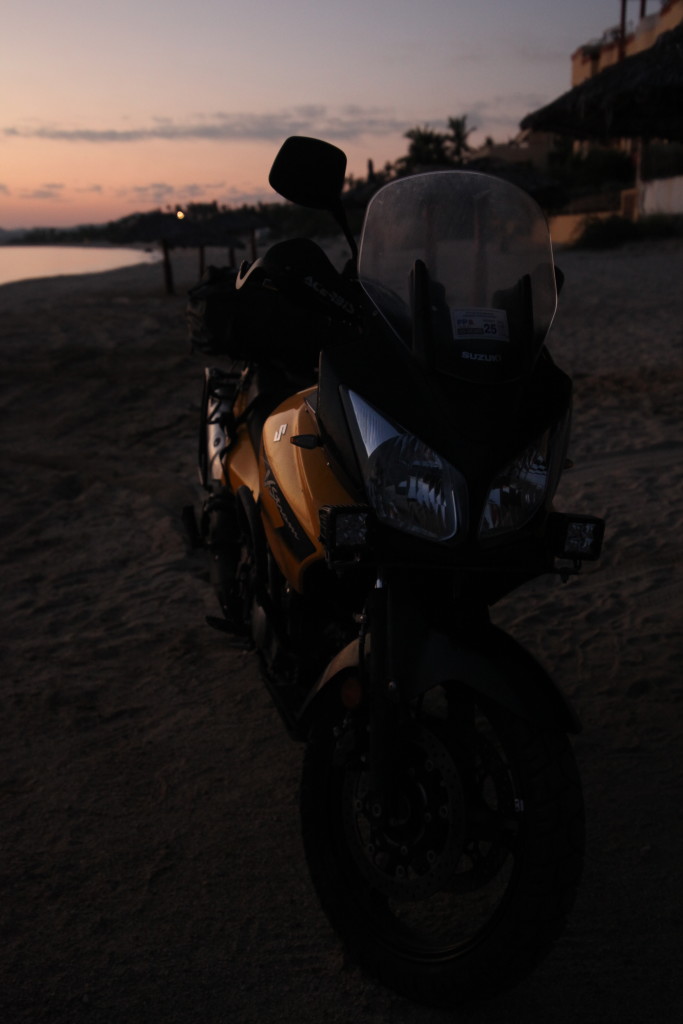 Monday we were on a mission. Operation pick up my parts and secure ferry tickets. Two tasks that appear simple but become entirely complicated when you don't speak the language and the roads are ambiguous to navigate to. Finding Chametla Transport company was difficult. The GPS brought us to a house, the people we asked gave us directions although it was obvious they had no idea where it was. Ultimately, it was a kind police officer that called Chametla for us and gave us accurate directions. One bad cop experience, one good, it's a wash.
With parts in hand, we now needed to find the elusive ferry office. Maps were pulled out and the folks at Chametla pointed to our destination. Easy peasy, sort of. The ferry office informed us that we needed to get our vehicle permits at a separate location and that it was best to get the before the ticket. The Banjercito was 20km across town near the port. The ride there was quite pretty and simple enough for us to not need the gps.
At the port they needed copies of documents and money. It was at this point that another bike pulled up and revealed a fellow rider making the long trek, Amy. It was surprising and awesome to see another rider making the same trip, solo and female. It was refreshing that she was likely disregarding all the pleas at home not to do exactly what she opted to do.
Unfortunately for Amy, she missed an important document at the boarder, her FMM. This is understandable since they do not mention it at all, you must ask for it. For this reason she was denied a ticket on the ferry and told to return to the boarder. It was a major bummer and we definitely felt her pain.
With our tickets in hand, we left feeling relieved. We were finally going to cross into Mexico. We ate lunch and then looked for a Wal-Mart so we could change oil and I could tackle my clutch. Wal-Mart in Baja is similar to the US but the brands are almost entirely different. Shell Rotella was nowhere to be found, nor were the oil filters I was familiar with.
Beggars can't be choosers though, we needed oil. We picked up what they had and headed to the back to do our business.
We each worked on our respective bikes, a simple oil change for Matt and Tim, a clutch change in a gravel lot for me. Normally for this type of job, you'd want a clean shop, but I didn't have this luxury. I did my best to keep the oil and coolant off the ground and keep the dirt out of my motor. It was truly surprising that the temporary fix completed in San Ignacio had held together for over 500 miles, hard miles. The clutch springs were completely useless. The new springs measuring in at almost 1 inch longer.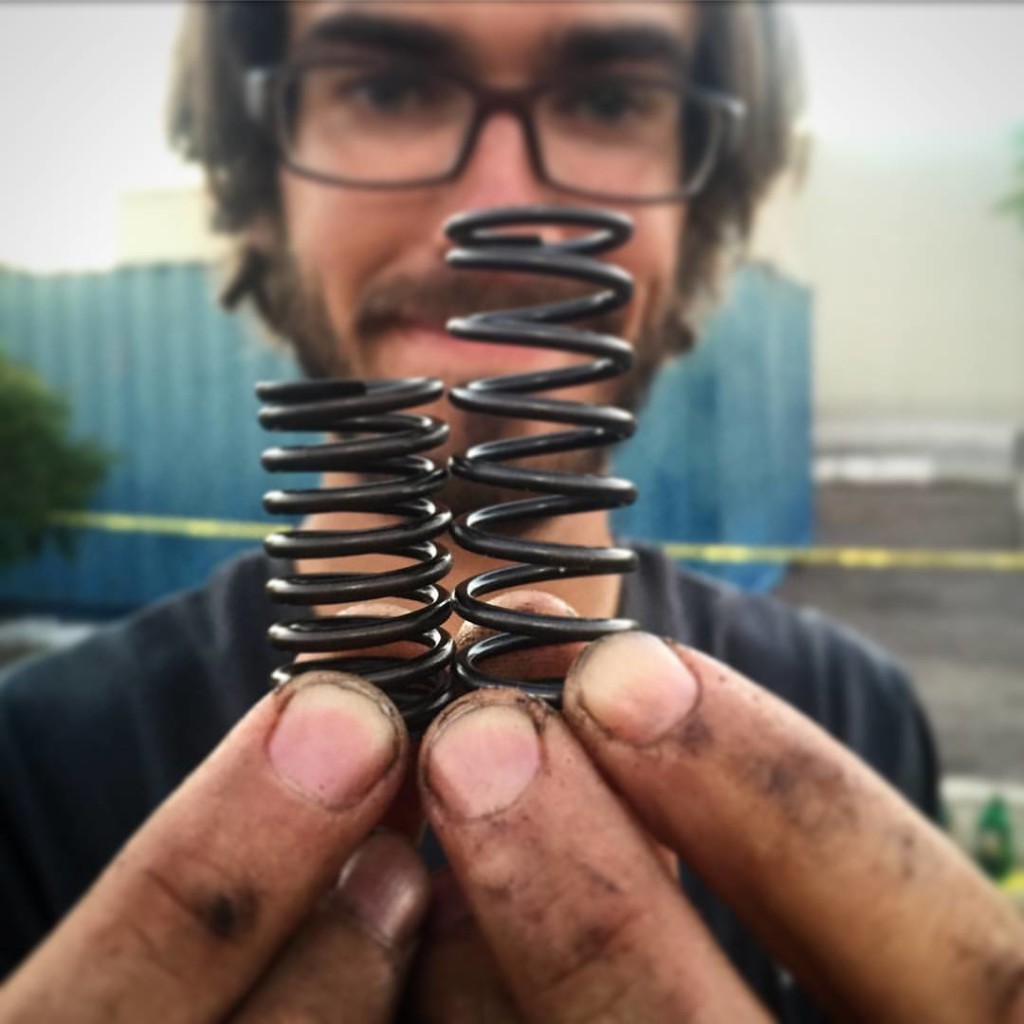 Once completed, we headed out to look for a hotel. It was amazing to have a clutch that didn't slip. I could accelerate as hard as I wanted, it was like a whole new bike. We ended up at a cheap hotel above a Chinese restaurant. $36 a night for a clean and decent room, we'll take it.
Tuesday was D-day, we had a deadline of 2pm to arrive at the ferry. In the morning we all fanned out in search of breakfast, no surprise we all ended up getting the same thing. The next task was to get Matt a couple extra keys, in typical Matt fashion, he left with only one. I'd like to think he was just trying to save a few bucks, which he did.
We made it to the ferry shortly after two and began waiting in line. The cars ahead appeared to be scrutinized thoroughly before being allowed aboard. Thankfully, our experience was not similar. The three of us joined up with two KLR riders and boarded the ferry in unison.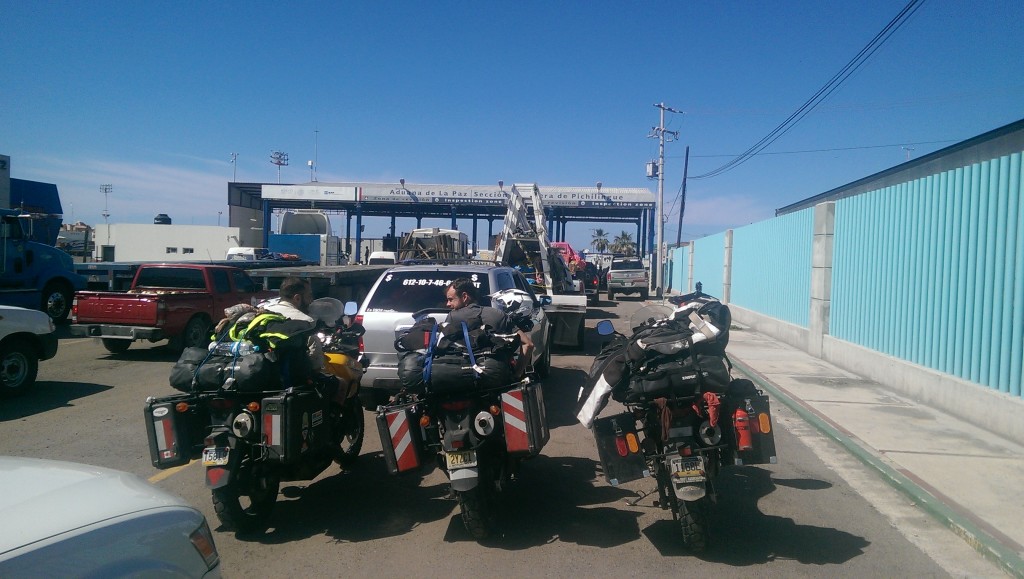 The ferry does not provide straps, nor assist you in strapping down your motorcycle. It's your responsibility to ensure your bike stays upright. Some felt more comfortable with this task than others. Ultimately we all helped one another in an effort to get out of the blazing sun, this is the motorcyclist way.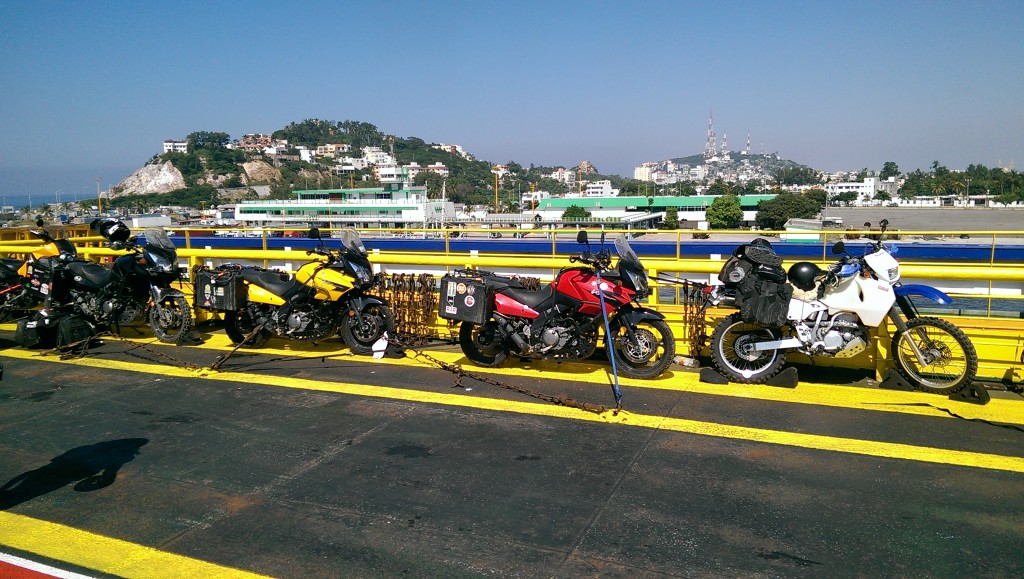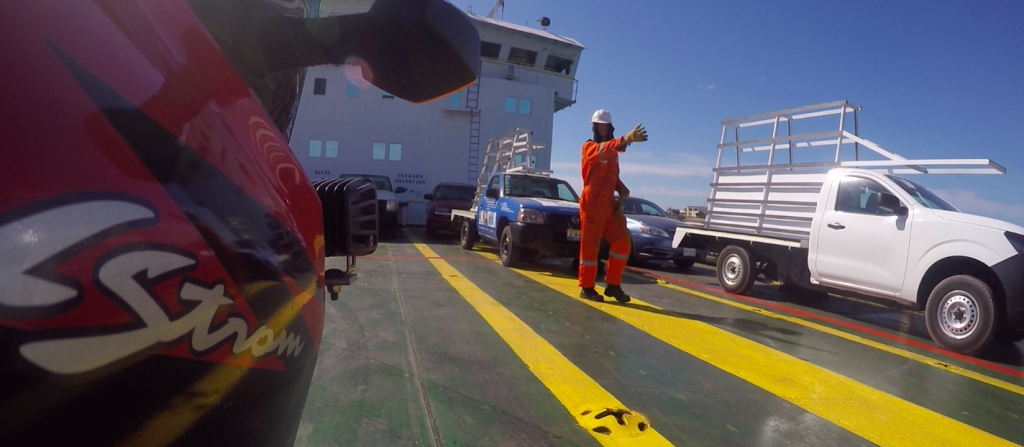 The "adventurers" were easy to spot, there were 8 of us in total, 7 motorcyclists and 1 crazy bicyclist. Evan, Gene, Amy, the three of us, a Brit, and a Korean cyclist. We used this time to talk of our travels, share wisdom of what lied ahead, and just make the best of a 19 hour ferry ride.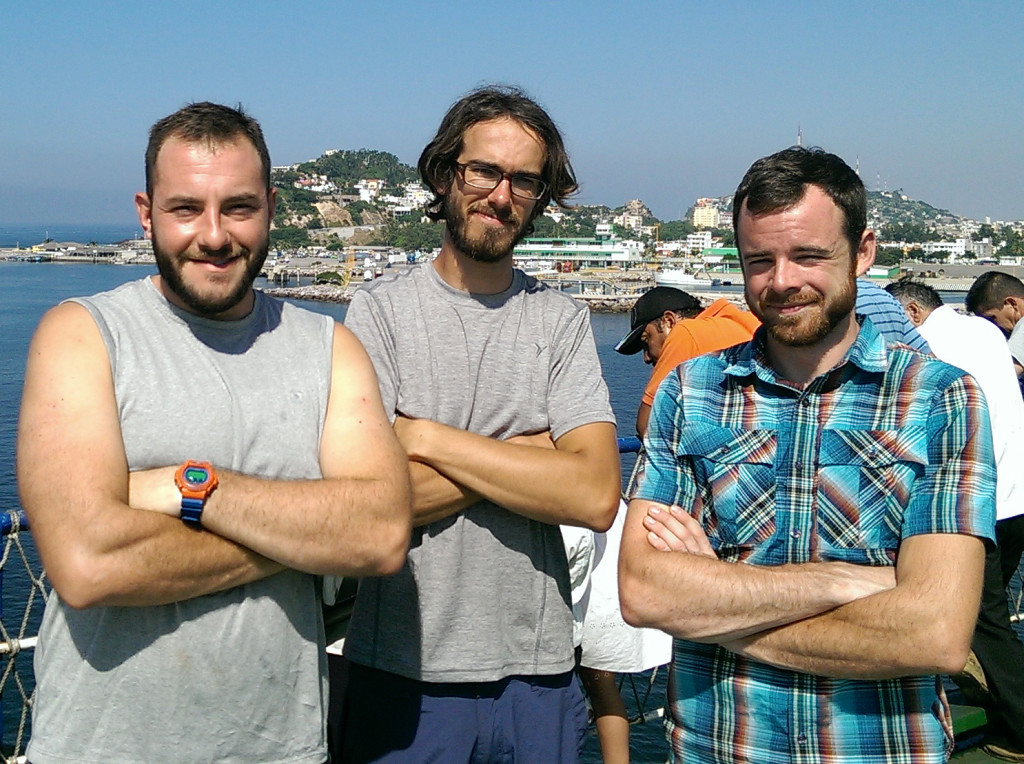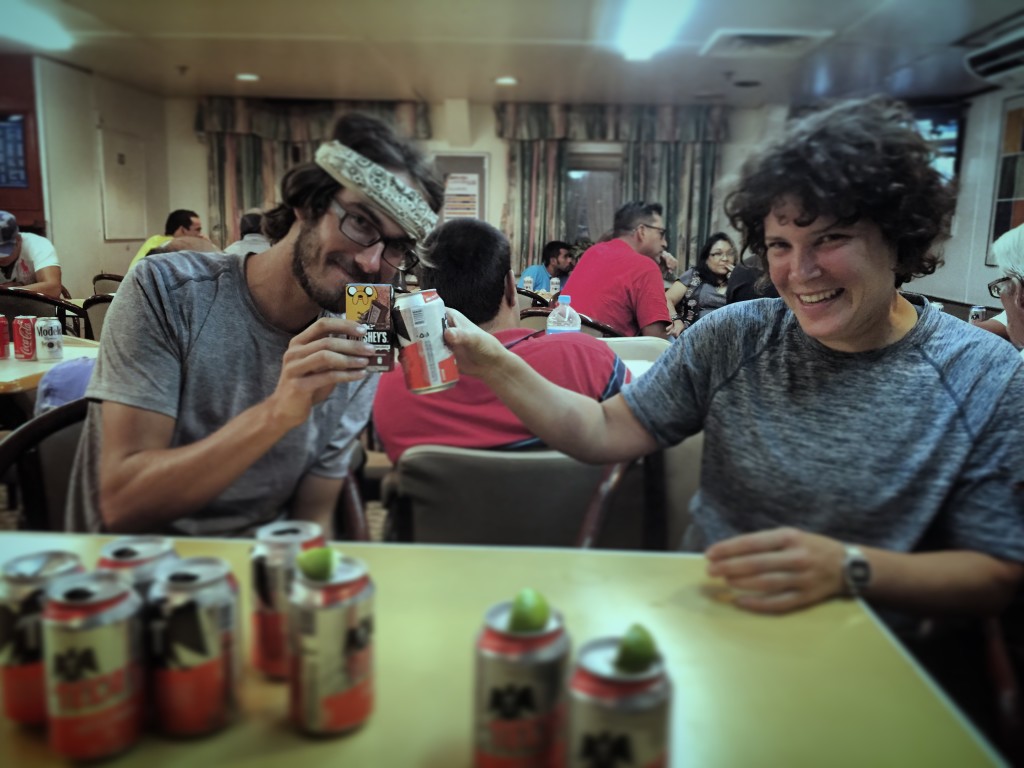 Mazatlan and beyond awaits.