The night before departing on a six month trip is a weird combination of feeling very surreal while also panicking that an important detail will be missed. This trip that was once just a concept, idea, or even fantasy was quickly becoming a reality.
We assembled at Pats house, mulling over our heavily packed bikes trying to see if there was anything we could offload, trade, or begrudgingly add. At the same time, Pat was feeling somewhat somber as he confronted a necessary task, assigning beneficiaries within his will.
Around 1am, Matt headed home to try and get a few hours of sleep before his longest day in the saddle to date, Tim was passed out on the couch, and Pat laid awake in bed in somewhat disbelief that this was all happening.
September 22nd had arrived. We met on Drexel's campus at a small park with a spectacular view of the skyline so that we could document leaving for a long while with drone footage. Unfortunately the drone was uncooperative which ultimately lead to us heading out a bit later than expected.
The journey from Philly to Denver was familiar to Pat, a trip he had completed several times before. However, these trips had one major difference, he was alone. He wondered how it would be to travel with Matt and Tim. Would they be able to keep up? Would we make it there by our deadline? Was he worrying over nothing?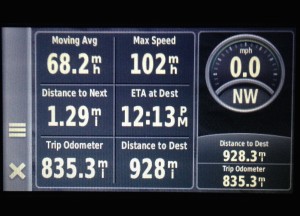 Our first day of riding was exactly what what we were hoping for, uneventful. The weather was consistently nice, we hit little to no traffic, and at the end of a long day, we quickly found a suitable campsite in a desolate part of Illinois.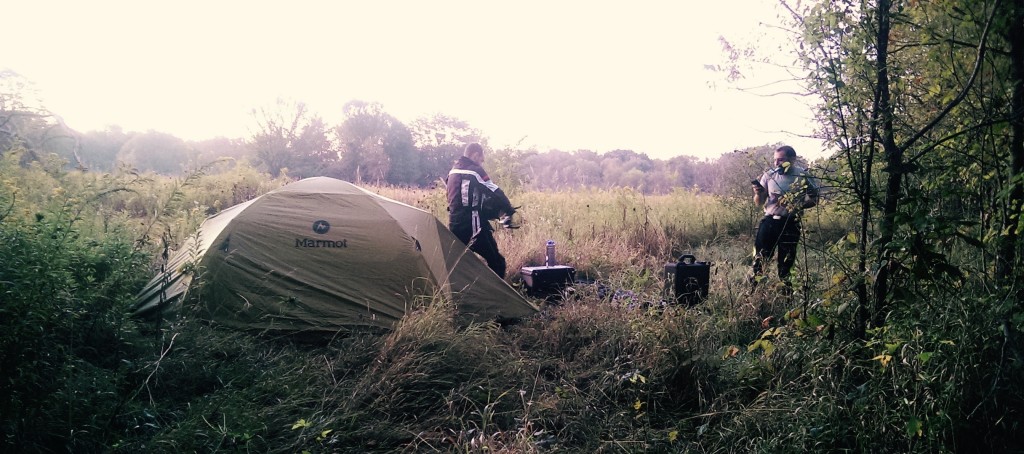 Pat's alarm sounded off at 5:50 and his two comrades resisted his efforts to get them to moving. Once up we acted with relative efficiency and maybe even a hint of excitement despite the upcoming 940 miles of boring highway that lied ahead.
Unfortunately for us, the weather didn't cooperate as well as our previous day. We passed through sporadic bouts of intense rain, lightning, and heavy wind. Of course it hit quickly so we were soaked and opted not to cover wet clothes with rain gear.
In this region of the country (Western Illinois, Iowa, and Nebraska) the terrain is comprised of endless fields of ethanol producing corn, variety non-existent. In trips past, we have found it best to try and escape their grasp as quickly as possible, which is exactly what we did. 1750 miles over roughly 30 hours of riding made for long days but the finish line was worth it.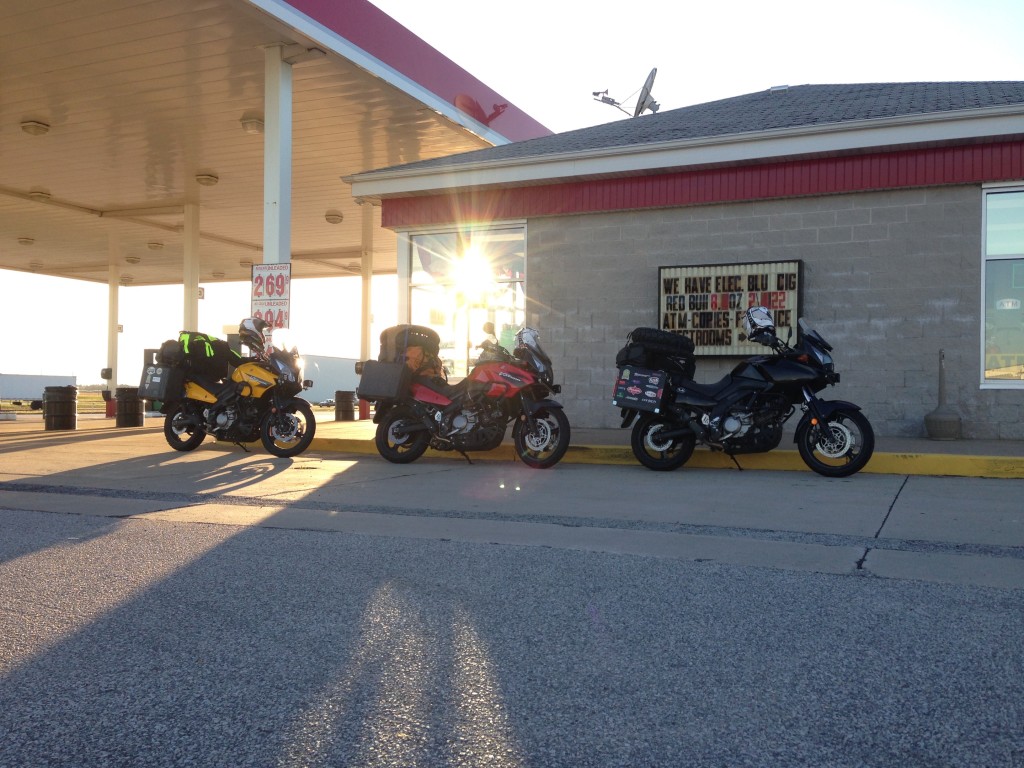 We pulled into Neil and Jordann's (Denver, Colorado) late Wednesday night with our asses sore and our faces beaten by the wind, but our hopes were high. They greeted us with open arms, three sheets to the wind, after being at the Great American Beer Festival all night. We invaded their home and quickly passed out. It had been a year since we had last seen them but we instantly felt comfortable. Our first stop on the trip had set the stage for what promises to be an amazing journey.
The next day Neil took us off-roading up to a glacial lake in the shadow of Berthoud Pass. Matt being the newbie, and the the least experienced rider, got his first taste of dirt, rocks, and off-road fun. He held on tight and recited the mantra "When in doubt, throttle out" the whole day. He made it to the top, and had a blast.

Everyone but Neil dropped their bikes, there were no injuries, and fun was had by all. Neil's best bud from Georgia, Craig, was also visiting and they rushed off the trail ahead of us because they had tickets to another night of beer festivities. We unfortunately caught up to them a few miles down the road after the trails, Craig's rear tire had a flat. We stashed Craig'sbike behind a tree and he hopped on the back of Neil's bike. We would deal with the flat another time, beers were the priority.
Tim and Matt decided that while motorcycling and culture are important parts of this trip, visiting as many awesome breweries along the way would also be an integral part of the journey. We geeked out at the amazing funky stuff at CROOKED STAVE, and then walked directly across the street to Great Divide Brewing, boy their IPA is waaaaay better fresh. We picked up Neil, Jordaan, and Craig and then went and got late night munchies and a night cap at Illegal Pete's. Did Matt need a huge baby sized burrito at 11pm? Nah, but it was delicious.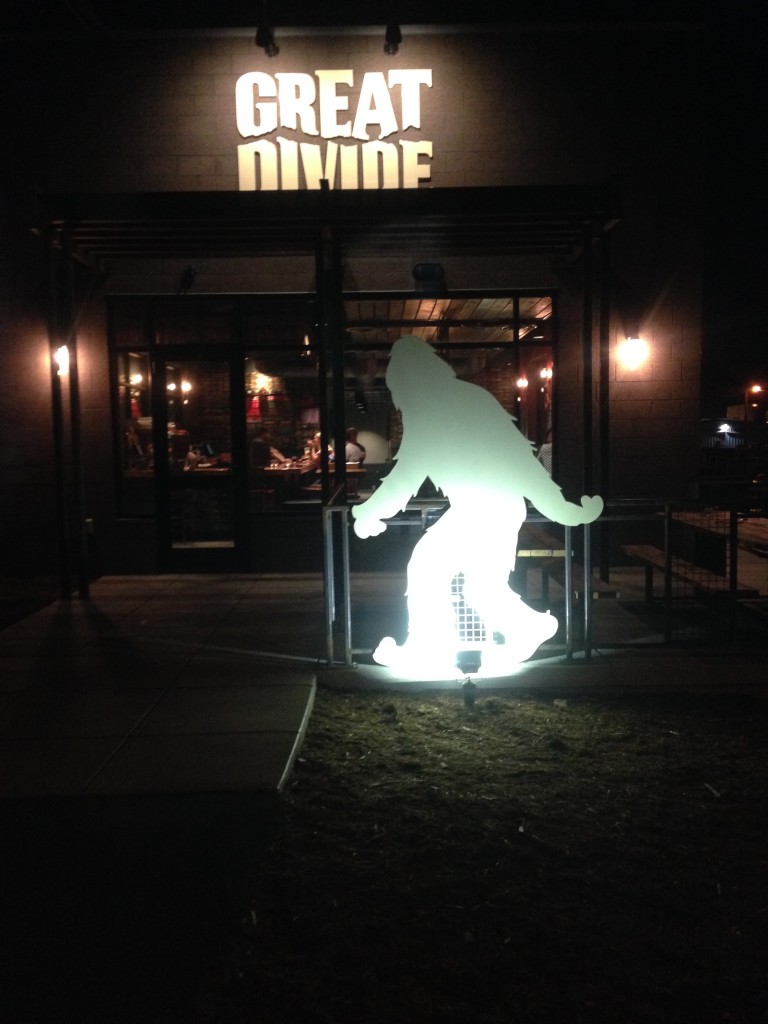 The next day we messed around Arvada, got breakfast, and went to Lowes, all with Neil's pup Lilly guiding the way. Tim and Pat went to fix and retrieve Craig's broken bike in woods, while matt hung back and immersed himself in iMovie, a nightmare of a program to edit with. After deciding that throwing the laptop out the window was a bad idea, he met up with Neil and went out to experience my first legal weed buying experience in Colorado. Insert "WHOA" in a Keanu Reeve's voice. Super professional, potent stuff…Nuff said.
The entire crew reunited at Neal's house, we headed out to get some excellent BBQ food at a place Neal informed us was run by people from the great state of Georgia. Our last meal before departing from Denver and continuing our ride west. In a somewhat hail mary move, Neal decided to join us to ride out to Ouray.
On Saturday September 26th we awoke after a late night of food and drinks to pack up for a full day of riding. We said our goodbyes to Jordann, who might be the nicest person alive, and it was kickstands up at 8am. Six hours of surprisingly beautiful and engaging highway were ahead of us and temperatures ranging across the board.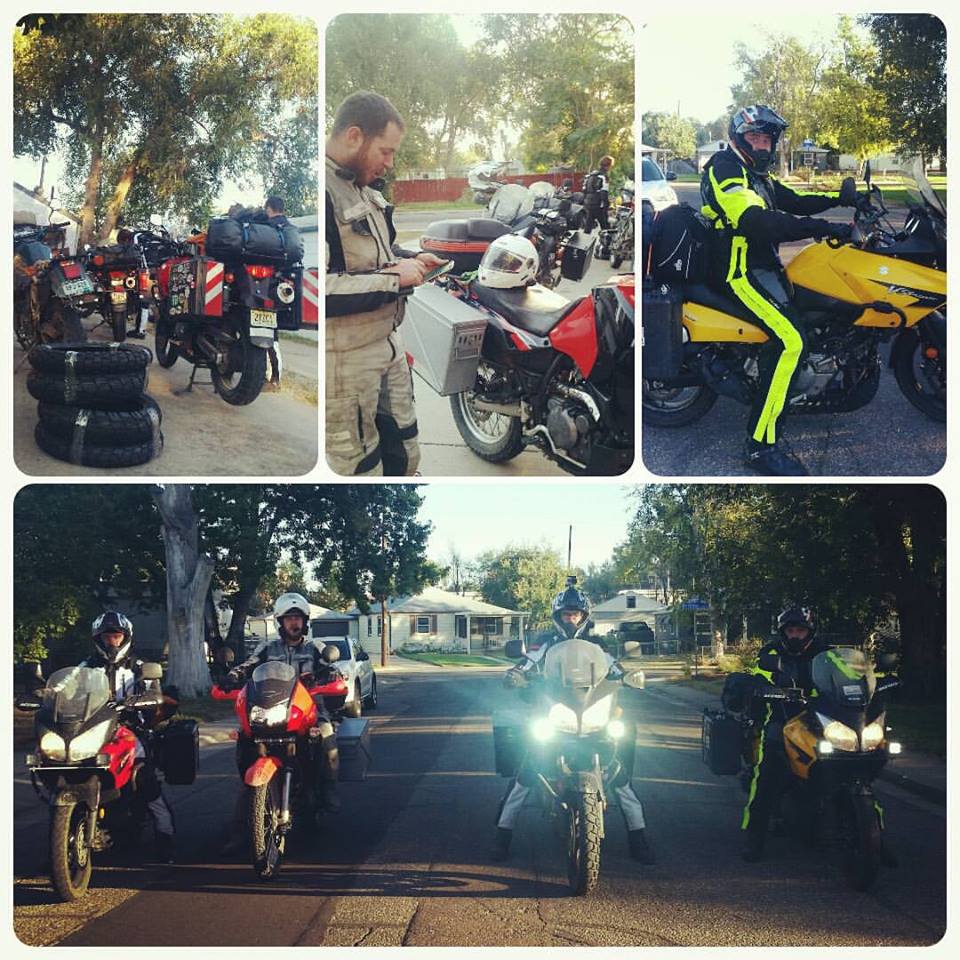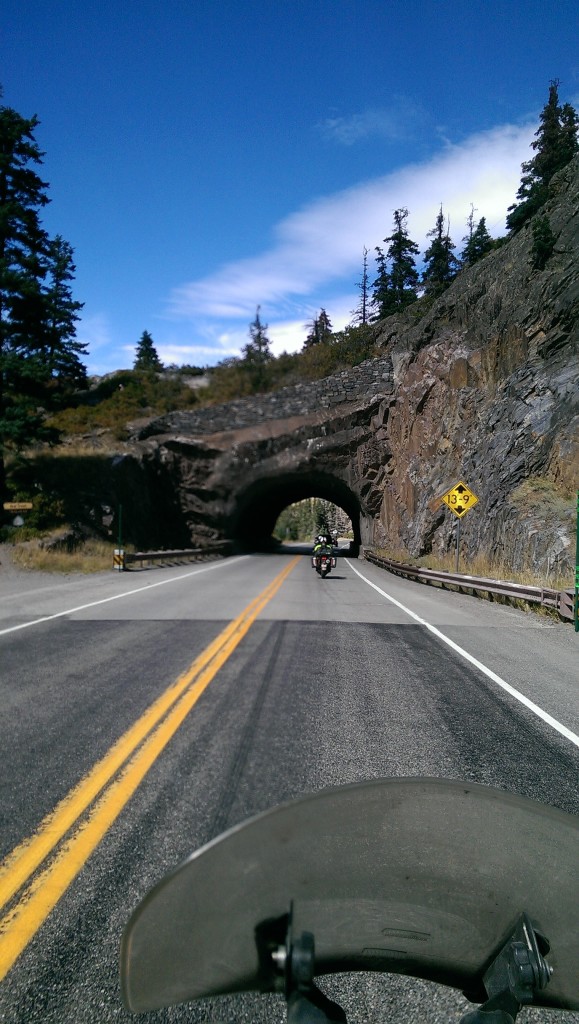 After stopping for groceries for the night's dinner, we arrived to a burger joint in Ouray around 2 and gorged on copious amounts of comfort food. This was entirely necessary since we had been surviving on granola bar(s) for the last 8 hours or so.
Riding the passes in Colorado is unlike anything Matt had done before. Pat had described it as incredible and high consequence which proved to be fairly accurate. At the advice of a local Jeep tour company we rode Corkscrew Gulch. On fully loaded Vstroms, this was no simple task. Both Matt and Neal dropped their bikes numerous times navigating the rocky switchbacks. At every turn we encountered people insisting that we turn back, clearly they didn't know us at all.

The sun began to fall, clouds started appearing, it was becoming apparent that we needed to get down to Silverton and set up camp. We made it before nightfall to a perfect campsite, cooked a delicious meal and fell asleep.
Traveling on motorcycles has a lot of advantages, the biggest one being that we're approachable. This point was proven when we met up with a GS rider named Rudy that joined us for breakfast and then gave us some excellent information about his home state of Utah. After we parted ways, we headed out to some old mines above Silverton and did some exploring with Neal as our guide.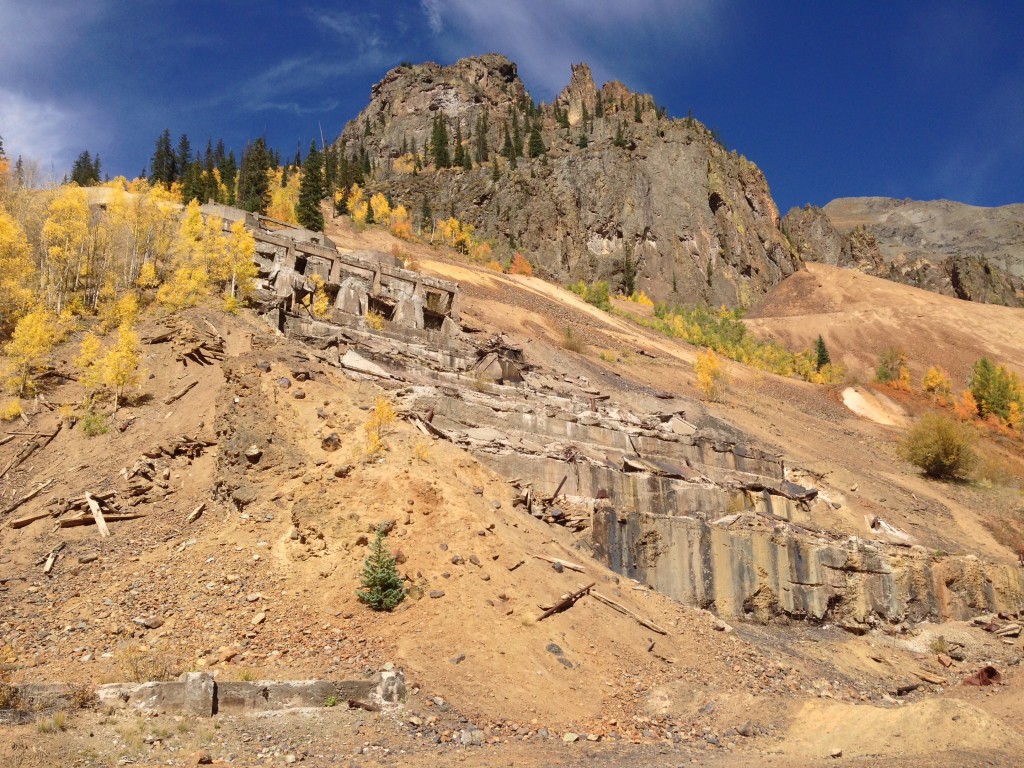 Unfortunately this is where Neal had to head back to Denver and we were back to three. We began the long ride to Moab via Gateway, the last town in Colorado. We followed the John Brown Canyon road until daylight ran out and we made the decision to camp. Our first campsite attempt was met with a camo'd up guy on a quad who succinctly stated that we were on private land. We ended up at a better site and had a perfect vantage point for the lunar eclipse which yielded the best view of the milky way the three of us had ever experienced.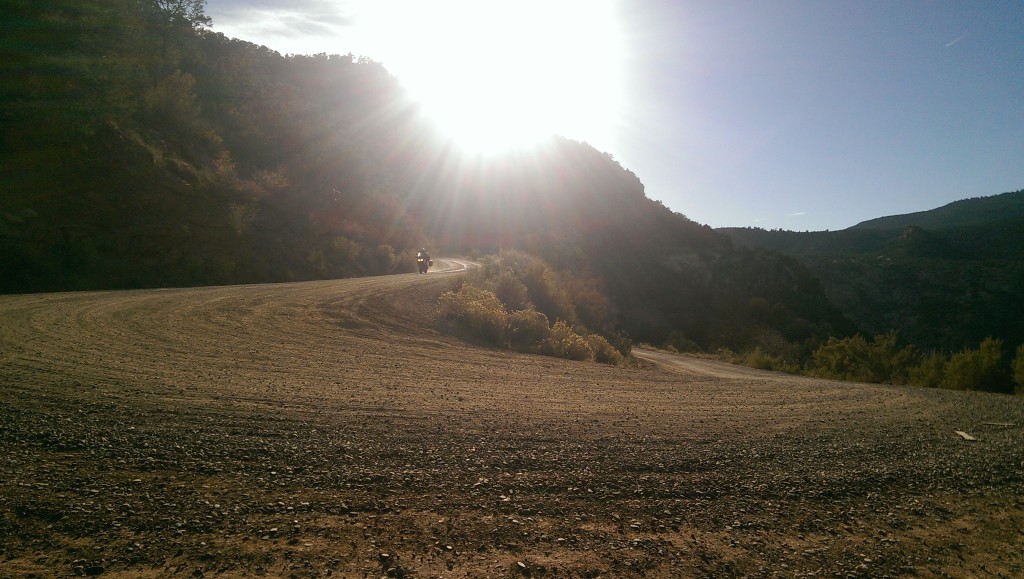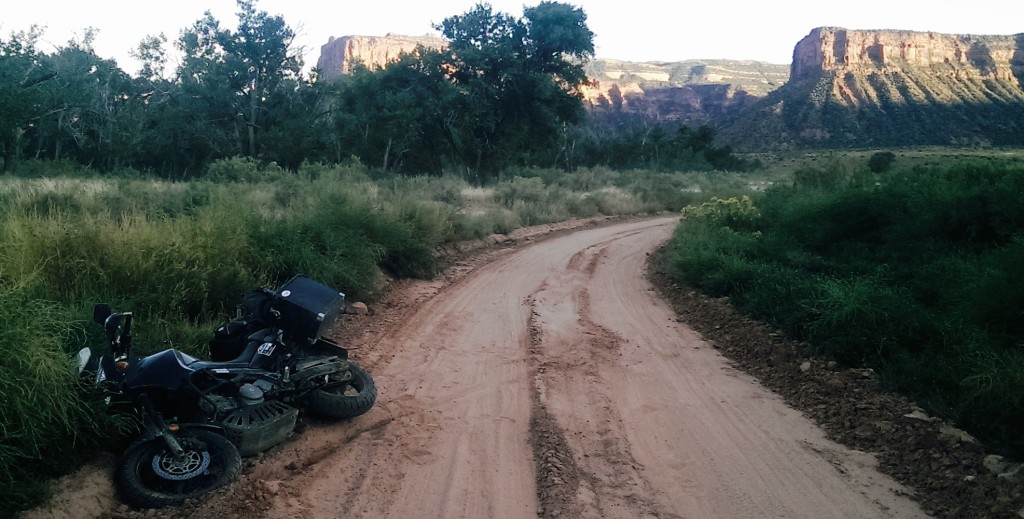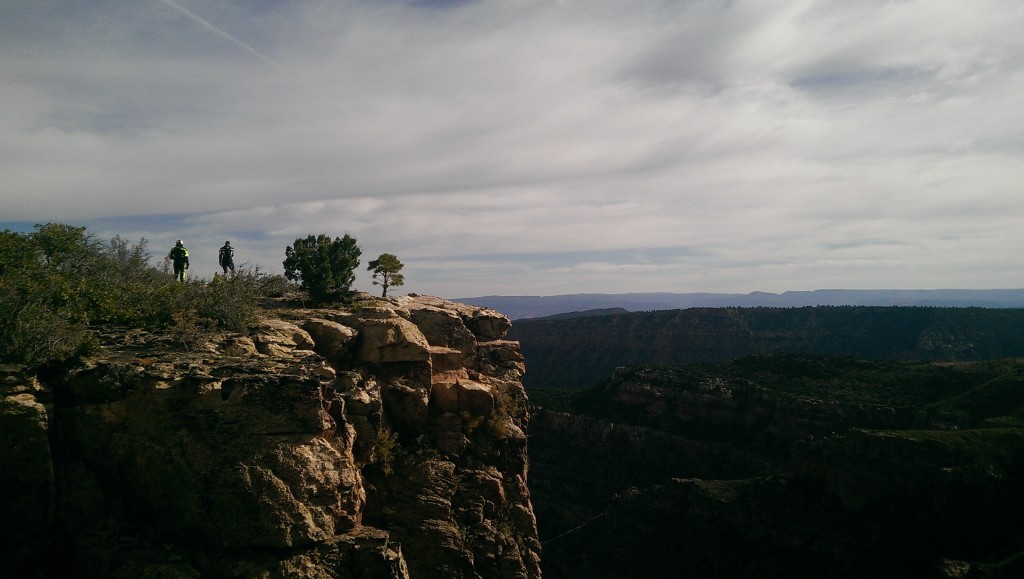 The following morning we made our way to Moab to start the White Rim Trail. The trail is a 120 mile loop in Canyonlands National Park made up of steep, rocky, and relatively dangerous terrain. The signs at the beginning meant to warn off those who that don't belong (steep, rocky terrain, 4×4, high clearance, short wheel base, no food, water, or gas available) were a welcome invitation to us. The first 6 miles would be a nightmare for any acrophobics, a narrow trail made up of sheer drop offs, very high stakes.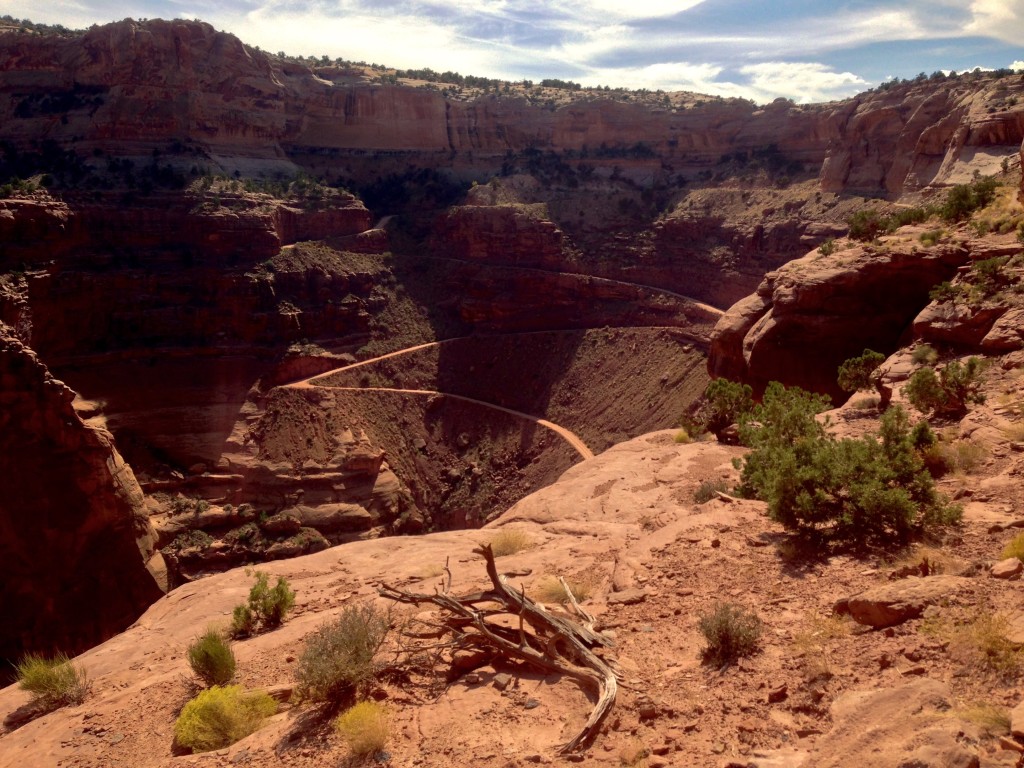 As Matt began to feel more comfortable on his third day of off road riding, he picked up the pace. This is about the time his bike took a few dirt naps. The bike was a little worse for wear but Matt was fine. At the end of the day we made a decision to turn back after about 35 miles on the trail and set up camp. We had gotten our taste and it was good. Pictures or it didn't happen?