Sitting on a well-worn patent leather couch I received an urgent message from Pat. He needed to speak right away.After riding through Bolivia together, we'd decided to split up for a little while as Pat wanted to make it to Ushuaia and I wanted to take my time in Chile and visit with my sister.Listening to the beep, beep, beep of Facebook messengers phone app, scenarios played out in my head…..

Though I knew which one was most likely, I desperately hoped that it was not the one the one I would hear. Pats dad had been sick for some time. Before we left he told Pat that no matter what he wanted him to finish the trip. Pat answered, and as he fought back tears, he told me his dad was gone. The news hit me like a Charlie Brown adult talking. It didn't seem real. How could someone who we had all been so close to leave us in an instant?
We had been steadily riding south for months now. Everyday we're further from home and the lives we left behind. But life doesn't stop just because you leave. It continues on, people get married, seasons change, babies are born, and sadly people leave us. Hearing the news, home felt far away (5132 miles straight line) but Pat felt further (2 hours by bike). There was nothing I could say or do and by the time I spoke with him again he was at the airport on his way home.
We all set out on this trip knowing that any of us may get a similar call, it's the shitty part of growing up. But you never realy expect it to happen. I guess the trepidation that our parents had about us going on the trip had been realized on our side. They preemptively dreaded getting the kind of call Pat got. Before the trip we discussed the potential reasons we would go home; serious injury, bike stolen or confiscated, and the one no one wanted to consider, the death of a loved one.
My sister flew in the next day. While waiting for her under a shaded canopy in the parking lot I tried to get a grasp on the situation. Matt left in Peru and now Pat was somewhere between Santiago, Chile and Newark international. And I'm laying on my bike in a parking lot thousands of miles from home with my sister only an hour away. It's funny how the trip works. It gives as much as it takes. Pat and I suffered our way though Bolivia and I don't think either of us would have made it without the other, but we were rewarded with some of the most amazing views I have been privileged to experience. I lose my riding partner and best friend to real life's continuation but am lucky enough share part of my trip with my sister.
She arrived at the international arrivals area after Americaning her way through customs. "Yeah I don't speak Spanish, no you are not taking the peanut M&Ms I brought for my brother." Truthfully she forgot/ pretended not to have them. She dragged the enormous Vietnam era green canvas duffel I had instructed her to bring with the additional gear I would need for the Torres del Paine hike. I don't know whether she was happier to see me at the airport or happier to hand off the monstrous bag of gear I had her mule down. Either way I was excited to have her here.
She quickly realized the glamour of long distance motorcycle travel as I had her suit up in my waterproof RevIt gear in 85+ degree heat. We strapped down the bags and were off. A spirited ride from the airport to the hostel gave her a taste of the days to come. We arrived at the hostel hungry and hot but I insisted on sorting gear and prepping for the next day. After a much need shower we headed out for lunch. One thing I'll never understand is how you get so dirty while sitting on a plane but I know the shower after a long flight is always heavenly.
Lunch was delicious. Huge portions of local fish covered in a shrimp and cream sauce in a turn of the century building designed by Eiffel. She was impressed by my apparent knowledge of Spanish, which in reality is just enough to order food, take care of my bike and find a place to sleep. We returned to the hostel and happily took much-needed naps. We followed up an amazing lunch with an even better dinner. Famous Chilean steaks, delicious wine and superb beer.
The next day was spent wandering around the city. We visited the Museo de la Memoria y los Derechos Humanos, after a recommendation I received from Barbara. The museum documents the civil unrest during the time of Pinochet and the murders and disappearances that the military was responsible for. Though the US had a large part to play in funding the militaries coup, thanks Nixon, not much blame was placed on us. Instead the museum serves as a steadfast remembrance of the atrocities that were committed and the people who suffered.
Later that night, on the way back to the hostel we passed what appeared to be a concert in the park. Some rapid maneuvers led us to a side street where we could leave the bike. As we walked closer we realized that it was not only a concert in the park but it was a huge dance party with music as varied as 50s doo-wop to modern salsa. This is one of the many reasons I love Latin America and the people here. Do you have to pay for a concert in the park? No. Will strangers come up to you and ask you to dance and have a good time? Yes. Will whole families be out with kids at a time that would appall Americans? Absolutely.
The ride to Mendoza in search of wine
I think it was the moment Caitlin saw the ridiculous amount of gear that she realized we would actually be carrying everything we need and them some for the next few days. I left some of the unnecessary extras at the hostel but the remainder still amounted to a veritable mountain of gear as Savannah called it. Fully geared up and packed we headed west in search of the legendary Argentinian wines. The best thing about riding with your little sister (who does not have an intercom) is you can tell exactly how fast you are going by how hard she is hitting you on the back. Sorry Cait fast corners are the best part of riding and we found a few.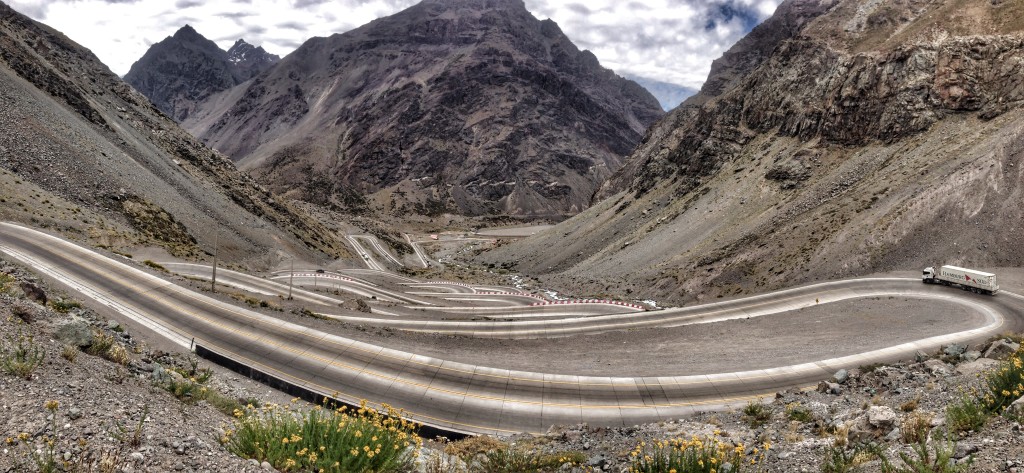 Road to the border crossing
The first border crossing we stopped at was the one we needed for the return but don't worry we would make the same mistake on the way back. After 30 something back to back hairpins Cait seemed like she might need a break. And I knew just the thing that forgives a spirited corner riding.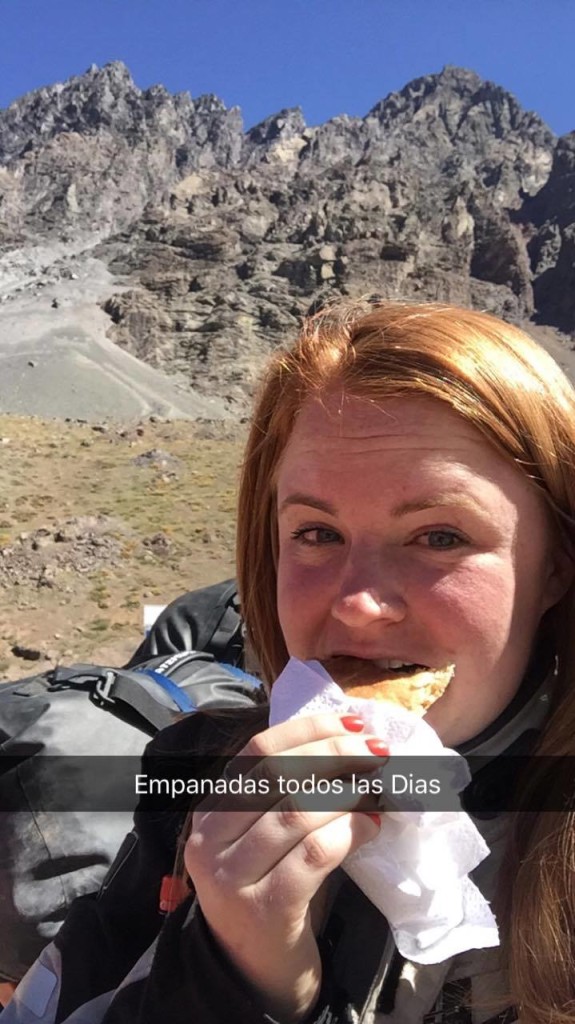 We arrived at the correct building which is shared by both Chile and Argentina and with the help of some abikers we had the whole crossing sorted out in less than 45 minutes. Let the ride past South Americas tallest mountain, Aconcagua, and its glacial lake begin.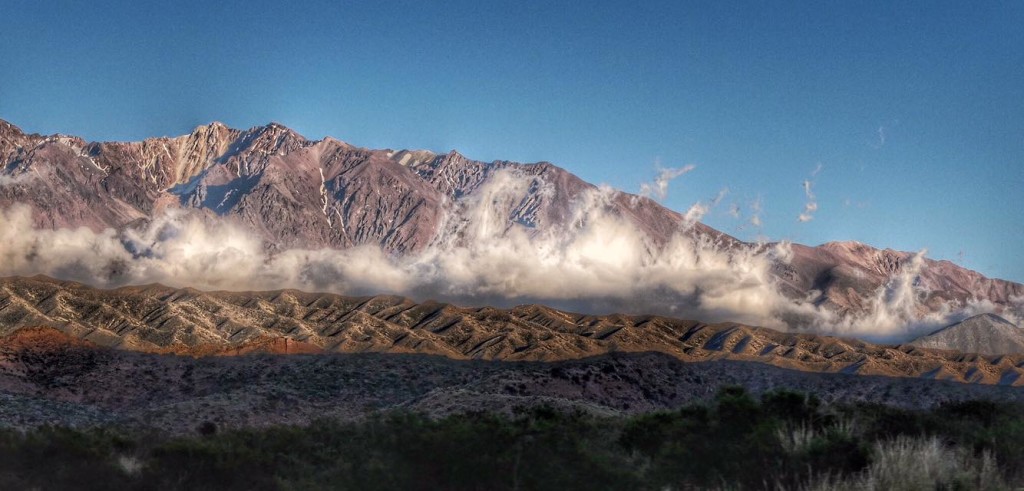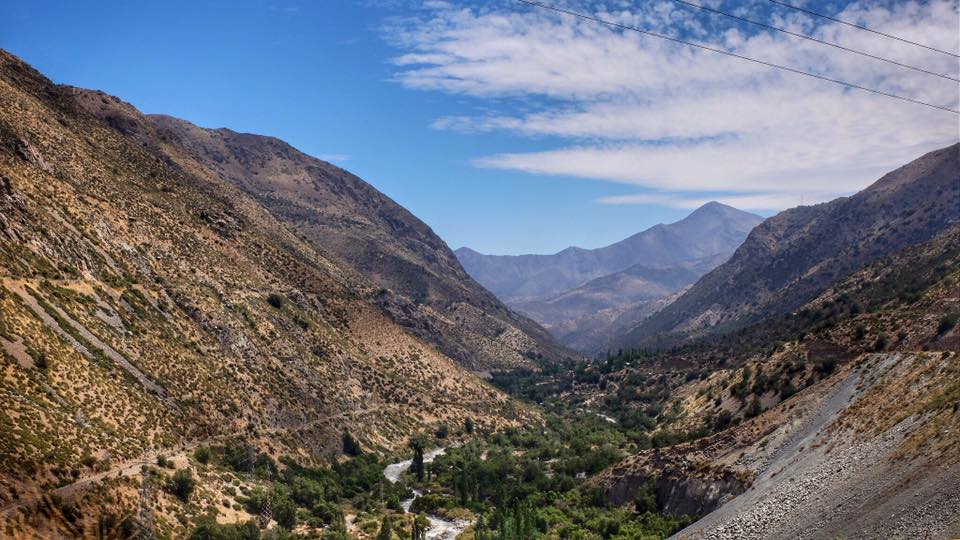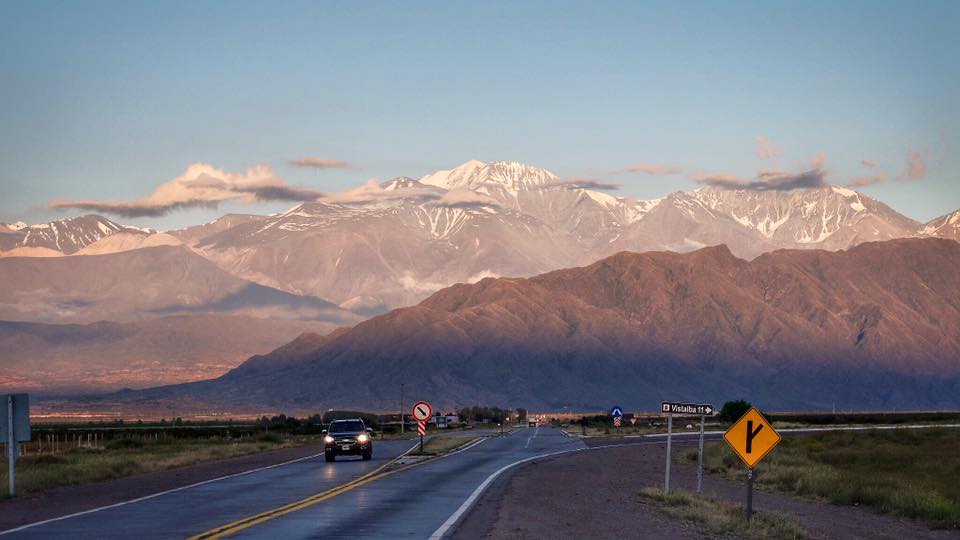 Aconcagua one of the seven summits and the tallest mountain in SA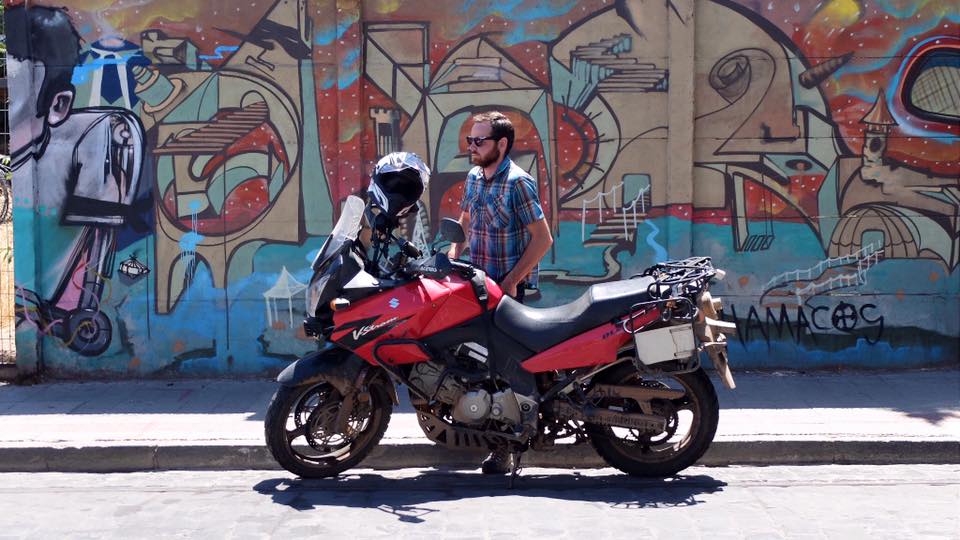 Mendoza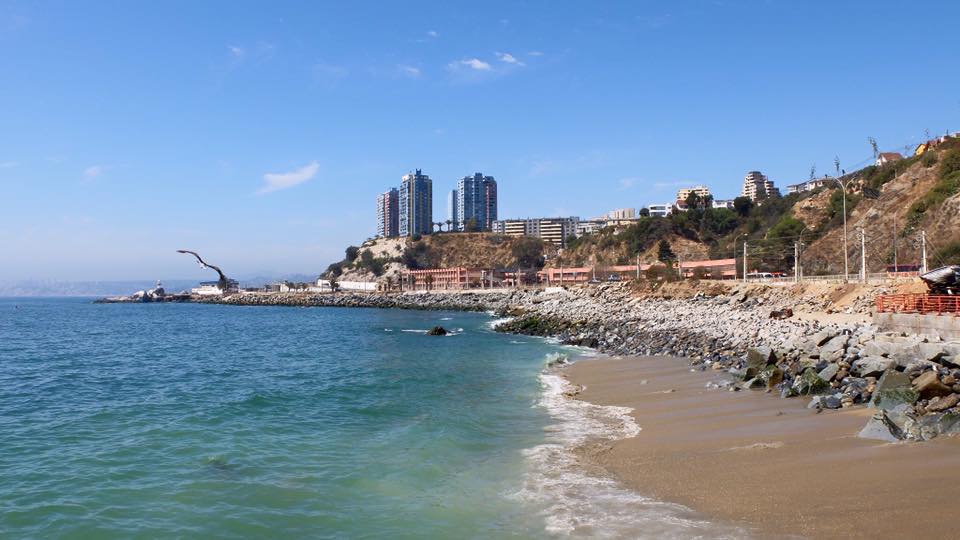 Valparaiso
After a few days in Mendoza we headed back to Santiago. What would a week of motorcycle travel with without border crossing, hairpin turns, icy cold mountain winds, blistering desert sun if not finished up by a nice day at the beach. This is one of the things I love most about Chile, it has it all.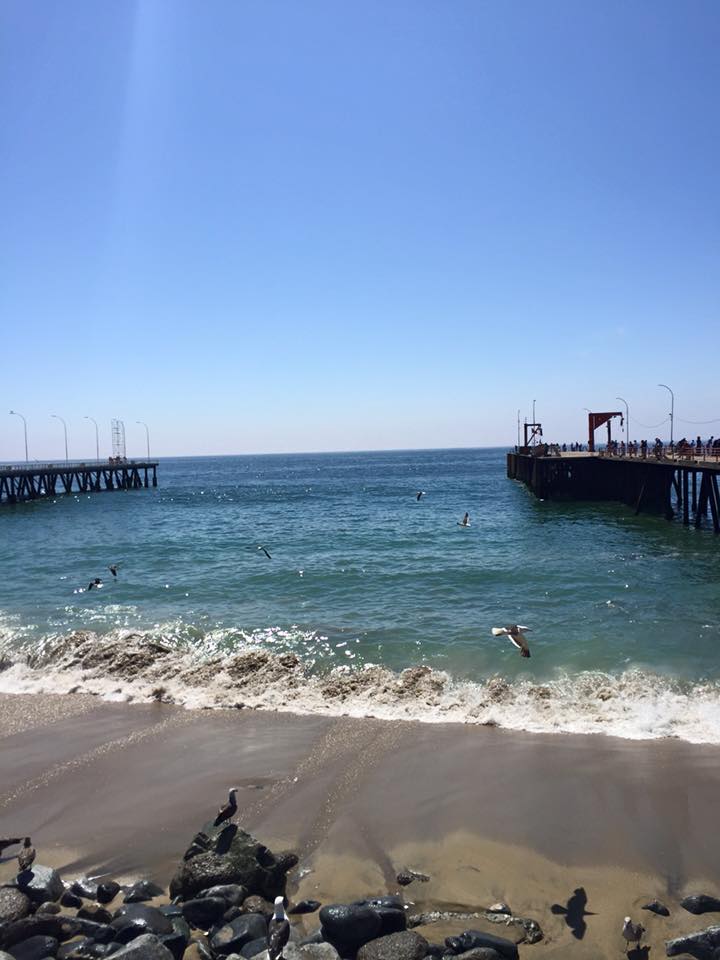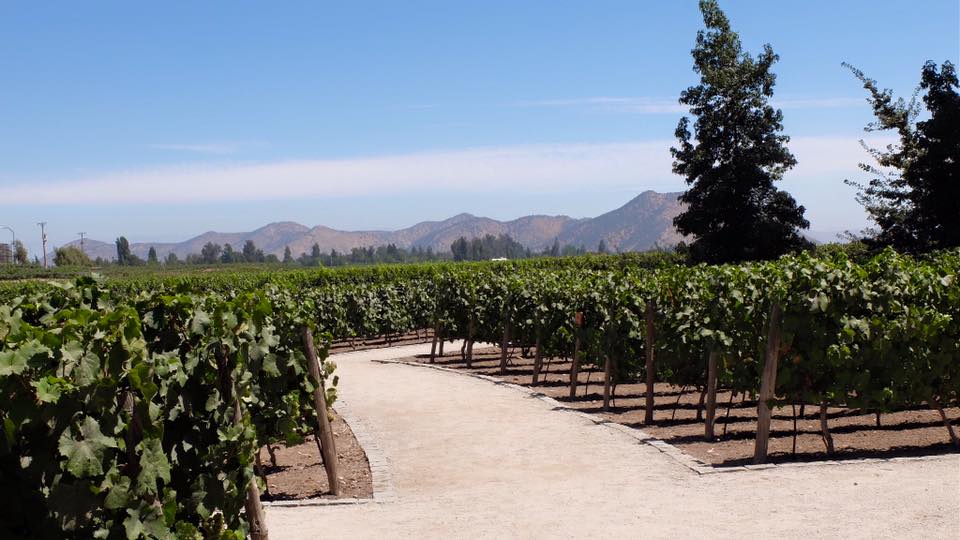 Concha y Toro winery
After my sister left, in what felt like a extended weekend, it was time to start thinkingabout the ride south. The next few days consisted of meeting up with Roel and Azure, figuring out the logistics of getting pats bike back and planning the route south.

Just a few miles from the border of Argentina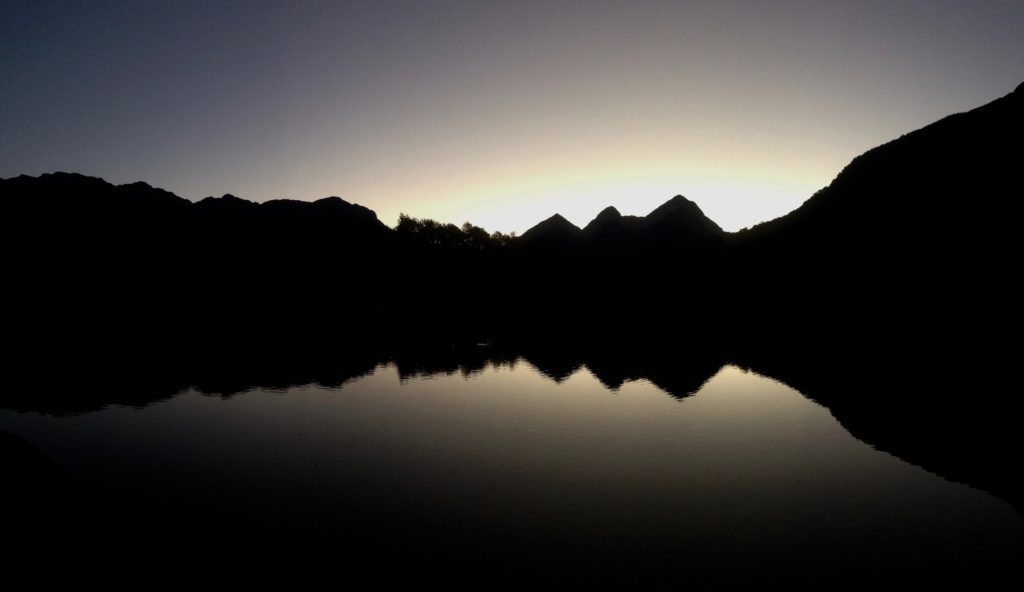 Campsite first night in Argentina.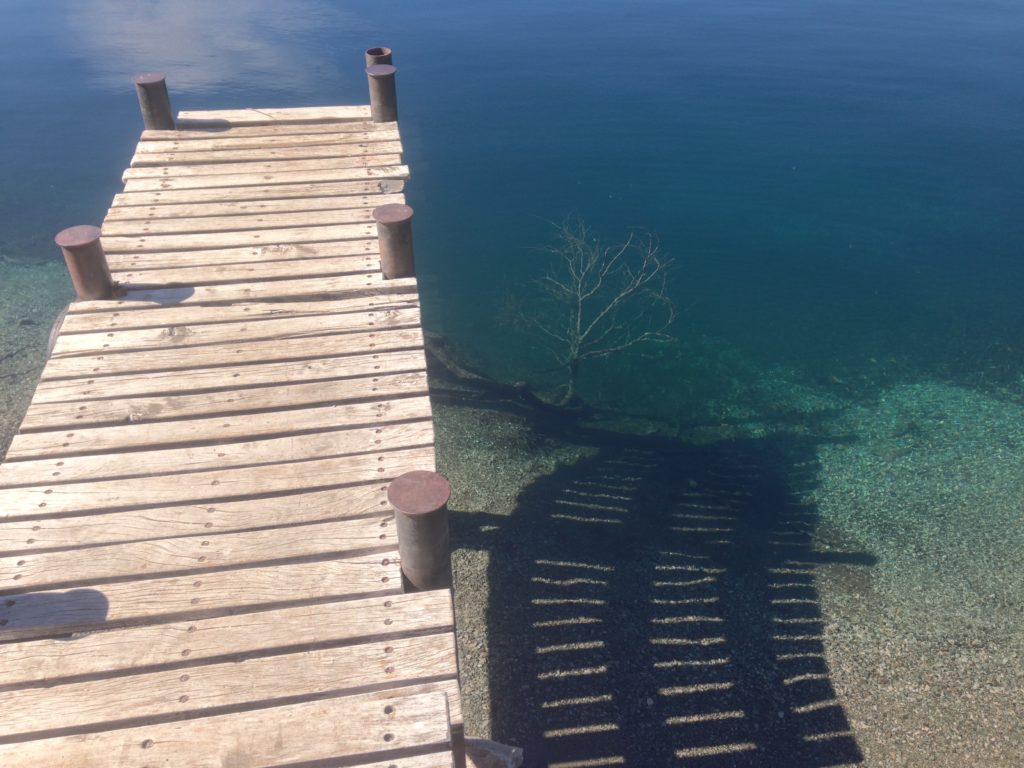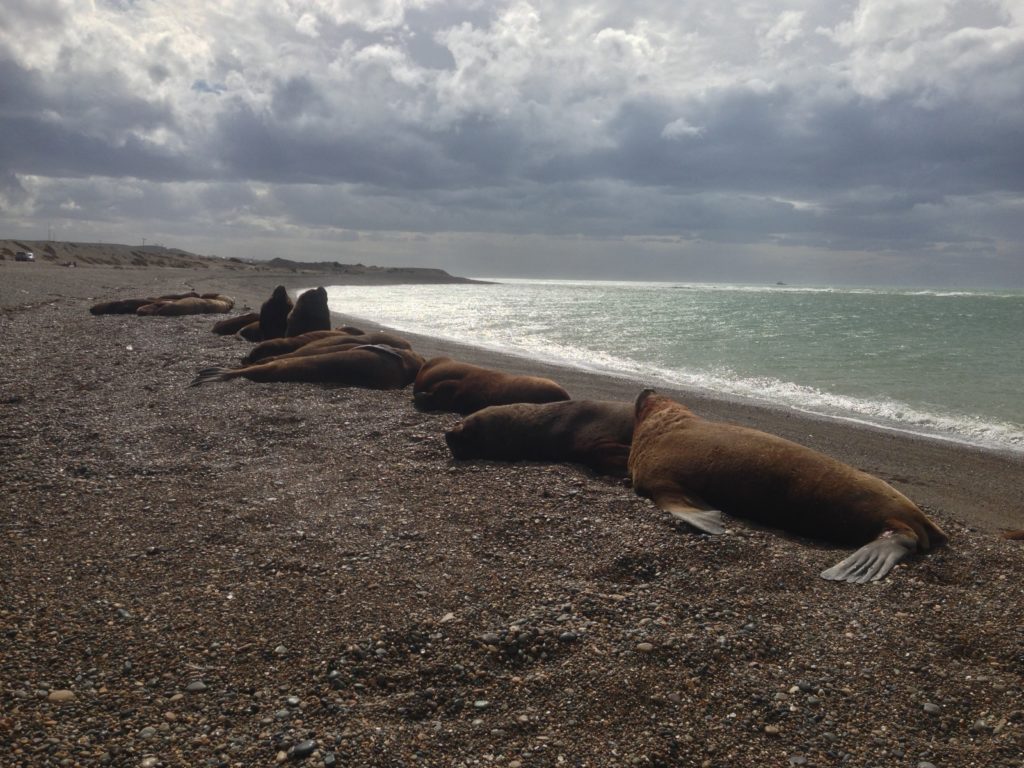 Patagonian sea lions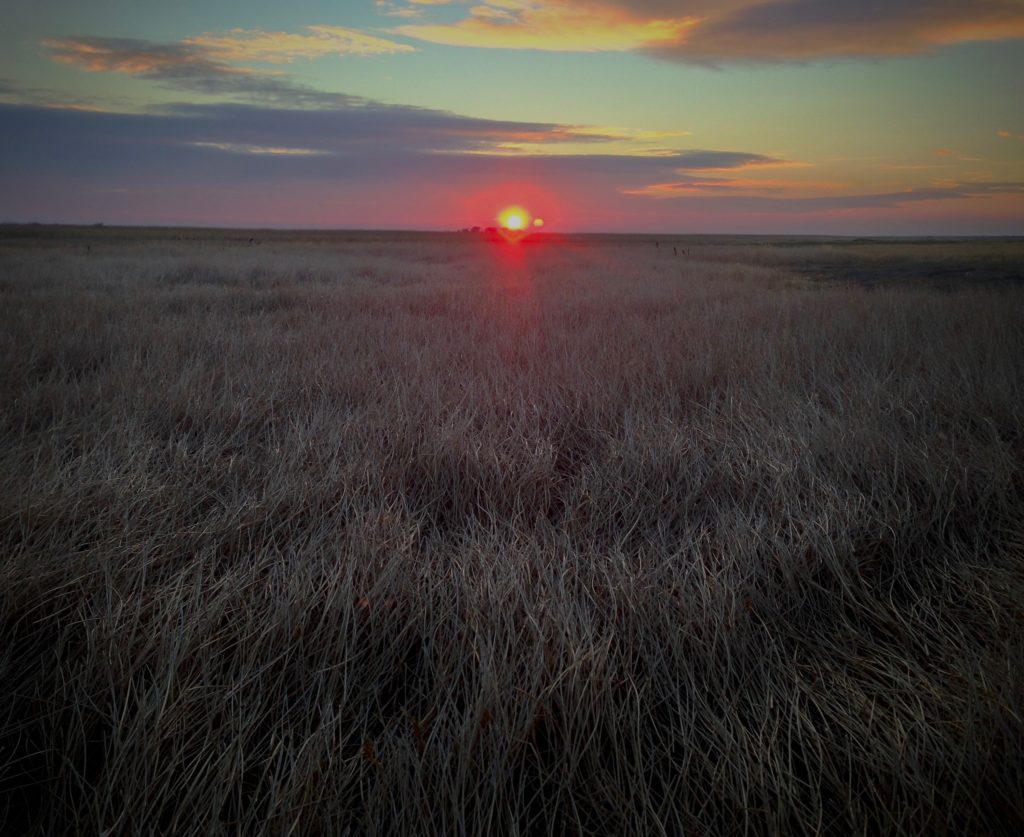 Campsite second night.
All the sudden after days crossing barren windswept waste land it started to get beautiful. The funny thing about being on a bike in harsh conditions is that sometimes you see everything and sometimes you are tucked down, face on your tank bag, cruise control locked and switching winter gloved hand to winter gloved hand searching for something warm on the engine to touch. It's these moments when the wind is trying to blow you off the road and the trucks are trying to suck you into them you are hyper focused on keeping the bike upright. Compounding the necessity for focus is the endless perfectly straight road with nothing to engage your mind. This is when music is my savior. Even when I erratically flip through songs just for something to do. I tried playing with the settings on my GPS but this lead to me not seeing a sweeping corner at 75 mph and taking a harrowing ride through the deep gravel filled shoulder. The whole time thinking "this is gonna hurt and my bike is going to get destroyed." Luckily luck was on my side once again and I managed to keep the bike upright and ride it out to a service road that paralleled the asphalt about 30 meters away. After that staying attentive was not a problem for the next few hours.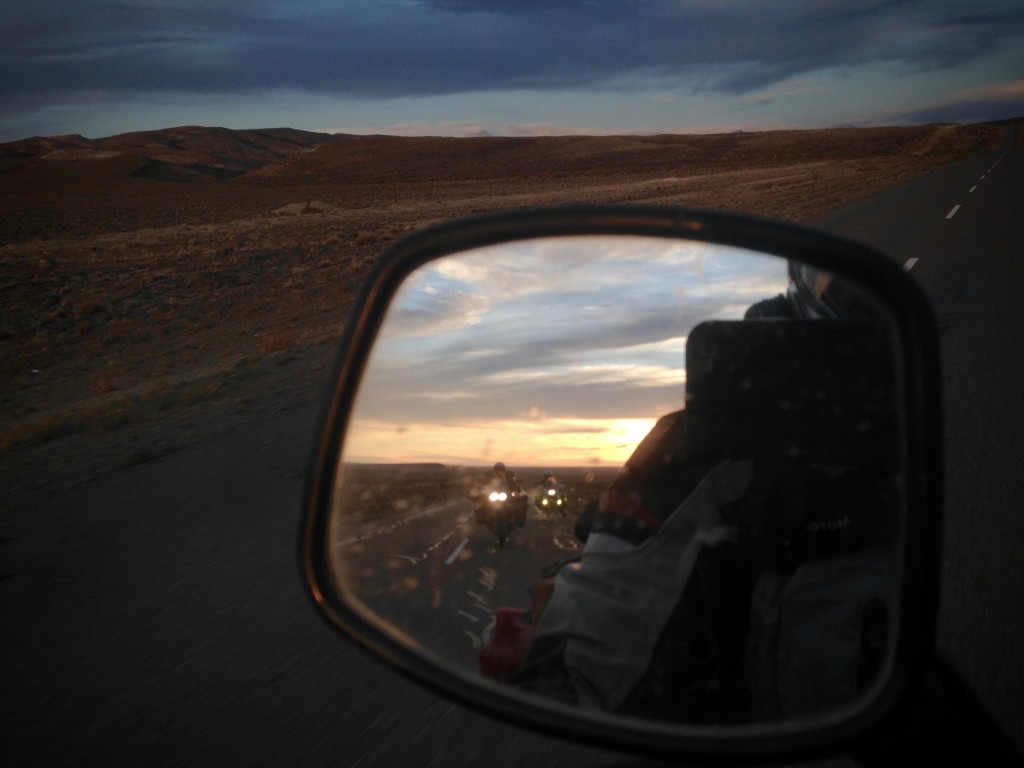 Lots and lots of nothing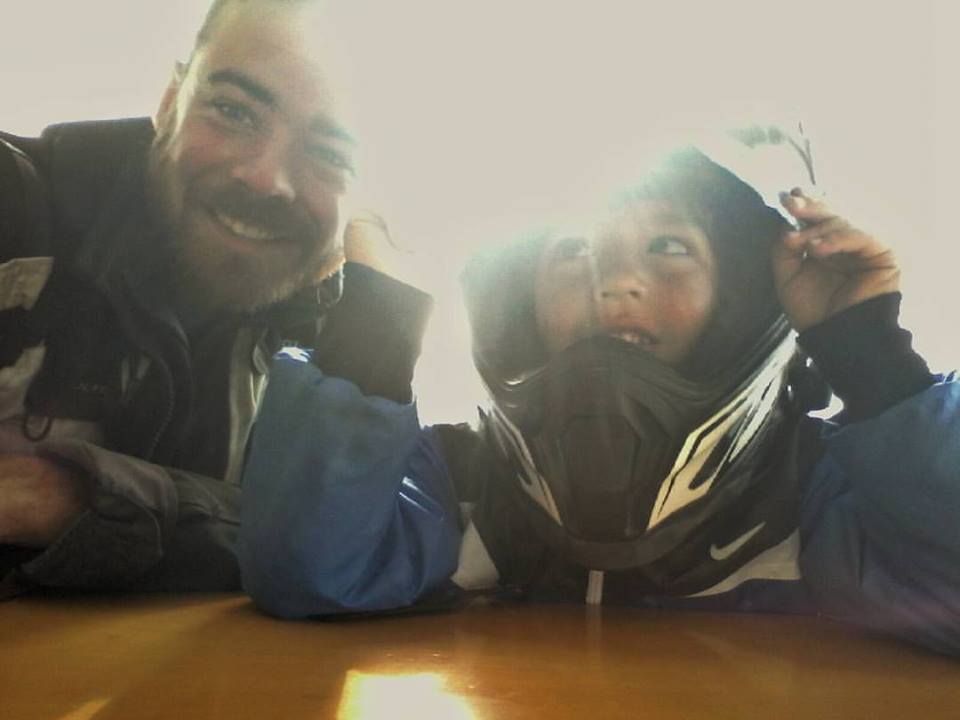 ADVer in training
We stopped for gas and hot coffee, which had become the norm every few hours, at the northern tip of Lake Escondido. On the way out of the station, fully warmed and caffeinated, I started to look around. "This place is amazing" I thought to myself. Snow capped mountains, deep blue glacial lake, majestic pines. Maybe the three days in the wind are actually worth the trip. I had previously convinced myself that Torres del Paine was as far south as I would go. But the trip had started to push me South. Between Pats determination to make it to the bottom, meeting up with Roel and Azure who were headed to the "end of the road" sign and everyone on theirway north saying how beautiful it was I decided to listen to what the trip was telling me.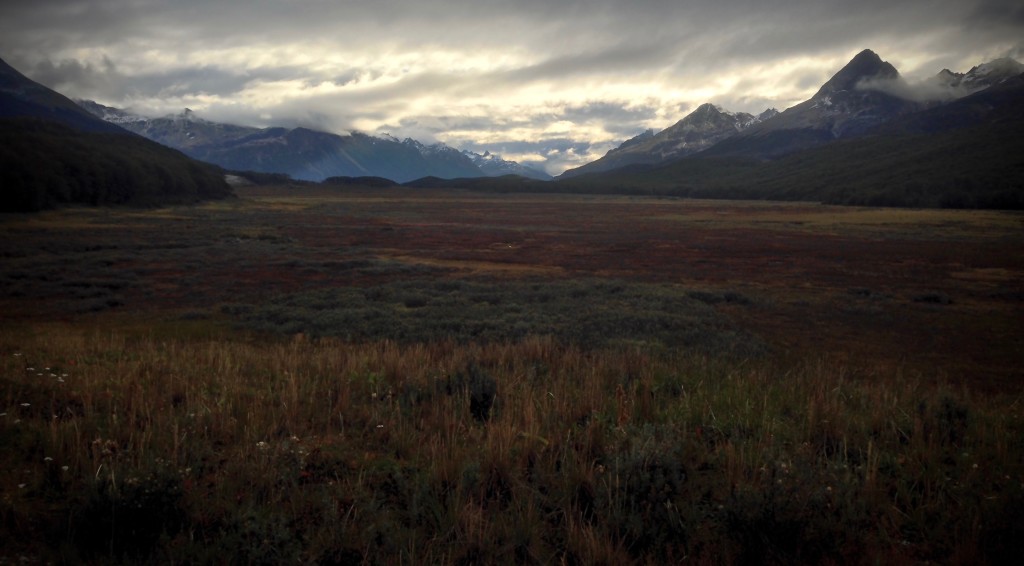 The road was nothing like I expected and everything I expected at the same time.
On our way to the end of the end of the road. I should explain what I mean by the end of the end. Four years ago when Pat and I were talking about riding to the end of the world I looked on google maps to see where the road ended. This was before I knew about ride reports ending in Ushuaia or that you could take an expensive ferry to Puerto Williams or a much more expensive ship to Antarctica. The spot I found was the navel outpost of Moat (-54.975544, -66.744547) where the road actually terminated. I somehow convinced Roel and Azure that we should ride to my google maps destination and I'm glad I did. It was one of the most beautiful rides of my life and of a trip that consisted of many beautiful place and people. It was what I expected the end of the world to look like. Raw, desolate and obscenely beautiful.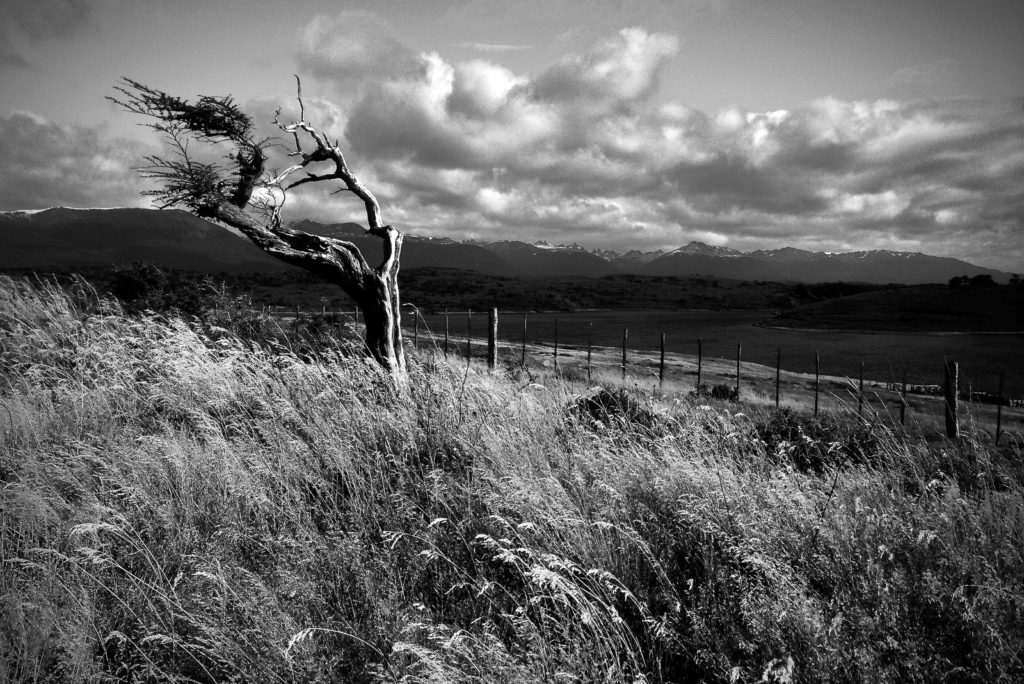 We entered the national park on a dirt road that was cleaner, faster and smoother than what we had become accustomed to. It was going to be a good day. The road opened to stunning beaver ponds, white capped inlets and a rear view of snow capped mountains. This place was not immune to the winds. As was evident by the trees. Every gravel filled bend led to one spectacular view after another. This place was truly magical and alive with the power of the weather.
We spoke to a park ranger in about halfway through the ride who informed us that "yes this is my job every day" and "camping is free, but you can only have fires where permitted." About 20k down the road Roel and Azure had passed me while I stopped for a panorama. They must have been distracted by the ocean or thinking about the distance to the end but they missed the chestnut mare laying on the side of the road. She was laying in a way that the horses I've known do not lay unless something is very wrong. On her side feet stretched into the road. I stopped my bike and contemplated, for a brief second "should I go back? She is probably dead." I turned around and she was very far from dead. As I walked up to her she struggled to get to her feet to no avail and then I realized that walkingtowards an injured horse in full black and white motorcycle gear haveingjust rode past on a big red machine that growls like a lion, might not be the most comforting image for a injured horse. I returned to my bike, took off my helmet, jacket and winter gloves. I slowly re-approached her while reassuring her that I was there to help her. She at first snapped at me trying to claw her way toward me to bit me. This girl had plenty of fight left in her. I placed my hand on her head and gently pushed it to the ground while I inspected her right rear ankle. A length of fencing wire maybe 10ga (heavy stuff) had been wrapped around between the lowest join and the hoof.
The only thing I knew to do was grab my tools, douse her ankle in bactine, and try to remove the wire. With visegrips and channel lock dykes in hand I proceeded to snip the wire off in bits, which took all the strength. This is when I started to realize how serious it was, I've cut 5/16th grade 5 bolts with this very tool and I could barley cut through high tensile wire. I removed the last piece of wire, as I slid it out from between the puss cover flesh and the bloody muscle I could feel it scrape the bone the whole way out. The entire time during this "procedure" I had one hand on her head to keep her calm and one gloved hand cover in blood. The wire was out but I know without months of rehab and lots of money she would die from the infection that had set in days ago.
I packed up my tools and got myself ready to ride back to the ranger station to find a rifle. If it were my horse or even if it was me and there was no chance of recovery I would expect someone to do the same. As I tightened the last pull strap on my bag Roel and Azure showed up, relieved that I hadn't fallen off a cliff while messing with my GPS. Azure volunteered to get a ranger. I told them to bring a vet and a rifle. As much as I wanted this otherwise healthy mare to survive I knew without money and time the right thing was to put her down. Every time I walked back to my bike for medical supplies, water or candies for her she would struggle and writhe to get up the same way she tried to get away from me when I first arrived.
While we waited for Azure to return Roel and I talked about the beauty of the place and the suck of the situation. I sat next to her with my hand on her jaw and Roel stood with his hand clasped low like and man being respectful at a funeral. The wind had slowed a bit but there was a rain storm on the other side of the bay and it was on its way to us. Azure returned having informed the ranger we met earlier in the day what the problem was. We all stood quietly. The mare would lift her head and look at her ankle from time to time. I think she knew it would be the death of her one way or another. She gave me a playful nip on my boot every time before her head crashed to the ground and her eyes struggles to stay open.
An old Scottish vet showed up with and even older .22 cal rifle. He informed us what we and she knew. A quick death was better than dying from infection or starvation. As he walked from the truck with the gun she looked at me, her ankle and finally him. She raised her head up once and then laid it down. With a quiet crack that was barley audible over the wind she was gone.
I have always liked horses and felt close to them. But It's as if I could feel her pain and she knew I was there to help with what little assistance I could. I grabbed my knife and cut a lock of her mane. I don't know why but it felt like the right thing to do. We geared up and continued on the road. My headset was dead at that point but I know it was a somber ride for me and I could feel the same from the others. The timing got us to the end of the road just as the sunset. Of all the beautiful sunsets I've seen on this trip this might have been the best. A fitting end to a day where you honestly never ever know what was going to happen.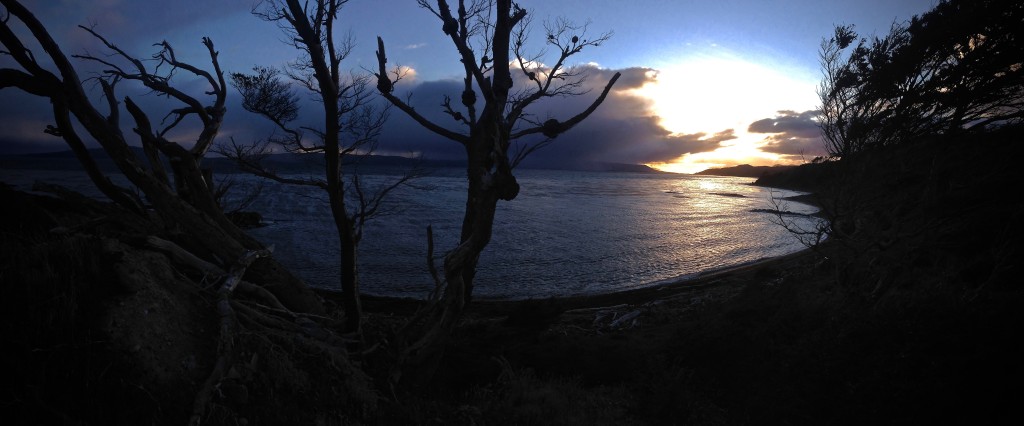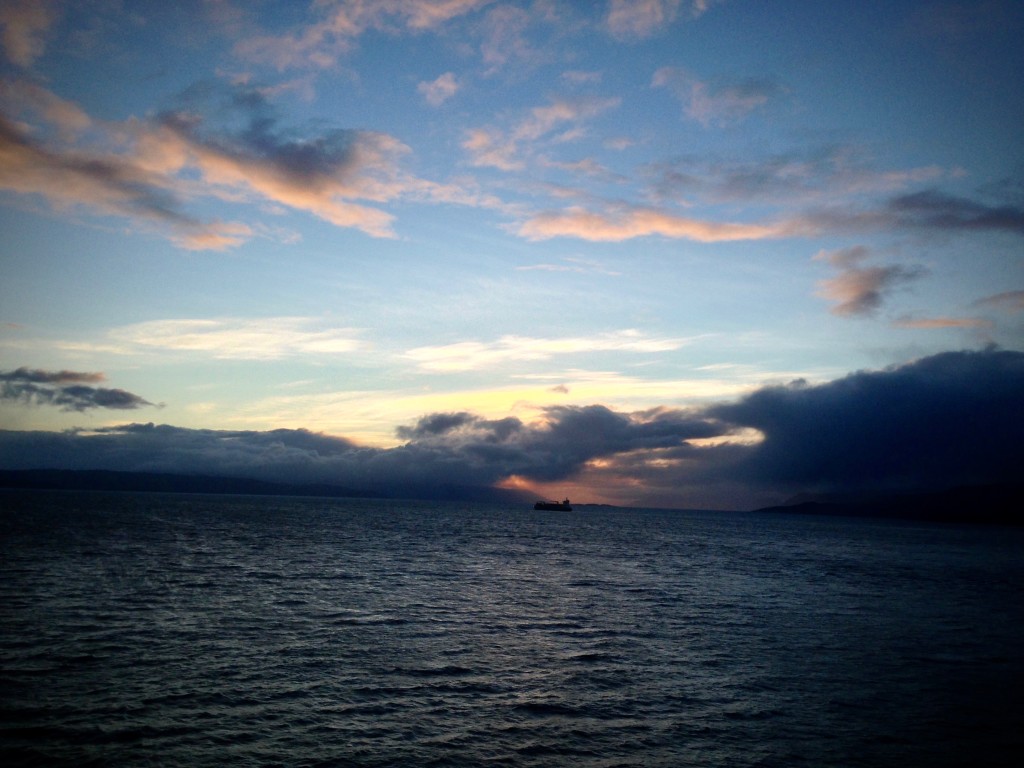 View from the end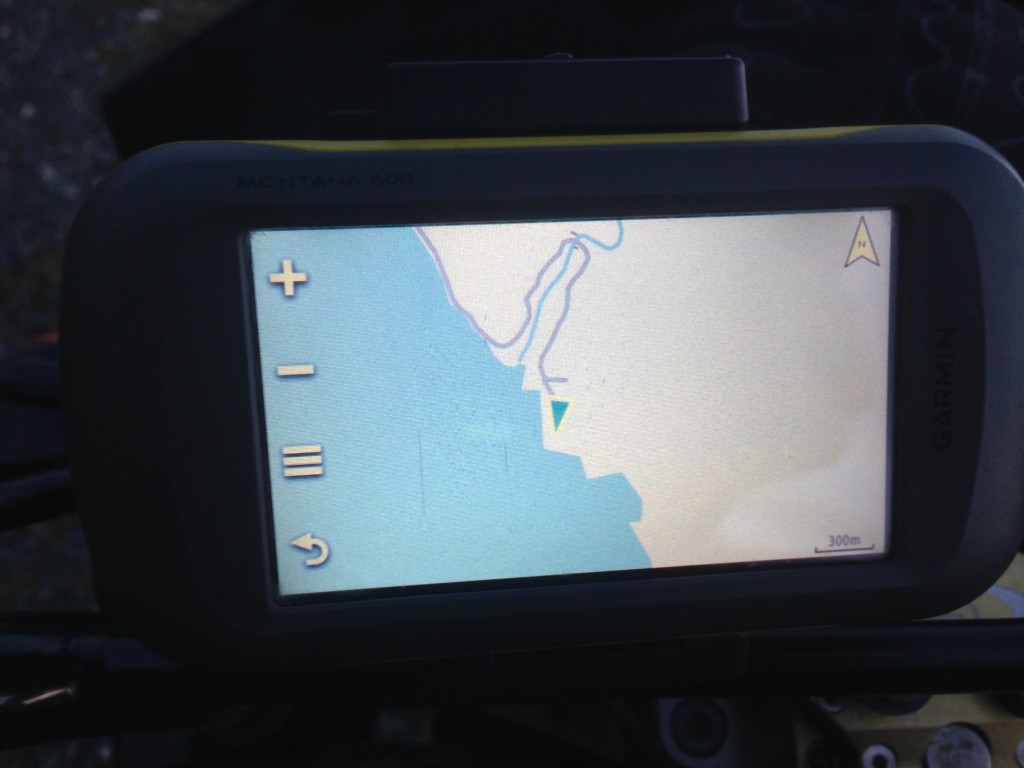 The end of the end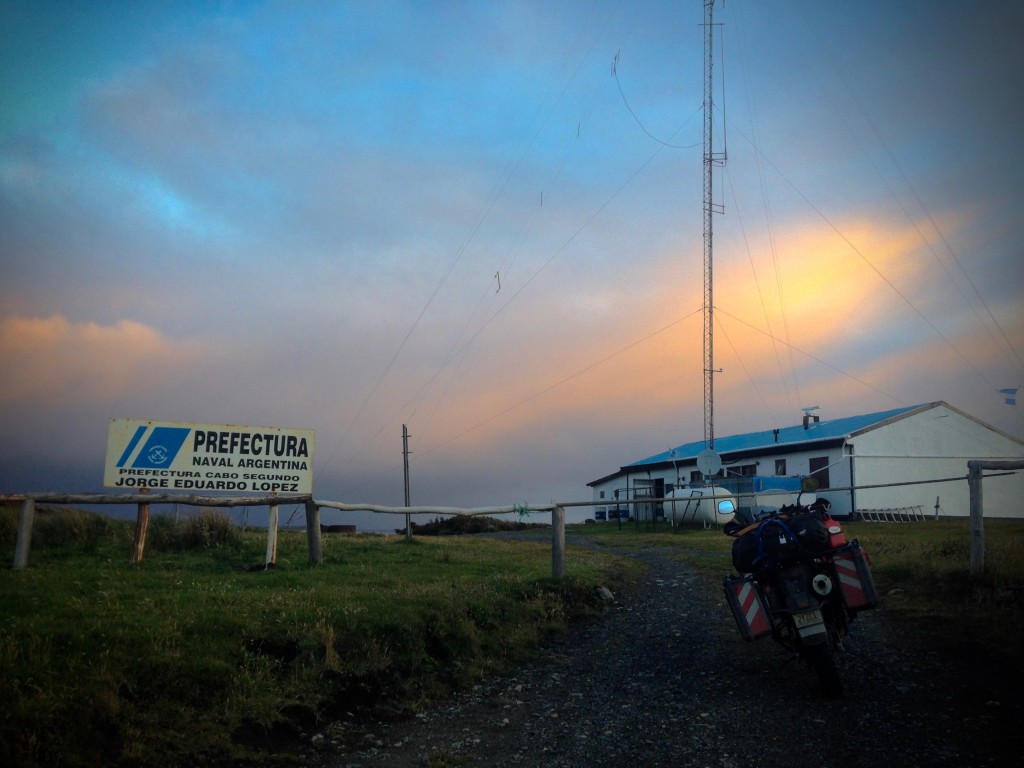 Naval station. AKA radio outpost with one guy and a friendly dog.

One of the three free campsites in the park.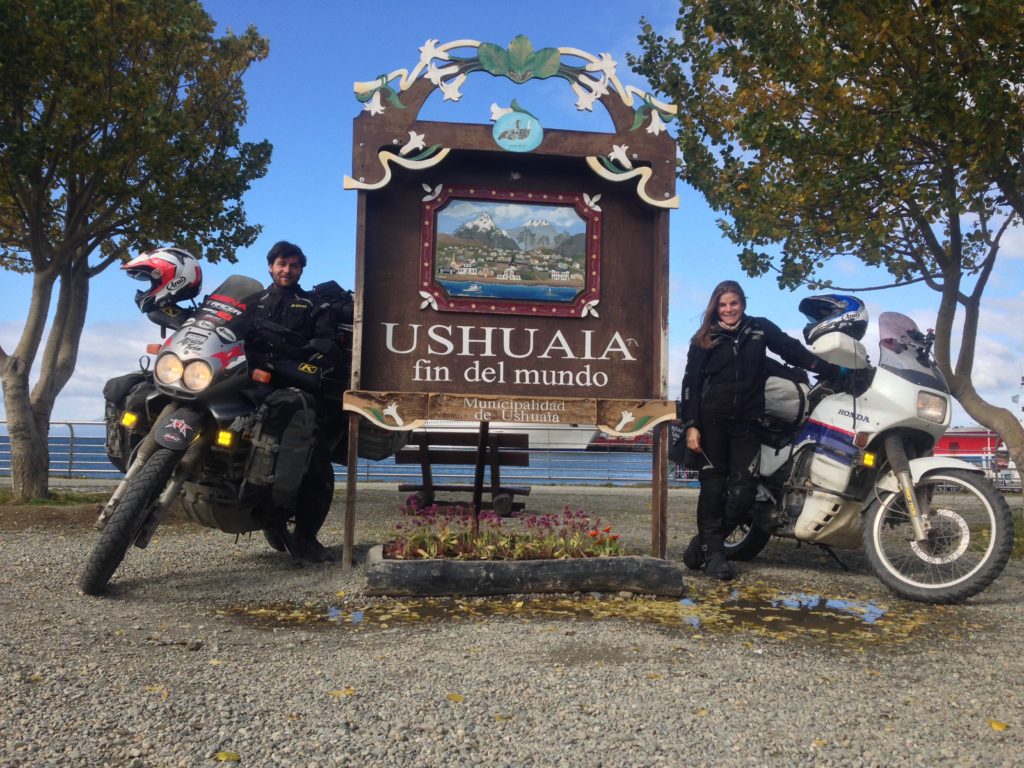 The next morning we rode back to Ushuaia through the standard protest and headed to a gas station with wifi and empanadas. We sucked up some internet and I informed them that I would be heading north solo while they went to the "End of the road" sign. The ride north was what I expected. After all we had come down the same road. This time it was just faster and some how quieter. I replayed the events a the last few weeks I'm my head. Psychologists say when you hear voices you are crazy but philosophers say when you listen to your inner voice you are gaining deeper understanding. I'll go with the latter. When you talk to yourself on the bike you hear the words but the voice is your own and not your own at the same time. It's not what your voice sounds like but it's what you hear when you think. The same voice you hear has you read this. The asphalt "time to think" quickly changed to "pay attention" to "hold the line and keep the bike upright" in the gravel tracks of a trucking road once I crossed back into Chile from Argentina. Though the road was rough and the camping was shitty but sunsets like this make it well worth it.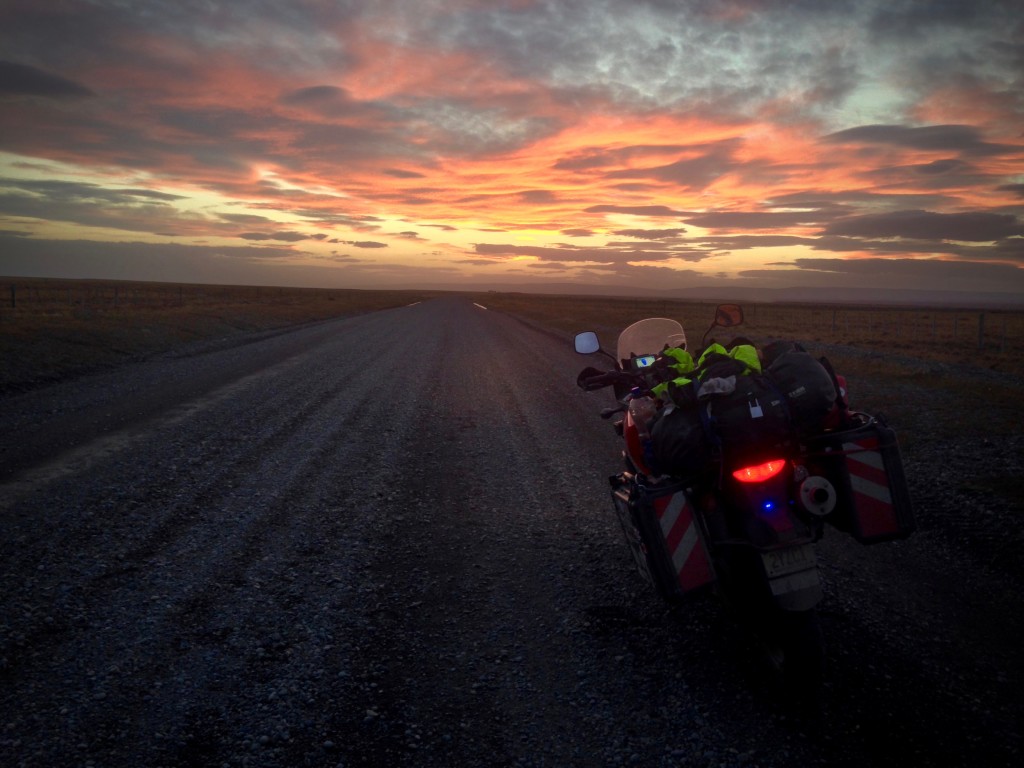 Moonrise to Sunset. Look at this one full screen
I've realized as much as I love the cities down here. The remote nature of most of Chile is really what does it for me.
Up Next
The ride back to Santiago.