Peru Part Deux: Huarascan to Yungay
Dusty, tired, and hungry we arrived into Yungay, a small town just below Huarascan National Park. First order of business was to top off gas and oil. Our bikes aren't spring chickens, we have a couple oil drinkers in the mix.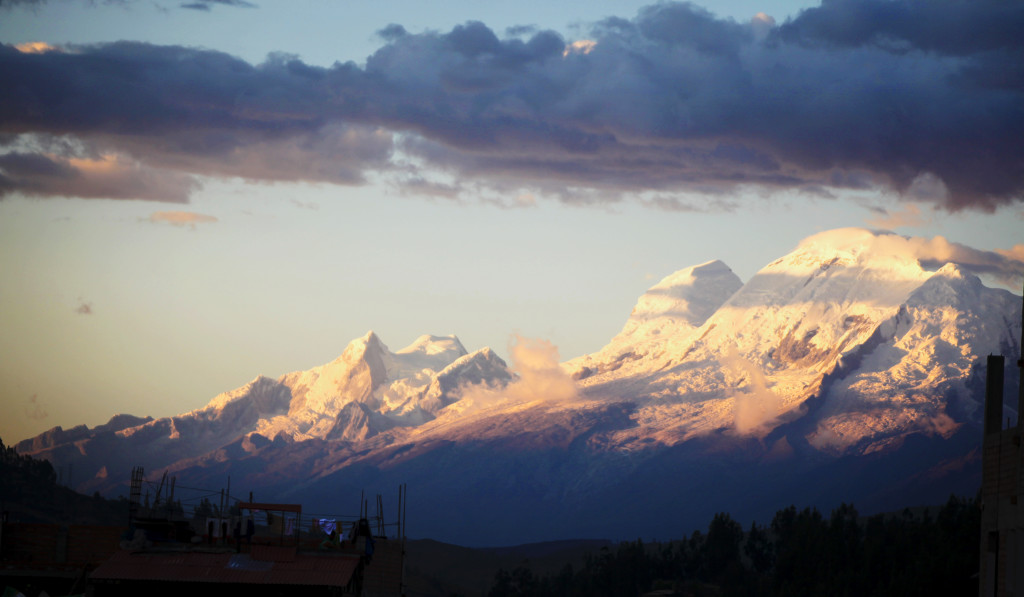 Afterwards it was time to fill our tanks. We followed the standard protocol and rode towards the main square. Immediately we honed in on a place with curb appeal. It had people inside, check, it looked good, check, we could see the bikes from the seats, checkmate.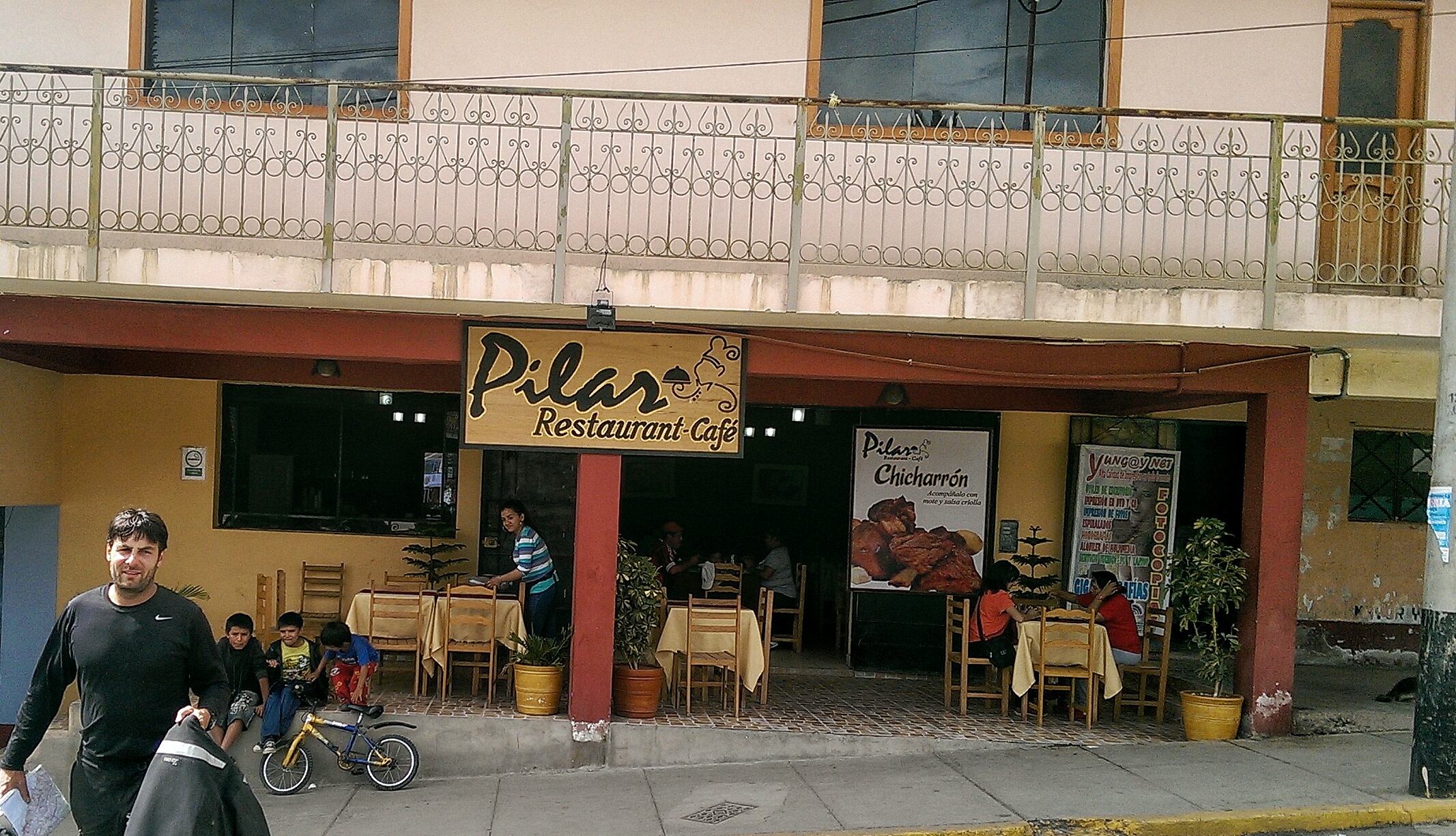 Cafe Pilar was like our Oasis. It had been awhile since we had received decent service, or had good food. They also had WiFi. We likely overstayed our welcome here. The gang was excited about some weird liquid coffee concentrate they had, and ended up getting some for the road.
Before moving upward to Huarascan, we stopped by the market and then ascended the long, bumpy road to the entrance.
Midway up I fell back from the group and picked up a huge amount of firewood. Where we were going, there wouldn't be anymore wood. I met back up with the four of them at the gate where the rangers were trying to make us overpay. Apparently they had no idea who they were dealing with. Not a snowball's chance in hell.
To describe the beauty of this park or capture it in pictures is impossible. It's one of those places you simply have to experience. From the lagunas to the surrounding snowcaps, it was an immense array of magnificent sights.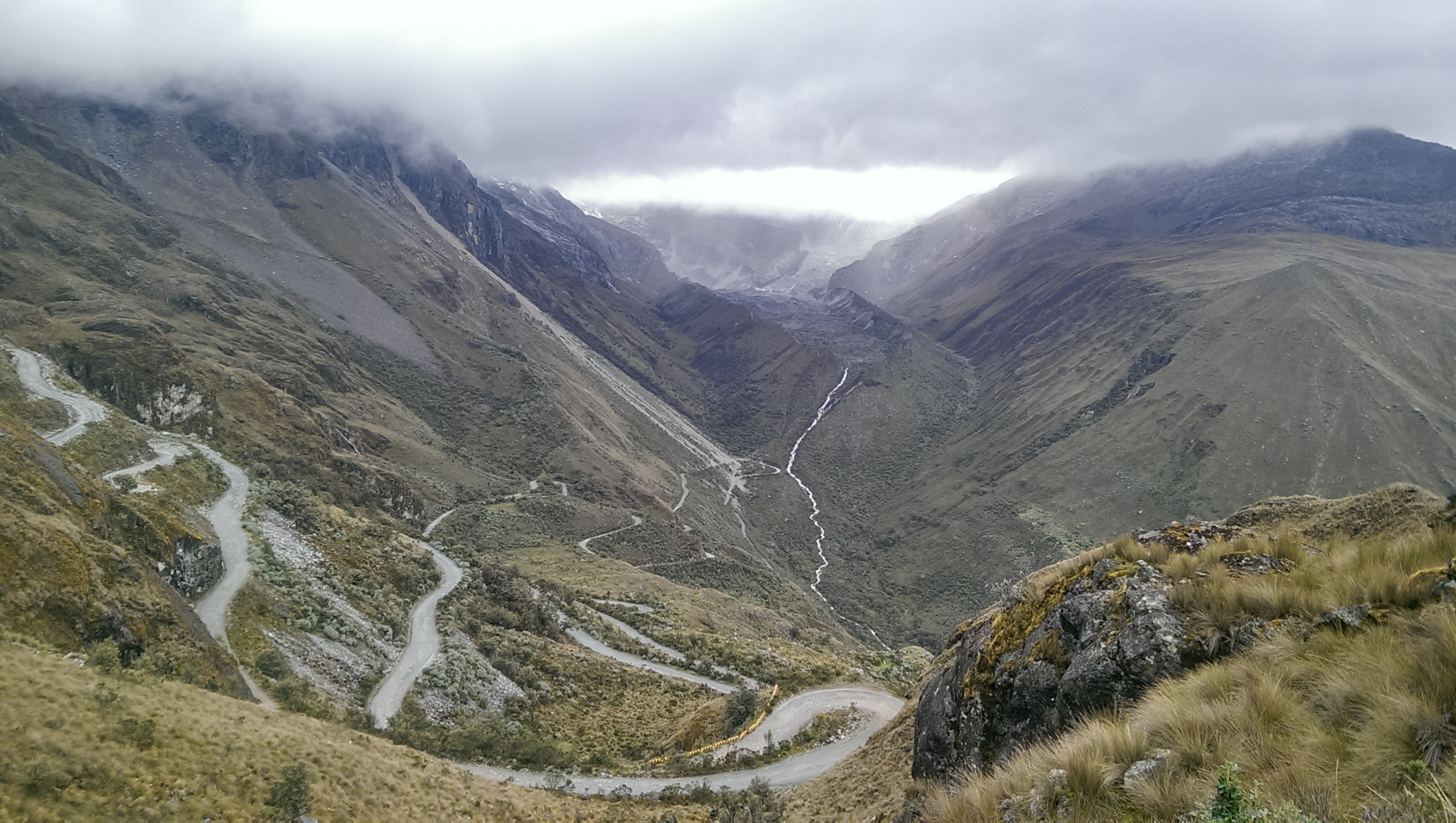 We worked inward, meandering through the dirt road that cut through the wet lowlands. For a brief time the road was completely flooded which made for an interesting passage. And then we climbed.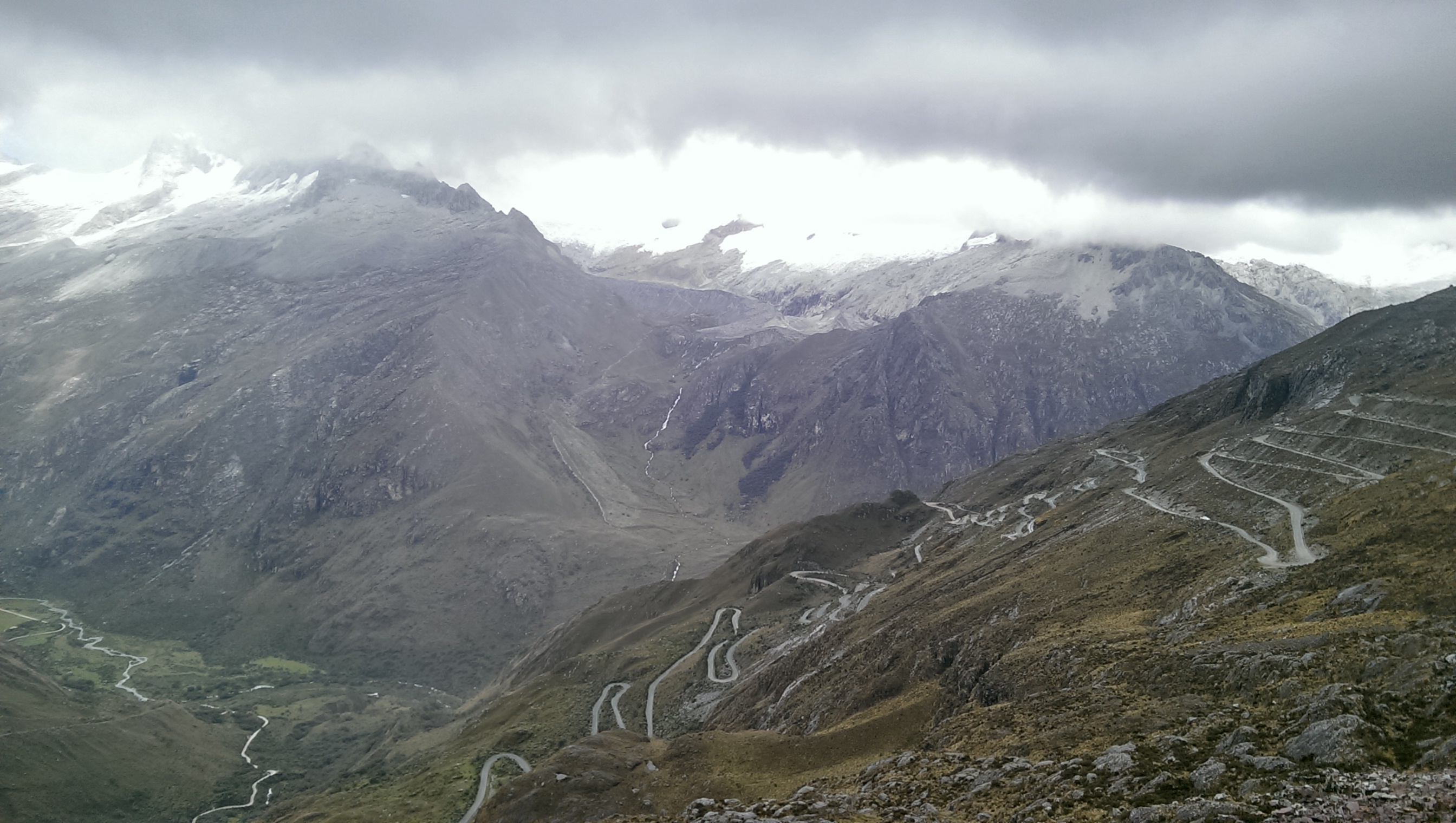 The sun was rapidly setting so our mission was to find camp. Matt and I went on ahead. The switchbacks yielded minimal options. That is until we found it. A clearing with old foundations we could camp inside. A little wet but nice and hidden with incredible views.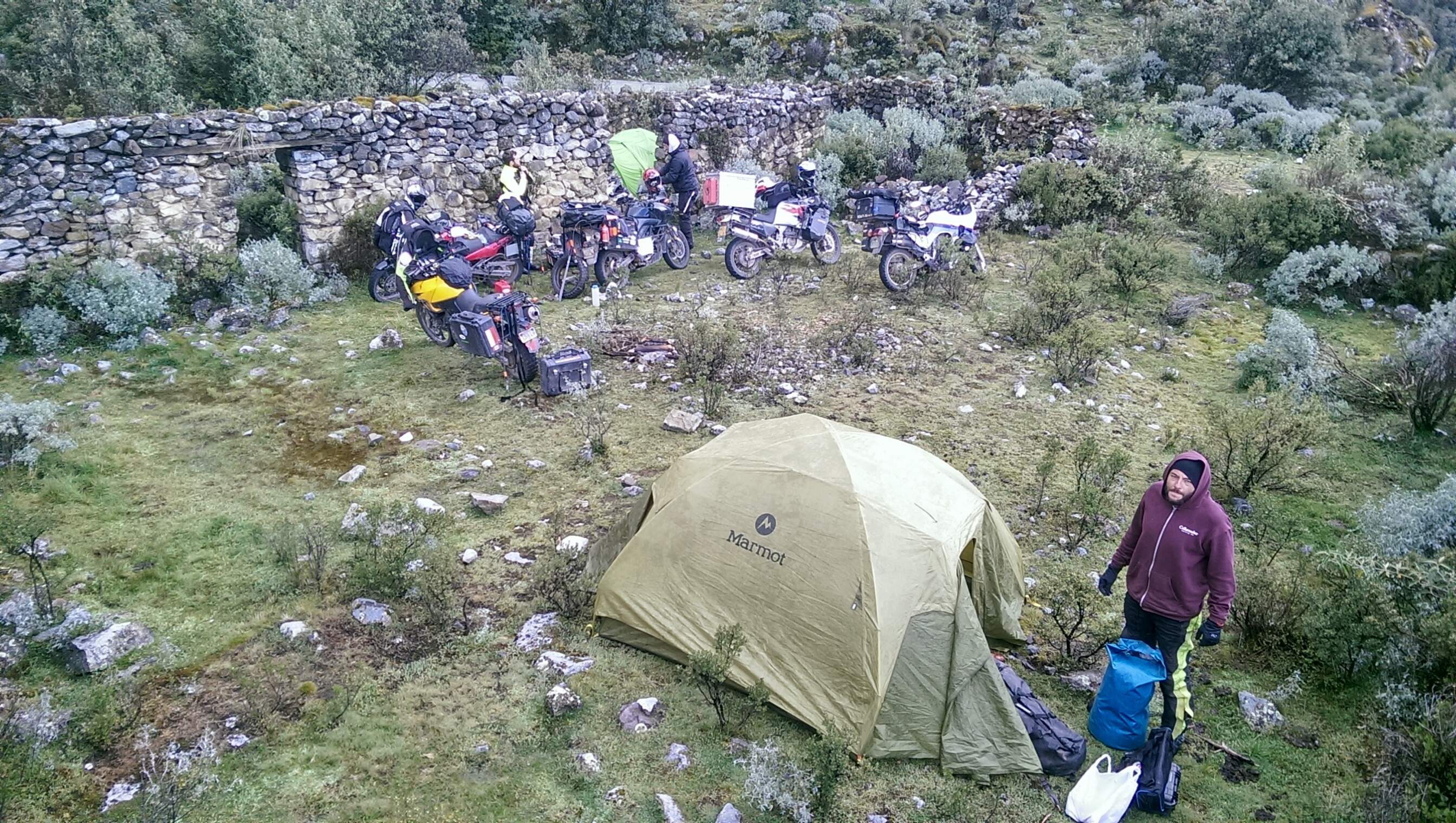 "It's fricking cold and I slept on a rock!" is what my face is saying.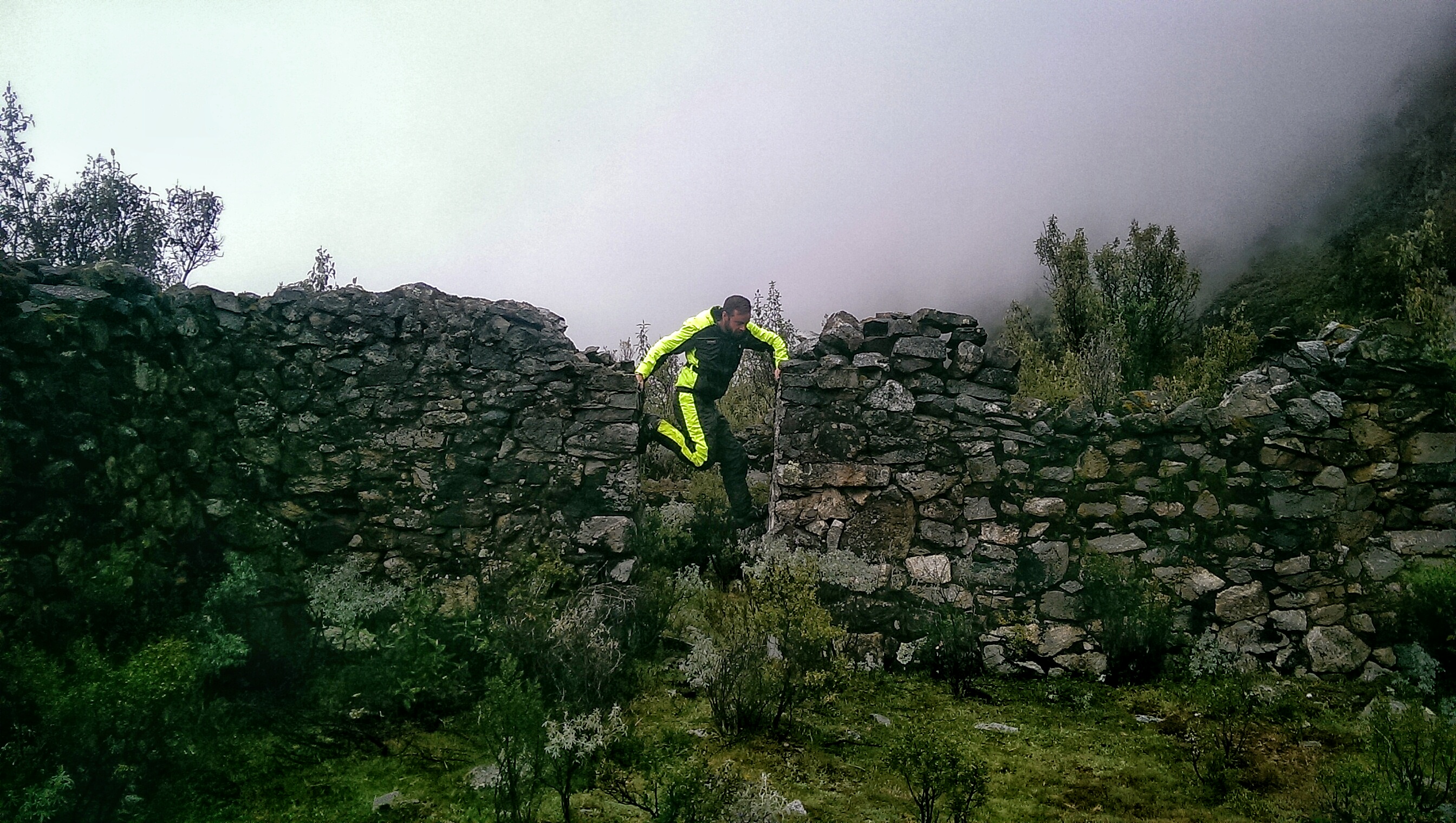 A solid camp dinner was cooked under tarps in an attempt to stay dry. The rain subsided so we tried to have a fire. This proved to be quite difficult. Bedtime.
Sleep was laced with heavy rains, annoying cows, and Roel battling them. Ultimately the cows won since we all took turns being awake that night.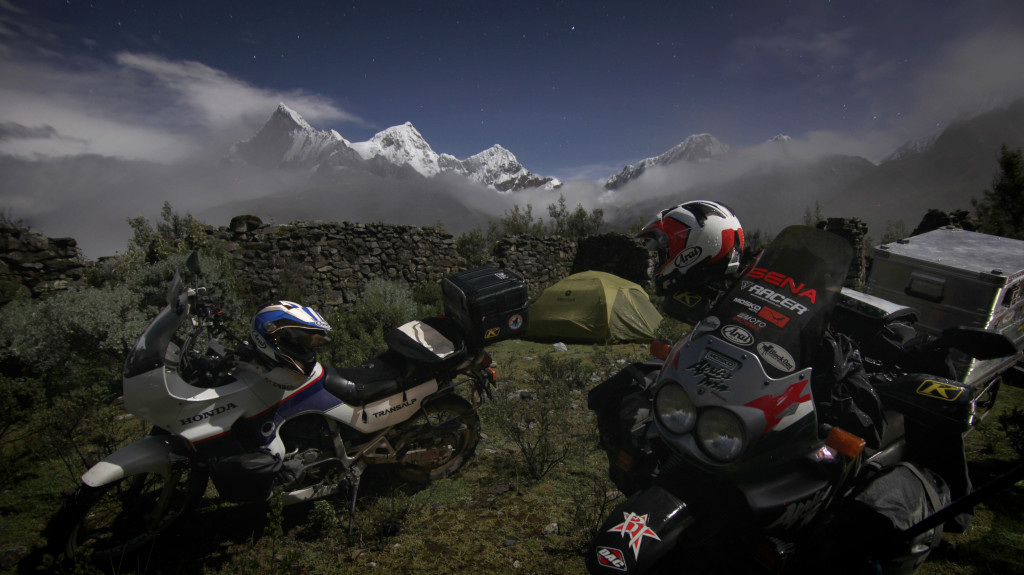 After filling up on a vegetable dinner, I looked to the left as the rain subsided. Whoa…you could see the mountains at night!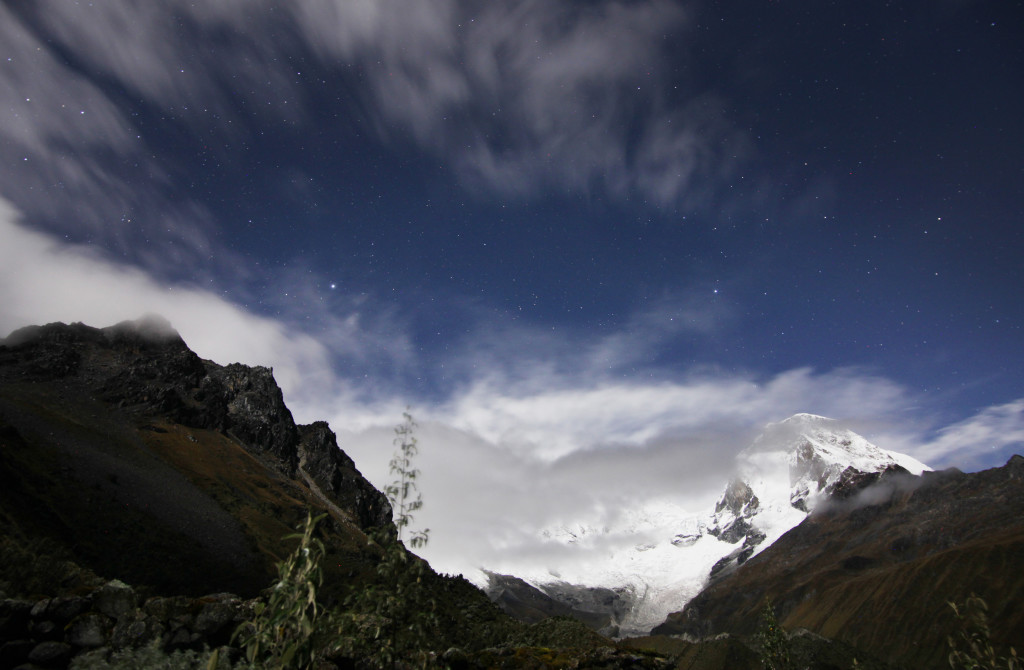 Turn left a little…and another snow capped mountain! We couldn't see any of this during the day, through the rain, mist and clouds.
We awoke with our sights on Huaraz, geographically close but temporally distant.we had chosen to follow a long dirt loop to lead us there.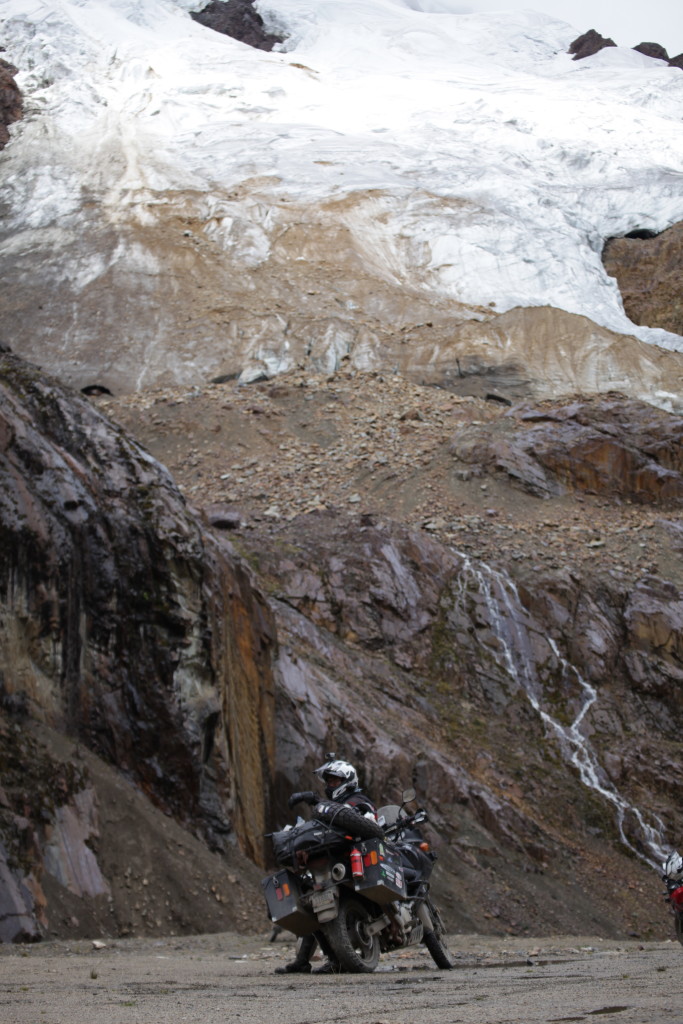 New profile pic…your welcome.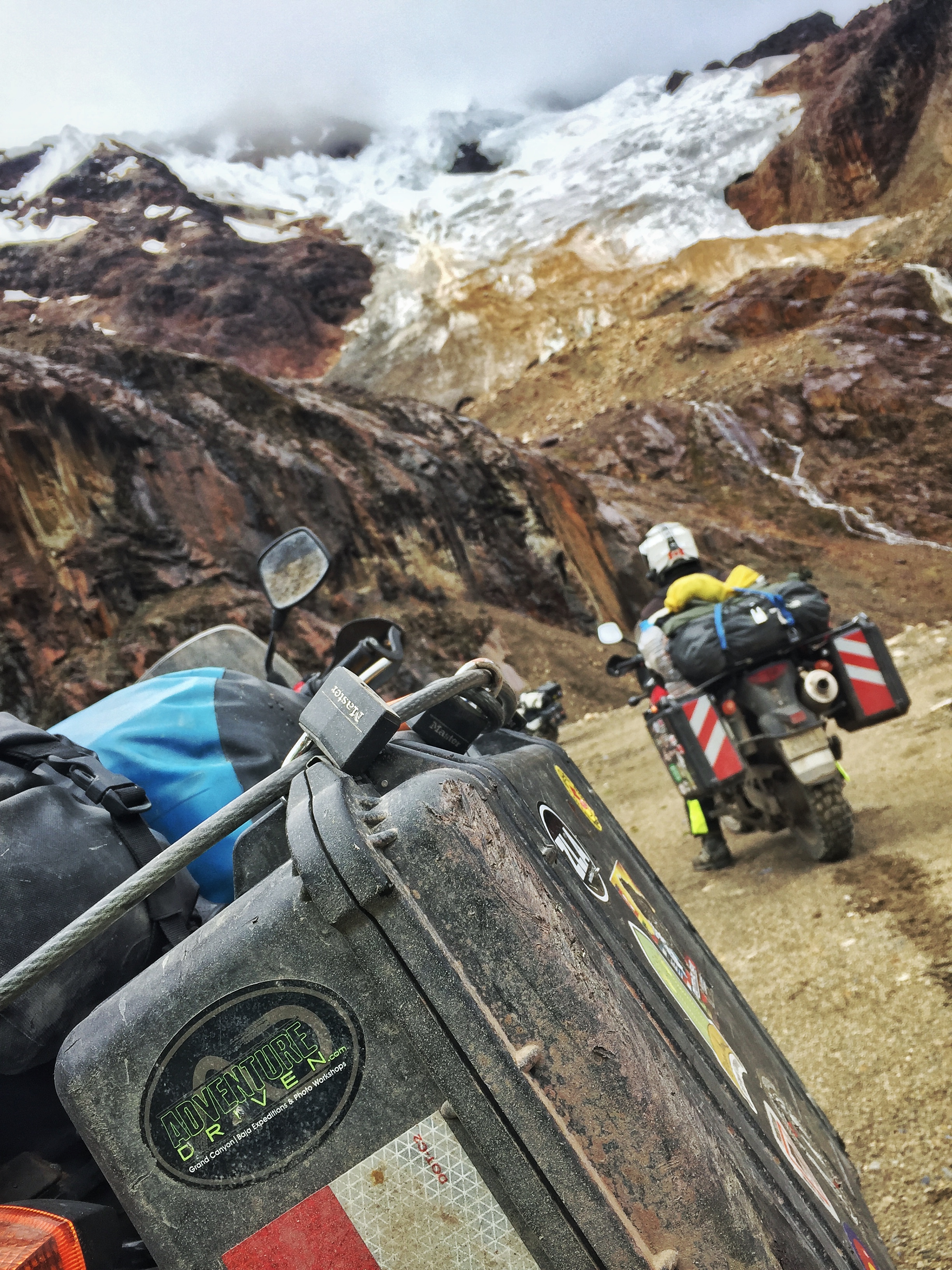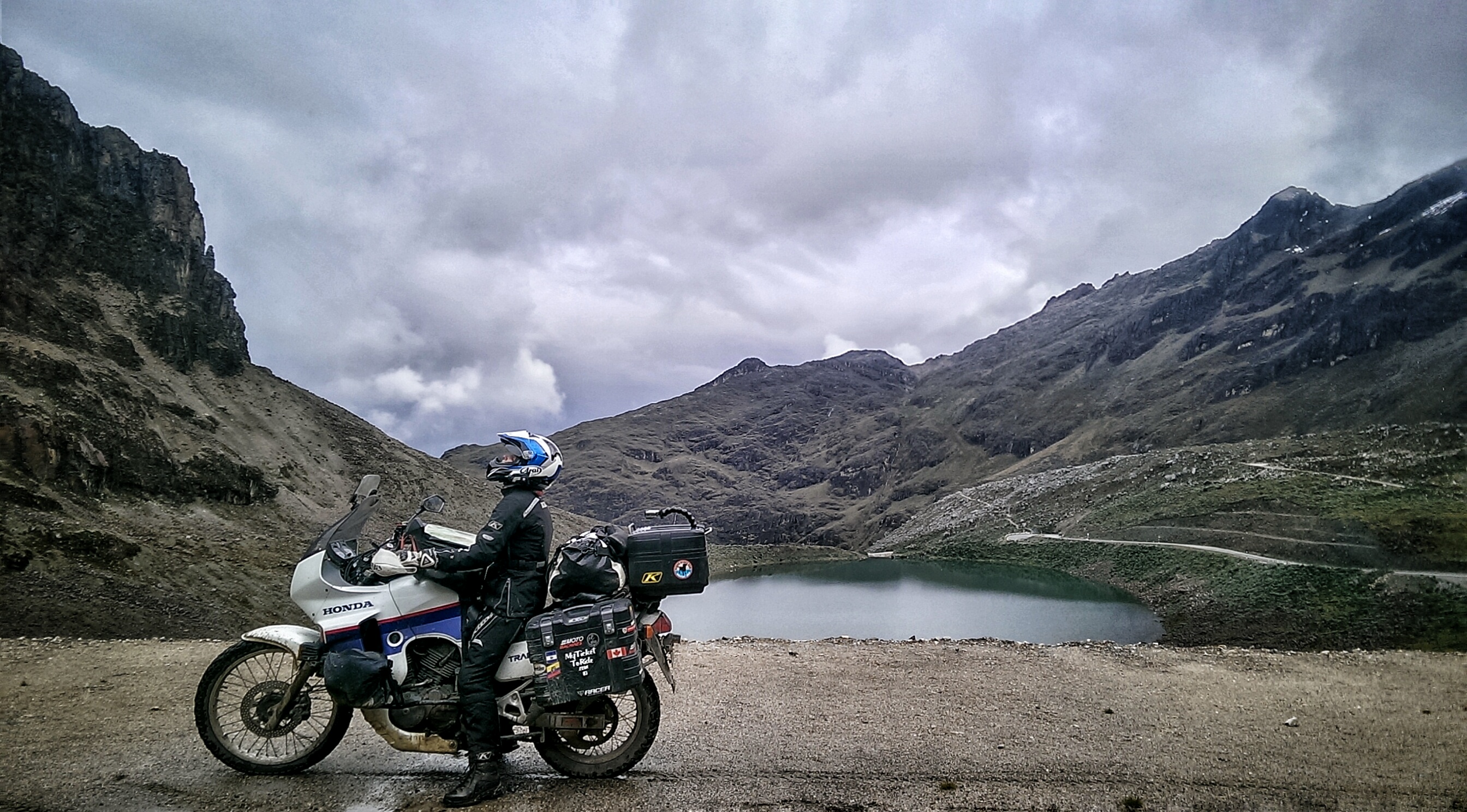 This loop was epic. Led us through small towns, varying terrains, past pristine mountains, rivers, lakes, and vast natural beauty. The roads changed many times throughout the day, boredom not an issue.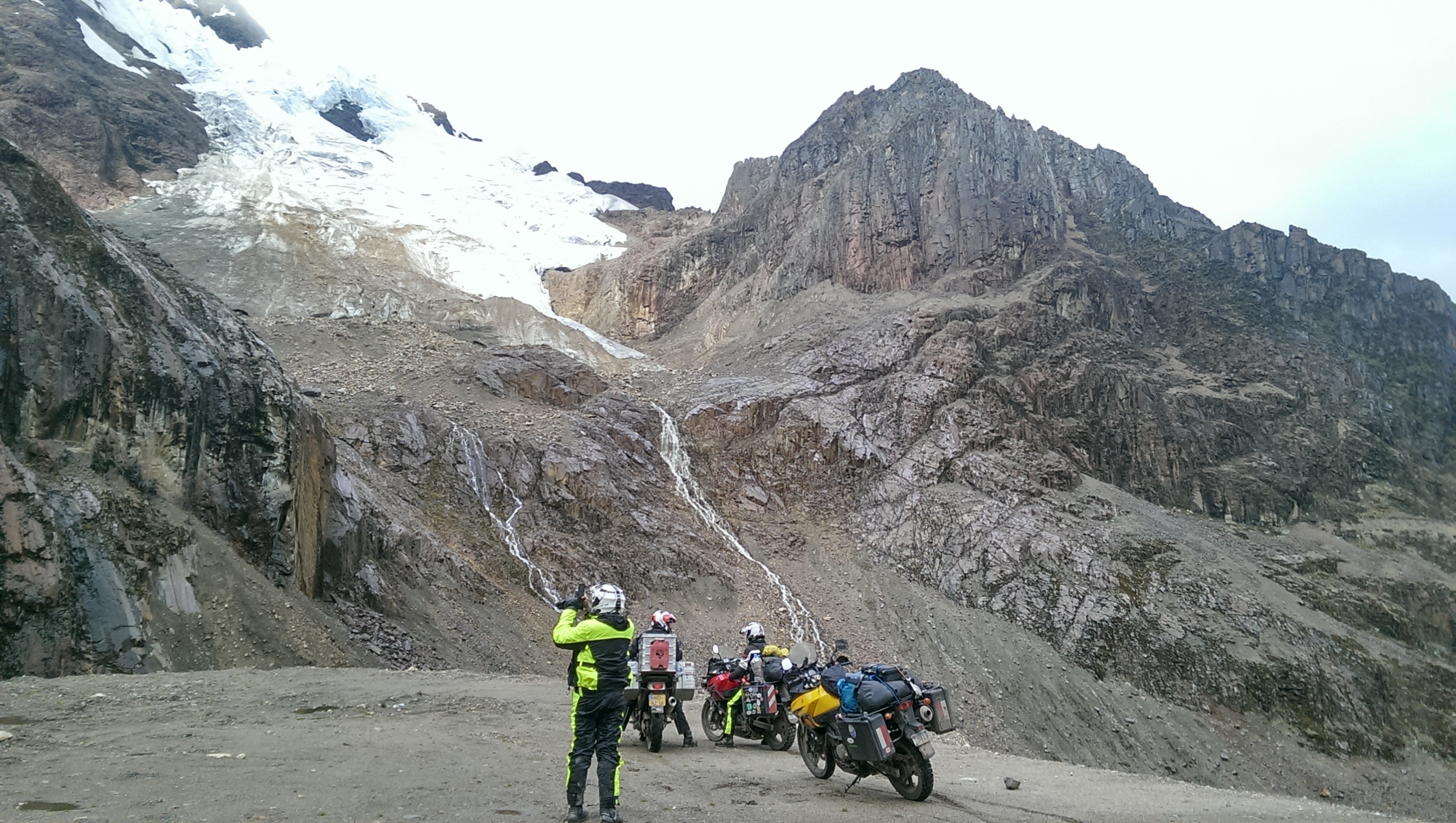 Before dark we were in Huaraz with a hostel quickly picked out. An awesome place with a garage, free breakfast, WiFi. Five of us shoe horned ourselves into one room in an act of obvious frugality and clear loss of need for personal space.
Huaraz was where we intended to do a hike but we suddenly realized we had already summited several passes on our bikes. So we used the time to blog, fix bikes, eat food, and relax. Azure continued her battled with Claro, the cell phone company swindling her out of minutes.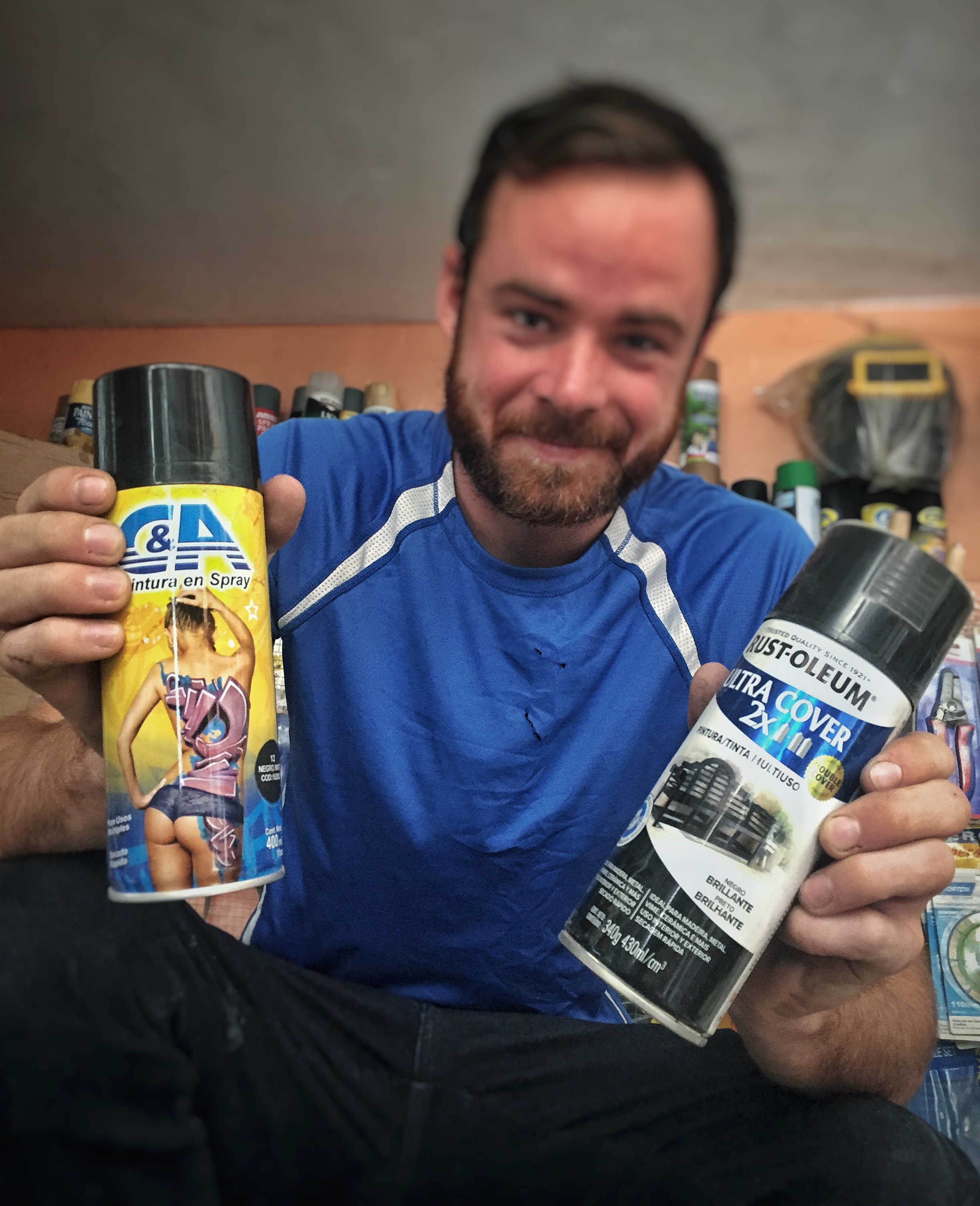 If you cannot put a mostly naked lady on it…well it won't sell in Peru. We spent the extra 30 cents and got the Rustoleum.
Everyone except Azure and I required some sort of welding which became Tim's major task for the city. In an attempt to forego future weldings, Tim spent extra time to add additional bracing all over their racks. Light duty became ultra heavy duty.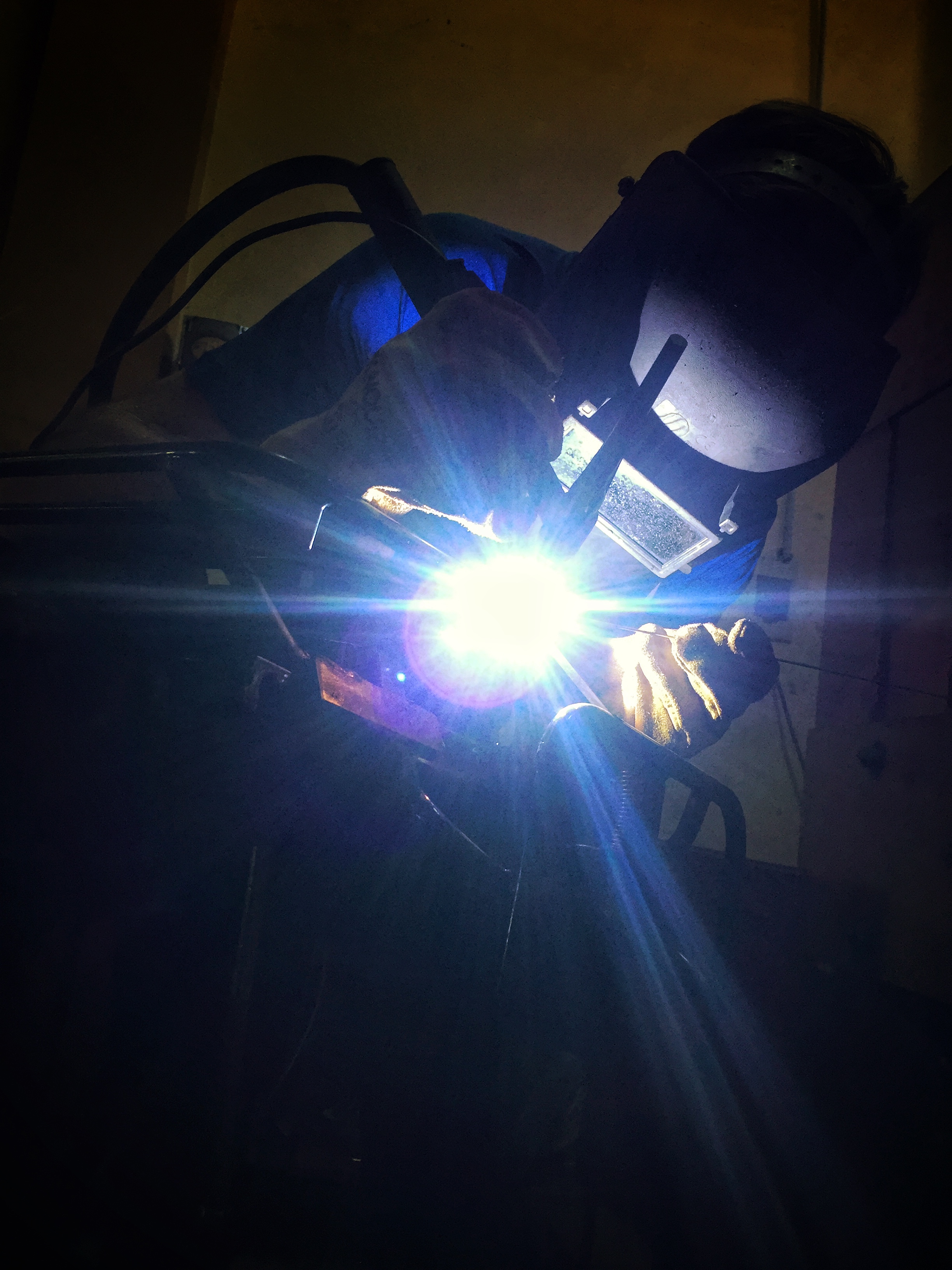 Tim in metal shops south of the border…my next coffee table book.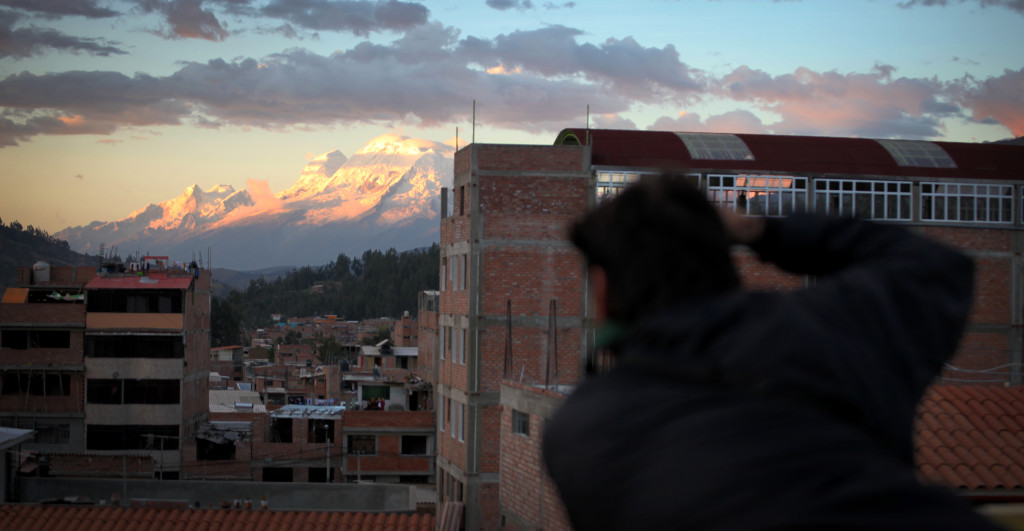 This is Roel and I being nerds…and I love it. And the view from the hostal.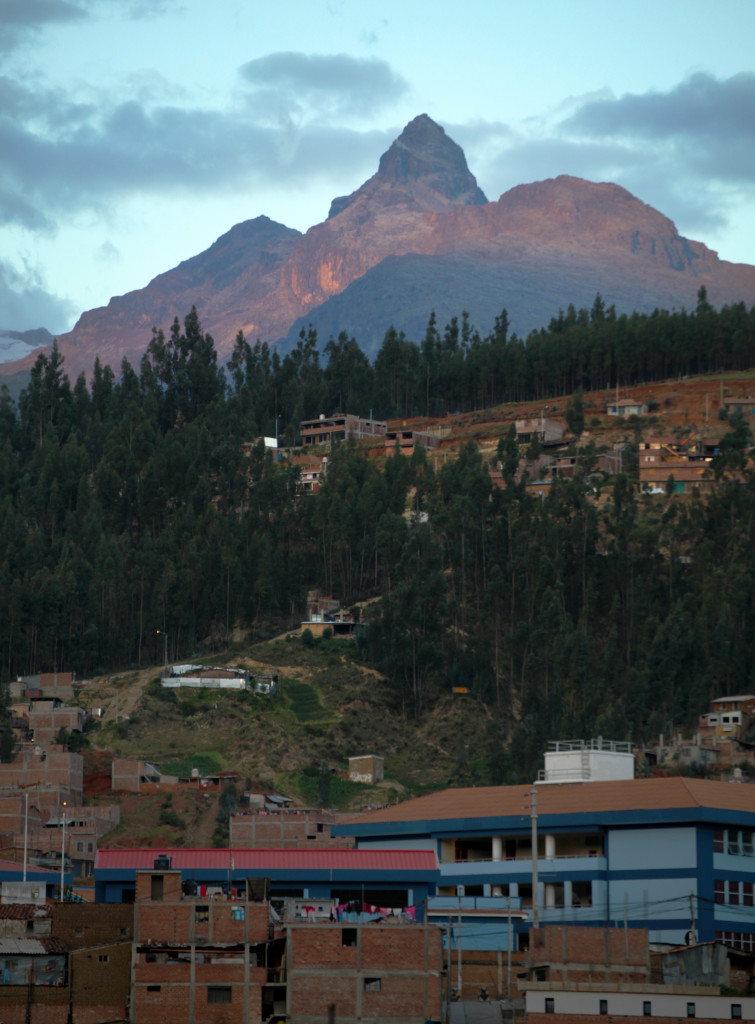 Seriously you are surrounded by majestic mountains in this town.
After two days of good breakfasts, WiFi, pizza, beer, and good conversation, we were heading out of Huaraz to Lima. There were a few routes to Lima, one of which would have continued the ridiculous mountain twisties we had been indulging in. In stead we opted to head for the coast. The coastal highway is relatively straight and mundane but it does one thing, gets you from A to B, fast.
On our way out of Huaraz we took a pause aside the road to capture the mountains we were a bit sad to be leaving. Truly amazing.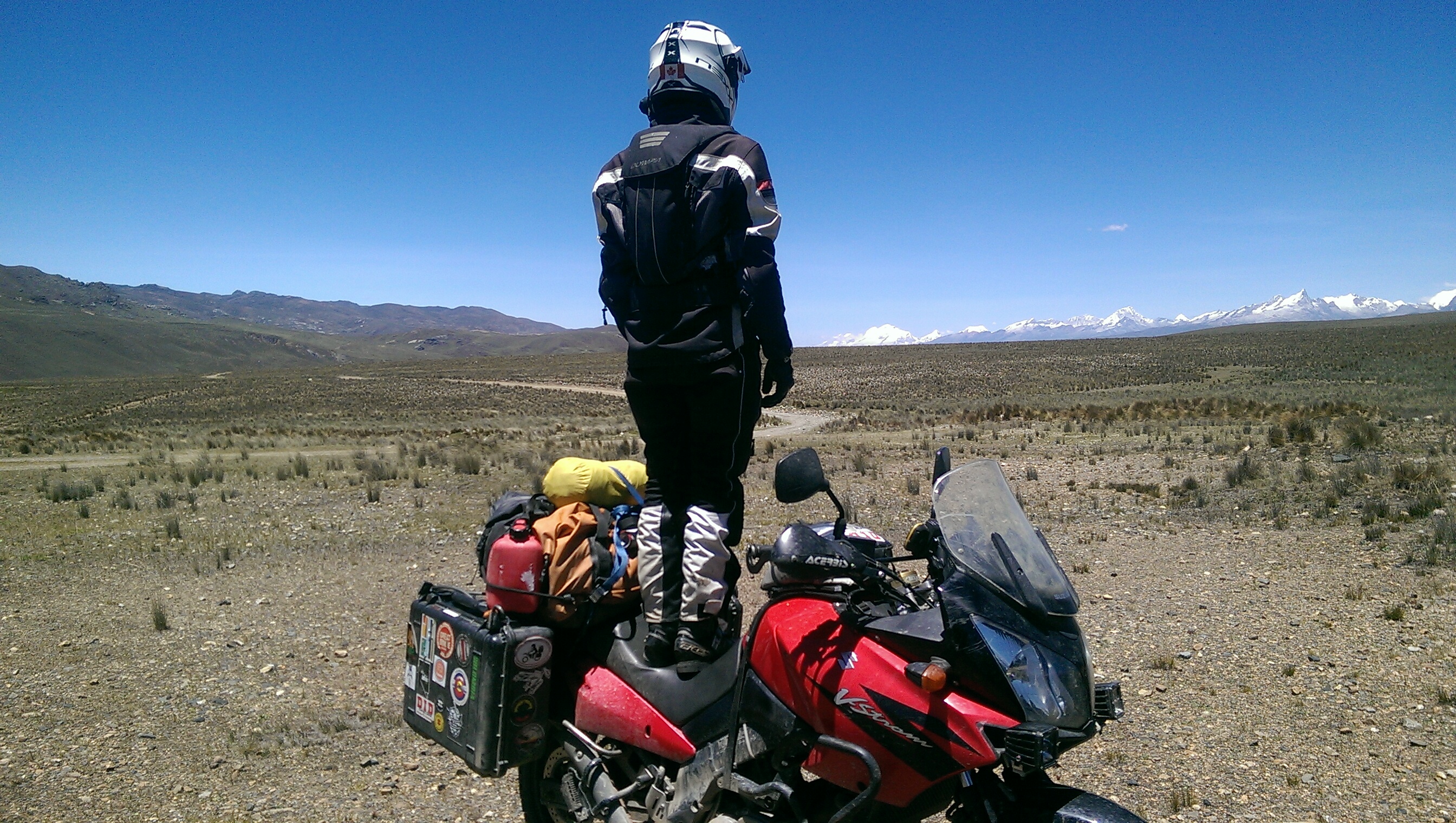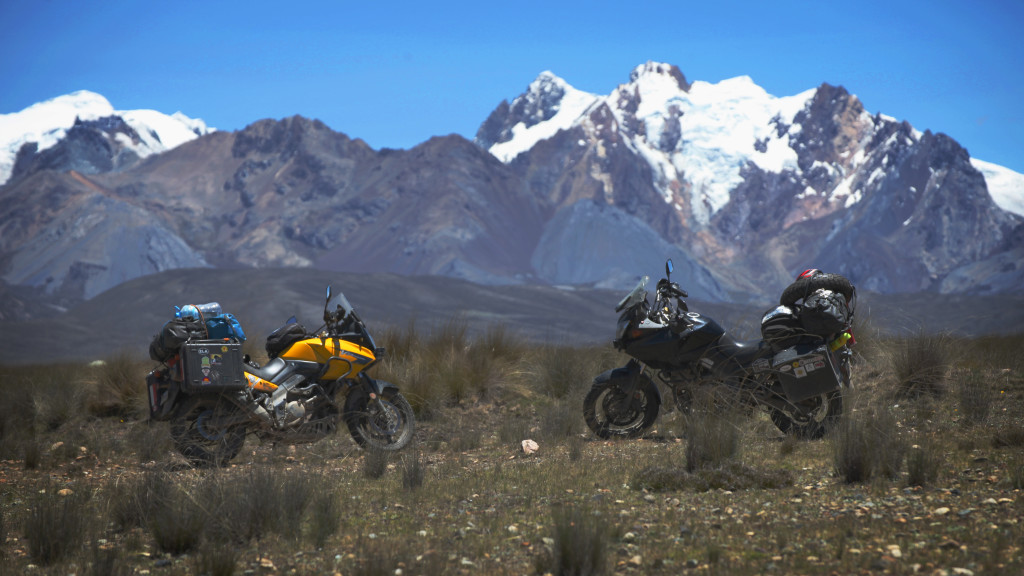 Black and yellow…black and yellow…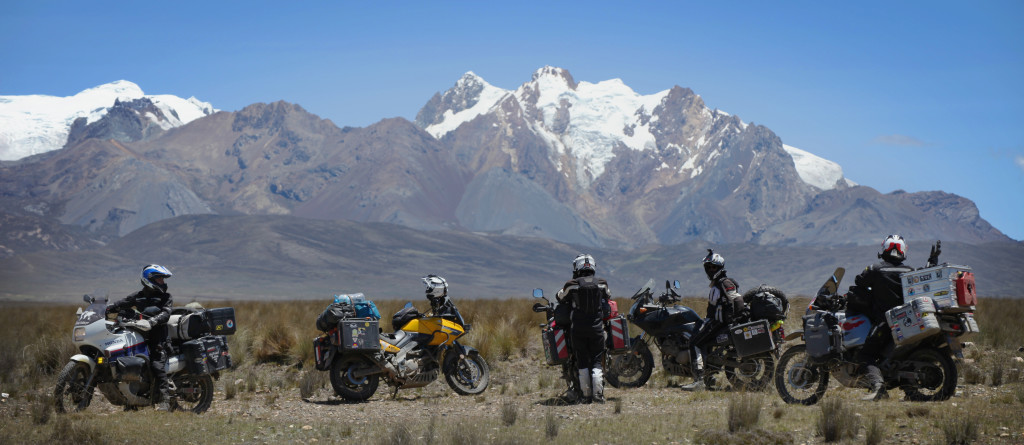 Ok everyone get a photo then let's go…
It wasn't long before we were at the coast again. We kept our pace to sub-70 to quell the oil burners a bit. Before sunset we were into the outskirts of Lima.
This part of Lima or more specifically riding through it is nearly impossible to describe. Imagine a 3 or 4 lane highway jam packed with vehicles all trying to force their way into a city. Parallel to this highway are buildings of varying purpose. But in between the road and the buildings is dirt. This dirt no-mans land was a complete free for all. Buses, taxis, etc, and the five of us zig zagged, jumped, juked, and did anything necessary to continue forward. It was insane. I've never had more fun or felt more unsafe on a road. It was a true challenge keeping the group together as we yelled Dakar while passing pedestrians.
Dirt, sand, people, animals, markets. You name it…we rode through it, over it, and tried not to hit it. Imagine any movie chase scene in a third world country. Besides riding through plate glass or a fruit stand it was exactly like that. Sheer chaos. To quote Resevior Dogs " Shit your pants and dive in." Matt
Somehow we made it through this obstacle course and were in the center square where our photo session with the city began. Azure was clearly the crowd favorite but the five of us amassed a strong following. One entrepreneurial woman charged people for photos with us. It was fun but also amusing that we were somehow celebrities to them.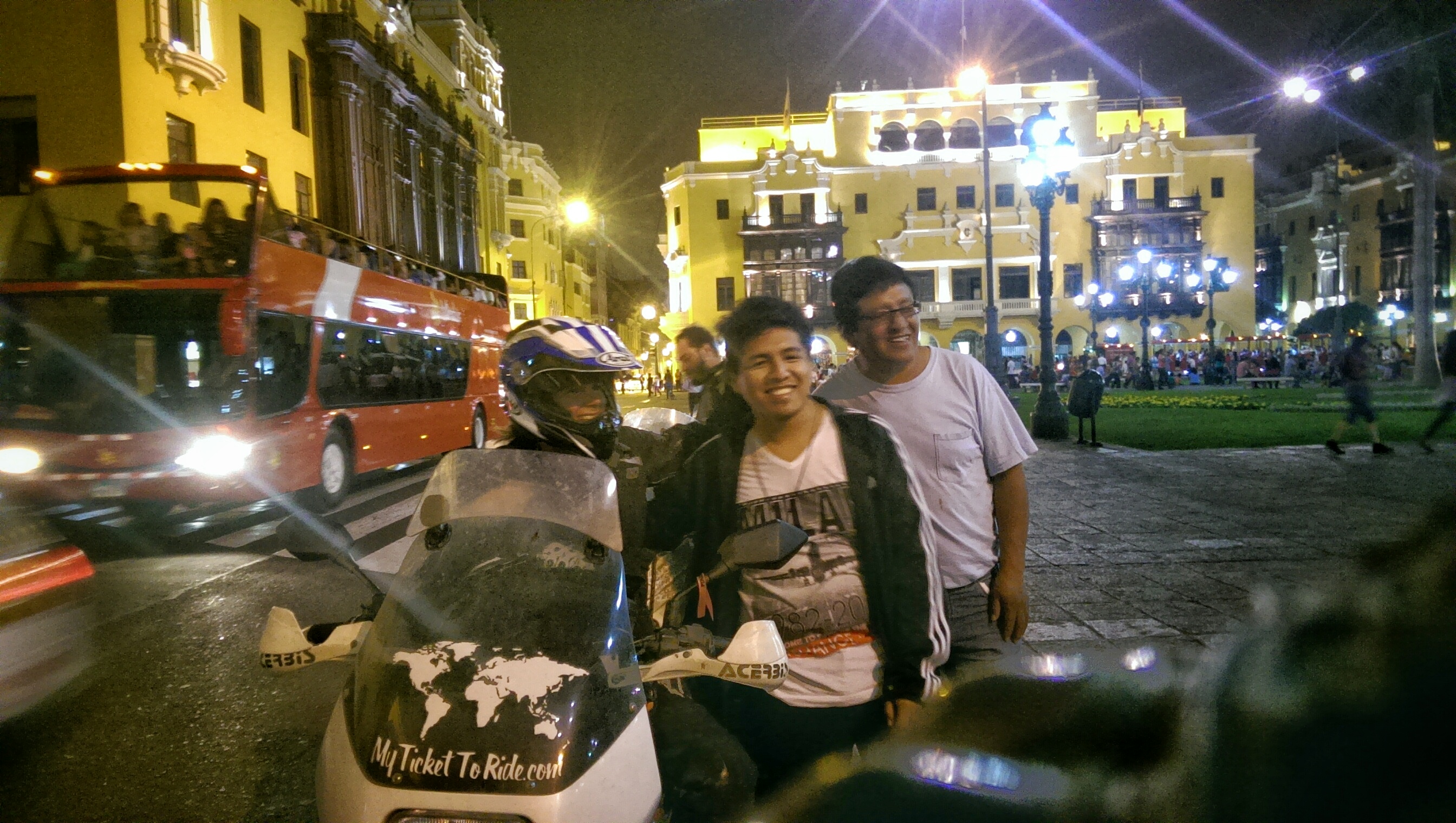 We arrived at our hostel after dark and it was perfect. A huge area for parking, good rooms, WiFi and familiar faces. We were first greeted by David aka Junyah whose ride report I had followed prior to leaving. Then we met Brad, another traveler. The entire group went out for a late dinner together.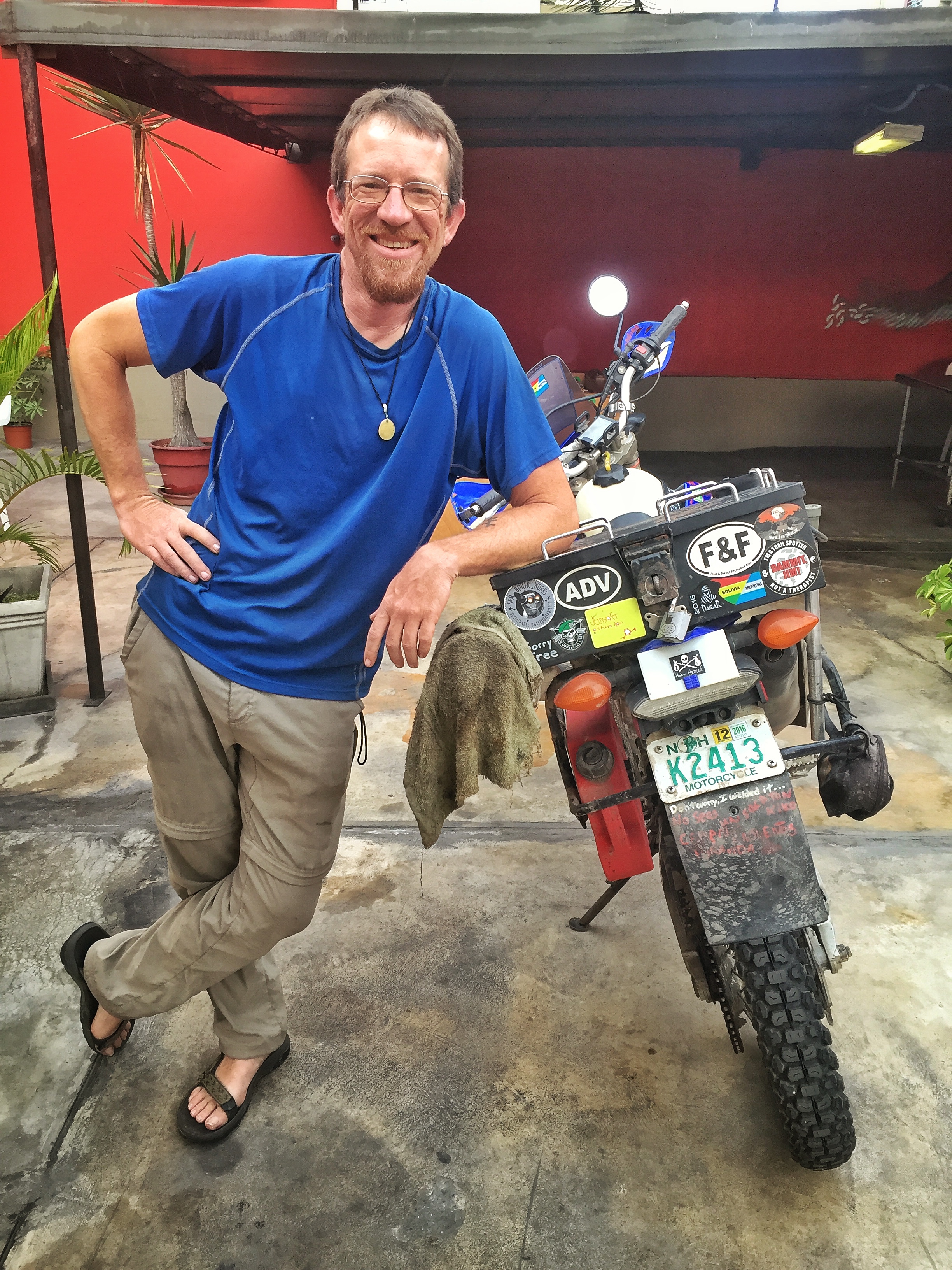 Junyah and his trusty WR. This man lives in the dirt.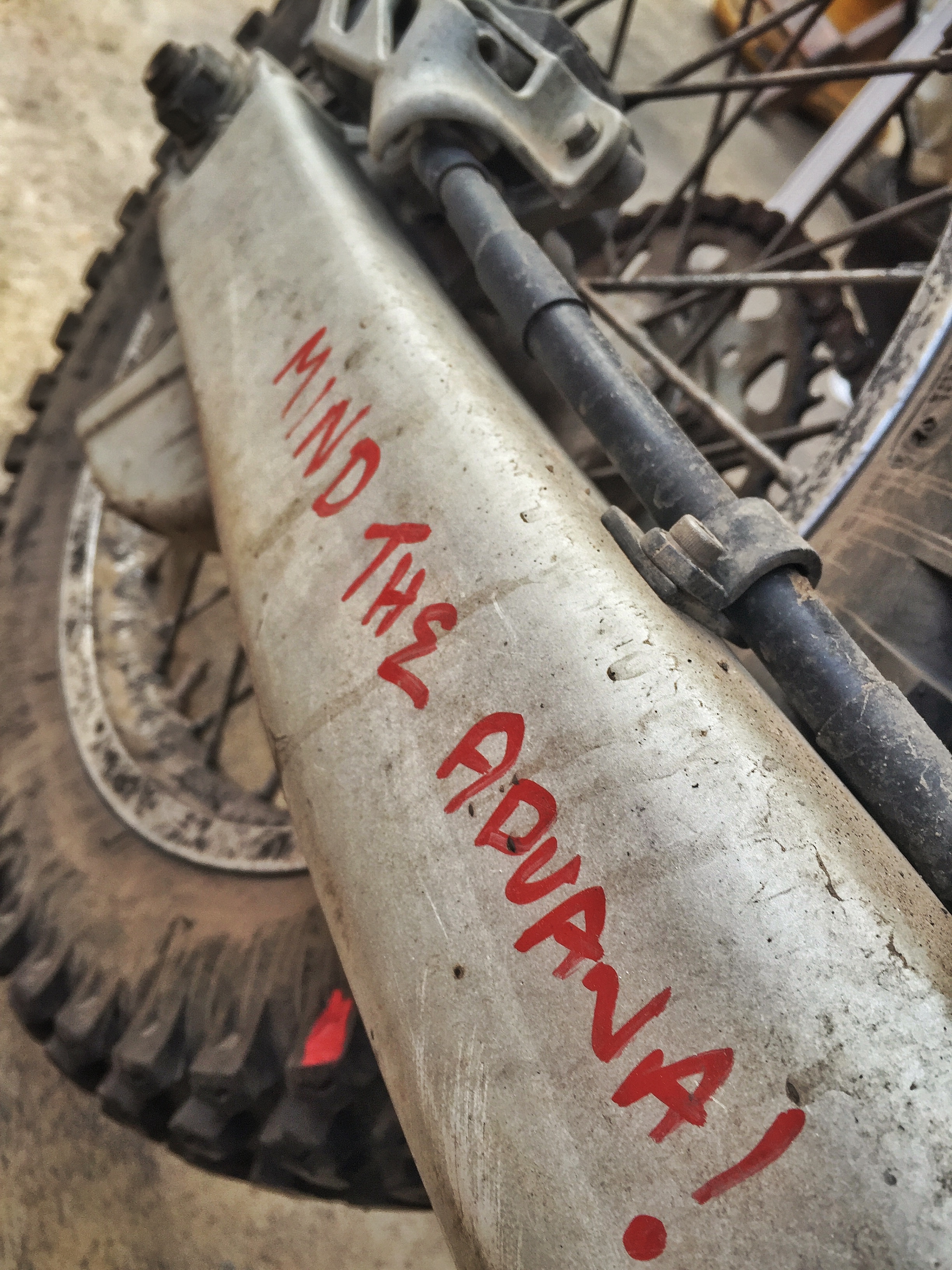 Words to live by. 2 stops at every border.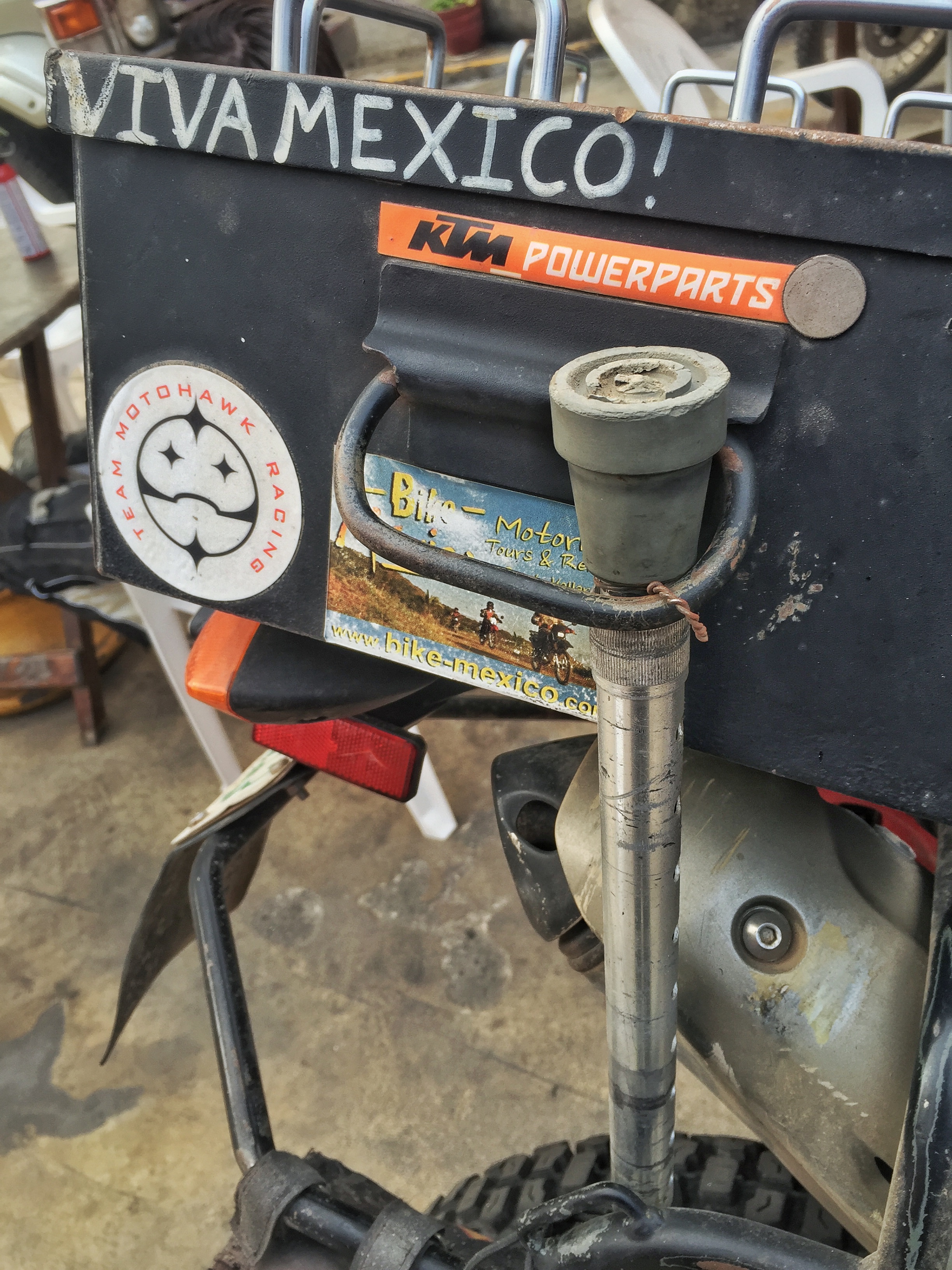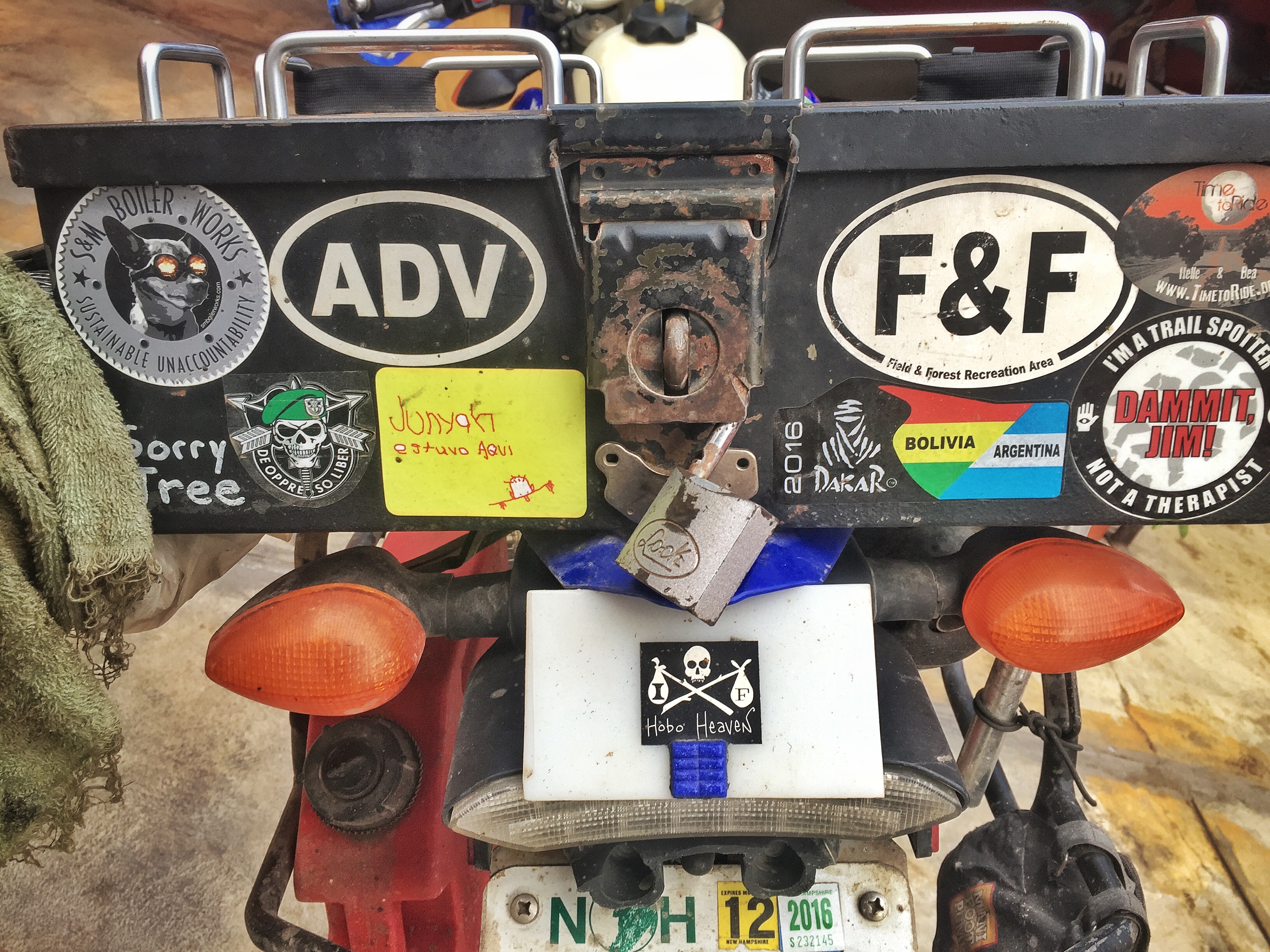 The following day another adventure rider showed up at the hostel, John Downs. Unfortunately John was showing up on crutches due to an accident the week before. After riding through Lima, it makes sense.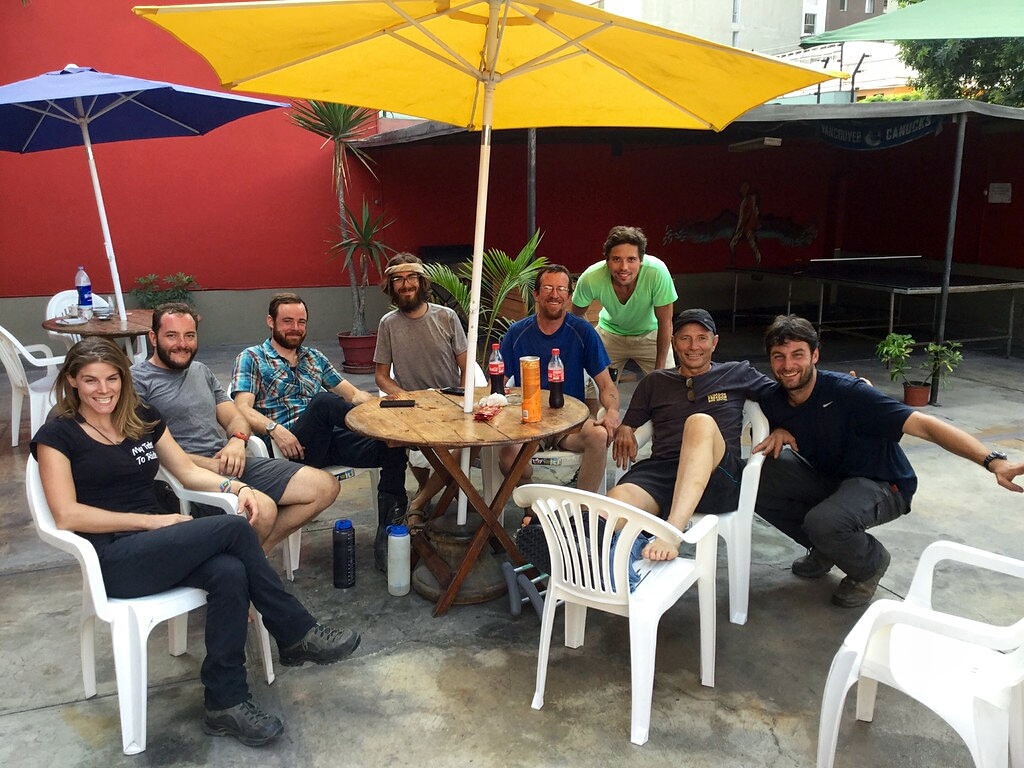 The group of us visited with John and I'd like to think made his stay a bit better. John is a bit of an ADV legend who has given a lot to the community. It felt good to be there to support him. I'd hope others would do the same for me.
We used the day to plan out the remainder of Peru. Maps, GPSs, cell phones, and experts surrounded a ping pong table used as command center.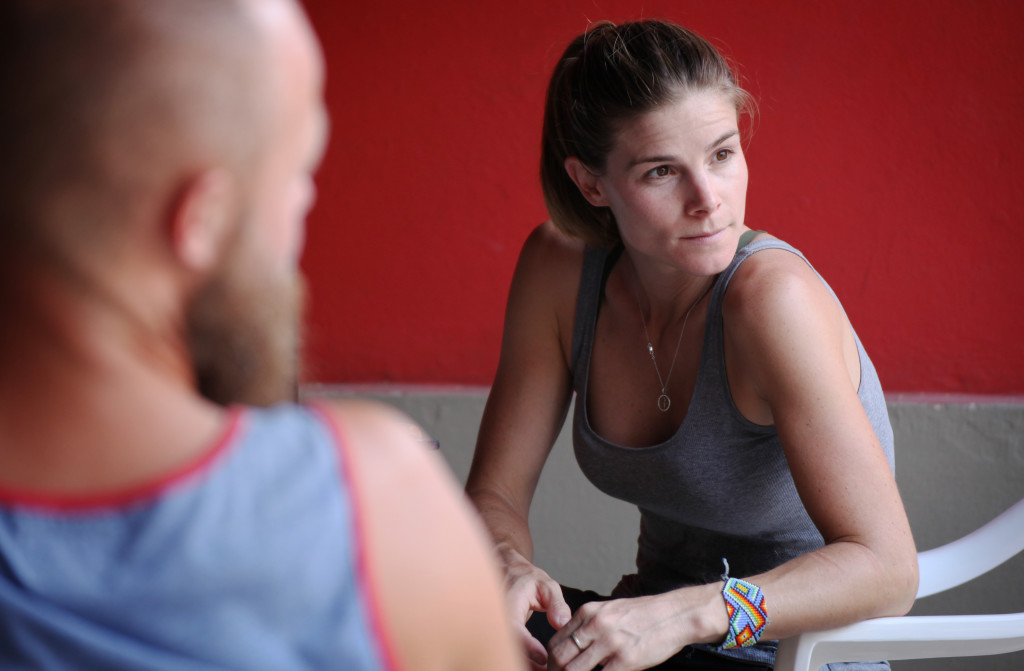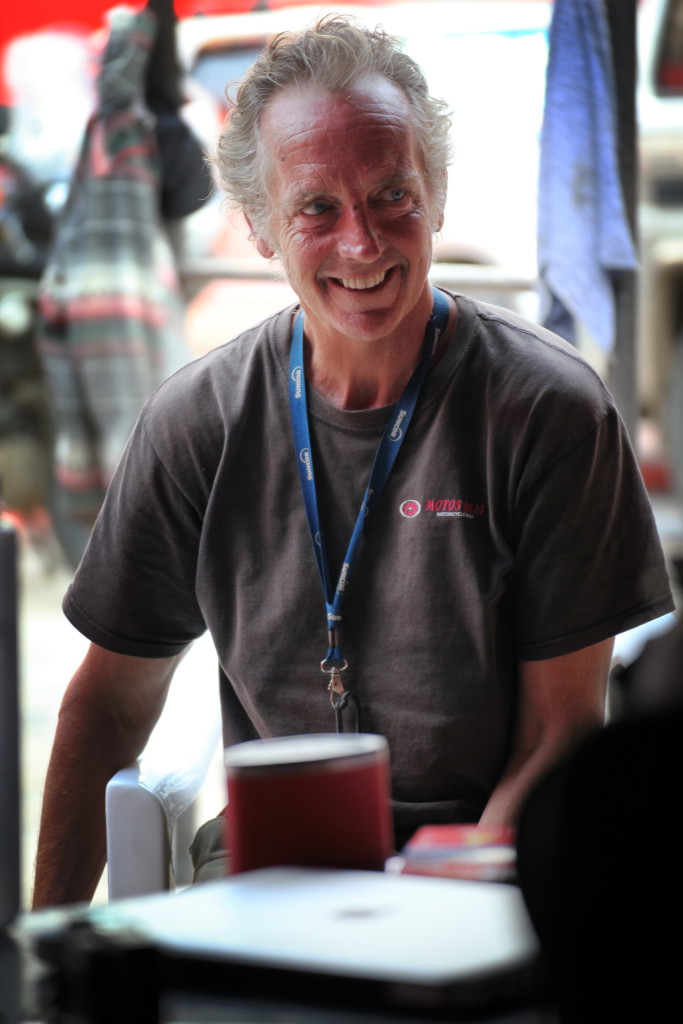 This is Canadian Brad. He took the group photo above.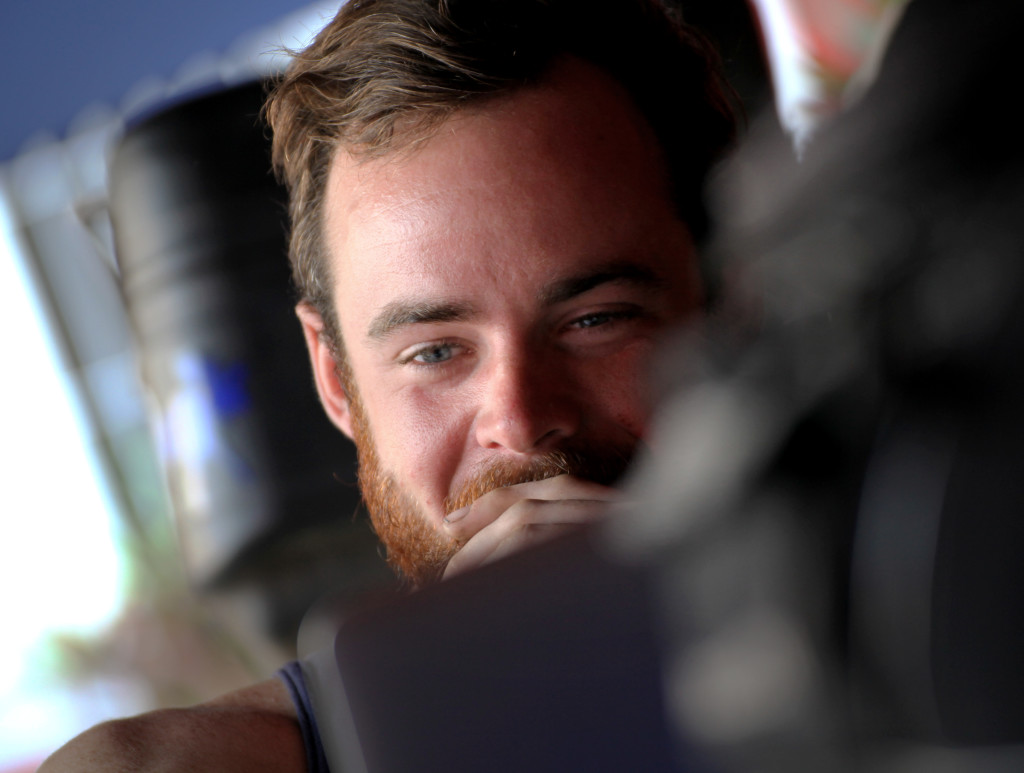 At night I went out with a local to see the town. While I had heard Lima was ugly and dirty, my experience was to the contrary. I thought it was a very nice city.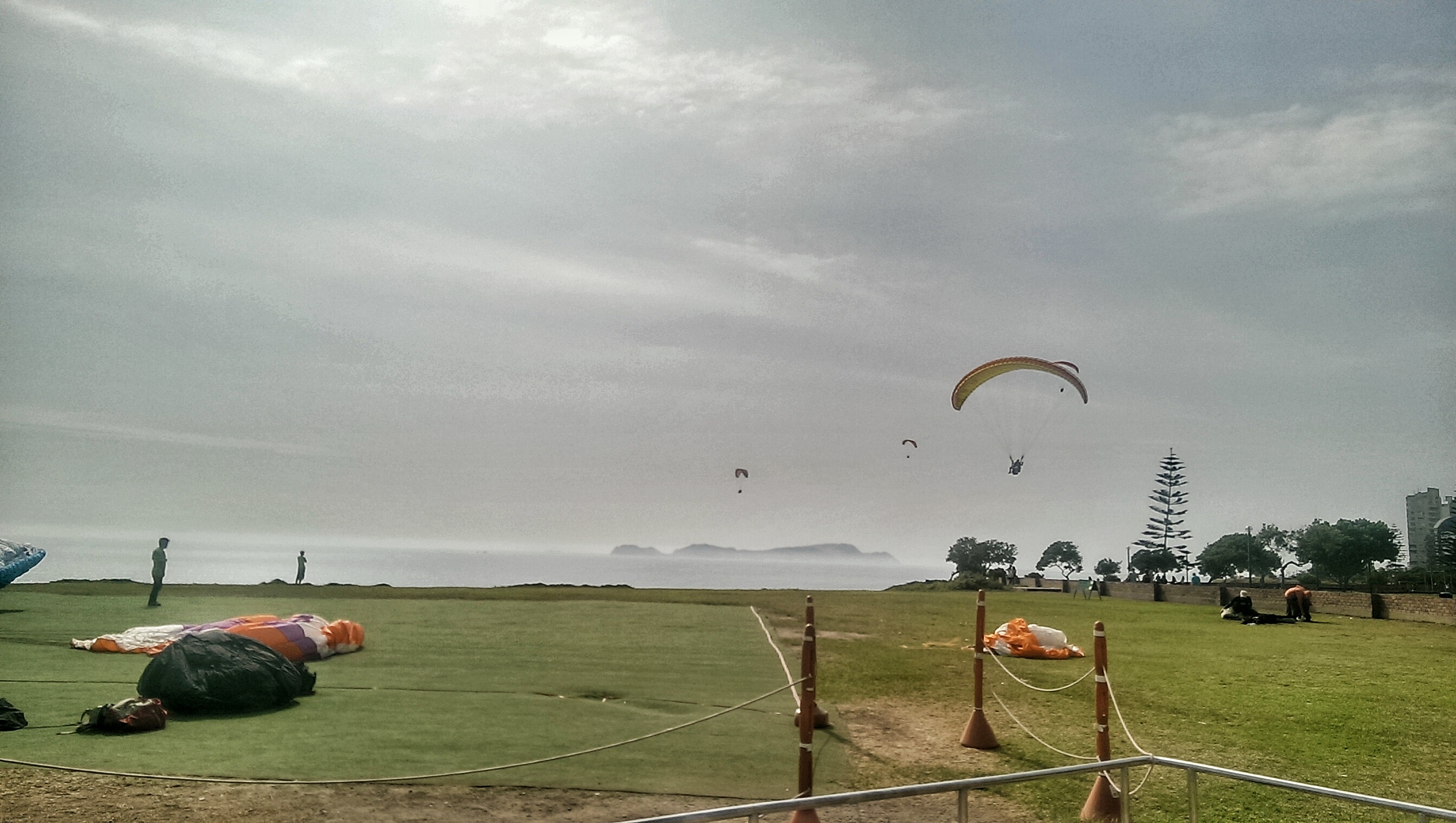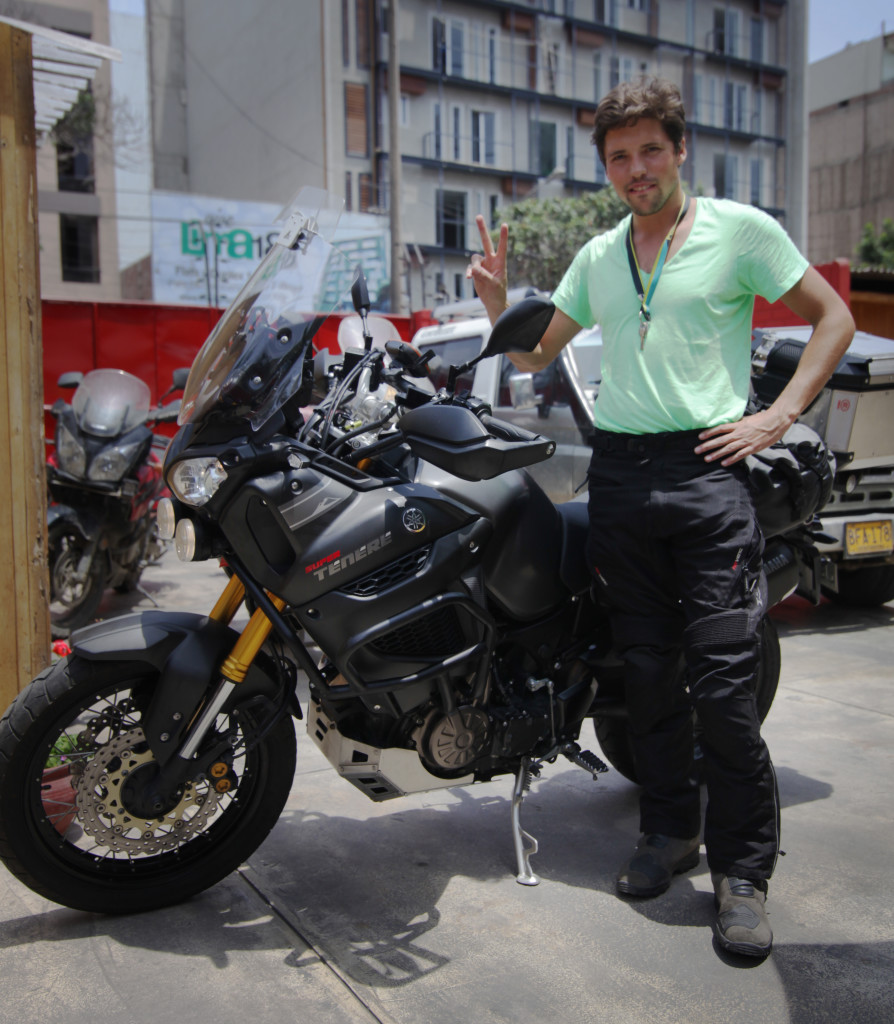 This is Jose Pablo and his Super Ten. Another fine traveler. He was from Bogota Columbia, and heading back shortly.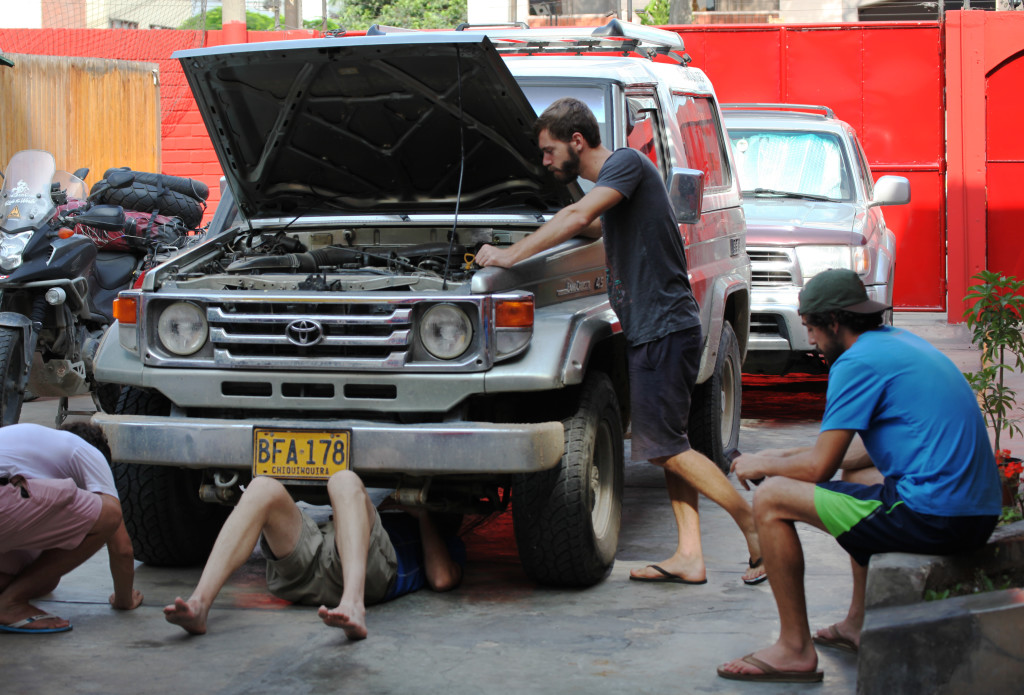 We met these dudes in Kuelap. They are doing the same trip but in a car. This is is their second one after their last one died in Panama. Junyah couldn't help but help them fix it. Dirt, grease.. the dude likes to be dirty.
Our last full day in Lima. We worked on the bikes a bit before heading out for groceries. Travel isn't all glamorous. We still eat, do laundry, pay bills. At night we all went to see the new Tarantino movie The Hateful Eight which was long and boring, in my humble opinion.
The next day it was time to move on to Cusco, the rally point for all those going to Machu Picchu (anyone visiting Peru). En route we decided to stop at the Nazca lines. Supposedly unexplainable lines formed into the ground. We weren't overly impressed. We stopped in Nazca for dinner fairly late before leaving to look for camp.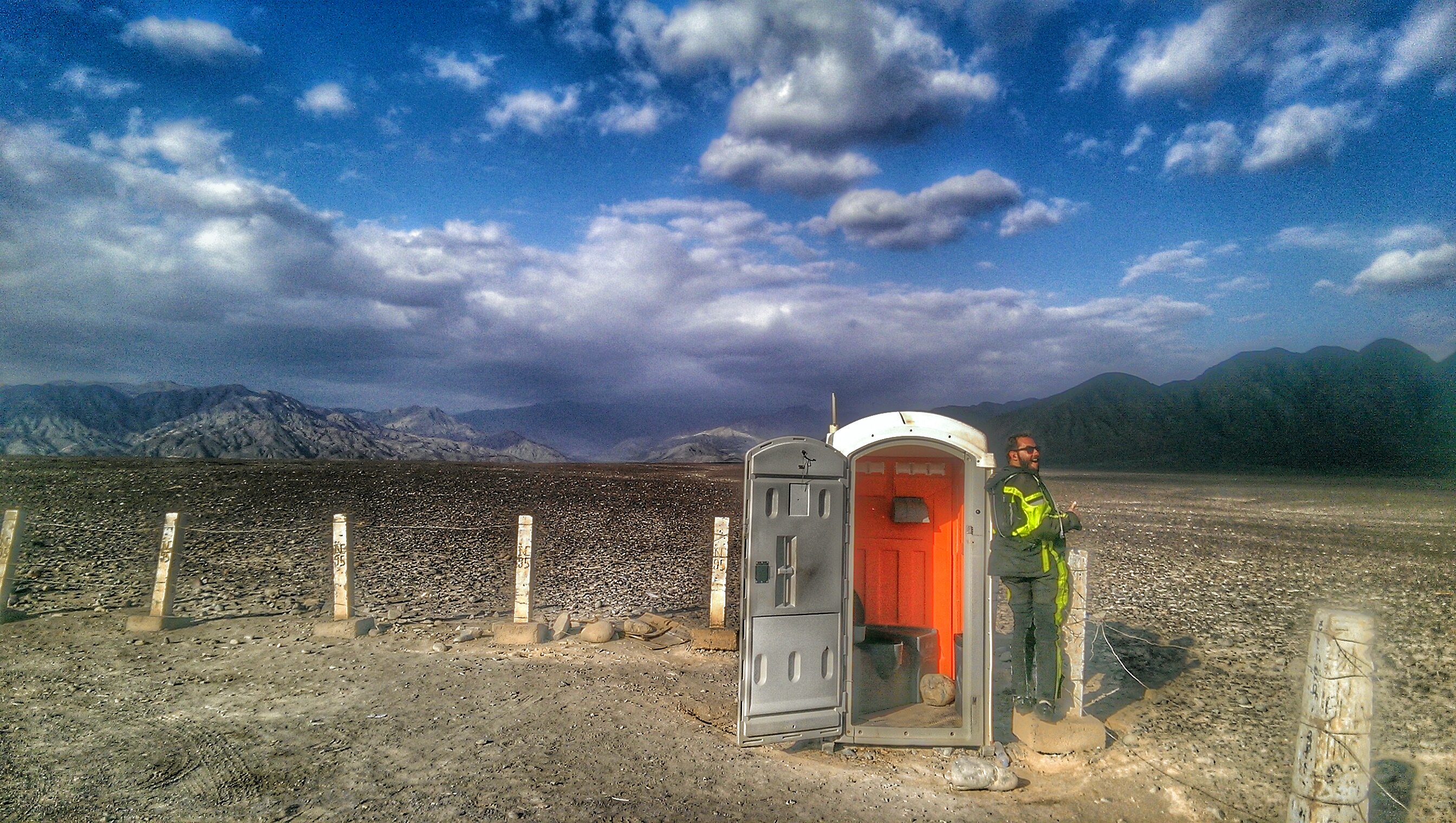 You could use the porta potty…but I prefer the freedom to pee where I like!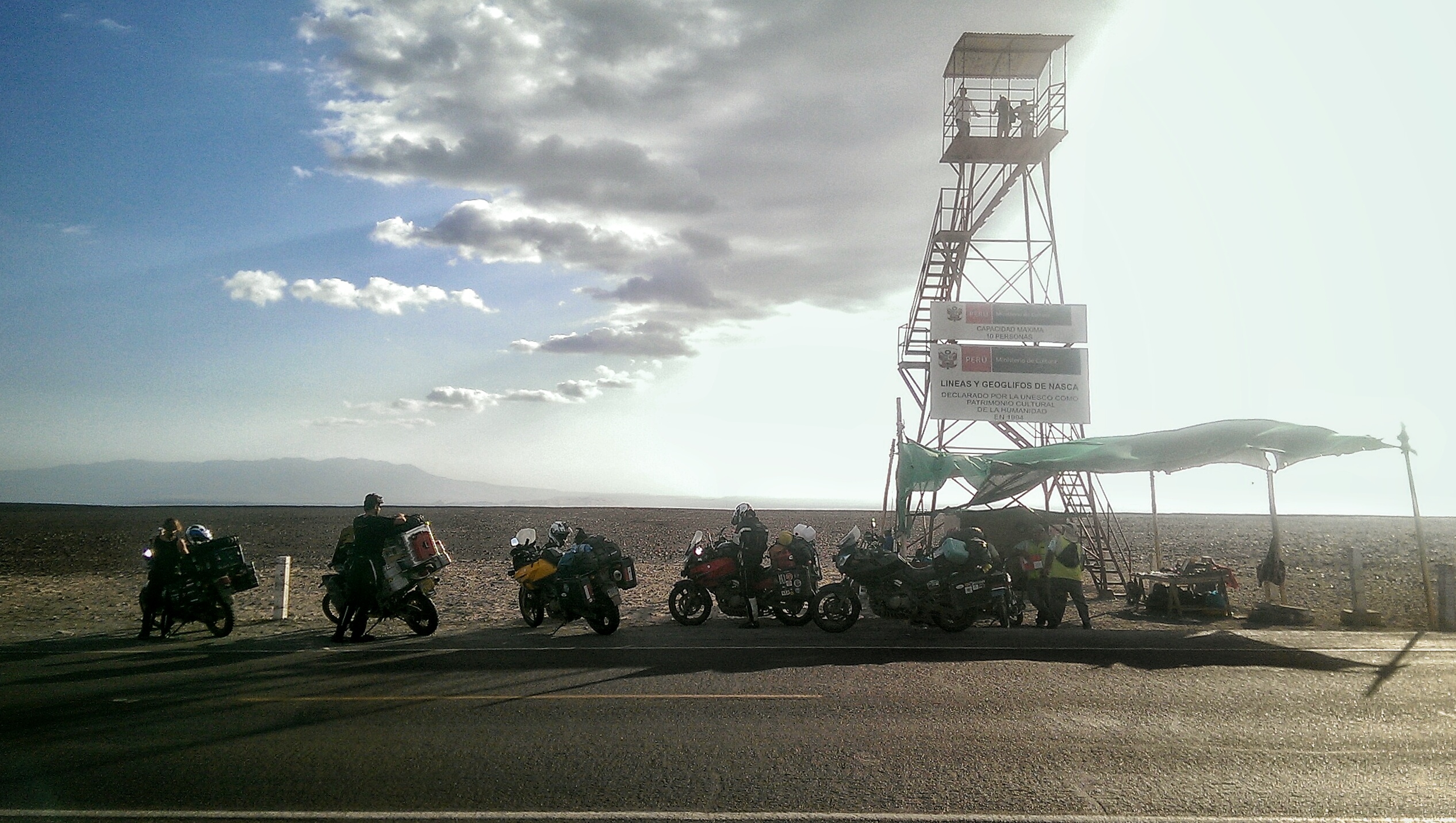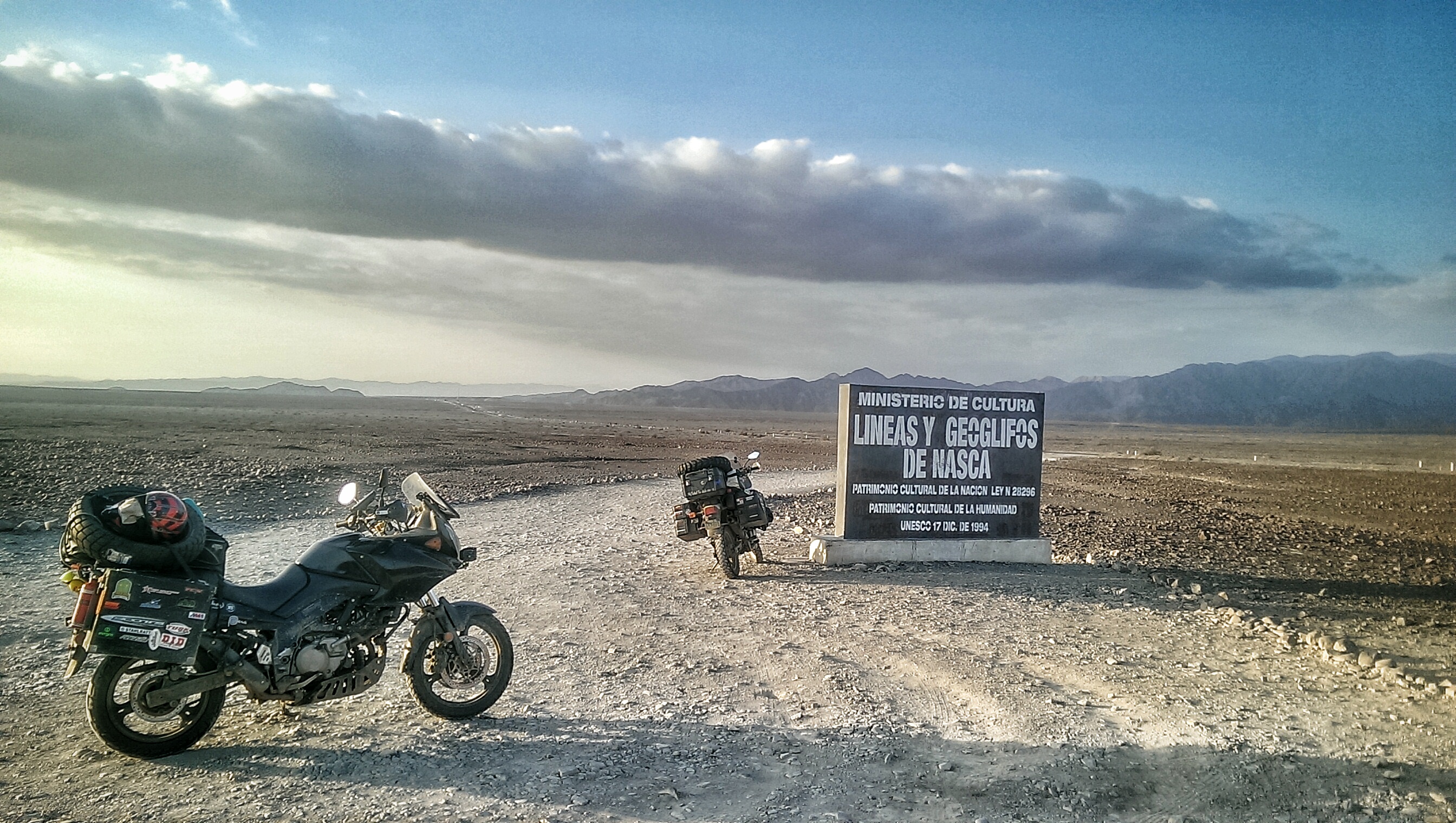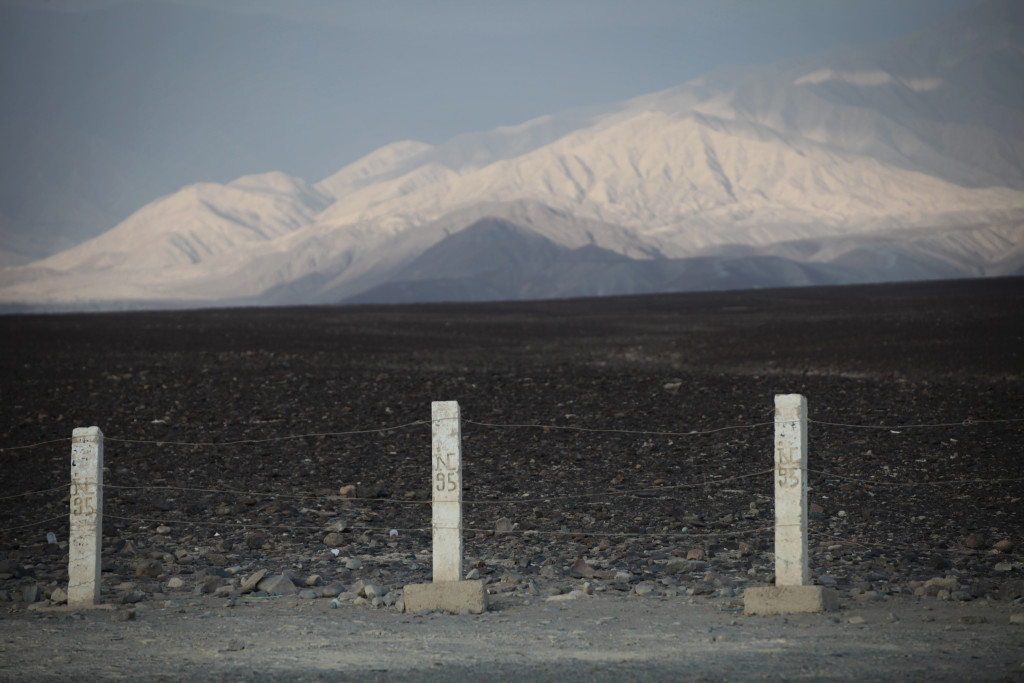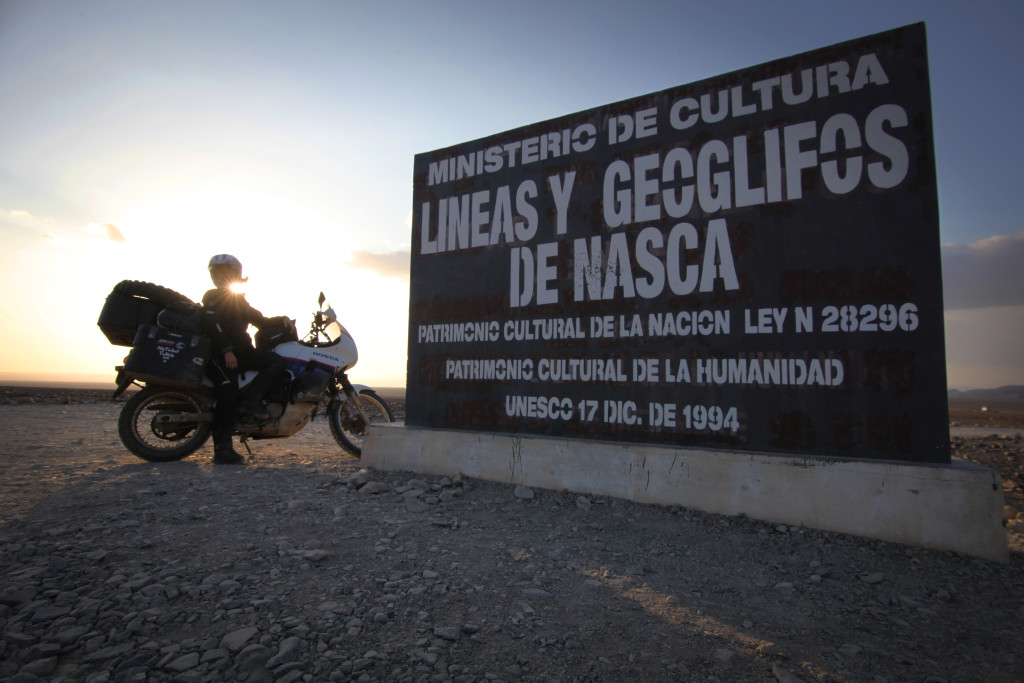 Our camp search was a difficult one. iOverlander gave us a choice or two, neither was actually usable. After awhile Matt and I scouted miles ahead but came back largely empty-handed. Thankfully during our absence, the crew had found a site just a couple hundred meters off the road. At first light we had an awesome view of the valley despite our proximity to the road.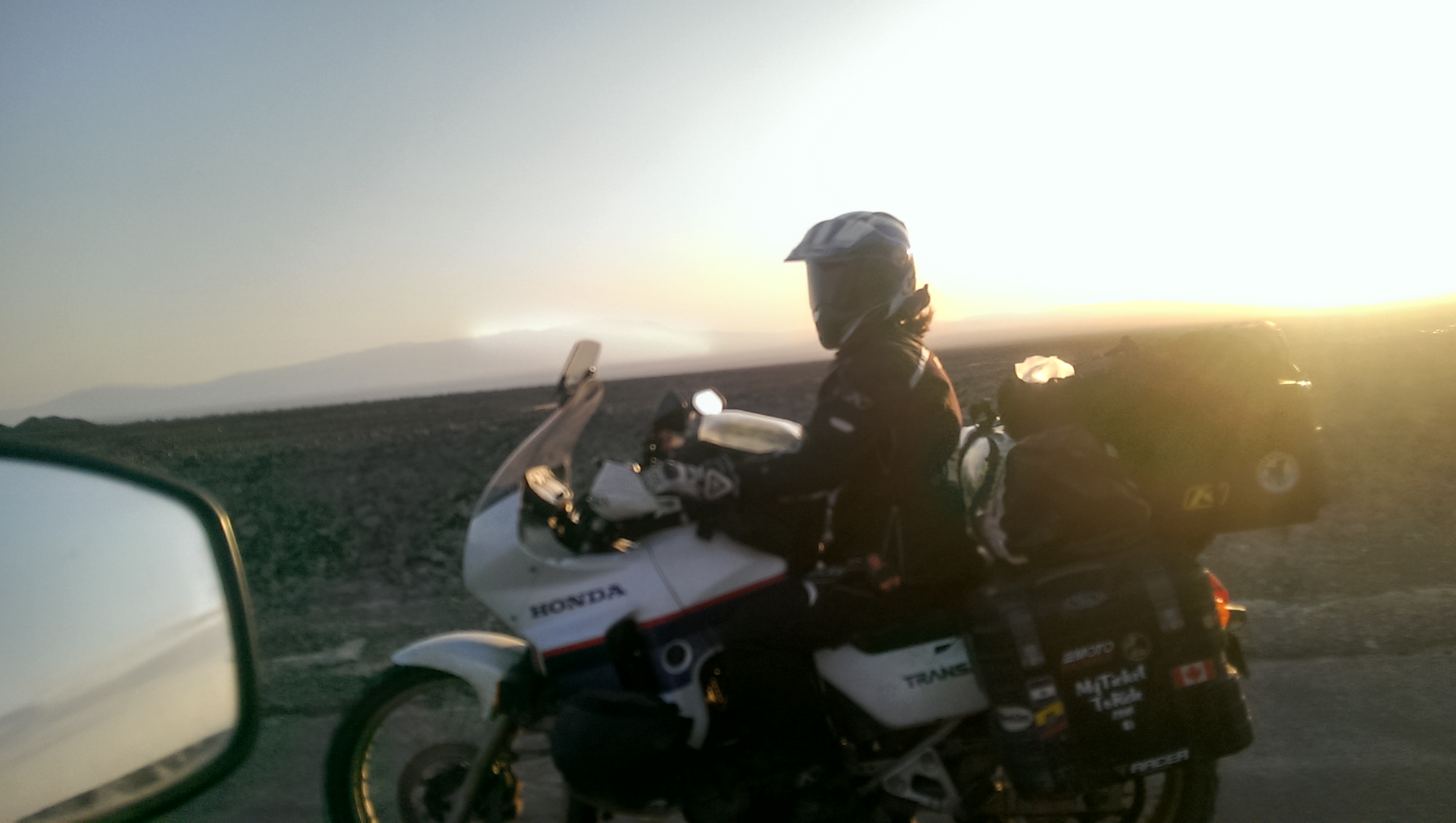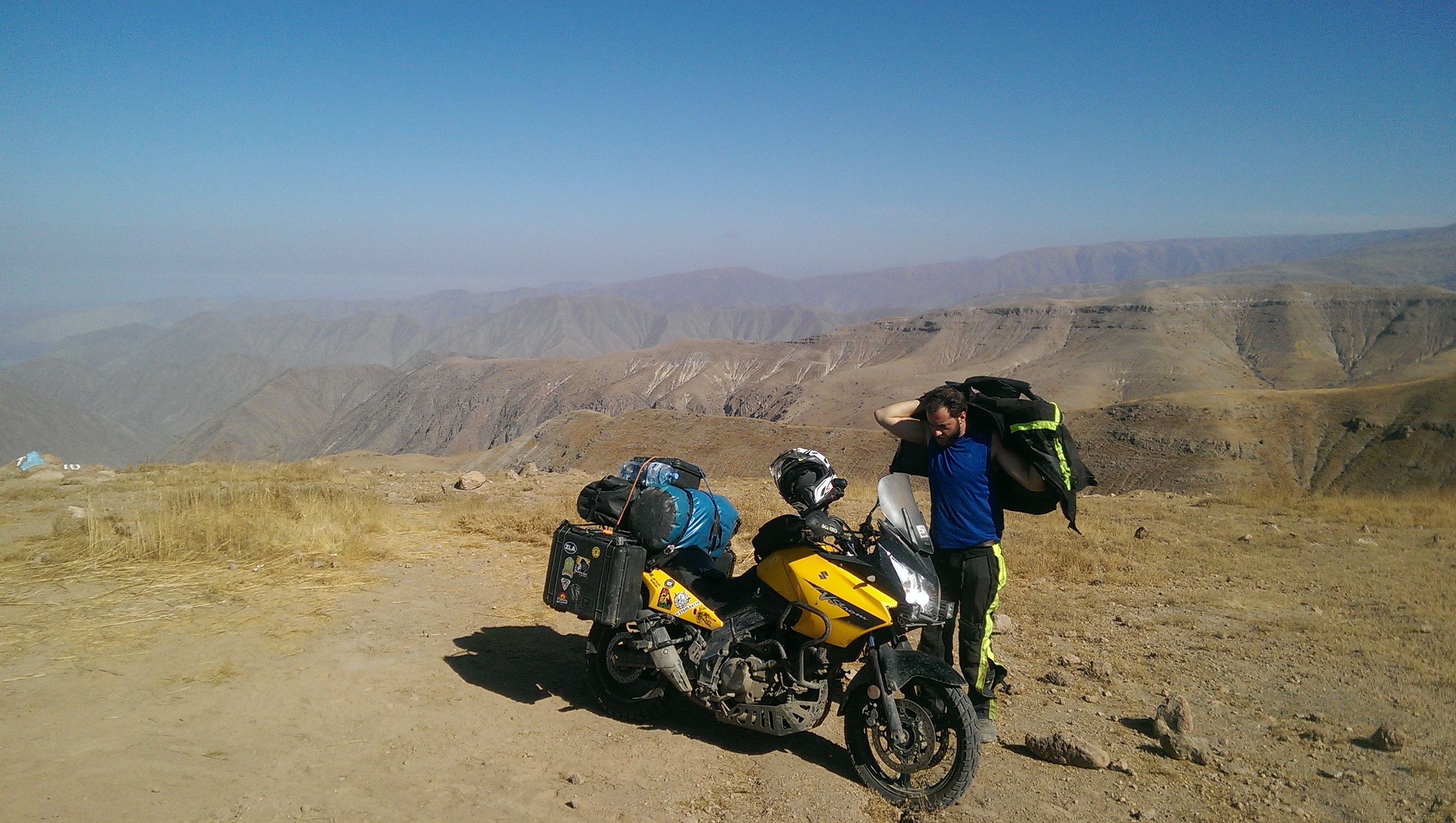 We continued on to Cusco and arrived in the afternoon with no reservations. We stopped at a recommended hospedeja but it was real shitty so we got WiFi and scoured the net. I found us a good place, Killaqente. Had enough space for all the bikes and we got three rooms to split five ways. Finally someone got some privacy.
We arrived on Friday and would be staying until Sunday. Friday the gang got their Machu Picchu tickets with the additional climb from hell, Wuaynapicchu.
In the evening we visited Nortons, a motorcycle bar on the main square. Right there on the door were stickers of our friends, which we rightfully joined. Junyah estuvo aqui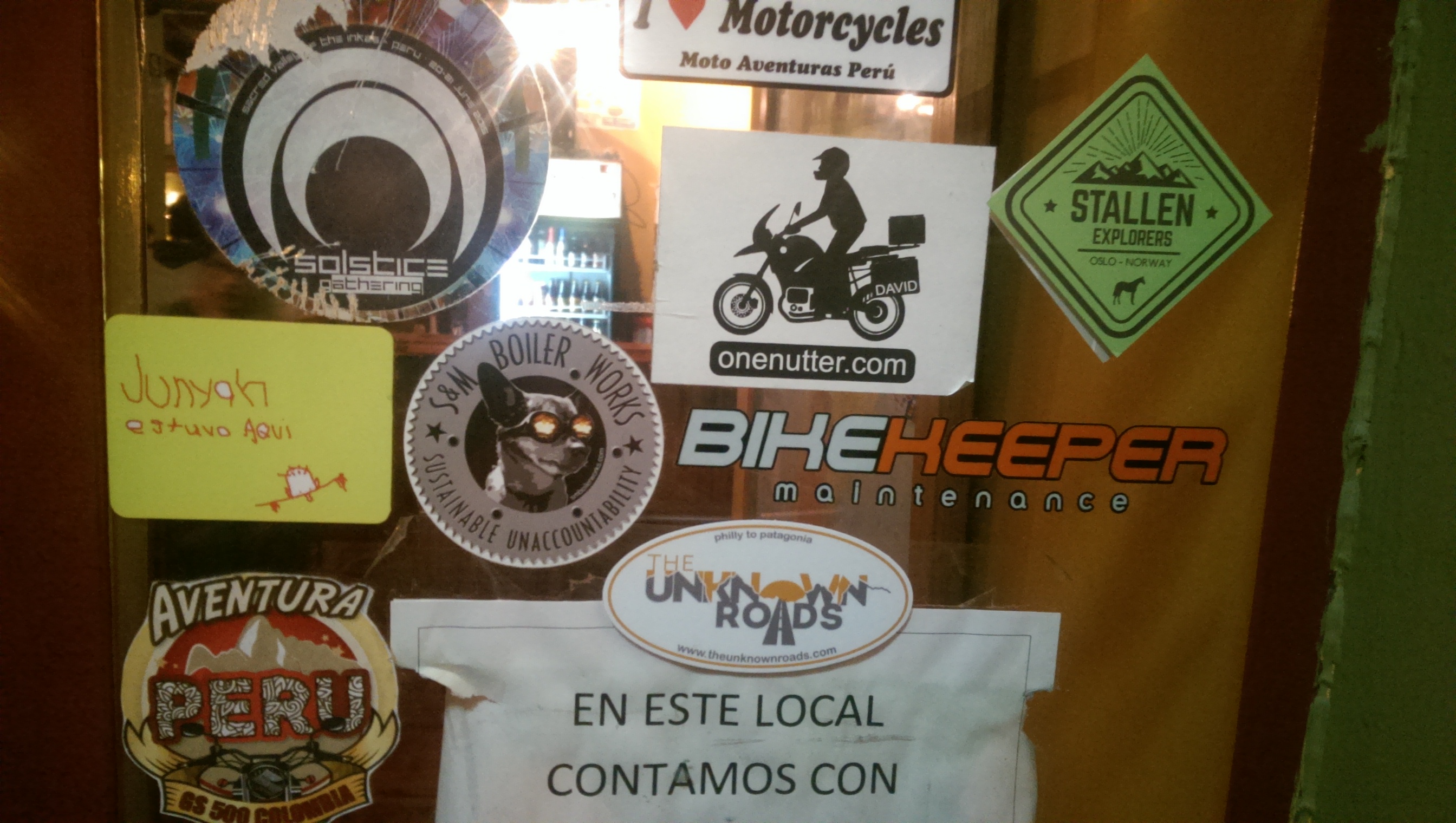 In the morning Roel, Azure, Matt, and Tim opted to visit some ruins within Cusco. I decided to roam other parts (read: free parts) of the city, do laundry, change my rear tire, and eat food. We all met back up in the evening. Oh and I shaved off my beard.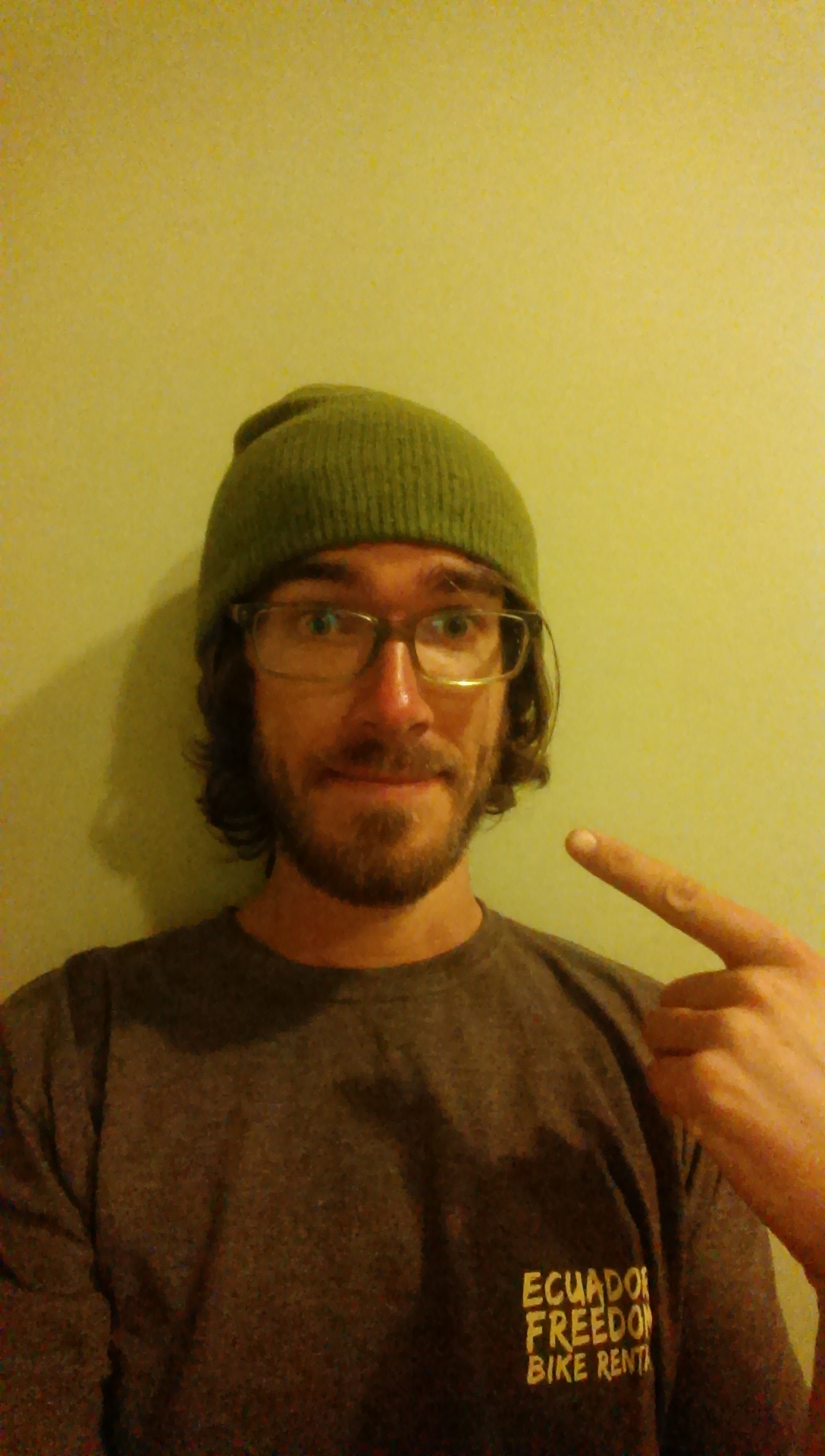 Saksaywman is the name of the ruins and this is Cusco in the background.
No mortar required….pretty impressive fit!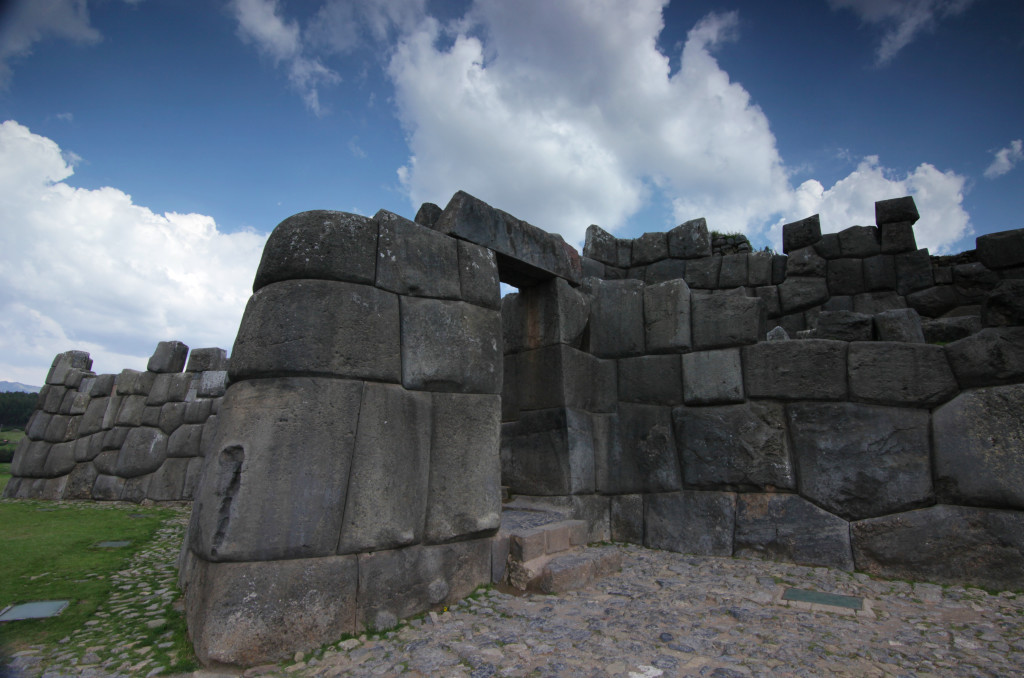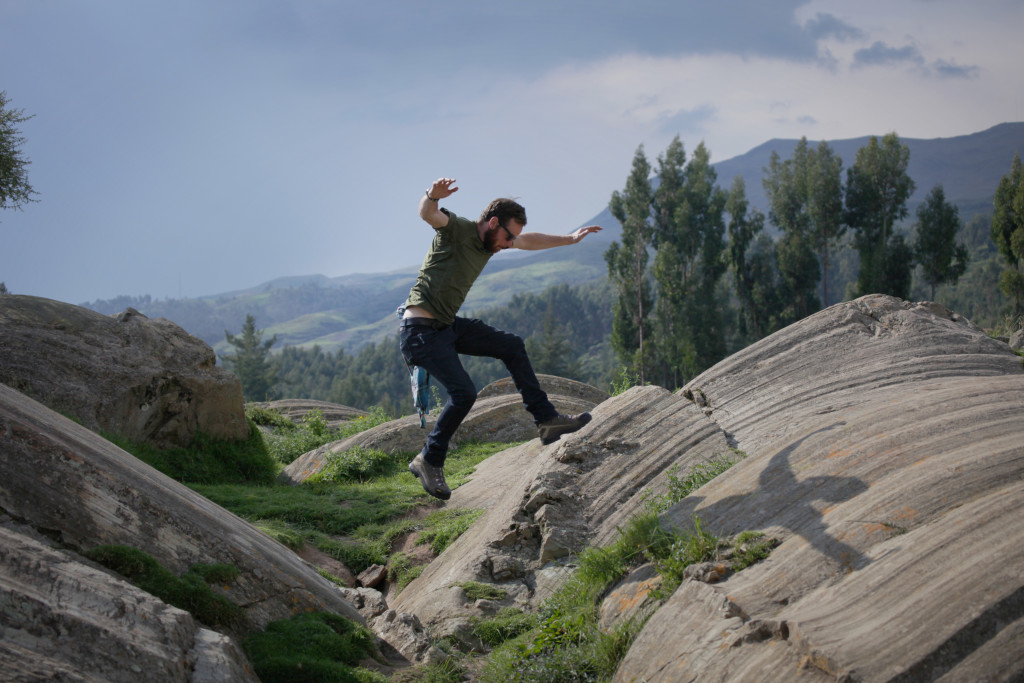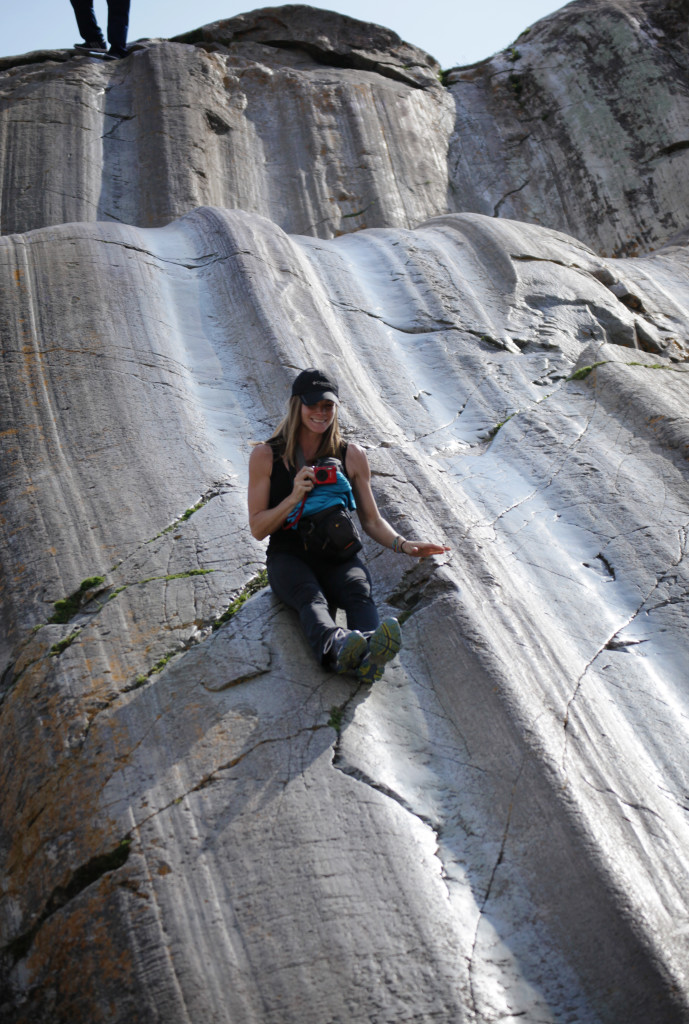 You can even have fun at these ruins!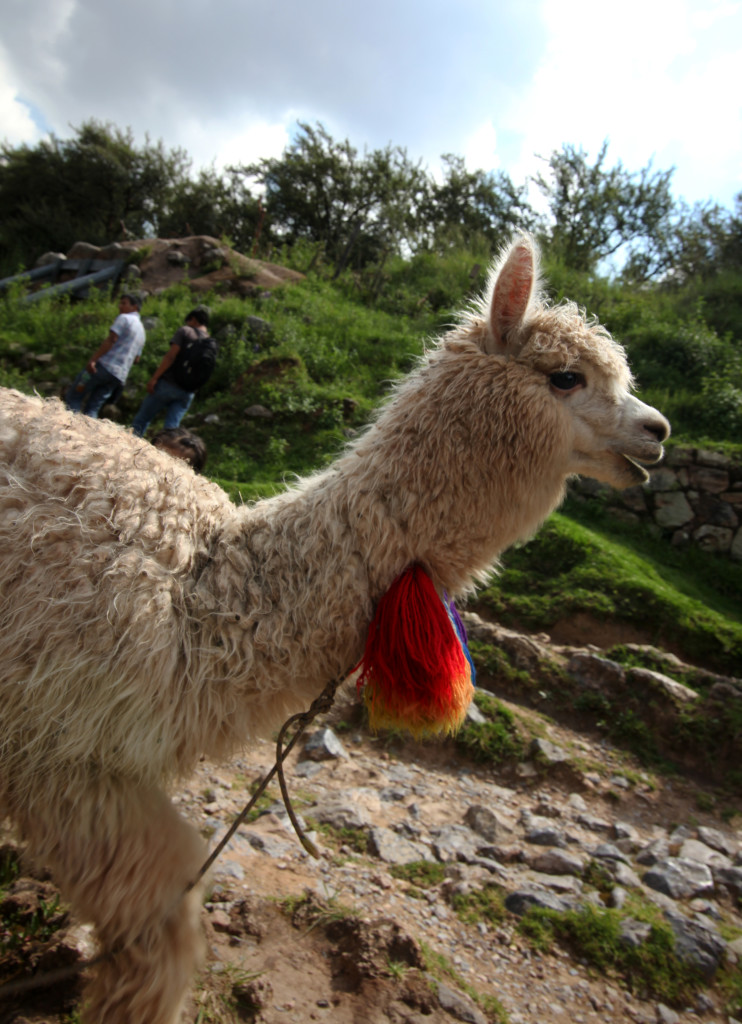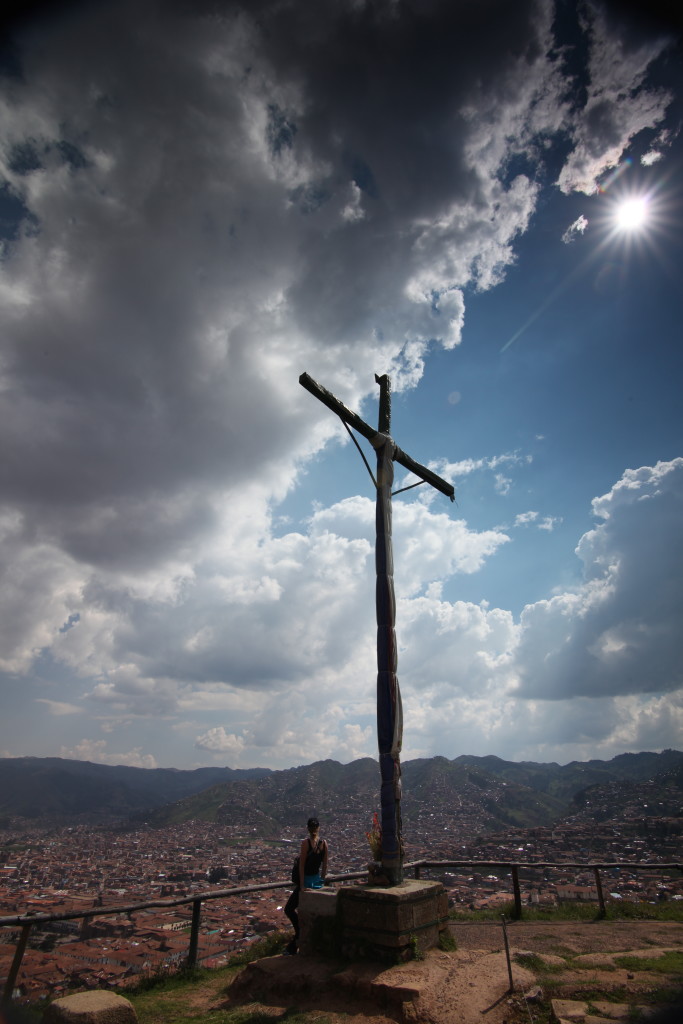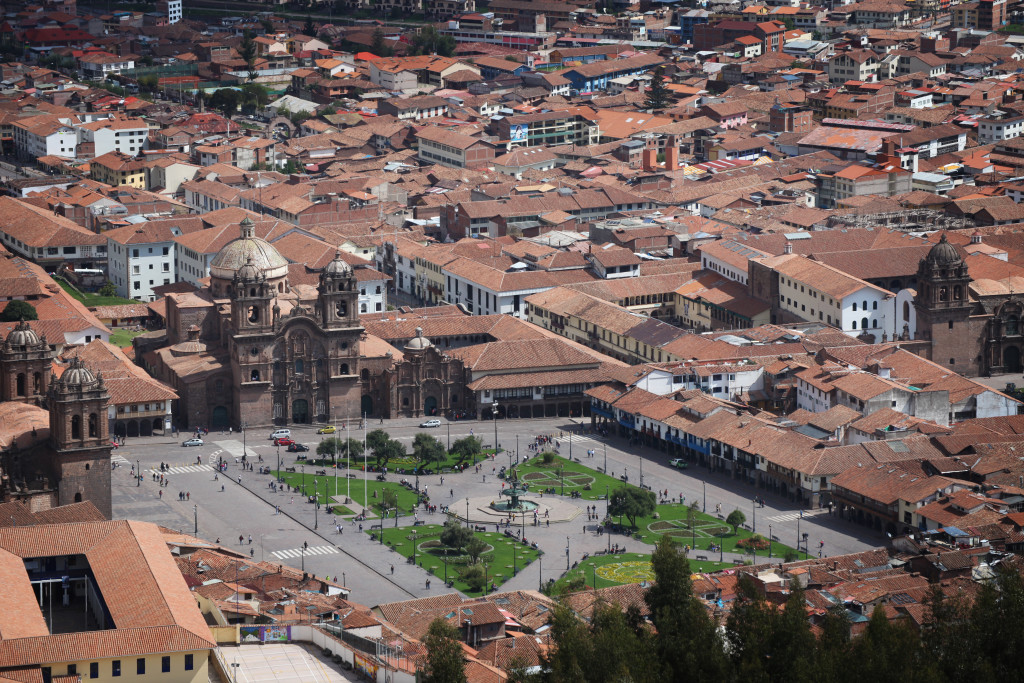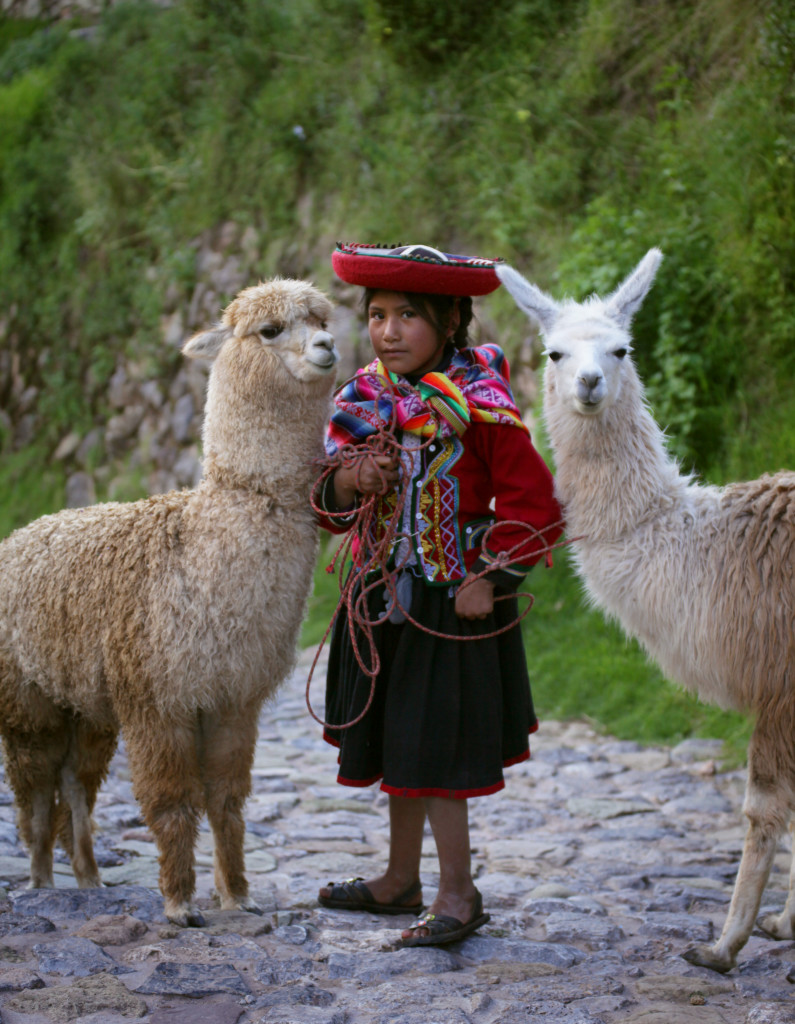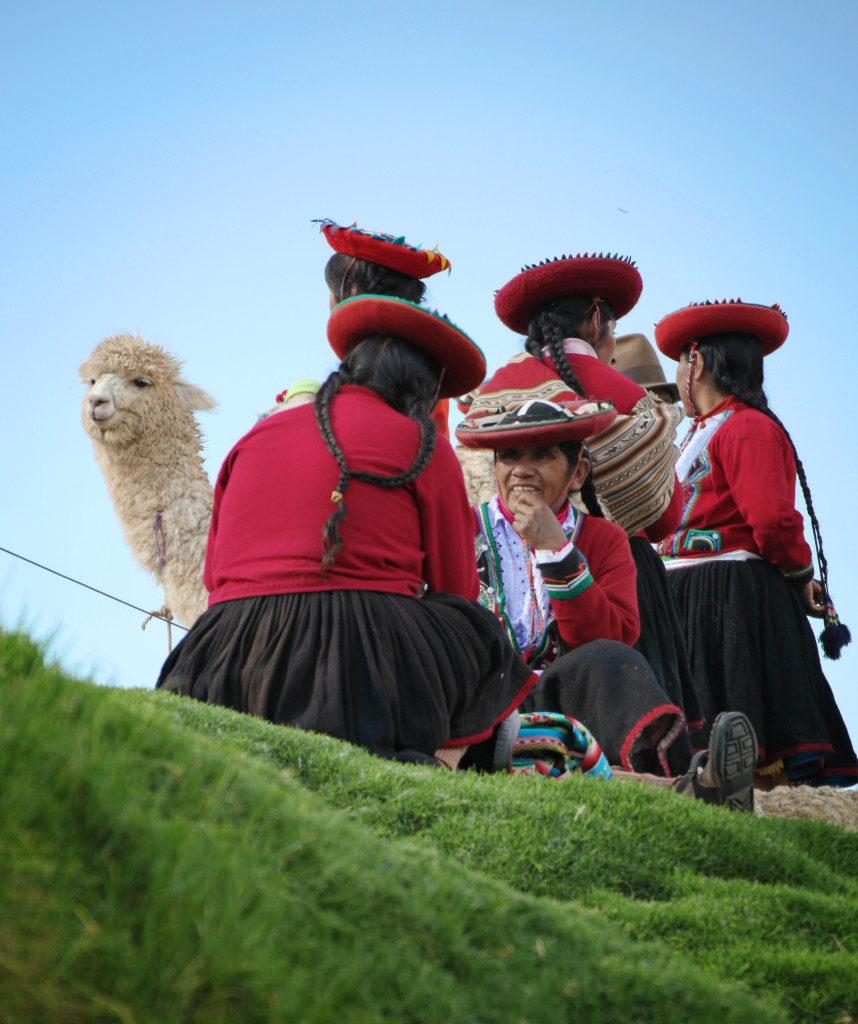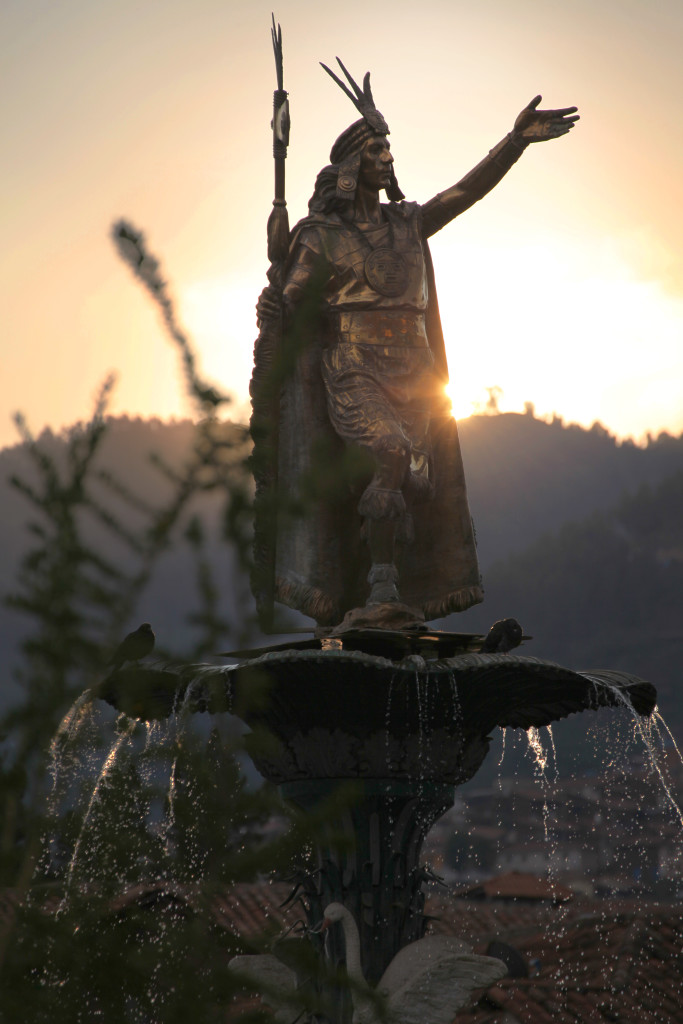 Sunday we on our way to Santa Theresa, and then Aguas Calientes. We stopped at Pisac about an hour outside of Cusco. I hadn't bought a ticket so I opted to watch the bikes/talk to people. Apparently I missed out because the group took a couple hours. Oh well, next time.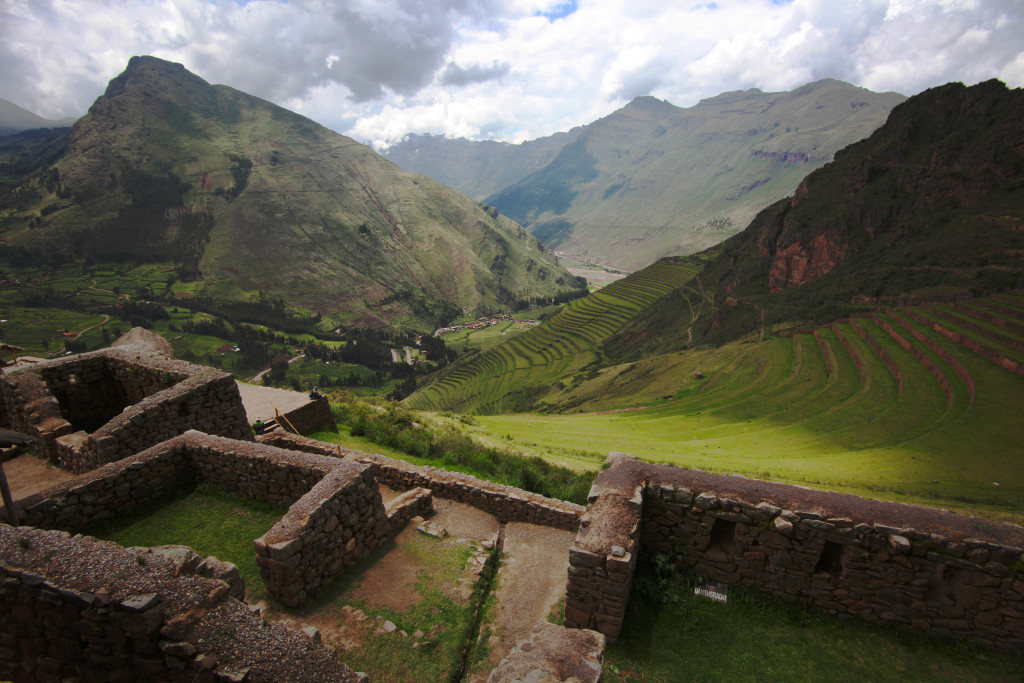 Pisac
We continued onward stopping for lunch at the base of the ruins of Ollantaytumbo. Pretty excellent food even if the town existed solely for tourism.
Onward we rode. The road began to twist and climb up near 16,000 feet. Tim and I were way ahead of the group so when it began to rain hardcore at the top, we stopped for coca tea. We saw the others pass by but couldn't wave furiously enough to catch their attention. The ride down was rather precarious with visibility near zero and rock slides abundant. We caught up when the weather cleared during the dirt road to Santa Theresa. An awesome road filled with water crossings, cliffs, and twists. The views were so good that Azure nearly rode right off the cliff, somehow narrowly escaping death with her bike dangling near the edge. All in good fun.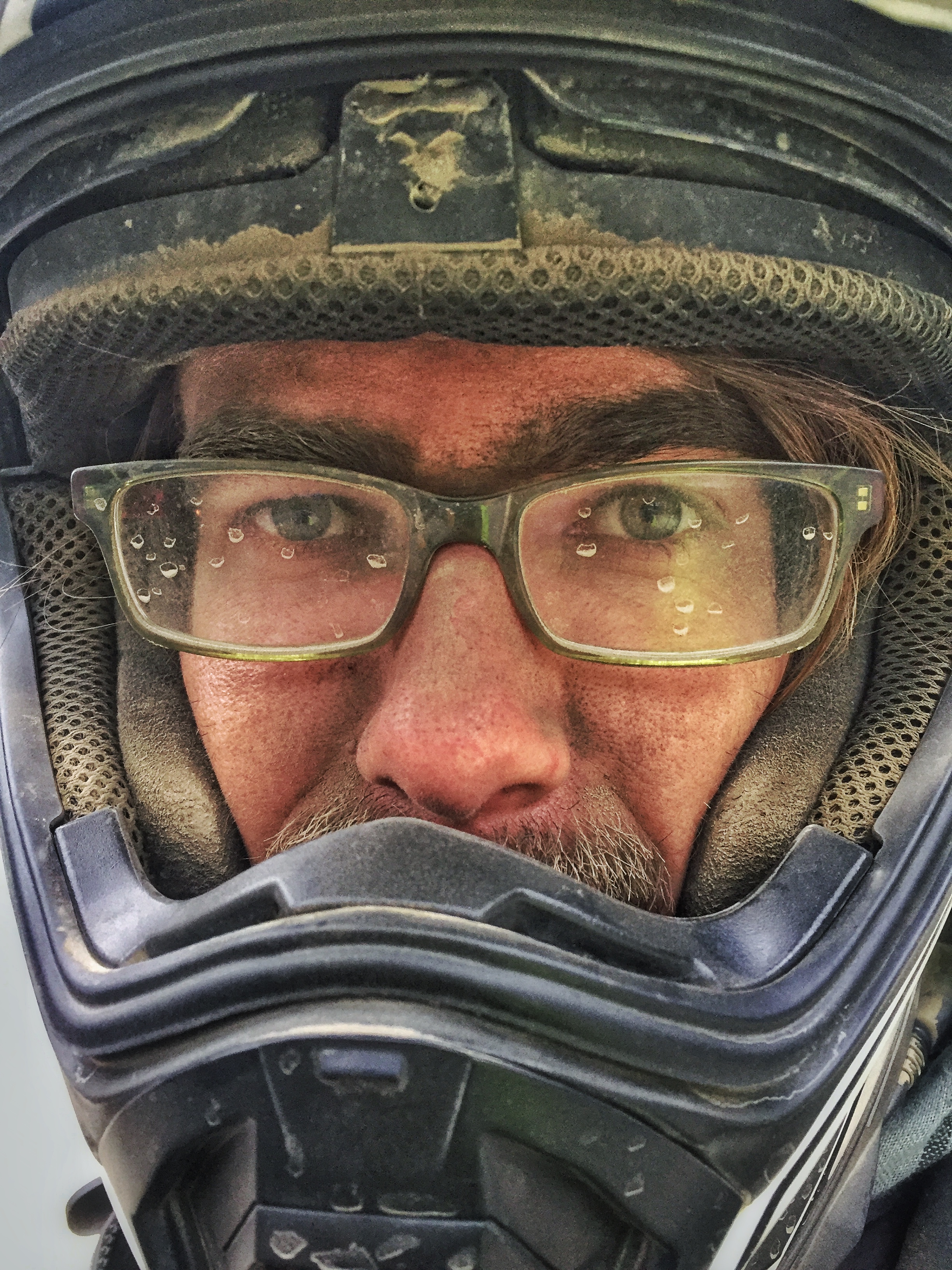 He gets this dirty always…i don't know how. He just does.
We were waved into Yakumama where bikers stash their gear for the walk to Aguas Calientes. The walk begins at hydroelectrica which was 9km from Santa Theresa. We decided to take a taxi which proved to be a wild ride. The driver felt his beat up station wagon was one step away from being a rally car, and his cell phone was clearly an integral part of the puzzle.
Our hike/walk in was in the dark. It made the experience a lot more enjoyable to me. We encountered no other hikers and every footstep was a bit more rewarding. We walked down the train tracks over bridges, across streams and through a long tunnel (not supposed to do that).
When we finally arrived to Aguas Calientes, the town was dark, lit only by flashlights and candles due to a power outage. We searched for food and lodging. The first place we stopped had nice rooms for cheap and pointed out our only good option. Pretty awesome pizza for 11pm on a Sunday in a town with no power. Bed time and just four hours to sleep.
Most people take a train in, then bus up. We're cheap so we walked. The stairs up were a total bitch but after a bit over an hour we made it to the entrance. Roel and Azure got up a full hour before us, too ambitious. I entered the gates of Machu Picchu with a nearly 3 foot machete sticking out of my backpack. Didn't see any "no machetes" signs.
We ate some quick breakfast, I had a monstrous piece of apple pie for energy and to quell my sweet tooth. Then we headed straight for our extra credit hike to the highest point. It was another PITA hike but at the top we were treated to an amazing view of fog and reunited with our friends. We sat and watch the clouds pass over Machu Picchu below. Not amazing for pictures but still worth the walk.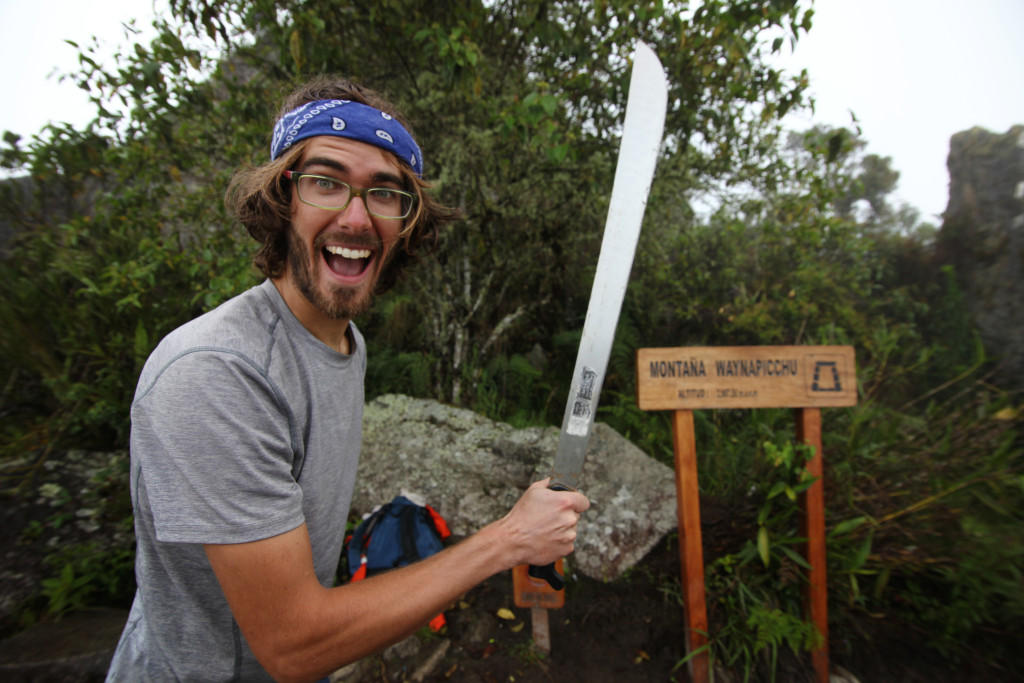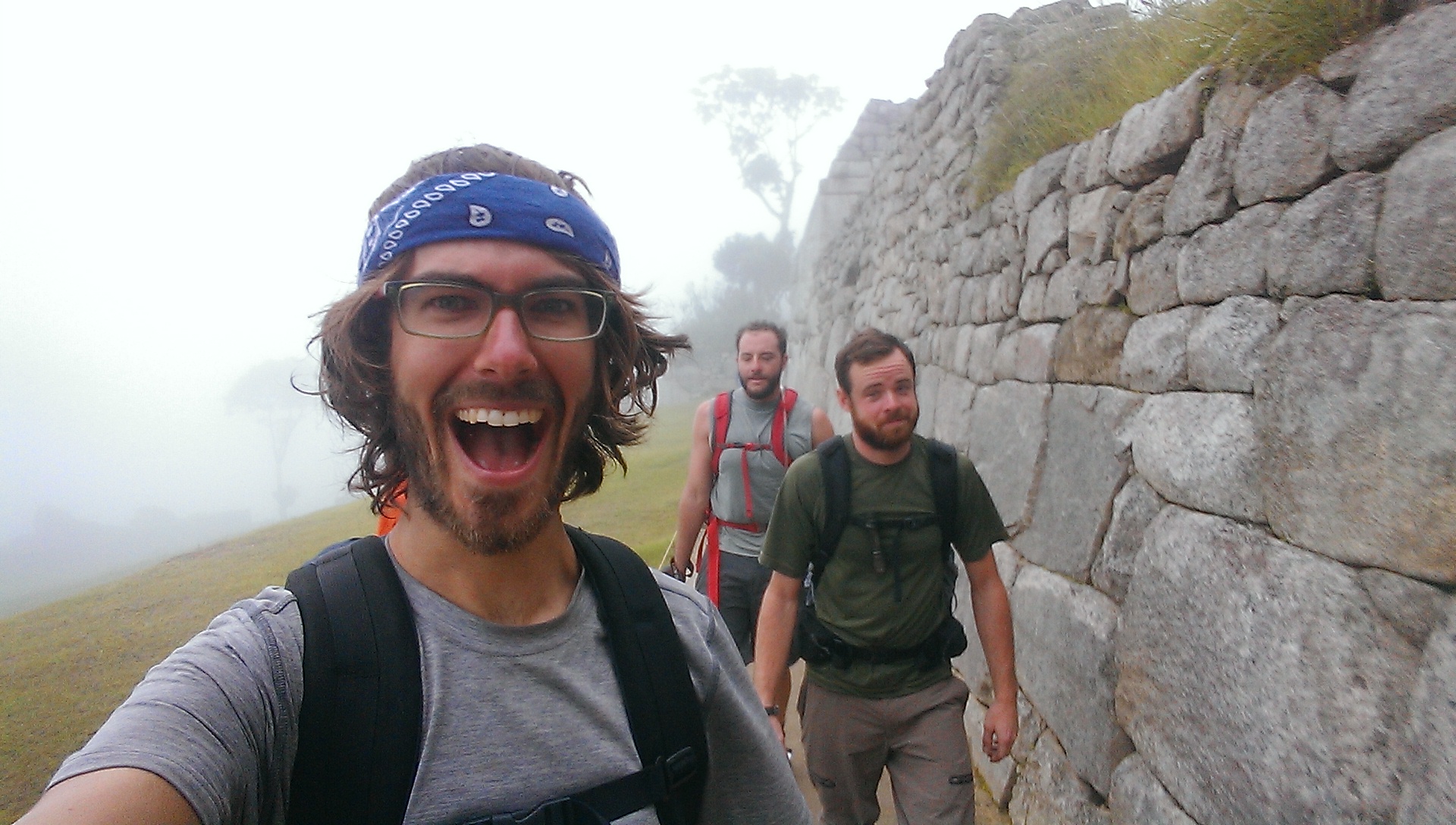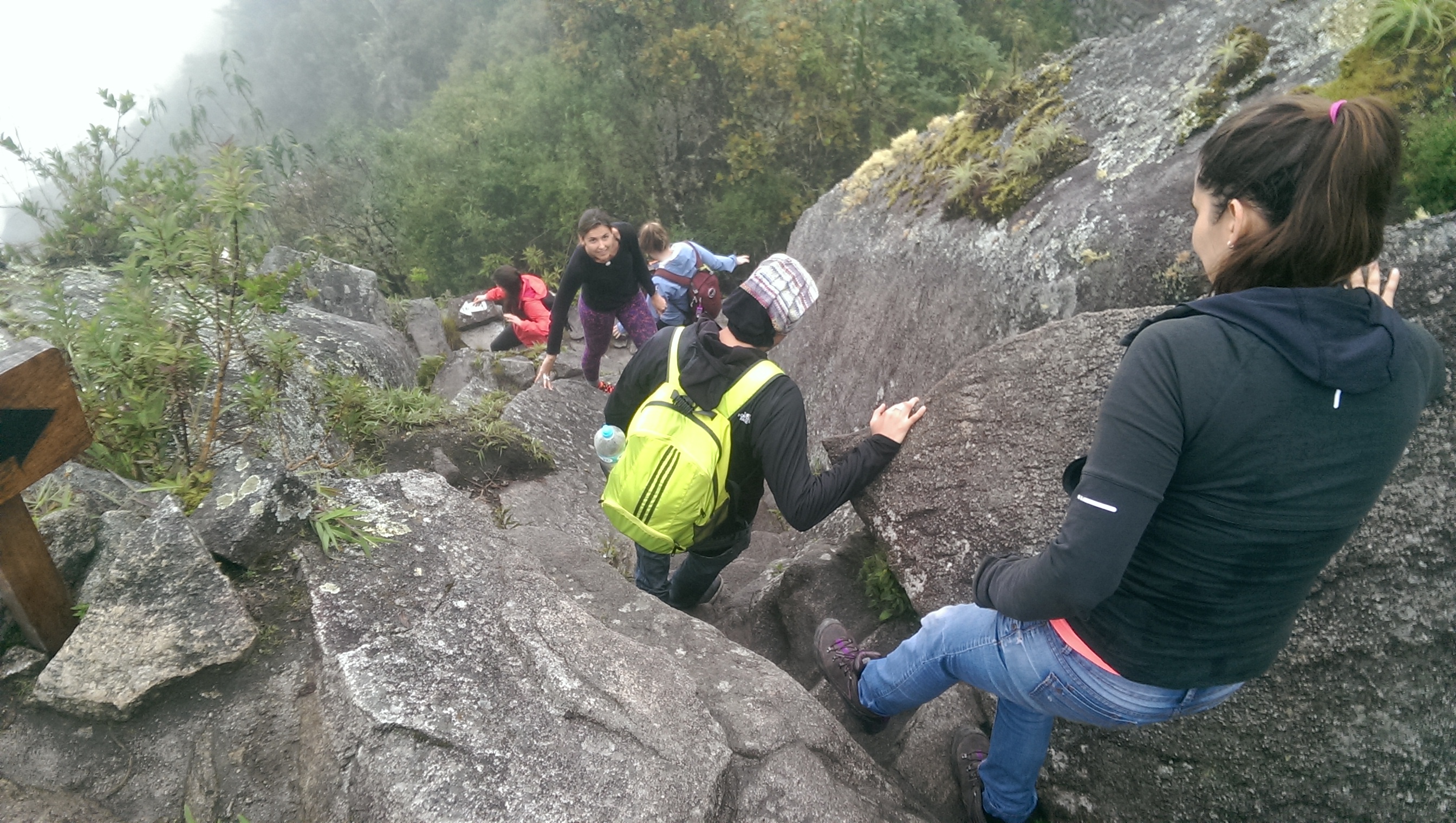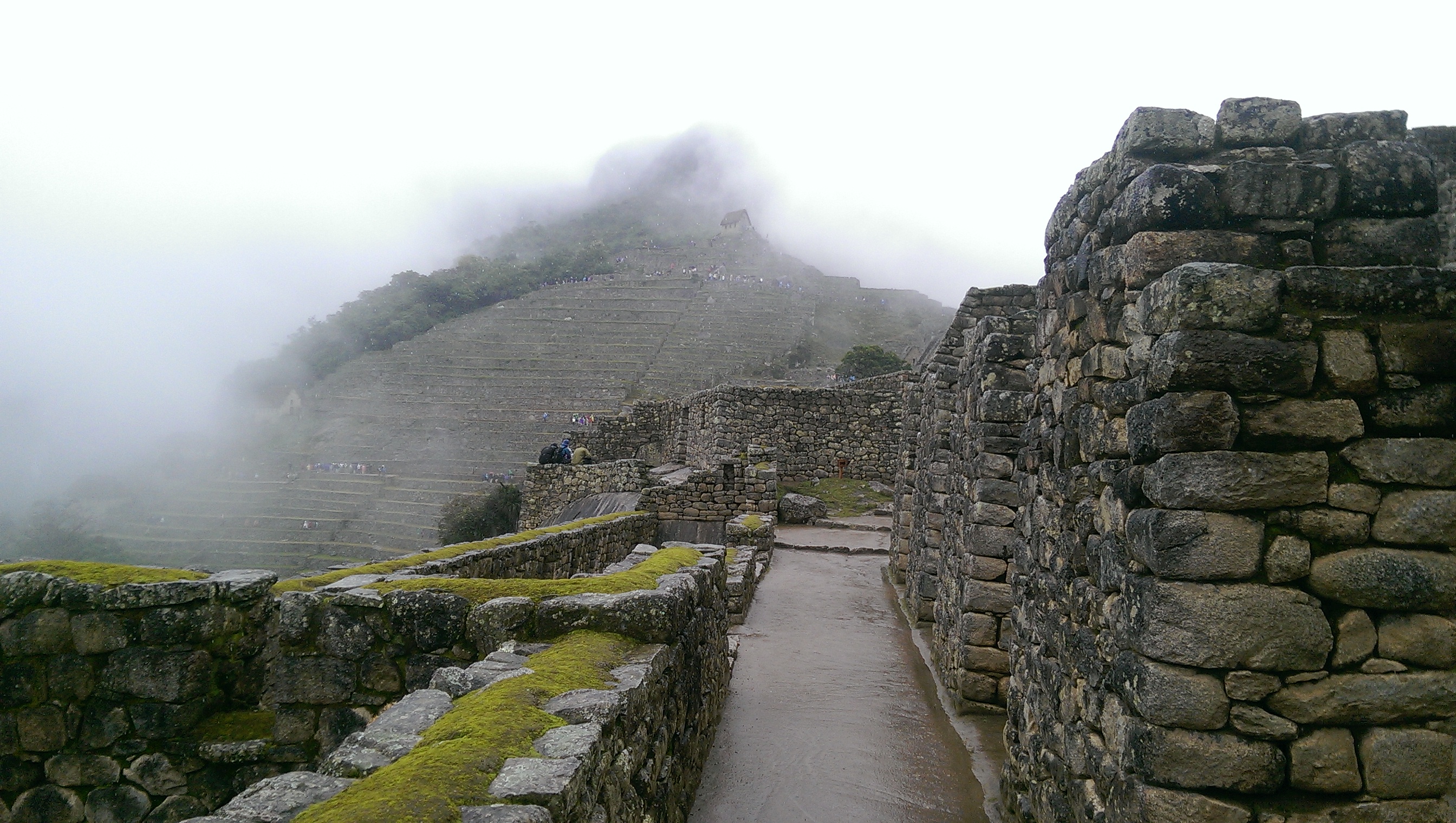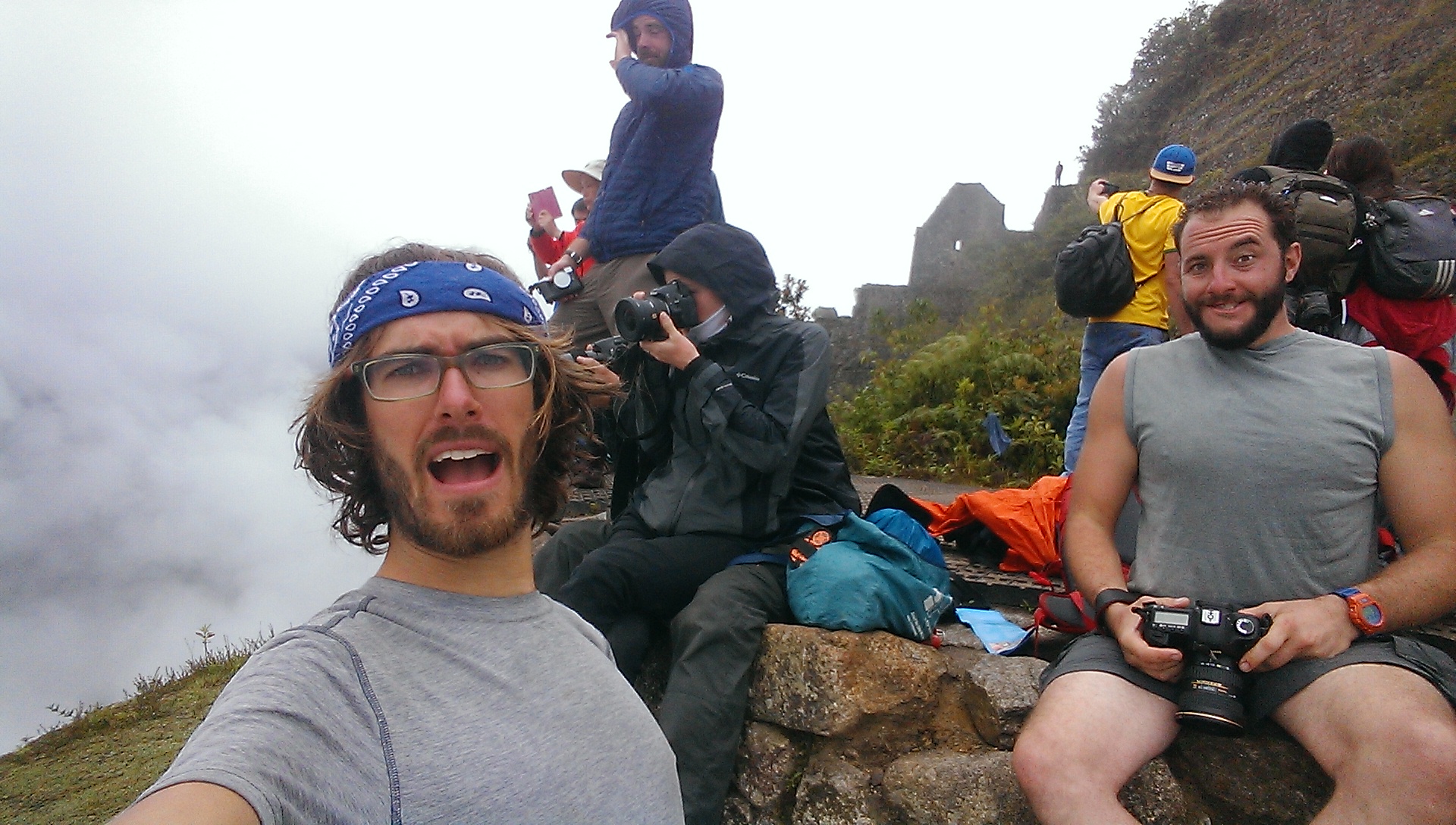 After the hike to the bottom we ran into Katia and her husband who we had met in Medellin during the city tour. Small world.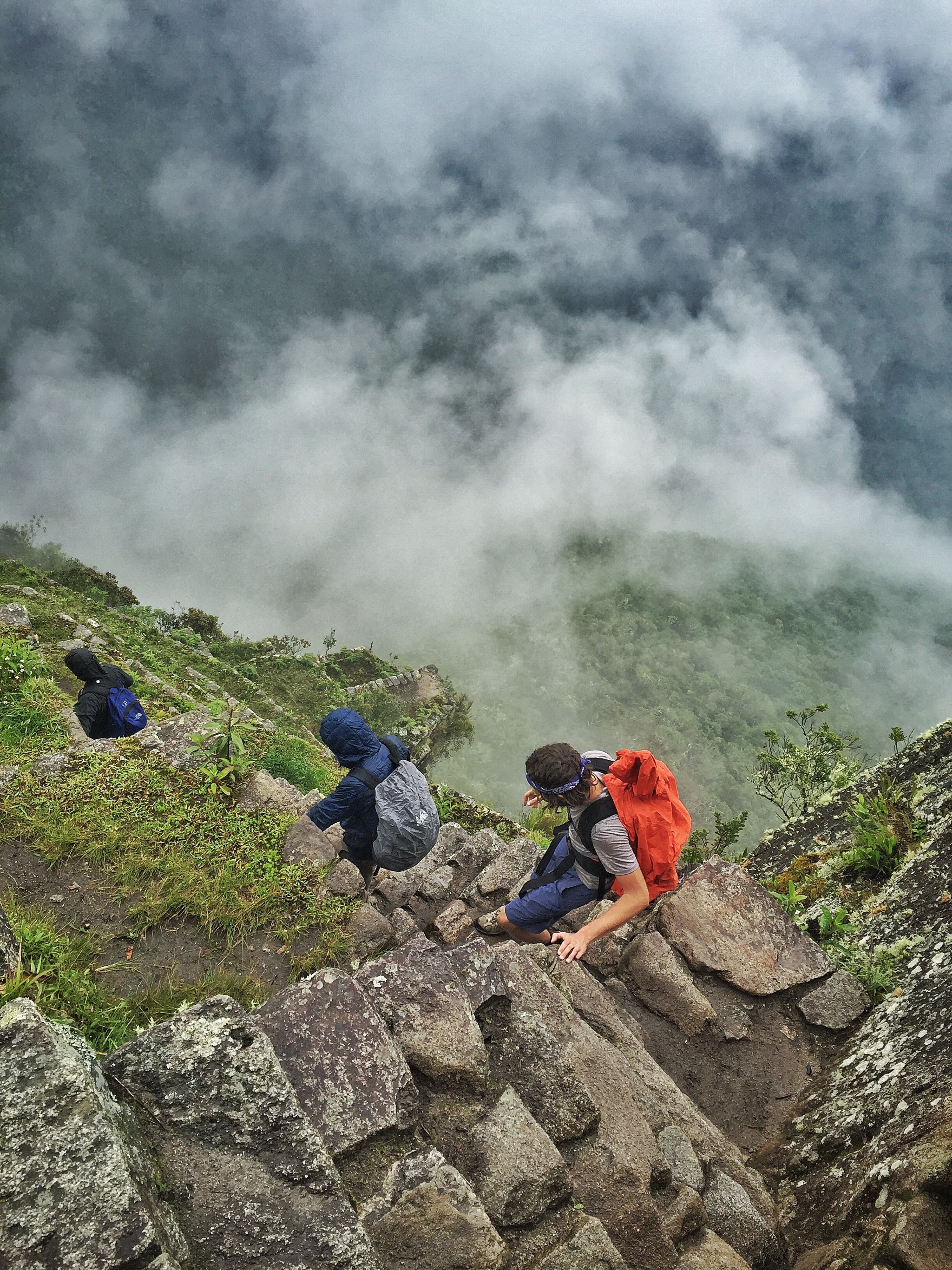 We grabbed some more food, then took an actual tour with a guide. The guide gave us some insights we would have otherwise overlooked but as Roel pointed out, they should have placards so you're not obligated to take a tour.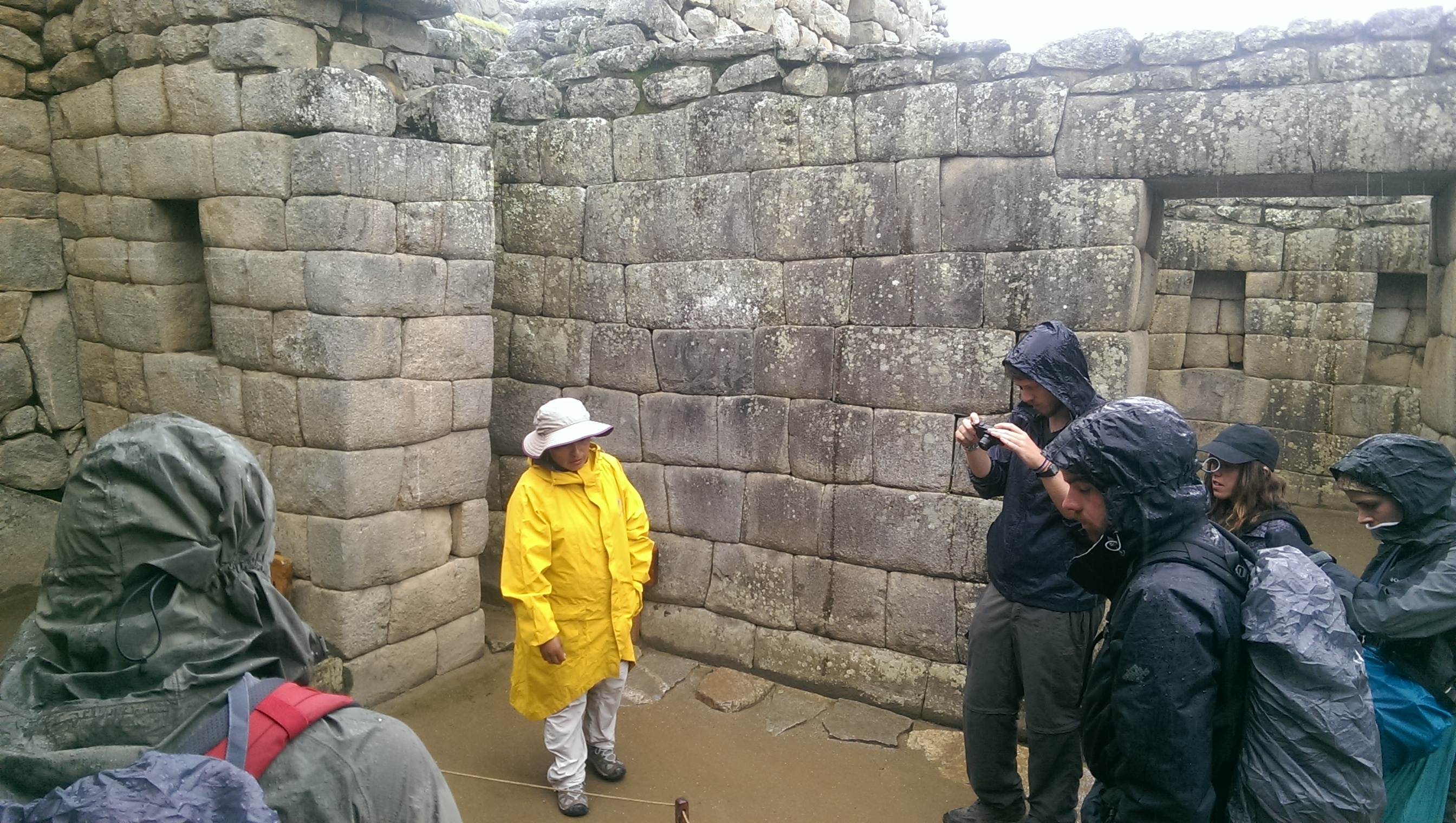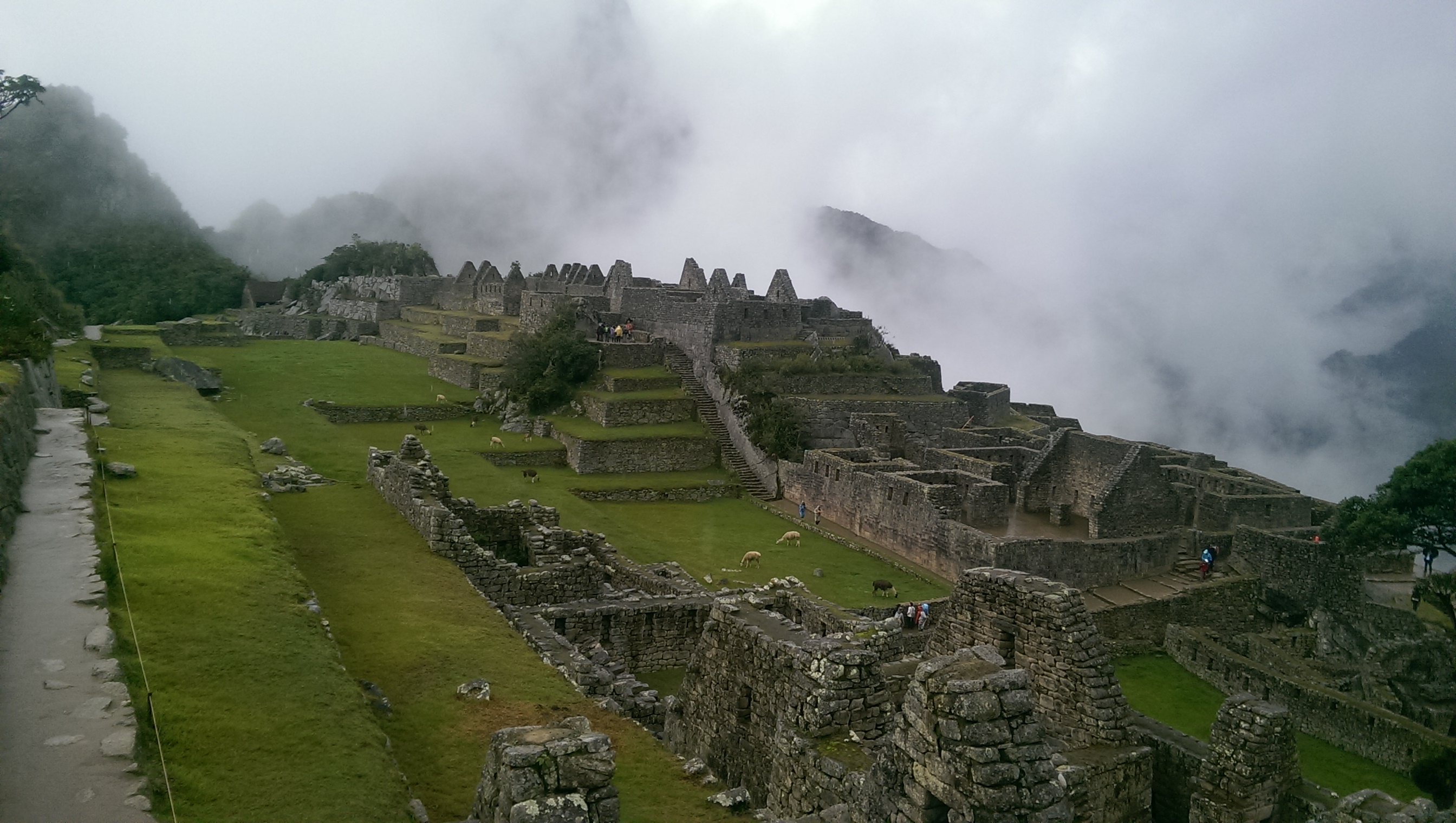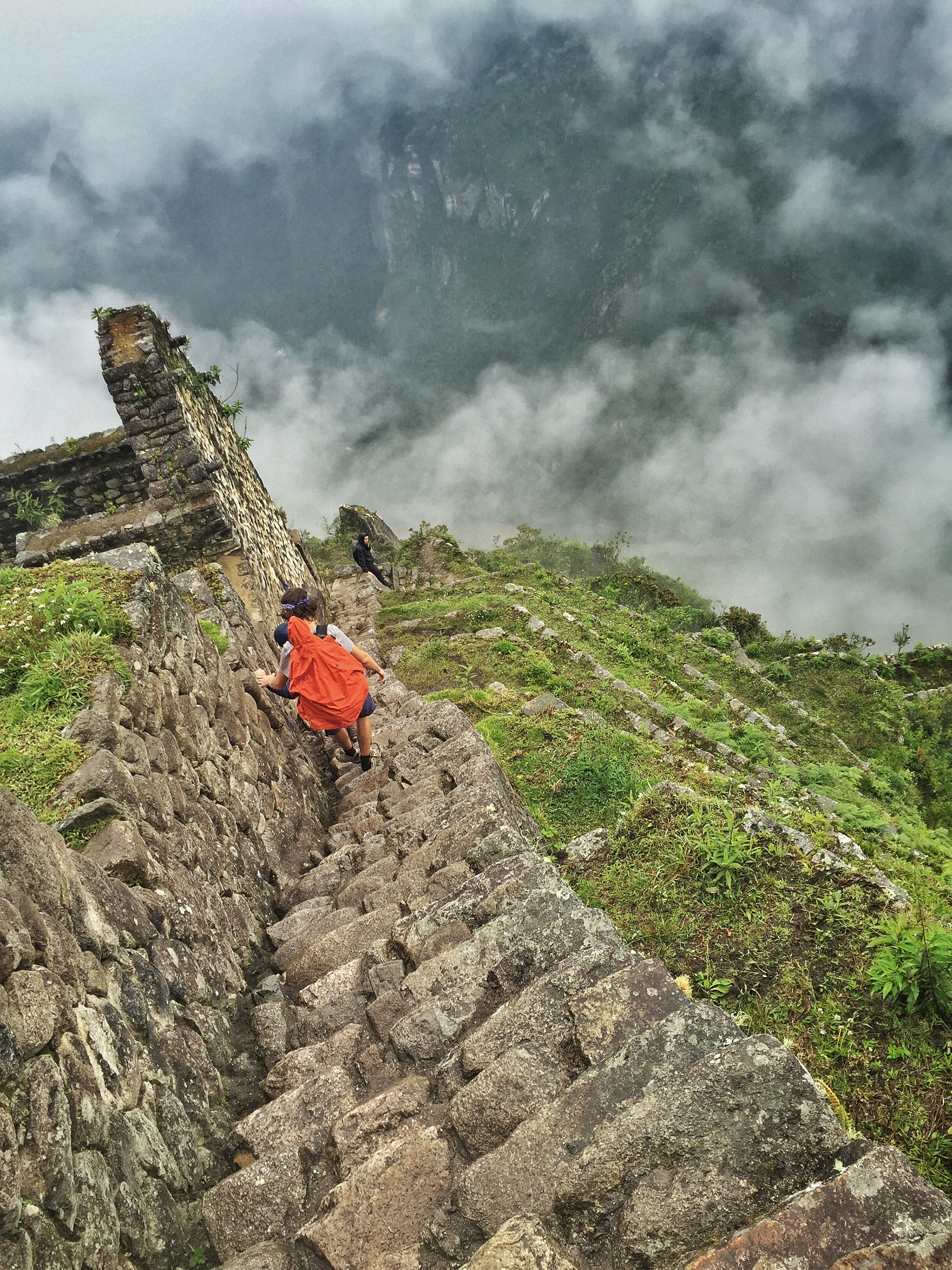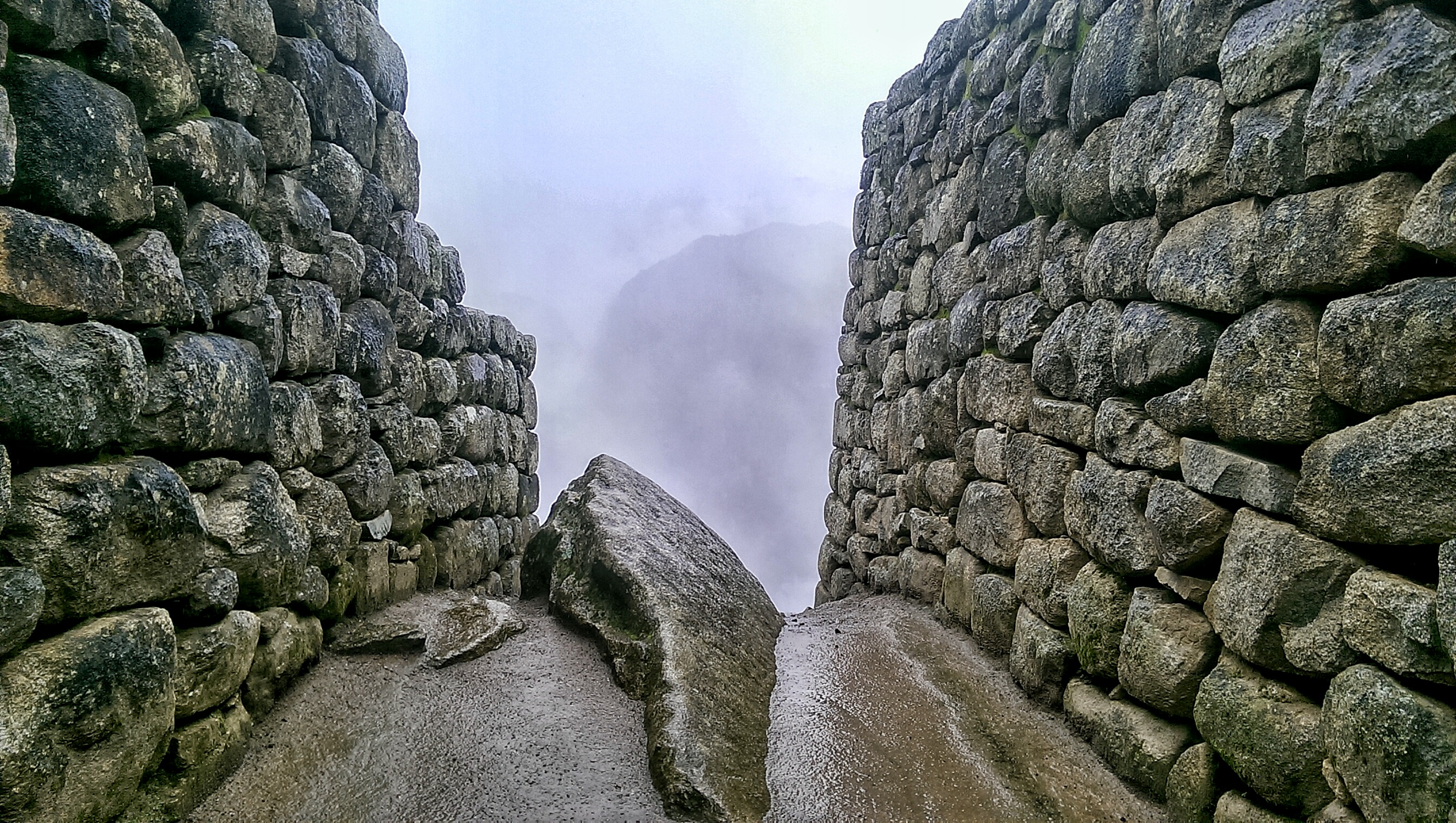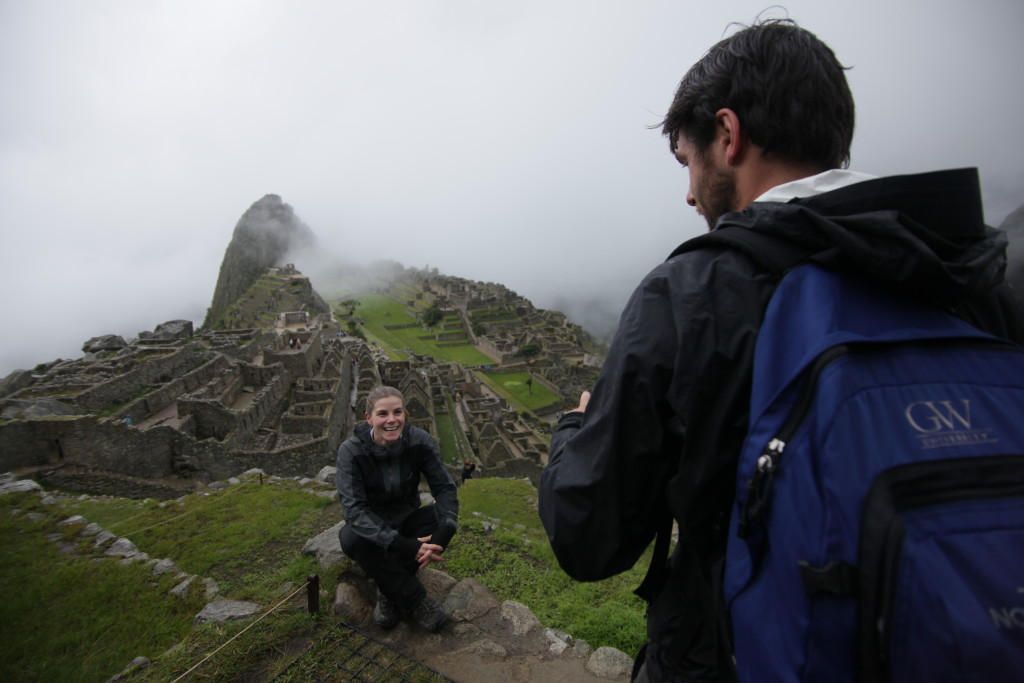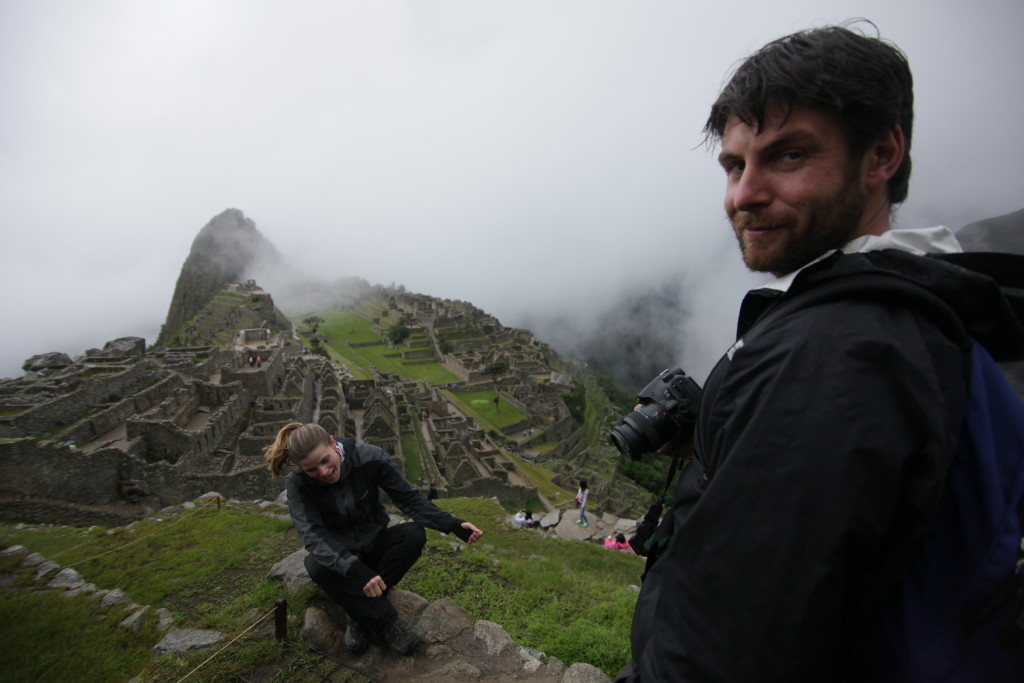 I was obviously making fun of Roel at this point.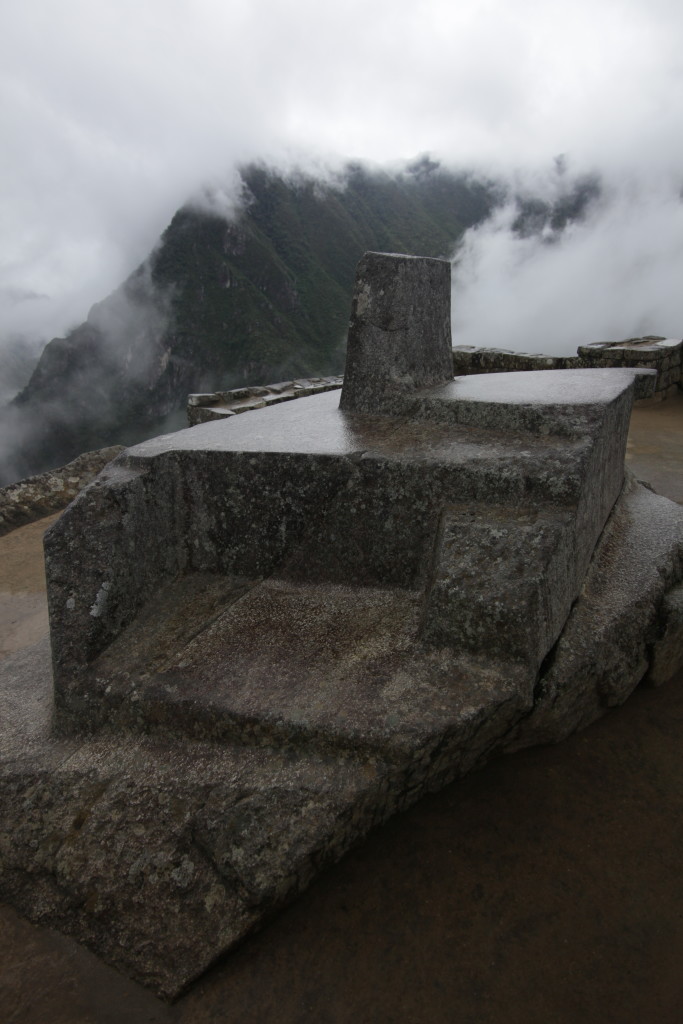 Inti Watana aka fancy Incan Astrology Clock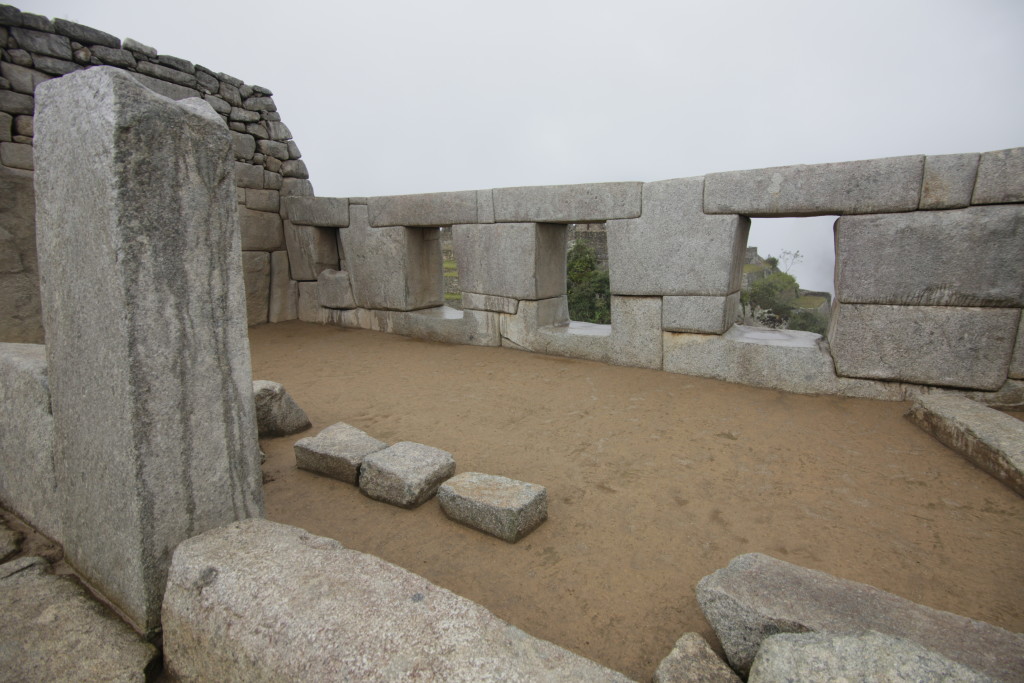 The room of three windows…not just a clever name.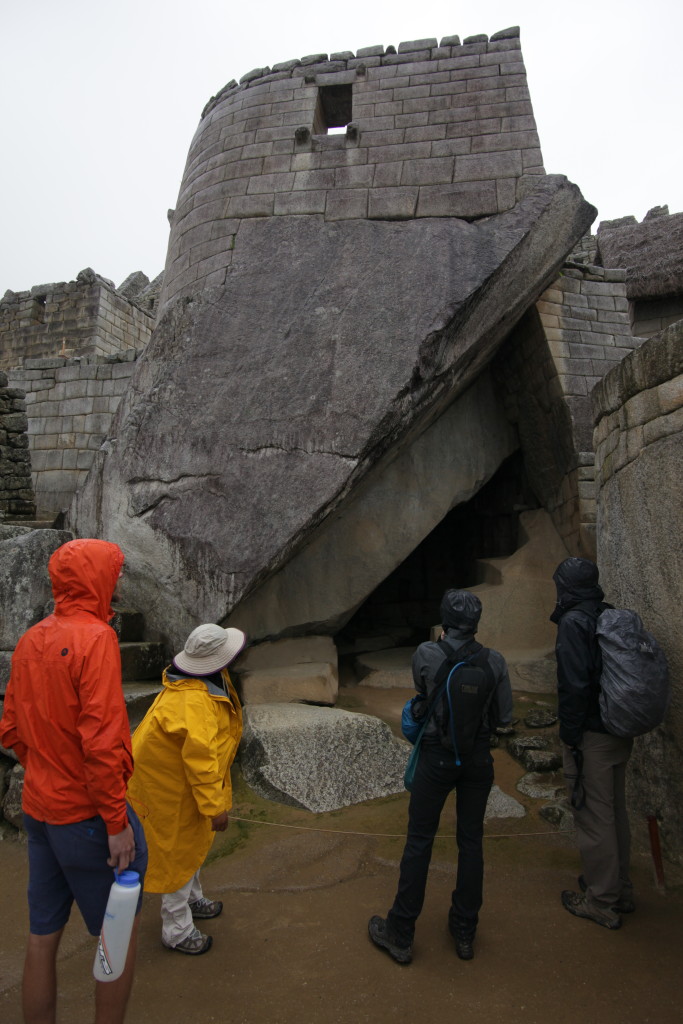 Temple of the Sun.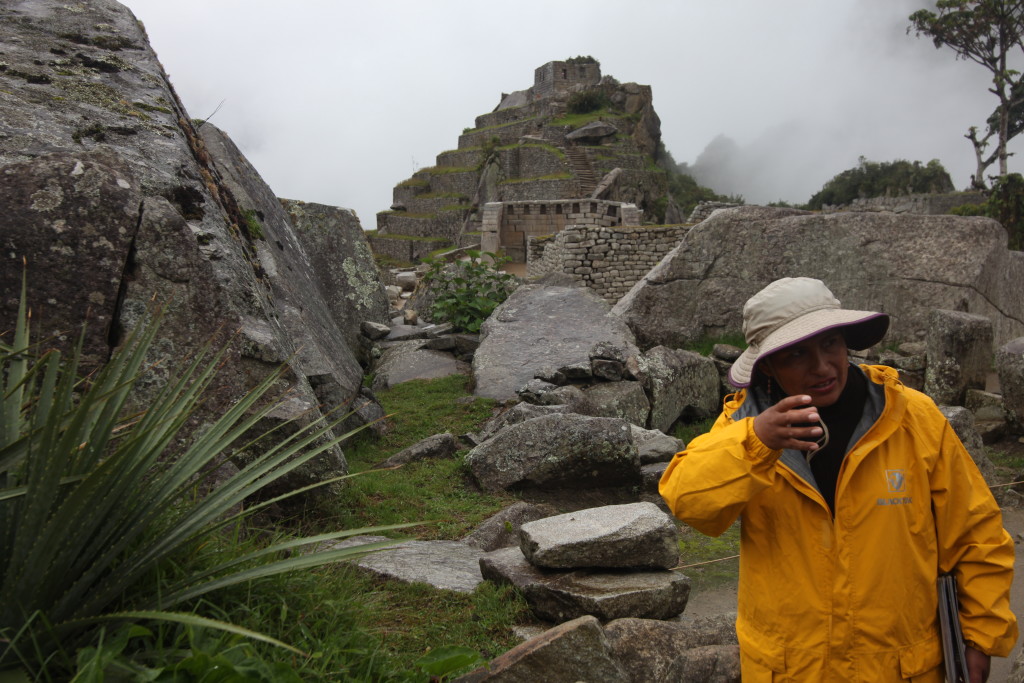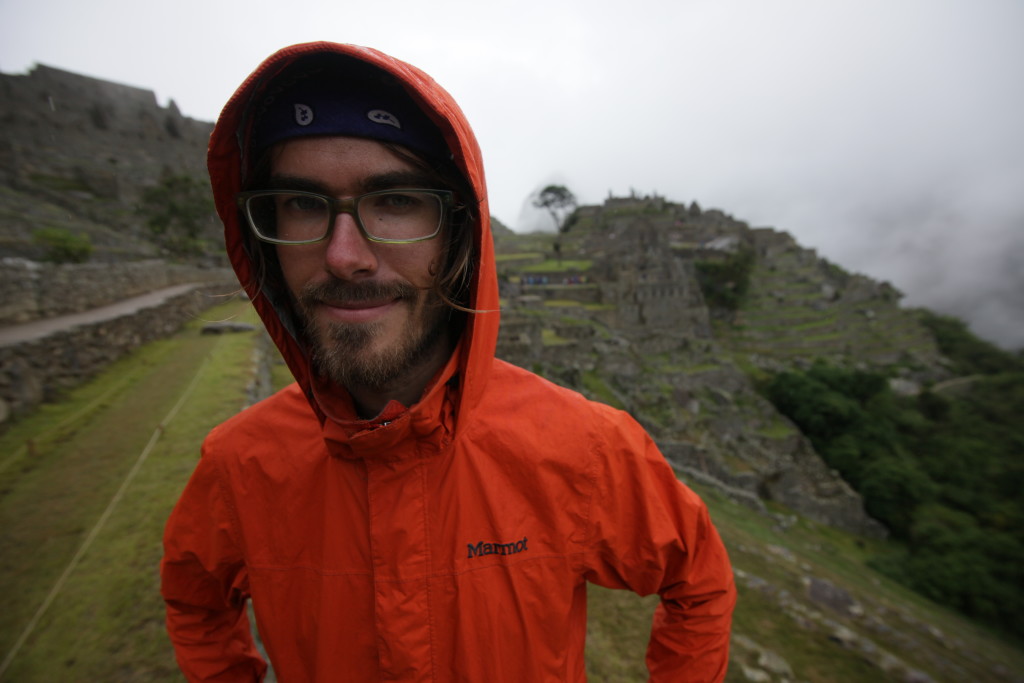 Roel, Azure, and Matt went to the Inca Bridge while Tim and I chilled by the entrance. I nearly brought a dog home. I probably should have. Regret.
Then it was time to hike all the way back. Another 8 miles. The walk back was a drastic change. We could see. There were other people. It wasn't as awesome as hiking in the dark but at least it provided some perspective.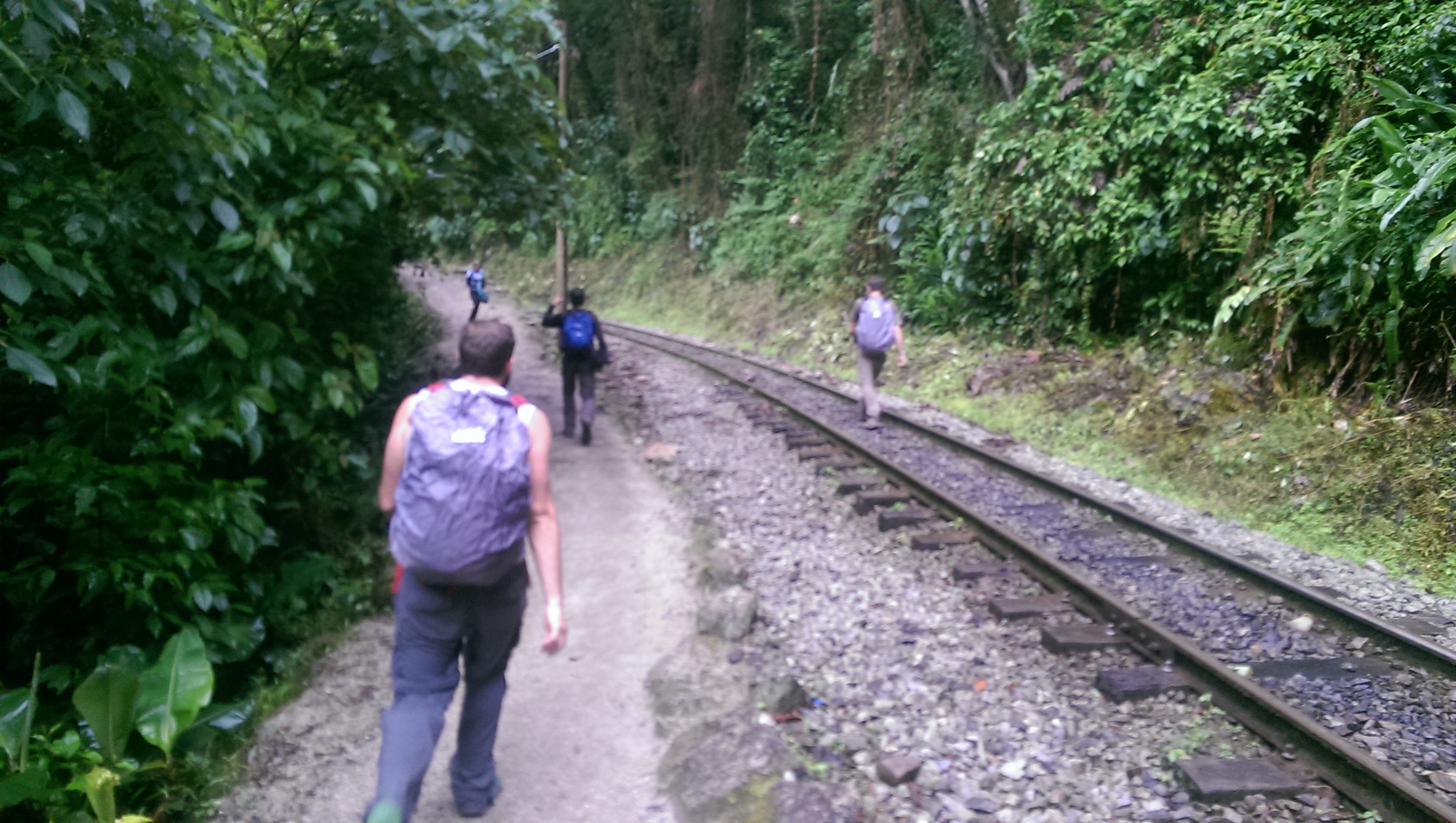 We shared a cab back into Santa Theresa and then booked a night at Yakumama since it was too late to ride back to Cusco. Dinner brought about a friend, Zoki who was on his way to Machu Picchu the next day.
Morning brought about our ride back to Cusco where I lost 20% of my clothing due to failing to strap down my dirty laundry bag. Hooray. I went ahead of the group as I was really feeling into the groove of the road. The bike handled every bump well. I stopped before the end and waited. Then flew through a series of whooped out puddles that nearly threw me off the bike. Of course no footage 🙁
We stopped at Ollaytumbo for lunch again on the way back. It was at this point that Matt's disposition changed. He was obviously bummed and so he and I left for Cusco while the others visited some ruins on the way back. We spent the rest of the day hanging out in Cusco and taking it easy.
At night four of us went out to see the city one last time.
When we woke up, Matt informed us he would be heading back to the states. It was a big decision and while we all had our own personal viewpoints. It was a decision that only he could make. We didn't want to see him go after coming so far but stepping back, it was amazing. He had gotten his license just one week before the trip, ridden to Colorado in just 2 days, ridden the white rim trail, Baja, Central America and all the way to Peru. A trip only a small percentage of people will ever even attempt.
It was a hard decision but it was the right decision. In an odd sort of way, it was beautiful. I had just seen one of the seven wonders of the world, done one of the most difficult hikes of my life, and been fortunate enough to doit with my two best friends, and two new ones. It was the cherry on top of the sundae, the grand finale if you will. I had been so far, seen and felt so much. I had been touched. I had been seconds from being broken, inches from death, and yet I prevailed. I prevailed and was forever surrounded by beauty. The beauty in the mountains, in the beach, in the smiles of the kind souls we encountered on a daily basis. It sounds corny, but I feel as though I had lived a million lifetimes over the course of the last five months. Everyday was a challenge and I needed that. I learned things I will never forget. I shared myself fully with my friends, the locals, with nature and with this world. I can honestly say, I feel smarter, richer, fuller, and happier for going on this trip. I packed up my experiences, my emotions and prepared to leave. I couldn't wait to share everything with those I loved and left at home. Adventure, awe,endless excitement and true beauty wait outside your door. Go get it, but remember the unknown road always leads back home. But it changes you, thank God for that. With love I leave, thanks for following. – Matt.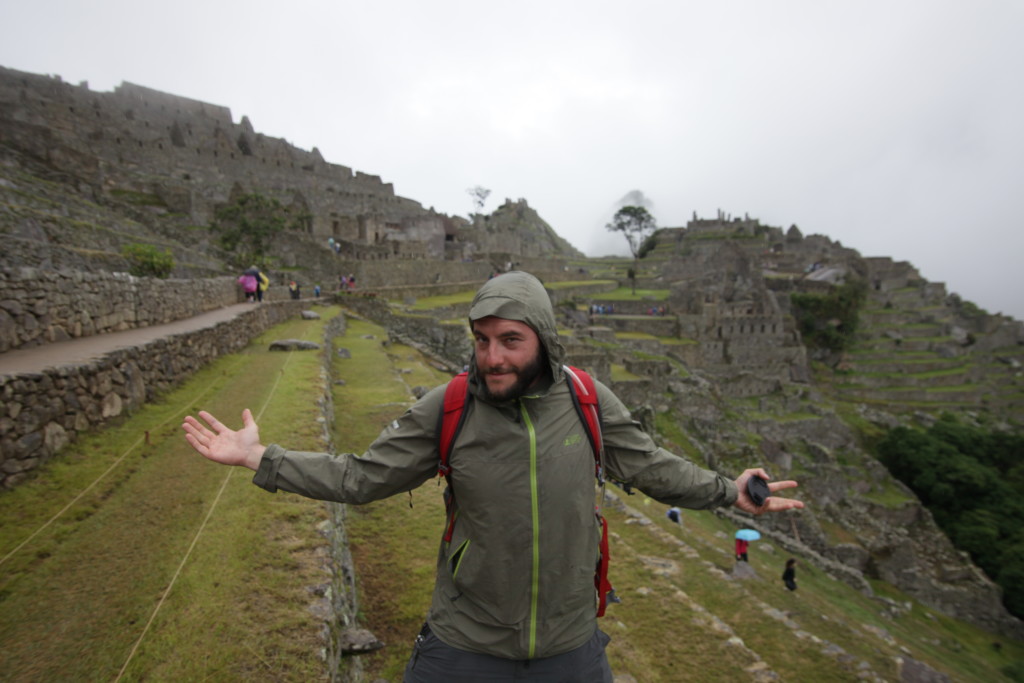 We spent the time up to Matt's flight prepping his bike and then saw him off. This departure brought about a lot of emotions. Tim and I decided it was time for us to pick up our pace and so we made another hard decision to continue on alone. A couple we met and likely expected to travel with for a day or two became travel partners for a month. They're amazing people and the three of us couldn't imagine spending that time with anyone else. Hopefully our paths cross again, they will.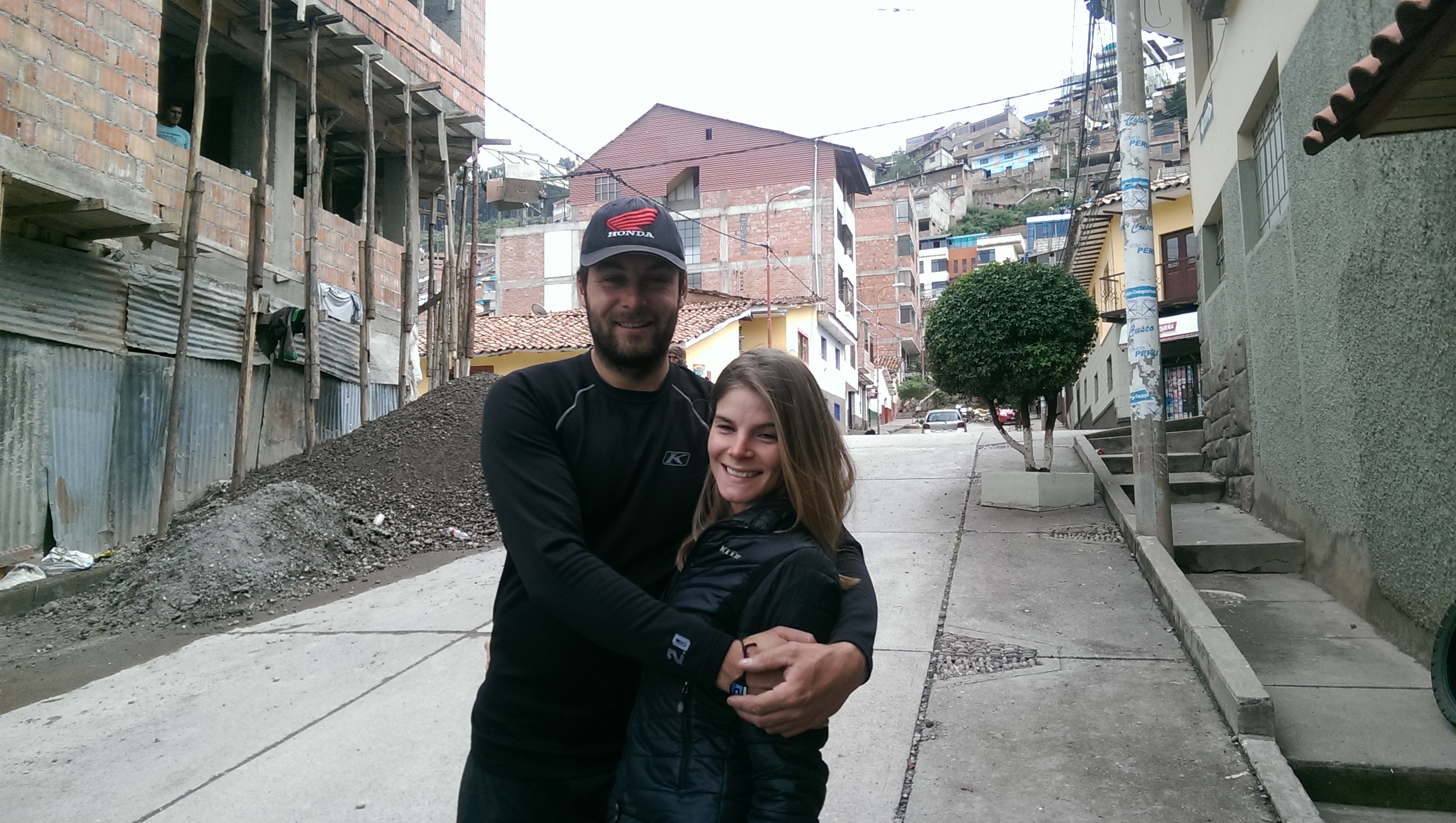 Tim and I made the long ride to Puno the next day and then continued on to the border. Unfortunately our plans of staying in Copacabana were thrwarted when the border was closed. So we had to spend the night in the small town of Yungay. On this night it was lively, the townspeople partied for the beginning of Carnival and many practiced their dances.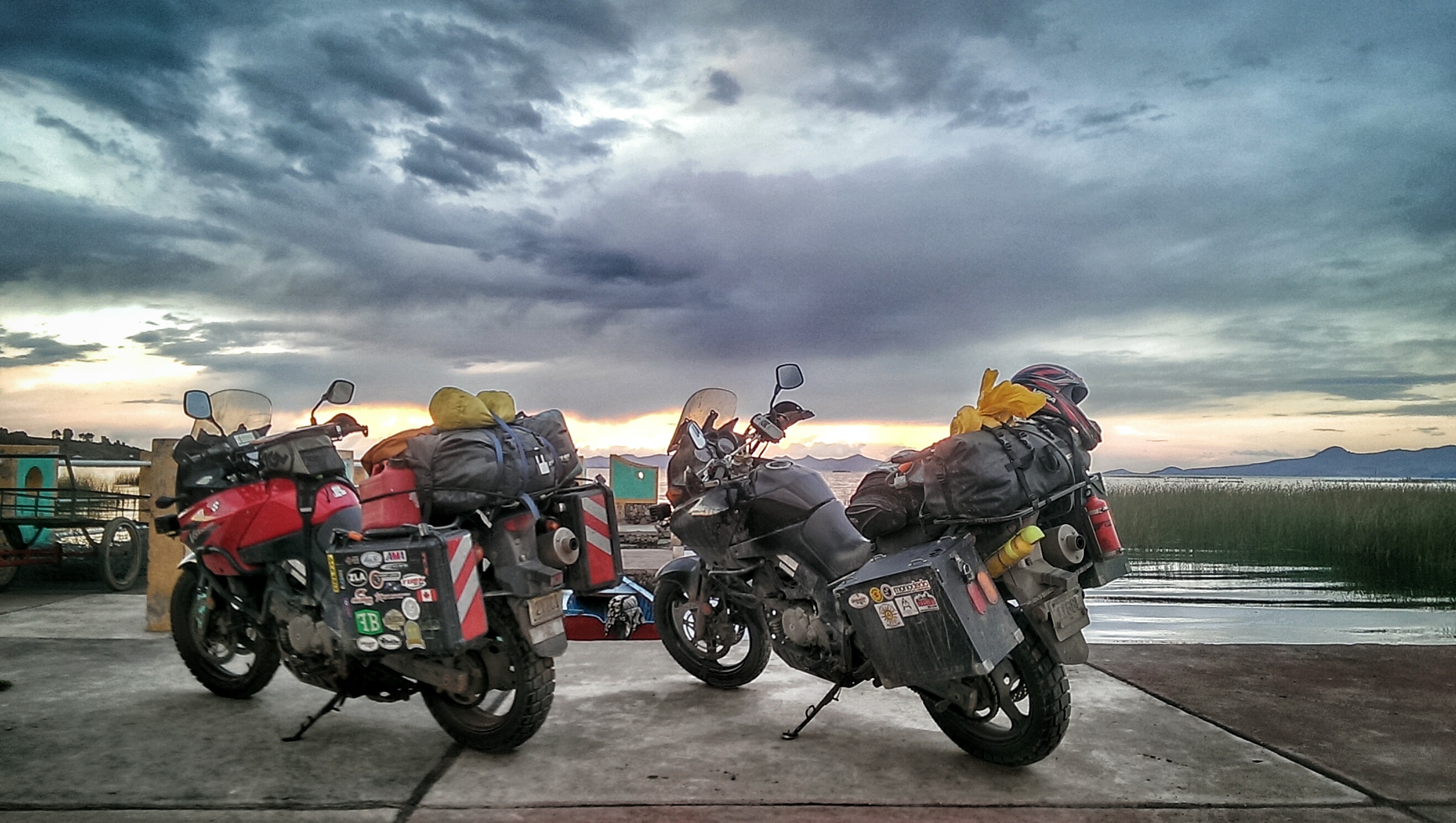 We ate food, found a hostel, got internet, and planned the next day. Bolivia at 8am.