The border to Canyon del Pato
We approached two small buildings on the Ecuador side of the border and saw no movement inside. Cautiously the five of us yelled in "Hola" and began to hear rumblings. A soldier came out followed five or so minutes later by a man that had clearly just woken up. They called another guy on the phone to let him know that five motorcyclists were crossing the border, there was work to do.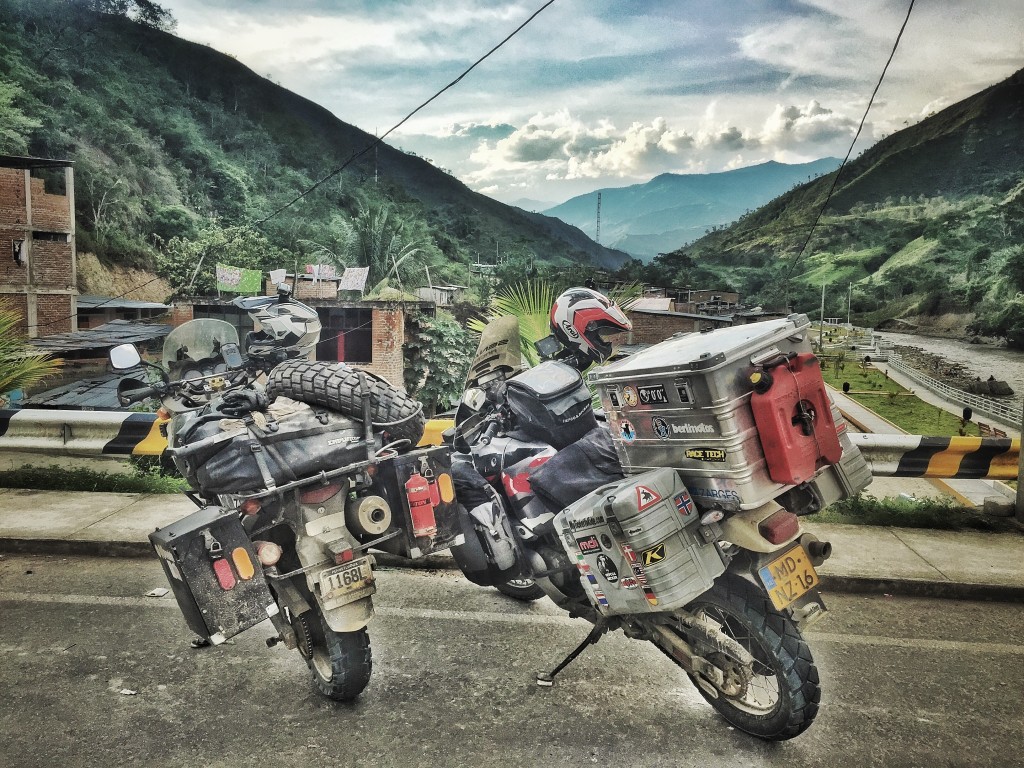 It wasn't long before we were riding across the bridge into Peru, where Roel, Azure, Tim, Matt, and myself stopped just behind the gate. We were greeted by the aduana and migracion employees, of which there were just two. One by one we funneled in to begin the process of becoming legal in Peru. This border was unlike any we had been to before. Tiny and no other traffic coming through, just us. The first office, migracion went by quickly, but aduana to get our bikes legal was a whole different story. Being that we were the only ones there, I think we all had expectations that it would be in and out. Two and a half or three hours later as the sun was beginning to set, we were finally all legal. Just needed to get our SOAT insurance in the first sizable city. Matt enjoyed that you could drink beer while waiting for your paperwork, I had frozen chocolate milk…typical.
Our goal for the day was to make it to Jaen but clearly with nightfall onsetting rapidly, we'd have to change our plans. So we rode south past San Ignacio and looked for a suitable location to camp. Now this task proves difficult on twisty mountain roads where there's usually nowhere to pull off and no where flat. As I check my rearview, I see Roel stop fairly abruptly and hear over the Sena that he may have found a spot. We all backtrack. The spot Roel had found was a narrow trail that went up a steep hill on the side of the road and then plateaued. It was about as close as you could get to camping on the road, and yet it was perfect. We rode the bikes up the trail and organized them so they'd take up the least space while also being hard to steal/close to the tents. During setup we were greeted by a handful of passerby's, our location was no longer a secret.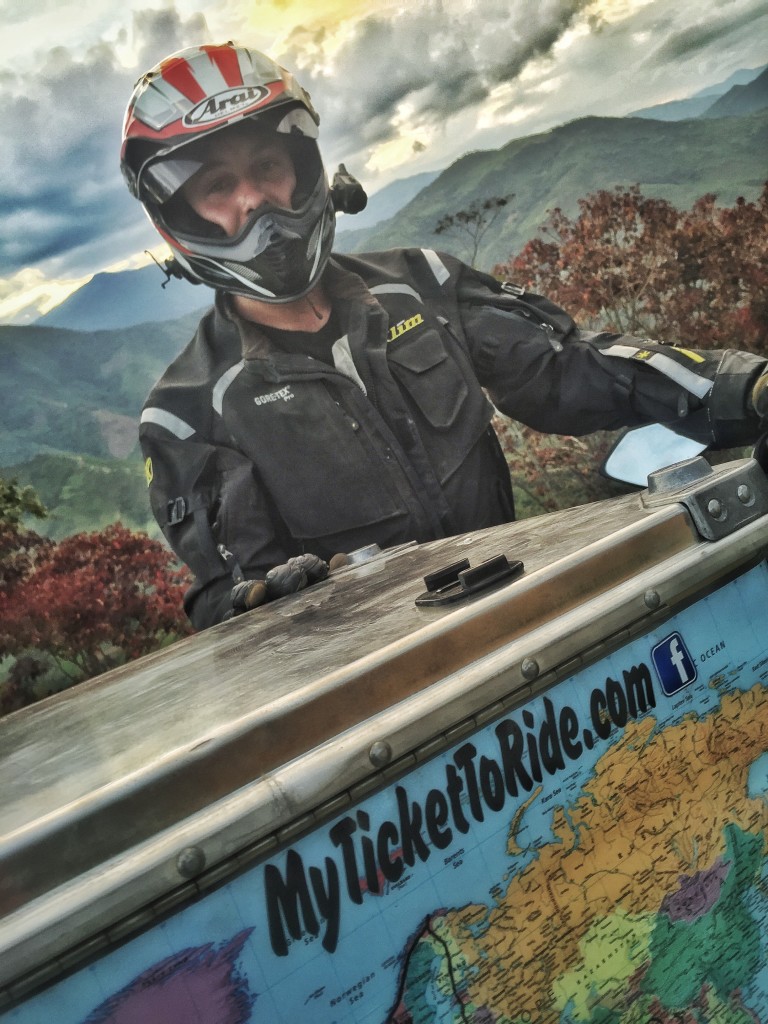 The bikes fit perfectly on a low part facing away from the road. In the morning we noticed a dirt path that led to a small village…oops.

The view of the campsite from across the bend in the road on a hill. Our tent blends perfectly in…
Morning brought about coffee, breakfast at camp, and the often arduously annoying process of taking down camp. We also added in some bike maintenance for good measure. My headlights had been consistently going out every couple of weeks due to corrosion and my bracket for my Rigid aux lights had broken the mounting bolts. Fixed right by the tent. With camp packed up, we rode down the slightly precarious trail, I almost took out Roel as he ran across to film my descent. Then we were off to Jaen.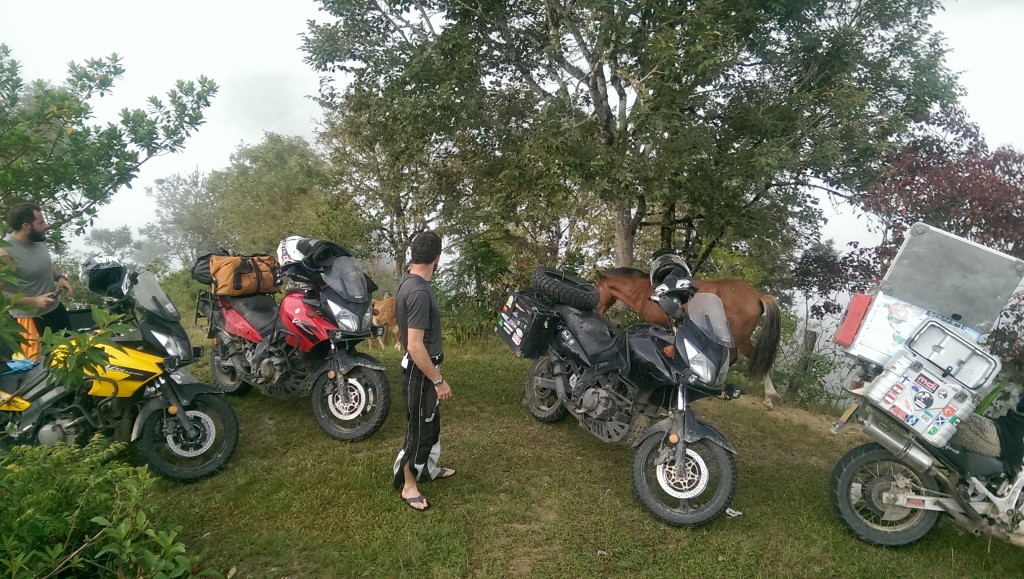 Jaen was fun to ride into. There were Tuk-Tuk's everywhere buzzing about. It didn't take us long to find the SOAT office which was conveniently located near a bank where we could obtain Soles, not souls. The insurance wasn't cheap but was necessary, and then it was necessary to load up our stomachs with some delicious almuerzos. After Lunch we were off to the Ruins of Kuelap, some 225km away.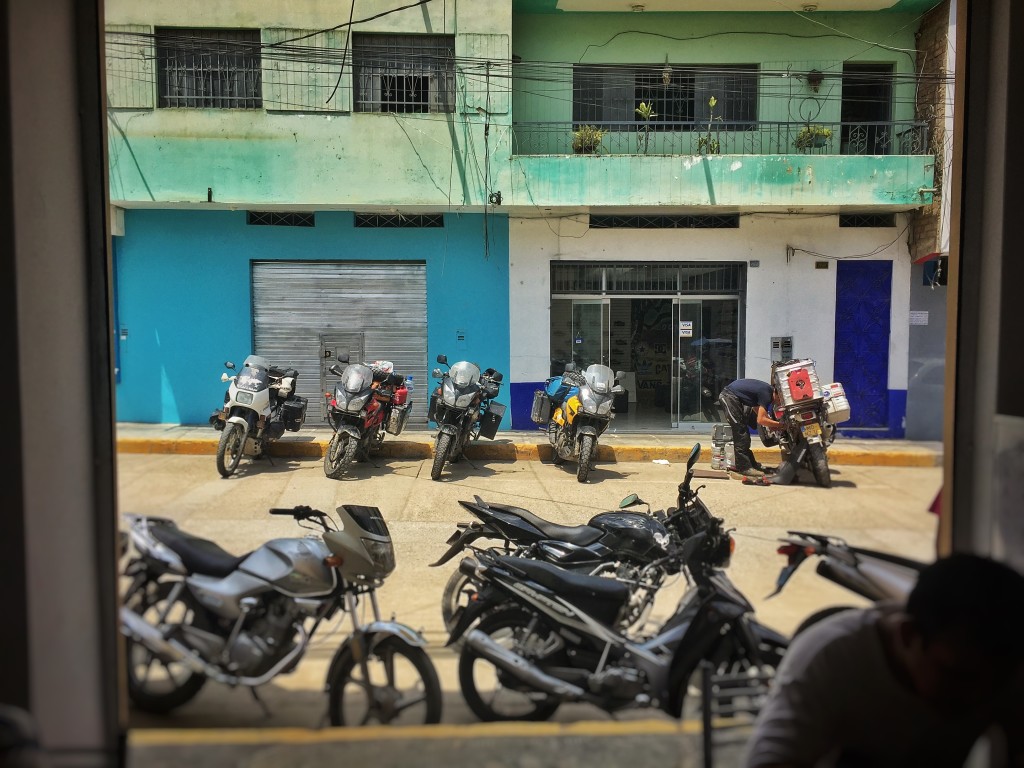 All the bikes lined up outside the lunch spot. Roel loves to work on his bike during lunch, then eat a whole meal in 3 minutes.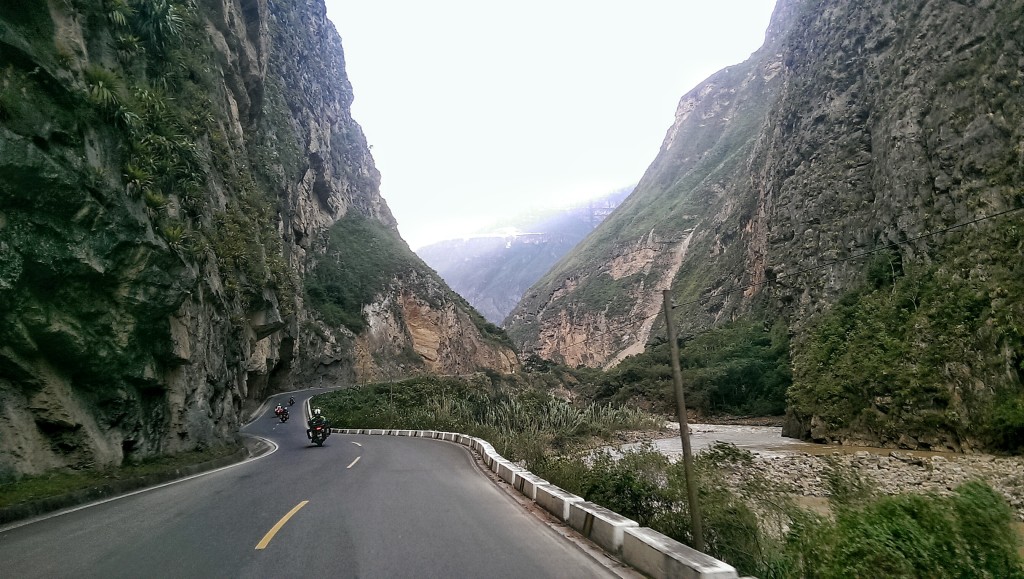 The ride to Kuelap was mostly really good, really twisty paved roads. Gas was few and far between
and we ended up paying quite a lot to get it on the way to Kuelap, so I didn't fill up (always a poor choice). A few hours from Kuelap we were stopped for construction when we ran into a couple onanother Transalp. Azure was clearly excited by this relatively uncommon experience. Aaron and Innes were also on their way to Kuelap and so 5 bikes became 6.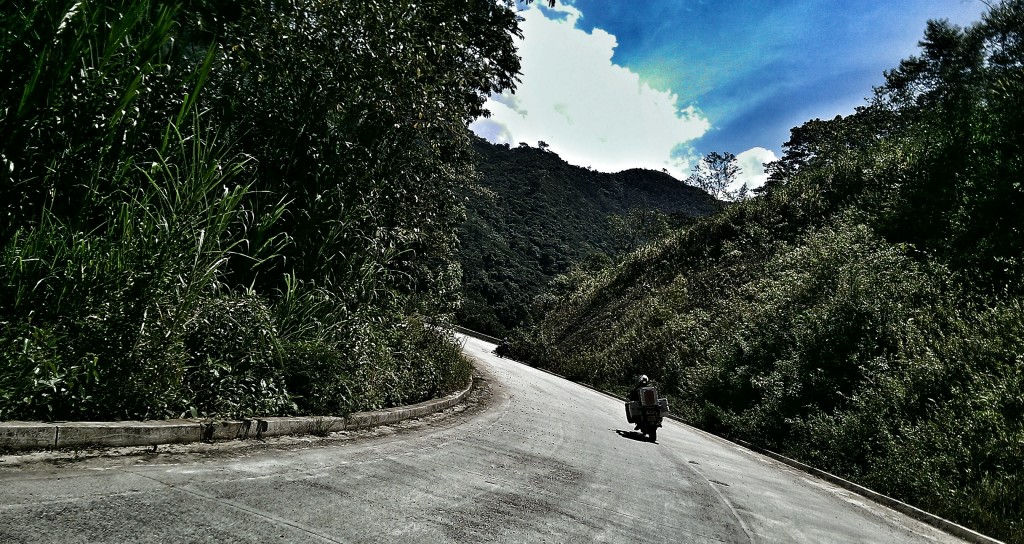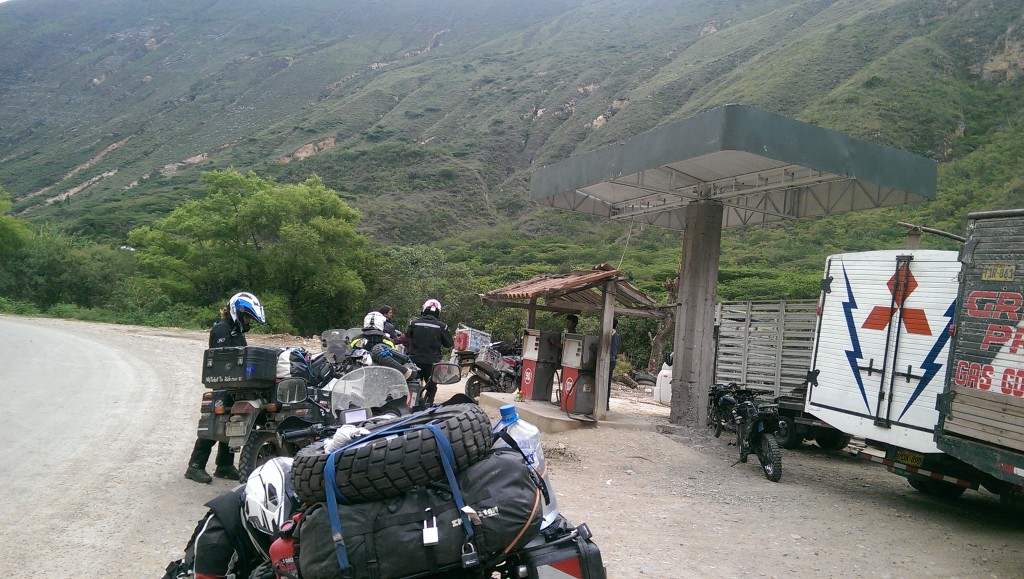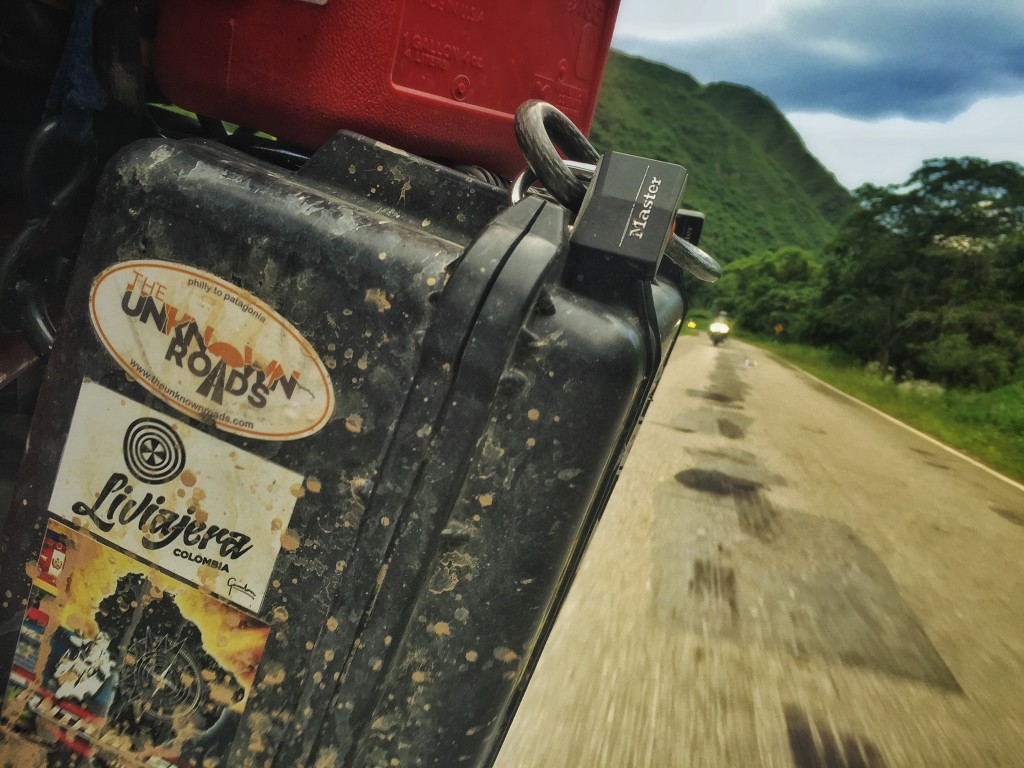 Tims getting pretty good at taking photos while riding.

Where the pavement ends outside Kuelap.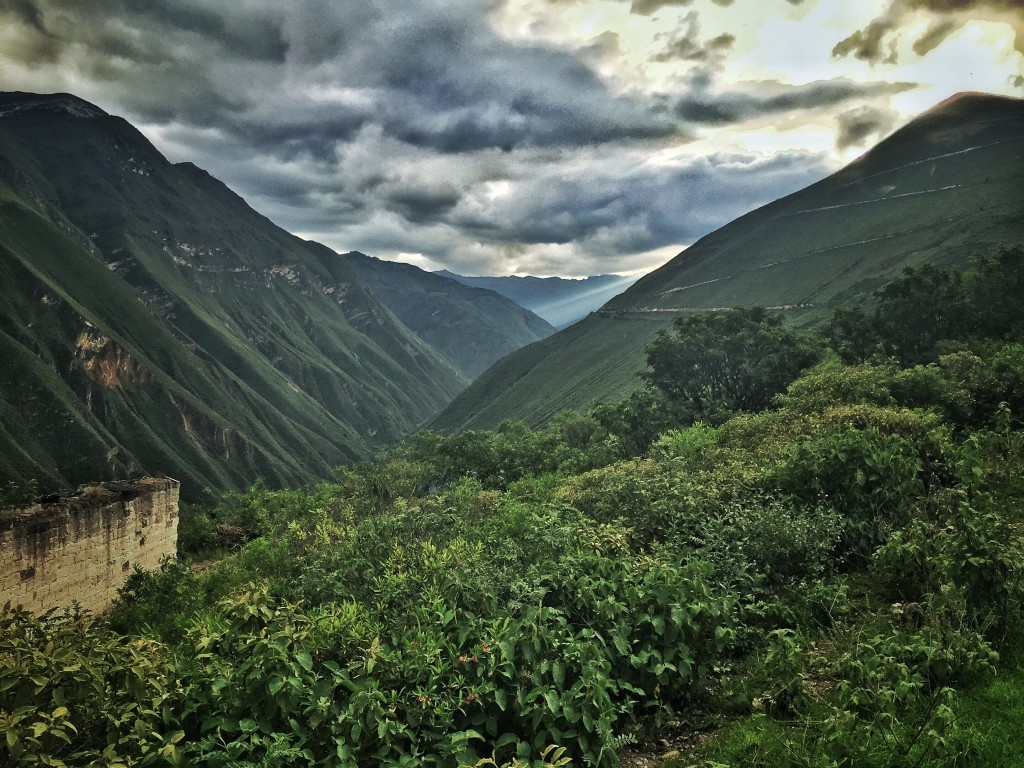 The pavement ends near Kuelap and then the rain came down, hard. Aaron dropped the bike twice but I think we were all impressed how well he was doing since he seemed to be a fairly new rider. It was dark and wet when we finally made it to the top. After some negotiations with the security guard, we were granted access to camp under the large overhanging roof in the parking lot. We were joined by a few guys in a Land Cruiser. A wonderful camp meal was prepared and shared. We all slept well under the roof. Luxury.
Bright and early we hiked up to the ruins of Kuelap which are often passed on by tourists. The ruins to me were such a strong strategic military advantage back in the day. The crumbling walls tell stories we'll likely never comprehend. It was great to have the opportunity to catch a glimpse into this unique history. Afterwards we ate some local food and then hiked back down to our bikes and made our way towards Cajamarca.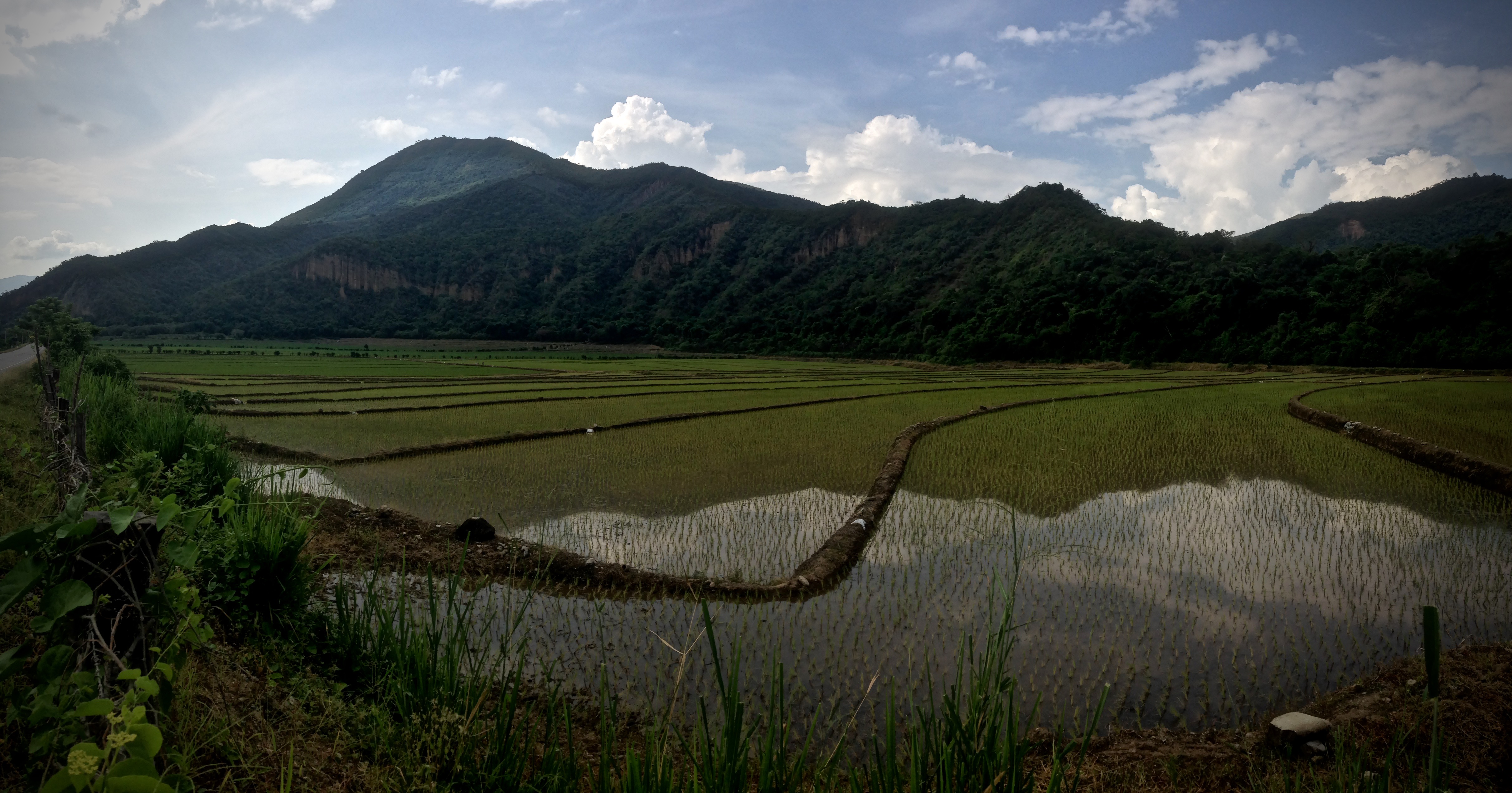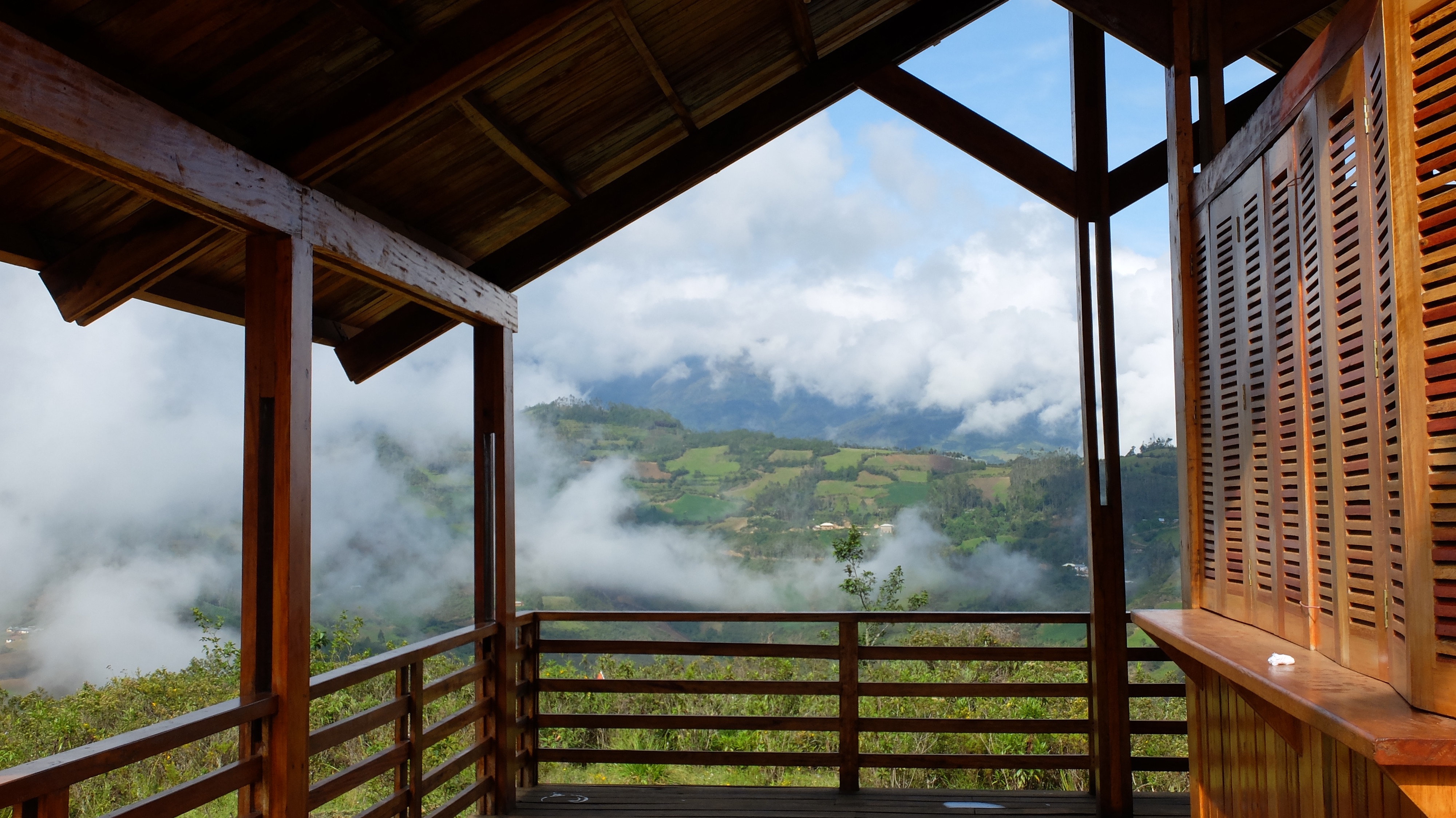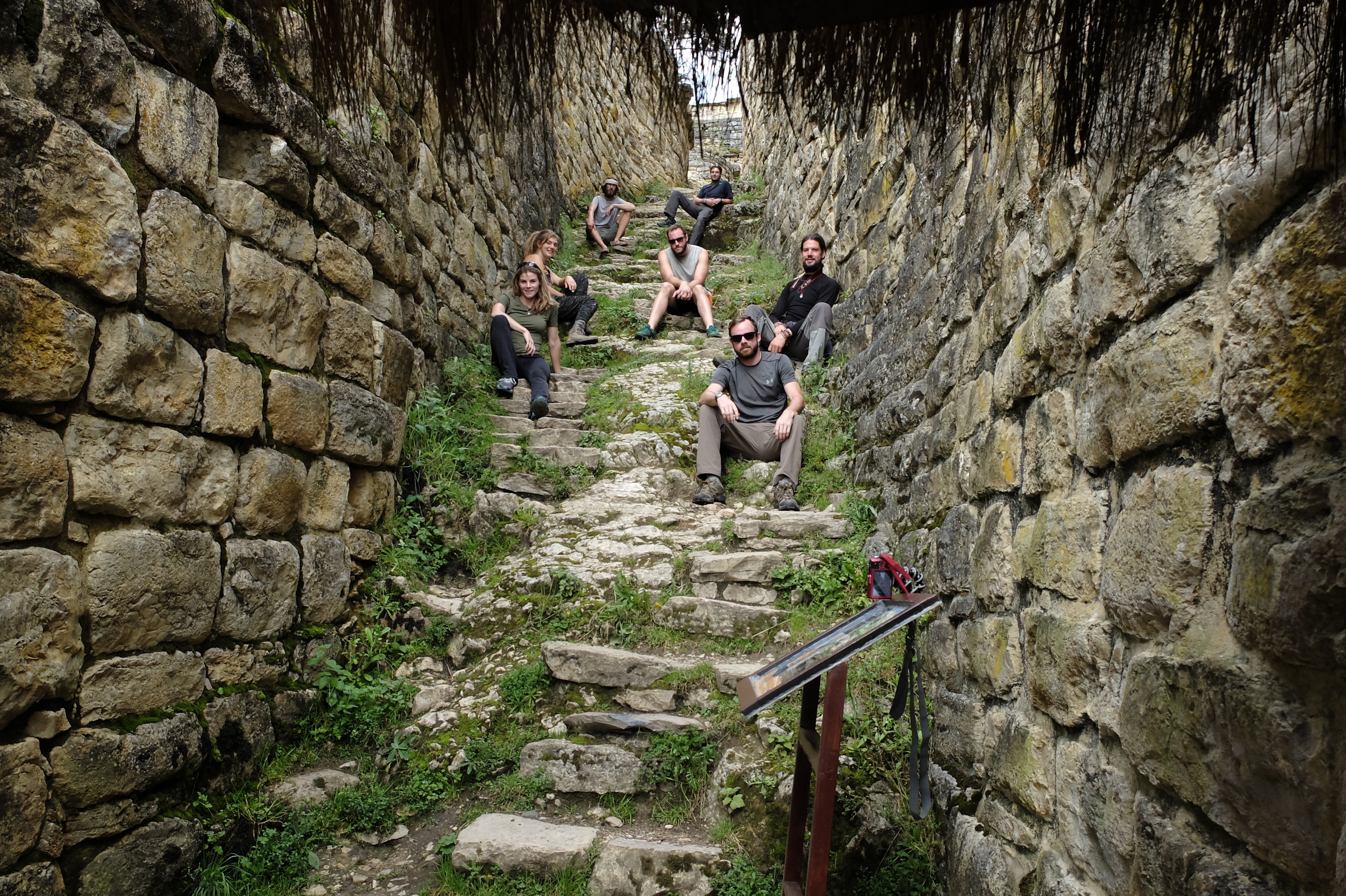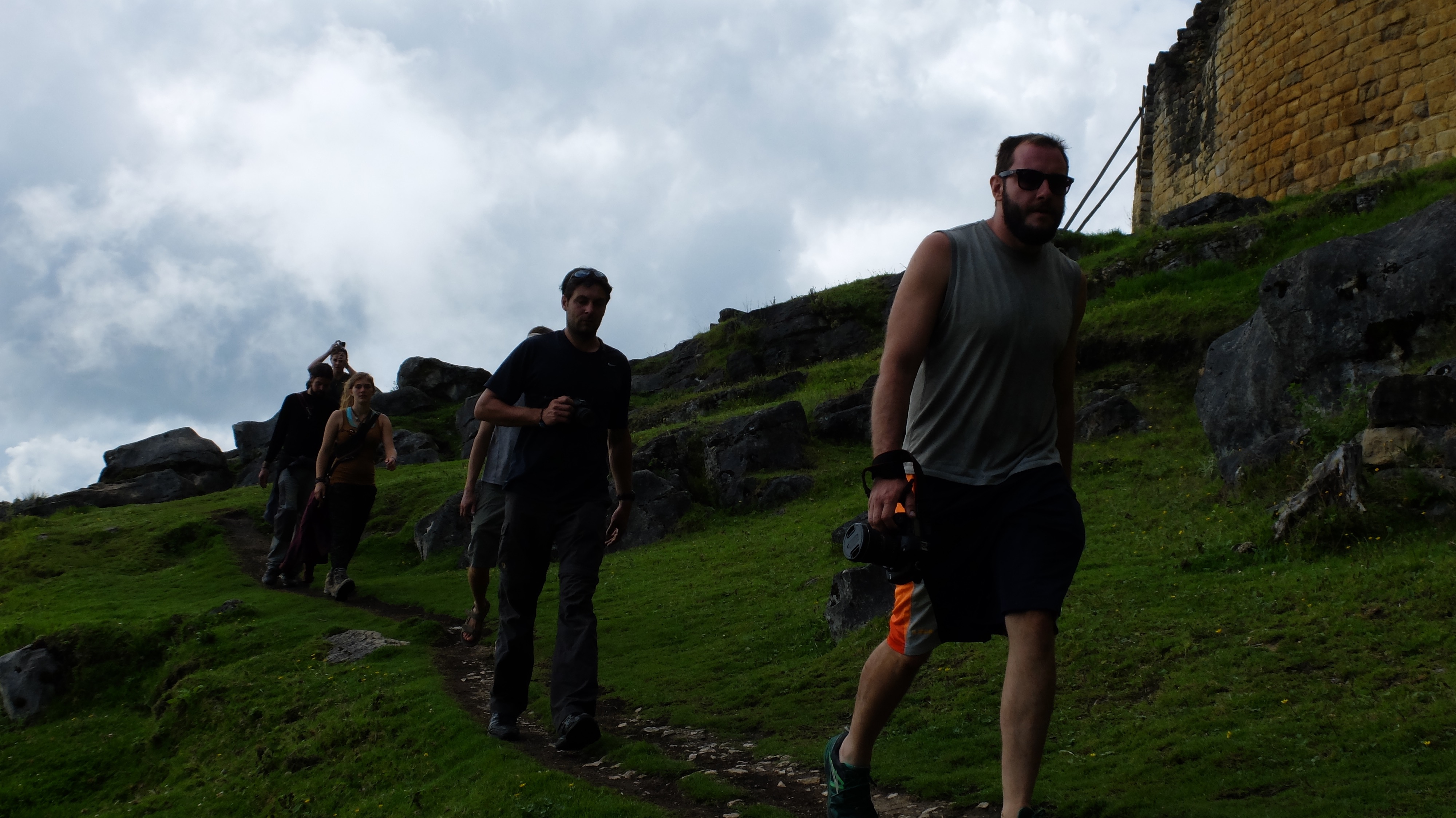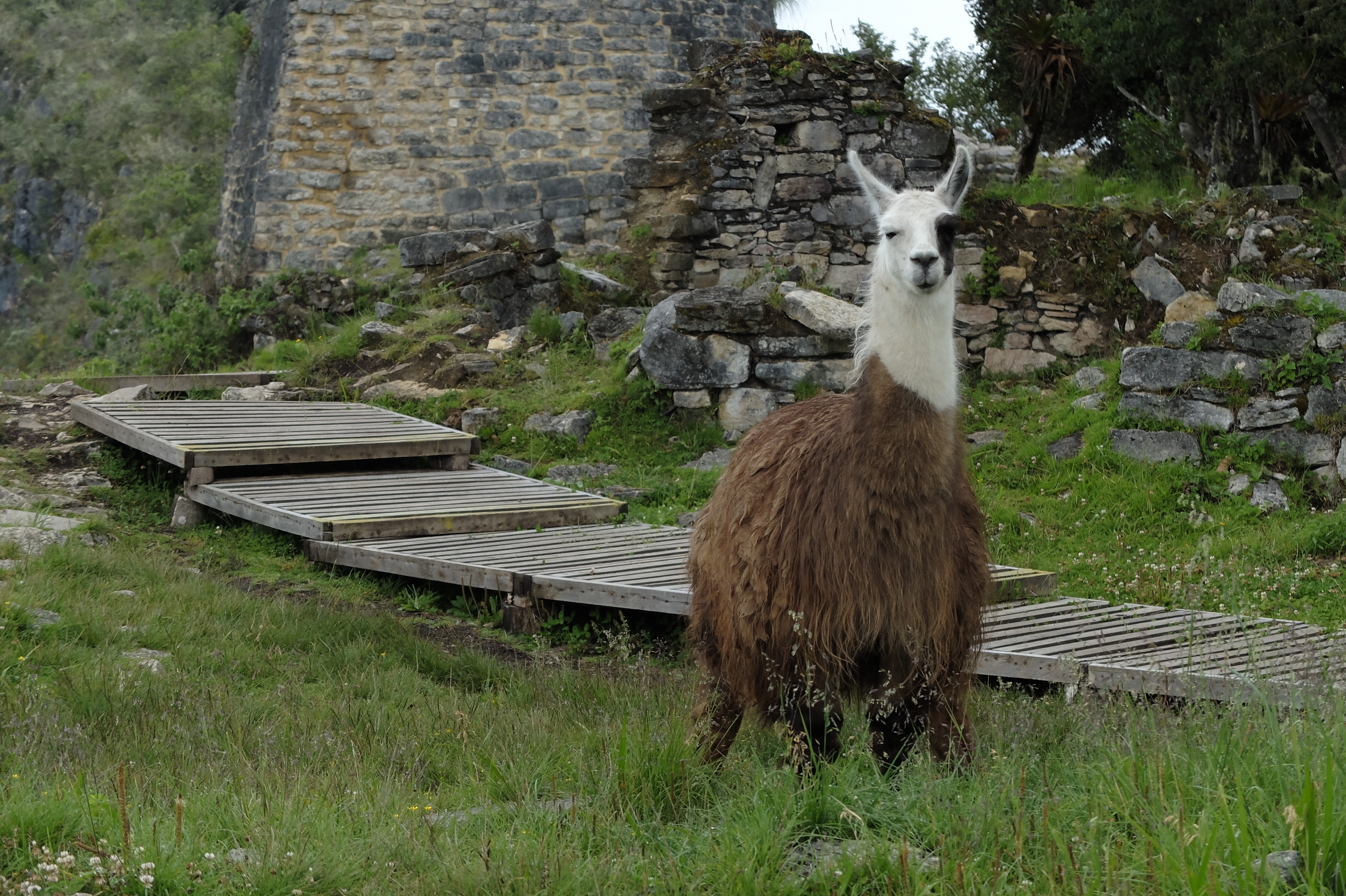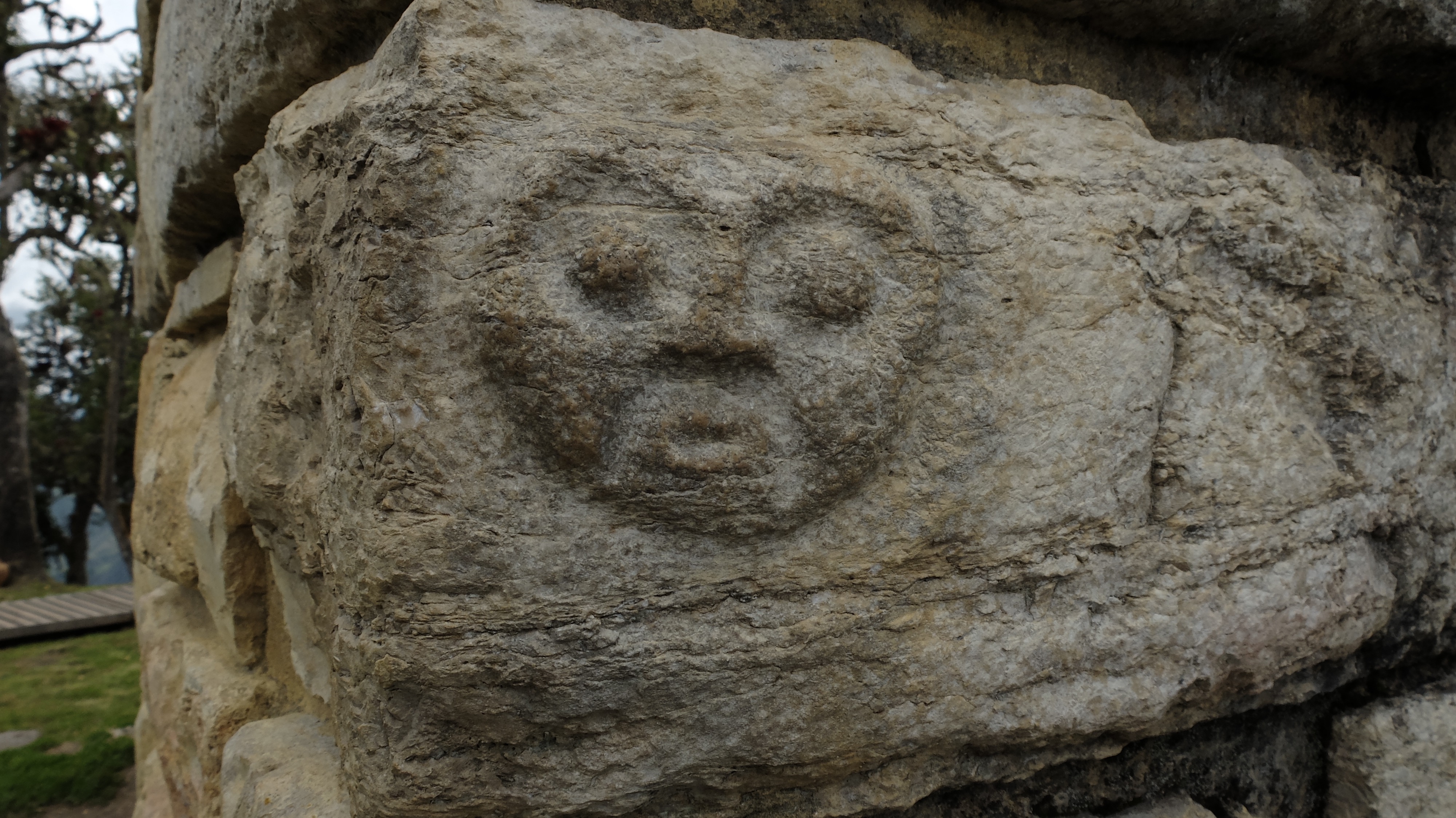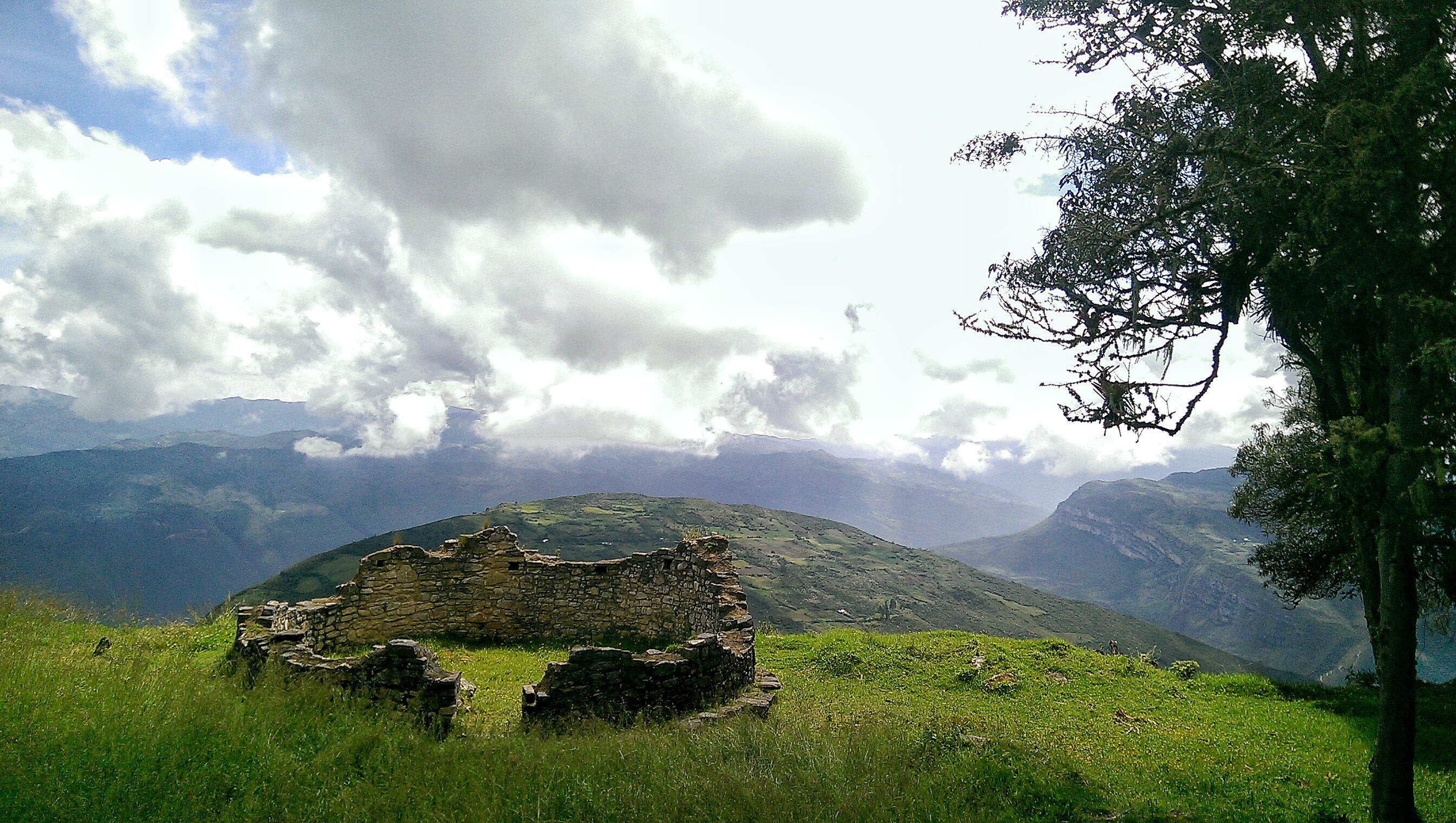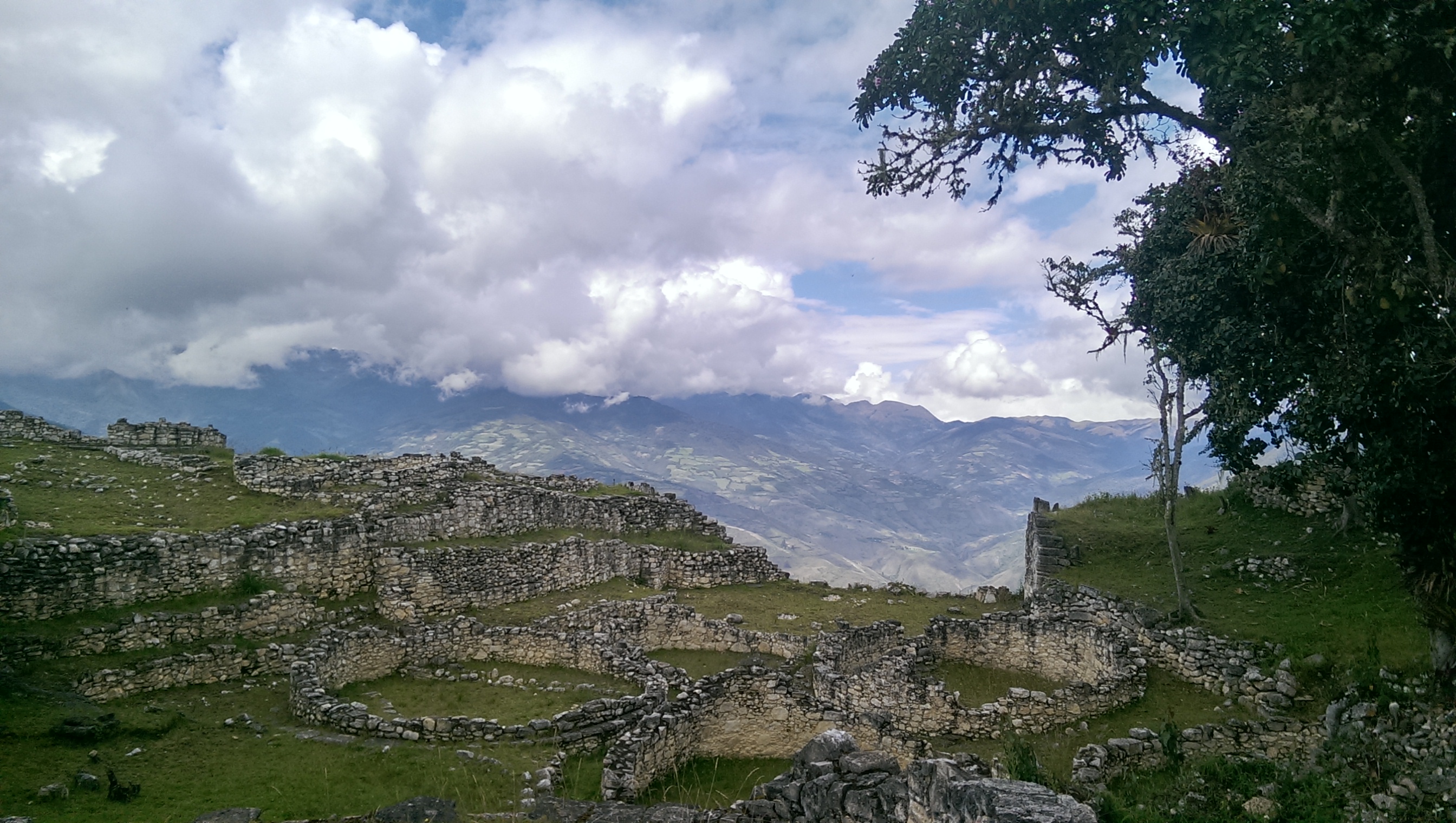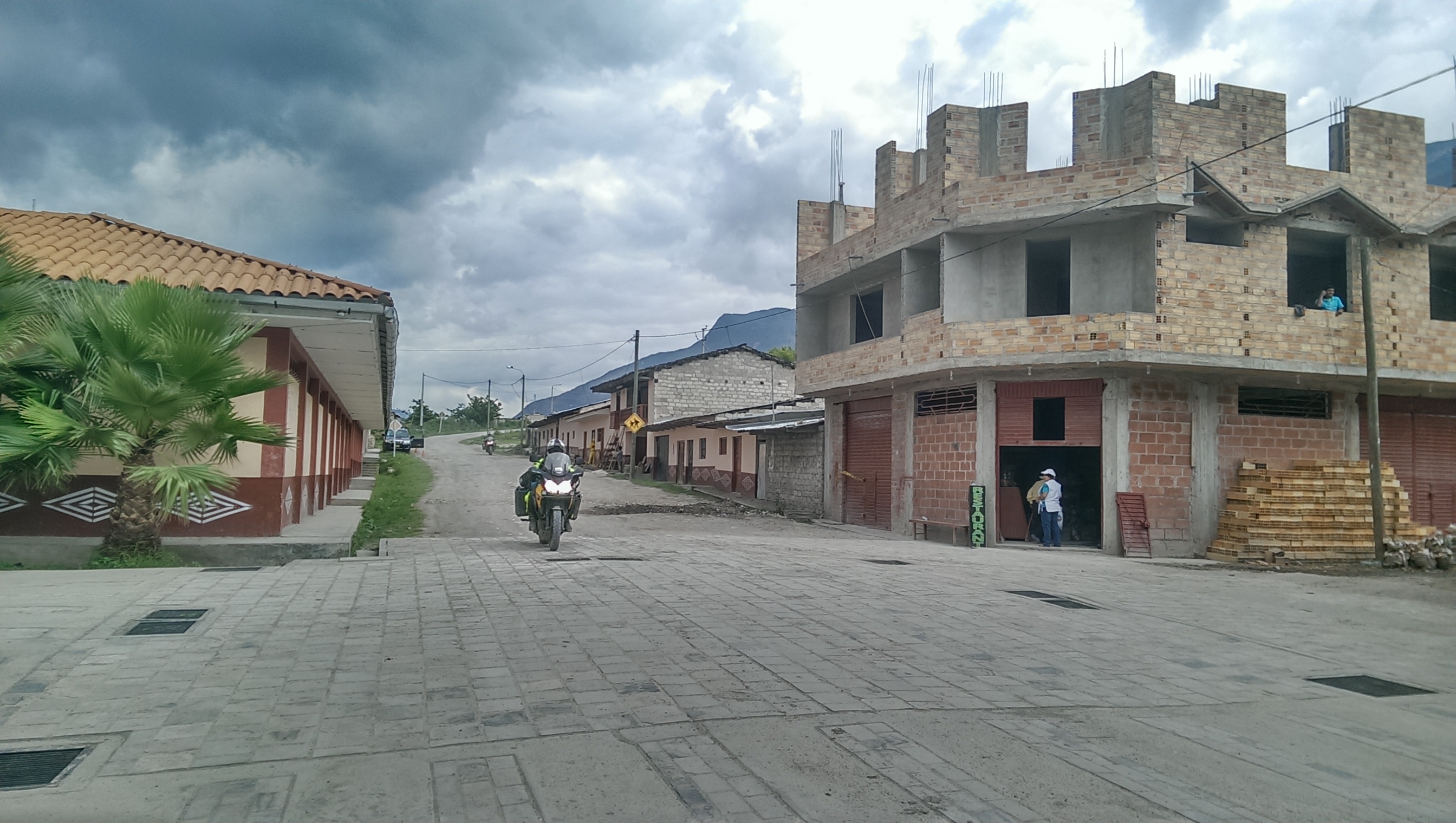 Kuelap wasn't exactly en route to Cajamarca so we had to do some extra mileage. Thankfully the roads between these two locations are literally incredible. Matt, Tim, and I often found ourselves racing ahead of the group to increase the lean, despite the obvious risks associated. It got dark before Cajamarca so we feverishly searched for suitable place to camp but came up empty. Tim went on ahead on a dirt road and came back saying there was a potential spot. It involved a steep, rocky descent and a river crossing.
The "camp" spot ended up being a hospedeja which we've learned means anywhere with an extra bed and a toilet. After some negotiating, five of us made camp in the parking area while Aaron and Innes stayed indoors due to lack of tent. Our negotiations required us to have breakfast there which was pretty good, and to each have a beer in exchange for camping free. Back across the river, up the ascent, and onward to Cajamarca. Right as we hit the pavement it was covered in gravel and Matt took a fairly hard digger but was thankfully okay.
The ride to Cajamarca continued to be just as epic. The quality of the road in some areas was excellent and so the pace increased. My hard cases may have touched down once or twice. By lunch time, the 7 of us were in Cajamaraca getting lunch at the first and most obvious place for us to all link up after getting a bit separated. Then we used the questionable app iOverlander to find a hostel with motorcycle parking.
We settled at [insert name] hostal mainly because it had a large parking are and well, six big bikes take up some space. A rarity in most places. The rooms were basic, the bathrooms fairly ratty, and the WiFi, spotty. Perfect.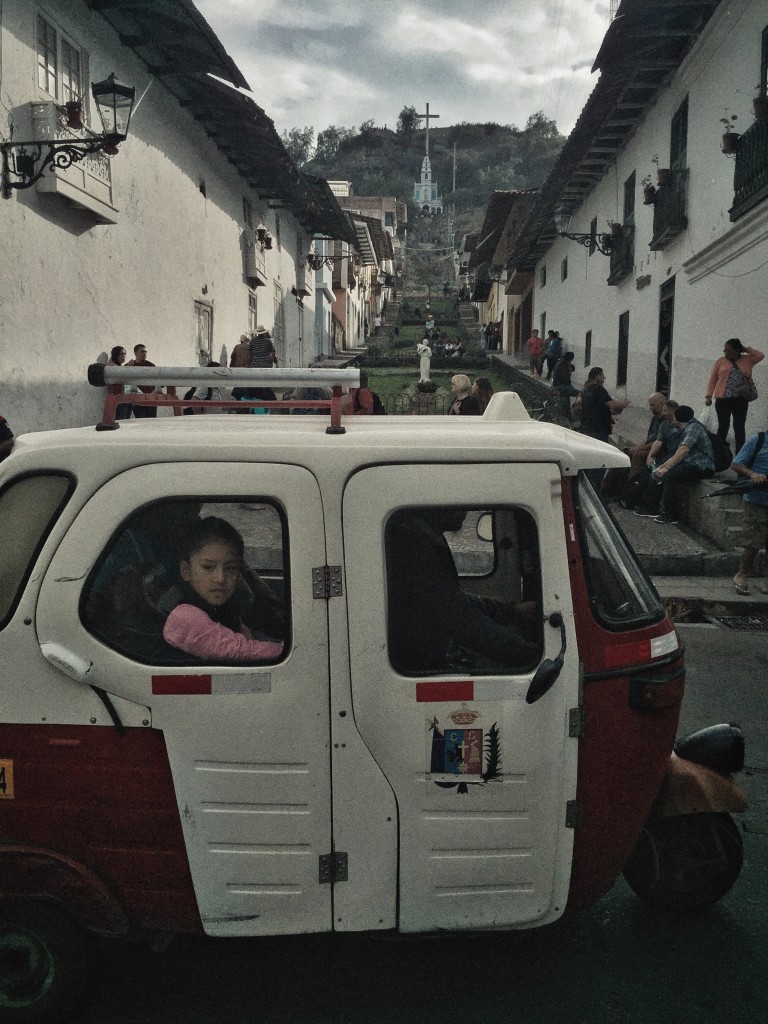 There was a large cross on a hill overlooking Cajamarca. I(Matt) decided to hike up in moto gear and take in the view. It was a touch farther than it looks, especially in full gear.
Cajamarca didn't leave much of an impression on me. We used the opportunity to work on blogging, video editing, and lots of bike maintenance. We did of course roam the small city, indulge in the food, including an ice cream shop called Holanda which was fitting since that's where Roel is from. It was the scene for a special day, Tim's birthday. We celebrated with dinner at one of the best places in town, some of us even ate Cuy (guinea pig). Afterwards we indulged in the cake that I had gotten earlier in the day, drank mimosas, and just enjoyed one another's company.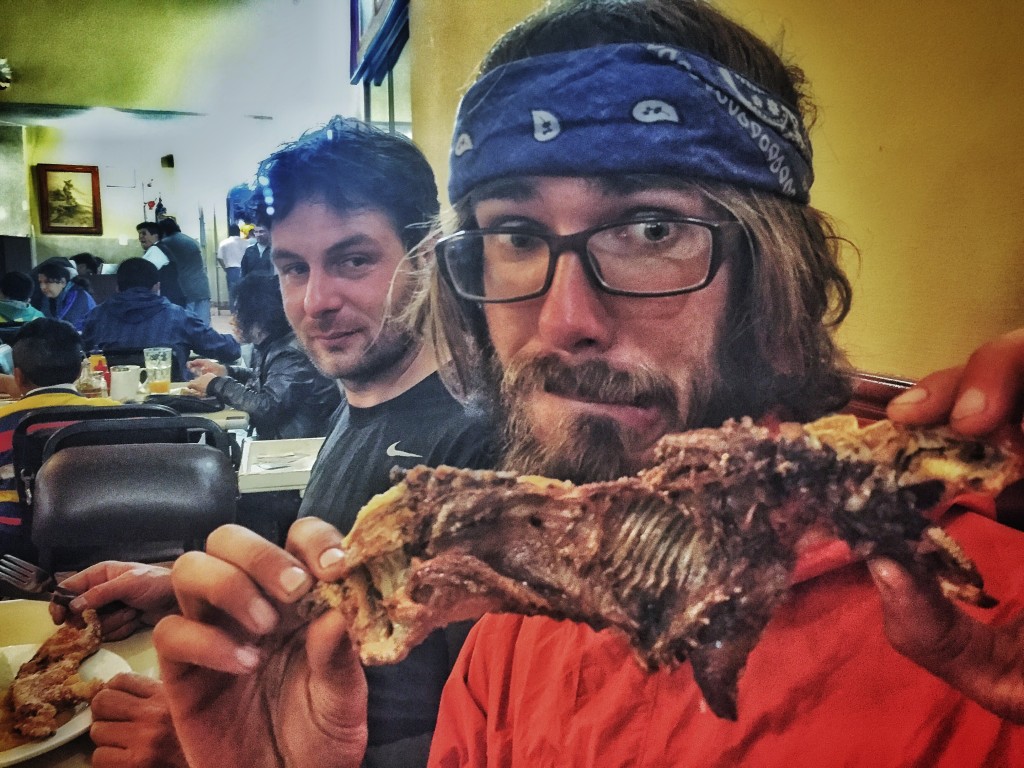 Tasty…eh? And full of meat.
Leaving Cajamarca should have been easy. We had no attachment to the place. But a discrepancy in the price caused the hotel staff to close the garage door on us. Many back and forths, attempts to leave, etc. No avail. Ultimately we got the price down a bit since the internet didn't work for an entire day, something we really needed at the time. This was also the time when we said our goodbyes to Aaron and Innes. Unfortunately the well-traveled Transalp they had recently purchased had the seal on the rear shock fail. It turned into a pogo stick. They now had to source a shock and work on some other odds and ends.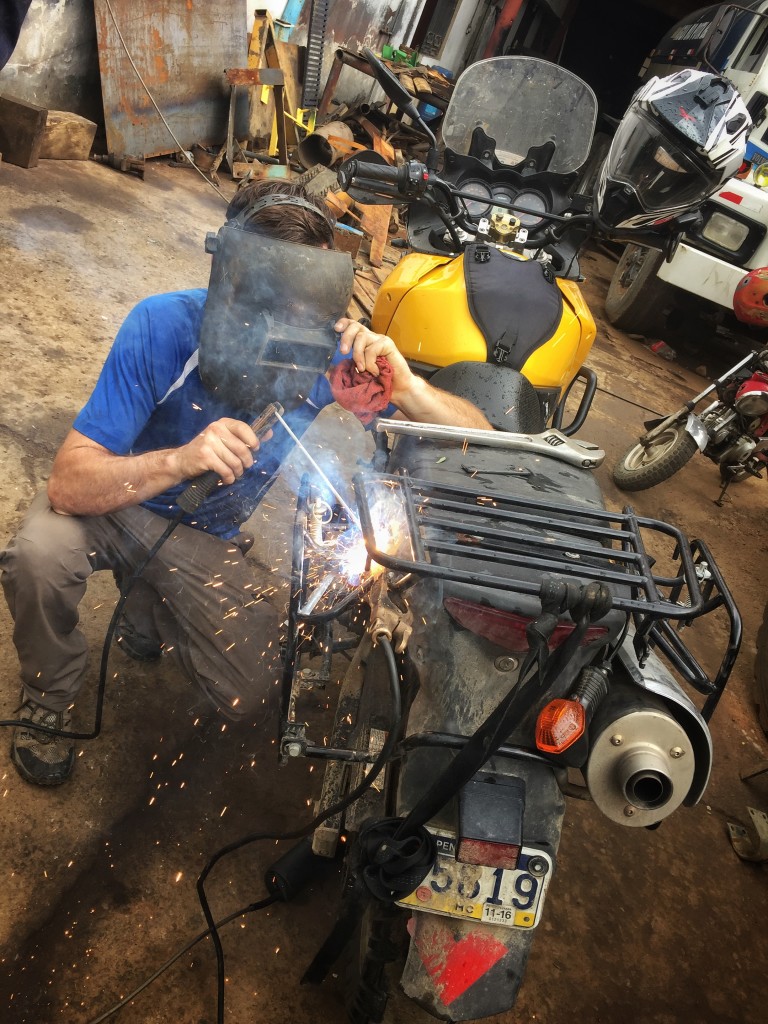 We can't leave any town before checking out at least one metal shop right?
We made our way towards the coast in the direction of Trujillo. While there were more scenic routes, we wanted to cover some ground and mountain passes just aren't the right strategy for that. Our only stop was for some construction where we were able to sit and have a snack. It wasn't long before we made it to the coast. From then on it was straight and fast. The coast of Peru we passed was moderately depressing. Crumbling shacks built on unstable dunes. Litter lined the roadways. Trujillo, a relatively large town was a gas stop for us, and then we pressed onward.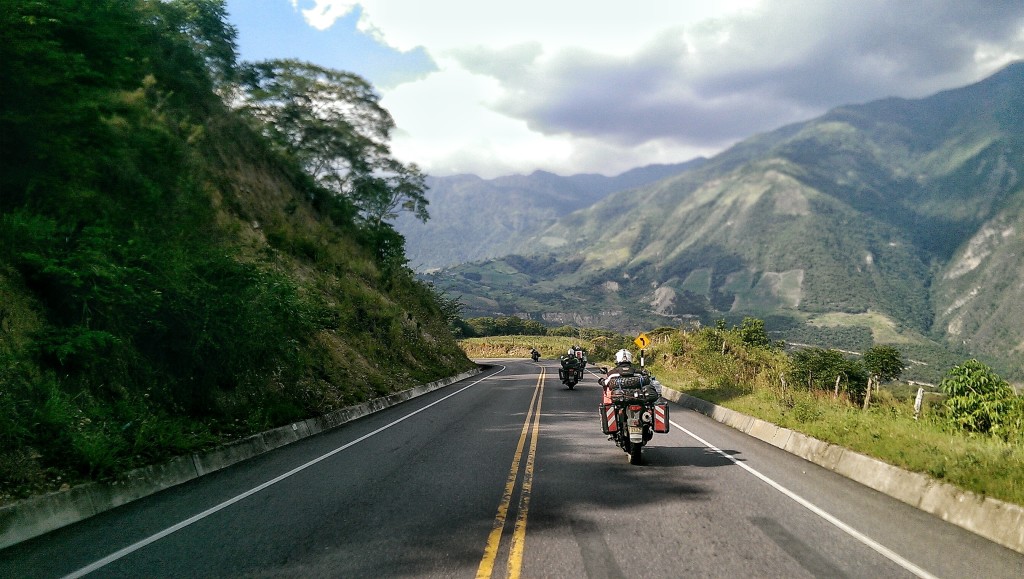 We were ultimately trying to get to Huaraz via Canyon del Pato. Before sunset we got off the highway and began heading inland via dirt. We passed through an active mining area and then hugged the river keeping our eyes peeled for potential campsites. I wandered ahead while Tim scouted out a site closer to the river. When I returned, I shared news of a cool collection of buildings in various states of repair that would be neat to camp in. I think people had flashbacks to "The Hills Have Eyes" because we ended up near the river.
We cooked past for dinner that night, with some avocado and veggies mixed in to keep us healthy. Along with our pasta, we split a bottle of wine that Tim had picked up, which was surprisingly good. Unfortunately the good times were hampered by incessant mosquitos, compliments of the nearby river. We all retreated to our tents, doing our best to keep the bastards from entering with us.

Ok this photo doesn't really show the river…but its to the right of camp I promise. And I'm pretty sure that grass to the left is a thriving mosquito breeding ground.
Morning brought about mouthfuls of granola before we climbed back to the road and began taking turns eating dust. The road to Canyon del Pato was kind of like riding through the landscape of Tatouine from Star Wars. A desolate rocky landscape that was still quite beautiful. The road meandered it's way along a river, the edge always close by. After awhile the sun was shadowed by tunnel after tunnel. The center of the tunnel made up of loose gravel which combined with the instant darkness made for a fun experience.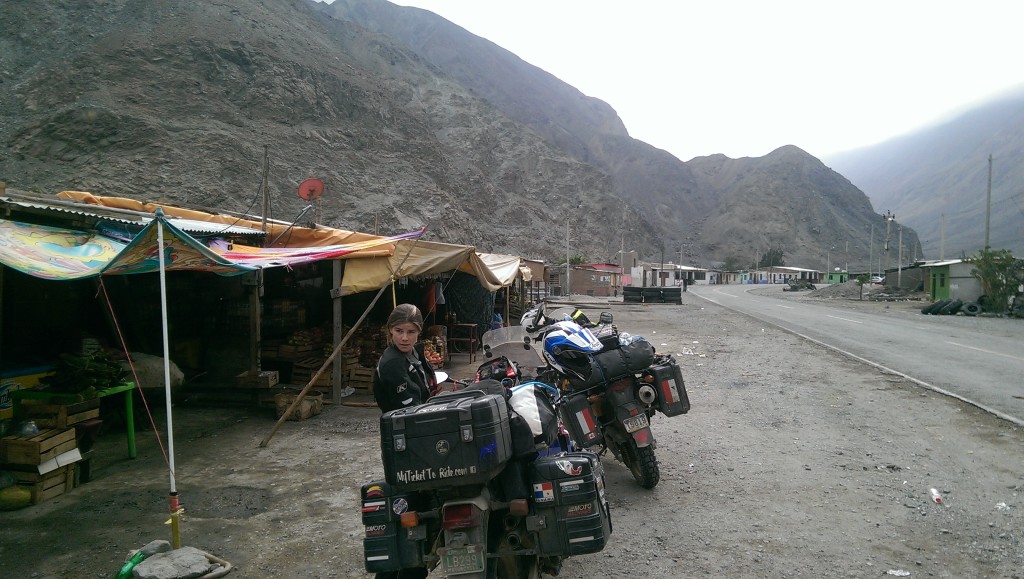 It got real desert like….real fast.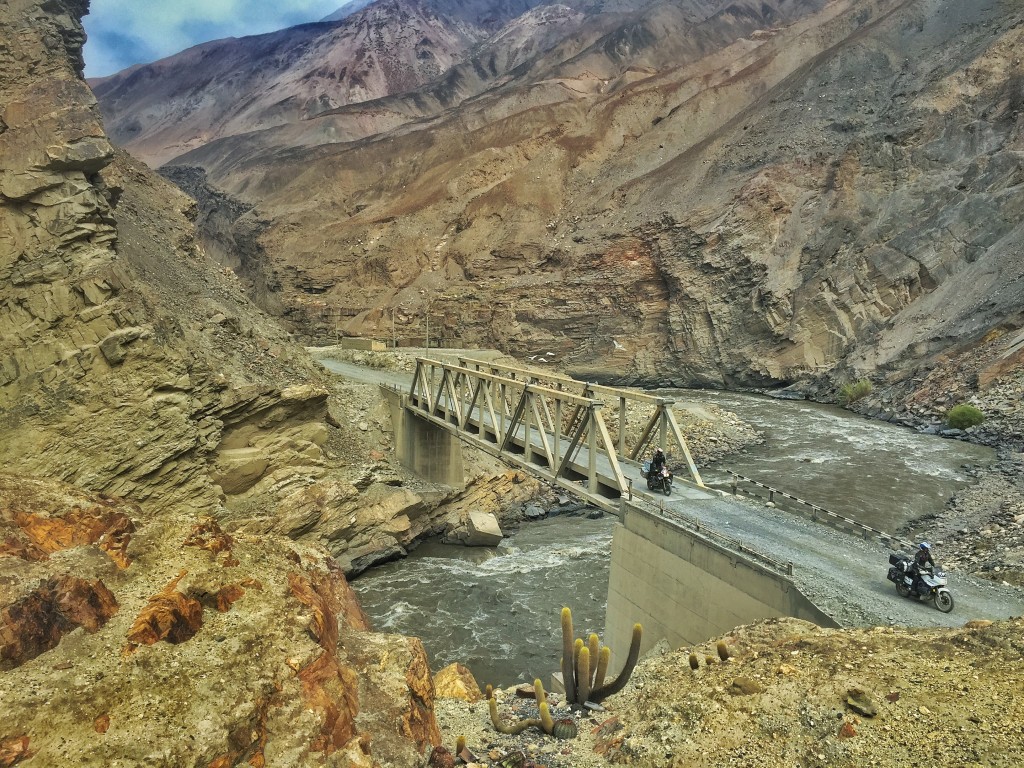 Roel, Azure and their Hondas cross the bridge, as birds fly… so John Woo.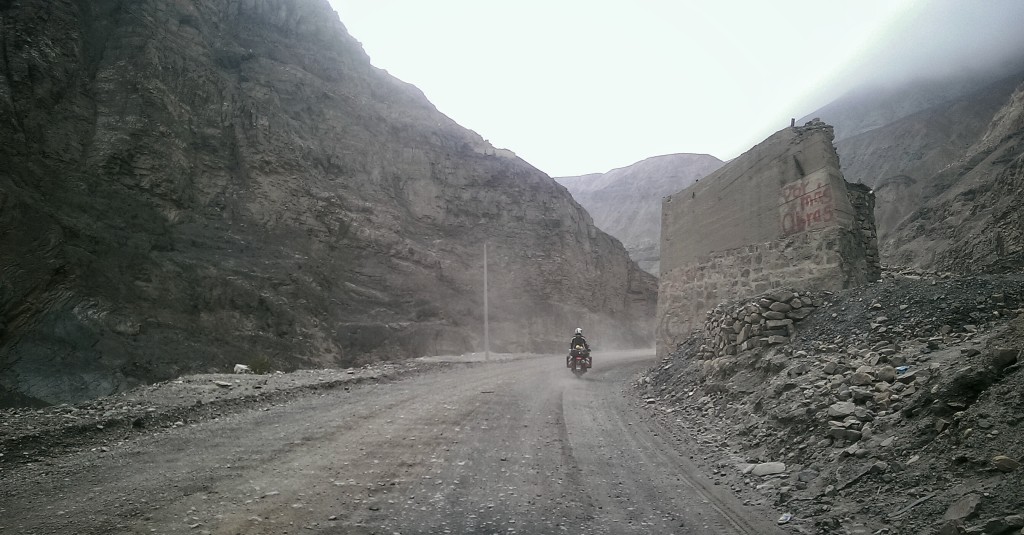 Eventually, Tim, Matt, and I saw a bridge going across the river which we simply had to follow. On the other side was a tunnel going into the mountain. We walked in wearing our riding gear and helmets. The security guy was simply too surprised to stop us and so we made it a couple hundred meters into the mine before being told we had to leave. It was pretty hilarious.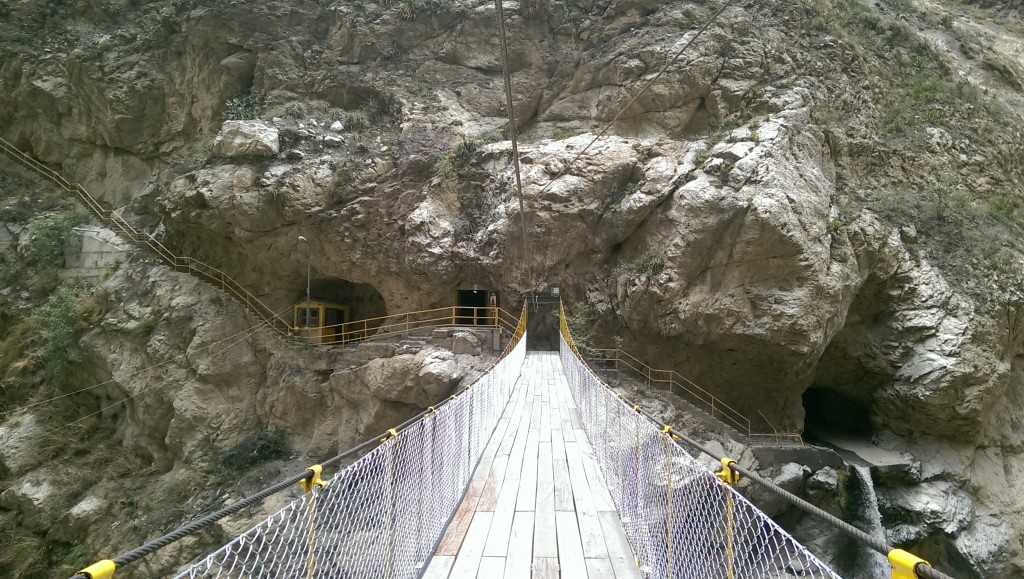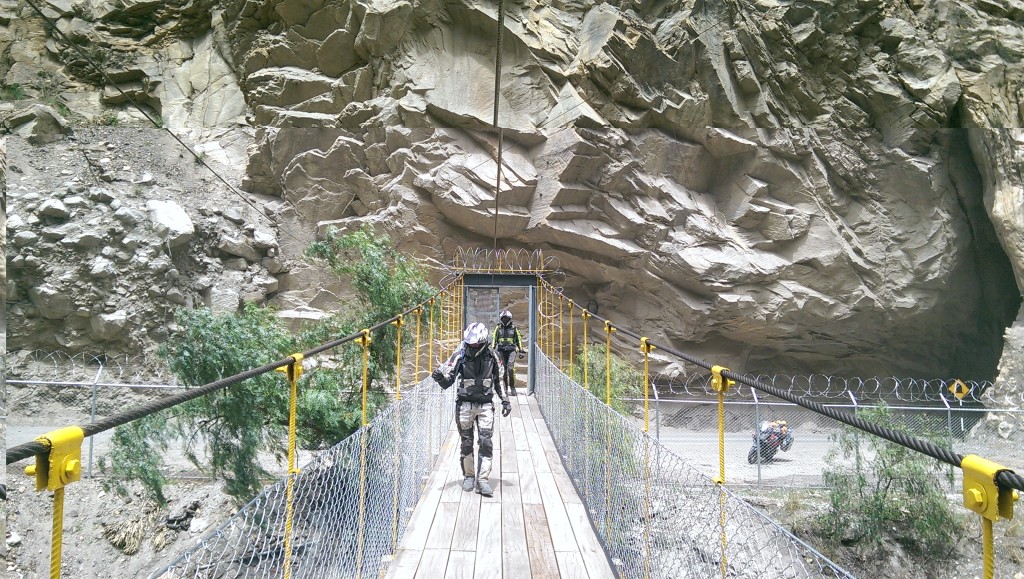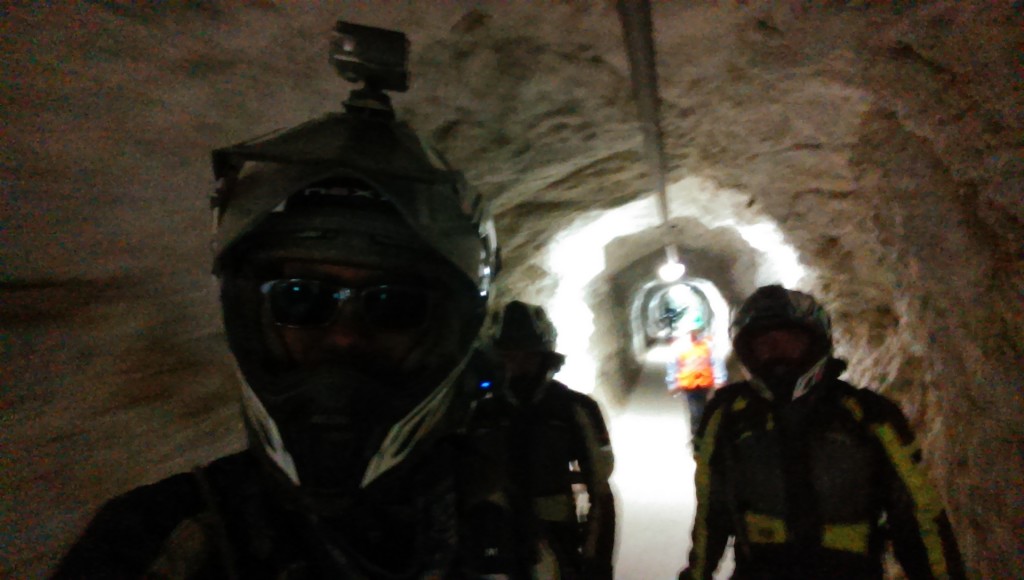 We made it to the gateway to Canyon del Pato or Canyon of the Duck. The amazing tunnels continued. We must have went through nearly 100 that day. It's impressive to think of the feat it was to build that roadway which seems to mostly exist for mining and now hydroelectric power.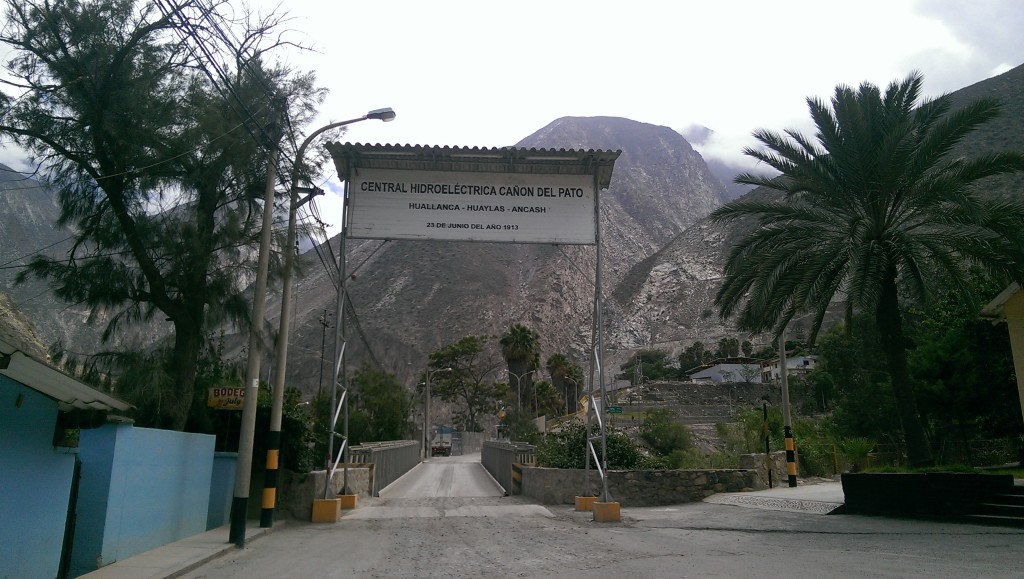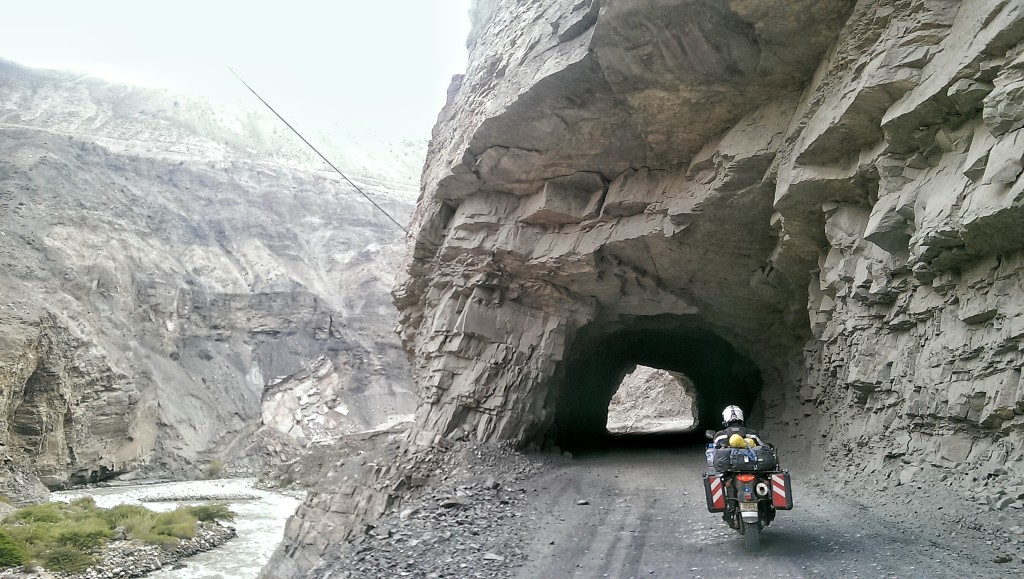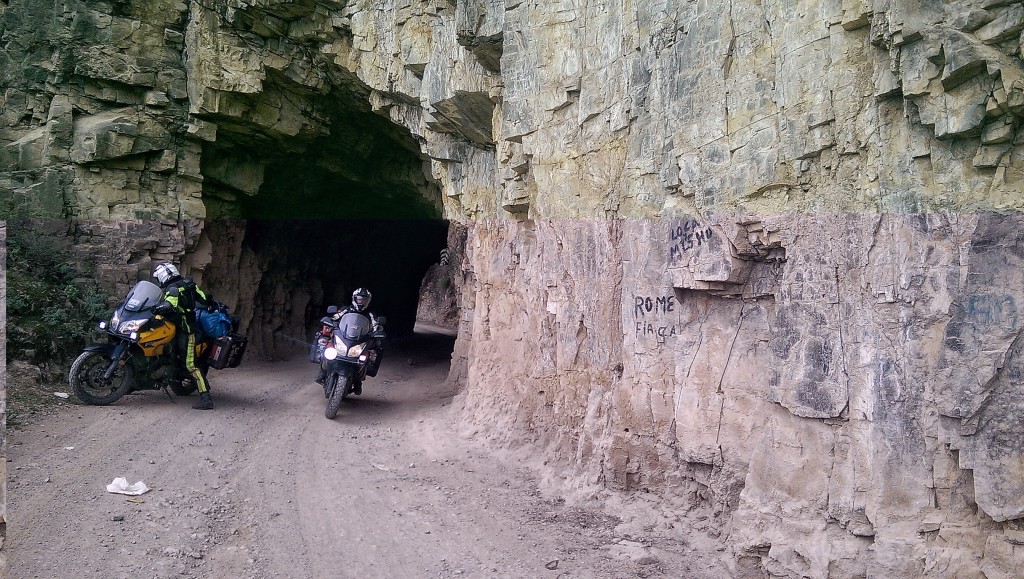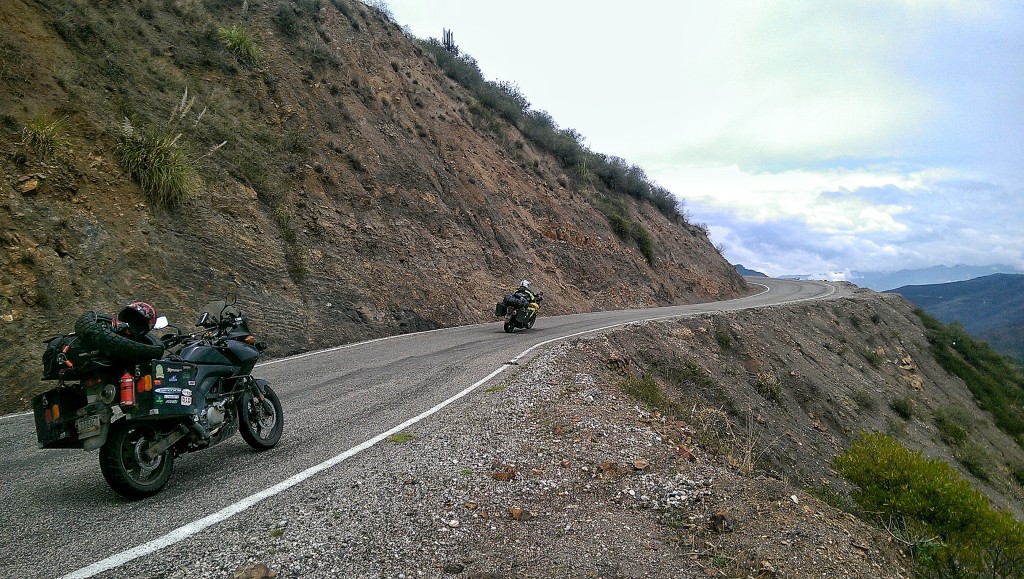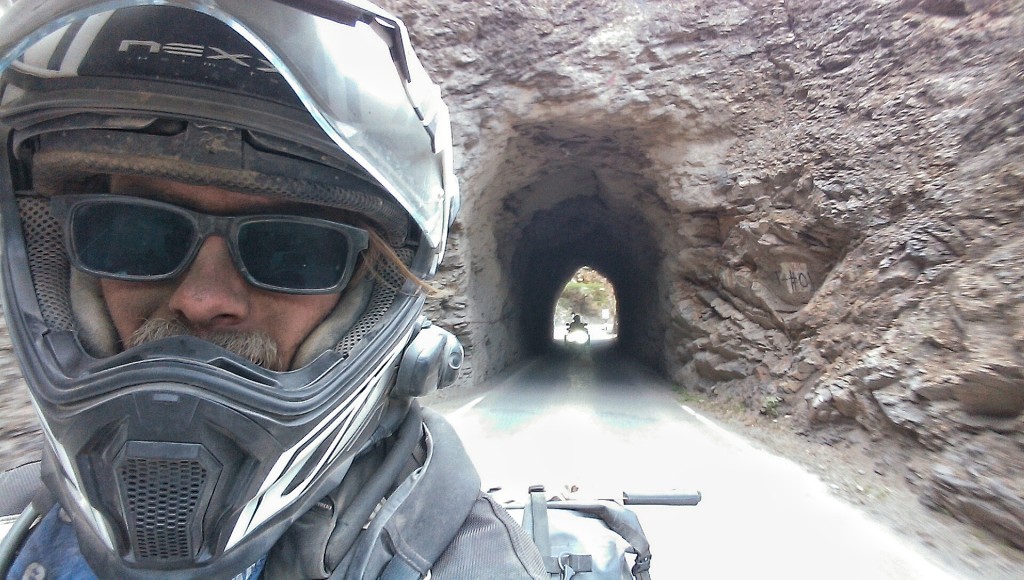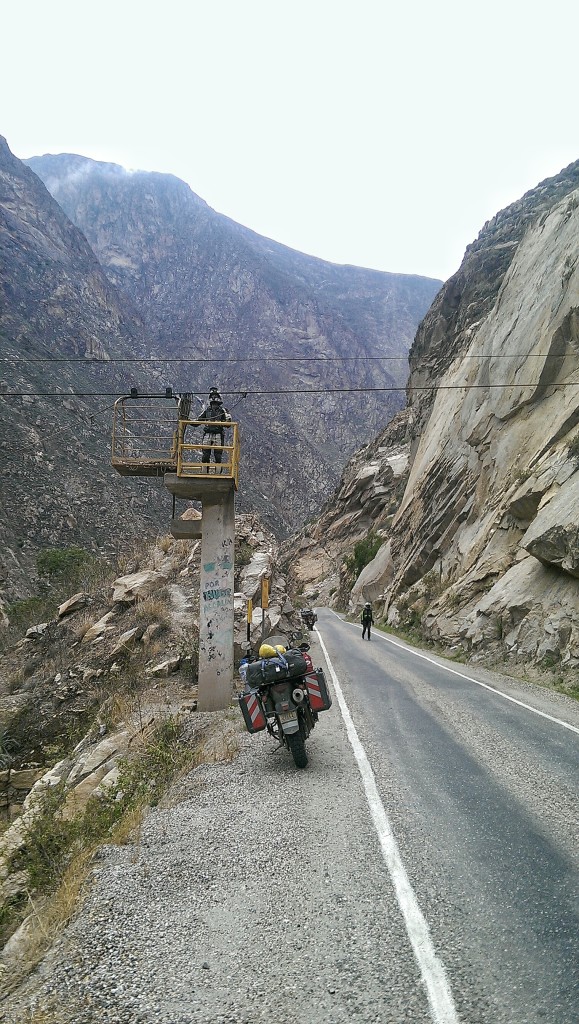 Tomorrow, Huarascan.