I left my house at 4:36am, arriving at the WaWa nearby to get my start receipt and have my roommate sign off on the witness form. At 4:49 it's kickstand up and I am immediately on Route 95 South heading for Maryland. There is ZERO traffic. 50 miles in, I have passed through Deleware and am now in Maryland. This is when I realize that I still have over 1000 miles to go since my route is 1100, kind of a defeating feeling. I'm glad I layered up since it was quite a brisk morning, thick frost on the hoods of every car I pass. My first stop is about 180 miles in. I drank too much water and this is as far as my bladder can go (this becomes a theme throughout the day).
For the remainder of Maryland I fight a headwind and hills that take my mileage into the low 40's/ high 30's at some points. I was surprised by how pretty the state was since I associate it with Baltimore and DC, not with rolling hills and almost 3000 feet of elevation. While coming down the backside of one of these long hills I may have buried the needle on the little strom, sadly I didn't have the screen on my gps to the speedometer so I am not sure what the indicated vs. actual disparity was at this speed.
I cross into West Virginia around 8am and it is finally pretty light out, there's even some snow on the ground, my first time seeing any this year. Things are exactly how I want them to be, uneventful. No traffic, no road obstructions, just smooth sailing. At no point am I hindered from traveling the speed I want to travel at. To this point I've kept a moving average of 77mph and an overall of just over 70.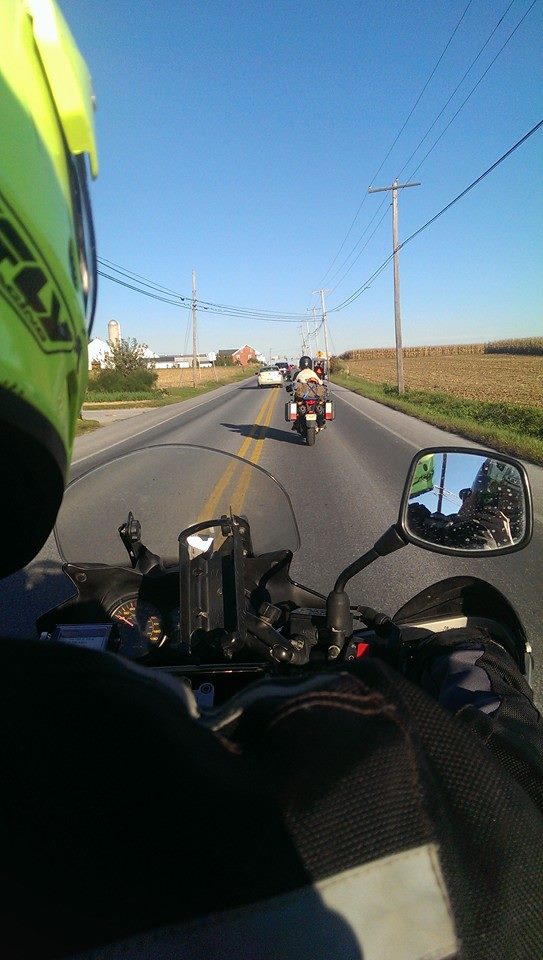 I arrive to Ashland, Kentucky at 12:45pm and stop for a 6 piece nugget at Wendy's (thought it was 5?) and fuel. All-in-all, I'm in Kentucky for less than a half hour, but hey, I have now ridden to 38 states. On my way out I pass a cool motorcycle shop that I would have stopped at had I seen it prior to crossing a bridge.
My route home is largely the same as the way there (64, 77, 79, 70), however I split off and head to Jersey to end at my parent's house, so I take 81 to 78. These are roads I am very familiar with, so I know things like where the cops hide and when I can pick up the pace.
I meet my dad at a station near Clinton, NJ and after filling up notice the receipt said AM and not PM. This clearly is a huge difference. The guy at the pump doesn't seem to understand so I quickly ride to another station down the road. I get my receipt for an official ending time of 9:15pm. Total time based on the start and end receipts is 16 hours 26 minutes.
The bike performed beautifully, started at 43,570 and ended at 44,700 when I landed at my parent's place. I actually felt pretty good at the end, my butt didn't hurt at all, just my back and shoulders. I ended up staying up until 1am to watch Premium Rush and Kindergarten Cop. Woke up at 8 to grab buttermilk so we could have a family breakfast. By 11am I was back on the bike and headed toward Philadelphia. Next up…bun burner gold.
This ride was dedicated to John Ryan, who without knowing it, got me started in my long distance riding career almost 4 years ago. It took me awhile to make it official but I'm glad I did.