DF to Oaxaca
Still slightly in awe at the alpine metropolis melting pot that is Mexico City and feeling mildly sleepy from being awoken by my drunken comrades at 3am, i chug coffee as we prepare our afternoon departure. With our bellies full we enter one last time into the automotive chaos that is DF. The fun wears off slightly as it takes more than an hour to escape the city limits in route to Oaxaca.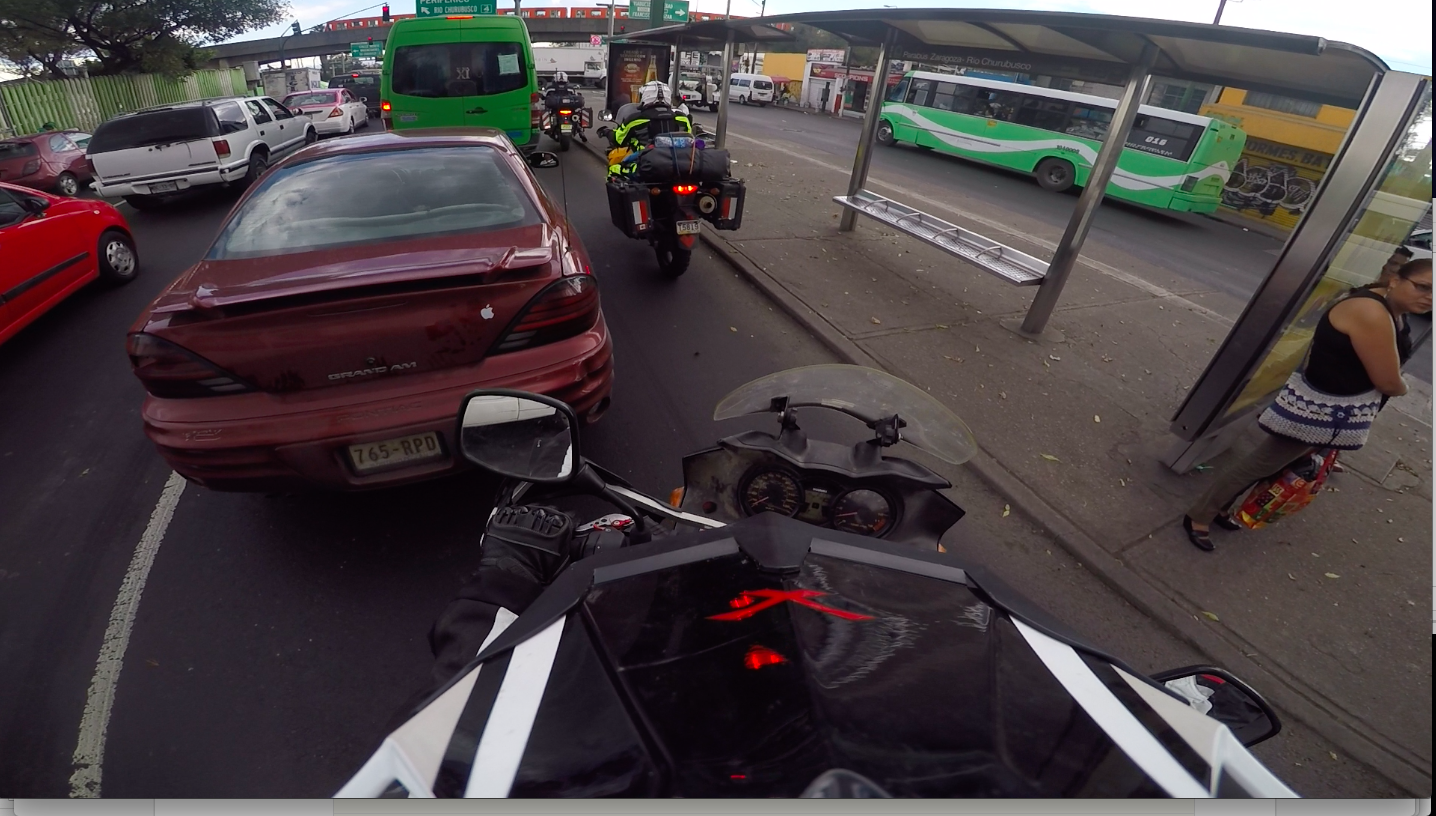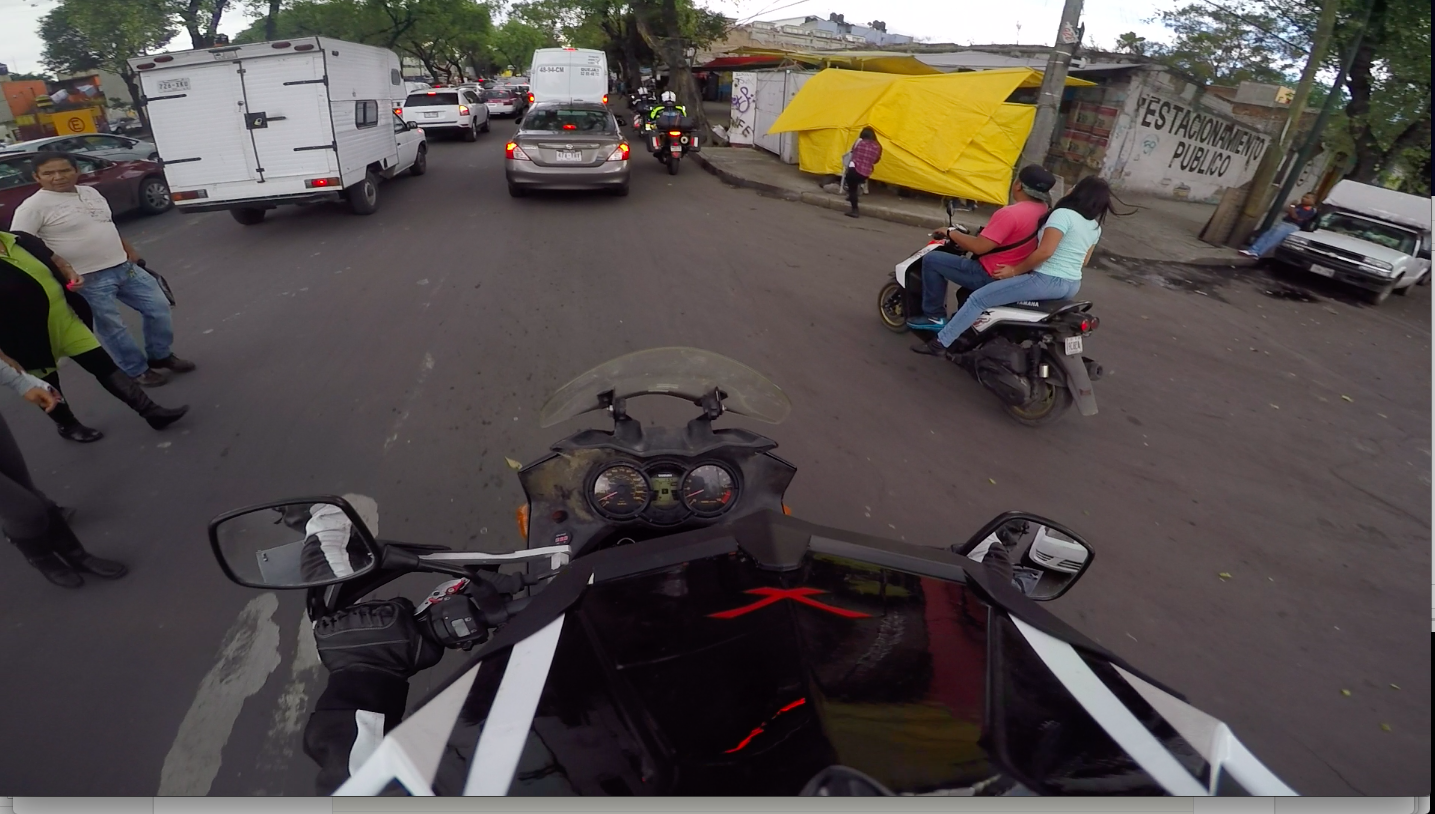 The road starts as a typically pristine cuota road. The scenery gets more rural and we pass typical yet beautiful small pueblas, each one packed densely with stout pastel and neon colored homes and shops that contrast with the passing mountains and green fields.
After four or so hours we stop at a Pemex in search of a snack to hold us over another two hours until we arrive in Oaxaca. Oddly enough, the new modern shop seemingly In the middle of nowhere is called "Italian Coffee Company" in perfect English. Confused yet running on fumes we spike our glucose levels, while the last moments of daylight get swallowed by the dark night sky. In the far distance we notice blinding streaks of light. In an act untraditional to us, we decide it wise to put on our rain gear as we ride toward the lightning filled skies.
The road begins to twist and turn, and the elevation begins to climb. We blast through the cool night air as quick bursts of light penetrate the darkness. As we corkscrew and weave the storm reveals silhouettes of tall mountains both near and far. While avoiding the innumerable amount of large tractor trailers, you can't help but marvel in the beauty and feel like an explorer carving out the frontier and seeing something new with virgin eyes. As my mind wanders off to Indiana Jones fantasies, Pat comes over the headset, " My bike feels like shit, I think the front's flat." We ride on another few miles searching for any safe place to pull off.
After five or so minutes we notice a quarter sized blow out. Without any other options we throw in four plugs. Tim chimes in with the idea to hold it together with two large zip ties. Boy was it ugly, but… It worked! We ride on another 100km to Oaxaca and surprisingly loose zero pressure from the tire.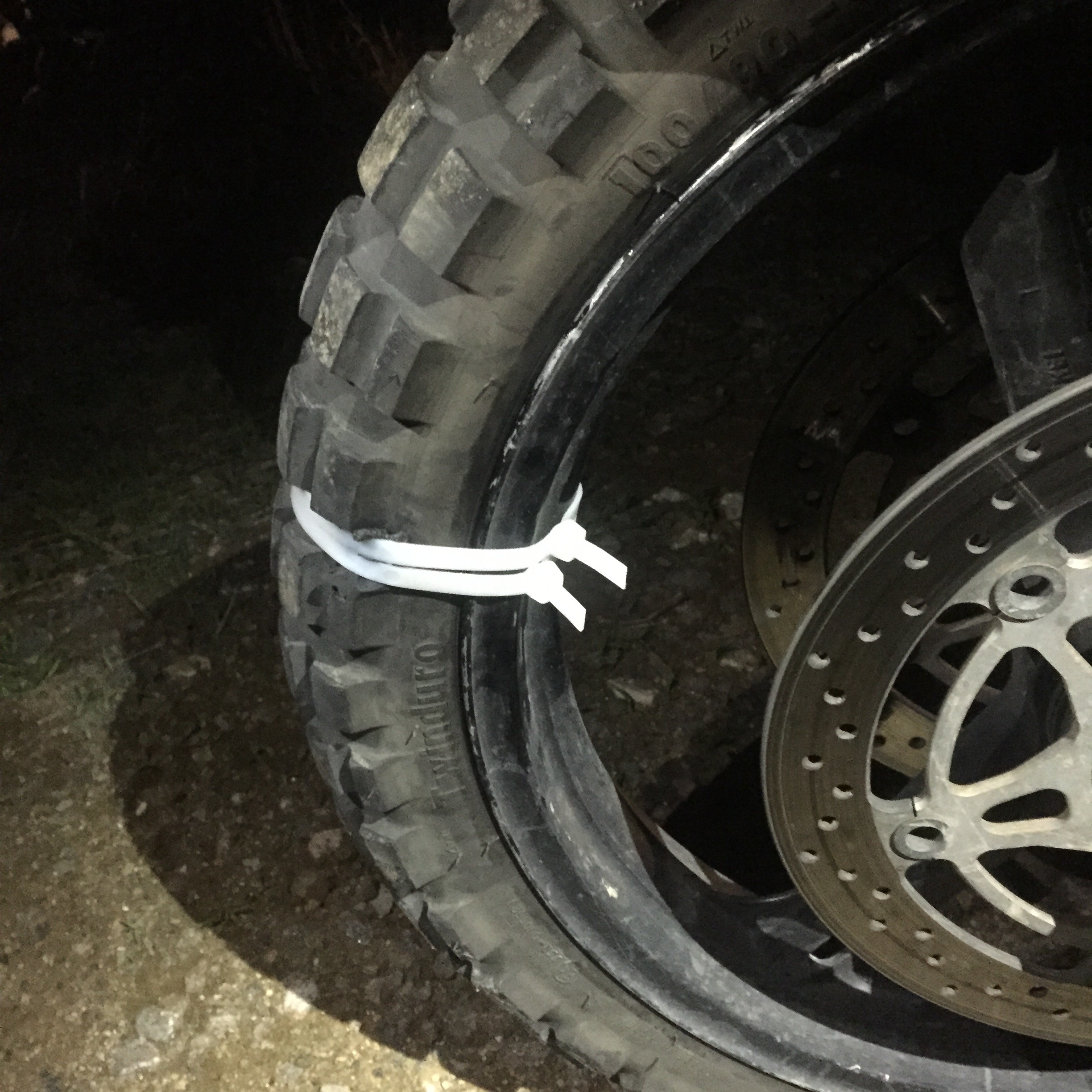 We check into our hotel, and in predictable fashion, head to the nearest Al Pastor place.
The next day Tim and I split off from Pat as he searches Oaxaca for a new front tire. Tim and I start by properly caffeinating ourselves and head to the Zocalo to meet Savannah, whom we were introduced via the Internet by her grandparents at Rice and Beans in Baja. We meet Savannah as she is preparing a traditional altar for Dia de Los Muertes around the central gazebo. Although she is nursing a freshly broken finger she kindly offers to be our tour guide and meet up later to try some mezcal. (It was prescribed by the doctors after all) We say , "thanks" and let her get back to work.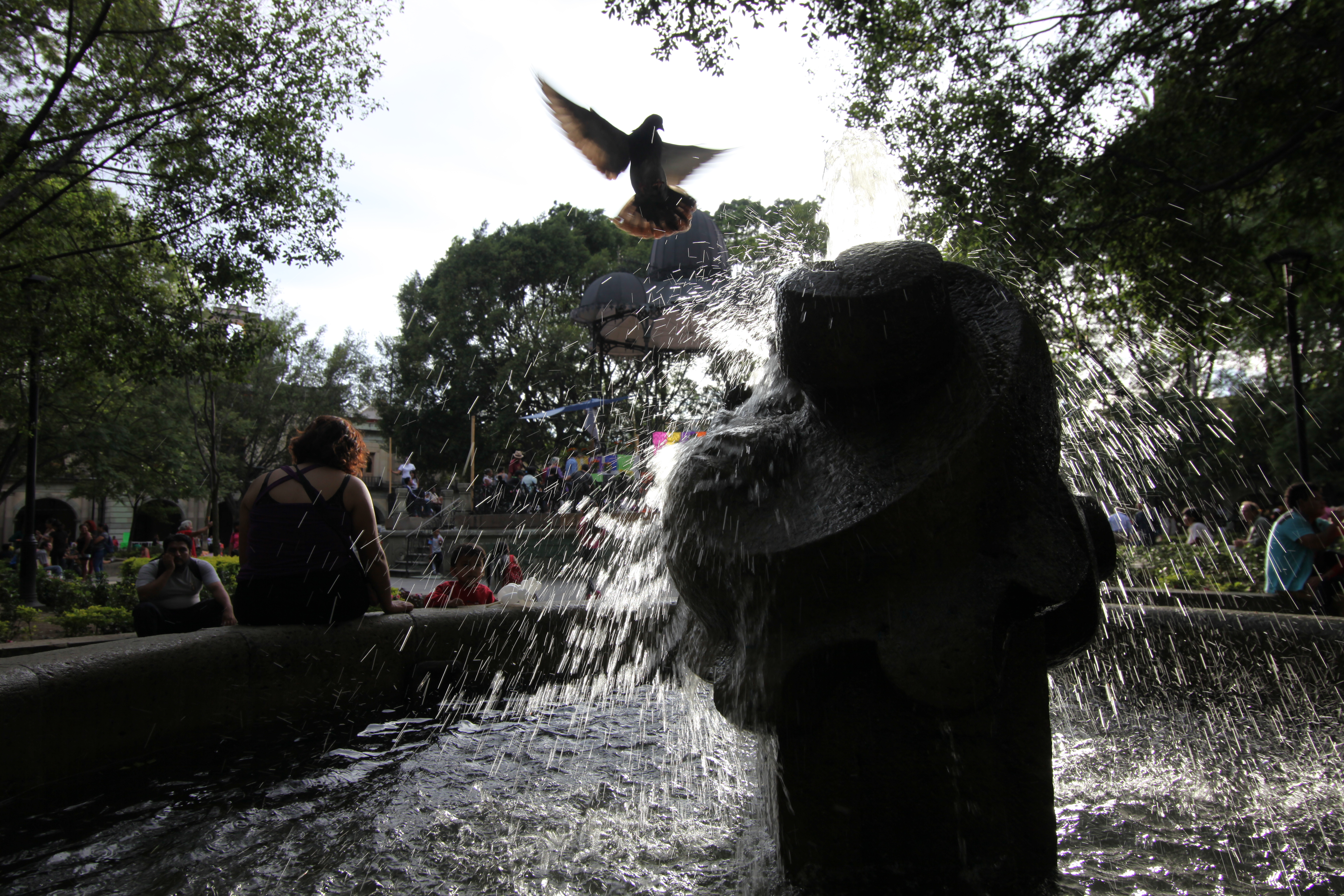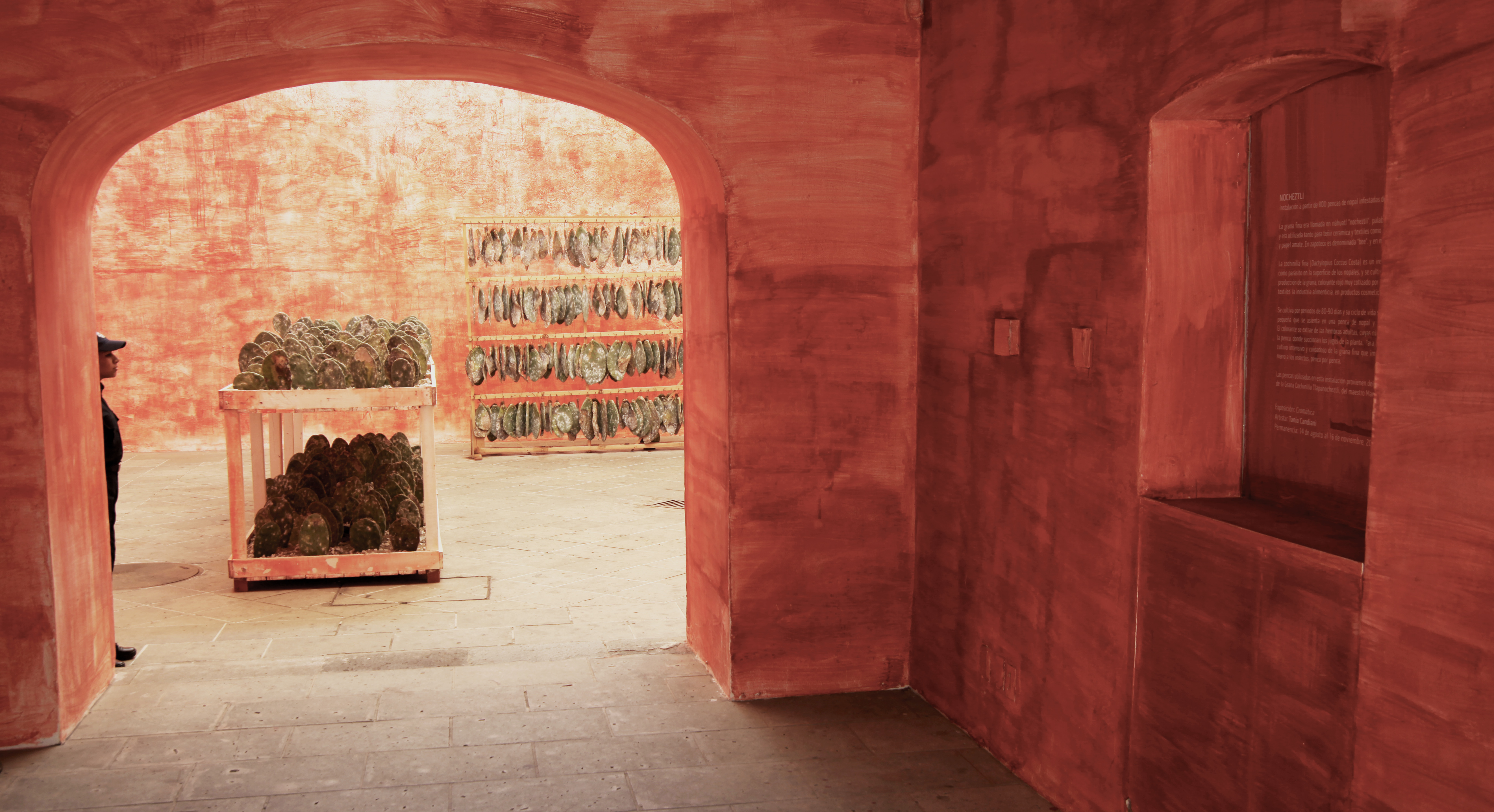 Tim and I venture out into the busy streets of Oaxaca in search of food, culture and of course, people watching. We get separated amongst the crowds of national and international tourists. I end up exploring some outdoor markets, and Tim goes inside Santa Domingo Church. According to both Savannah and Tim it is the most beautiful and intricate church they've ever seen. When we meet back up an hour or so later unfortunately it's closed. Bummer. We instead check out some more outdoor markets, a neat free library and the Museo De Las Culturas Oaxaca. The museum goes through Oaxacas long history, each exhibition buried in another cavernous room. Mildly burnt on culture and needing some fuel after many hours of walking we decide to check out the famed indoor market, Benito Juarez.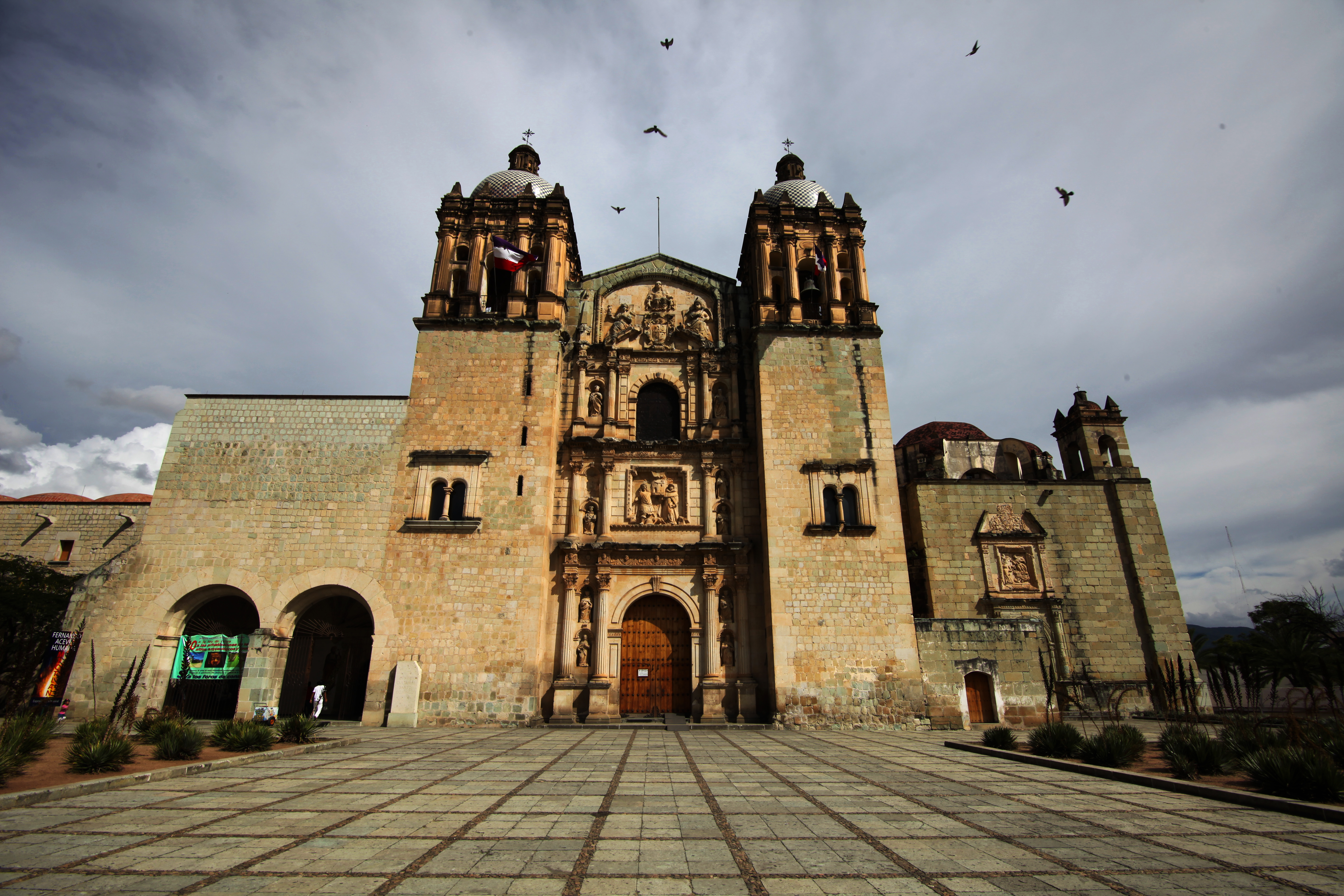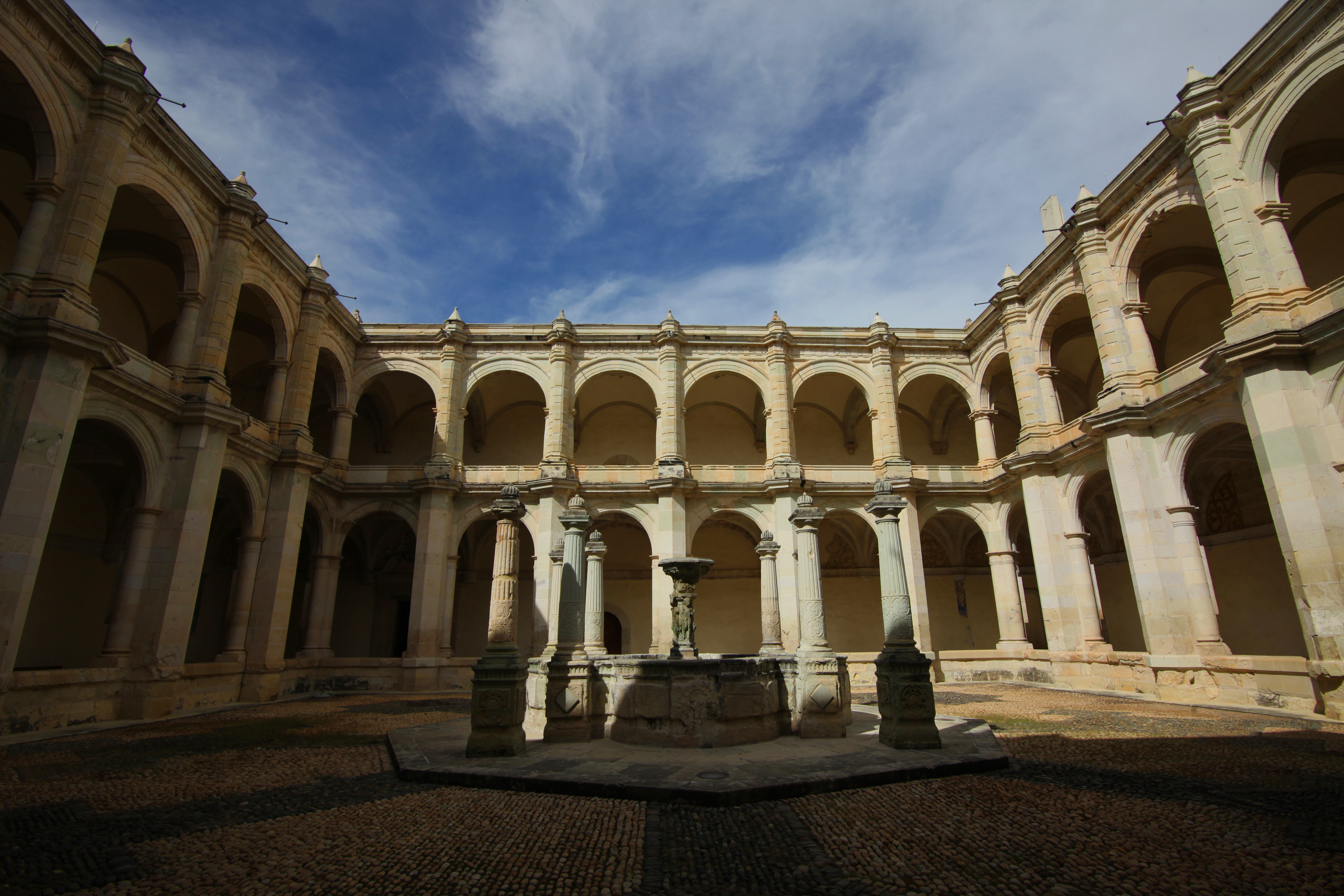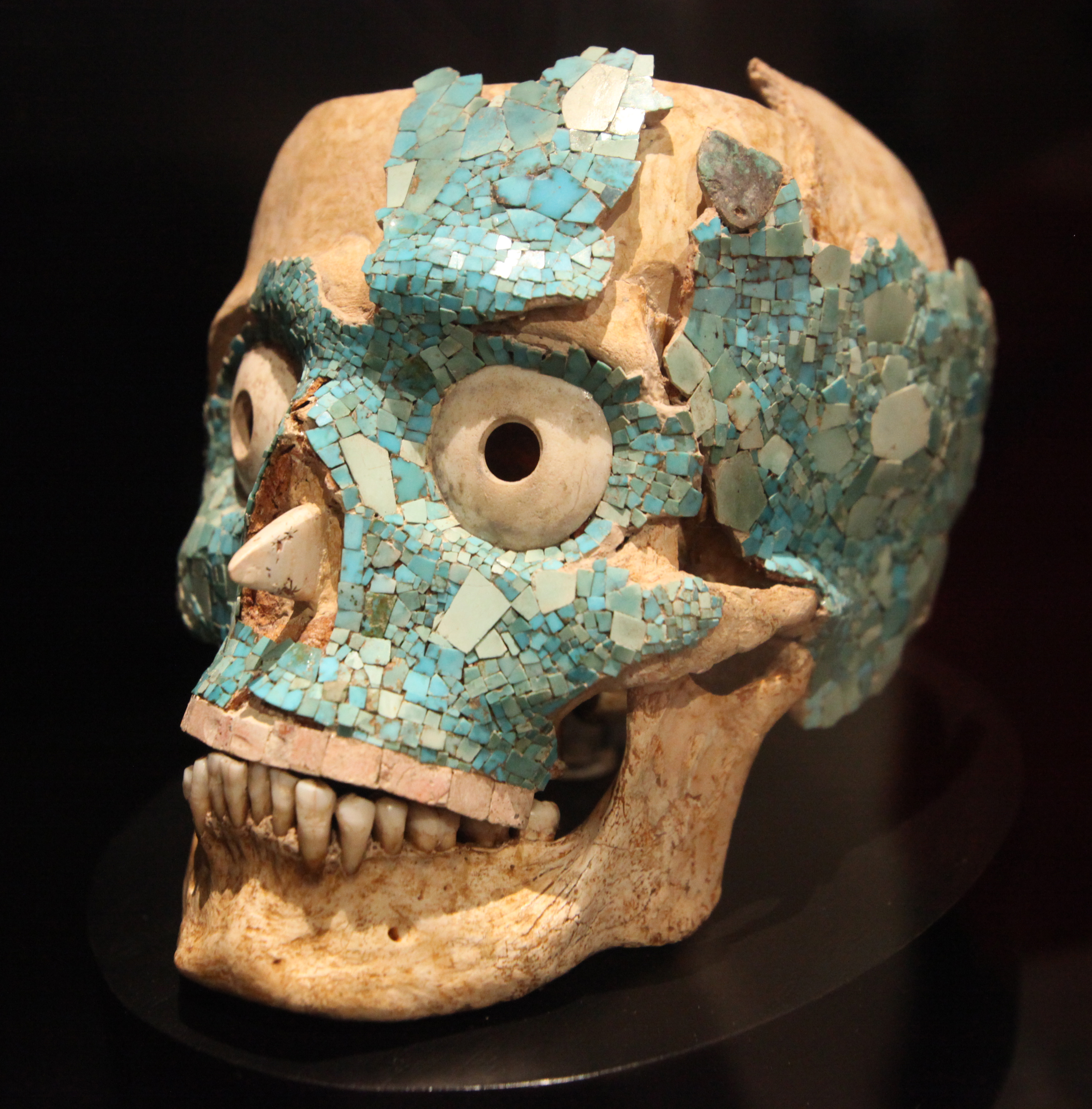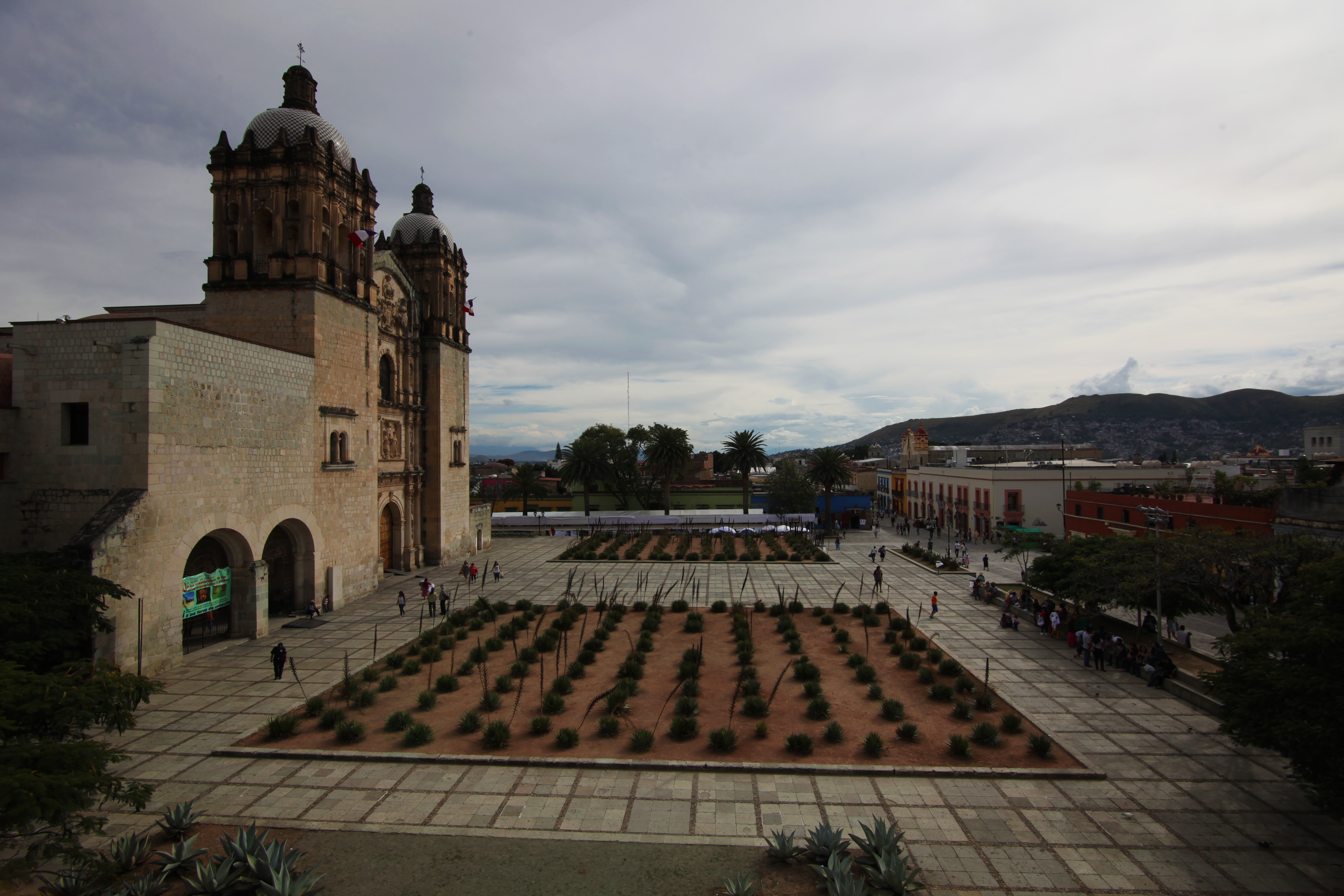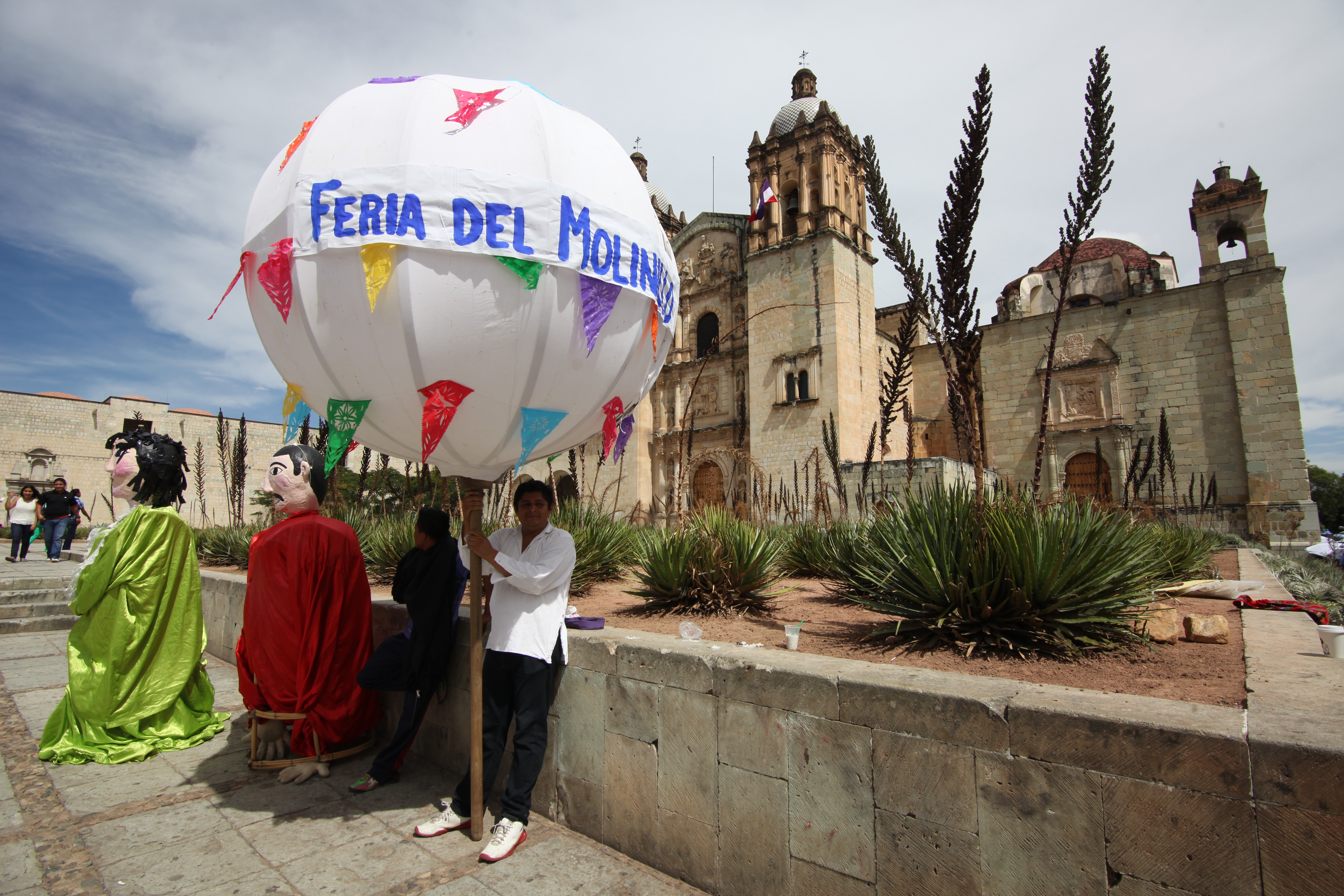 Benito Juarez is a jammed packed, bustling maze of amazing faces, smells, and sights. Well organized by commodity type, Tim and I get lost in the leather goods, the shoes, the mountains of varied dried peppers, endless stalls of hanging meats, unable to find the perfect food stand. We pass by cute old ladies selling traditional fried "bichos" or insects covered In chile. With our patience wearing thin and our lost gringo shoulders constantly rubbing with the fast moving crowds, we pick the next stall devoid of any white people. This will do. The fast talking ladies running the sandwich and juice stall put up with our lack of Spanish and only give us minimal but polite sass. We both get classic " Tortas Oaxaquenas" and although we aren't exactly sure what is in them, we take photos and enjoy immensely. As we make our way back to our bikes, we stop in the zocalo for some late afternoon people watching. We take this opportunity to snap of few shots of the goings on. People getting their faces painted ,their shoes shined and just hanging out. A local college girl approaches us and asks if we can help her with her homework. Sure, why not? She is studying language and different people's accents and abilities in pronunciation of foreign words. She has us each read a "leyenda" or supernatural folk tale about a haunted carriage that patrols the streets at night, Entirely in Spanish. Tim refuses to let her film his reading, but gives it the old college try. She films me and I put my sexiest Spanish accent forth. I can pronounce most of the words, but vaguely understand the story. She assures me she could understand the words and that I was leaps and bounds better than the last white folks (Australians) who tried. Victory? With his Tel Cel phone card, Tim is able to contact Pat and finds out his has met a local named Maria, and apparently we have plans in less than one hour! We're going to be late. Not only is this typical for me, apparently it is customary in Mexico. I think I have found my people.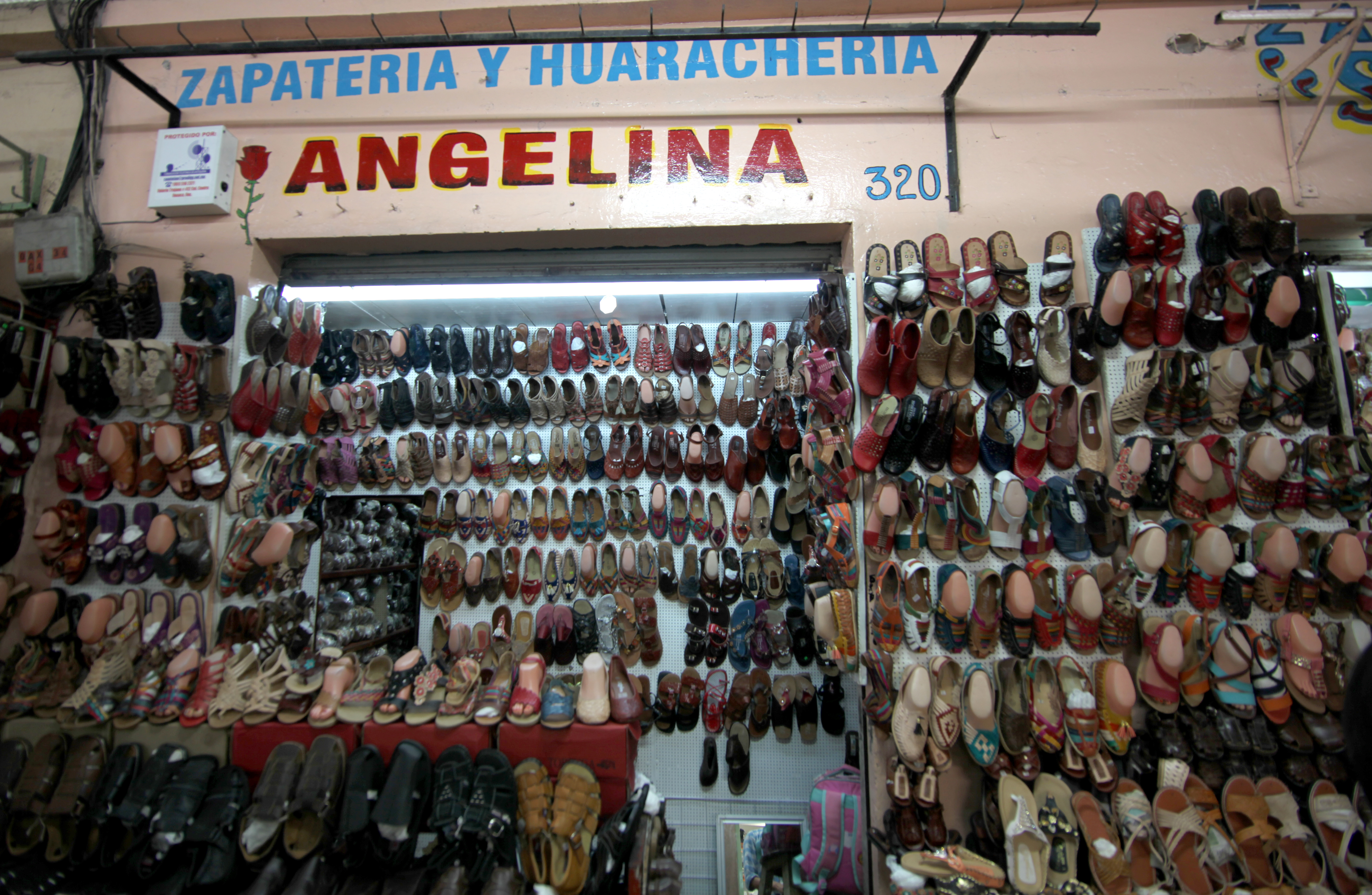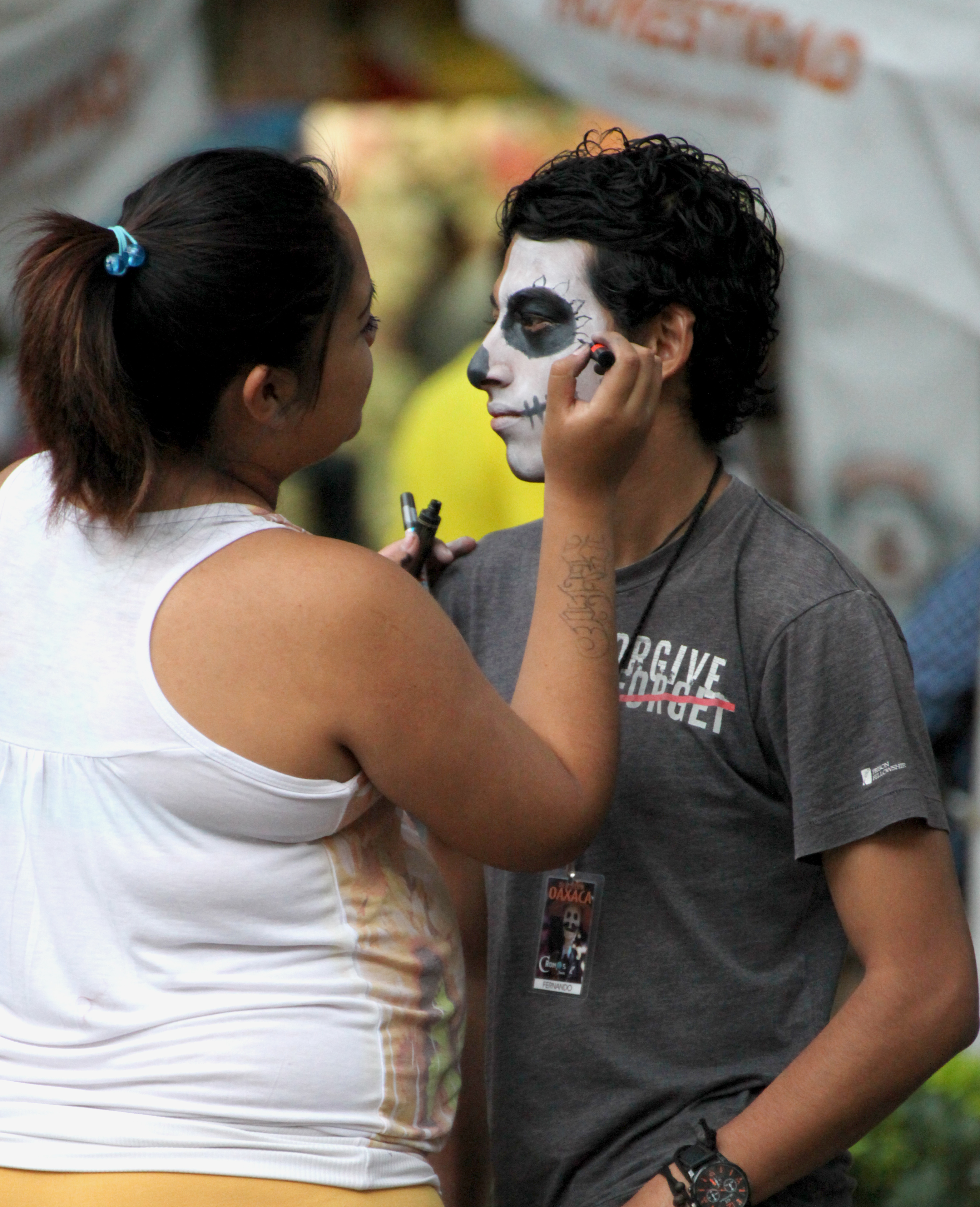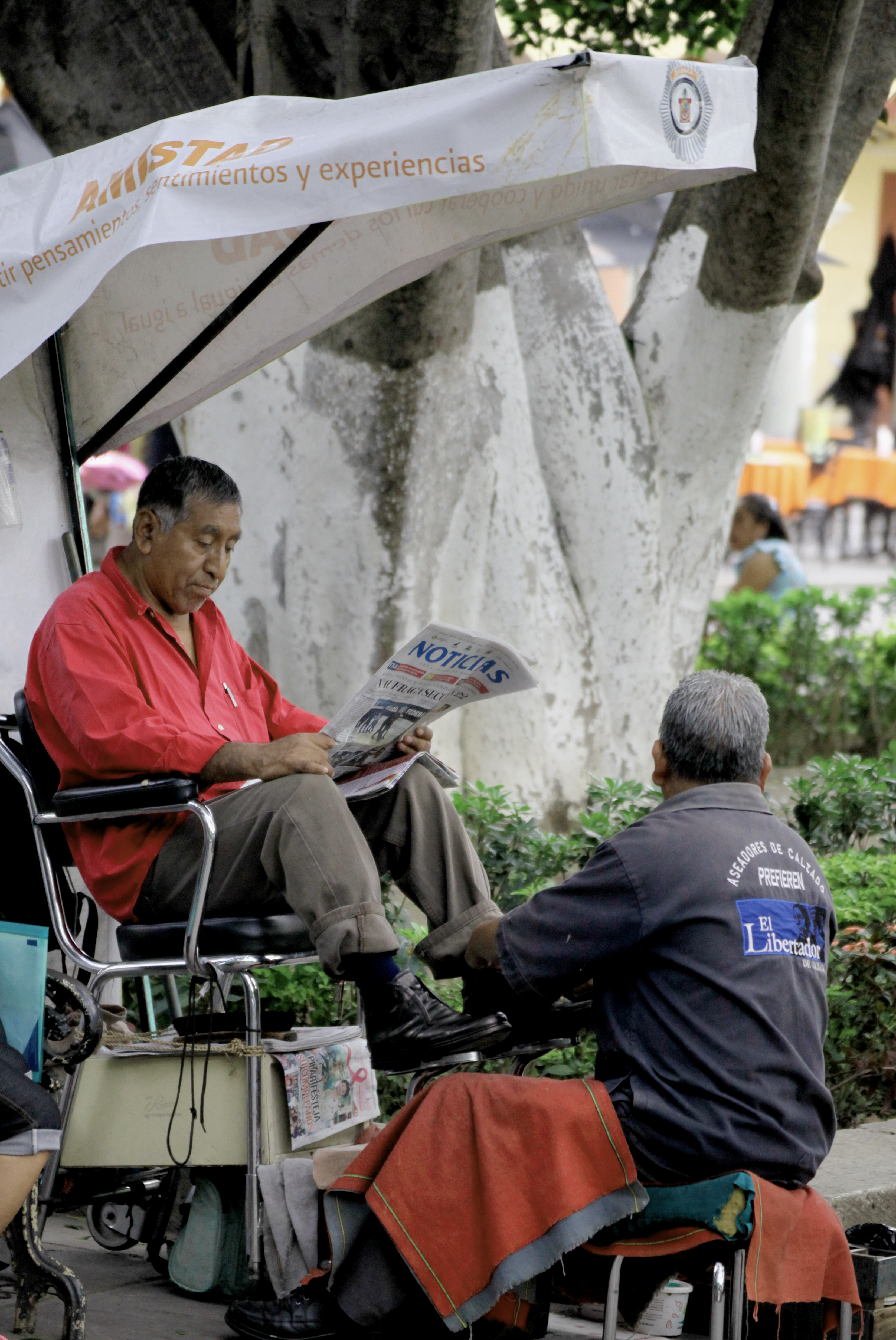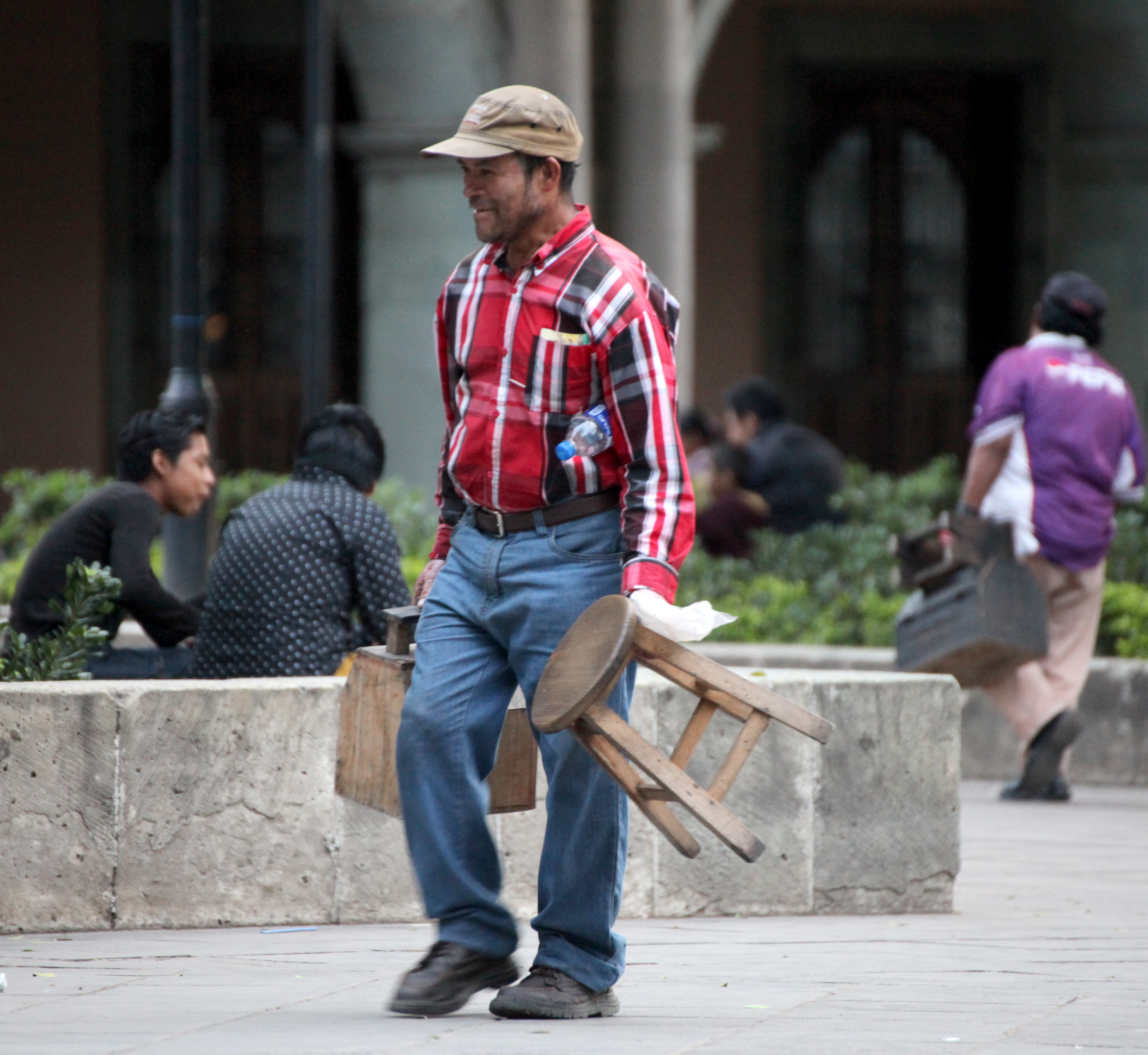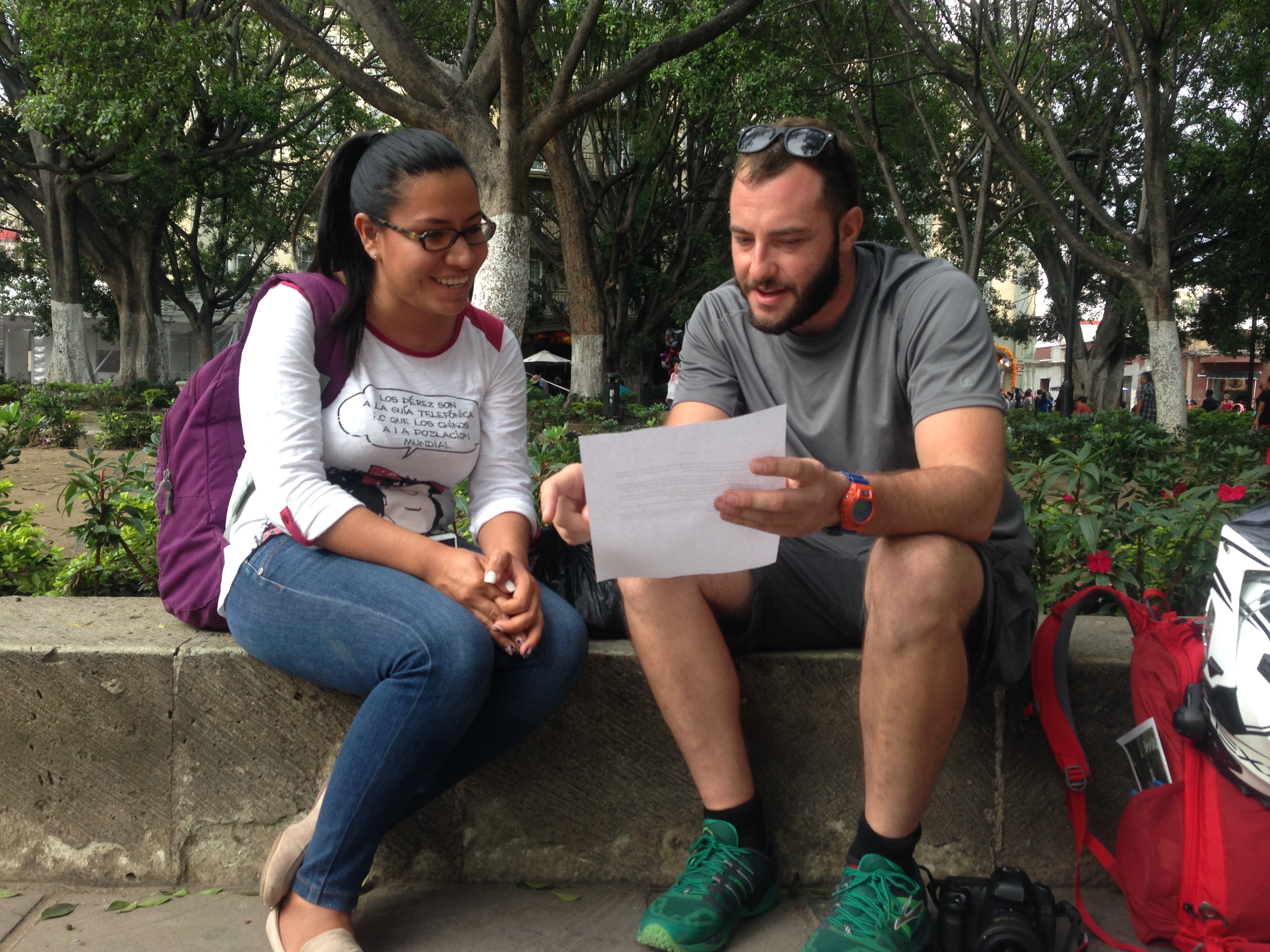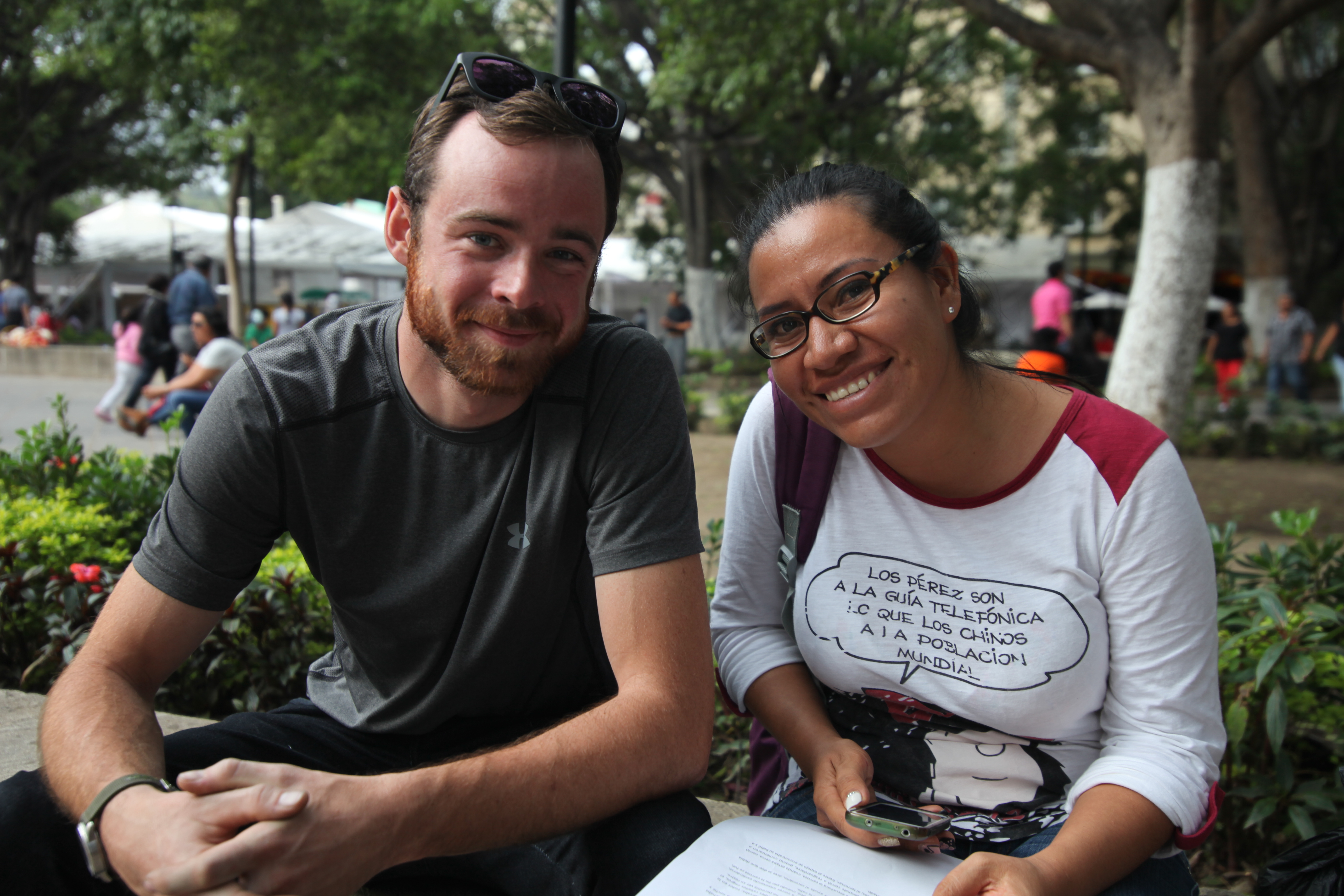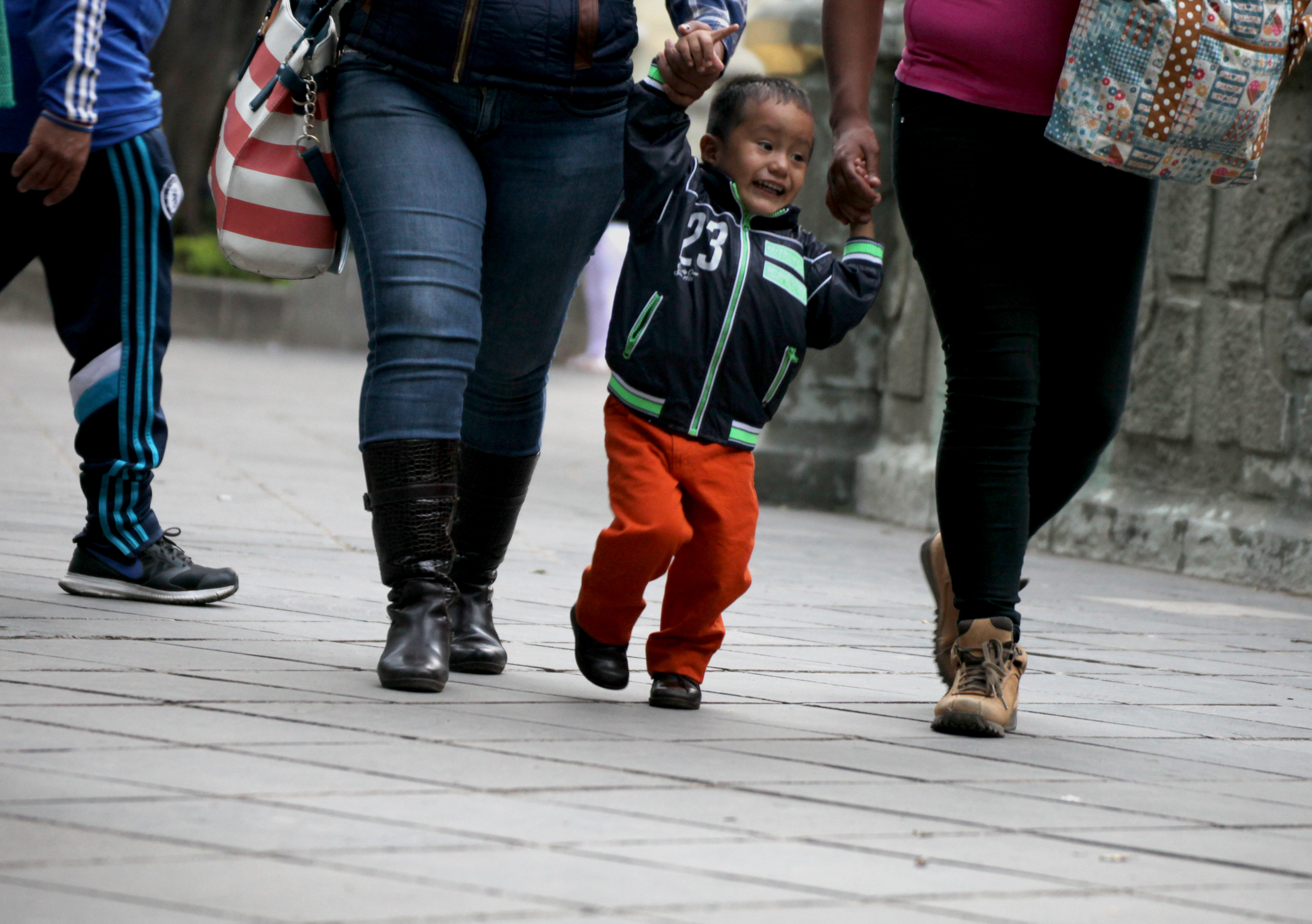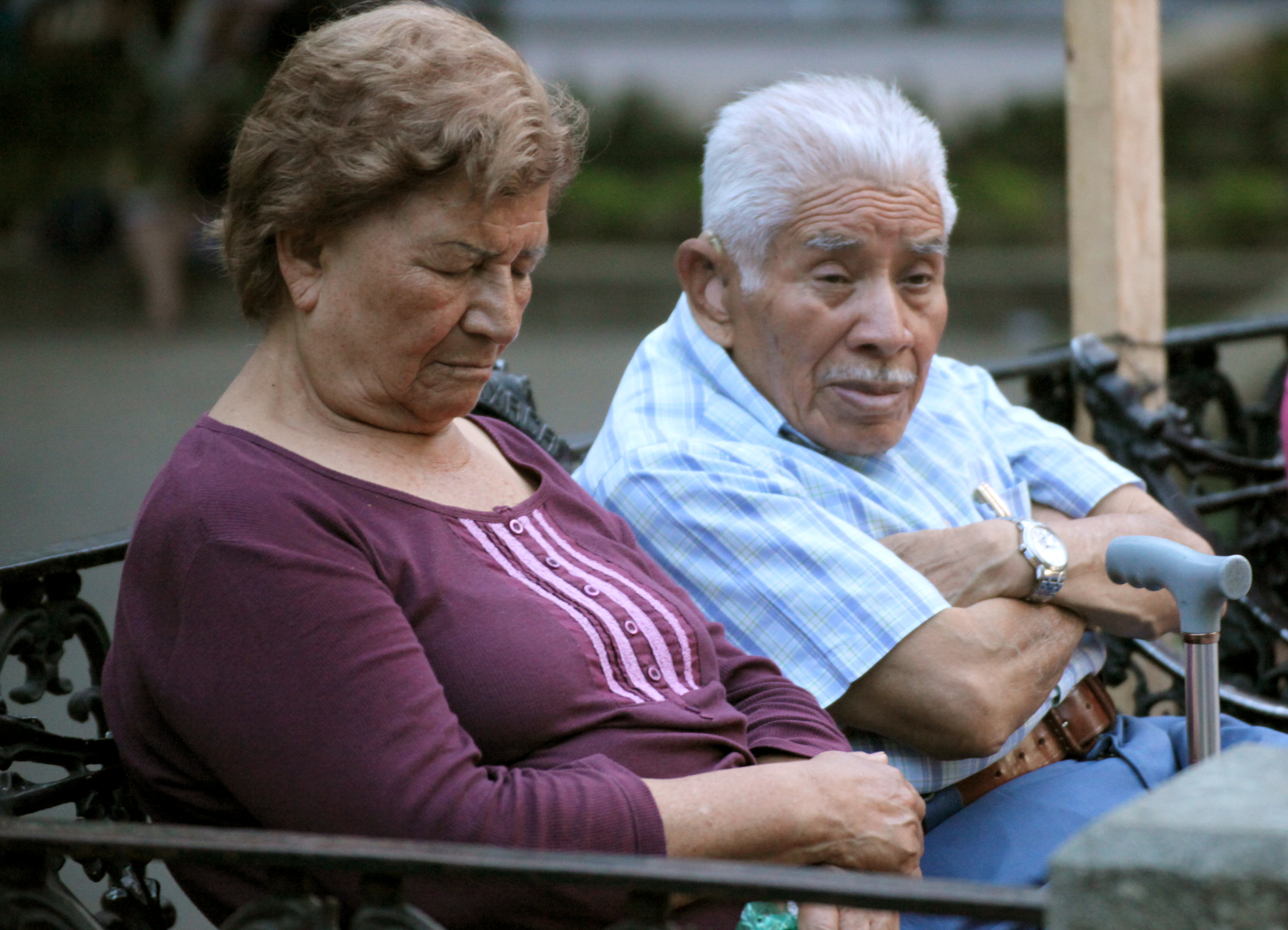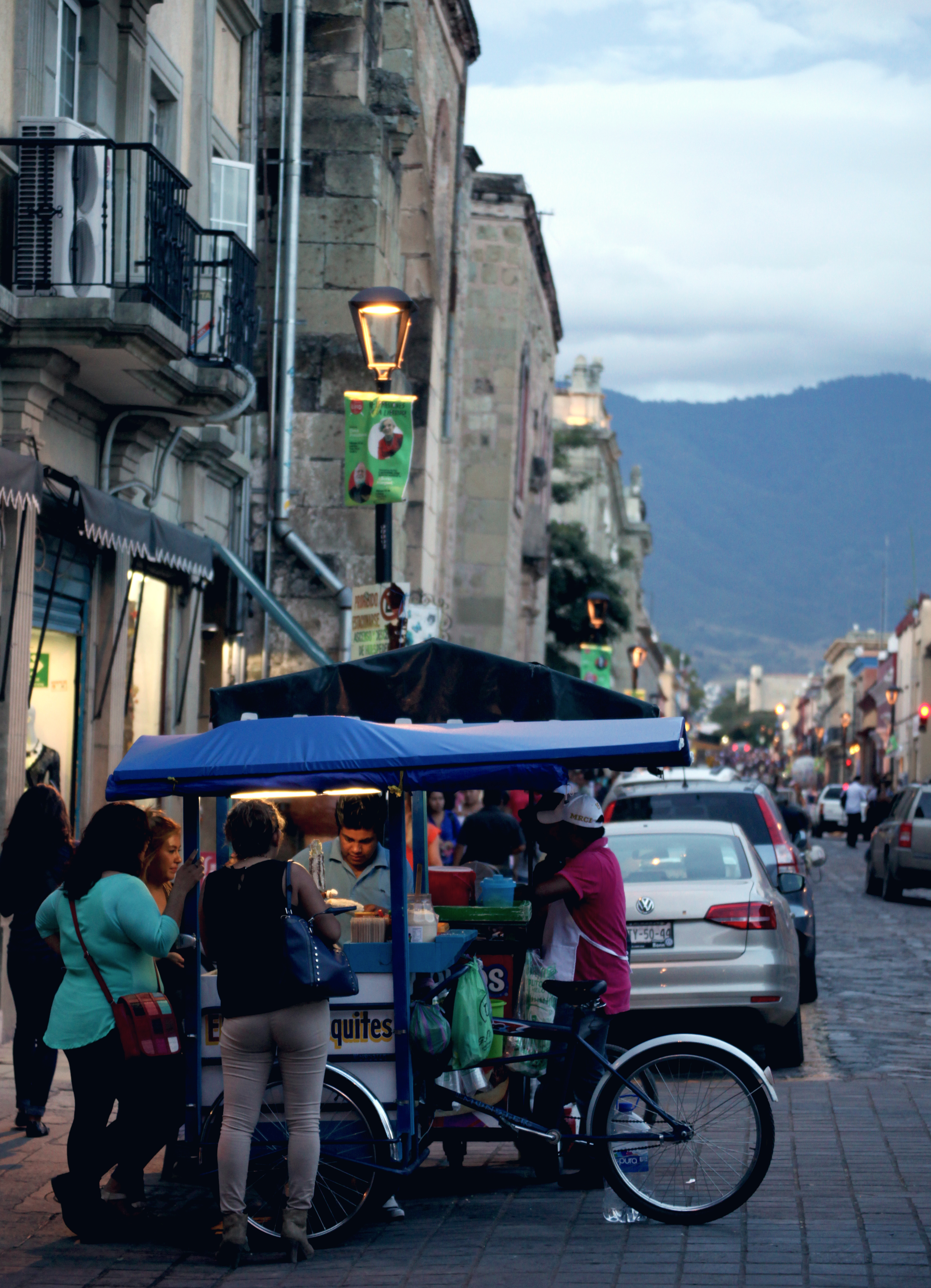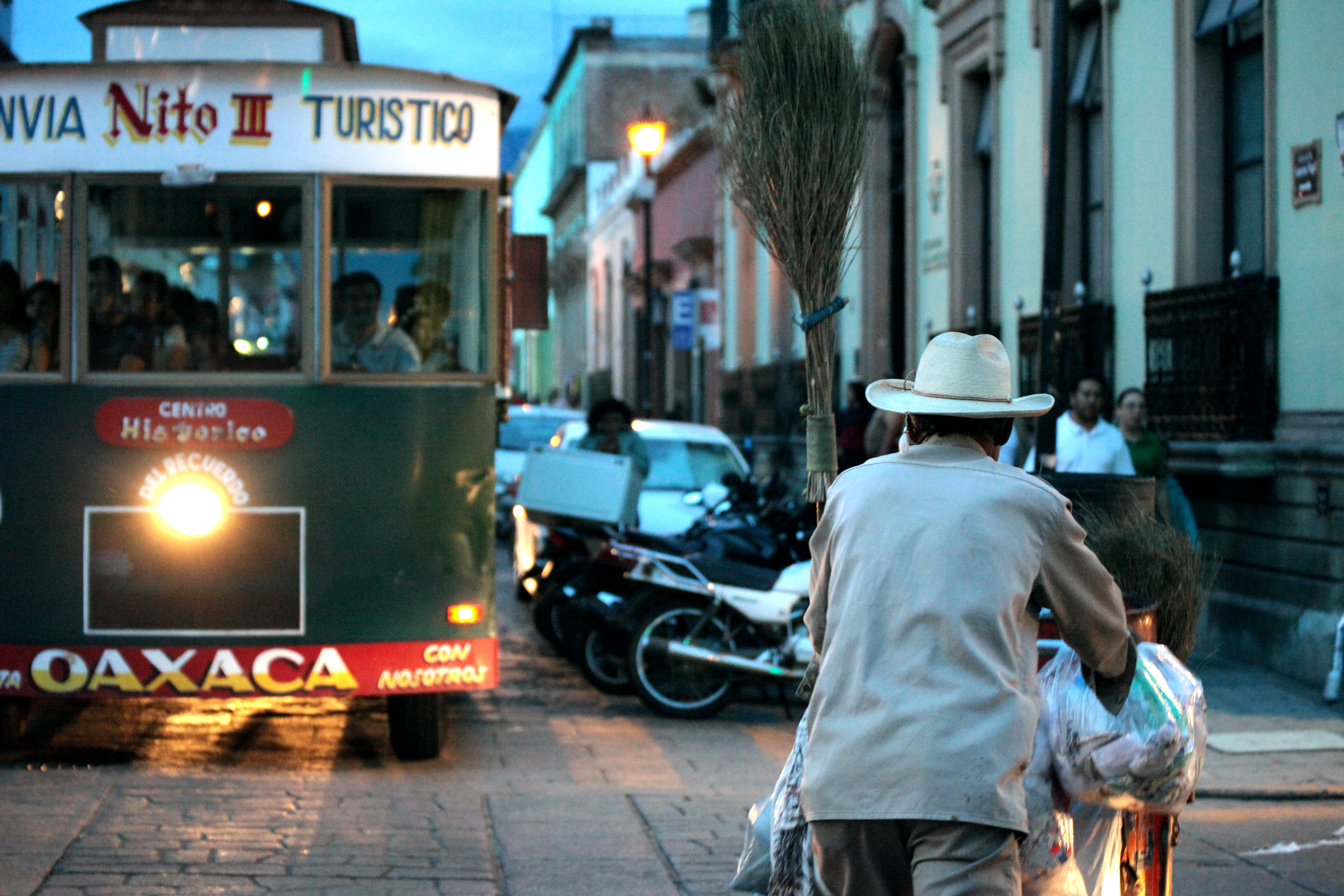 Insert montage: showers, man grooming, etc.
Tim and I meet up with Savannah outside a coffee shop amidst the thriving town streets. A marching band passes by and we walk to somewhere where we hope to find Pat. We eventually find Maria, an awesome local who speaks great English and fast behind is Pat and her two friends, Tania, and Fabiola. As we all act super indecisive on exactly what to do next, we watch a few traditional day of the dead performances. We decide on the obvious choice: cervezas. We head to a local bar, and are delighted to find we are the only gringos. They give us a shot of mezcal, mixed with something fruity and order a few buckets of beer. Everyone speaks English and great conversation ensues. Maria goes to get her boyfriend, Pedro and we decide it's time for a change of scenery. We are lead to a taco cart outside a bar and we all feast on cheap yet amazing(notice a trend here) lamb tacos. I think I'm in love with Mexican food, duh.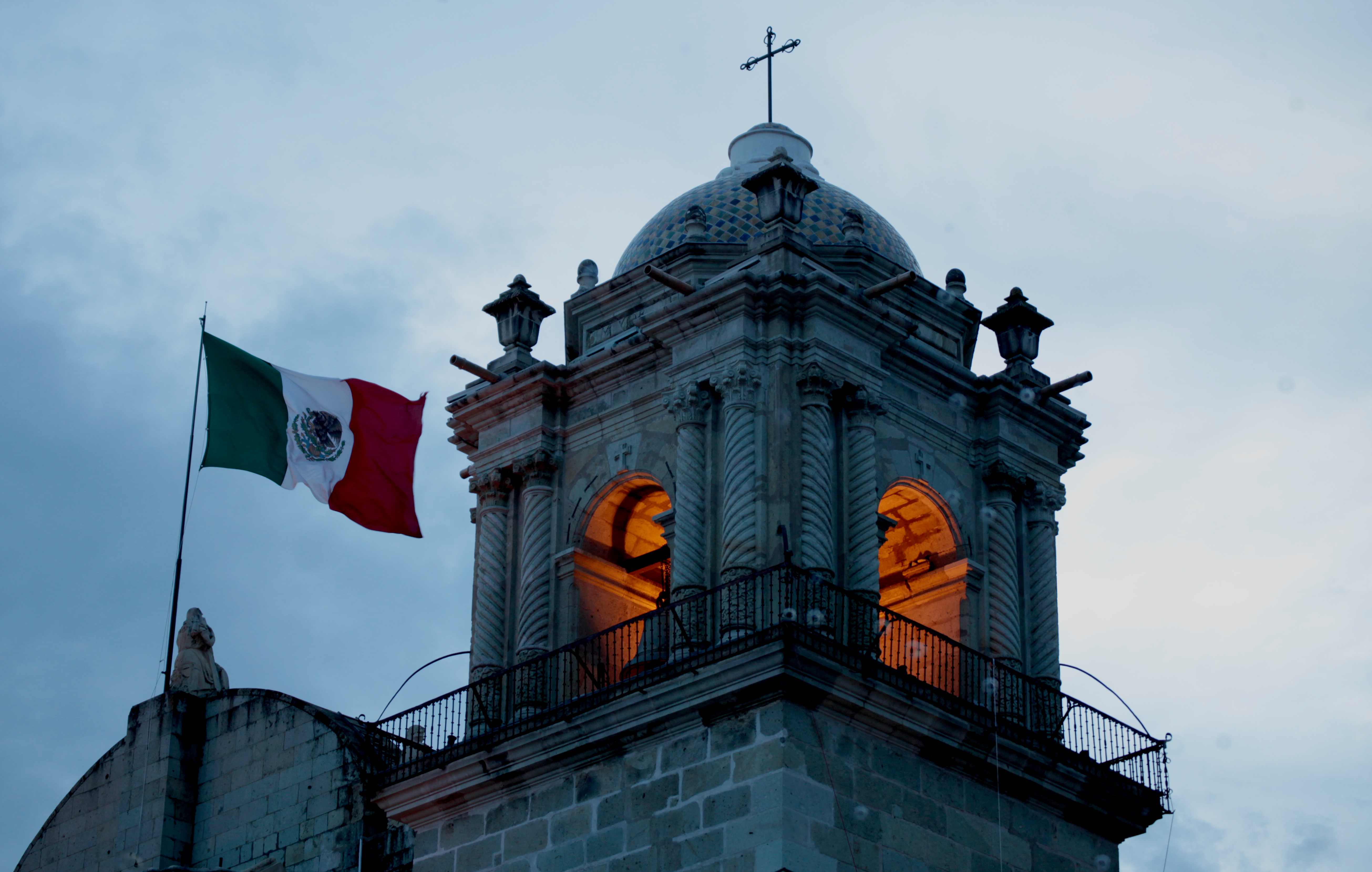 There seems to be a dance floor on the first level of the bar, but we head up to the second floor to put on our liquid dancing shoes. Tim orders a round of "good" mezcal. Not to be rude here but "good" is relative and not to knock anyone's heritage or traditions but the mezcal goes down like paint thinner and it has notes of earth, wood and fire. I think we are" good" on the mezcal, solamente cervezas por favor. What happens next is a blur of flailing arms, moving feet, beers, jumping, laughing, and more beers.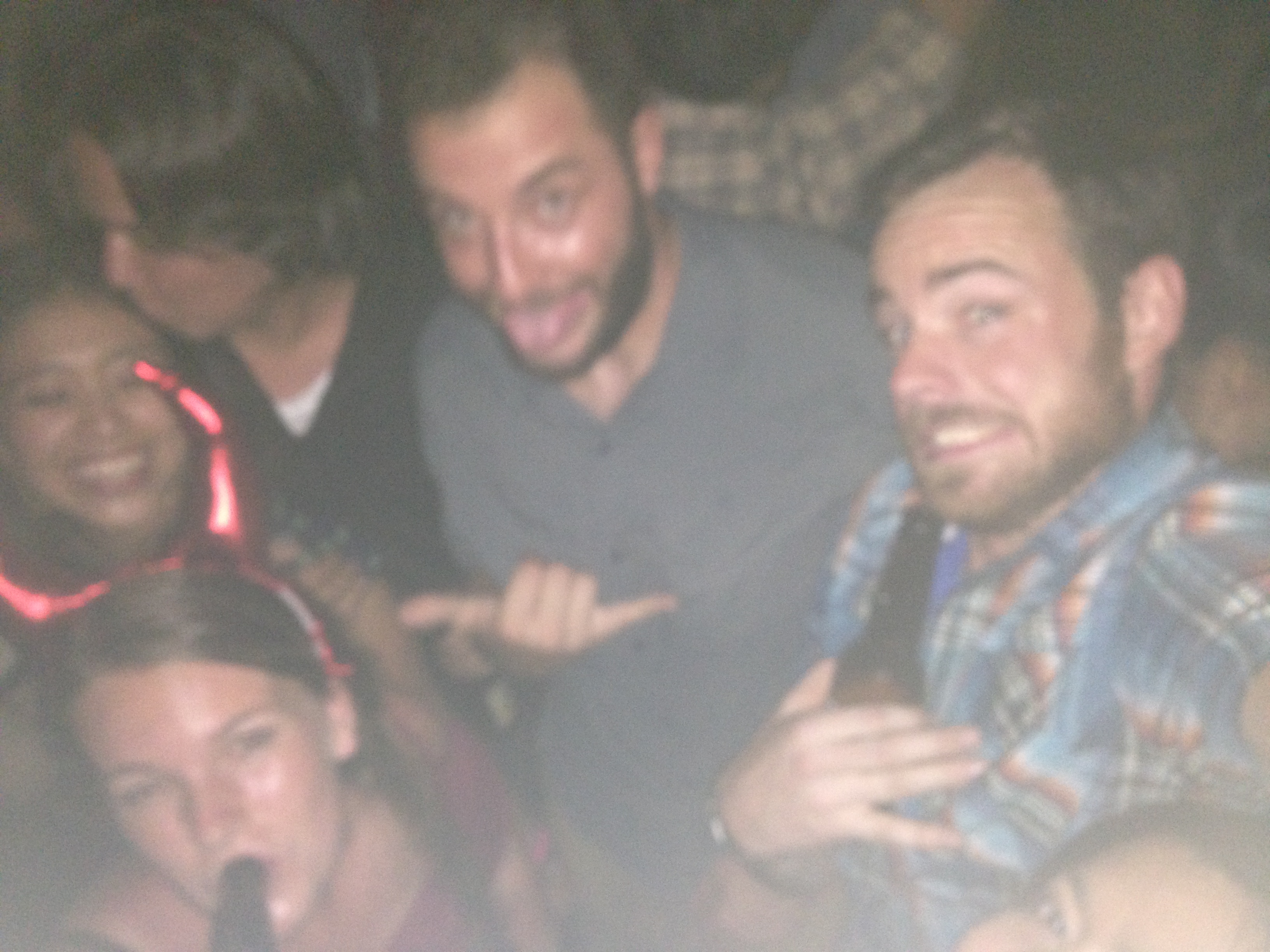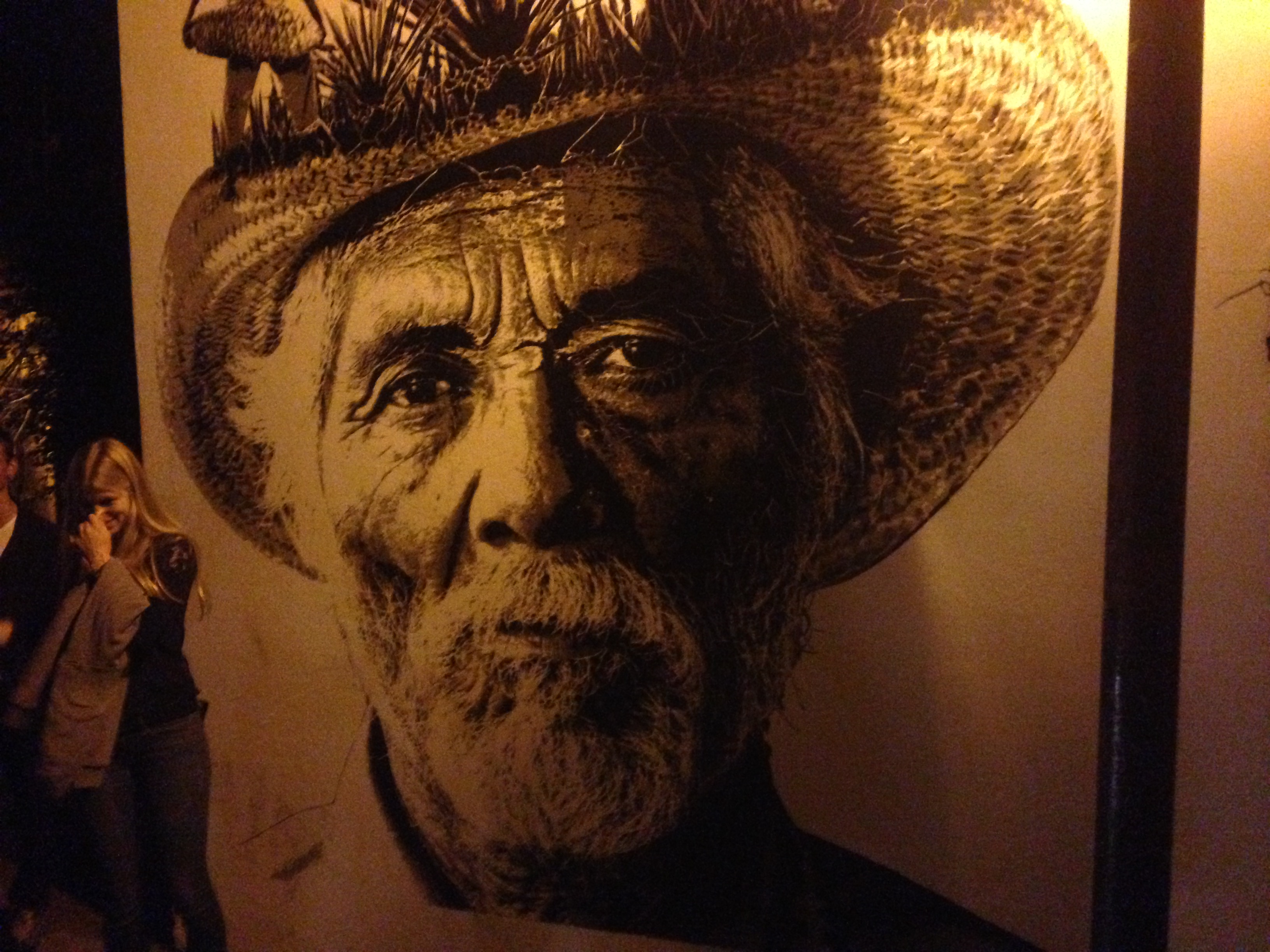 Holy shit it's 3am, what the hell am I still doing here. I don't even like to dance.
Needless to say we don't exactly rise early the following day. Apparently Tim and Savannah ended up in an underground hipster mezcal bar far too late in the night and Savannah was locked out of her home stay. The next morning we attempt to wash the bruised look from our faces with water and coffee and get slow start to Hierve El Agua. We stop at the Mexican superstore, (how do you say Walmart?) and get Savannah the last thing resembling a motorcycle helmet. What was supposed to be a 45 minute jaunt to the mountains turns into an over 2 hour ordeal. First my rear axel slips and my chain needs to be tightened. Next Tim's GPS which actually has an off-road and goat trail mode sends us off-roading through some poor guys farm and eventually up an under construction on ramp to a super small town. We dodge livestock as we follow the hand made signs for Hierve El Agua through dirt roads that quickly gain elevation. We reach the apex and are rewarded with an amazing view of the mountainous valley as we descend towards our destination.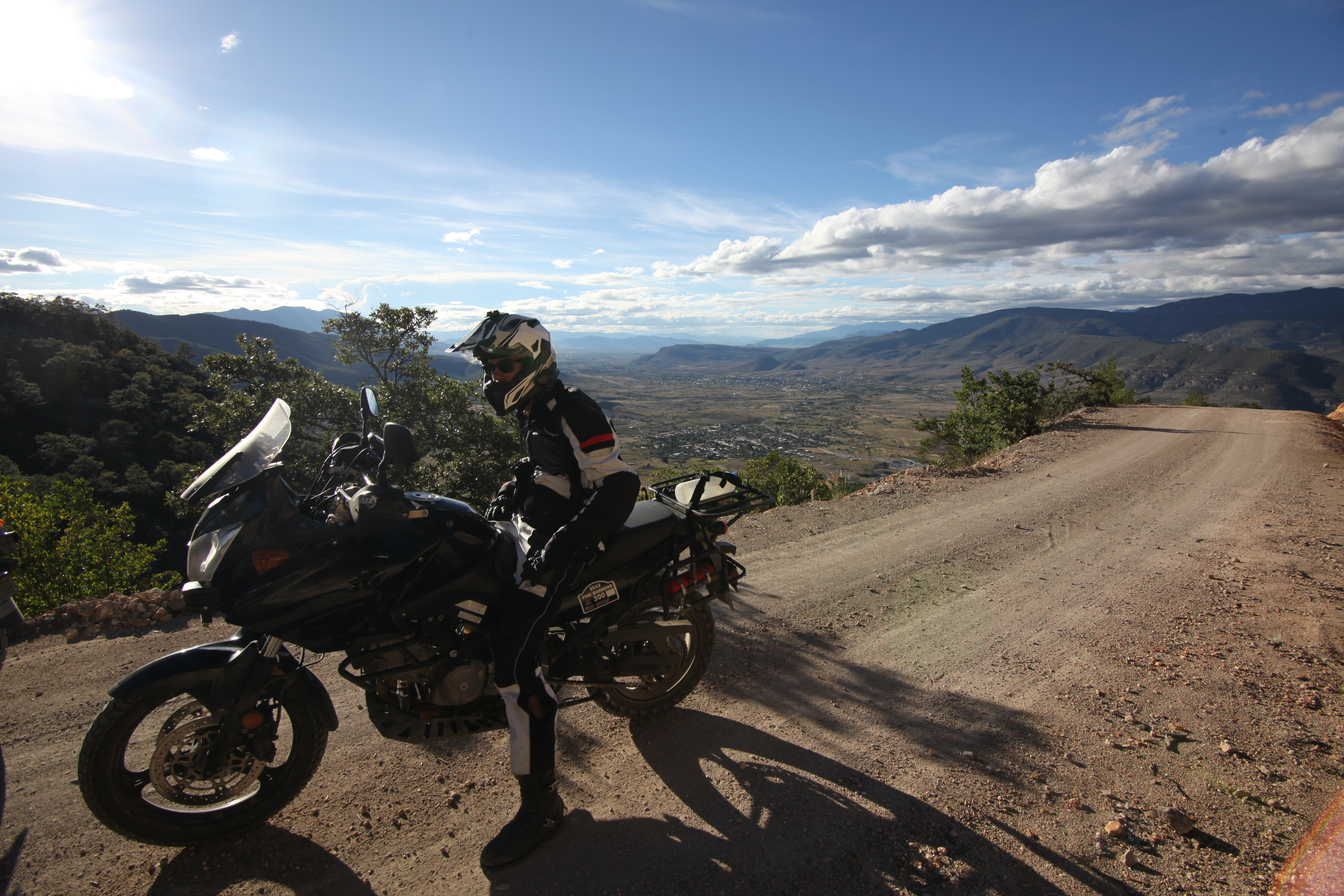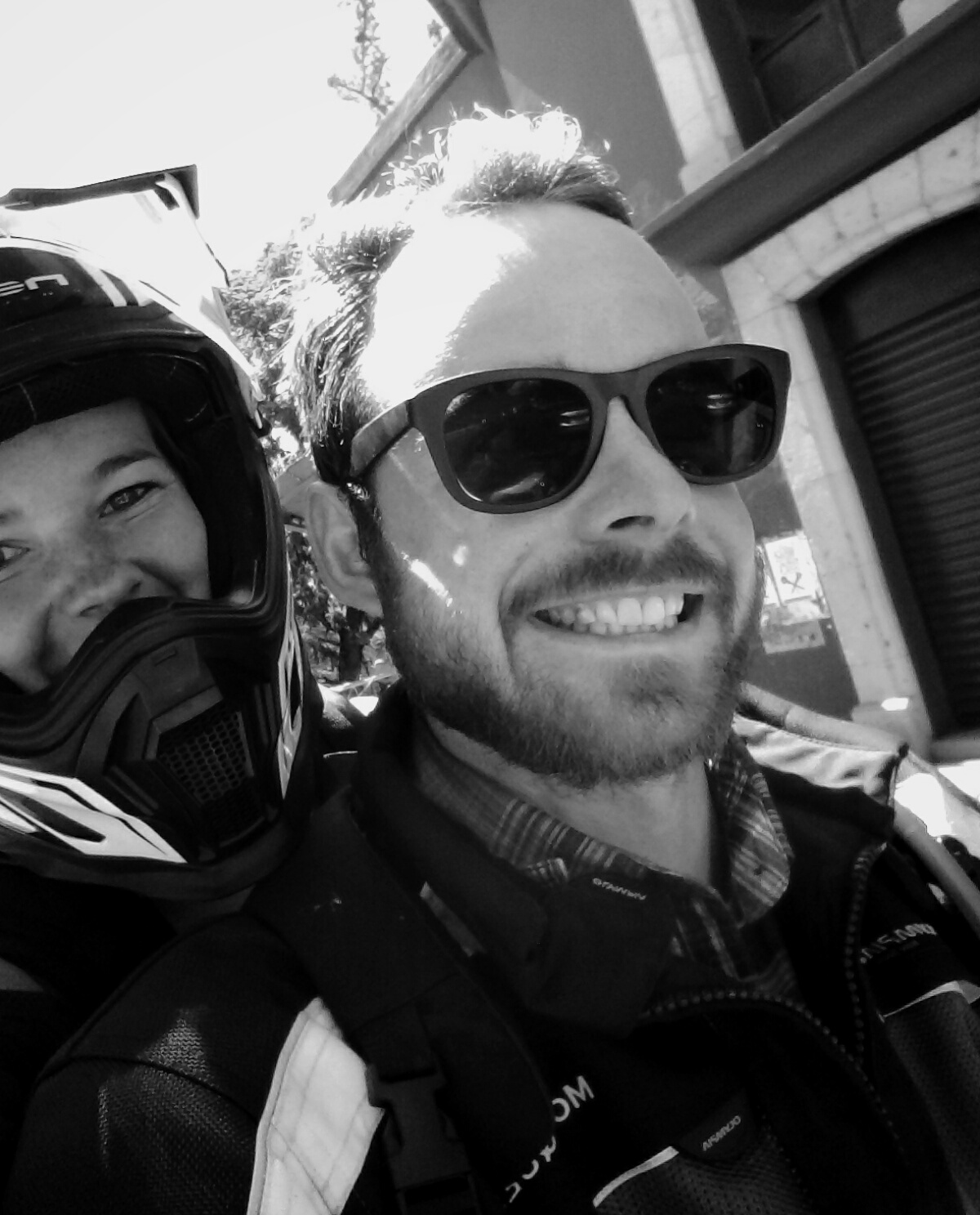 We pull in just before dusk, and immediately take in the views. Pat and I opt to get into the water pools flowing from the ground while Tim and Savannah go to check out the falls. I enter the pool a la Schwartzeneggar at the end of T2, and eventually Pat gets in and does his best Jesus rising from the water. I get a picture like Scarface in a hottub and Tim dives in before we loose complete daylight. The water wasn't cold, but it was far from the tropical pool temps we were hoping for. Now dark we decide to ride back to town, the correct way this time, and ultimately chow down on Al Pastor before hitting the sack.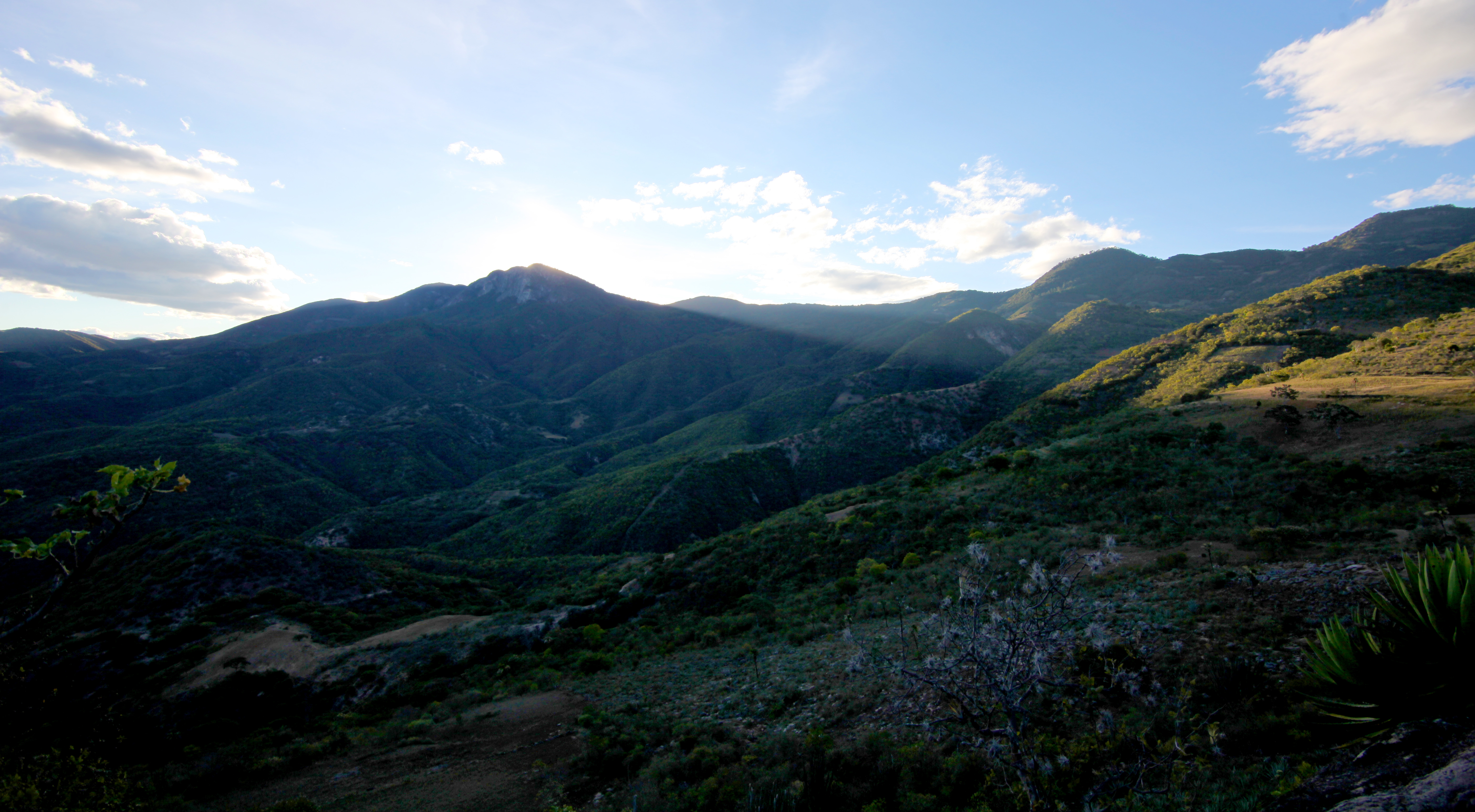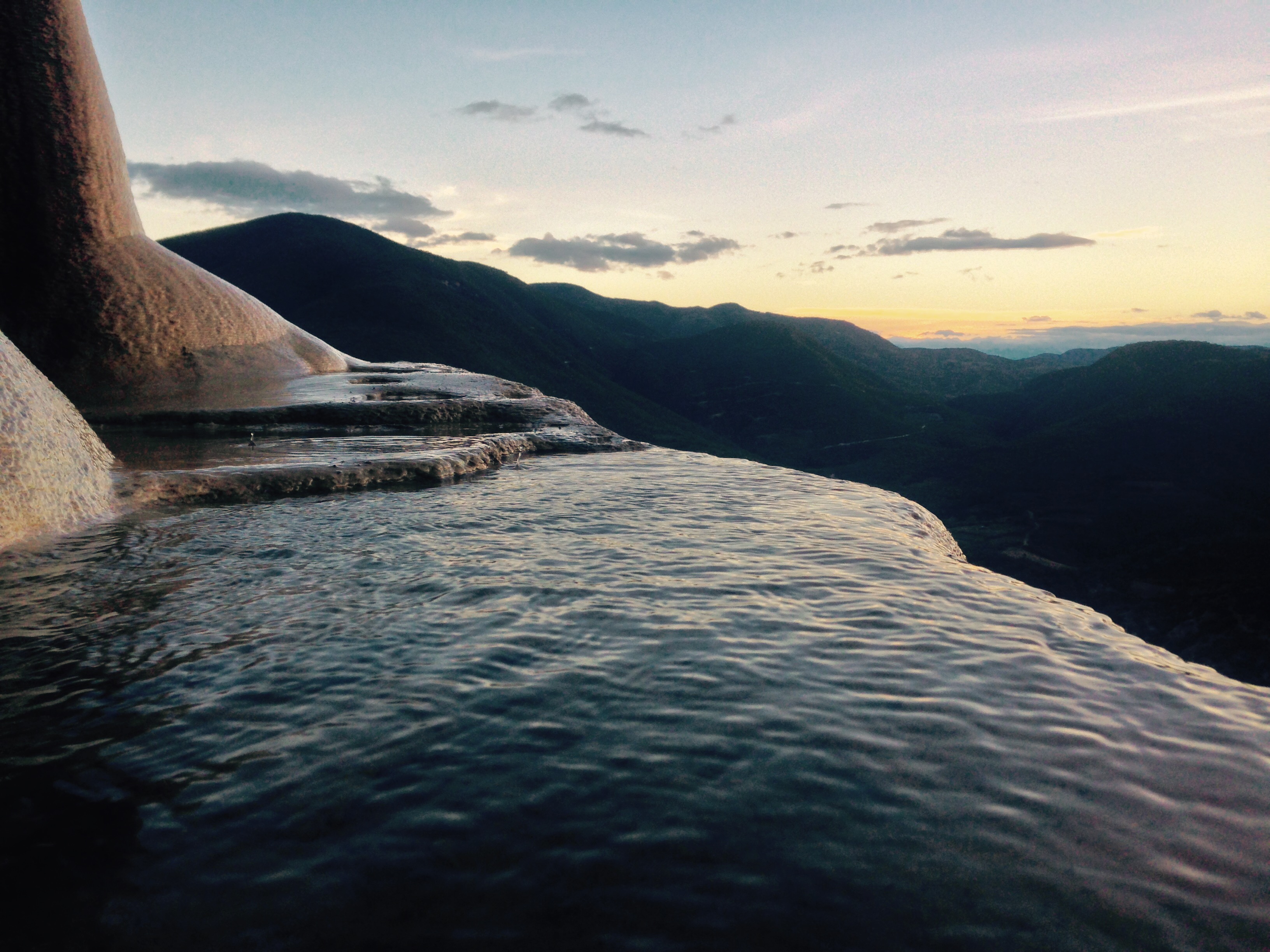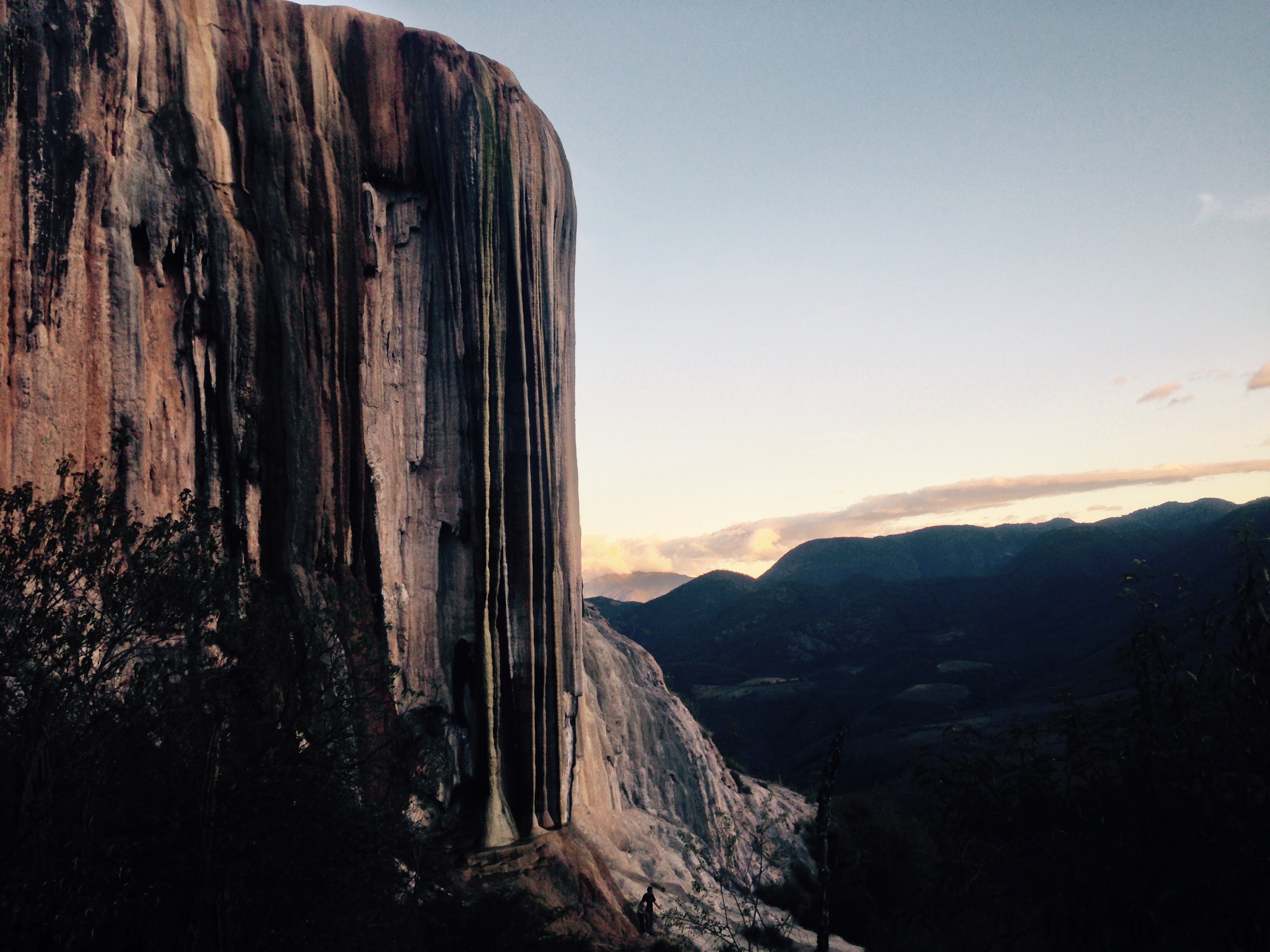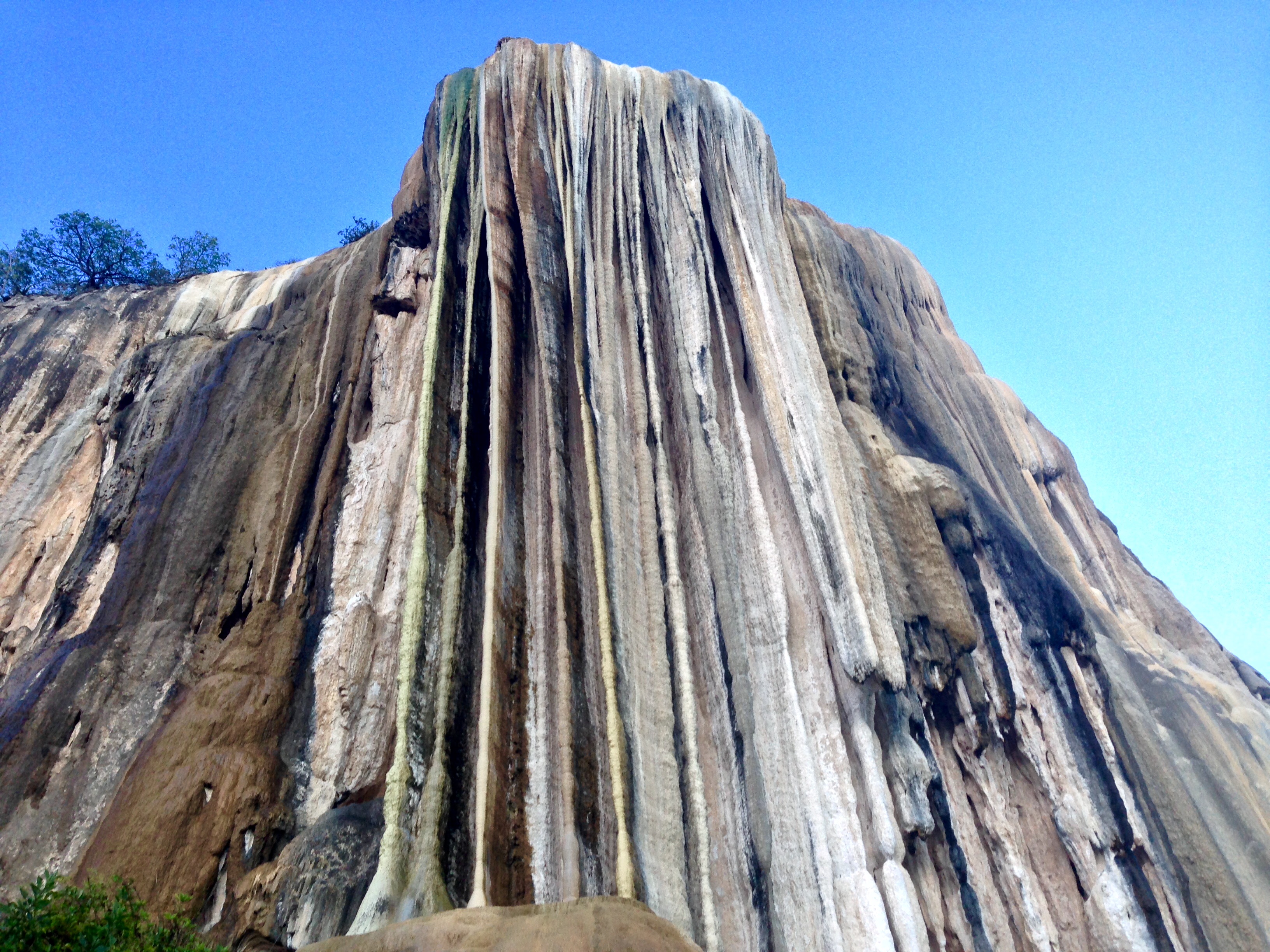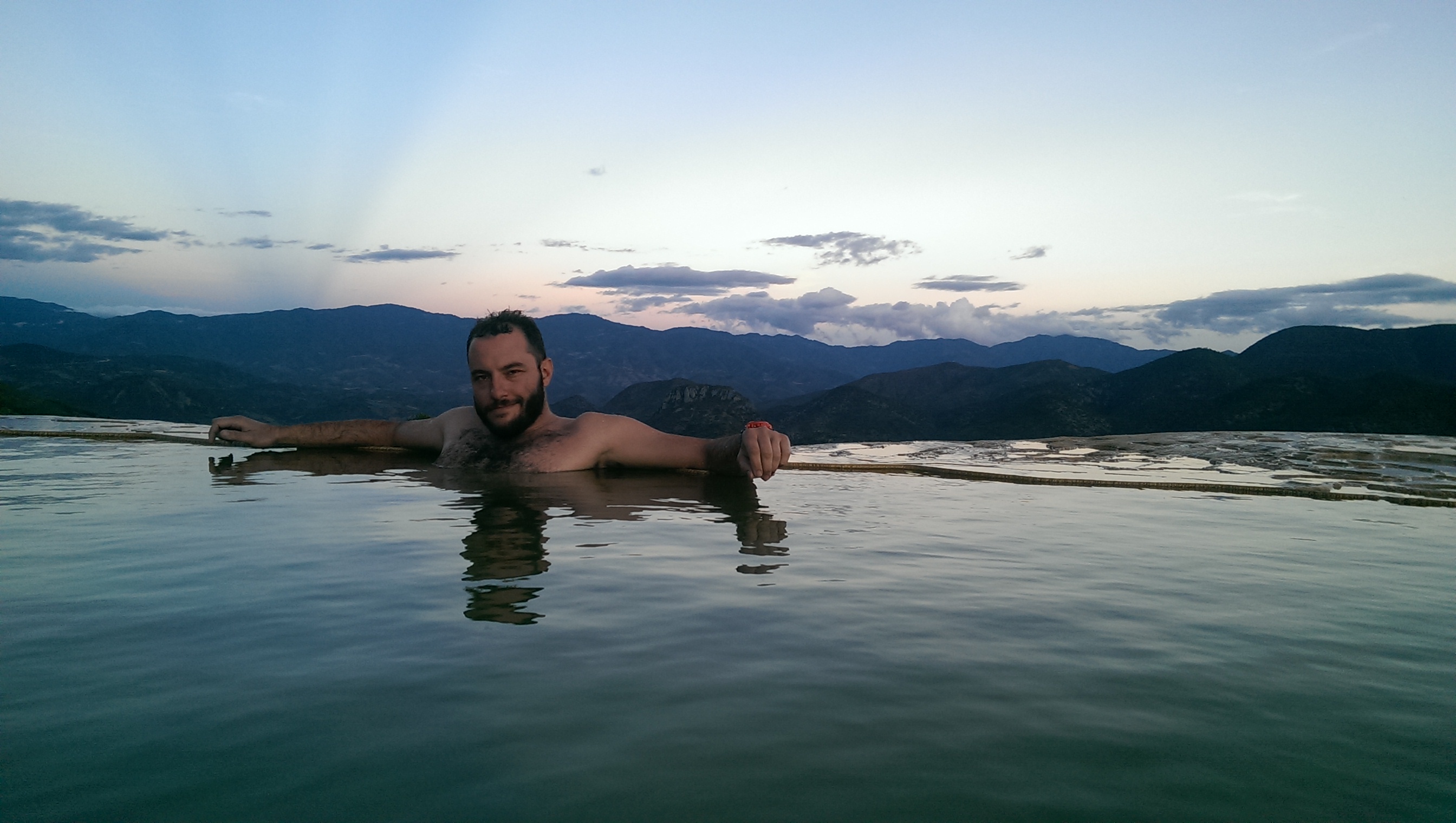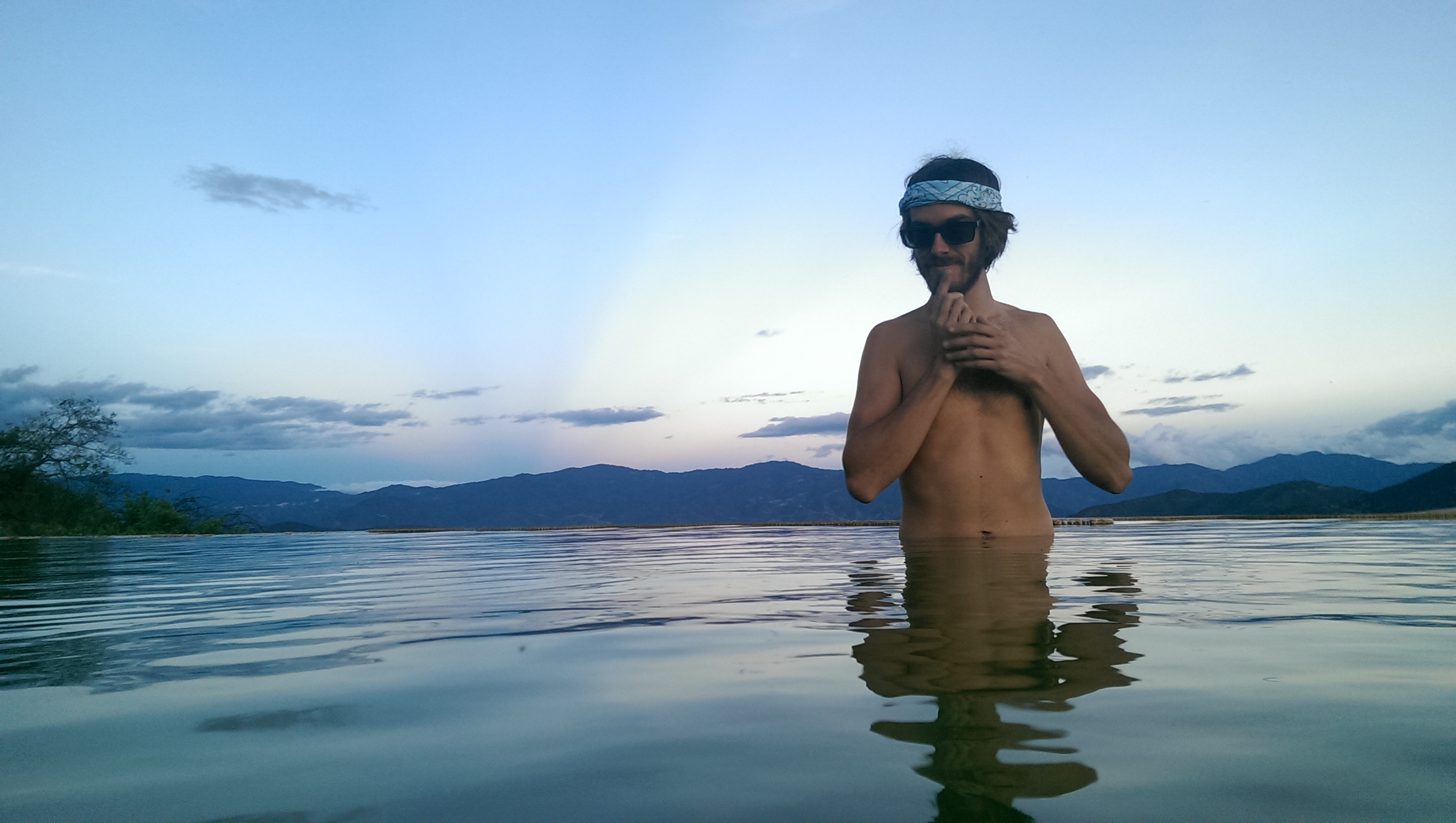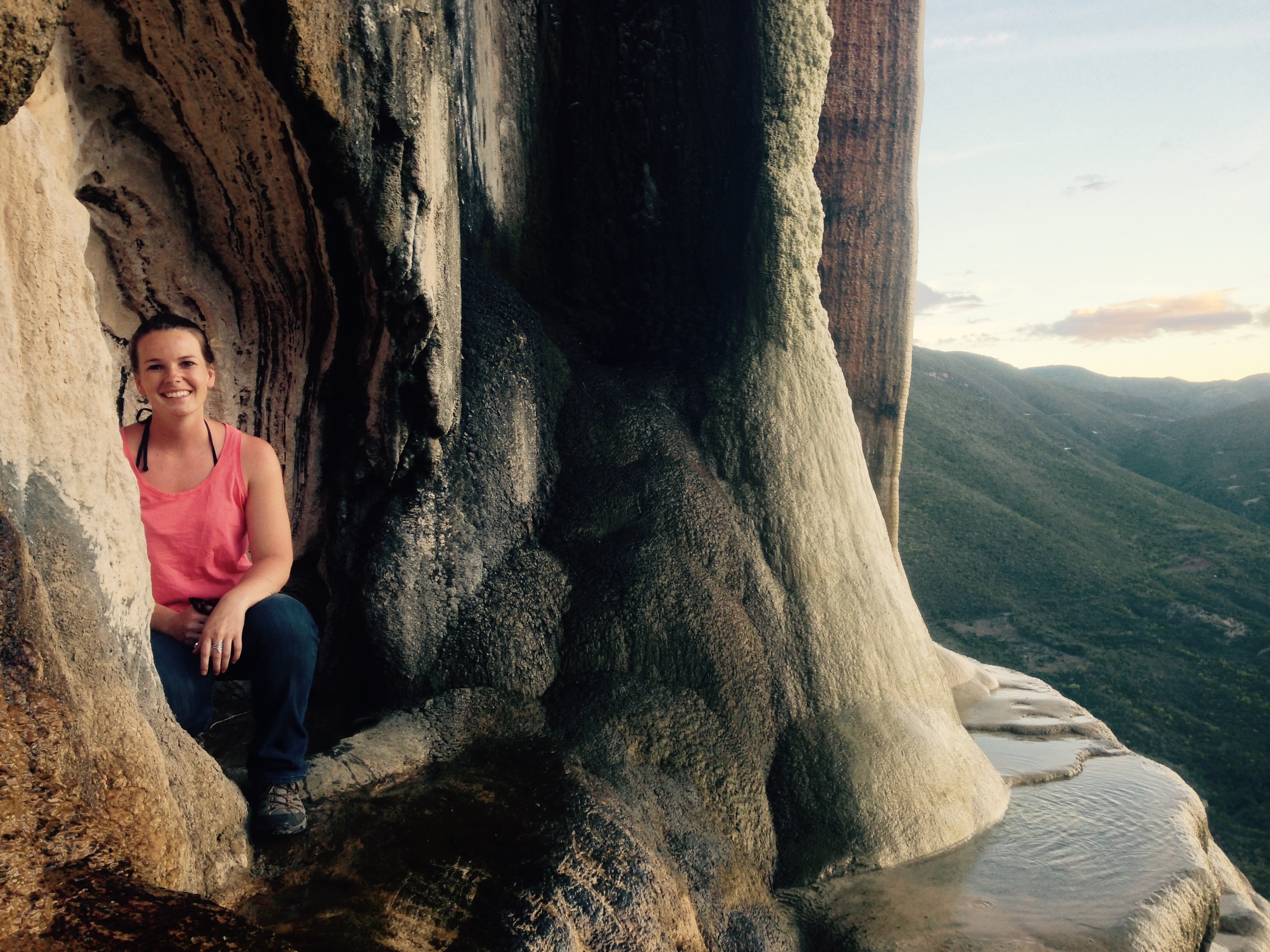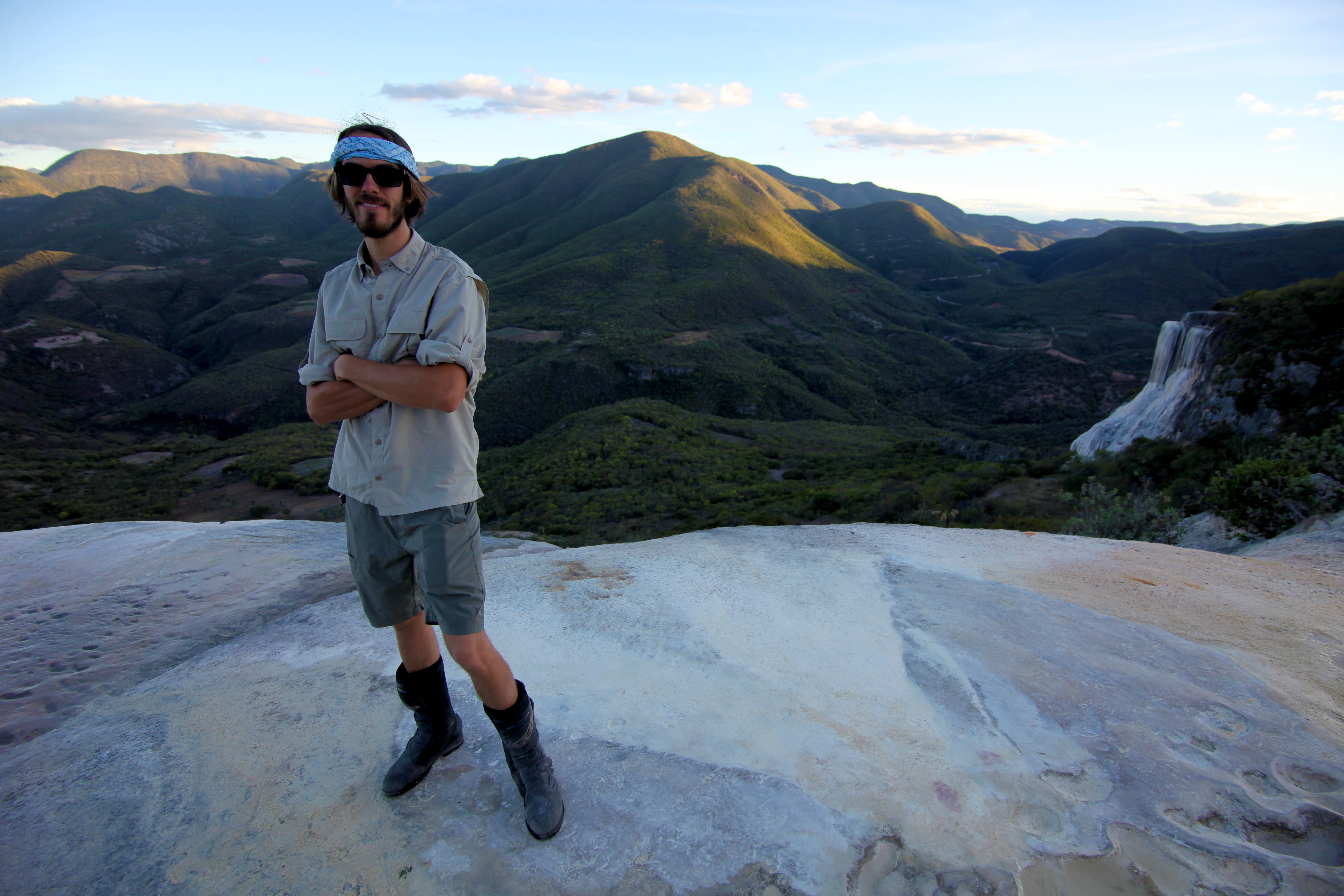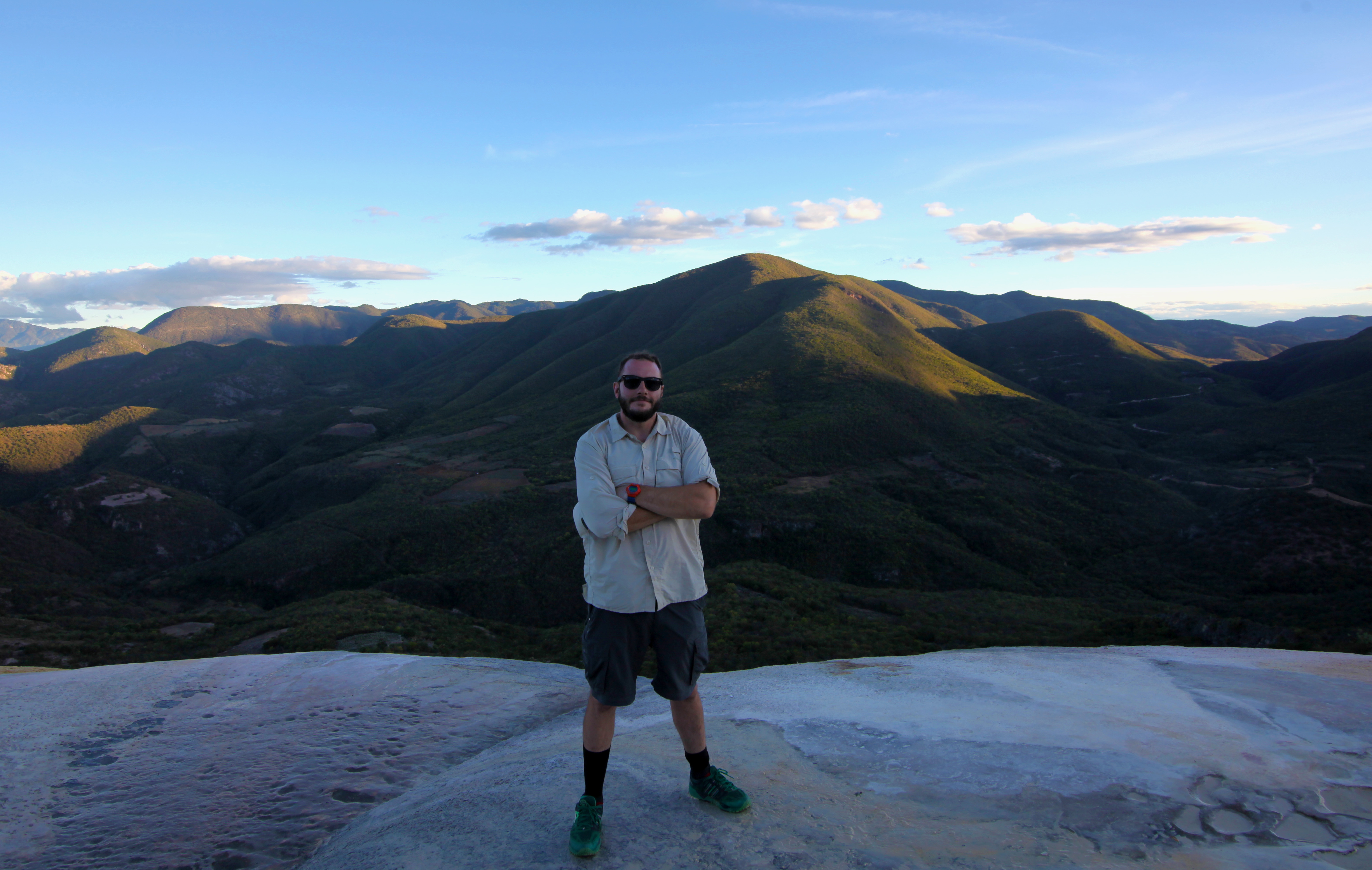 We spend the next day tinkering with the bikes, doing laundry and eventually Pat and I ride out to the ruins at Monte Alban. We hike around and soak in some ruins just before a rain storm hits. "The views (read: butts) were phenomenal, a true cultural experience that Tim missed out on, the ruins were cool too."(Pat)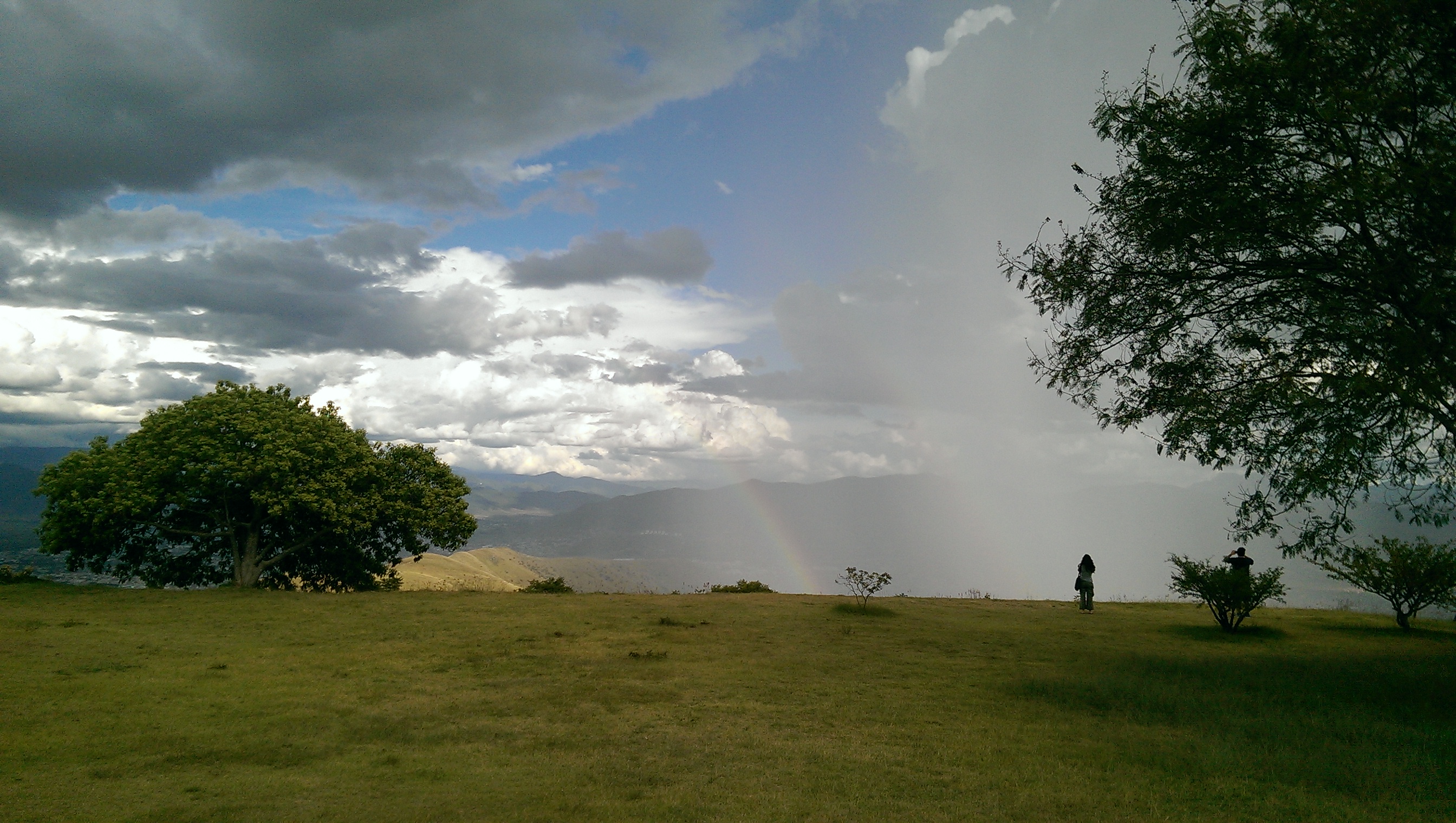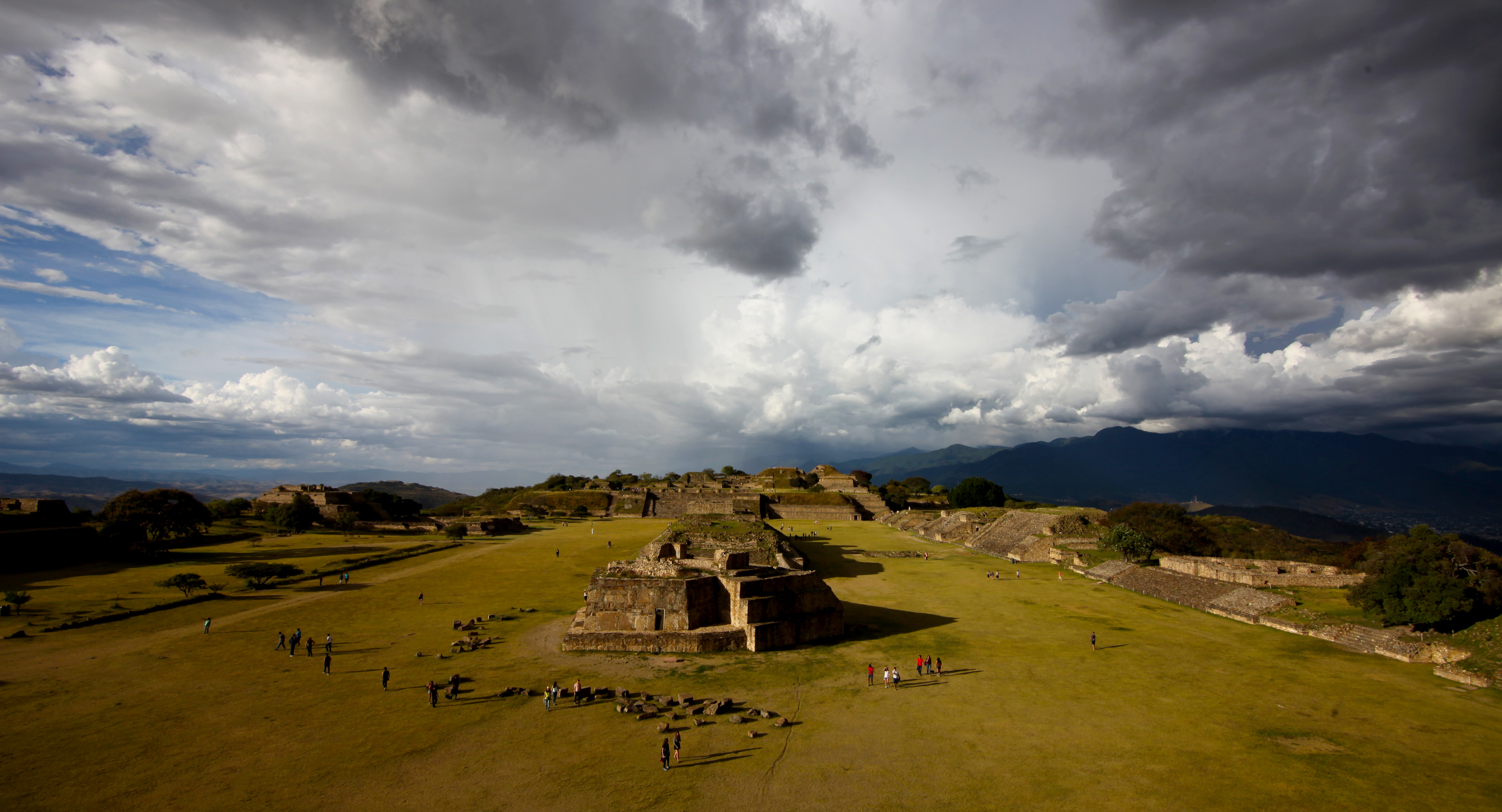 We spend one last night in Oaxaca checking out the Dio de las Muertos festivities. Tim and I discover our new favorite beer in Mexico is Bohemia. Because while light and refreshing, it has a faint hoppy finish. Savannah takes us to the 20th of Noviembre market conveniently located across the street from Benito Juarez, because I have been jonesing for some real deal mole. We settled at Abuelita's which is appropriately staffed by numerous generations of women making what smells like the food of the gods. Pat, Tim and Savannah get Tlayudas, which are essentially giant tostadas, the size of pizzas covered in refried beans, pork fat, cabbage and avocado and baked over coals. I can't resist and order two dishes of mole. First I indulge in a tamale stuffed with chicken and delicious, sweet, chocolatey mole negro. I follow this up with the red hued, less sweet, mildly spicy mole coloradito. Fuck that was delicious.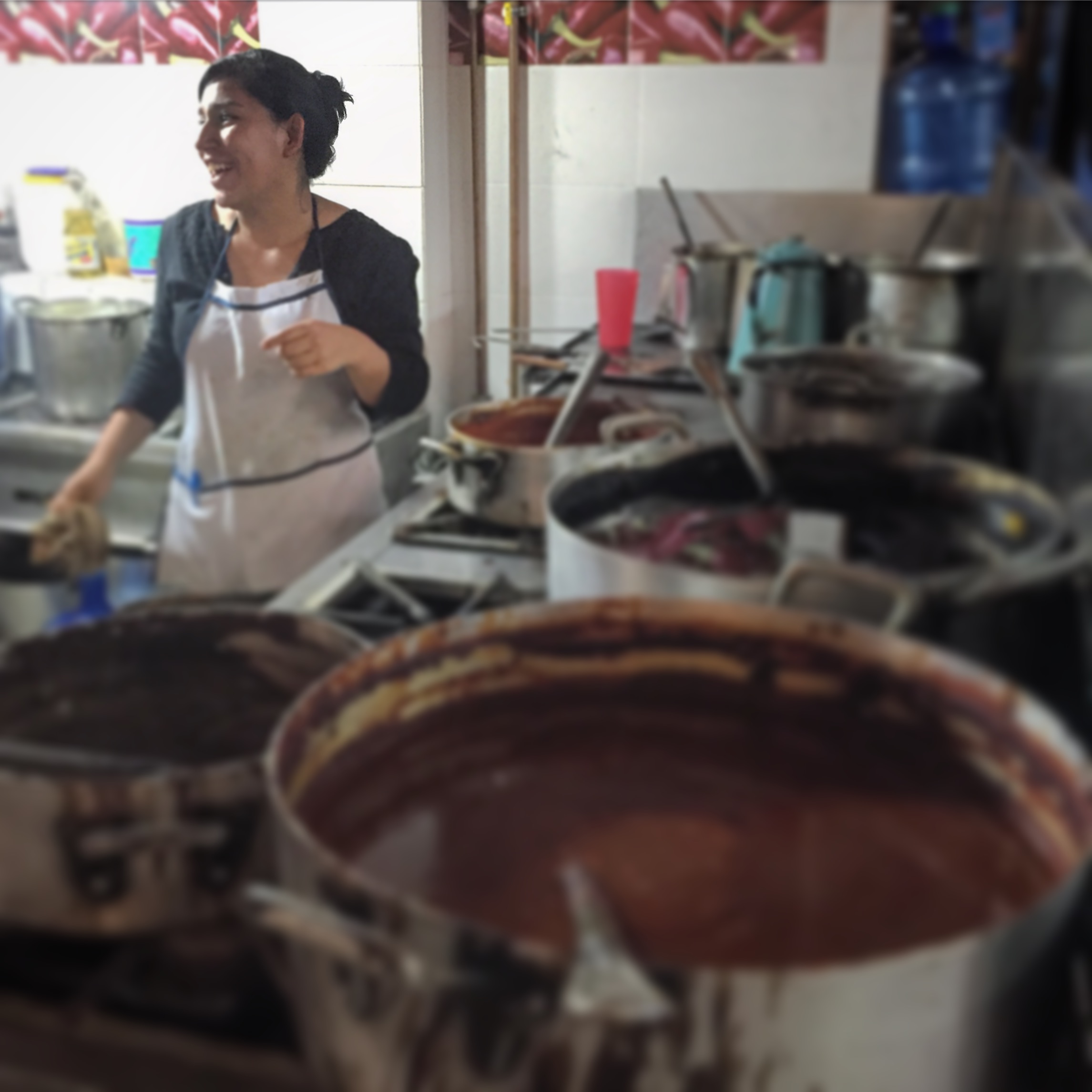 Pat decides to get his face painted in the Zocalo. I"m filming a timelapse of this while Tim sneaks behind and uses google translate to bribe the man to draw two clandestine dicks on Pats face. I must admit it was rather artful because it was barely noticeable to the untrained eye. We rendezvous with the chicas (Maria and gang) and walk around for a more timid night. I get to know Pedro and find out he is also a DP(director of photography) only based in Oaxaca. Whoa. We nerd it up for a while and hit up some street food for some night time snacks. Knowing we have a long day of riding ahead of us we call it relatively early, and Maria offers us a ride. She drives a Ford Ranger and in typical Mexico fashion I must ride in the bed. We drop off Fabiola, and Maria asks if I want to drive. "Um, sure. I guess." I back that puppy down a narrow dead end, and cautiously hammer over all the speed bumps back to the hotel. The two heavily armed cops guarding the hotel look rather perplexed as we pull in, especially to see the gringo driving. We say our goodbyes and it's off to sleep. Another kickass Mexican town, another group of awesome people. I'm starting to think I love this place. We hit the light with Mexican state of Chiapas in our sites.