Panama
I emerged from my hammock as the sun rose. In an effort to get an early start I packed up camp quickly and made my way over to Arena y Sol for breakfast before a long day. Enforcing stereotypes, I ordered "The American Breakfast" which was exactly what I needed. I spent most of the meal talking to a family from Canada who was traveling for months, I was impressed and surprised that they traveled with four small children. Truthfully taveling with childrenseemed like what I'd envision hell to look like but they seemed very happy. Different strokes I suppose.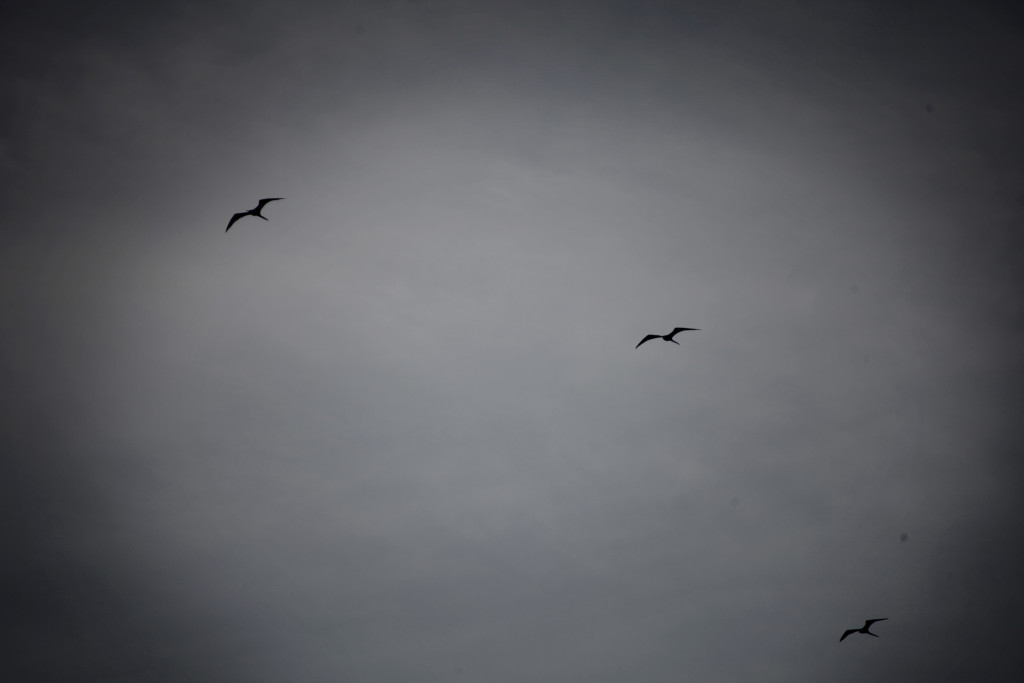 Eventually after the conversation, we all left heading in the same direction, though I knew they didn't stand a chance of keeping up. Before leaving I read a message from Matt about the complexity and horrible nature of the border I'd be crossing. Things to look forward to I suppose.
I breezed through the rest of Costa, I methodically passed everything in my way, making use of the absurdly wide and freshly paved road. I may have even been speeding a bit.
When the border popped up I was immediately met by the ubiquitous pushers but I did something I had not done before, I said yes to a man named Jonathan Calderone. He executed each step with precision, in a very time is money fashion. The step where I paid a lady in a van was definitely interesting. Everyone knew him and it was obvious I would breeze through. While I normally think everything the pushers say is shit, when he told me he gives the people at the border money, I believed it.
After a mere 40 minutes, I was through. About four hours quicker than my buddies. But who's counting? It was pricey and the lesson learned is always ensure you know the price beforehand, but overall I think it was a good deal.
I was told by multiple sources not to speed in Panama but this seems to be an impossibility for me and thus in just four hours total, I arrived in Boquete, might be a record?
Matt, Tim, and Savanna were in the parking lot when I pulled up to Hostal Nomba deep in some bike maintenance. Once I unpacked, I joined in and and completed my oil change while Matt did the same. Tim had a laundry list of things to do including an air filter clean which involved judicious used of gas and motor oil, the expedient k&n kit.
Hostal Nomba is run by a a guy from Colorado named Ryan. He seemed to have life figured out, and was enjoying it thoroughly.His son Ocean had that curiosity most two year olds enjoy and took a keen interest in our bike maintenance.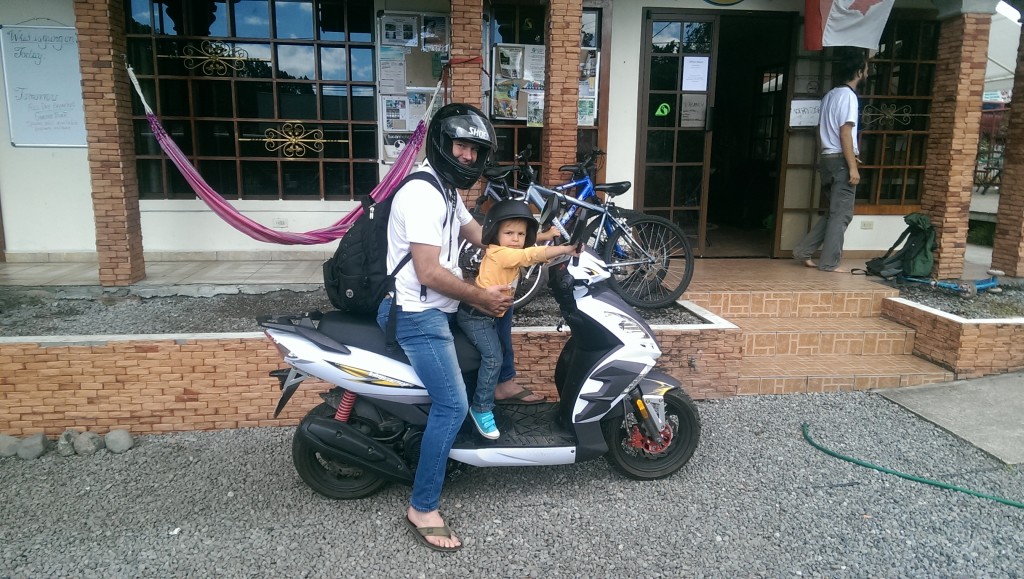 Ryan and Ocean pulling up on "Oceans moto"
Shortly after we finished, I was informed it was time to leave for a hike to some hot springs. I hopped in Ryan's car with a French couple and Ben, an American volunteer at the hostel. We grabbed food on the way. The other three followed behind on their steeds.
Ryan led us on a short hike to the property where the springs were giving us fun facts along the way. It wasn't long before we all immersed in the coolest of the springs first. Then we went to the lobster pot which took a big leap up in the temperature scale. On the hike back Ryan introduced us to spiders, toads, and a snake, a successful evening. When we got back it was late, we all sat outside and swapped our travel war stories.
We woke up the next morning with a hankering for cheap food, or at least I did. This is when I started the trend of eating every meal in Boquete at the same place, El Sabroson. Essentially this little gem serves up a cafeteria-style experience. You wait in a short line, pick out food from a handful of choices, and then pay a them a little money. I liked it enough to eat 5 meals in a row there.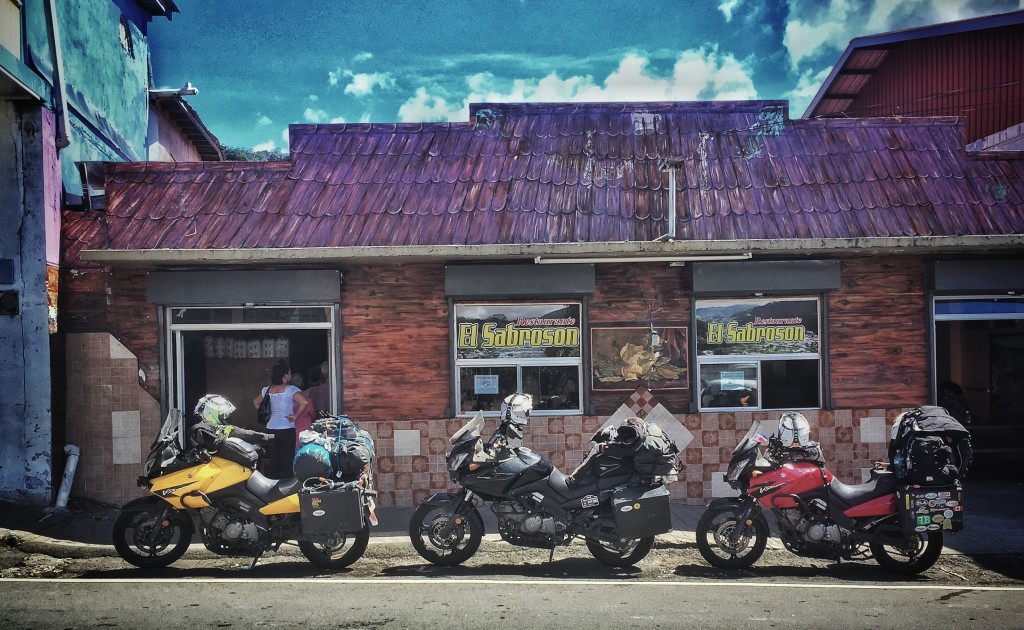 After breakfast there was a lot of dilly-dallying, trying to figure out what we were going to do that day. Tim and I decided to go rock climbing since we hadn't in quite awhile and it was once a daily staple for us. Matt and Savannah opted to go for a waterfall hike.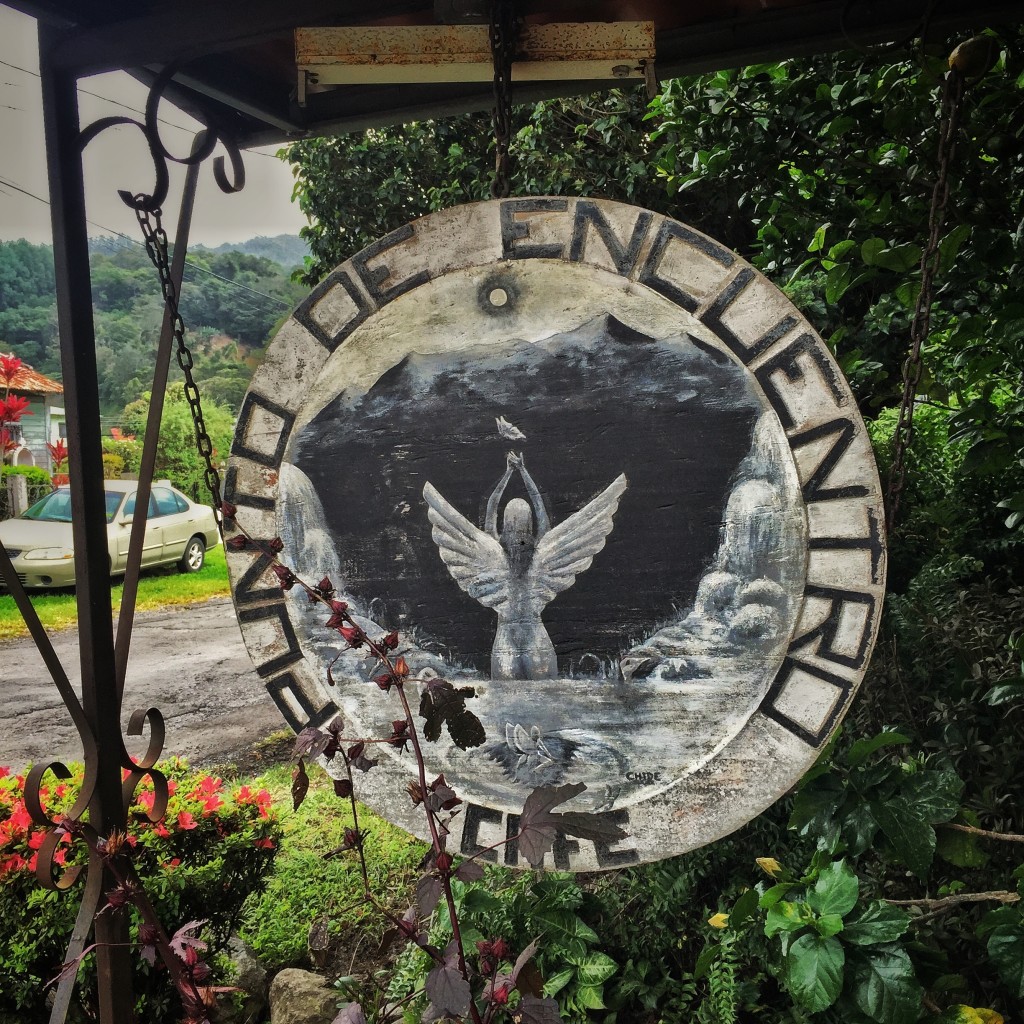 Matt, Tim and Savannah went here, more pricey than the comedor but amazing. For all yll Philadelphians it was the Honeys of Boquette.

Boquette is known for its world class coffee, so I had to go and buy up a bunch directly from the plantations. -Matt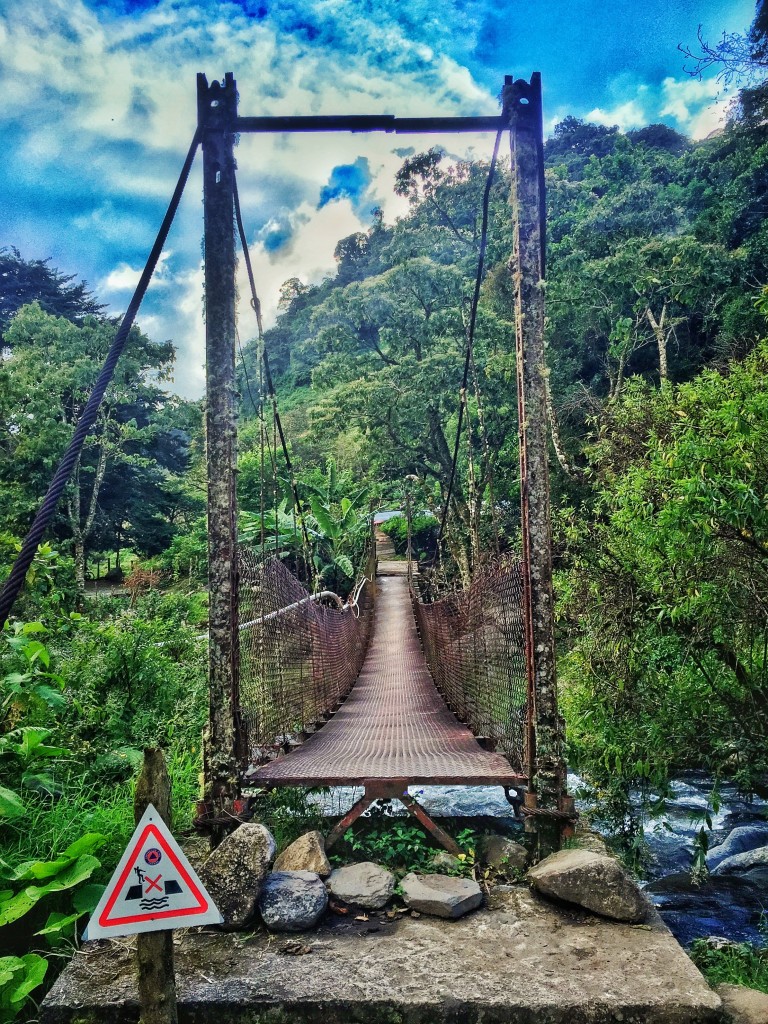 In Panama these "rope style" bridges are just horizontal planks with a long sheet of corrugated sheet metal thrown across.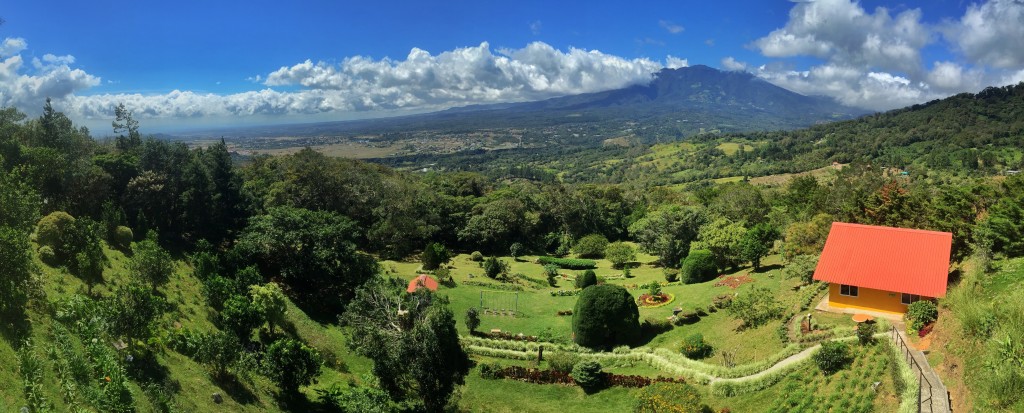 Volcan Baru in the distance.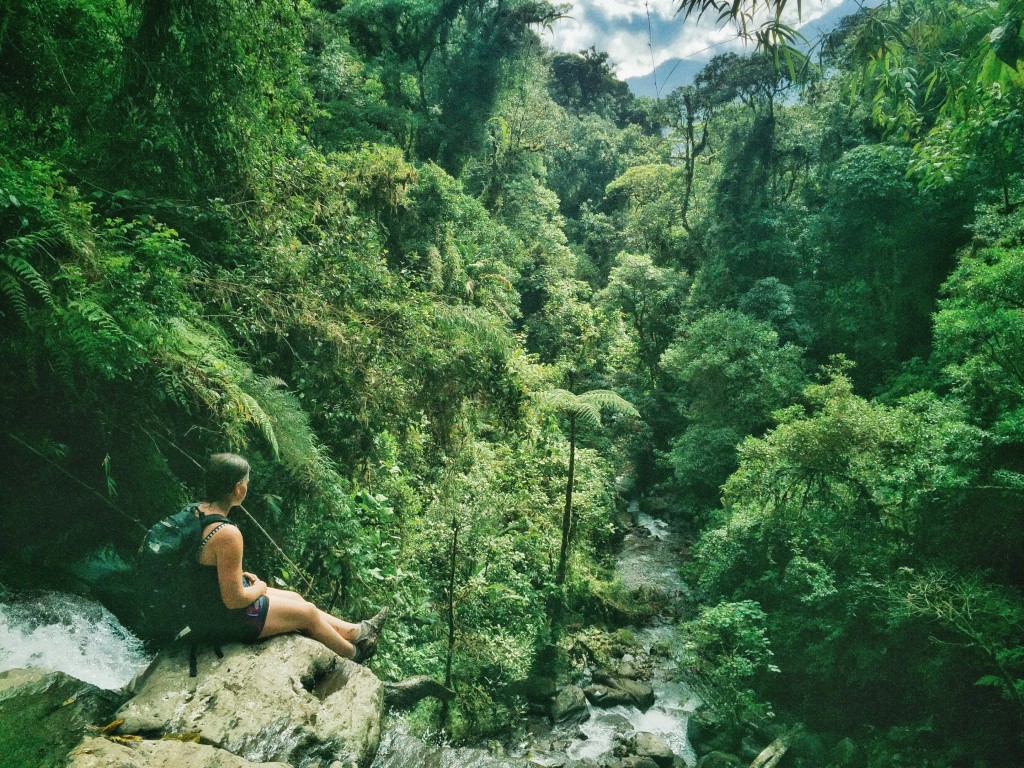 Tim, Ben, and I walked over to the climbing wall and got our bearings for the layout of the land. The rock was nothing like I had seen before, a volcanic rock with unique features which made for a very interesting climb. I felt weak, struggled up a 5.9, and was even a little nervous. With all that, I was glad to be back on the rock. While climbing, some locals were doing impressive things on a slackline, to preserve my dignity, I stayed off.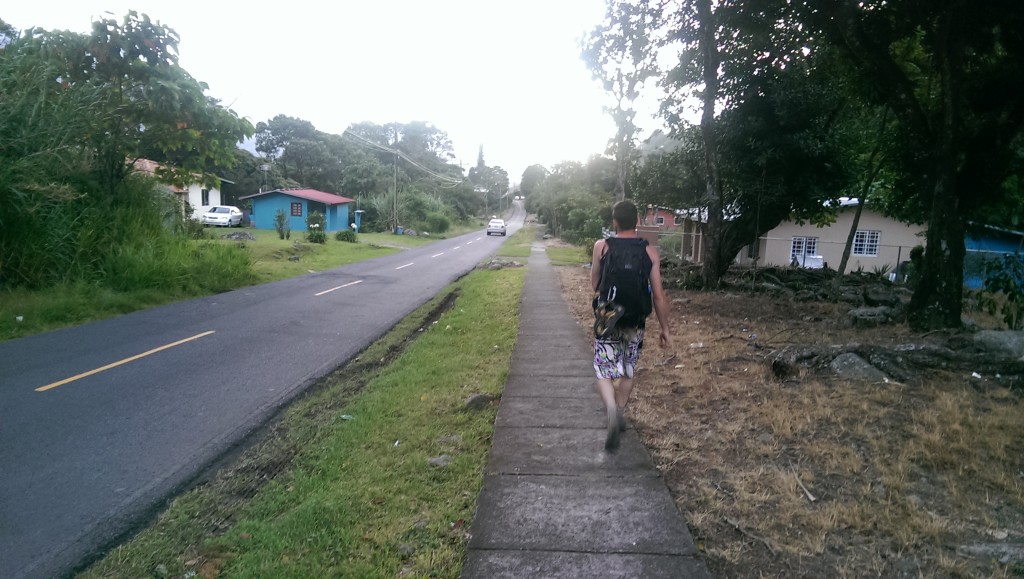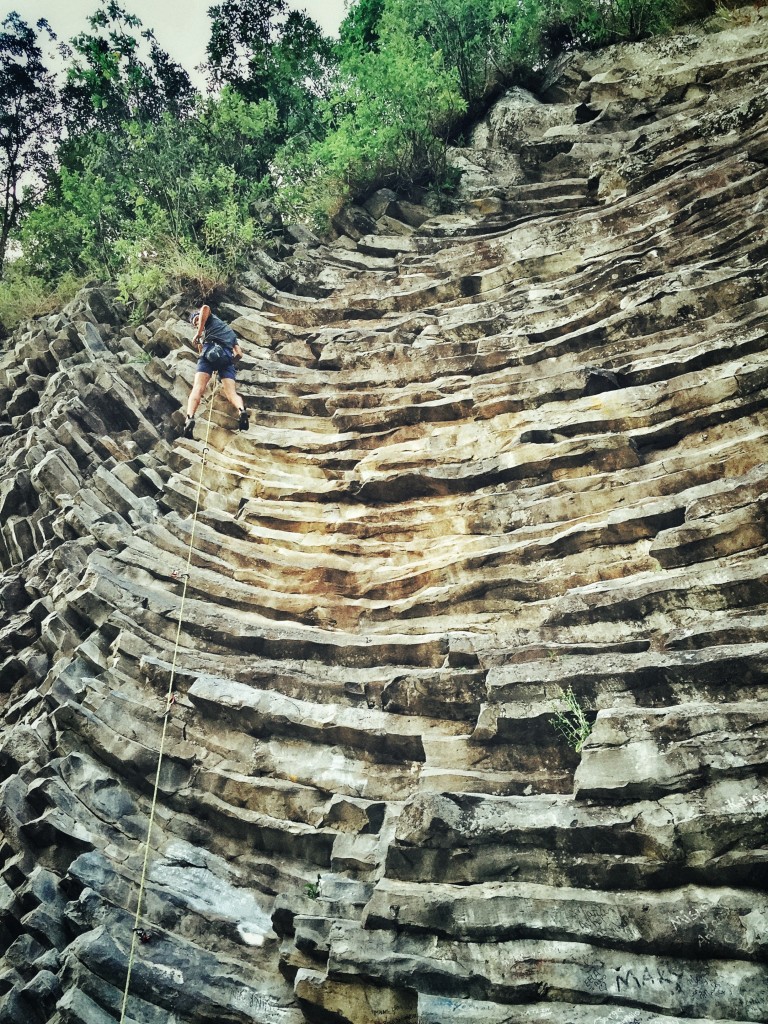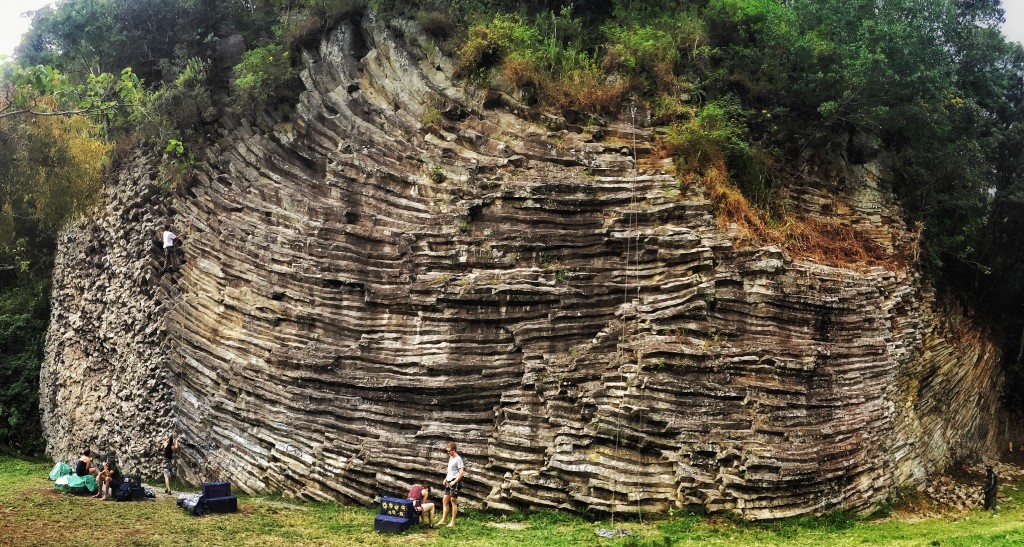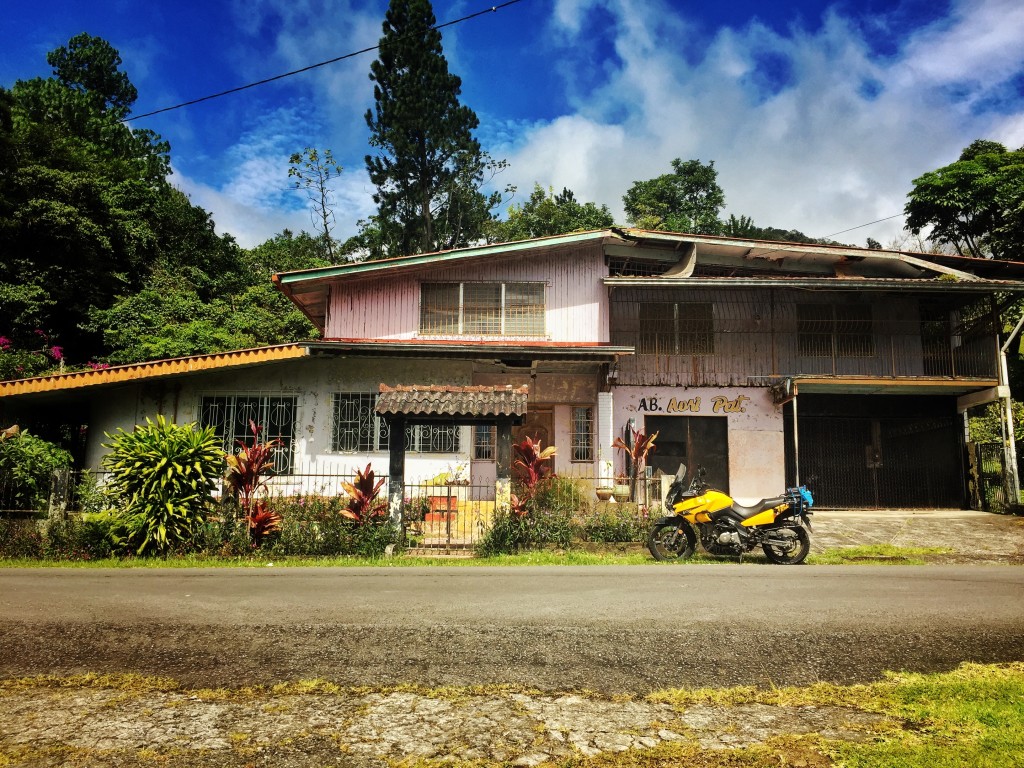 Eventually Matt and Savannah arrived at the rock wall and it wasn't long before Matt was making his way up. The sun was beginning to go down and it was time for us to try out a local favorite food spot, Milquiburger. Of course they don't open until 4 and when we arrived at 6 they had three pieces of their famous fried chicken left. It was good but didn't satiate our appetites so wewent onward to the spot.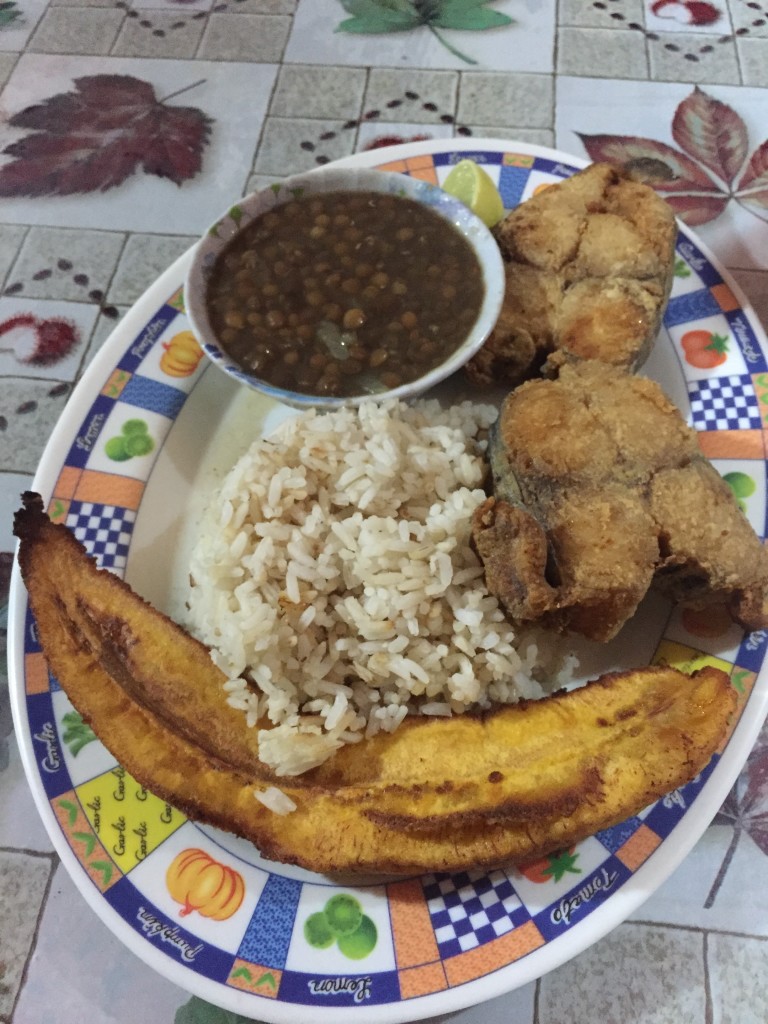 This is what $2 gets you at the fish shack in Playa Uverito.
The next day we got a bit of a late start for our journey to Phil's house in Playa Uverita. We had trouble finding anywhere open for breakfast and I had to buy a machete. On sale for just $3.70 with a sharpener. Who's Phil you might ask? Phil is a guy from adventure rider (cmnthead) who graciously allowed us to stay at his beach house for some R&R. (thanks Phil you are the man!)
Playa Uverita was a few hours from Boquete and put us about halfway to our final destination in Panama. We kept a good pace the whole way and the cops seemed to just wave as we passed.
We passed through Las Tablas, the last moderately sized town before Uverita. Phil had recommended we stock up on supplies here but we pushed on since it was late. When we made it to Phil's it was clear why he recommended it. The area is void of any stores save a few beachside restaurants which makes for a serene atmosphere.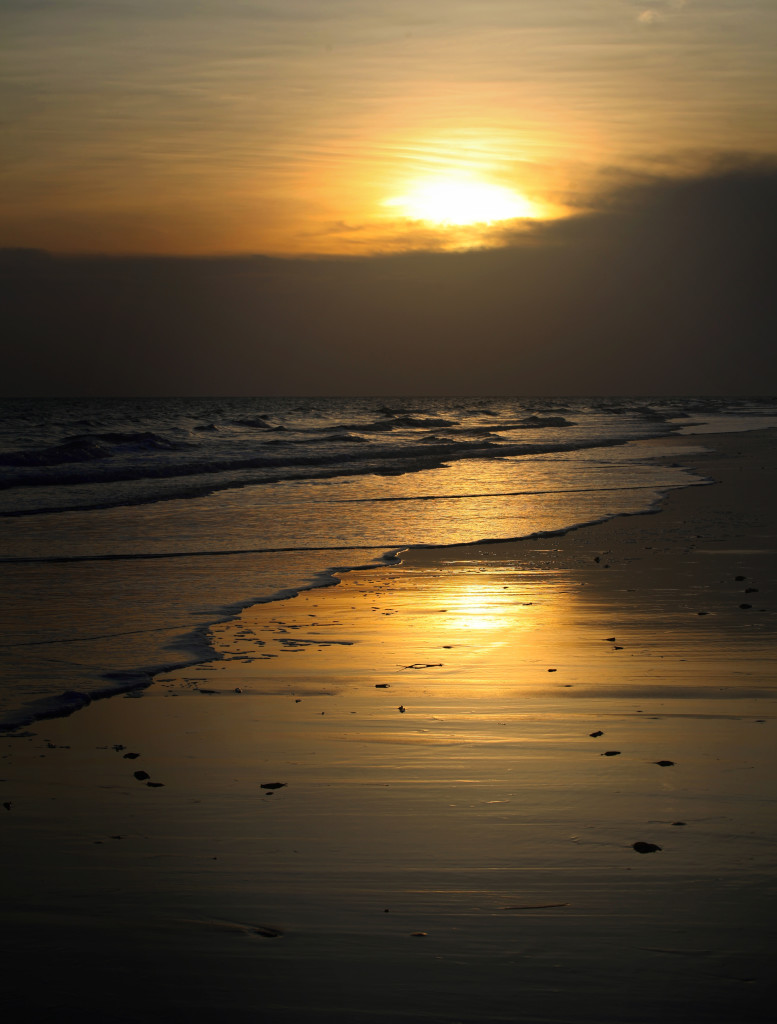 Sunrise in Playa Uverito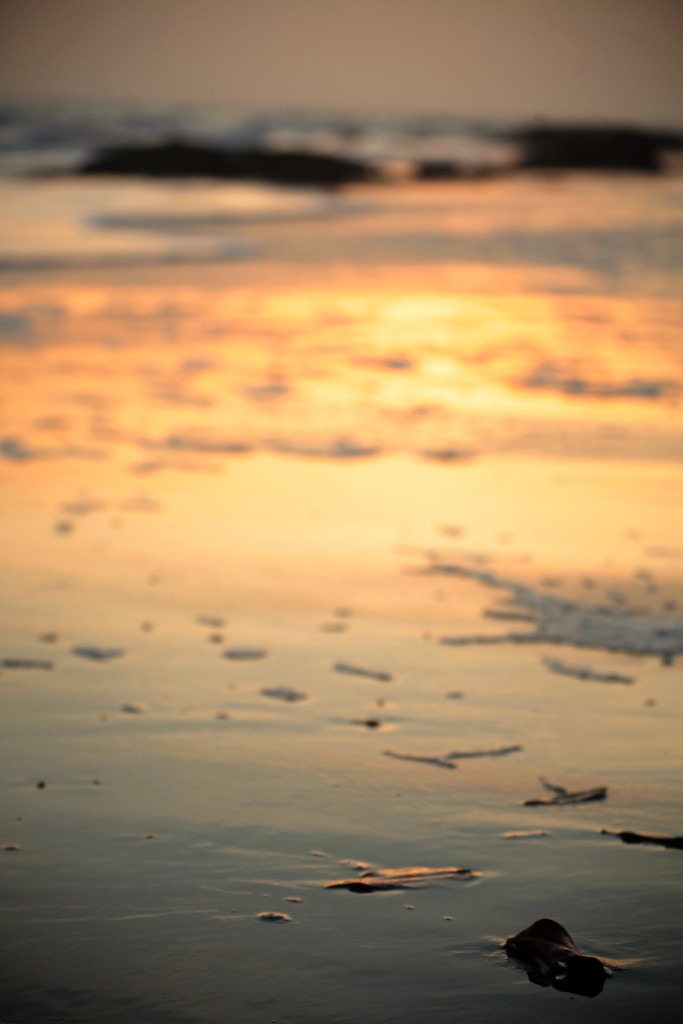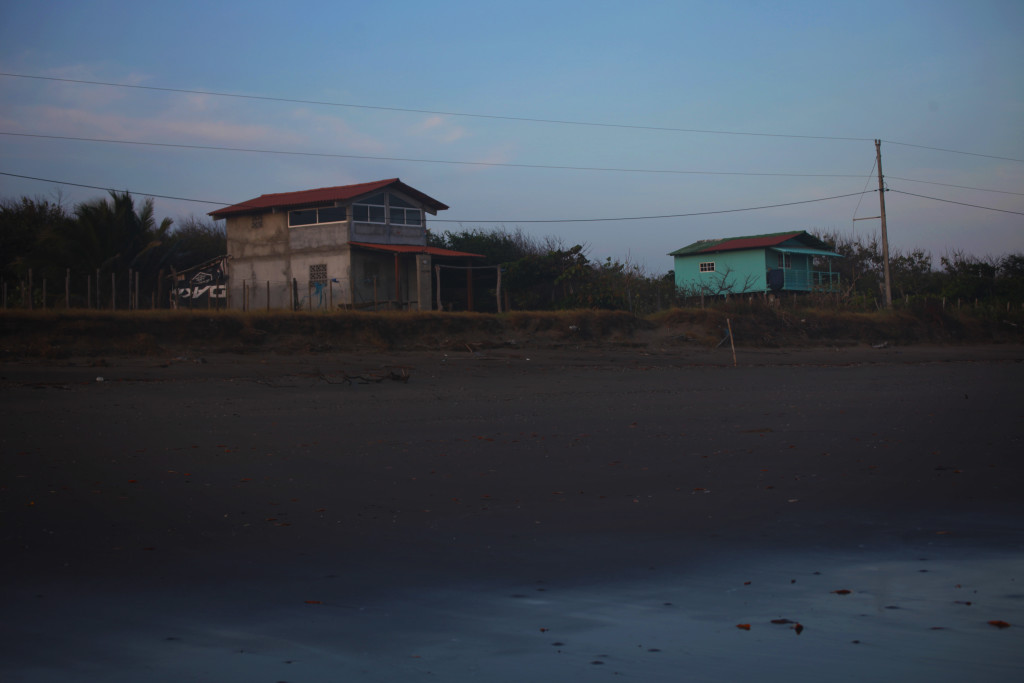 The amazing and sparsely populated beach of Playa Uverito.
We ate dinner at a local spot which offered good/cheap seafood. Tim and Savannah got some ceviche which looked a bit suspect and ultimately we think got them a bit sick. Matt and I enjoyed it though!
Matt and I awoke early the next day and decided to go into las tablas to get food for breakfast/lunch. While there we treated ourselves to some food at a comedor. I spotted some police carrying a very uncommon firearm and approached them to discuss. The Kriss Vector they carry is very interesting, sadly they declined my request for a photo but they were very nice and curious about our journey.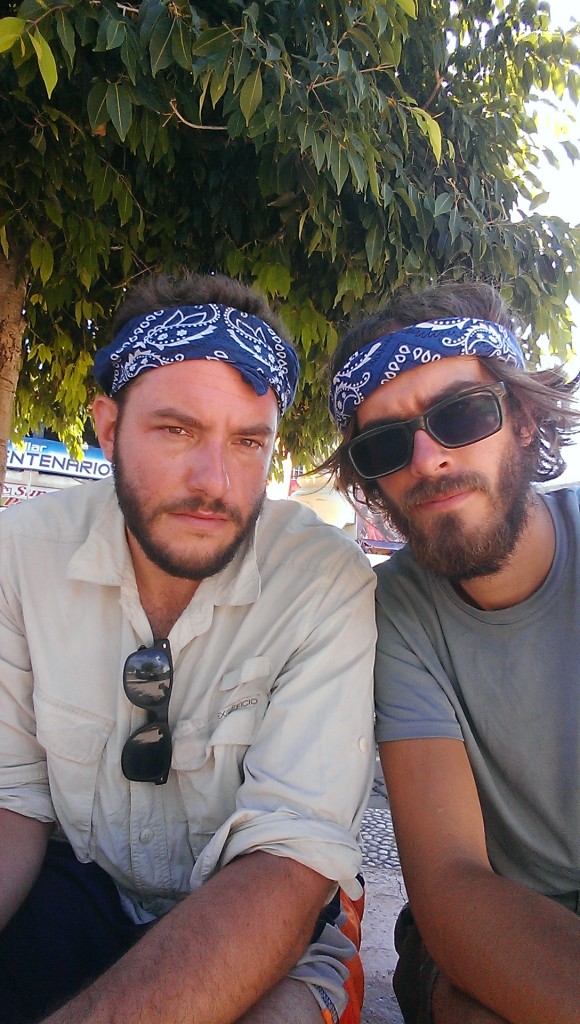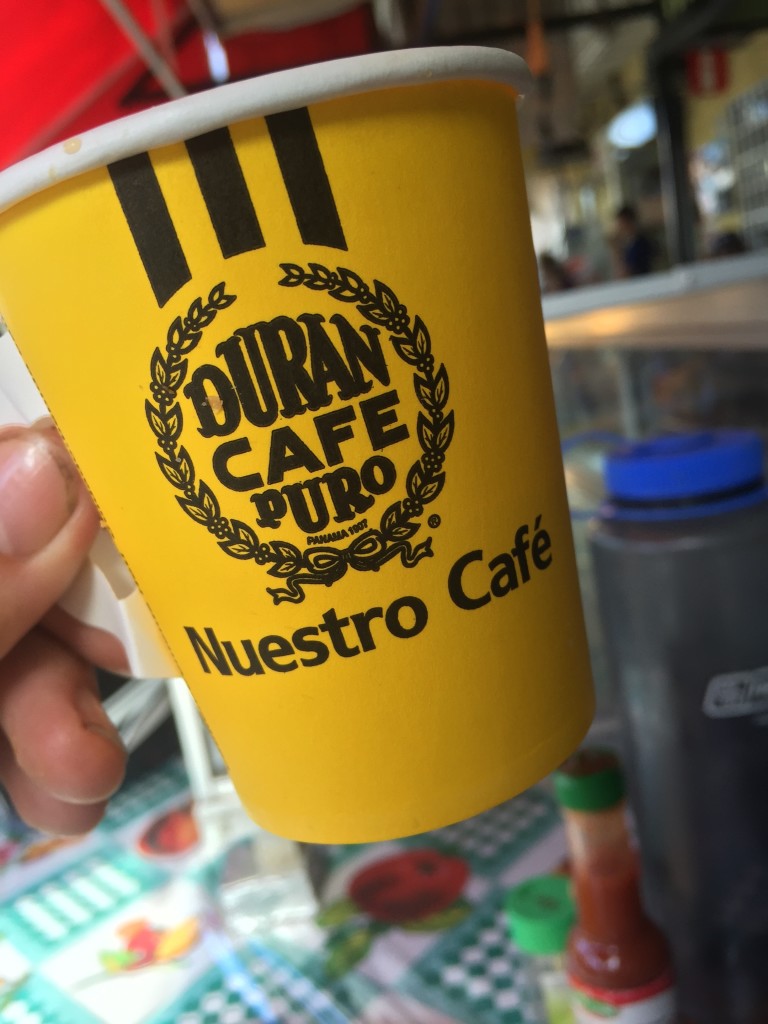 You get coffee in the cutest, smallest paper cups in panama. I need like four of these a day. -Matt
Our main goal was to get smoothie supplies, we picked up a plethora of different fruits. Almost more than we could carry back. Thankfully no fruit were lost or harmed in transport.
The night before I had sharpened my newly acquired machete and it was time to put it to work chopping fruit. While it was comically large, it made quick work of the task. In no time we were enjoying awesome smoothies made from banana, papaya, mango, passion fruit, and pineapple. After we all went for a swim.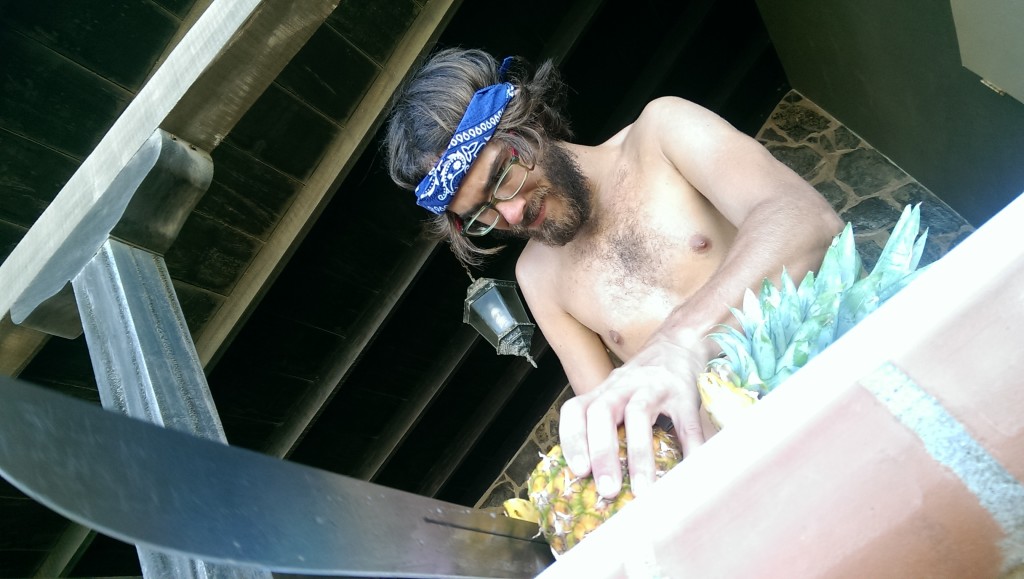 Tim and Savannah decided it was their turn to check out Las Tablas. Matt and I went back to the previous night's dinner spot, a positive experience for us again.
We had a pretty lazy night laying in hammocks and enjoying the breeze.
In the morning, it was smoothie time again before packing up to make our way to Panama City. Once back on the Panamerican the ride was pretty effortless. We encountered a fair bit of construction but it hardly slowed us down.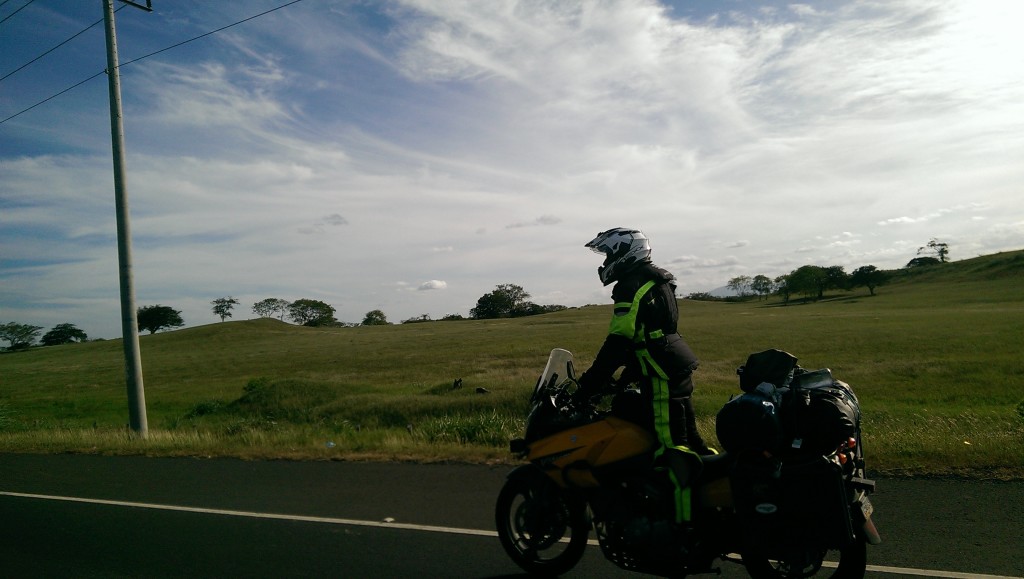 In no time (after fighting a sea of traffic in the city) we were at the Aloft. We had to sneak Tim and Savannah in since this hotel had a two person limit. Thankfully we were just good enough to not get caught!
The others went out for dinner while I laid around like a slug, eventually I joined them at a Chinese place nearby by a stroke of blind luck. I was able to eat for free on their leftovers. Sometimes it pays to be lazy.
In the morning the couple's split up. Matt and I went to the causeway while they went to the canal locks. Unfortunately the locks were super busy and the causeway had fences up everywhere destroying the beautiful views. Either way we all still had a great time.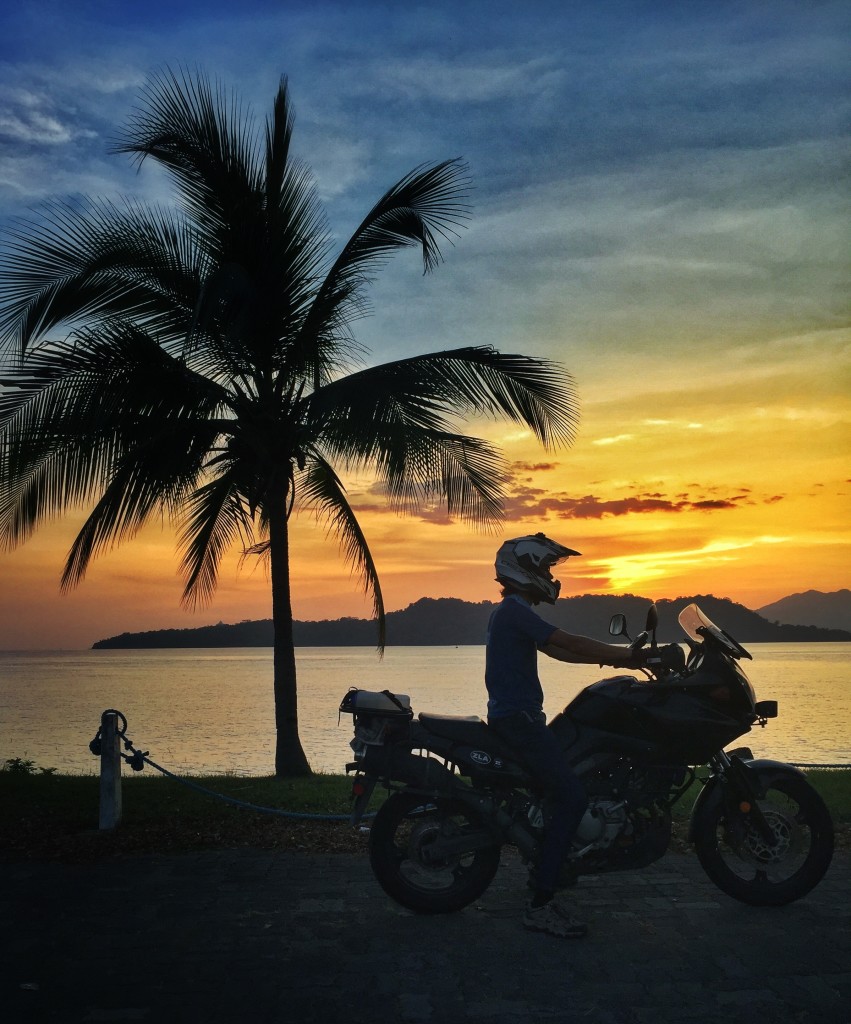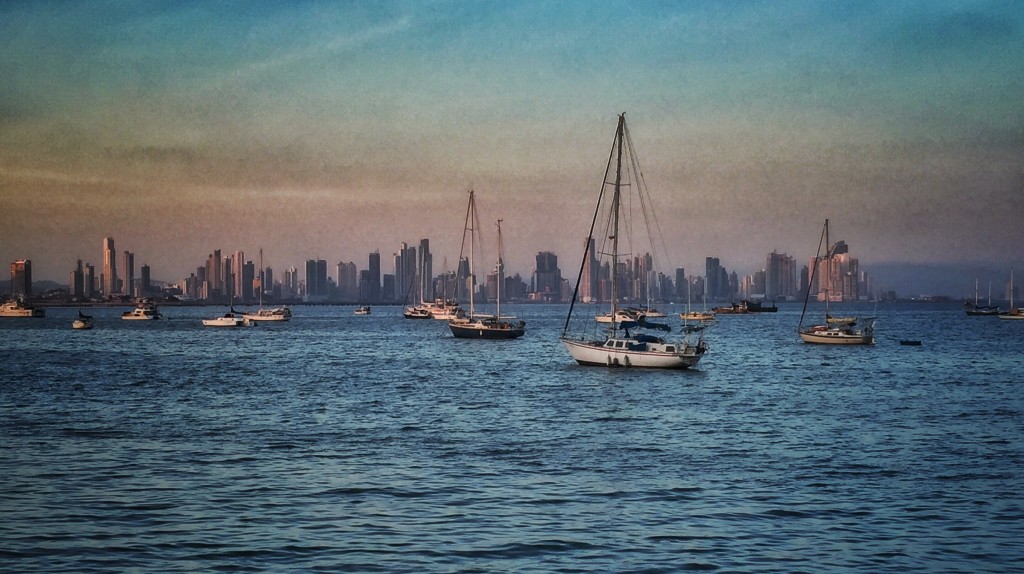 After we headed over to the multiplaza to get cheap food Matt had researched. It was at a supermarket within the mall and was fairly good. As a bonus they had mint ice cream, no chips. Which is my favorite. Matt continued on to the movies to see 007 Spectre while I explored the city with a local tour guide. I got to see most of the I wouldn't haven't seen alone.
It was great escaping the heat in the movie theater. The theater I went to was buried in one of Panama Citys super sized malls. Its strange how being in a huge shopping mall can make you feel like home. Also I saw a prime time showing at 7:30 for only four bucks!
The next day was to be our last day in Panama city. Matt, Tim, Savannah went to MiraFlores at the canal while I went to Albrook mall, since the weather was bad and I wanted a new knife.
It's difficult to describe the magnitude of Albrook. The mall spans the length of the airport and has 700 individual stores. It took about 1/2 hour to walk to the knife stores where sadly all I found was cheap Chinese knockoffs at inflated prices. I washed down my sorrows with ice cream and enjoyed some serious people watching.
The ride home was very wet. The skies opened and I was quickly covered in that cool, clean city water. The others had went to a gang tour that sadly I couldn't join in since I couldn't call them. So I went to the panaderia for some dinner. They were out of pizza so I ended up with empanadas.
The Fortaleza "Gang Tour" was unlike any tour I have ever been on. Your tour guides, former gang members, take you through the now beautiful Casco Viejo section of Panama City. They take you through the areas Colonial History and how the wall acted as self defense from attacking Navys and how it also divided the have and have nots. You tour the areas most beautiful Hotel which was once run by gangs and a haven for drugs and prositution. You stand where the kingpin was gunned down and fell two stories from a balcony above. They also take you through the neighborhood and show you how there is still much progress to be had but eventually leave you with a sense of hope for the area, its people and a delicious cocktail. Also our English Translator was from Danbury Connecticut….small world!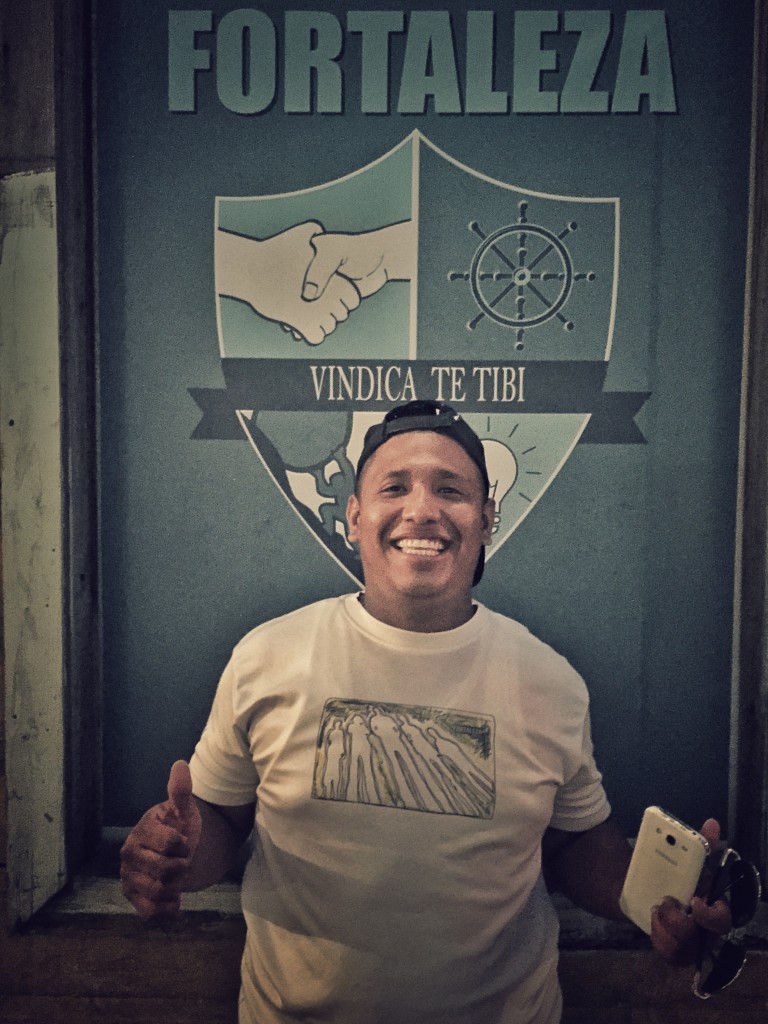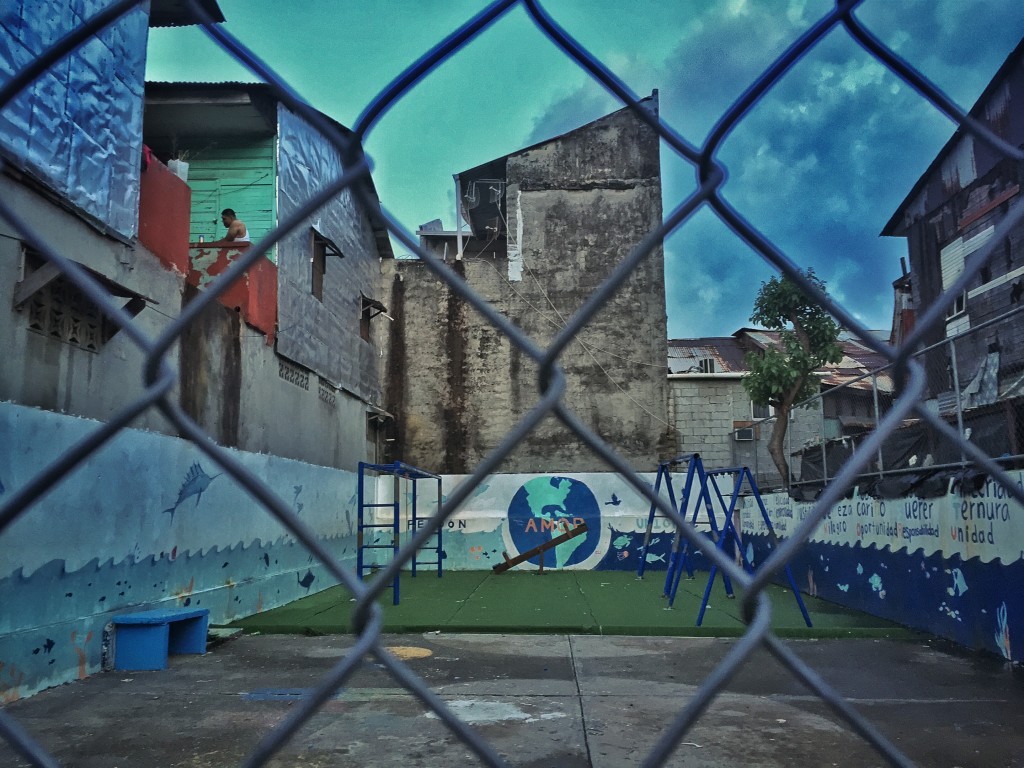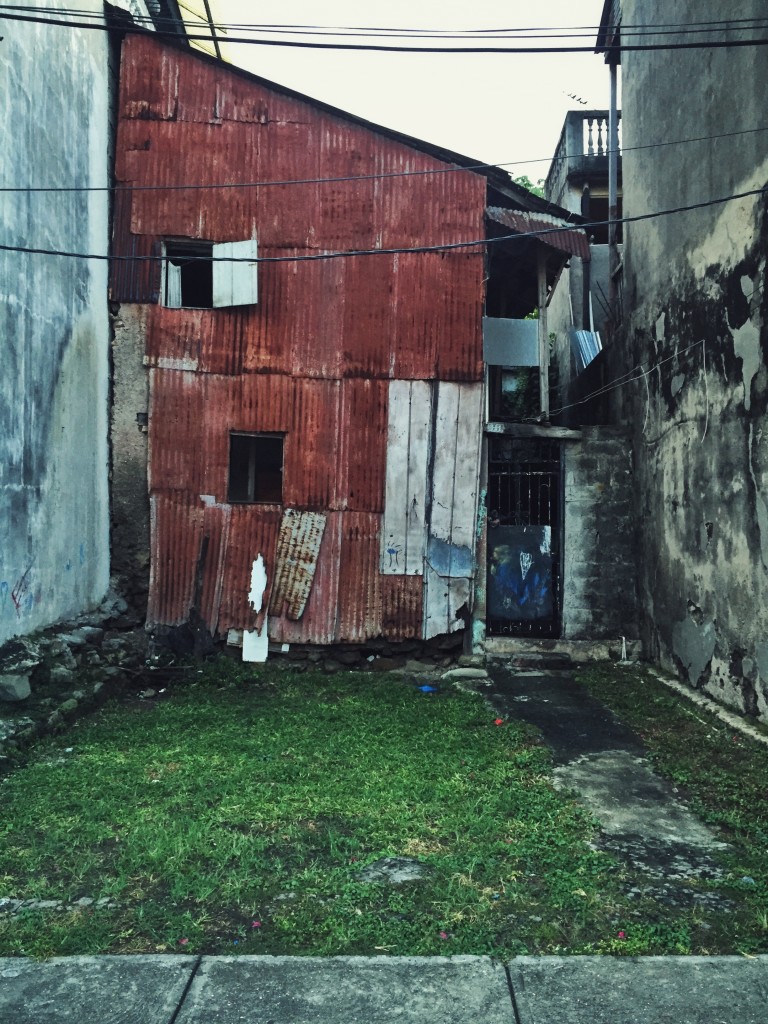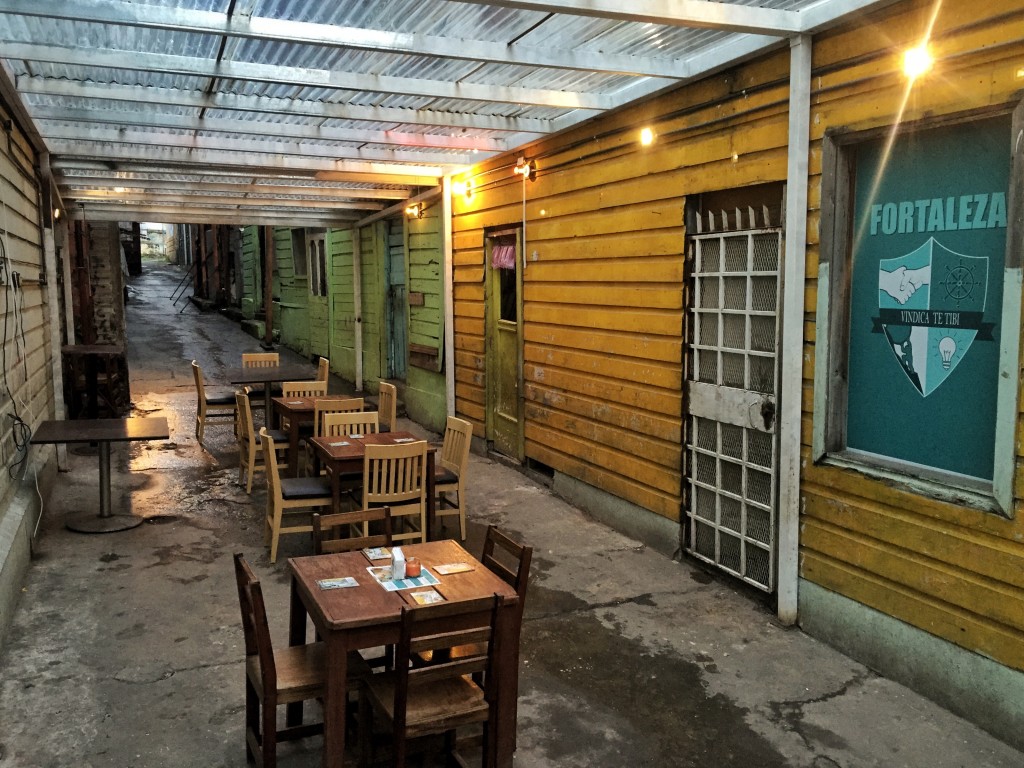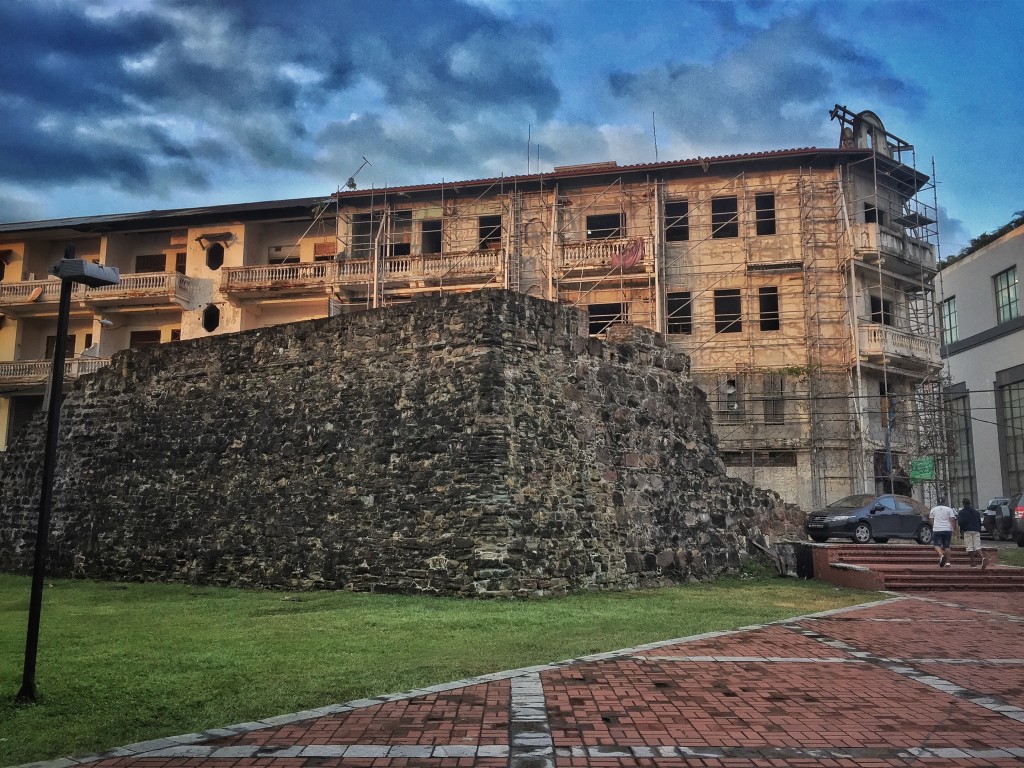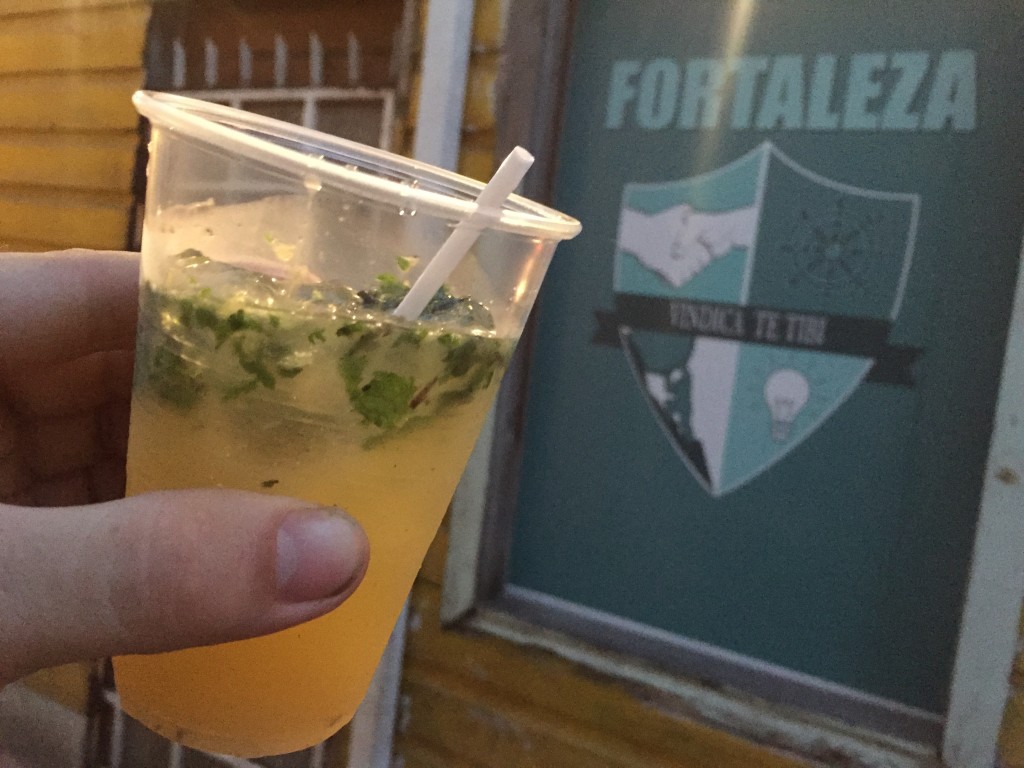 Sunday was D-Day. We woke up before the sun and packed everything onto our bikes. We rode out of Panama with the sun rising over the Caribbean sea, lighting up the skyline, made for a very motivating start to the day.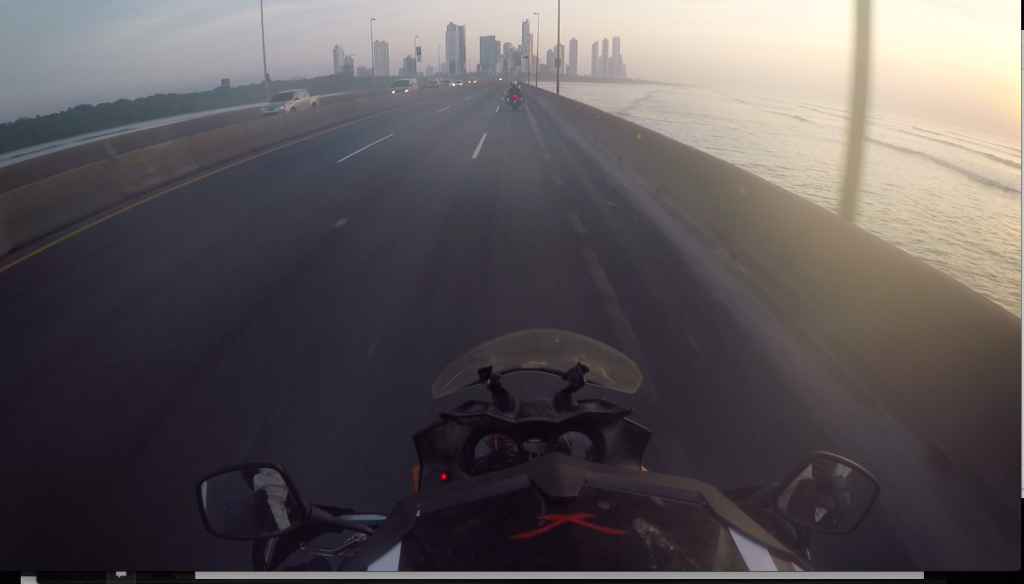 Carti, the small port town we'd be departing from was said to be about 2 hours away. We left a little late so the pace was brisk. 30 minutes in we made a wrong turn that cost us about ten minutes. At this point we ran into Anita who was about to make our same mistake, GPS's aren't always right.
Anita followed us to the correct turn which is about when we lost her. Her small 150 had a bit of trouble keeping up with us. I ended up taking off to enjoy one of the twistiest roads of the trip. It was incredible. Every so often the road would be gone and a dirt road would be in its place. I used these parts to pass cars in my way. After climbing and swirving through the skys of the pristine San Blas Hills, you eventually hit a military road block. They inspect your passport, because you are officially leaving Panama. Next you must pay the entrance fee of $20 USD per person and $3 per motorcycle to enter the native KUNA YALA territory.
When I finally arrived to the port, a few other bikers were there and confusion seemed to be high. 14 bikes eventually arrived and at that point we were all in it together.