The Captain of the Stahlratte, Ludwig.
There we were, fourteen confused motorcyclists amassed at what we assumed was the dock for our departure to the beautiful San Blas Islands and eventually Cartagena, Colombia. After a fairly early departure out of Panama City and running on the last fumes of a solitary granola bar, I opted to try the local beachside cafeteria. I desperately needed a cold drink and to escape the confused banter of the crowd. Where else can you sit beachside on exclusive Kuna Yala land, eat mystery meat and cold plantains? Was it delicious? No. Did it make a turd? Yes.

Eventually the looming Stahlratte appeared. The hundred year old, 120 foot, 235 ton all steel behemoth was unmistakable as it approached the tiny docks filled with Australian surfers, tiny 20 something year old backpacker chicks, and frantic fast moving Kunas. Us, the wind worn, dirty, bearded motorcyclists stood scratching our heads on how our prized two wheeled babies would get on a ship that appeared four times the size of the dock. Our confidence was restored when Miguel, the first mate appeared in a wife beater and flip flops and kindly asked for our passports, titles, and registrations to be placed in his secure throw away plastic bag.
WHAT?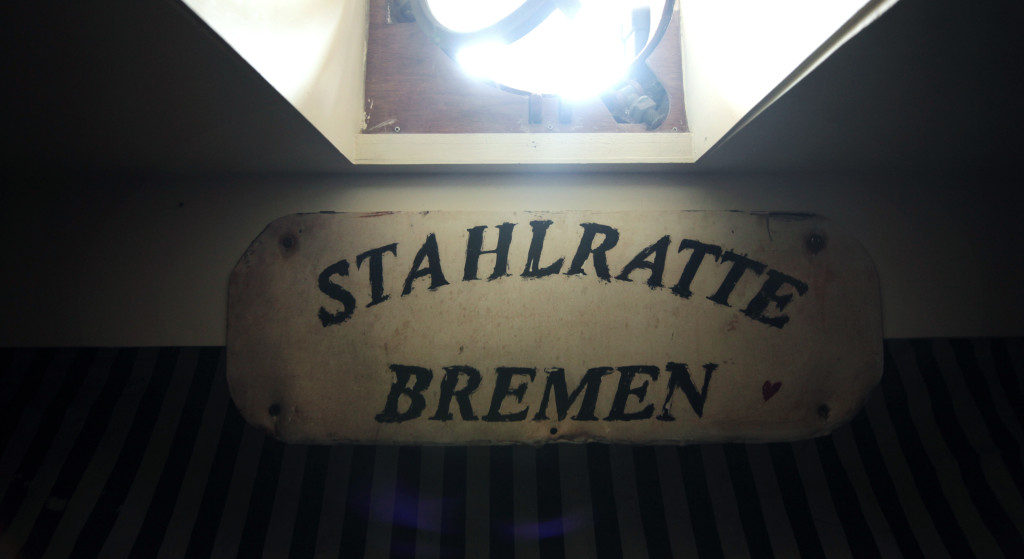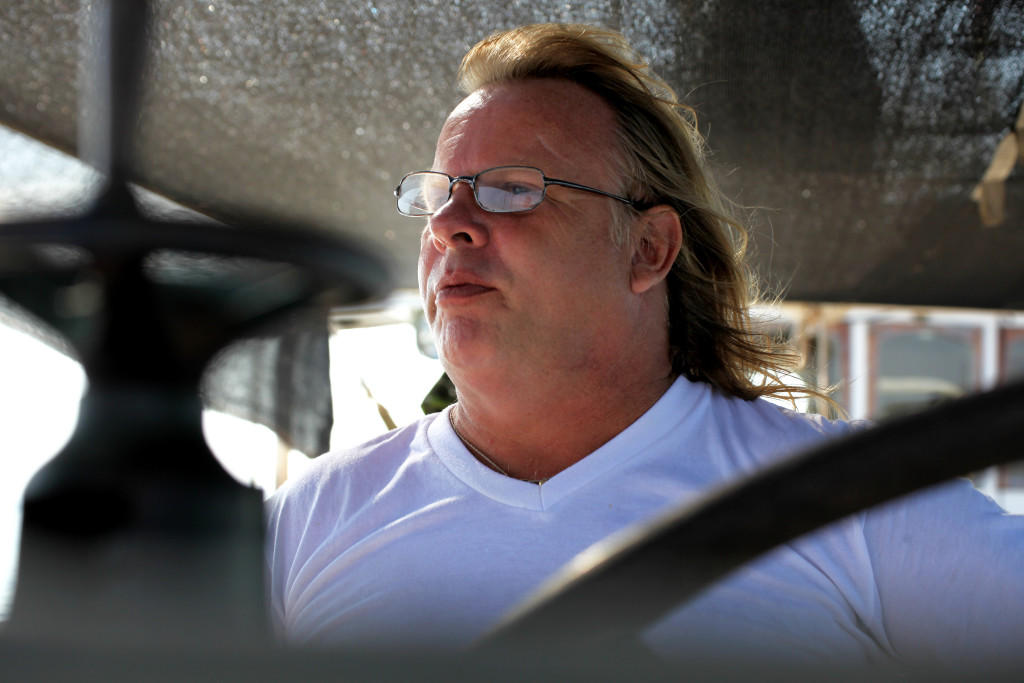 Everyones eyes darted to each other. Ok, whatever. Someone offered up a manilla folder…much better.
Miguel headed off to the ports tiny custom office and instructed us to begin lining up on bikes on the slightly larger dock a few hundred feet down the beach.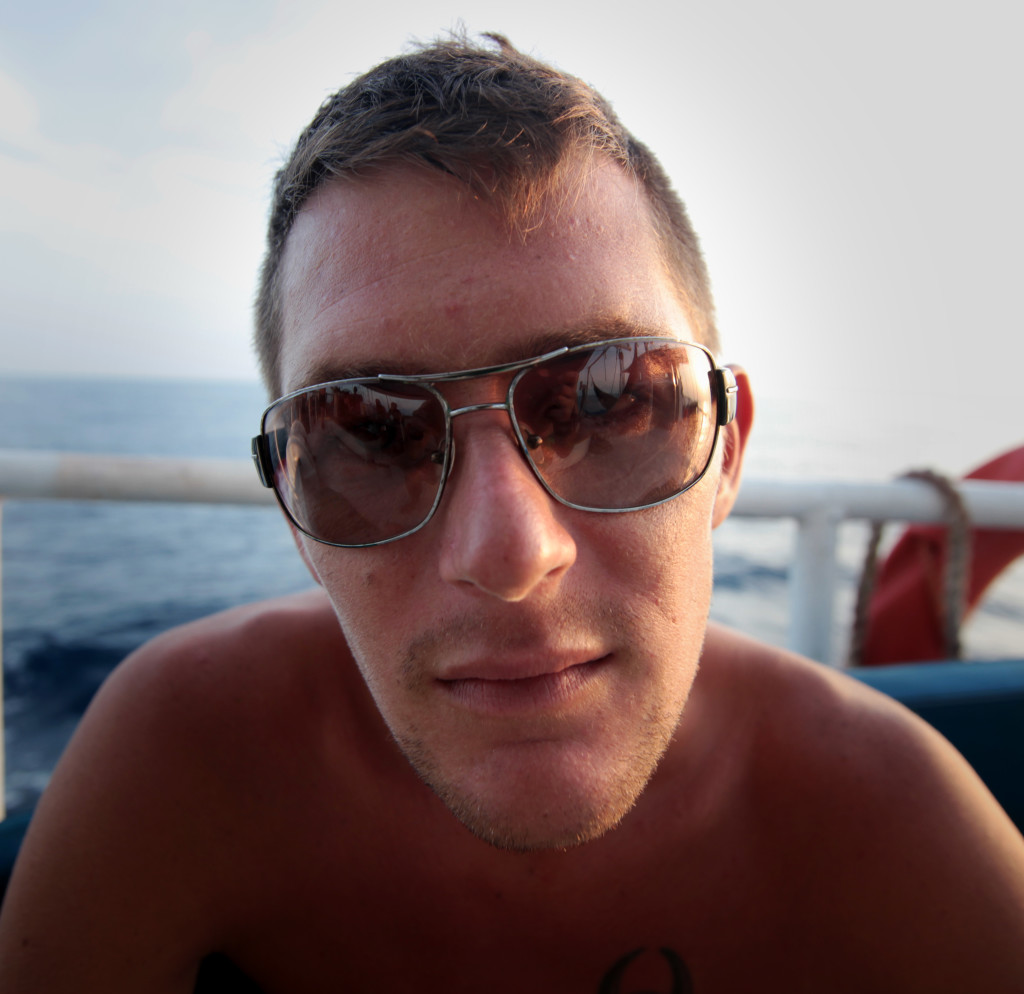 This is Miguel, the first mate of the Stahlratte
Off came the luggage, the cases and anything else that wasn't bolted on. It was quickly loaded into a small Kuna skiff boat. The soft repetitive sound of what can only be described as my childhood memory of Thomas the Tank Engines Chugga-chugga-chugga began to get louder as the Stalhratte made its way directly up to the dock. Miguel and Ette, another fine German crew member, began an assembly line of 2 point bowlines tied to each bikes frame in anticipation for their hoist on deck.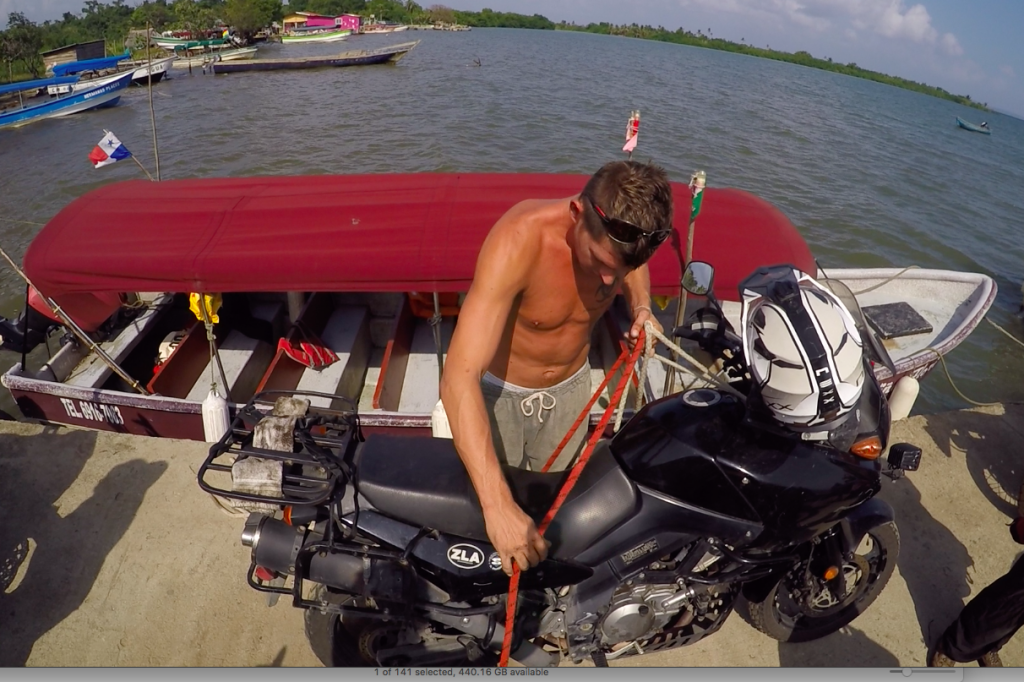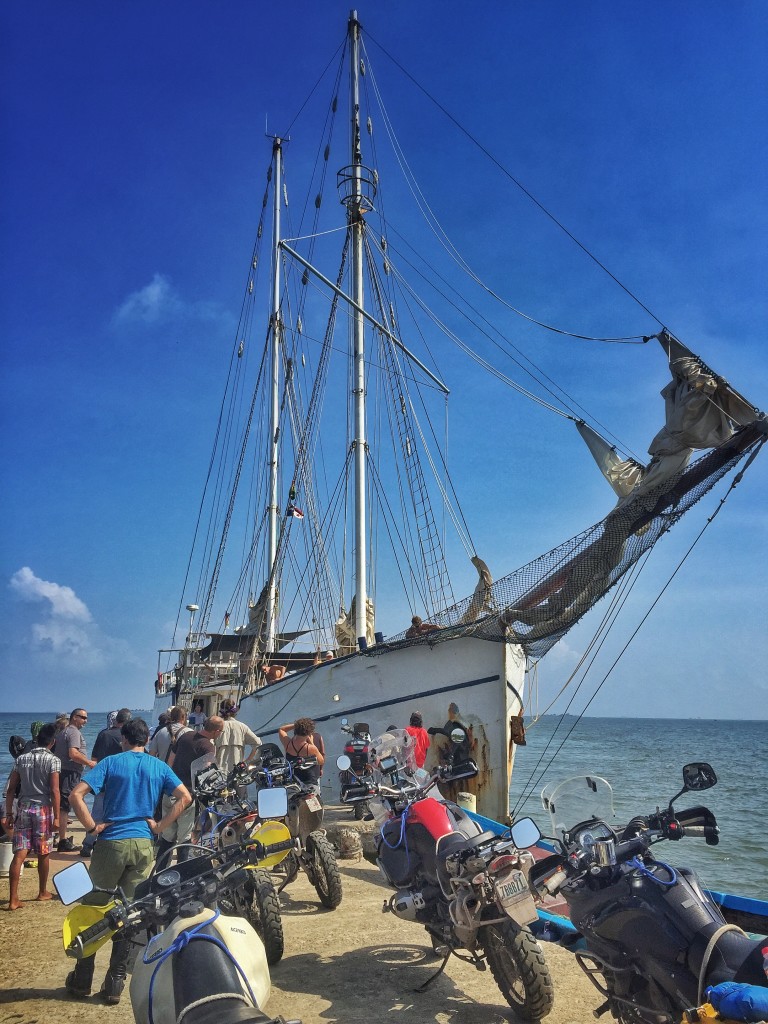 One by one each bike was hoisted on board by an electric 1.5 ton winch and the assistance of some very enthusiastic Kuna. Pat and I decided we should film one of our bikes journey on board and quickly zip tied a GoPro to my handlebars. Then she was off. My bike was airborne, gracefully floating over the pristine coral blue waters until SNAP! The front rope broke sending her nose diving towards the sea.
Everyone on the docks heart skipped a beat.
The captain came running from his post.
Luckily the rear rope held, and everyone panicked for nothing. My bike was safely loaded on board, and we had some very funny GoPro footage to show for it. Notice Ettes face below.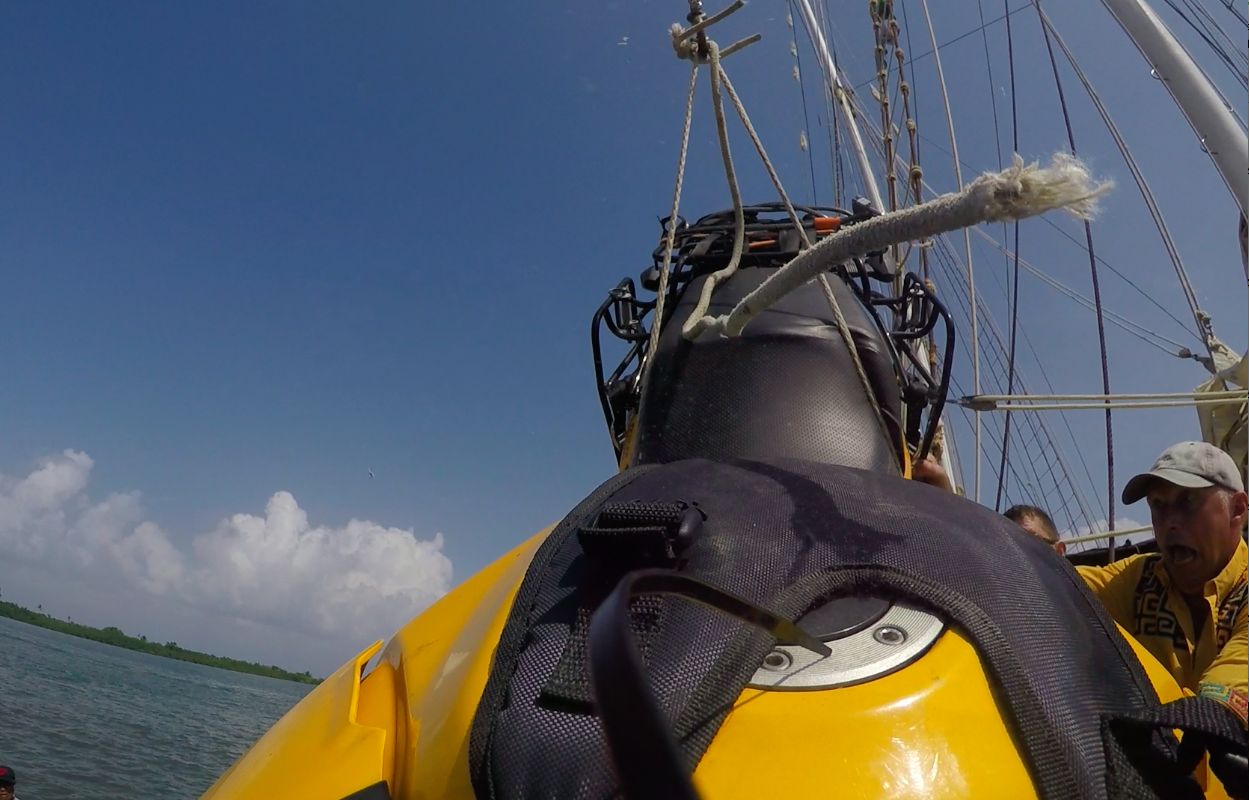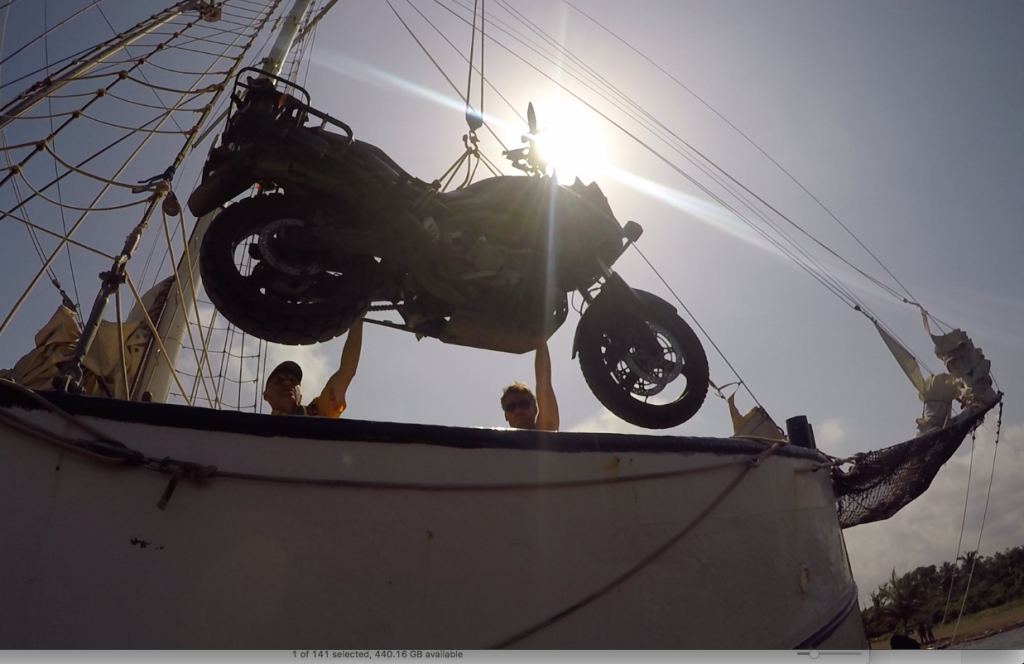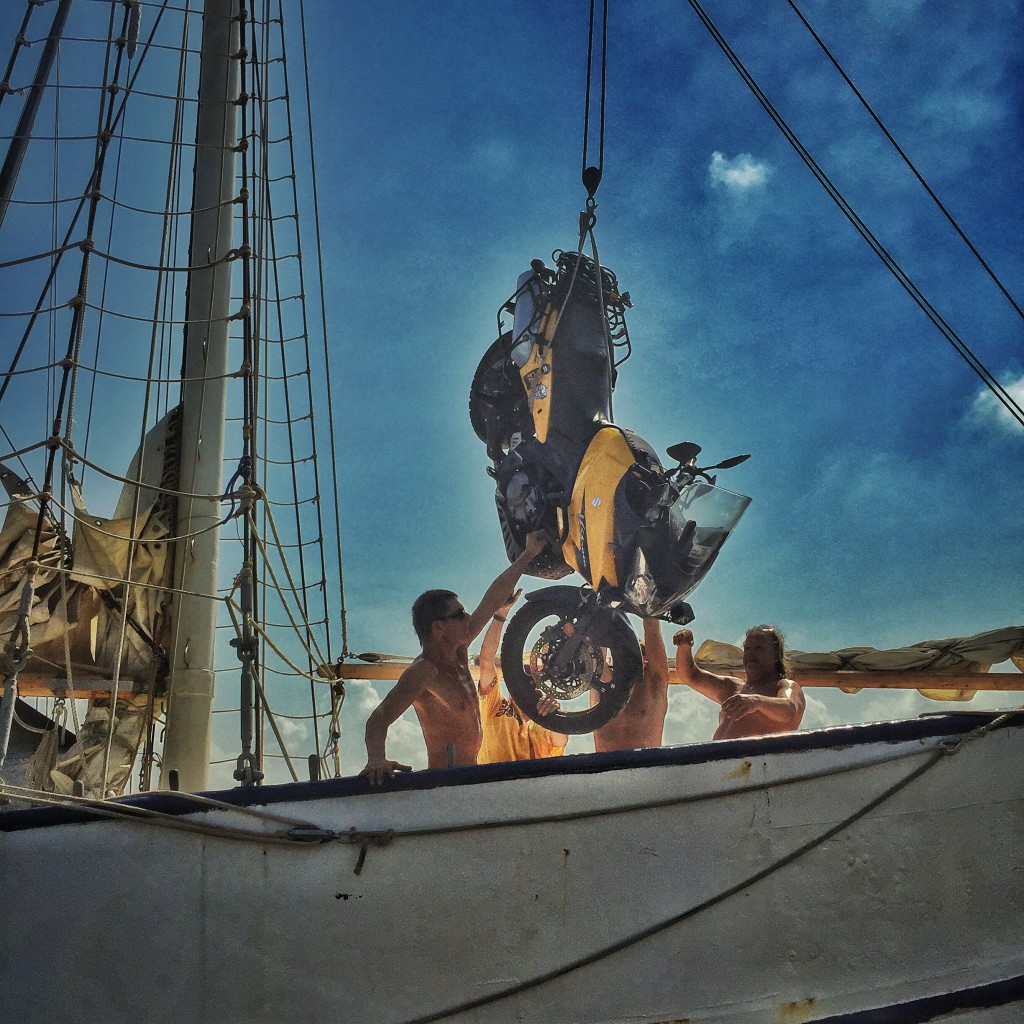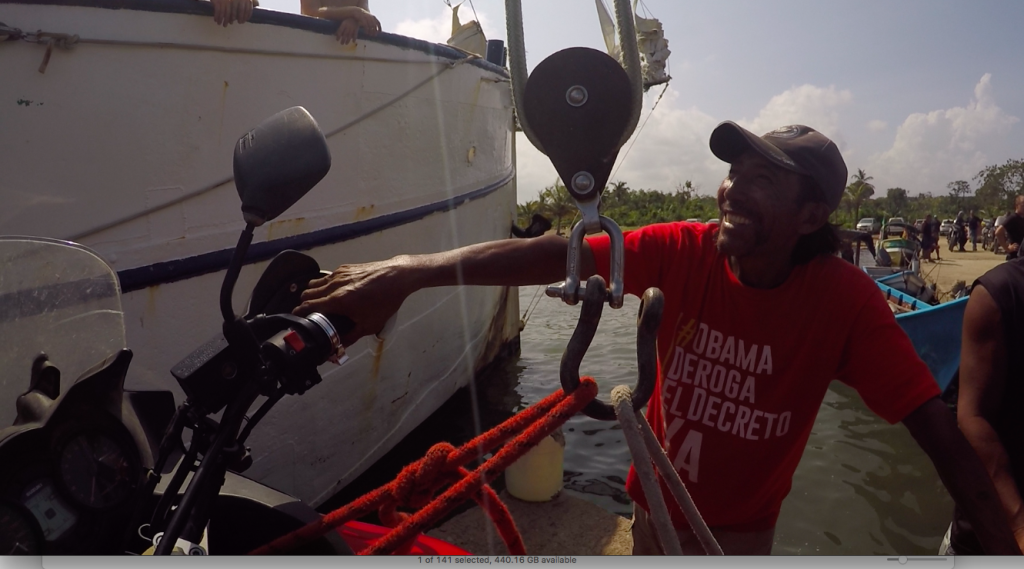 After the loading bikes we joined our gear on the skiff boats and made our way to sea born home for the next 4 days. Unfortunately we had to leave Tim and Savannah behind. They had booked another vessel, a Catamaran which left the following day.
Once on board everyone became beach bums, trading their riding suites and boots for swim trunks and flip flops. We piled our cases in a storage room, and everyone found a bunk with their name on it. Everyone, except Pat and I. We were instructed towards the stern and discovered our own private Honeymoon Suite located below a 4 rung ladder climb and nestled directly next to the engine. We were worried about the constant drum of the engine, but the Chugga-Chugga-Chugga proved to be soothing and relaxing.
Next we were treated to our first round of the Stahlratte's world famous food. Miguel then read us the rules which were essentially:
1) Everyone helps out. Please sign up for a dishwashing shift.
2) Beer and Soda are on the honors system. Take whatever you want from the fridge, but please put a hash mark next to your name. If you get real drunk and forget, put a couple marks in the morning.
3) Rum is $15 a bottle. Put an R next to your name.
4) Eat as much as you want, party as much as you want if you get hungry and its not mealtime, just make a sandwich.
5) Respect the crew.
6) You can go to the crows nest if you want, but please ask for guidance first.
7) Lastly have fun.
After lunch, we were told to go for a quick swim as we waited for the rest of our passengers to arrive .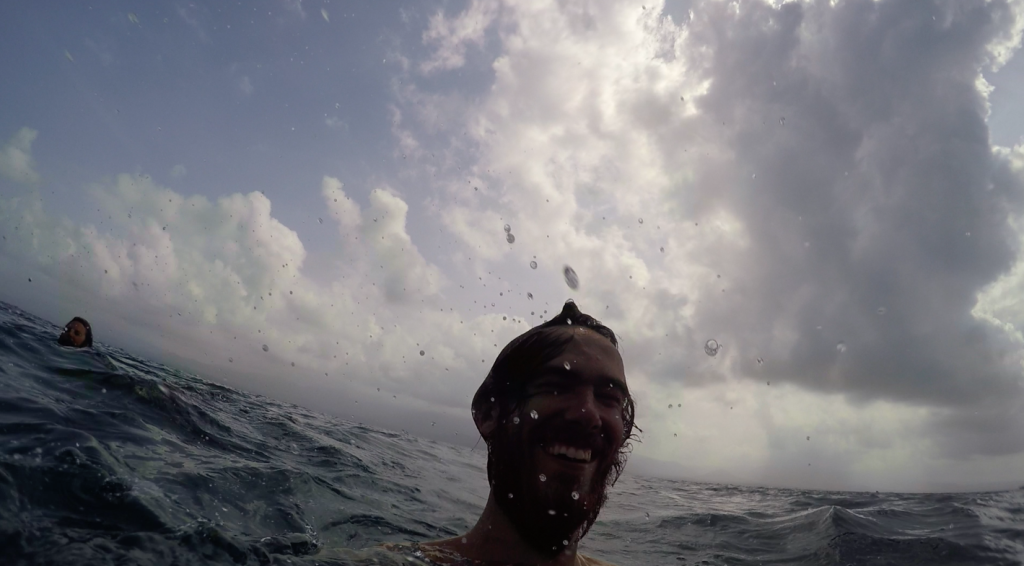 A few travelers from Germany and Scandinavia arrived by Kuna skiff and we set sail for the beautiful Coco Bandero Cays.
Refreshed from our first Carribean swim, a few cans of Balboa were popped and everyone was officially in relaxation mode. Pat decided to be the first to conquer the impending crows nest which sat roughly 65 or so feet above the spardeck. He ascended quick, but froze at the final 8 or so feet when the rope latter abruptly turns into knots and shackles. He turned around and was consoled by the German and Scandinavians who all had similar experiences. Since childhood, Pat and I had a tradition of trying to one up each other. So obviously I felt a sudden call to duty to climb to the top of the crows nest.
It was no joke. You hold on tight, very tight, especially when the movement of the ship is exaggerated at that height. You move left/right like metronome at high seas, 75 plus feet over shimmering beautiful waters. I too paused at the last 8 ft. The final push involves using anything available as hand holds, and launching directly off the metal shackles with your feet, doing an awkward pull up into the sketchy weather worn crows nest.
Whoa. The 360 degree view from here were incredible! (sorry no pictures) I stayed here and took in the amazing sights as we pulled into a picturesque archipelago of tiny islands, and dropped anchor. (I sure as hell wasn't going to try and down climb this thing while we were moving)
The huge anchor plopped into the sea, and the sound of beer cans opening were like fireworks. Pat and I immediately started jumping off any available platform on the boat. The bow, the railing, you name it, we plunged into the crystal waters from it. Others swam, grabbed the ships snorkel gear, and went off to begin exploring the tiny Castaway style islands. Next the crew broke out the rope swing.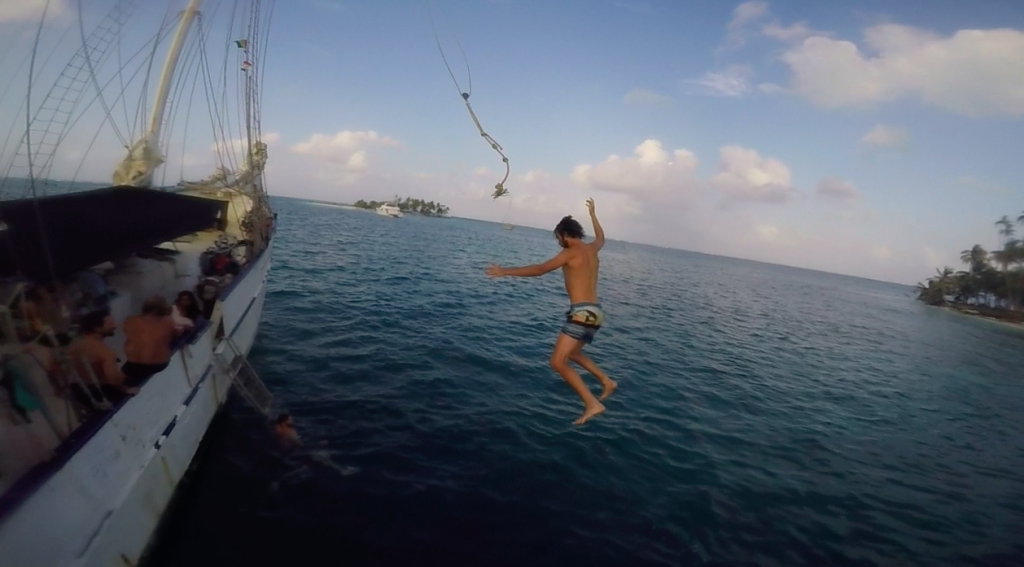 Pat, myself and a few others started swinging from the bow. It was awkward because the rule was swing alongside the ship and not out, because you don't want to risk smashing back into the hull. The german guys attempted to do backflips with no luck, while Pat and I just went for the best splash and killer Go Pro footage.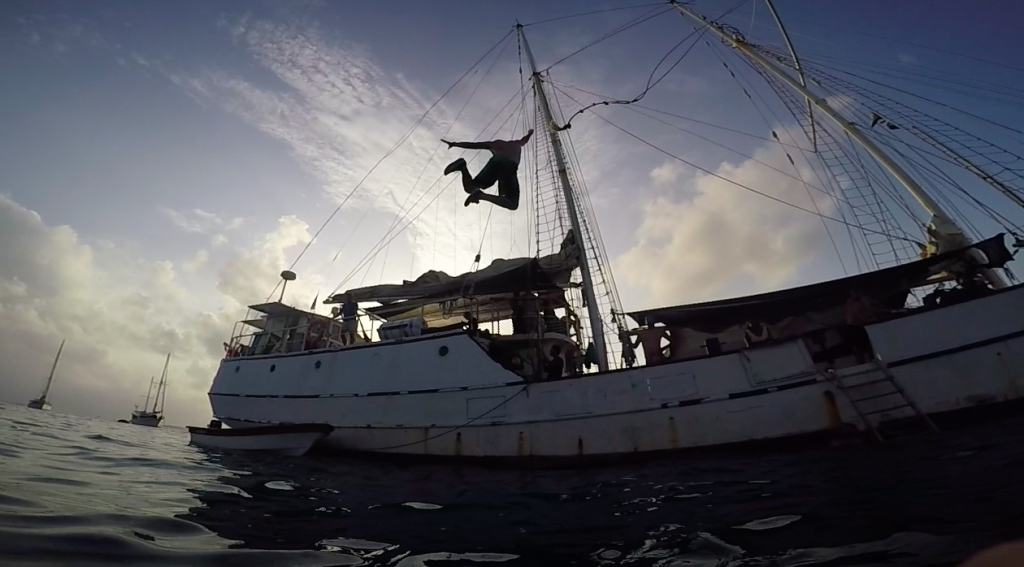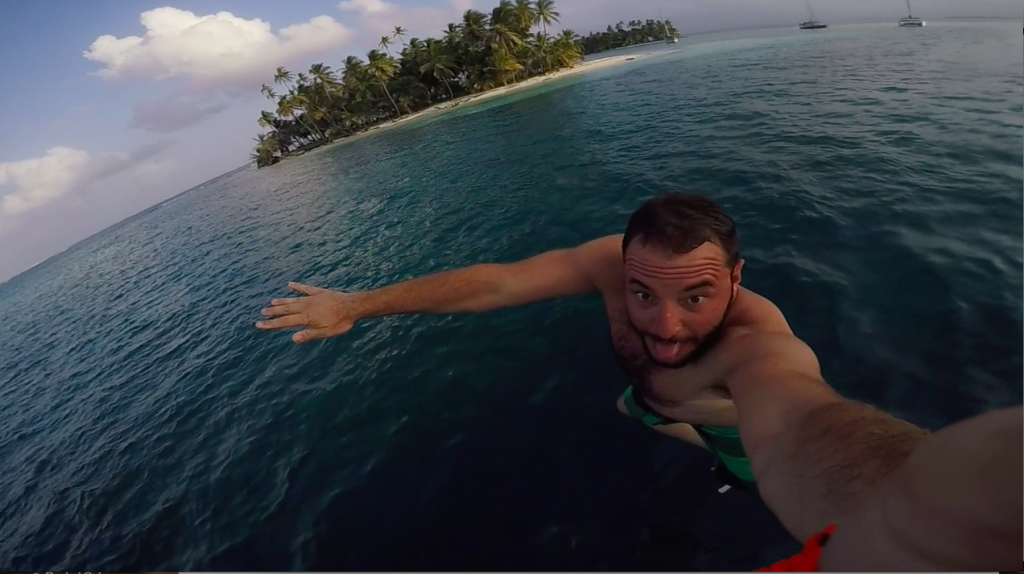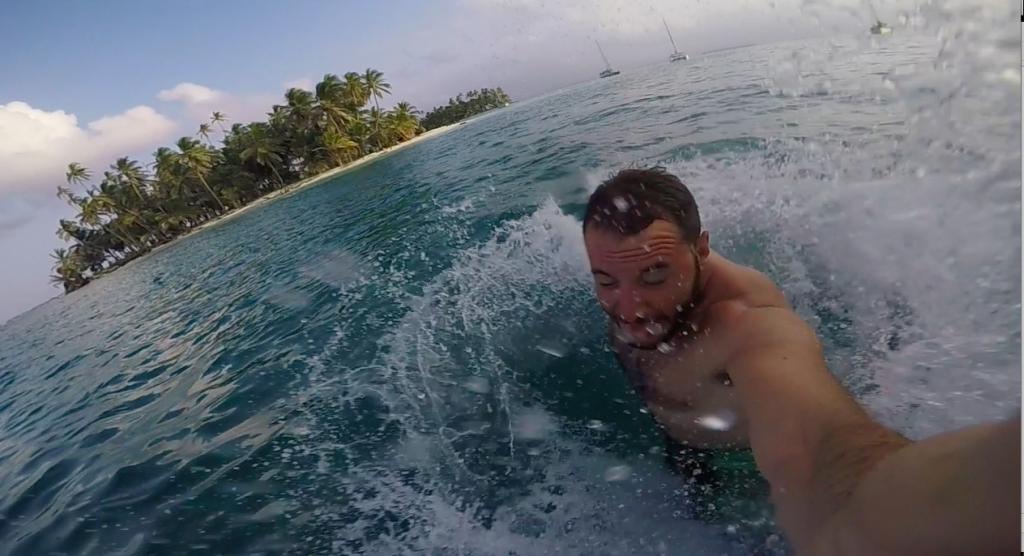 As the sun began to retreat the sky filled with amazing fire like colors. The crew hurriedly packed a grill grate and kabob supplies into a skiff and began shuttling folks ashore. I took the shuttle and Pat opted to swim. There we made personal kabobs of beef, bacon, chicken, veggies and bananas on the shores of a deserted island only a few feet from the tranquil lapping tide.
After eating kabobs to your heart's content, the fire raged and the conversations continued. Olaf shared a bottle of rum with me, while Pat debated gun ownership with Chris. This is where things get a little hazy. At some point I spoke about quitting your job and chasing your dreams with Bruce. Chris and I discussed the fine craft beer scene of San Francisco (while smashing Balboas) and I was formally introduced to the non motorcyclists who were here on an awesome office fun trip. Next thing I remember was Pat saying he was swimming back to the boat, I later found out he accompanied by Eagle Rays, and Olaf and I deciding we were sleeping on this island with all the Germans san Hans.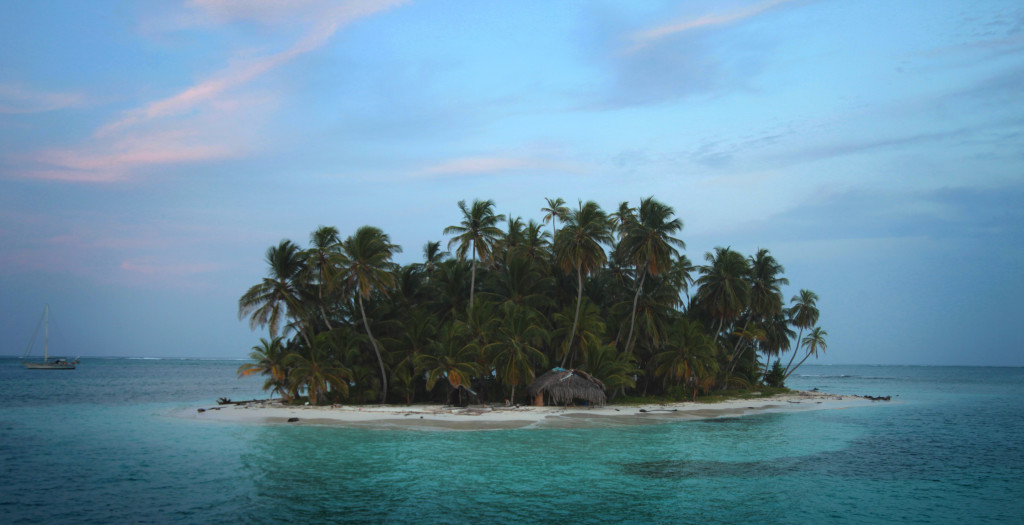 Fast Forward to:
At dawn I awoke on the beach to the peaceful sounds of small crashing waves. I was lying in the sand, a few feet from the enders of the fire, no blanket, no hammock…just sand. I chose to ignore the small bugs nibbling on my bare feet, and opted for another hour or so of shut eye. When I awoke the second time, I decided I needed to shake the cobwebs from my head and investigate the food situation on the ship. I dove into the water, washing most of my hangover way, the rest was drowned in oatmeal, eggs and coffee.
To quote the classic movie Zoolander "water is the essence of moisture, moisture is the essence of beauty." How does that relate to the Stahlratte? The Stahlatte kept us beautiful with a fresh supply of water from they're awesome desalinization tank, something the smaller vessels surely don't have. All you can drink, showers, and a flush toilet, fancy.
Today we stayed anchored in the islands. It was more of the same R&R, swimming, snorkeling and exploring. As Pat said it was sort of a "choose your own adventure style day." He chose to snorkel and explore damn near every inch of coral reef surrounding the tiny islands. I took the morning easy. A lot of the day was spent doing the insane amount of dishes produced by around 25 people on a boat eating gourmet food. I believe I was supposed to help clean up after the beach fire, but instead ended up drunk so I took over duties with Hans during the day. Eventually I went swimming in the afternoon and I too grabbed a set of fins and a mask just before dusk.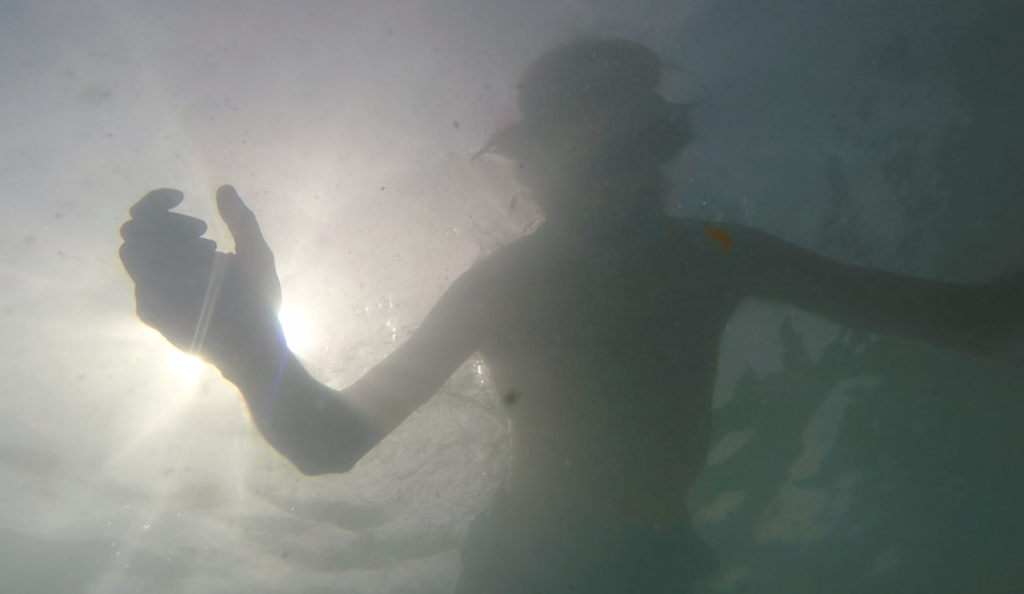 Pat "JAW'S THEME SWIMMING"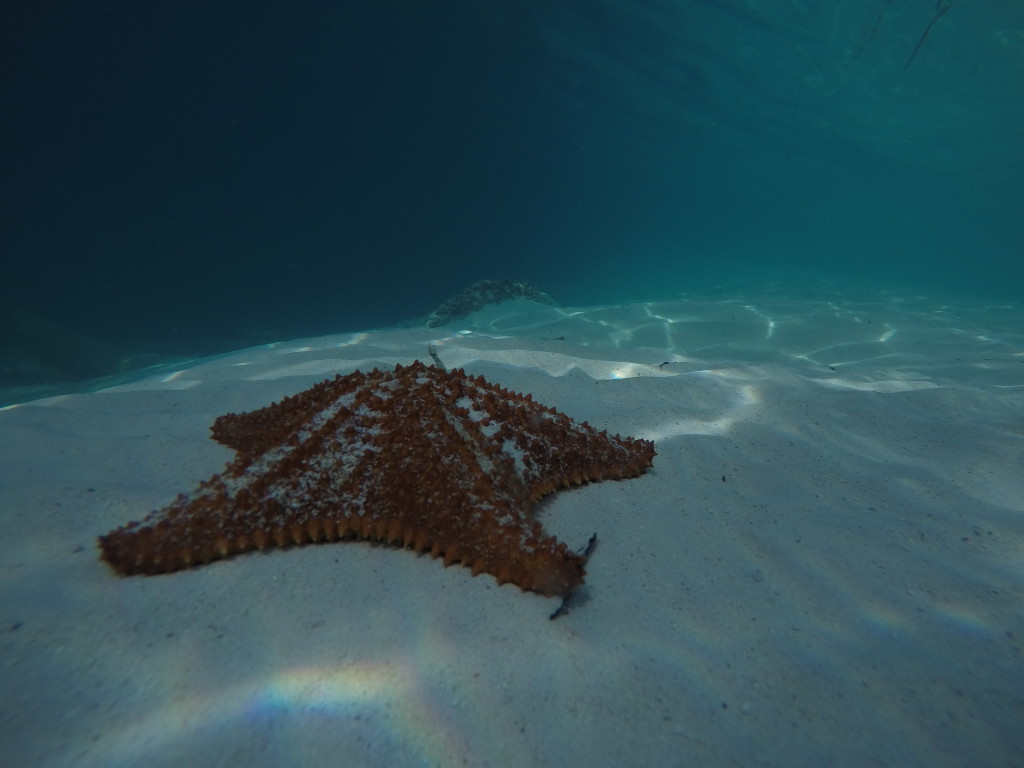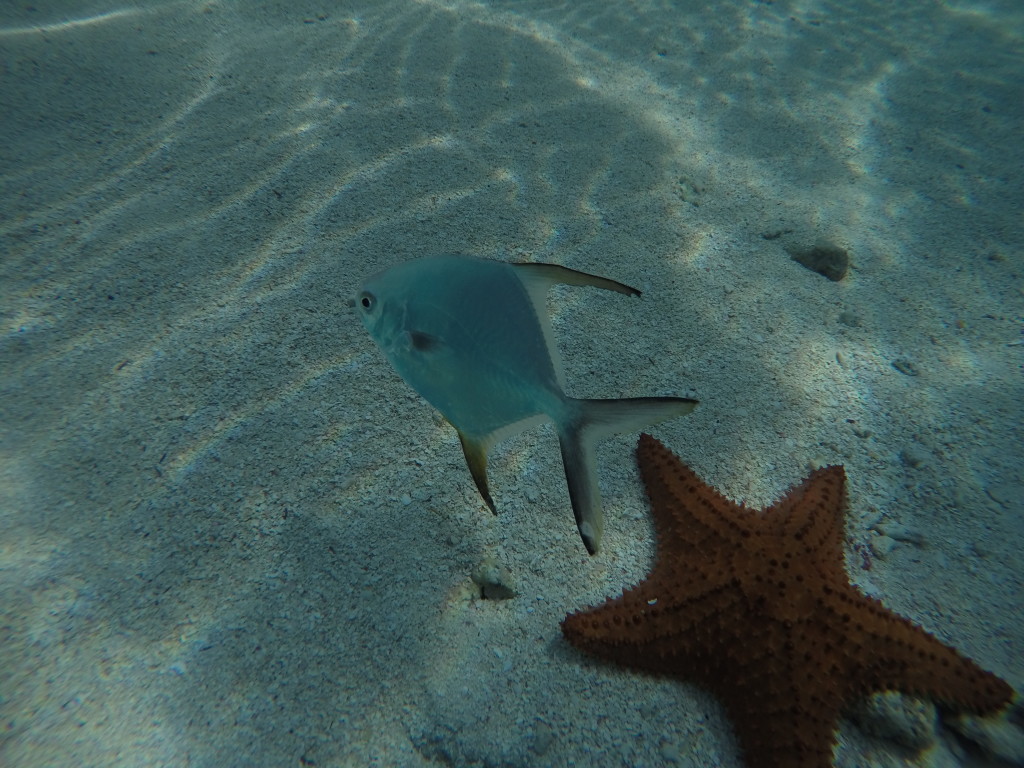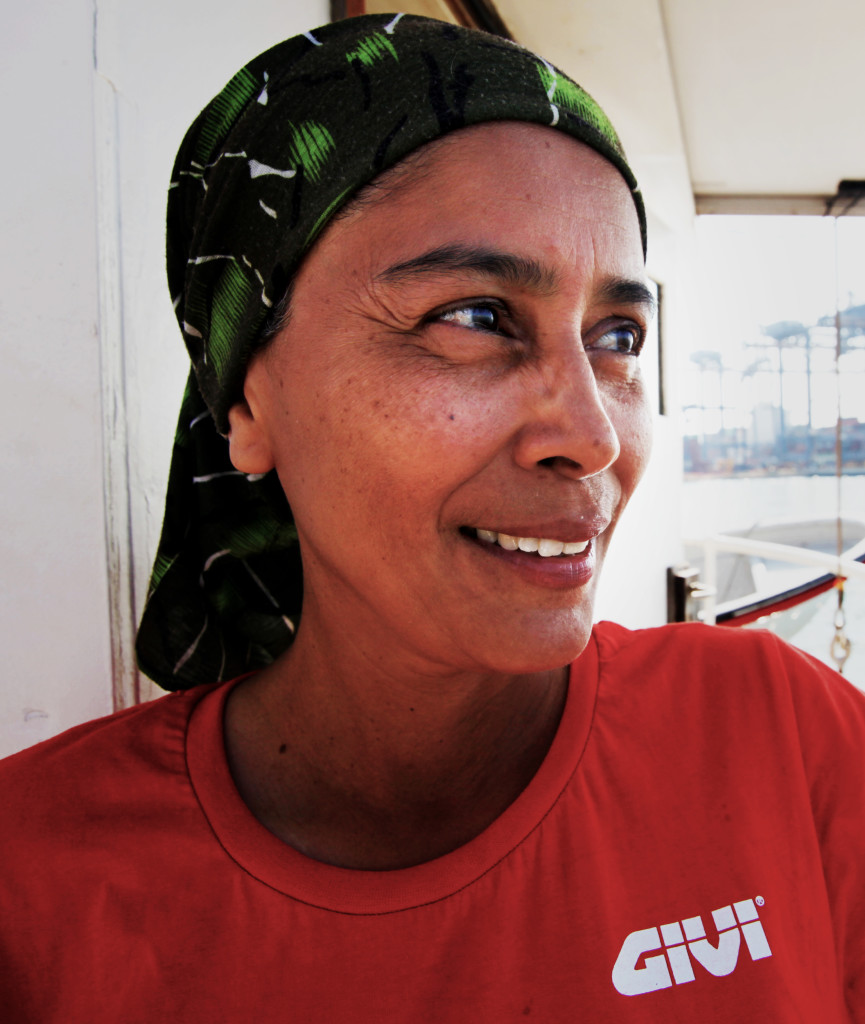 This is Anita from Malaysia. She is the first muslim woman to do a round the world trip. AWESOME!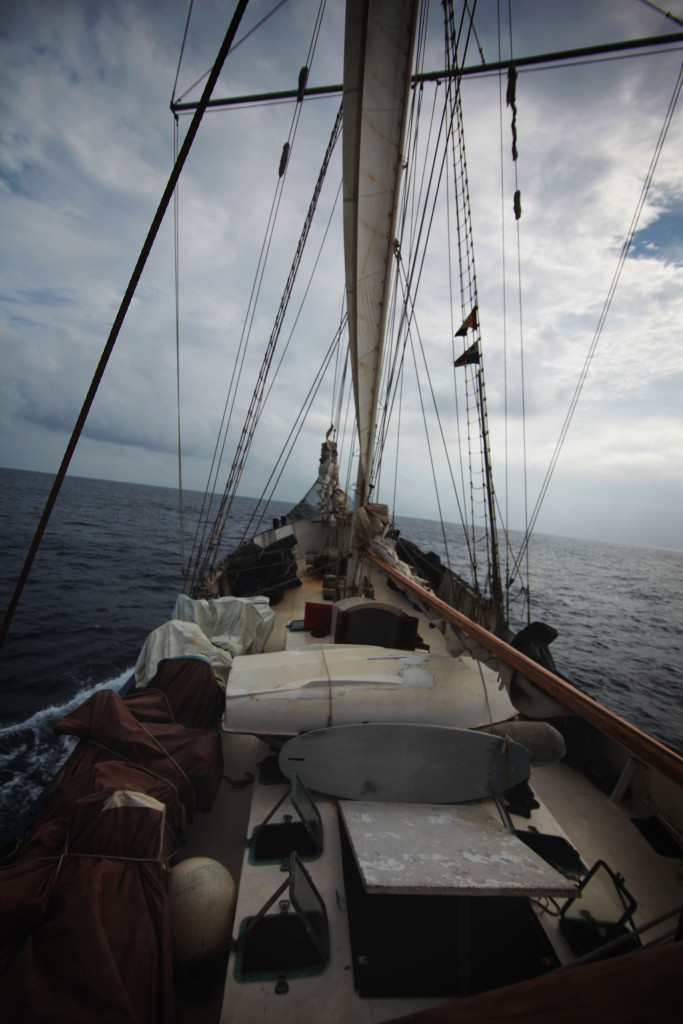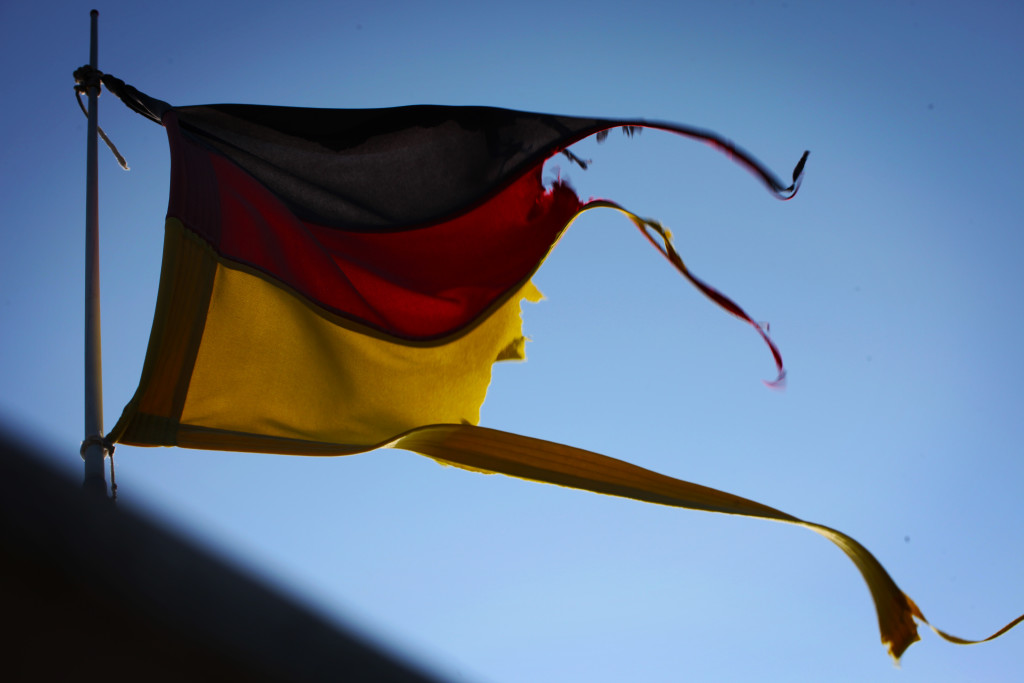 When I woke for real, a few hours later, I could feel the boat swaying in the open ocean. I climbed on deck to see a graveyard of ill looking people. It was dead quiet and by the looks of it many folks were not feeling so great. The huge delicious breakfast looked barely picked at, Pat and I dove right in. Pat loved the oatmeal and covered it in Nutella. I ate everything and the gray brisk morning called for at least four cups of coffee. Moments later Pat and I were discussing an interesting Radio Lab podcast I had just listened to and he suddenly got up mid conversation. I turned just in time to see a comical amount of oatmeal flowing from his mouth into the ocean below. He too was hit by the rough seas and the storm looming on the horizon. When Pat came back to the table to join us Bruce chuckled "Atleast it tasted like Nutella."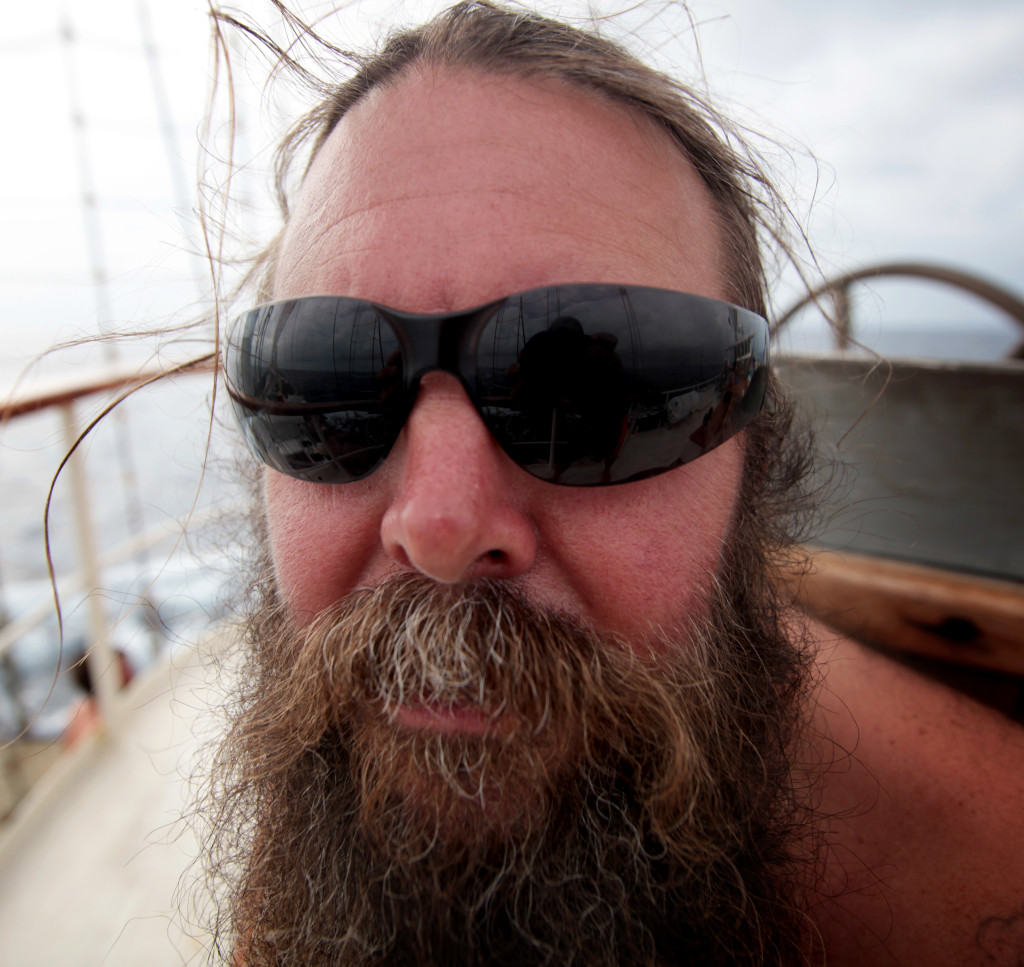 This is Bruce, Washington State USA. His glasses are hiding how he is feeling.
A small piece of "the graveyard".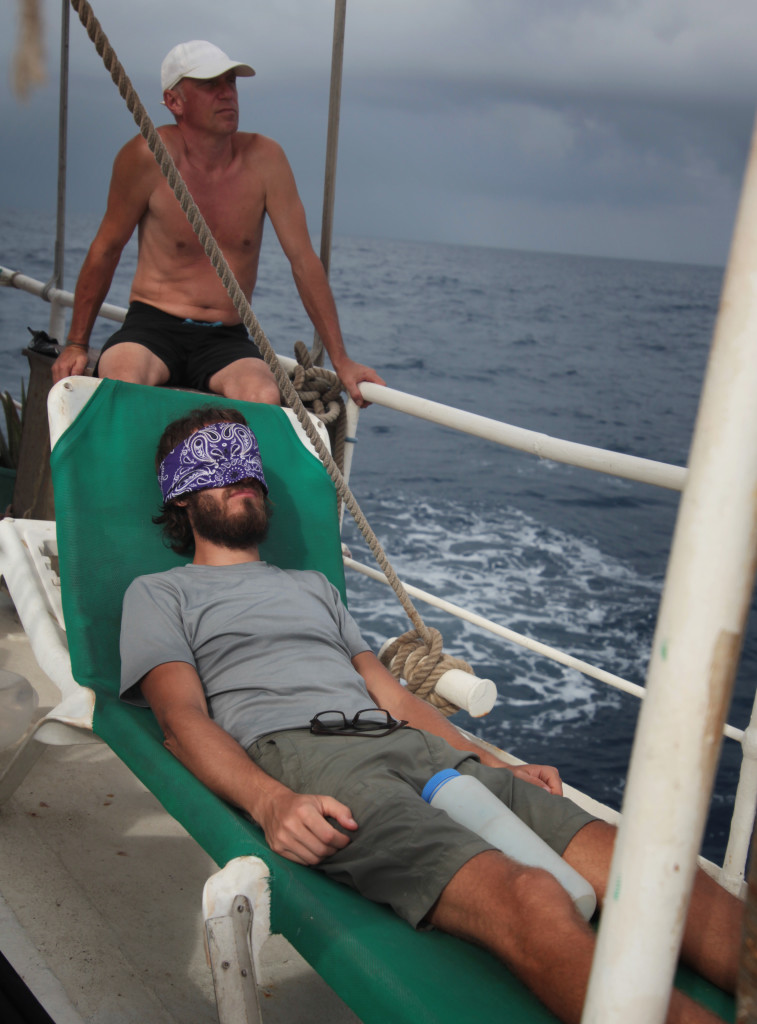 Pat gives in.
The rest of the day was akin to a lazy Sunday. Most people read, listened to music/ podcasts, slept or chatted. By afternoon the moral was a bit higher and some folks were socializing or playing games. Chris and I were drinking beer! (Besides the crew, we seemed to have the strongest sea legs). Ette caught a fish in the open sea. Around 4pm we watched Captain Ludwig pull a few pales of ocean water on deck to cool himself off. He then came upstairs and asked everyone if they wanted to swim. "Heck yeah" was basically the response. He then stopped the huge vessel in the middle of the Ocean, engine still running, and everyone began diving into the really deep water. This was awesome. The water was incredibly deep but still so very crystal blue. It was extremely refreshing and snapped the remaining folks out of their funk.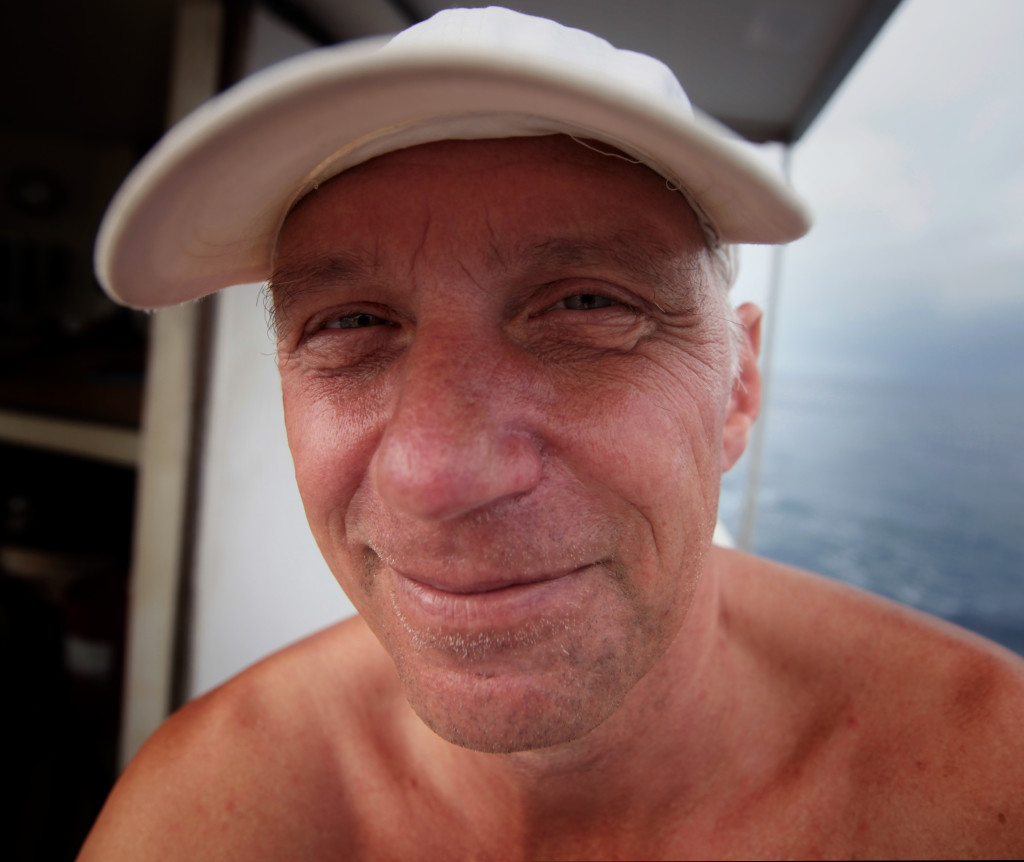 This is Ette, crew GERMANY. A jack of all trades, I bet this man could wrestle a bear while making dinner.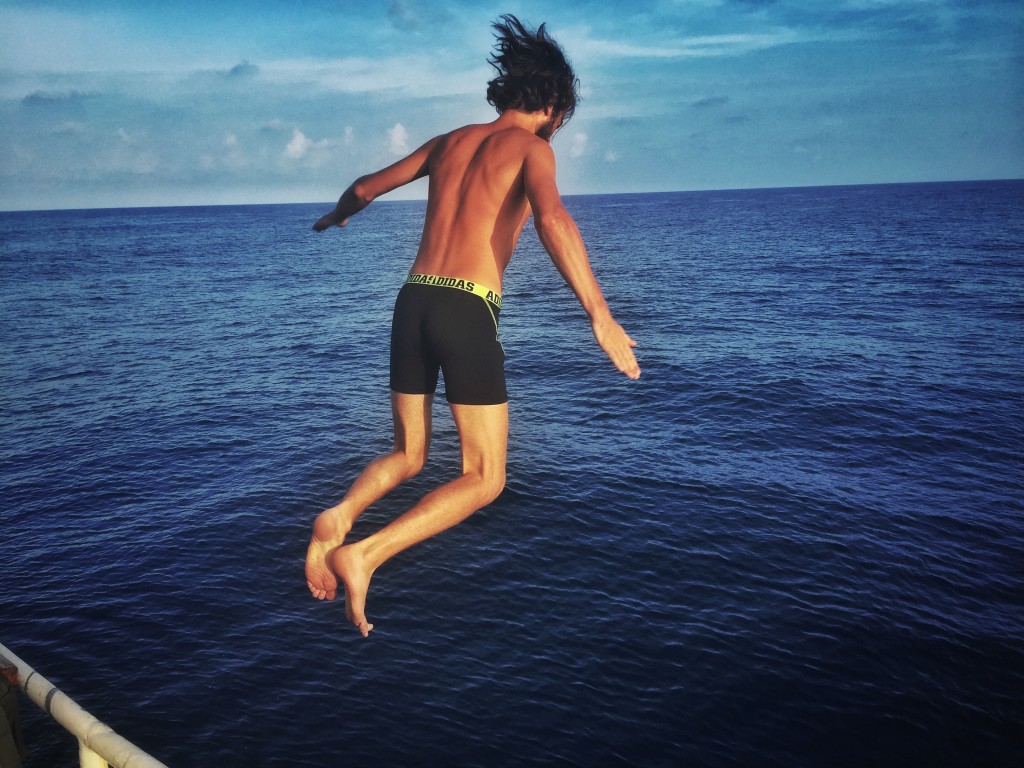 Pat taking flight in super deep water in the middle of the Carribbean.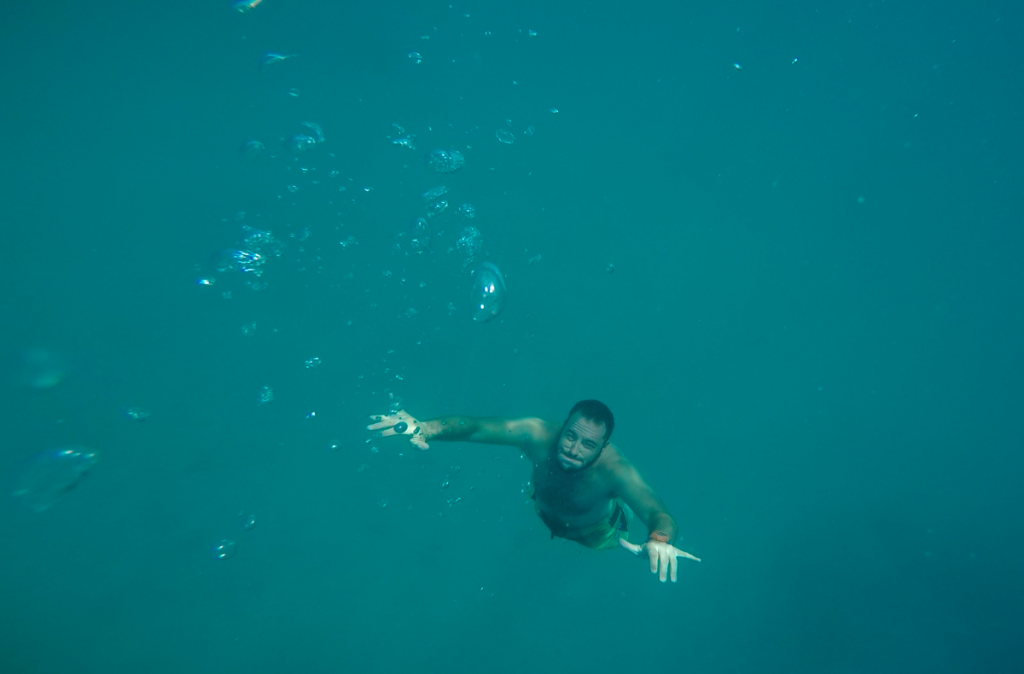 Yeah we like to swim…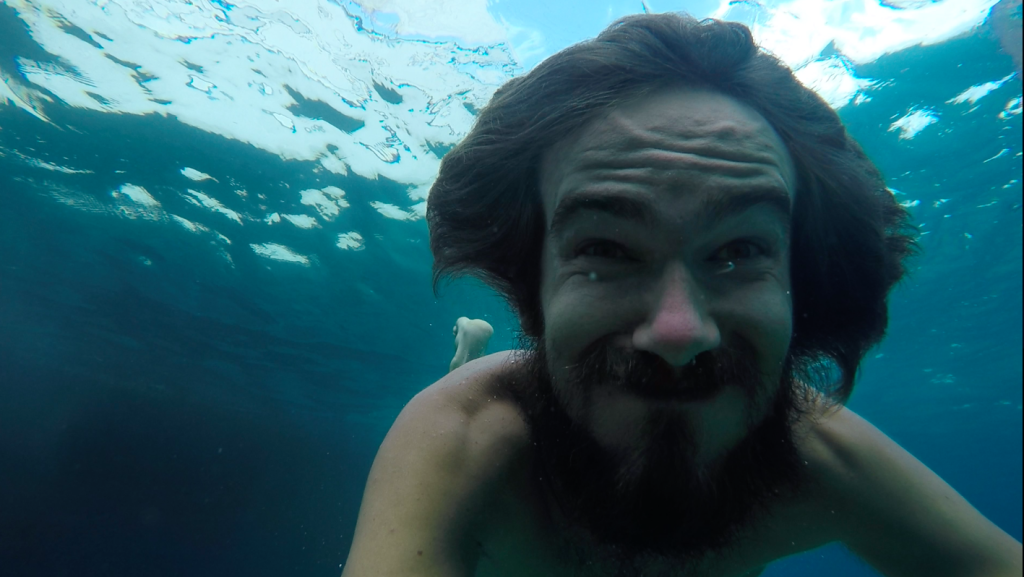 Like ALOT!
Later that night we ate another fantastic meal, everyone ate or at least attempted to do so. The seas were much calmer now and the vibe was tranquil. Around 10pm the upper deck became a small battle ground for the available reclining chairs. Most ill folks found it better to say high on the ship and take in the fresh air while sleeping. Most everyone got a spot while Chris and I continued to talk about life and doing our best to make sure the boat didn't arrive in Cartagena with too much Balboa. With about 9-10 hours until we drop anchor in Colombia, I retreated half drunk to the Honeymoon Suit.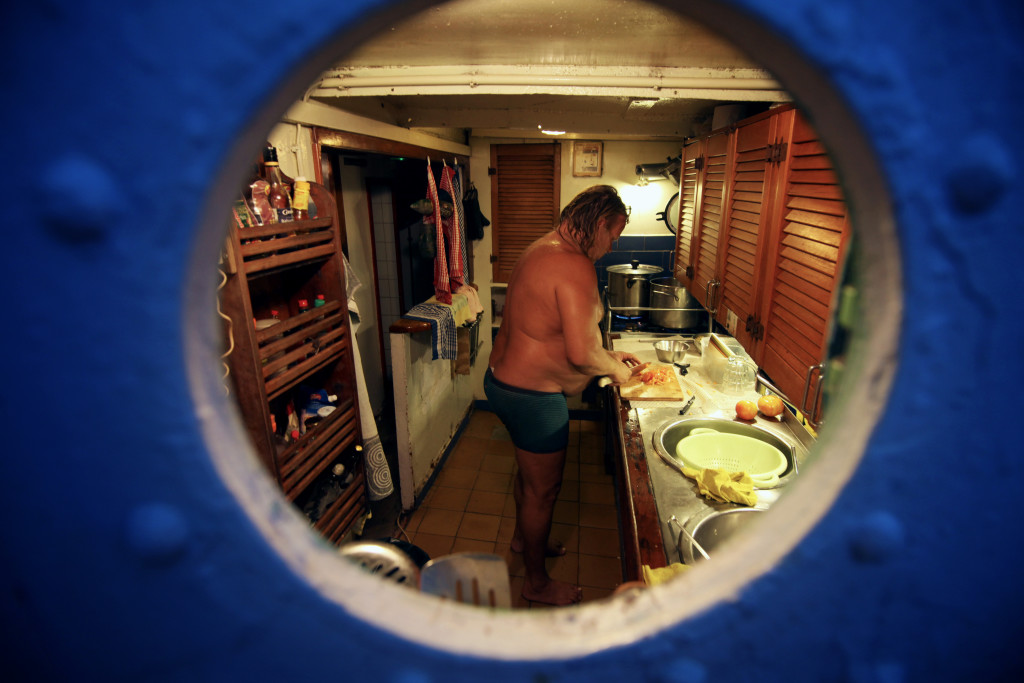 The Captain, Ludwig hard at work in the kitchen.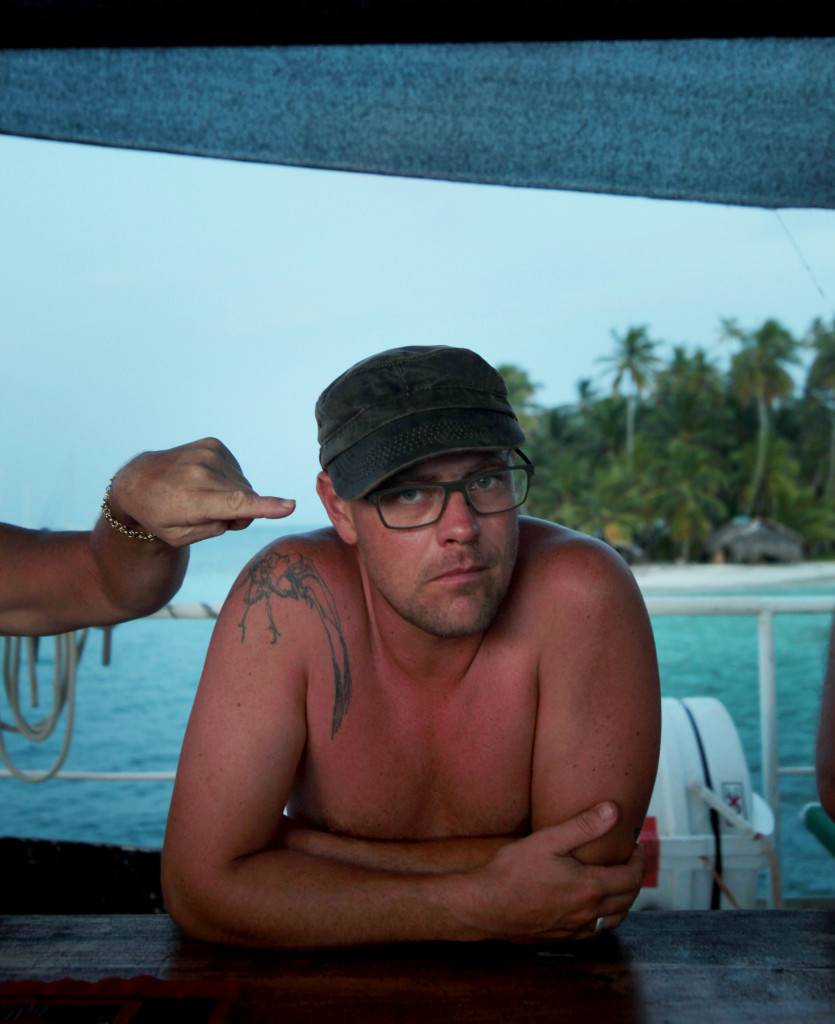 Chris from Bay Area California. KTM 690 rider, fellow beer lover.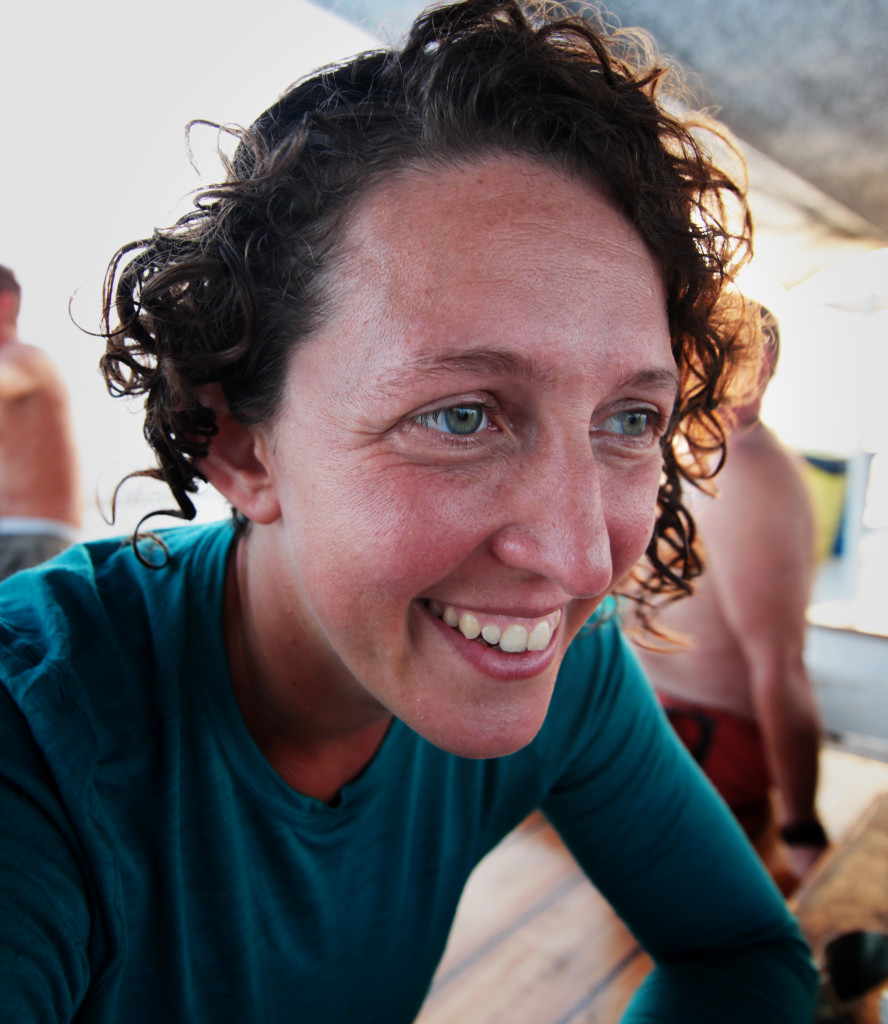 Zoey, also a KTM 690 rider from the Bay Area, Chris's partner and all around bad ass chick.
In the morning, I was one of the last to rise. I climbed up to a packed deck full of awake, colorful faces, a stark contrast to yesterday morning. I could see Colombia on the horizon, and I took this opportunity to grab my 5D. I spent the morning snapping faces and scenics of the historical Stahlratte as it made its way into port.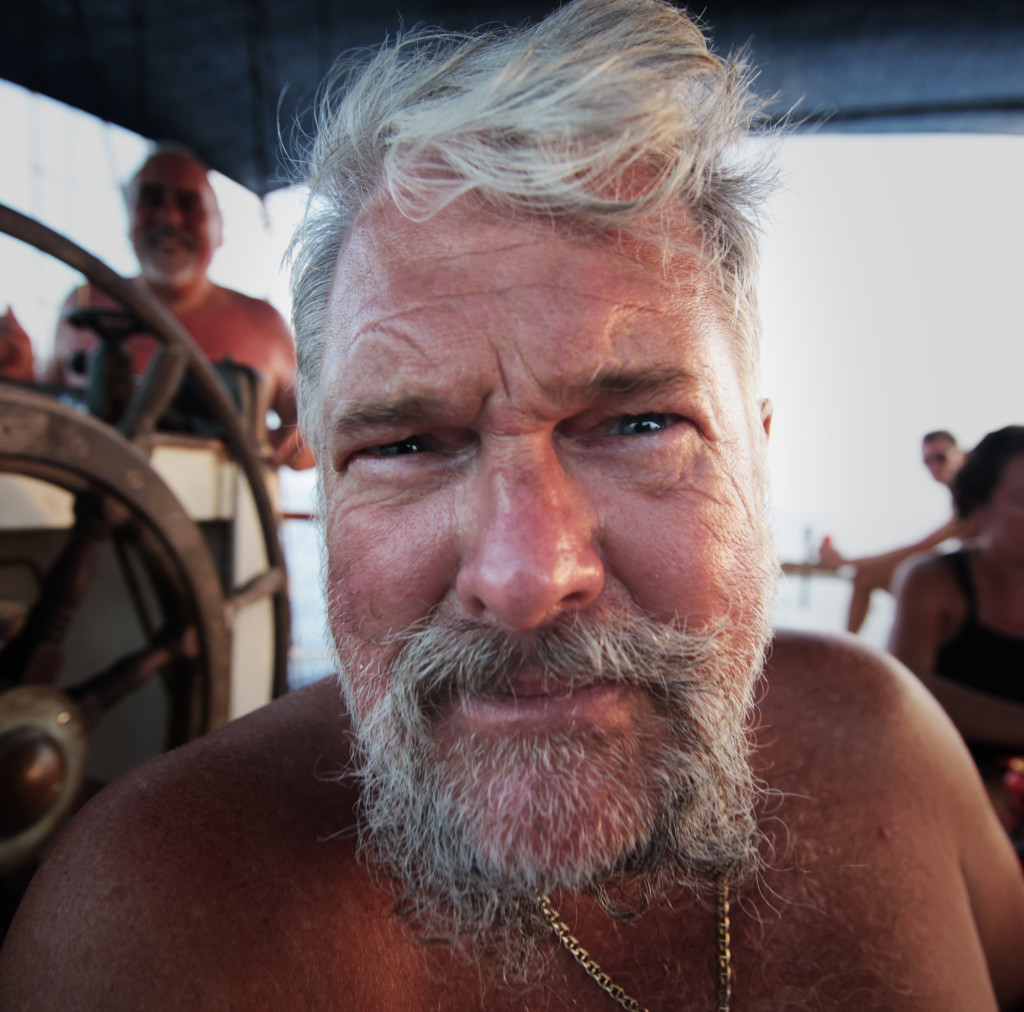 Doug, fellow Vstrom rider, general prankster.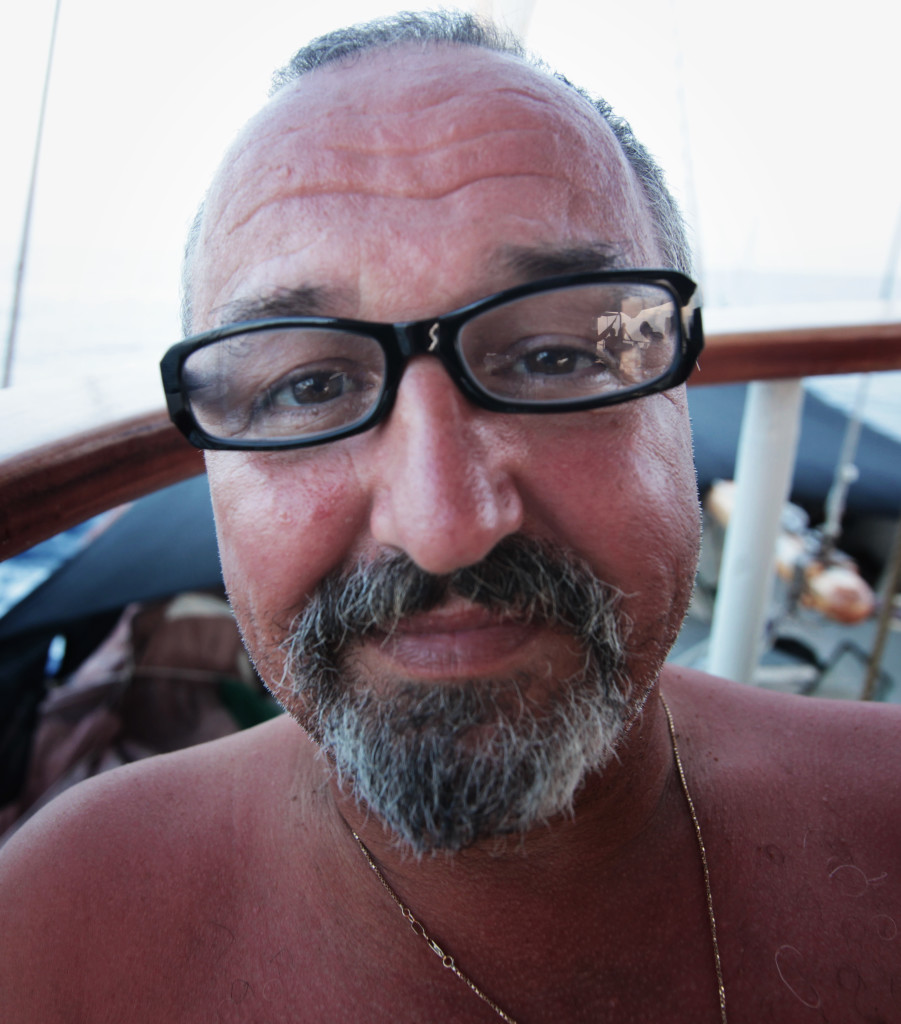 Pierre, another Vstrom rider. From Canada and all around gentleman.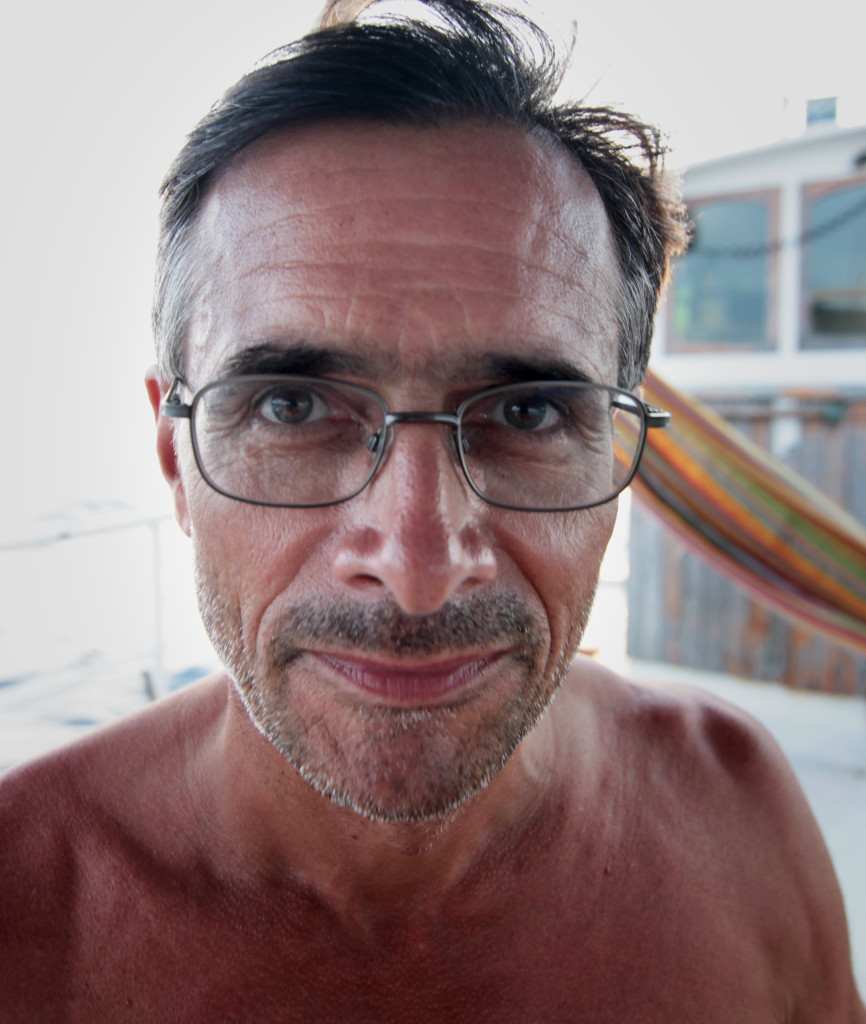 Jim from the UK. This is the third time we have crossed paths. Once on the ferry from Baja, again at Spanish lessons in Antigua. Small world.
Hans from Germany. He's 70 years old, and still riding like a champ.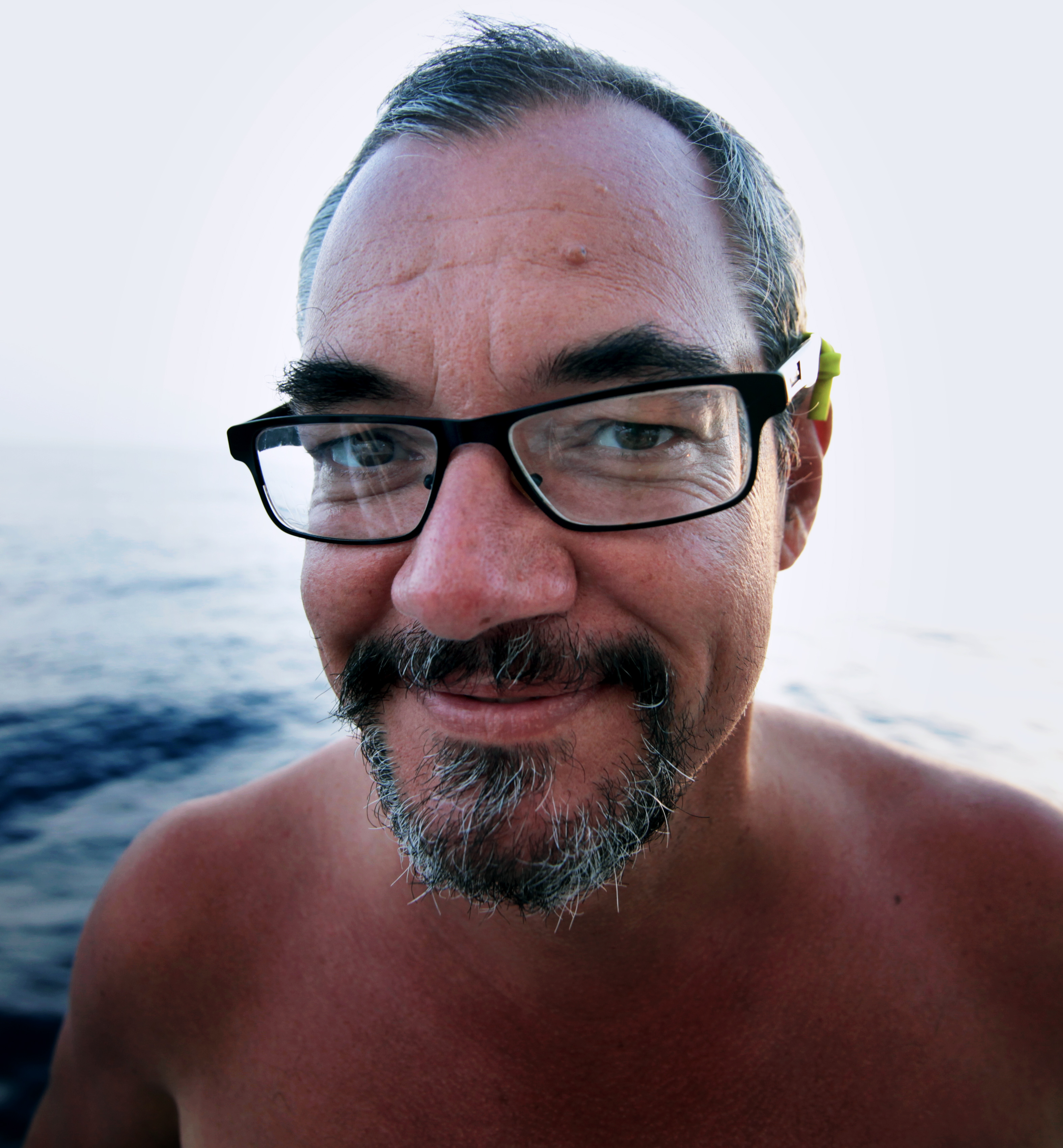 Michael from Canada. Scuba and Photo enthusiast.
Olaf Germany. I hope you all know this character by now. Also our third time hanging with this dude. Definitely love this guy.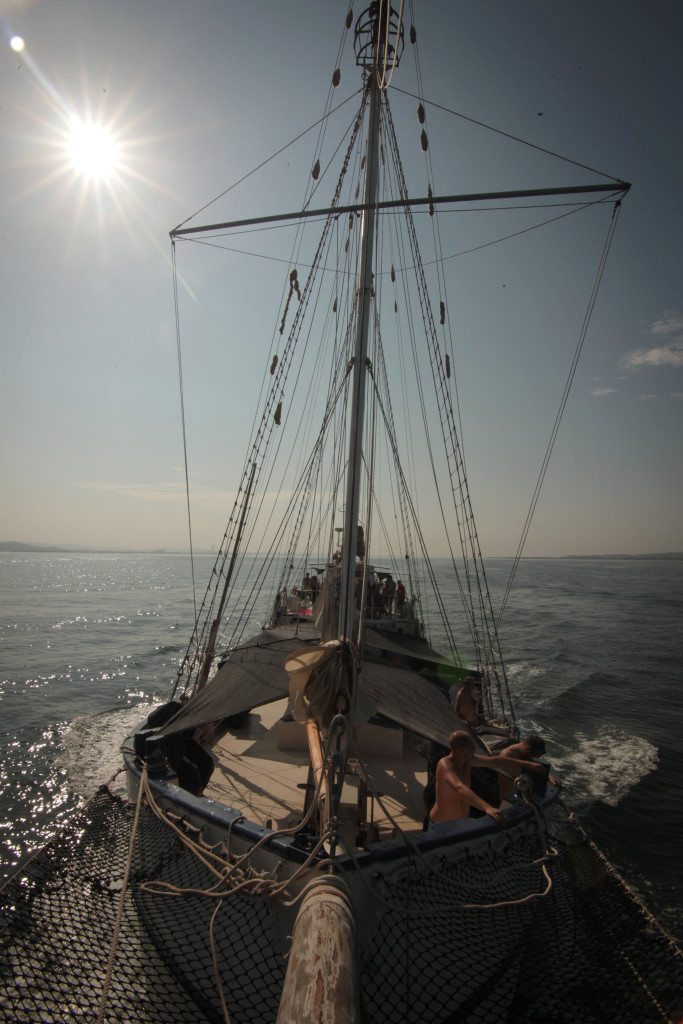 Here we were in the scorching Colombia sun about to embark on the next leg our own journey, our next continent, South America. Moral was high, smiles were abound and I could feel the excitement in the air. Zoey took the morning to conquer the Crows Nest. After dropping anchor Ludwig left on the skiff with all our documents to complete the paperwork with the ships agent. He returned and told us it would be 2 days till we can recoup the bikes. For now we again loaded into the skiff and set out for Cartagena, Colombia with no bikes and no passports. It felt alien and awkward but we put our whole hearted faith in the trip and its magic and set our sea worn legs on mainland Caribbean Coast, Colombia, South America.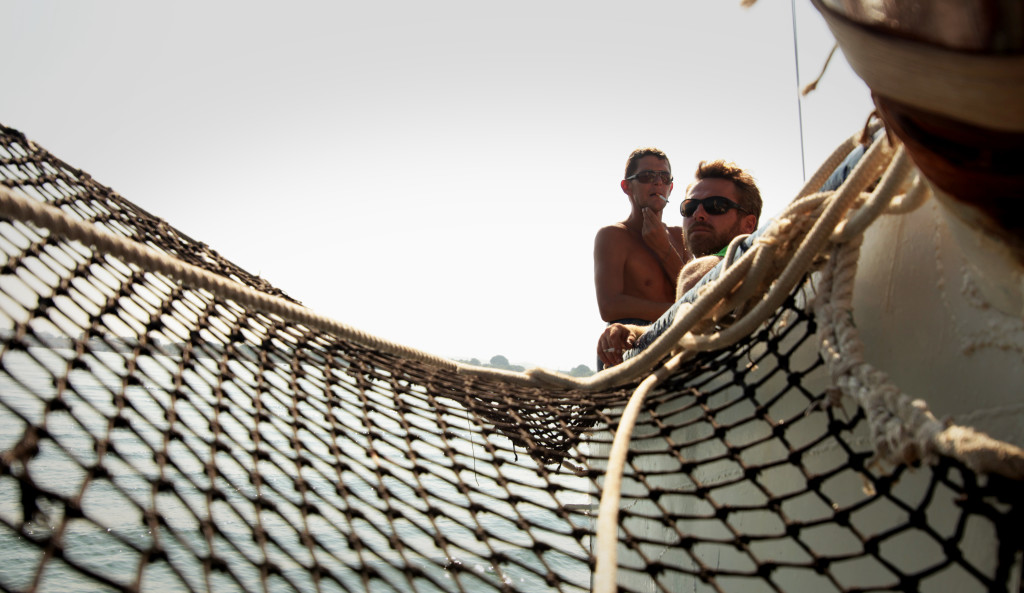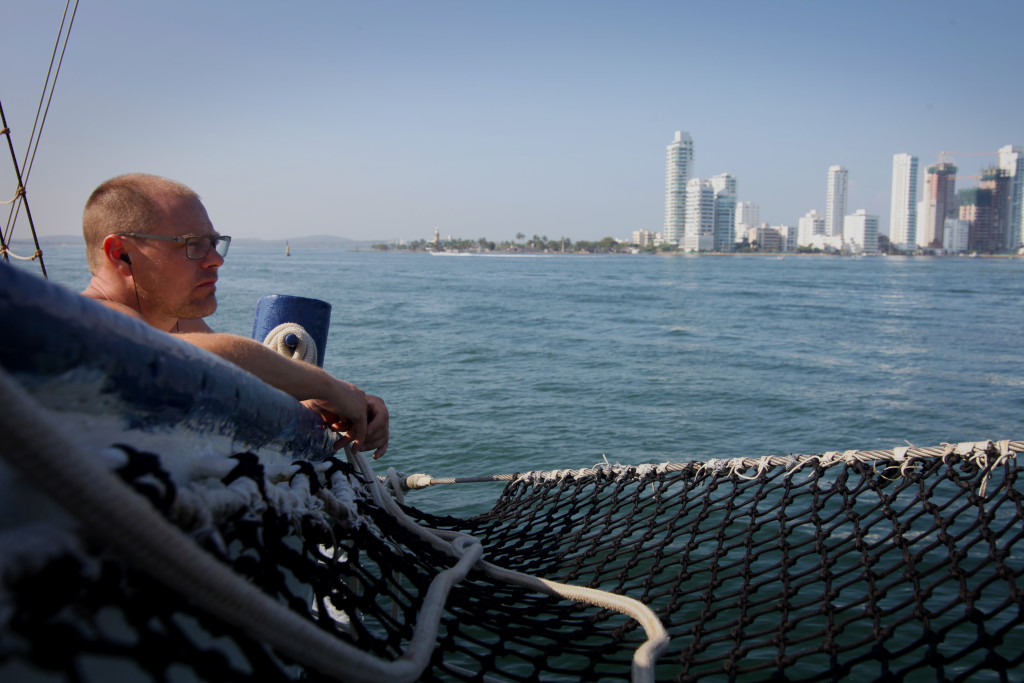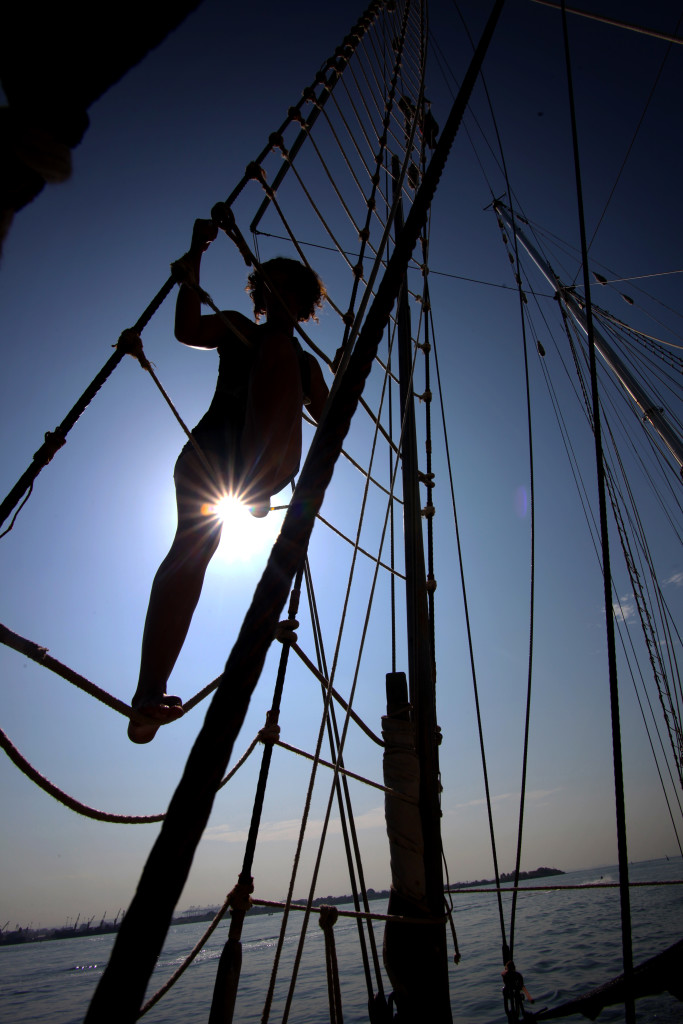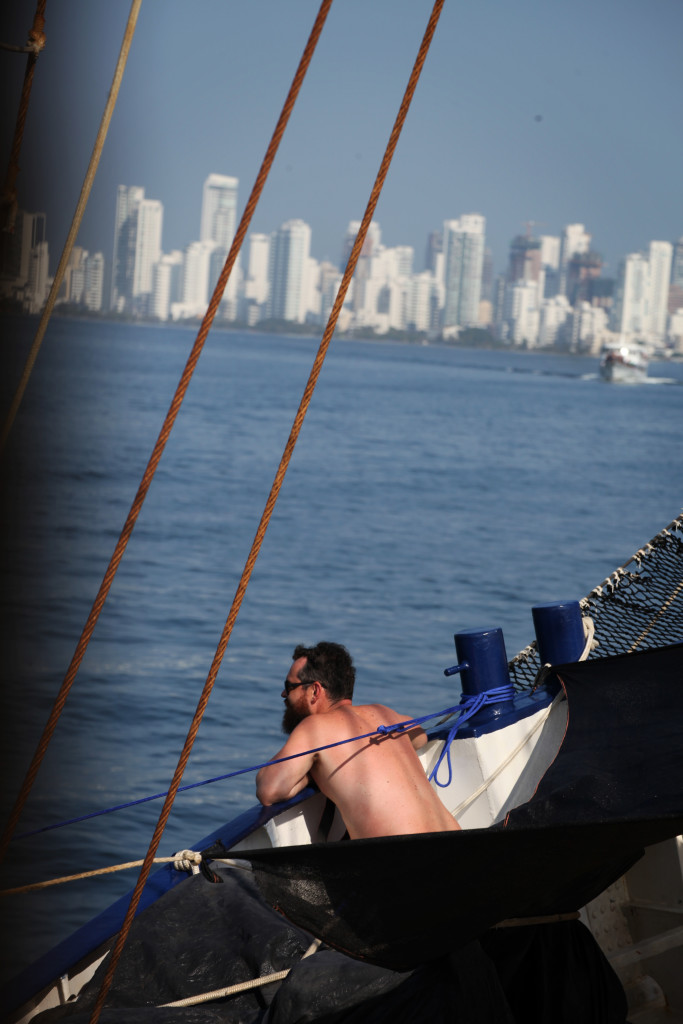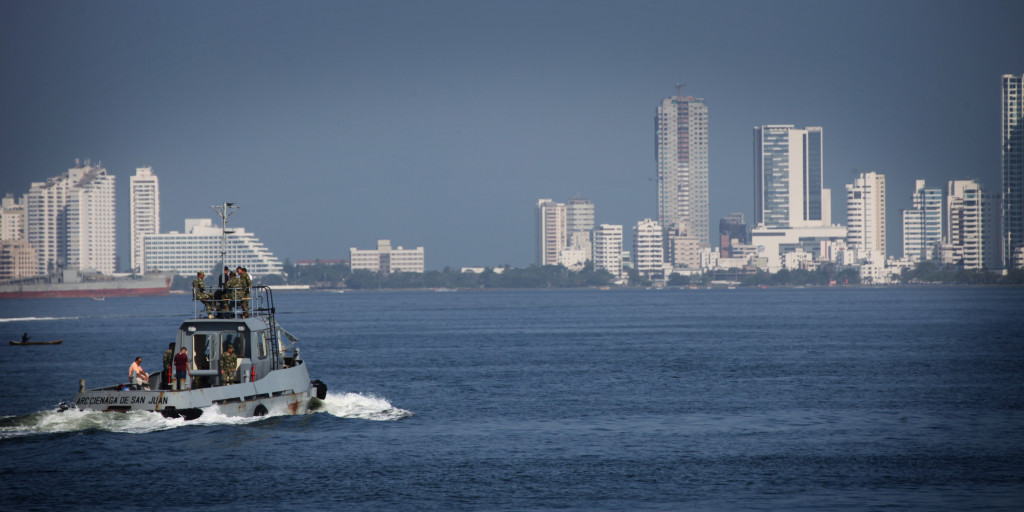 Our escort for a while into the harbor.