Ecuador, all of it.
I made good time from La Concha to the border, just under 2 hours. As usual the border seemed to really creep up on me. All of a sudden a building is in the middle of the road and Im pondering if I should stop. I pulled off to the left and parked as a couple guys began to walk towards me. I assumed they were the typical pushers but this time, I assumed wrong. I made sure everything lockable was locked and begrudgingly walked away from my bike, hoping everything would be there upon my return.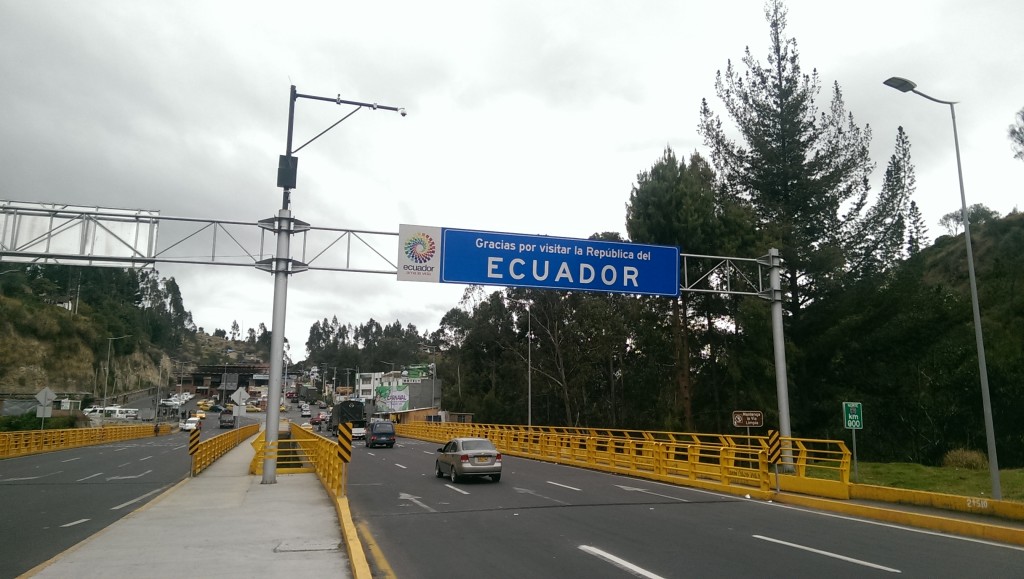 Inside the Colombian side of the border was a monstrous line but it moved quickly and I passed the time with good conversation with a couple heading to Ecuador for their first time. They also assisted in ensuring I did everything I needed to. It was easy, a stamp out in my passport was all I needed. I rolled onward to Ecuador where the simplicity continued. I waited in line to stamp in and then obtained my free vehicle permit and FREE health insurance. Total time for the crossing was about one hour, of course that doesnt include the obligatory photo sessions and amateur interviews.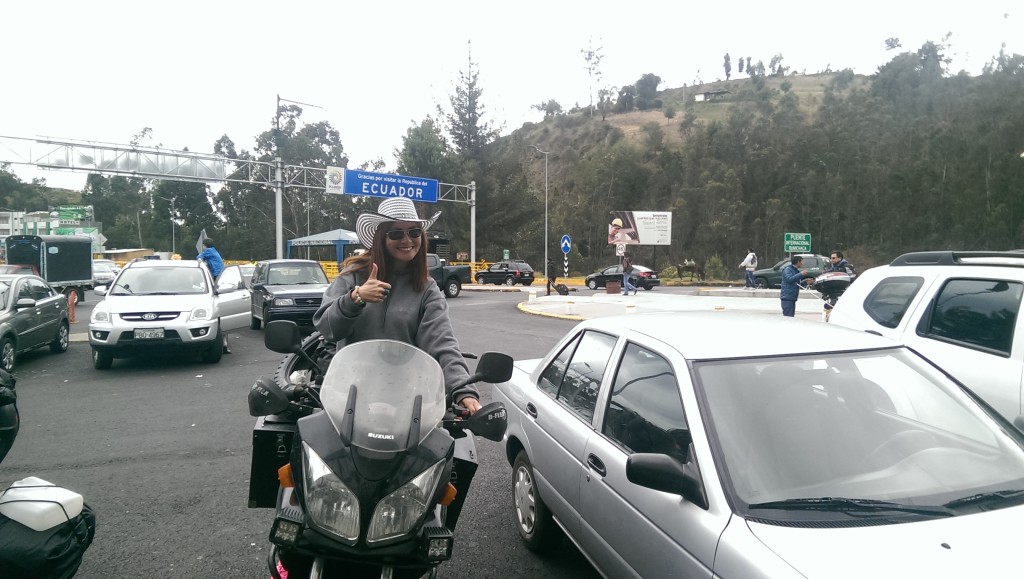 A bit shocked at just how easy the crossing was, I passed over the invisible line and rode into my 10th country. Immediately I was awe struck at how beautiful the landscape was. Green, so much green. The road kept changing from incredibly fresh pavement to dirt which kept it interesting and the elevation changed rapidly. I stopped in a small town whose name Ive forgotten and had an awesome lunch for $3.50, yup they use dollars in Ecuador. Shortly after I passed through Ibarra where I didn't know it at the time, but Olaf and Hans were.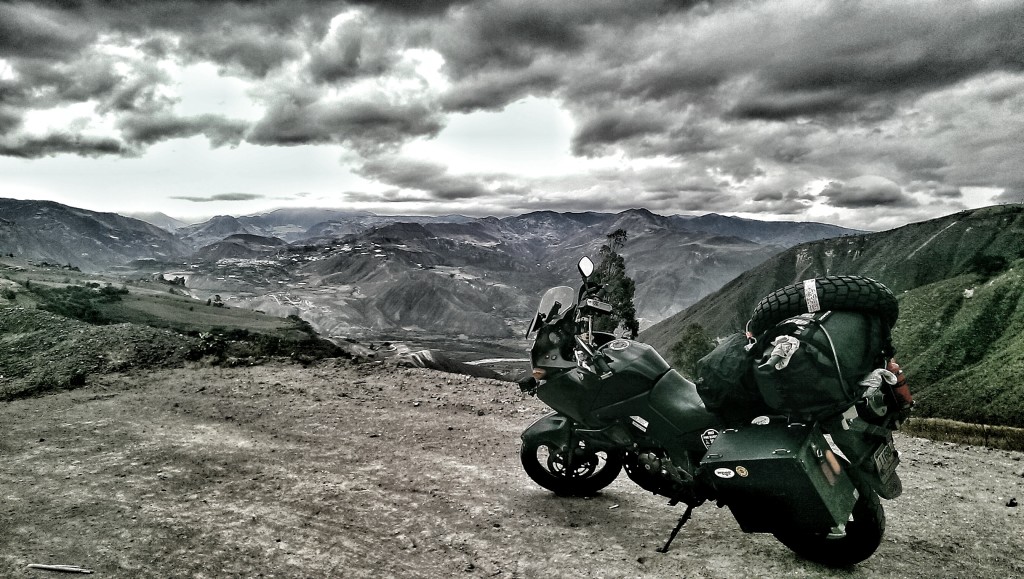 Just before dark I got into the outskirts of Quito, now it was time to scout out WiFi, find a hostel, and hunker down for the night. I struck out at my first stop, a large grocery store. And then of course it started pouring. As usual, it only made sense to head towards the center, where I conveniently found a McDonalds, WiFi, some cheap/shitty food, and a hostel to stay at. Hostelito had private parking and when I walked through the door, four people invited me to watch The Grey. I instantly knew I had come to the right place.
Hostelito is known for their pod experience which means you sleep in this weird cubby-hole type situation. I had a huge bed to myself and got a fantastic night of sleep. In the morning I was treated to a great breakfast and then watched the entire season of Aziz Ansari's new show Master of None. Now you're probably thinking, how can you watch TV when you're in a foreign country? The easy answer is that you miss things you never get the chance to do, so I enjoyed soaking up some TV, plus its a damn good show.
After awhile I got my lazy ass off the couch and rode out to Mitad del Mundo or as most people know it, the Equator. I don't want to spoil too much but its similar to places like Wall Drug or South of the Border, a bit of a tourist trap (with less signs). I snapped a few pics, had some pics of me taken, and ate their famous helado de paila, a fruit flavored ice cream. Unfortunately when I got back most of the restaurants were closed and I ended up eating…..Dominoes.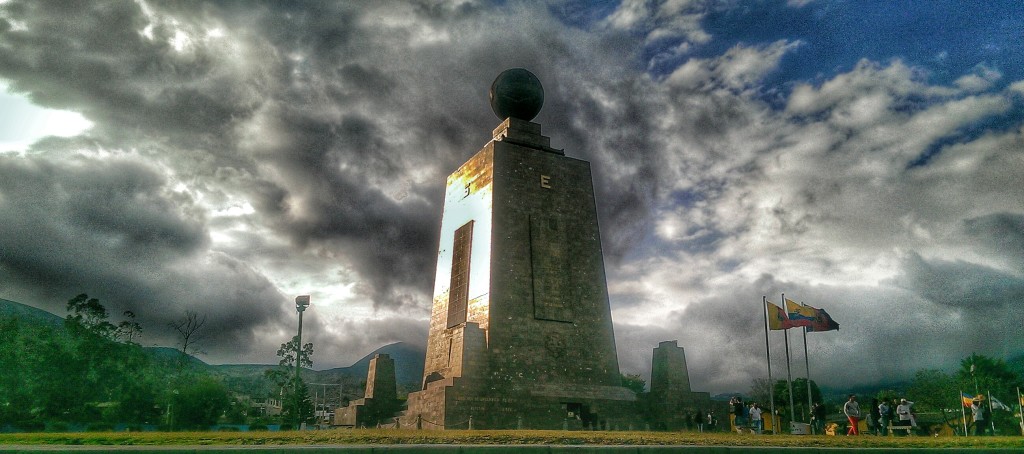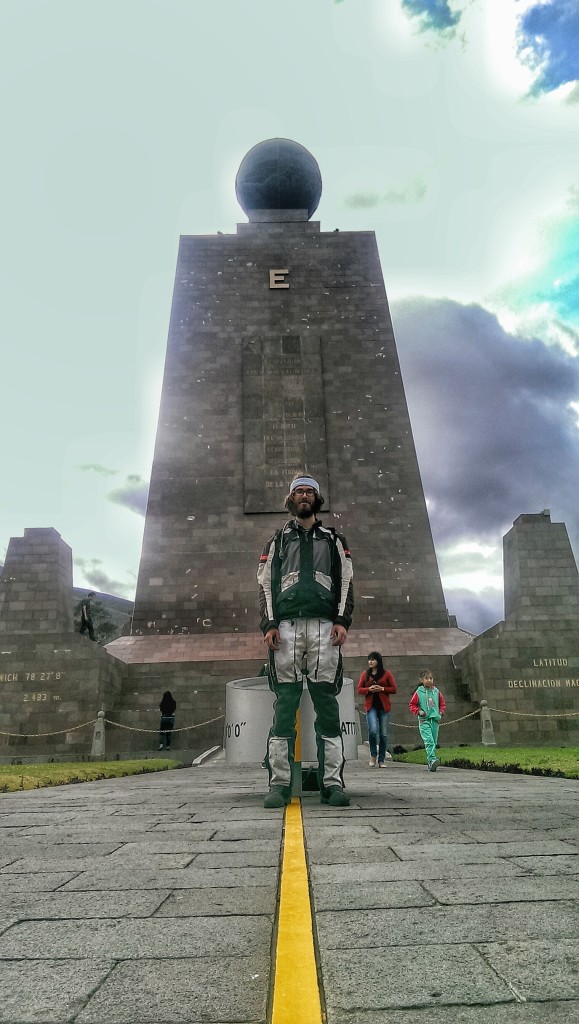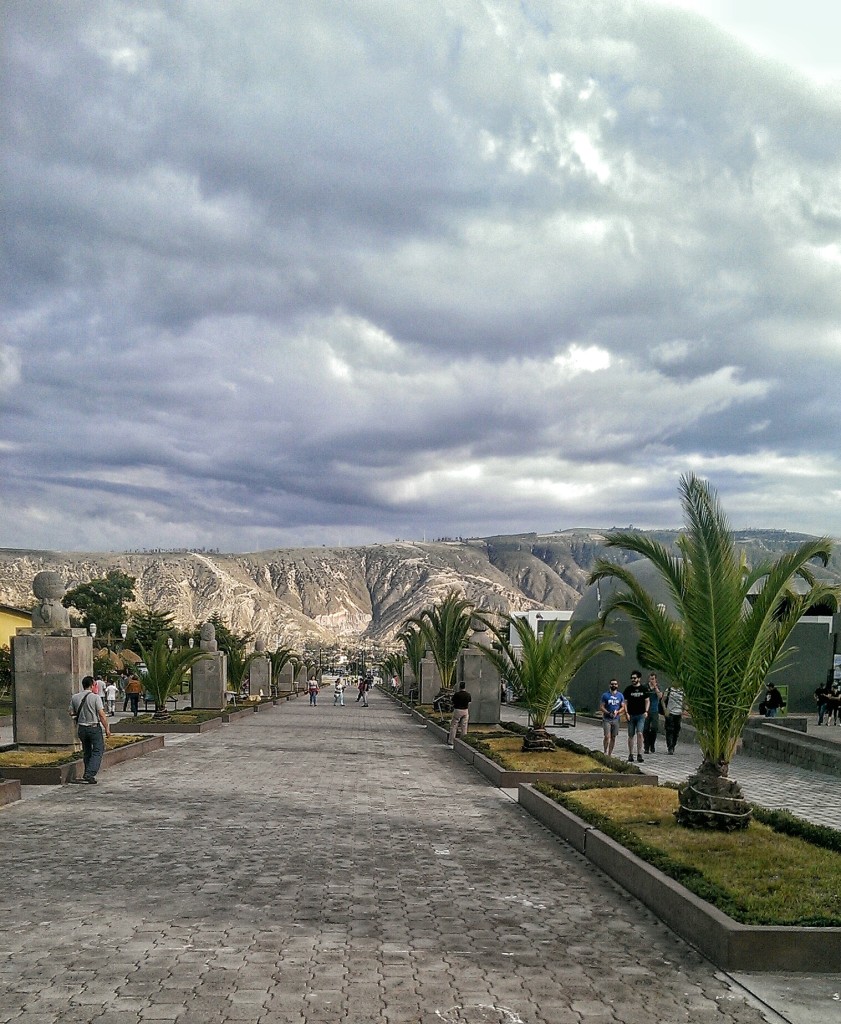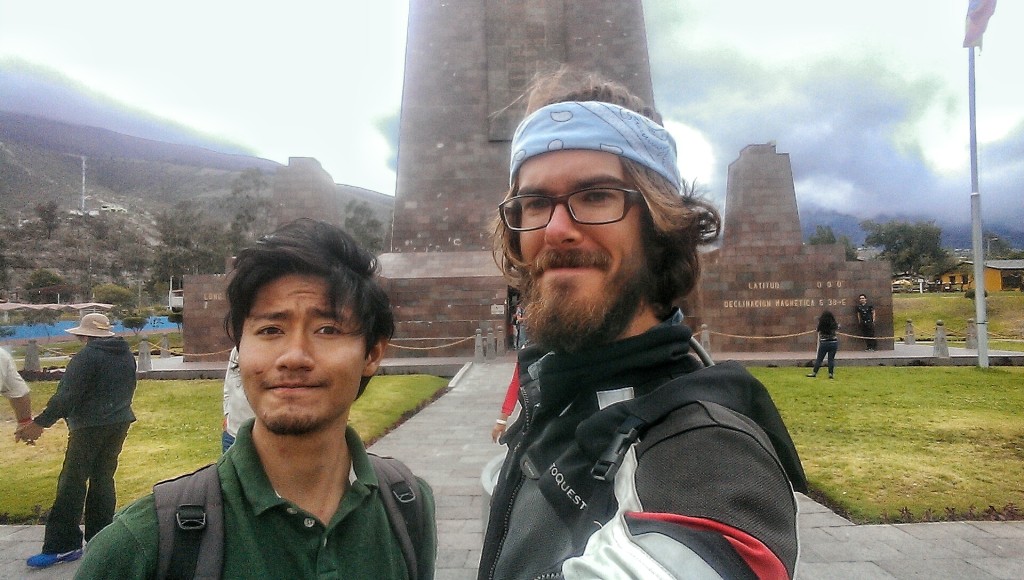 Monday I was determined to be a bit less of a slug and got out of Hostelito in the morning. First order of business was to visit the artisanal market. It was mostly just Alpaca sweaters and blankets which I considered purchasing but…Im maxed out on space so I had to pass. I did chat with three Mormons doing mission work, if I recall correctly one was buying 9 blankets for his family. I think if he could have, he would have joined me right then and there to ride.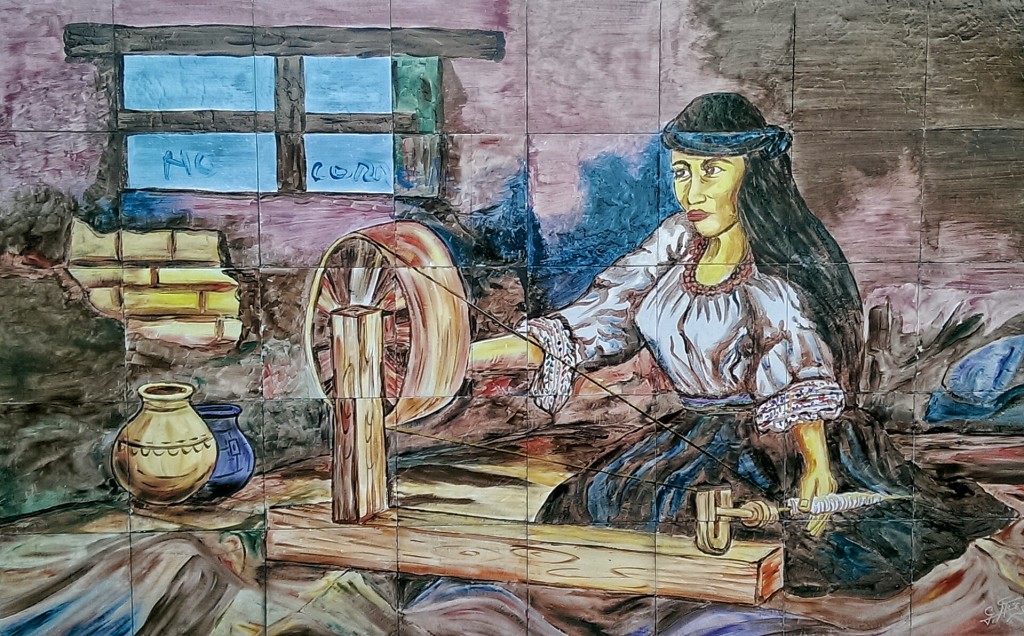 From there I cruised over to the old city area and spent some time riding around to take in as much as I could. It was almost insane how steep some of the streets were. I stopped at a couple churches which were very impressive even if I don't agree with religion in general. Afterward I made an attempt to head to the gondola but got lost and ended up at the top of the hills outside the city, in line with the height the gondola would have taken me. On the way down my bike kept shutting off which meant I was extremely low on fuel. So I rode all around aimlessly looking for an open station.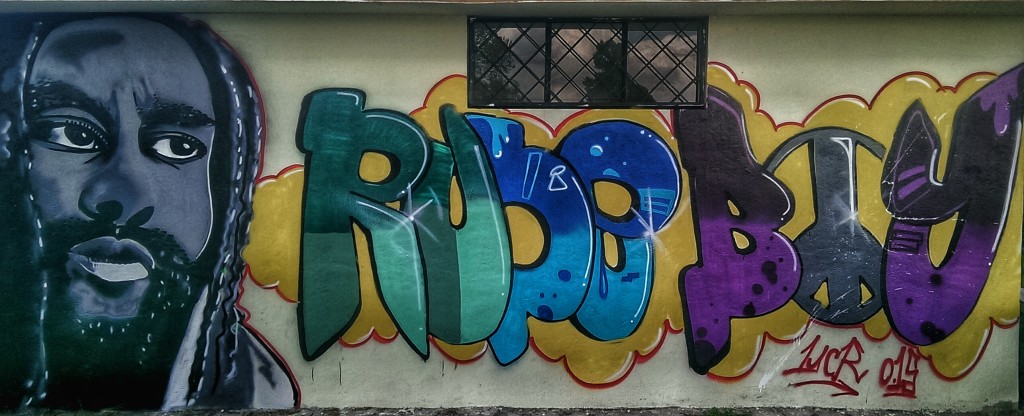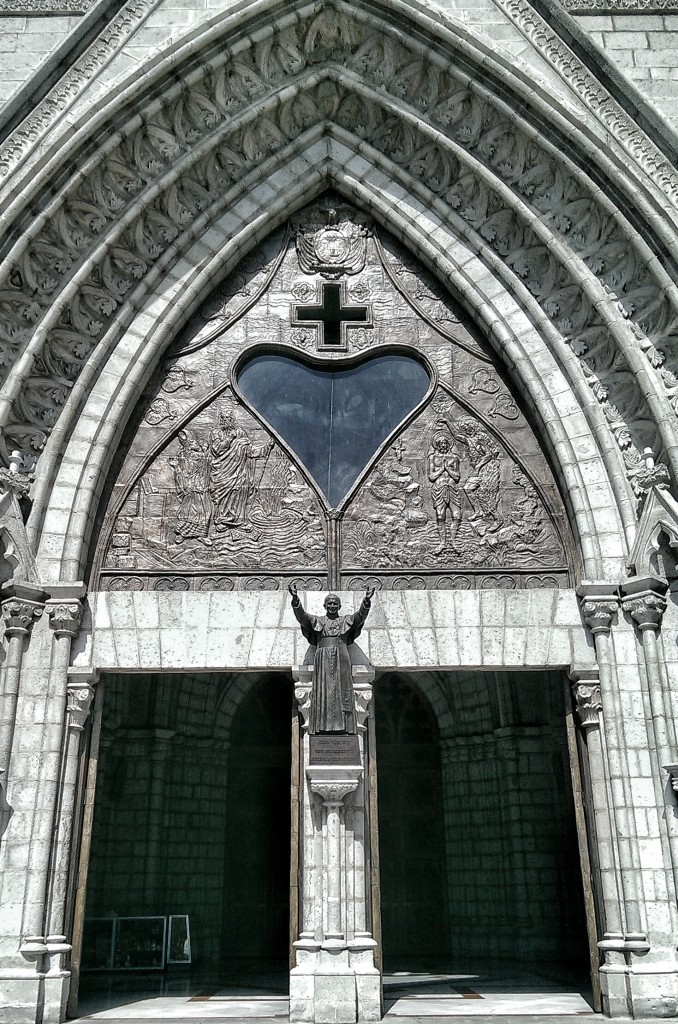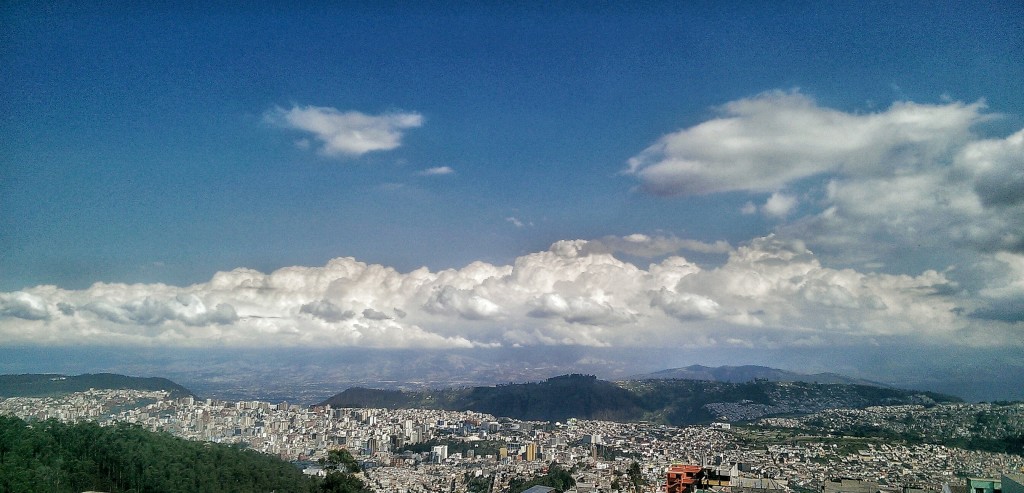 That night I met up with a local to do some climbing which felt good despite the fact I'm no longer in climbing shape. Its cool to see people 15,000 miles from home with the same passion for the sport.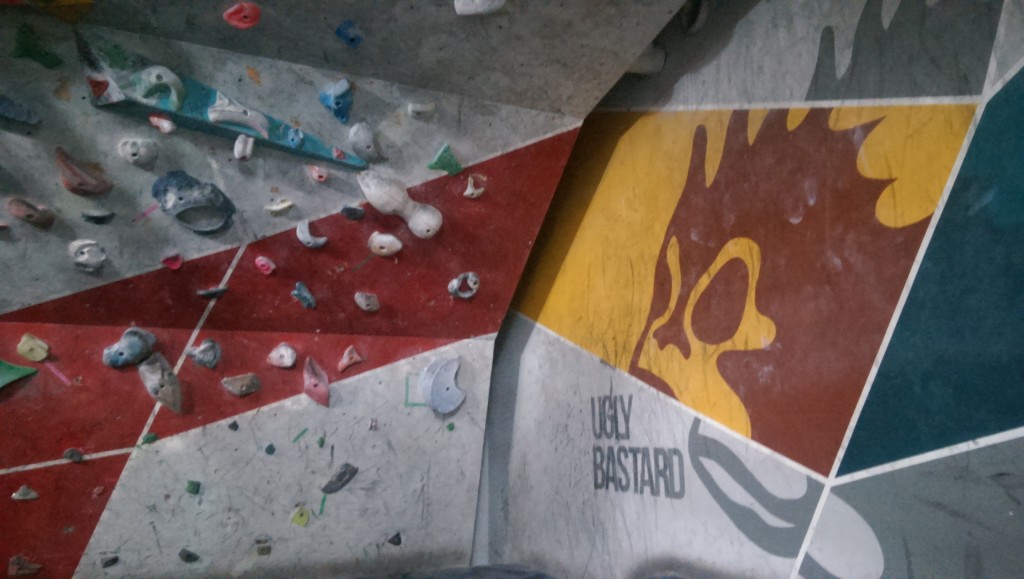 On Tuesday January 5th I packed up my bike and said goodbye to Hostelito. On my way out of Quito, I took the advice of my good buddy Neal and made a stop by Freedom Bike Rental. The guys here go out of their way to help travelers. We sat down and talked about their trip to the bottom of the world, about their business, and plotted out a route for me to take for the rest of Ecuador. I probably spent 2 hours there, I really appreciate their help and would recommend them to anyone. The bikes they rent are in perfect condition and they clearly take pride in their work. (No one paid me to say any of this)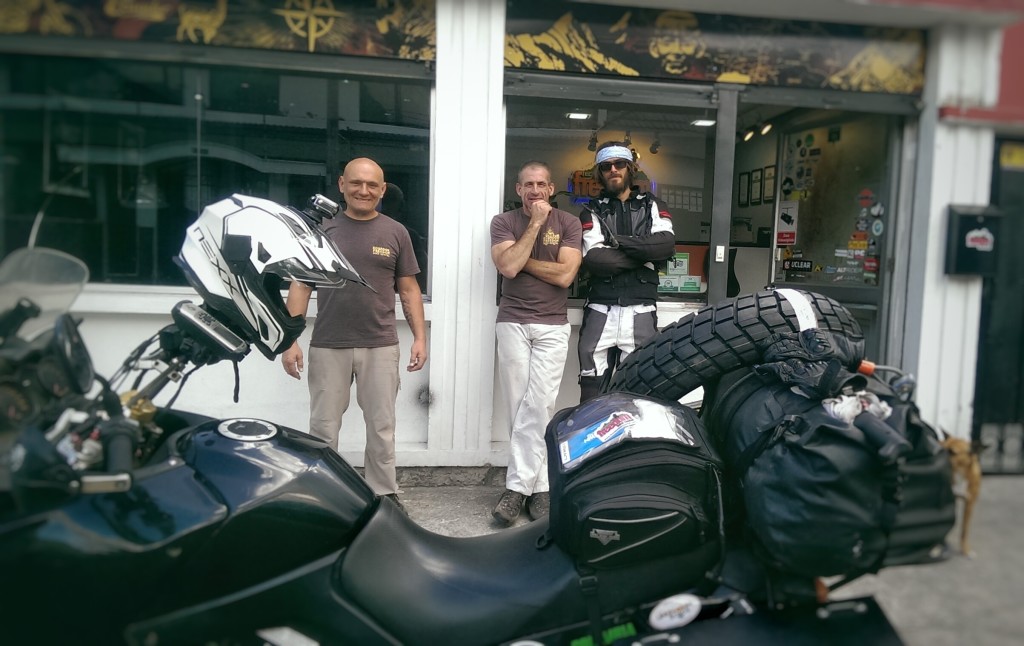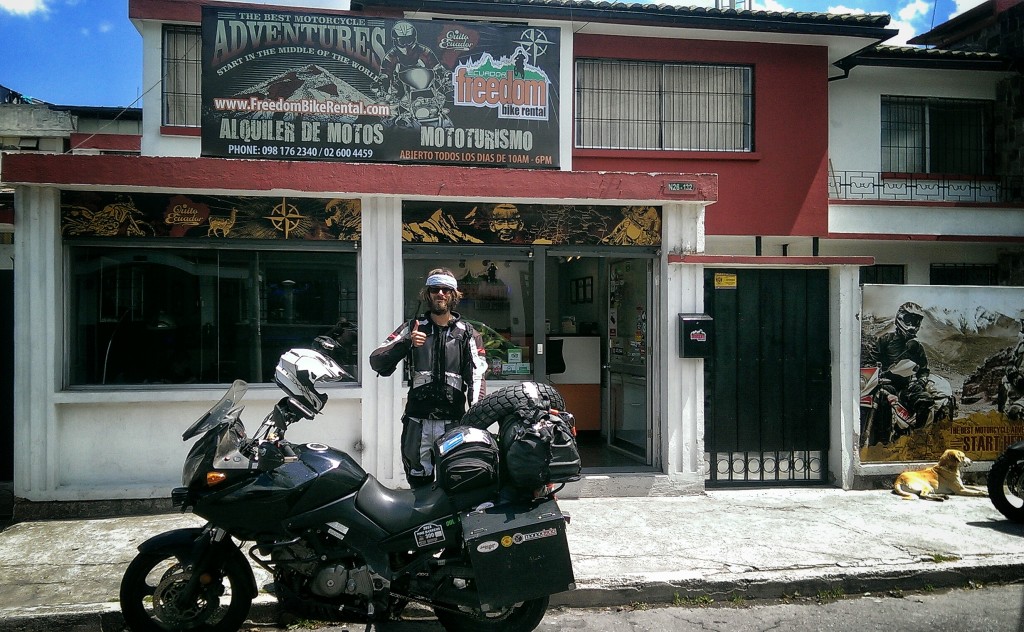 With a solid plan thanks to FBR, I left Quito in the early afternoon to make it to Quilotoa, a volcanic lake 4 or 5 hours away. The route we plotted out was highway out of Quito and then switched to dirt for the remaining 40 or so miles. My GPS had other plans. For a half hour or so I followed a route that went from fairly easy to deep sand. I knew then that it wasn't right and turned back to follow the actual route. The unplanned detour cost me time I didn't have but the entire ride was so beautiful, spending more time was a blessing in disguise. I couldn't find a route that got me to the top of Quilotoa and as the sun began setting, I stopped to ask for directions. The route my GPS wanted me to go was a hiking trail that would be a challenge by foot and impossible by bike. The family instructed me that it was over an hour away and that I was to stay with them. How could I pass up that offer?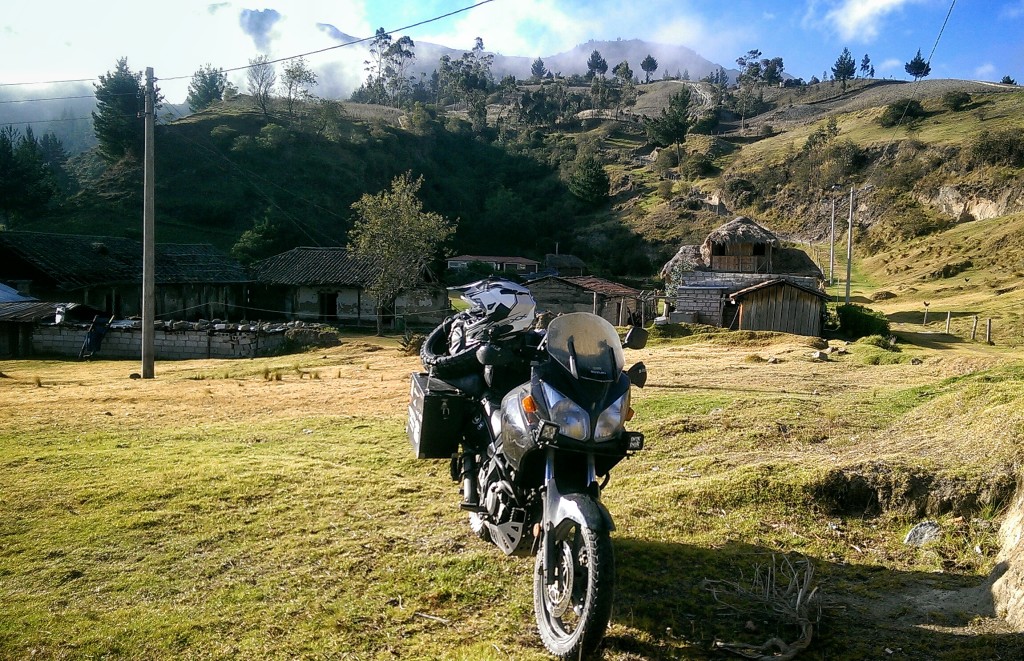 As I set up my tent on their small farm, their three children ages 6 to 10 started a fire for me. They hung out with me for a few hours, I was actually able to talk to them, shared some chocolate and tried my best to entertain them. They watched curiously as I ate a dehydrated meal from a bag. The middle child Daniel was a serious pyro, I had to put out more than a few of his fires. As the flames died out, it was time for bed, I slept well.
I left my Ecuadorian family's home early on Wednesday after saying my thanks. By 9am, I had found my way to Quilotoa. It was just as beautiful as I had been told. As I parked, Lucas, an Austrian came and chatted bikes with me. Since we were both planning to go down to the lake, we opted to go together and also to share a kayak. Lucas intended to come back to South America in a year or two with his motorbike but for the last 5 months had been traveling by bus and hiking/mountaineering as much as possible. We had a good hike, good kayak, and good conversation. We grabbed lunch while Lucas waited for his bus which kept being postponed. Lucas gave me the intel on which hostel to stay at and how much to pay.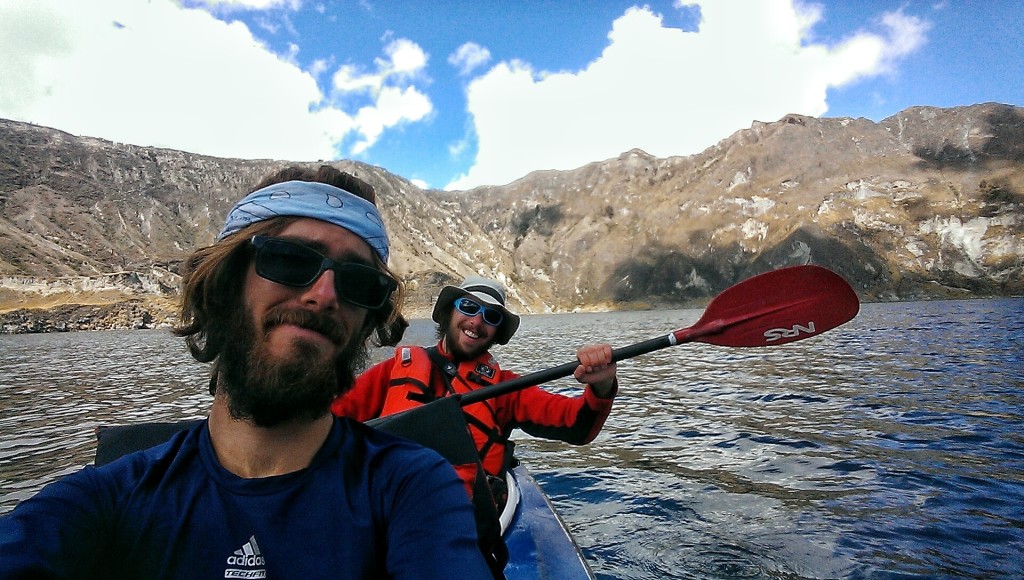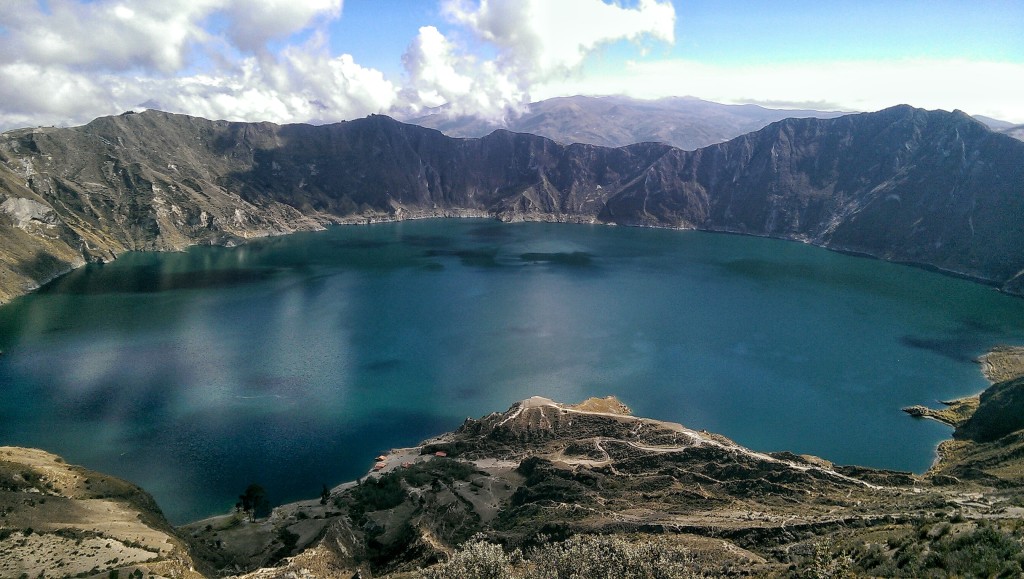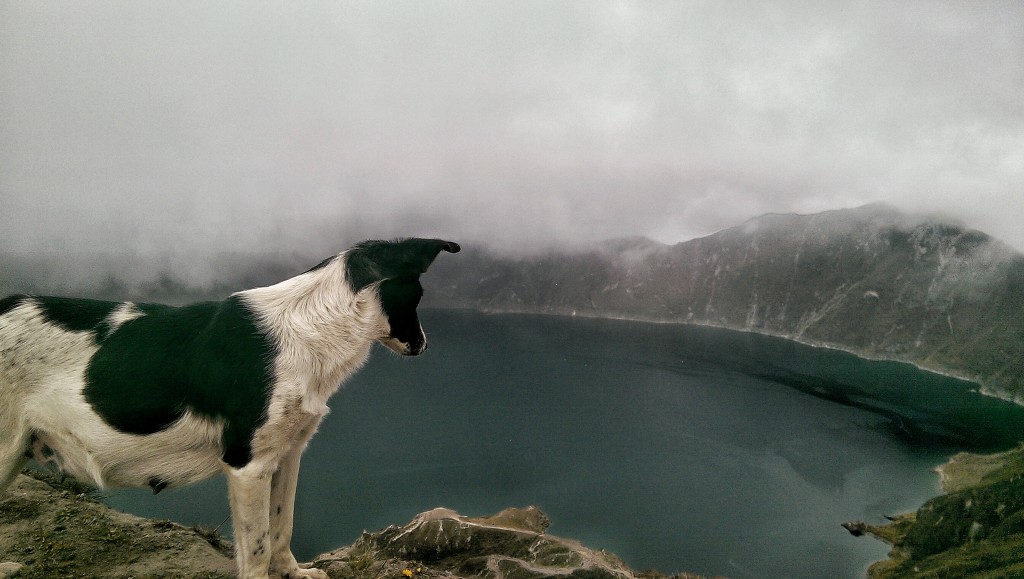 The hostel was $15 which included dinner and breakfast, and not the bullshit breakfast that other hostels peddle, a real breakfast. The rooms of the hostel were heated solely by fireplaces and at night I could see my breath in the room (in the morning my pee steamed.) After an amazing dinner, I hung out with the other travelers and then went to bed, where I got an incredible sleep. Possibly the most comfortable bed to date. Olaf would be meeting me bright and early so we could ride to Banos.
Thursday I woke up at 5:30 so I could walk out on the rim of the volcano and see the sunrise. The weather had other plans, clouds laced the sky and the sunrise was hidden, back to bed until breakfast. I packed up and waited for Olaf's arrival. He took a quick gander at the lake before we set off for a long day of riding.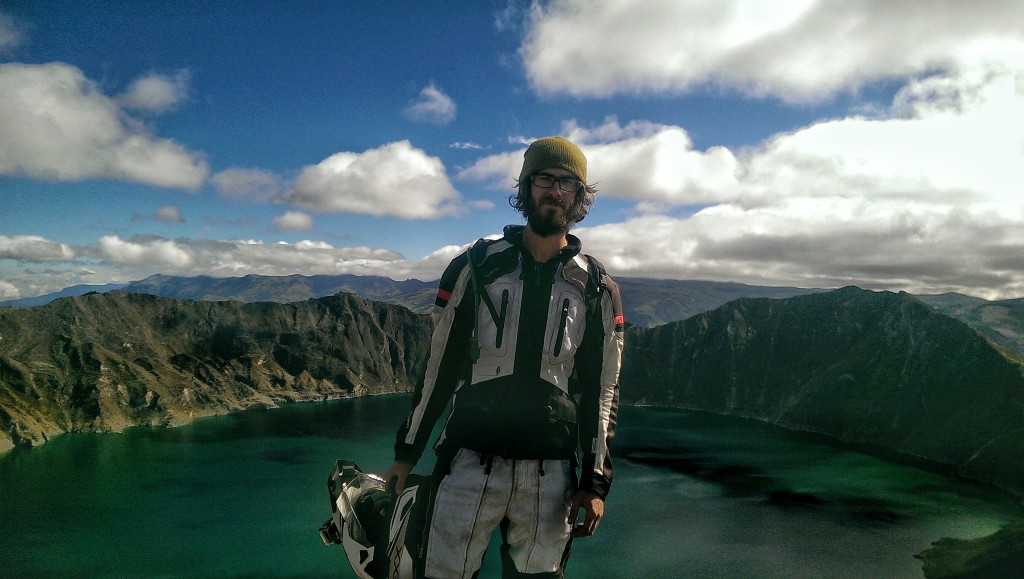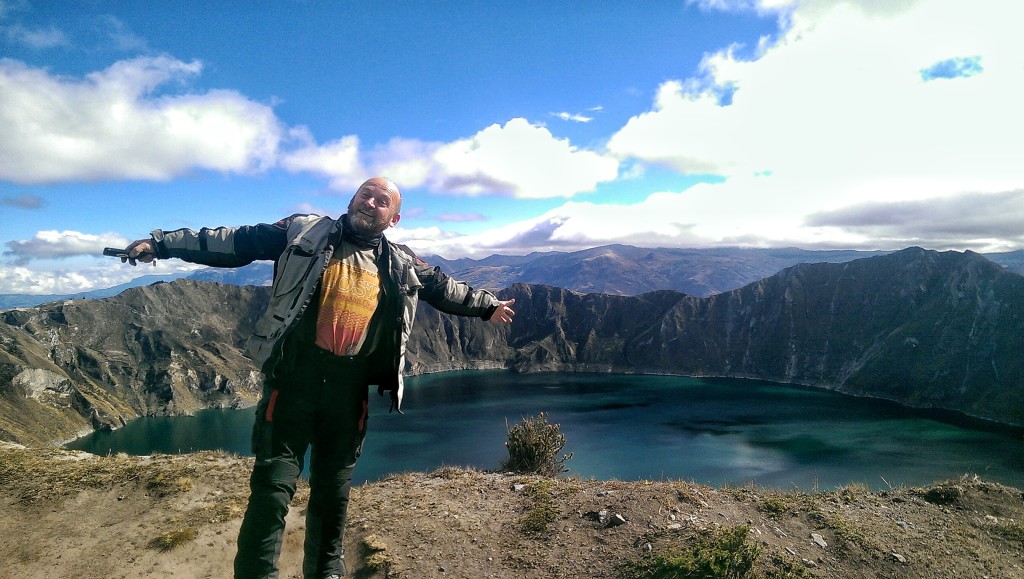 The route took us from Quilotoa to El Corazon off road, and then past Chimborazo to near 15,000 of elevation. It was an epicly twisty mass of seemingly endless switchbacks. The riding was hindered only by thick fog and steady rain for part of the journey. It made the dirt roads turn to mud which kept things interesting. Olaf and I passed through many small towns, avoided hitting many street dogs, and chatted while riding. Eventually we made our way to pavement, dry pavement that had long sweeping turns we could take at upwards of 90mph. A drastic but welcomed change which allowed us to get to Banos before dark.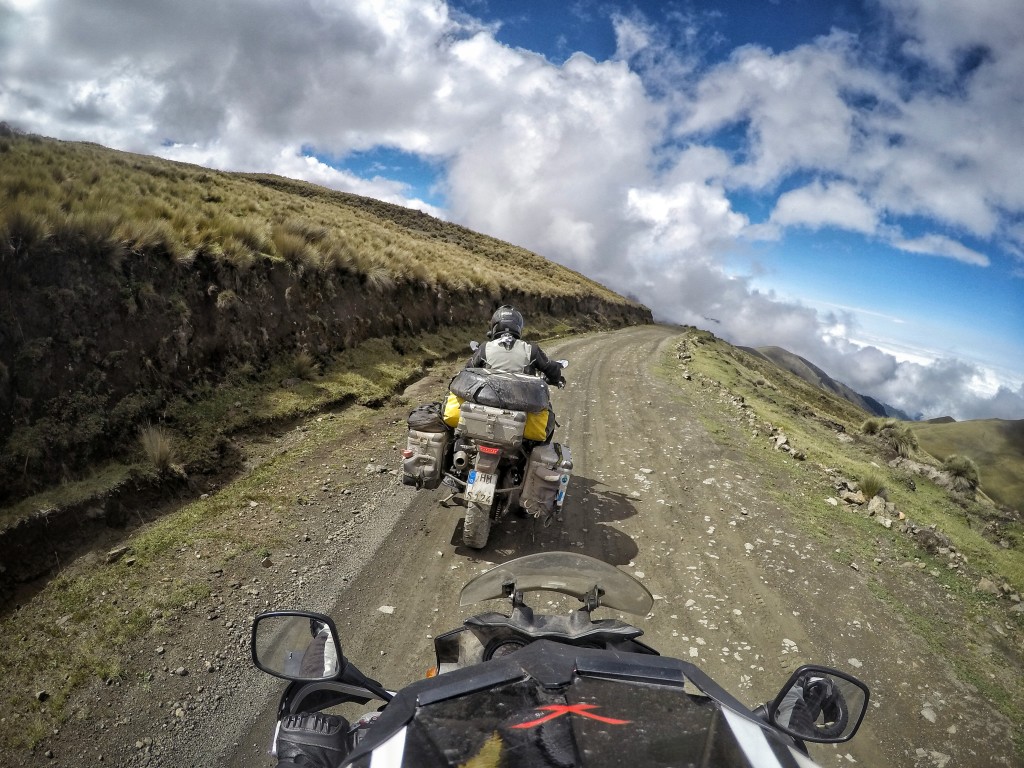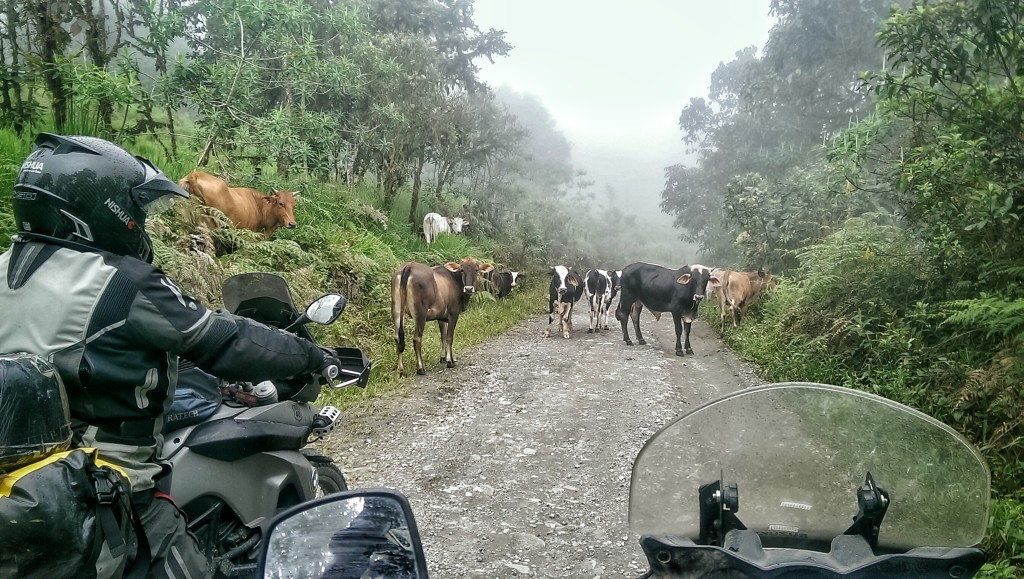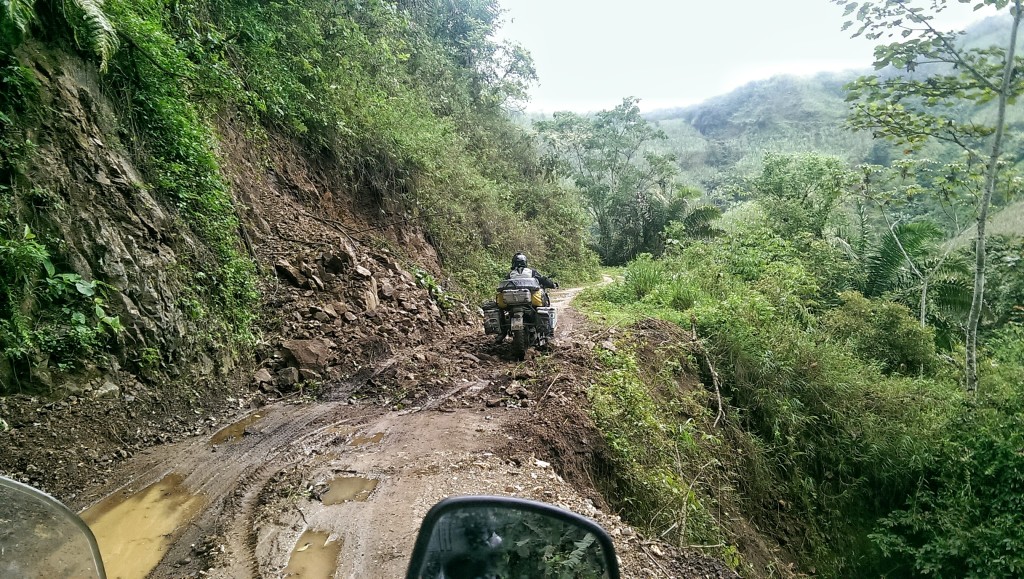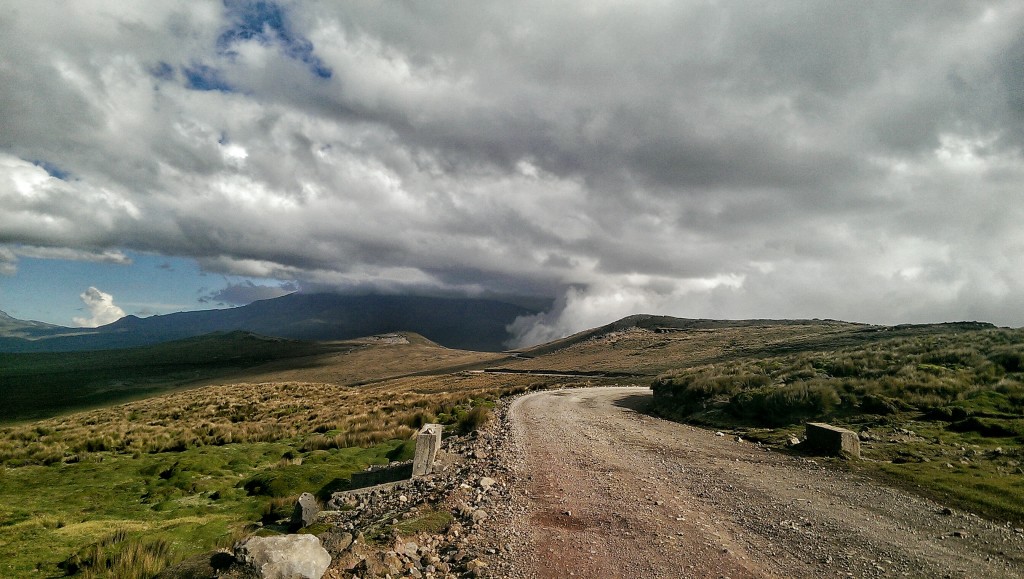 In Banos, we stopped for dinner at a hostel with WiFi to look for our resting spot for the night. As we waited for our food, I heard a big single pass by. It ended up being Zoki, a Serbian traveler that Olaf had ridden with a week before. Zoki showed us the way to his hostel which was right outside of Banos, cheap and clean. We grabbed drinks before calling it a night.
Friday we intended to leave Banos and head further south but Olaf wanted to check out a place called Pequeno Paraiso Camping. On the way Olaf and I stopped to zip line across a river. When we got there, we decided to stay. Susan instantly made us feel welcomed and the atmosphere begged for major amounts of chilling to occur. We ate food, we chatted, we fixed things. It was great. It was so great that we did a repeat the next day. I donned swim trunks, eye/ear protection, and a chainsaw. We ate many empanadas, cooked food, ate pizza. For two days PP Camping felt like a home away from home. Thanks Susan.
The next morning, Olaf made a game-time decision to stay longer. Zoki and I pressed on without our German companion. We took the long way from Banos to Macas and then to Riobamba passing by glorious lakes on our way.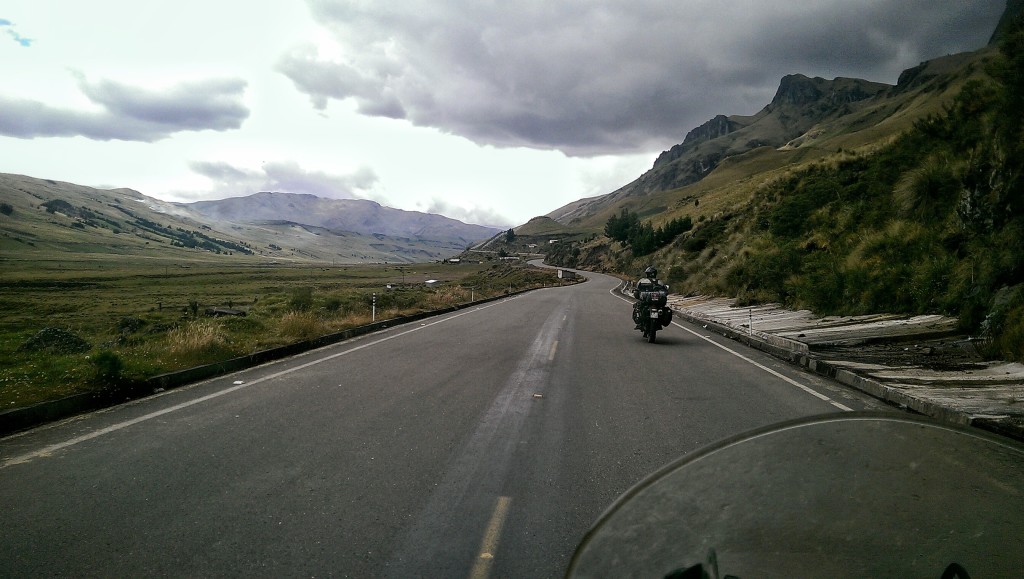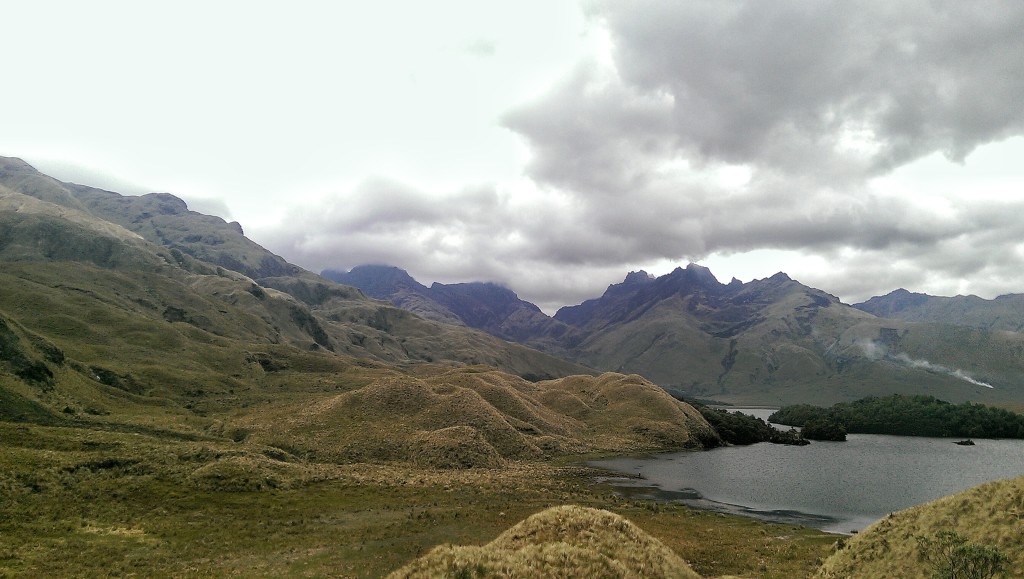 In Riobamba we stopped for WiFi and I was able to communicate with Matt/Tim to meet up and give Tim his camera. On our way over to their hotel we ran into Roel and Azure of My Ticket to Ride. Both of us were in a rush so we exchanged contact information and headed on our respective ways. Matt and Tim were prepping for their hike up Chimbo when we arrived. We planned to meet up in two days in Cuenca.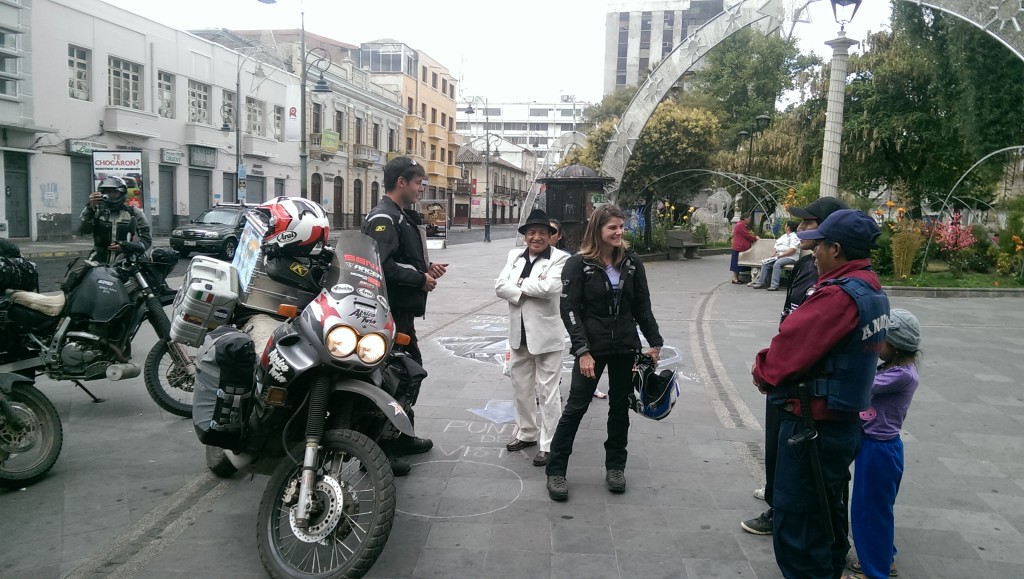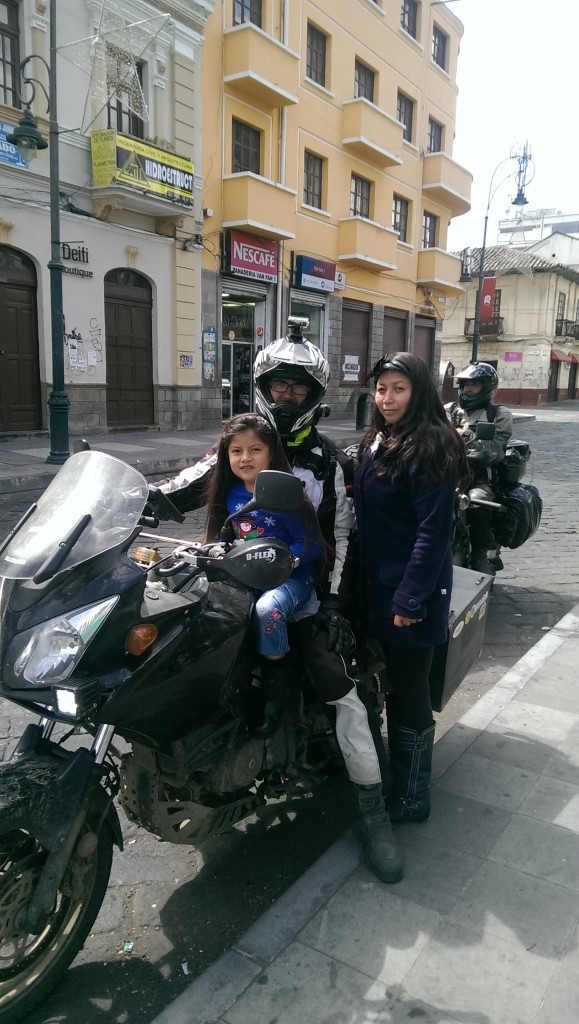 Tim and I had entered in Ecuador with a mission. We were determined to climb up Mt Chimborazo. Ideally we would have climbed Cotopaxi, it was a less difficult, slightly lower elevation, and supposedly a better view. However, Cotopaxi is an active volcano and decided to start erupting. The guy running the tour agency assured us, it wouldn't be climbable for at least 10 years….yikes.

Our journey to Chimborazo started in Ecuador's capital of Quito. Tim and I were greeted by torrential rain and soaked to the core we split lanes, and navigated to Hostelito on the recomendation of Pat. We parked our bikes, had hot showers, and whisked the chill away with a couple of IPAs. We hadn't had hops since Costa Rica, so needless to say it was a welcomed treat. We capped the night with traditional Ecuadorian fare of Swarma(not!) and went to bed in the awkward yet comfortable pod/coffin things Pat had mentioned. The next day we booked the climb, and went to an outdoor retailer to stock up on a few necessities. We decided to head to Riobamba, which was about an hour away from Chimborazo instead of having to backtrack 6 hours to Quito after the climb.

Our guide didn't come until 4pm the day of the climb, which gave us time to meet a new friend from Poland. She had just arrived by bus and was looking for something to do.

We decided to grab an actual traditional Almuerzo with our new friend, for the super good deal of two dollars. That's right, two dollars and you got chicken, rice, salad, a juice and a desert. Amazing. During lunch a colorful parade went by and we had to check it out.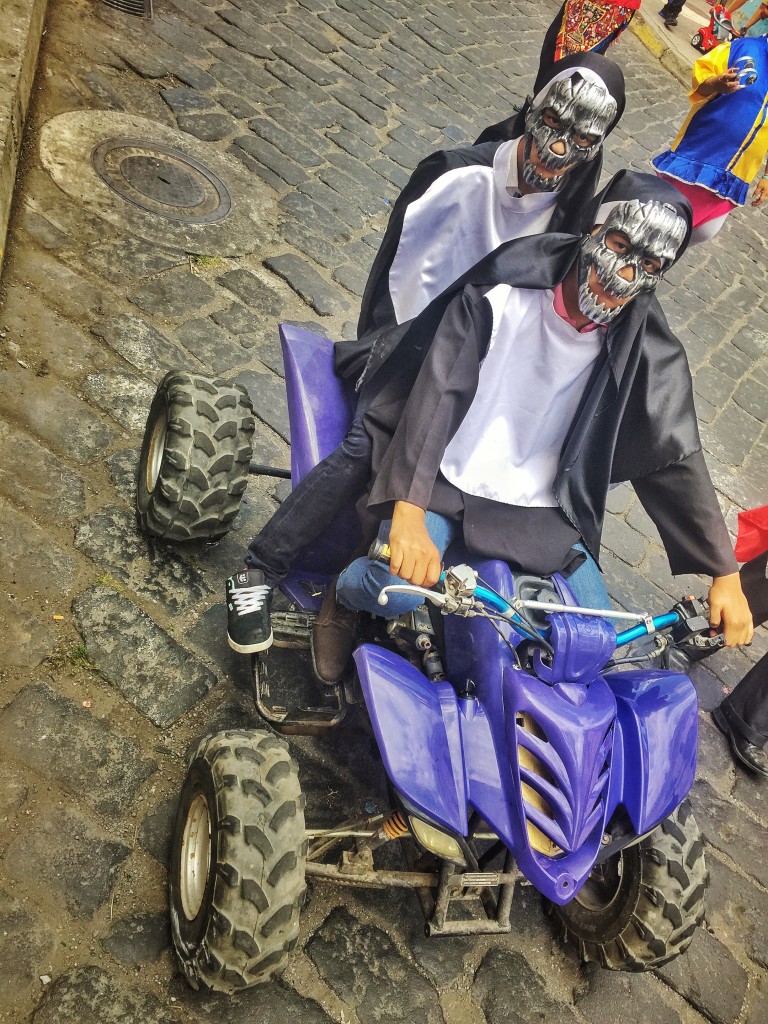 We told her to tag along if the guide would let her. He agreed and we piled in the SUV and started the hour or so drive to the Shelter at the base of the climb. By the time we got there is was getting dark, and the fog was thick. It was roughly 36 or so degrees because the shelter was at around 14,000 ft. Unfortunately each group was is limited to 3 people, for safety reasons when roped to each other and climbing the glacier so our Polish friend couldn't attempt to summit. We unpacked the gear, had some Coca leave tea, and went to bed around 6:30pm. As promised our guide woke us up around 10pm to have a spaghetti dinner. We fueled up, geared up and headed out around 11:30pm. The elevation was high, the air thin, and your muscles worked from the beginning. It was uphill about 45 mins to the second shelter, but at least it was a dirt path. The dirt gave way to steep rock for the next hour and a half or so. Already feeling tired we arrived at the start of the glacier and attached the crampons to our boots. We then tied off to each other and started to ascend the SUPER steep glacier. It was worse than old steep stairs, and it took a lot of energy. We climbed for a while, till about 2:30am when the guide noticed I was tiring. The plan was to summit around 8am, so he assured me there was another 5.5-6hrs of straight glacial climb ahead of us, and asked if I wanted to turn around. I didn't, and I said I had at least another 2 hours in me. He then showed me how to climb down. Whoa. It's non stop squats as you dig the sharp edges of the crampons into the ice and try not to fall off the glacier. As he told me, it is way harder to go down than up, and up was freaking difficult. I decided to turn around because he thought I didn't have enough energy left to safely descend, and well he was right. We turned around at around at over 15,300 feet returned to the shelter and were asleep in no time. When we awoke in the morning I found out, that only 6 out of the 20 people attempting to summit actually did. What I thought was a really difficult hike, was really mountaineering…oh well. It was super challenging, super fun, and I don't regret it for a second. Add that to the bucket list…Chimborazo I will be back. – Matt
With the hours of the day rapidly disappearing, Zoki and I rode further south finally stopping in Chunchi, a small town with only one hotel. I learned at dinner it was Zokis birthday, so I guess that was his birthday dinner, marginal pizza in the city with the highest child suicide rate, happy birthday Zoki!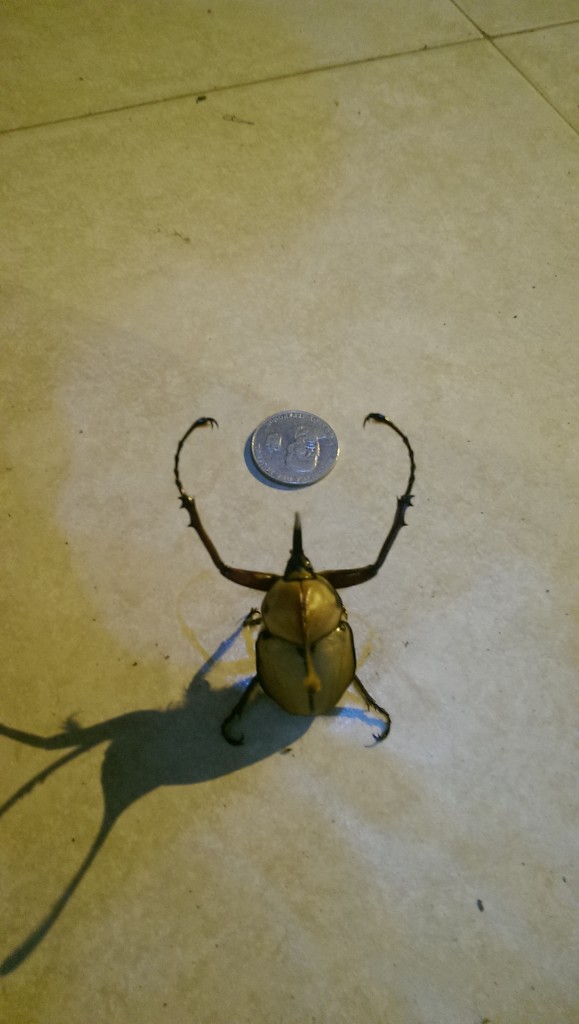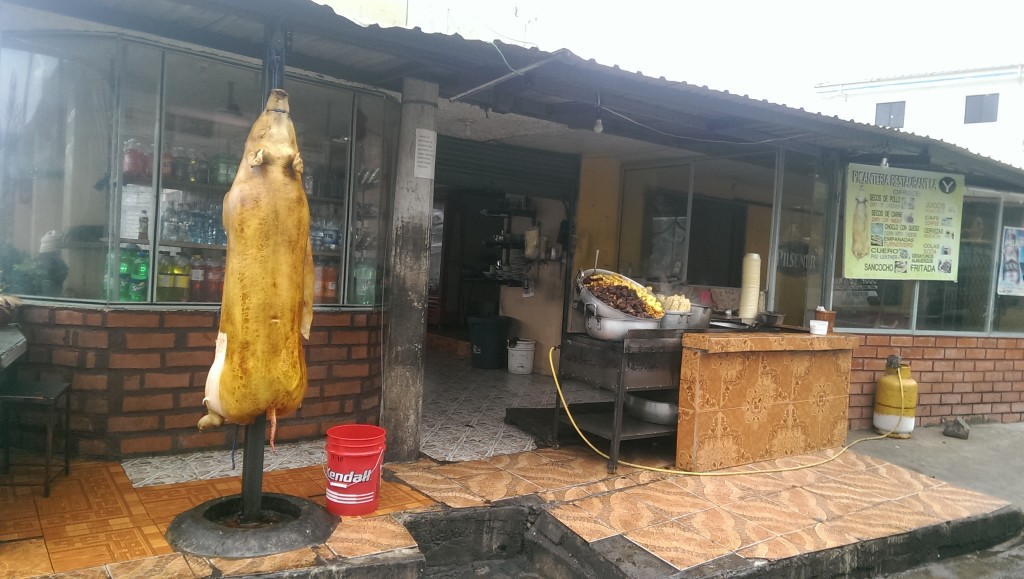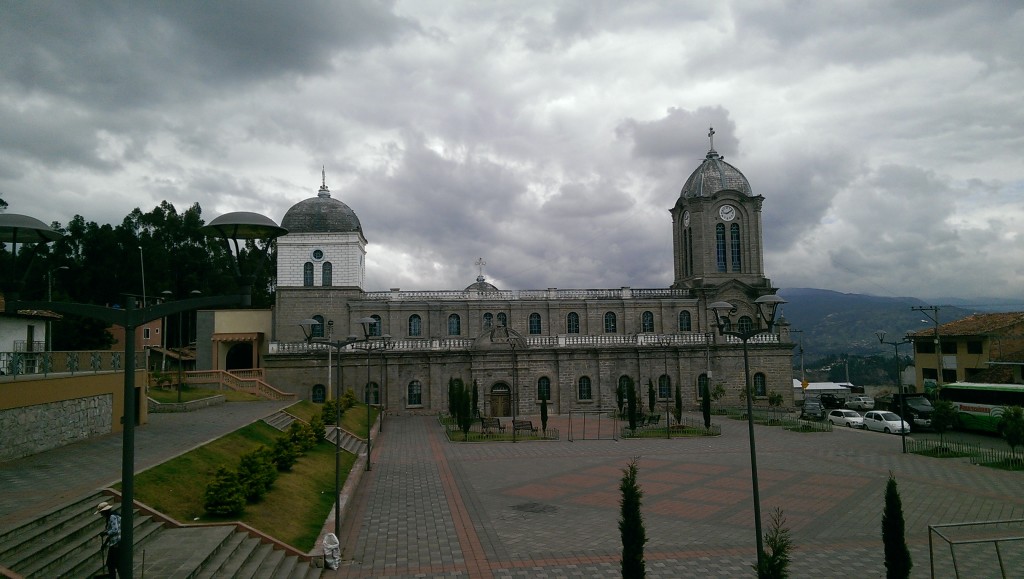 Monday we made the short trip to Cuenca. The ride was foggy and cool but we dropped altitude as we arrived in Cuenca, it turned out to be a fairly nice day. I wasn't feeling so well so after lunch I pretty much just sat in bed until Tuesday. Zoki left early Tuesday and I waited for Matt and Tim. When they arrived we went to Hostel Alternative where Roel and Azure were staying. Then we worked on bikes, ate food, and planned out the next few days. It was great to learn a bit about their story and to have more people to ride with.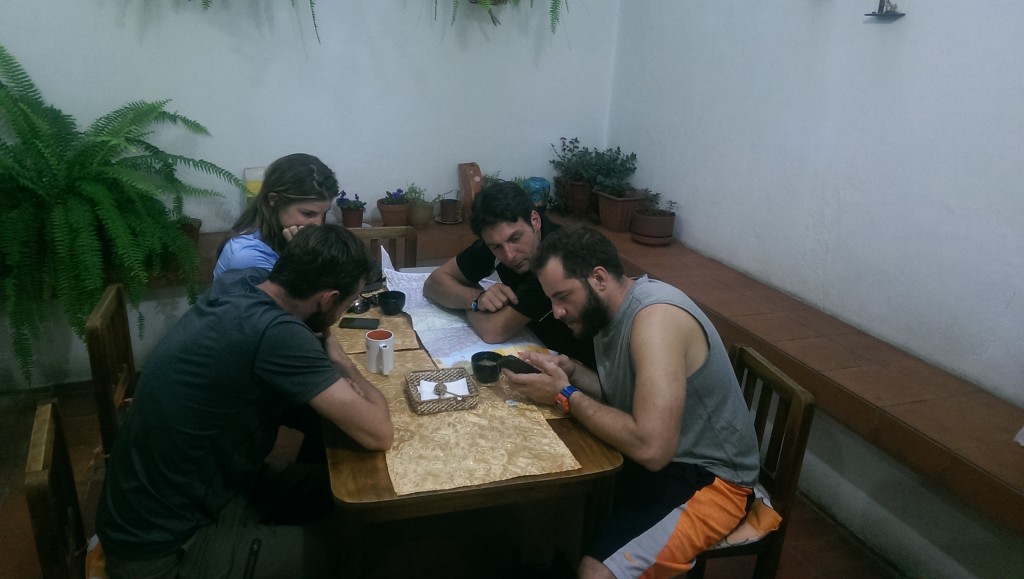 Wednesday we left late in the day to ride to Vilcabamba and as such, we arrived after nightfall. It was after 9pm when we finally found a place to stay. We explored camping options on iOverlandr, and a half a dozen hostels before we finally found one. It was a place to rest our heads, hardly worth mentioning and easily forgettable.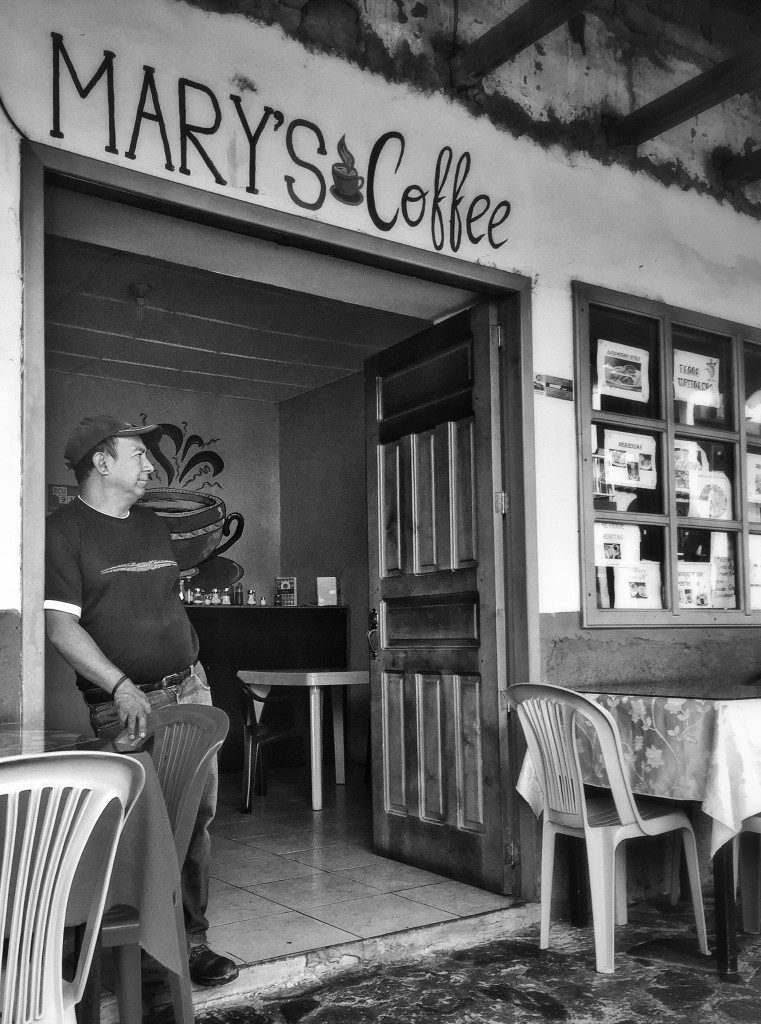 Everyday with Roel and Azure starts with coffee…and lots of it. They are my kind of people. This was the man who delivered the magic elixer the morning of our border crossing.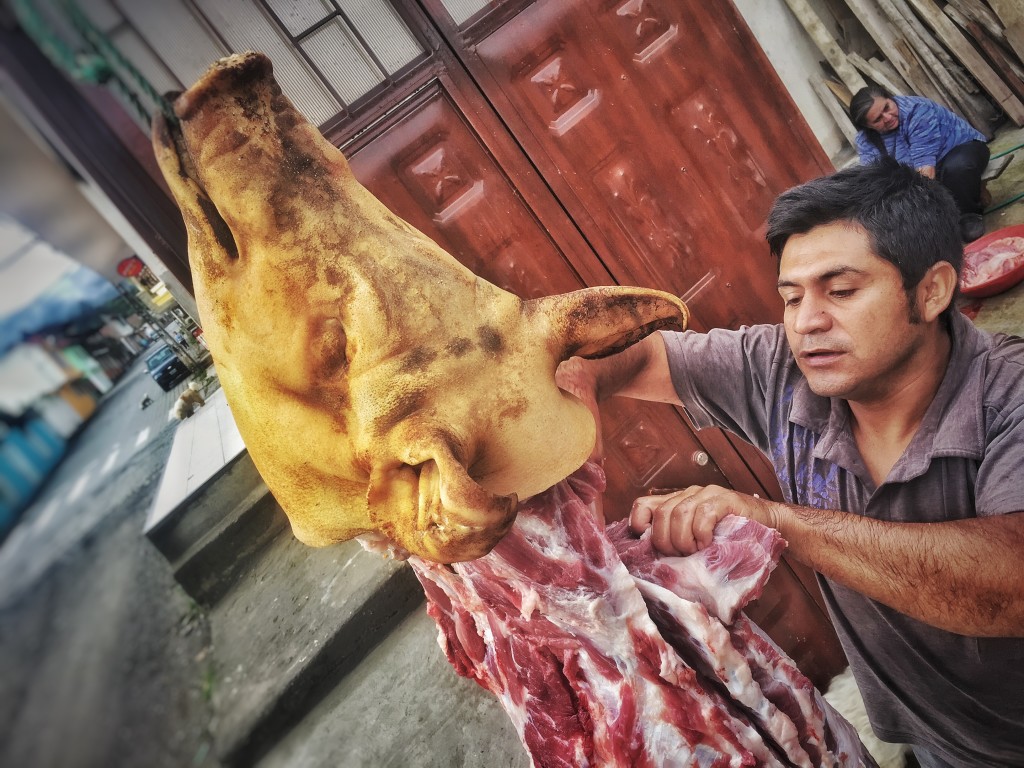 While out of town in Villcambamba I had the treat to watch a family butcher one of the many whole pigs you see on the side of the road. Obviously I had to take a few snaps.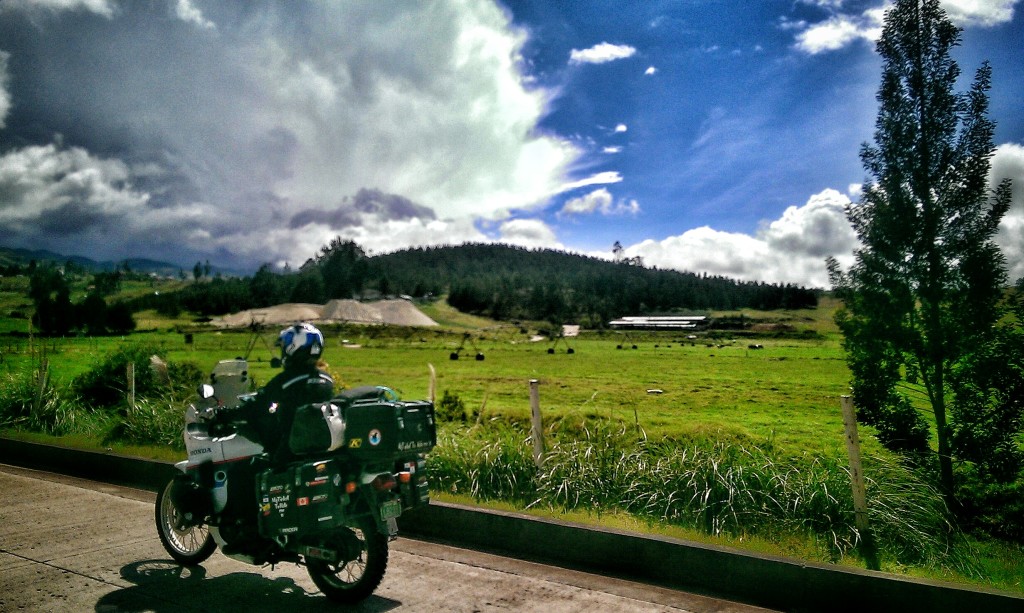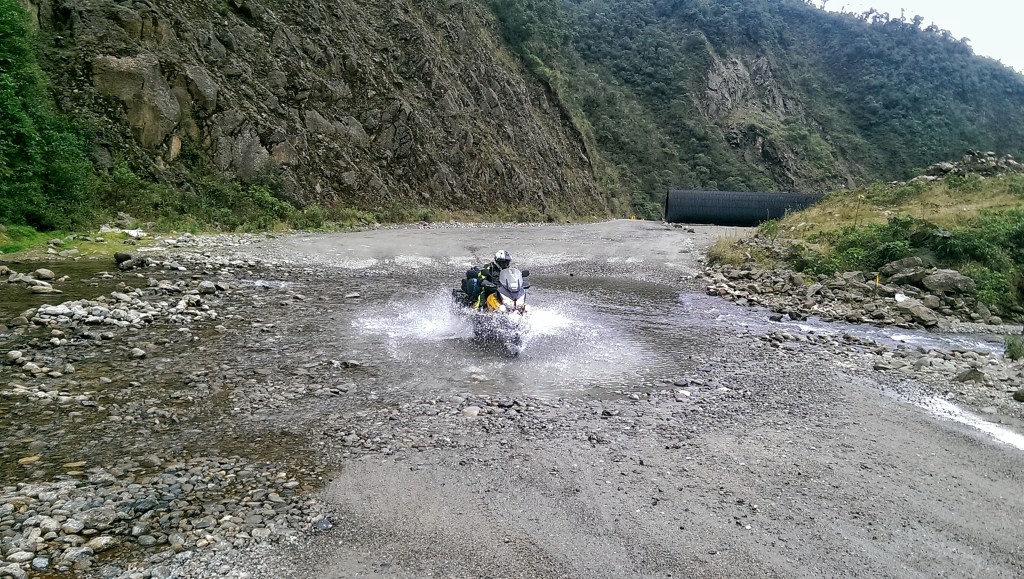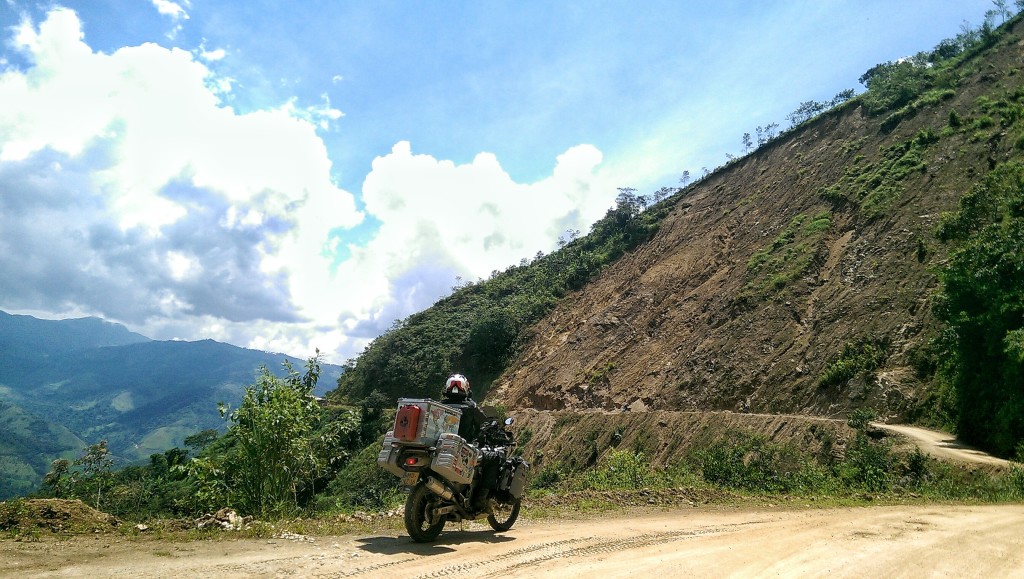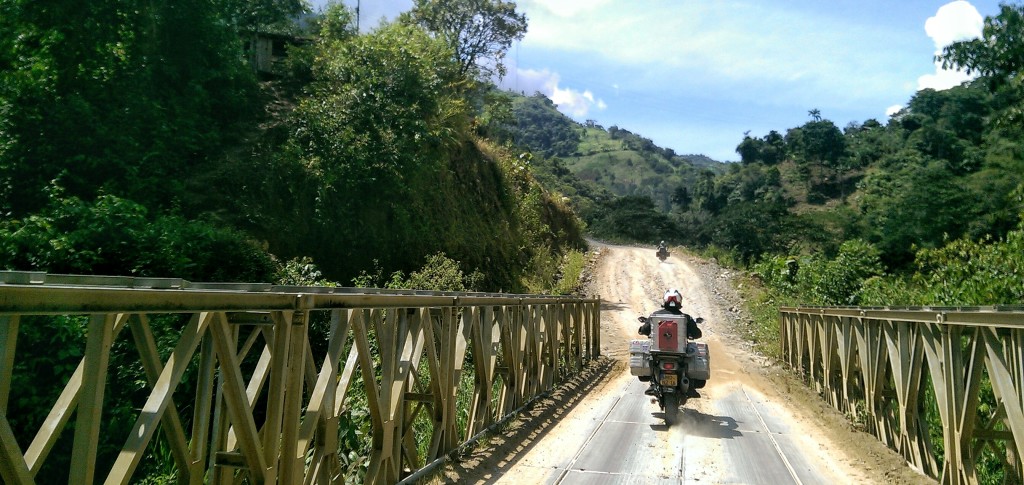 Thursday we left Vilcabamba for the border. A few hours of varying types of road, pavement, twisties, dirt. Peru awaits.

Our new friend Roel checking out the awesome dirt rode we just came from.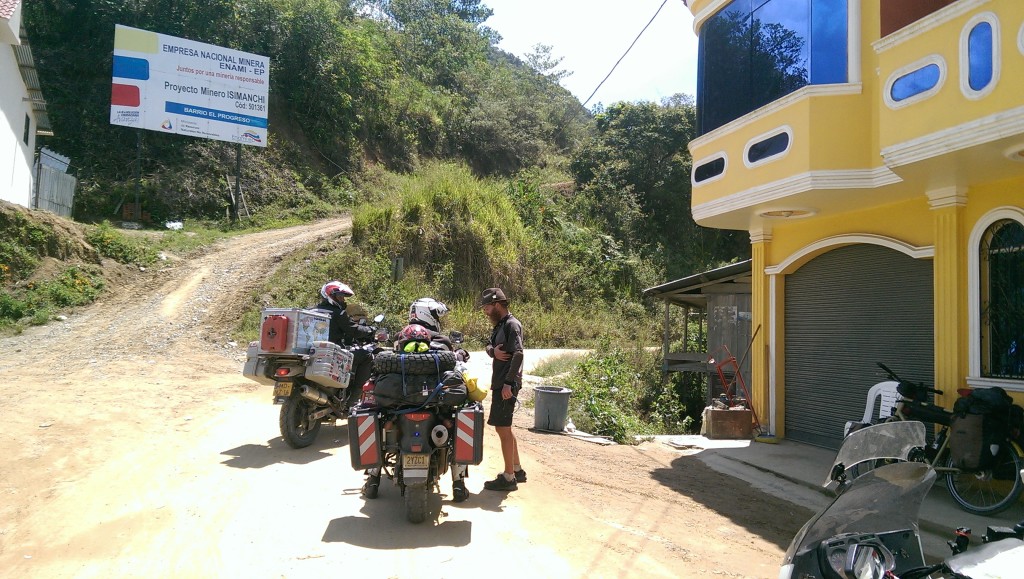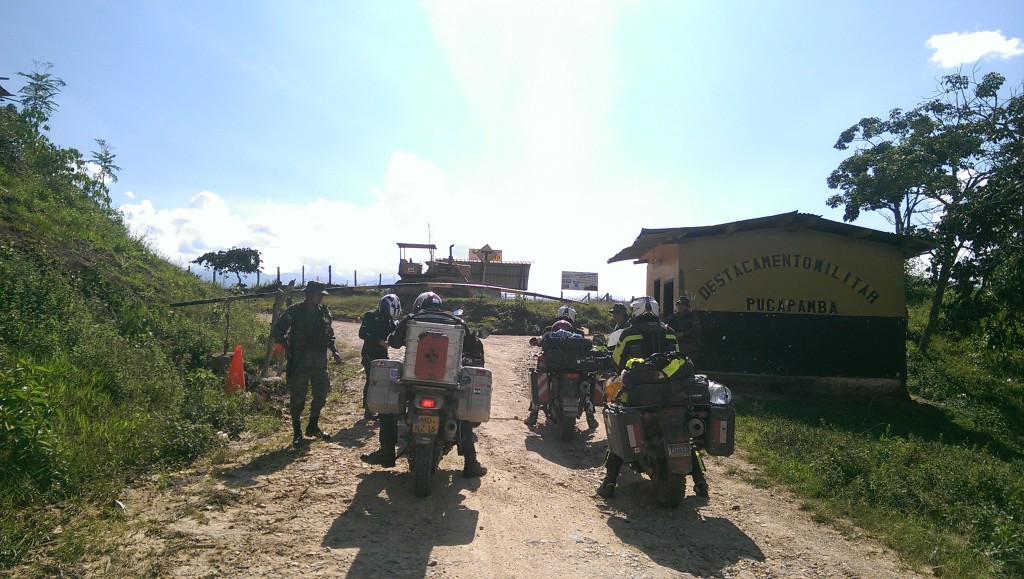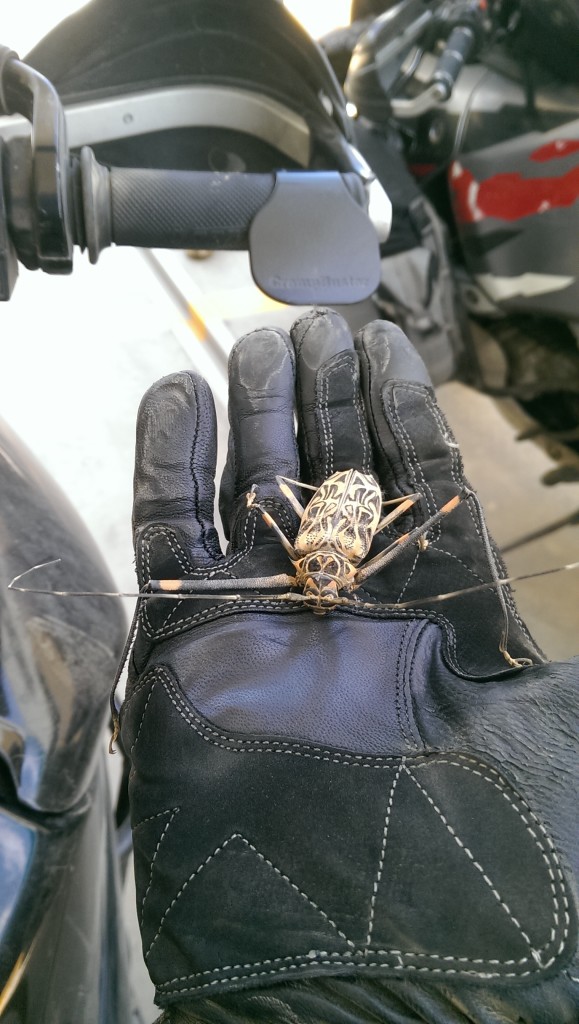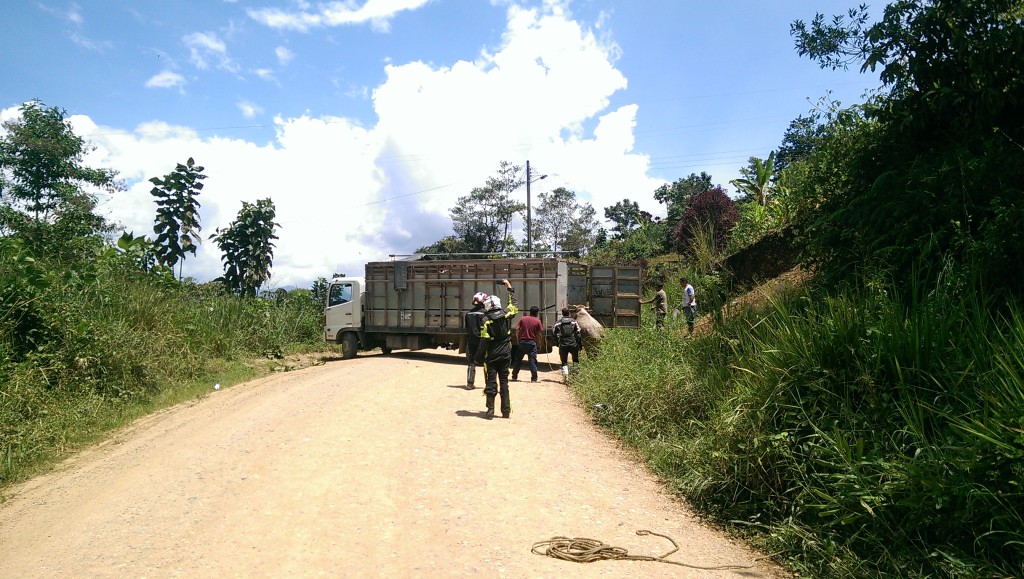 Typical road block in South America, bunch of guys pushing cattle into a truck.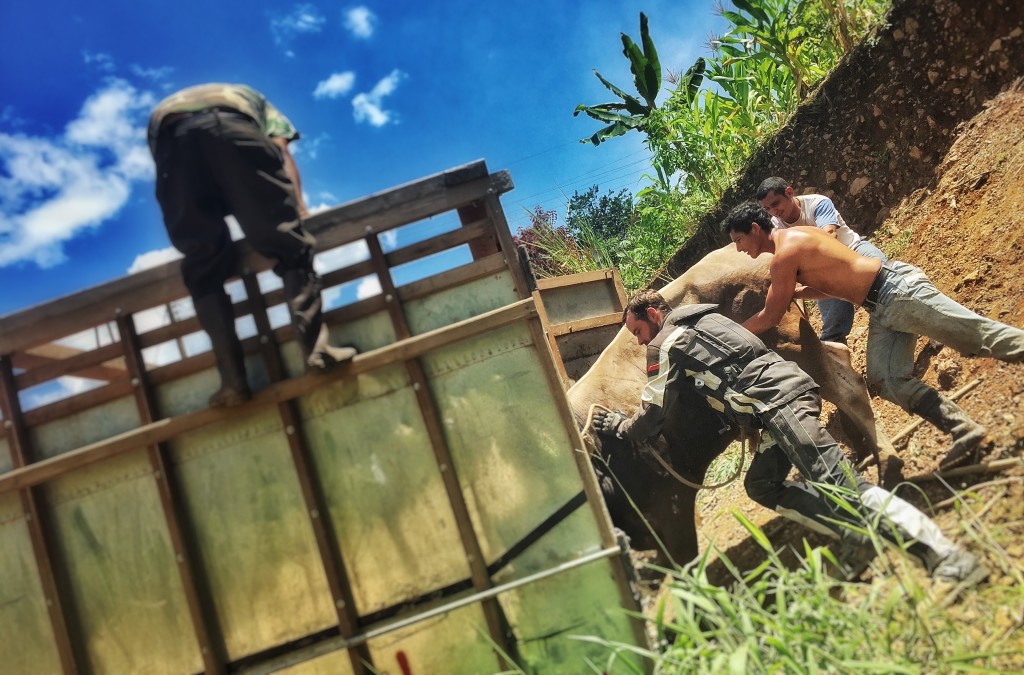 Tim lent a hand to speed things along.