San Diego, CA to San Ignacio, Baja
When you head out on an adventure sometimes things go as planned, sometimes they are easy and sometimes they are hard. And well, sometimes things just get delayed. This weeks post is about exactly that, delays.
We planned on entering Baja on Tuesday, October 6th, but ended up waiting for a last minute part to arrive at Carl's just north of San Diego. As promised the UPS truck showed up promptly at 3pm. After some much needed pry bar fixing on Matt's bike, we headed out to Oceanside to reconnect with Matt's cousin Jason. It had been 10 years since Matt had last seen him or was it 7? I dunno, we had a couple of beers, told some stories and had some laughs. He graciously hosted us and we spent what would we our last night in beds in quite some time.
We left before dawn and blasted through the gorgeous hillsides outside San Diego to Tecate. Upon reaching the border, we took care of the necessities. We called our parents, suspended our cell phones, changed money and drank coffee, lots of coffee.
With one last breath of freedom and all of our documents in hand we headed towards the heavily armed guards that protect the boarder. We had heard crossing into Mexico would be easy, but this easy, come on. No passports, no IDs, no questions. Apparently a gringo smile and any document with your VIN (vehicle identification number) is all you need. Luckily we had done our research and doubled back to the US on foot, to hit the Mexican Immigration office. There we got our FMM (tourist permits) signed, dated and stamped, and encountered a super friendly officer who was more interested in selling us his homemade hot sauce than stamping our passports. He did oblige and we walked back into Mexico, this time only giving a thumbs up and being waved on.
Just before Mexicali we hit the twisty mountainous roads of La Rumerosa. Where being passed by 18 wheeler just inches from the steep cliffside is commonplace. I think all three of us expected the roads to be less than ideal but they proved to be in excellent shape. The signs, albeit not in English were abundant and descriptive. They also gave us a chance to brush up on our Spanish translation over our headsets.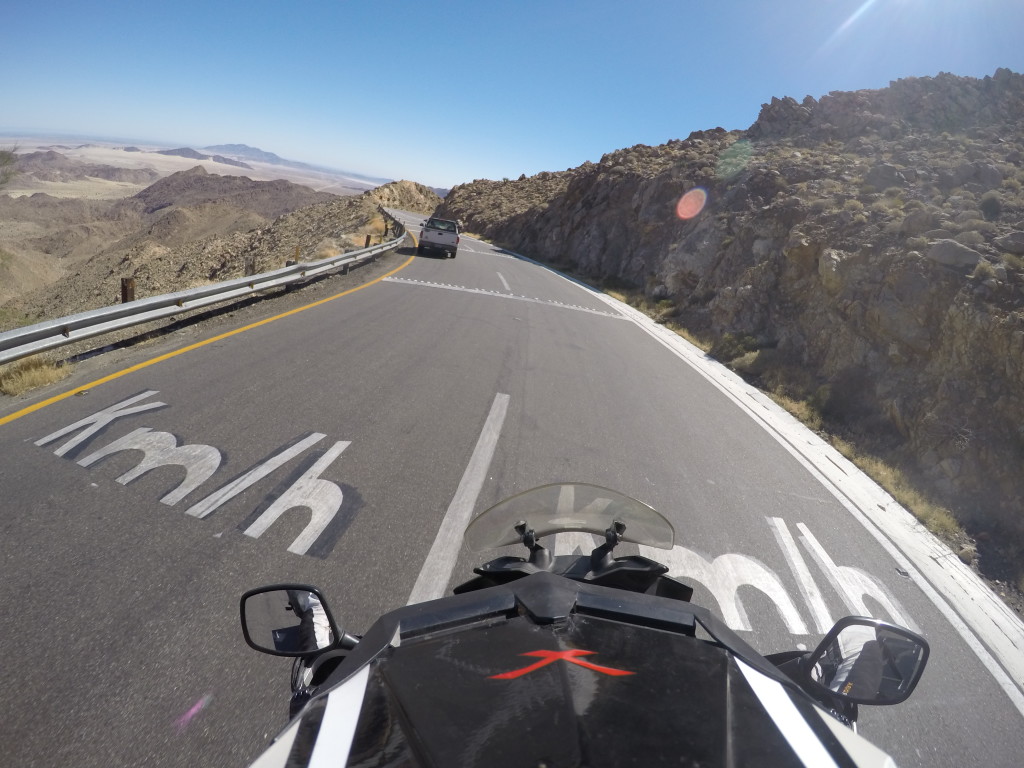 Heading south towards San Felipe appeared to be the land where tires go to die and three wheelers live on. We drove through some ramshackle towns and numerous plumes of burning trash. A few hours later we arrived in the beautiful coastal town of San Felipe. While we had intel on a good food spot, we were unable to find it so we ended up at the first taco place we saw. It was dark inside but the lady was friendly, so we figured why not? Apparently it is customary for shops to keep their lights off in order to conserve energy until a customer enters. I really wish the rest of the world, specifically the US would adopt this concept.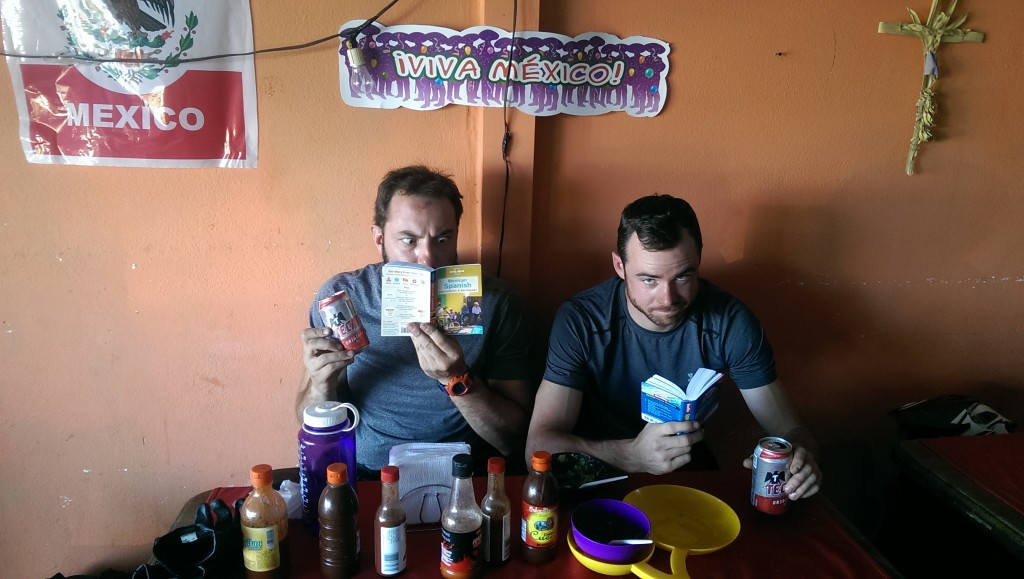 From San Felipe we rode toward Gonzaga Bay. The road grew more and more epic mile after mile. According to our pals Seth and Kande "this is where the magic starts."
Gonzaga Bay was exactly what we needed after a long day of riding. We explored two places before settling on an ideal spot for camp. We arrived just as the sun was retreating over the hills; hot, sweaty, and dusty. Matt and I took the opportunity to go for a late night swim in the Sea of Cortez. Since it's an adventure we jumped in the water au naturale, which felt both freeing and strange at the same time. No swords were crossed, and a minimum safe distance was respected at all times. The coolest part was that the water was filled with bioluminescent phytoplankton that made it glow under the moonlight.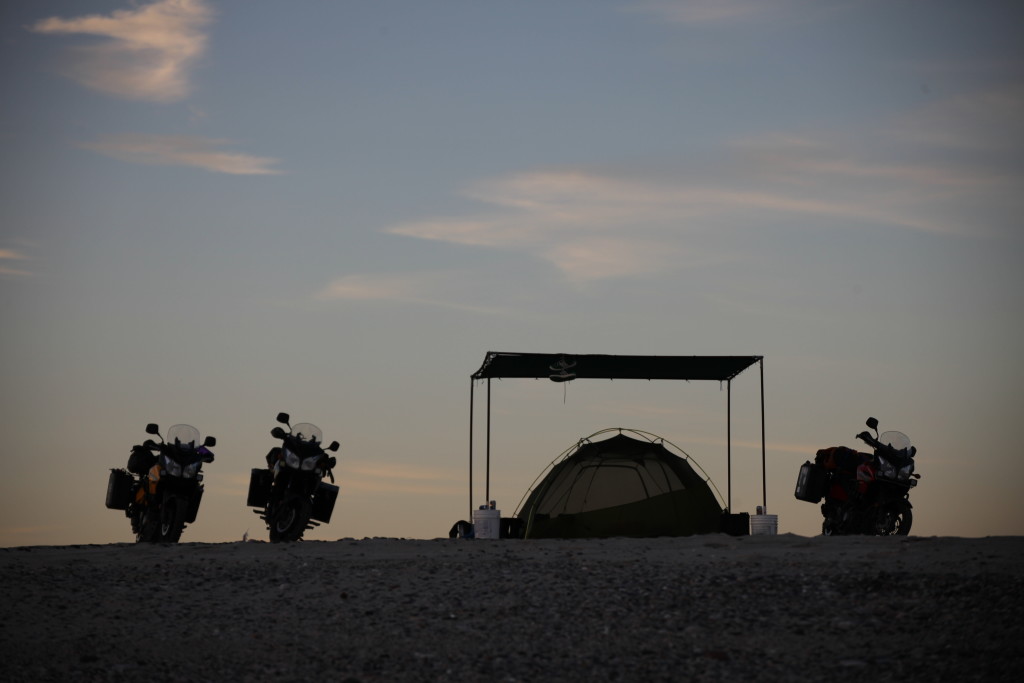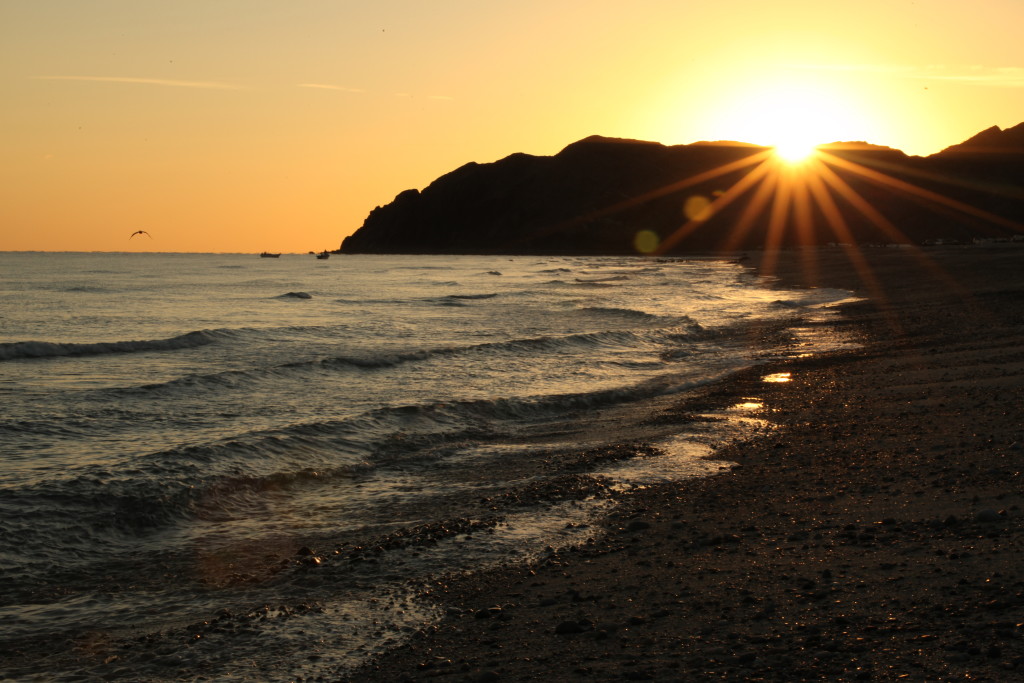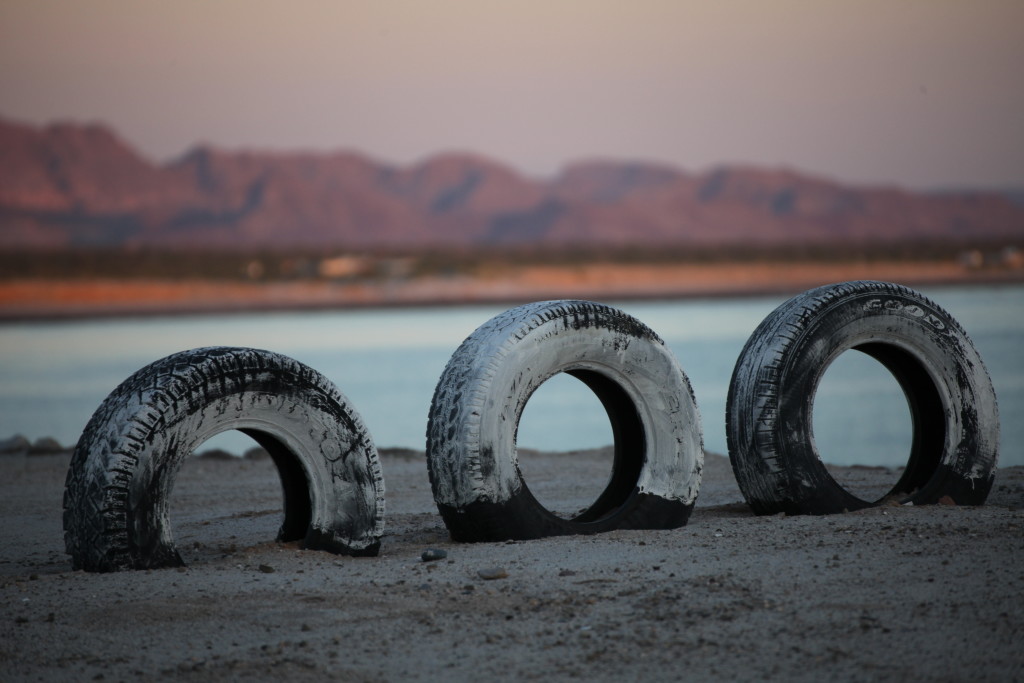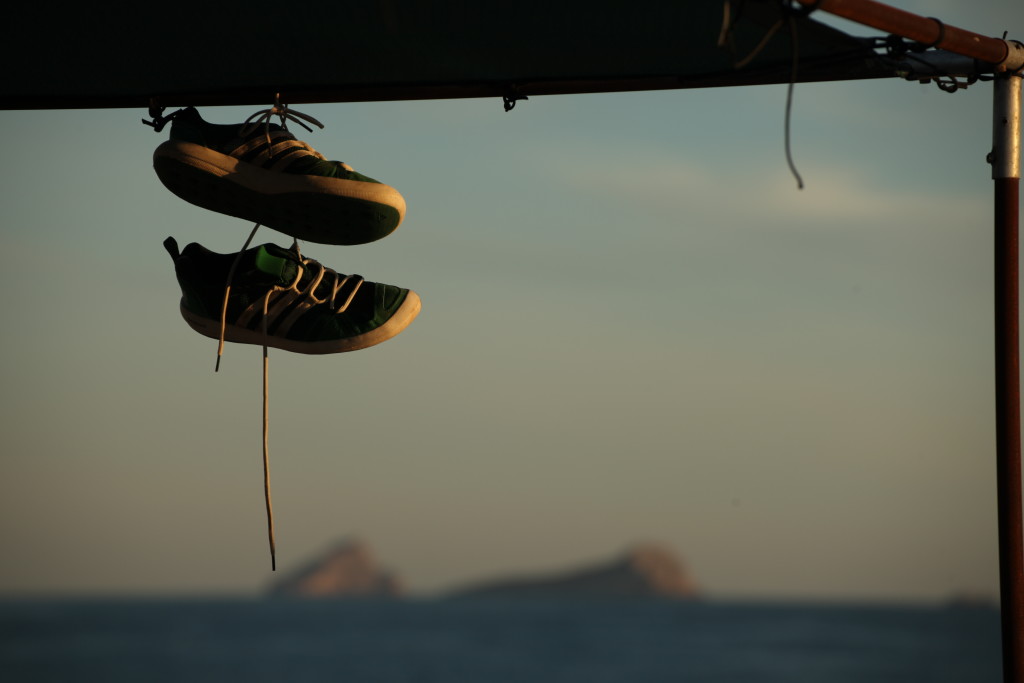 After our swim we indulged in our standard camp fare of rice, beans, and peppers. With our appetites satisfied we fell asleep early to prepare for day 2 of Baja.
We continued the next day on pavement with our sights set on the Bahia de Los Angeles. The road was curvy and well maintained with lots of rises/ falls which made it fairly entertaining. These "rises and falls" are washout areas where water will cross during heavy rains. When it's dry you get feeling where your stomach sinks, right before your bike gets light and floats off the ground.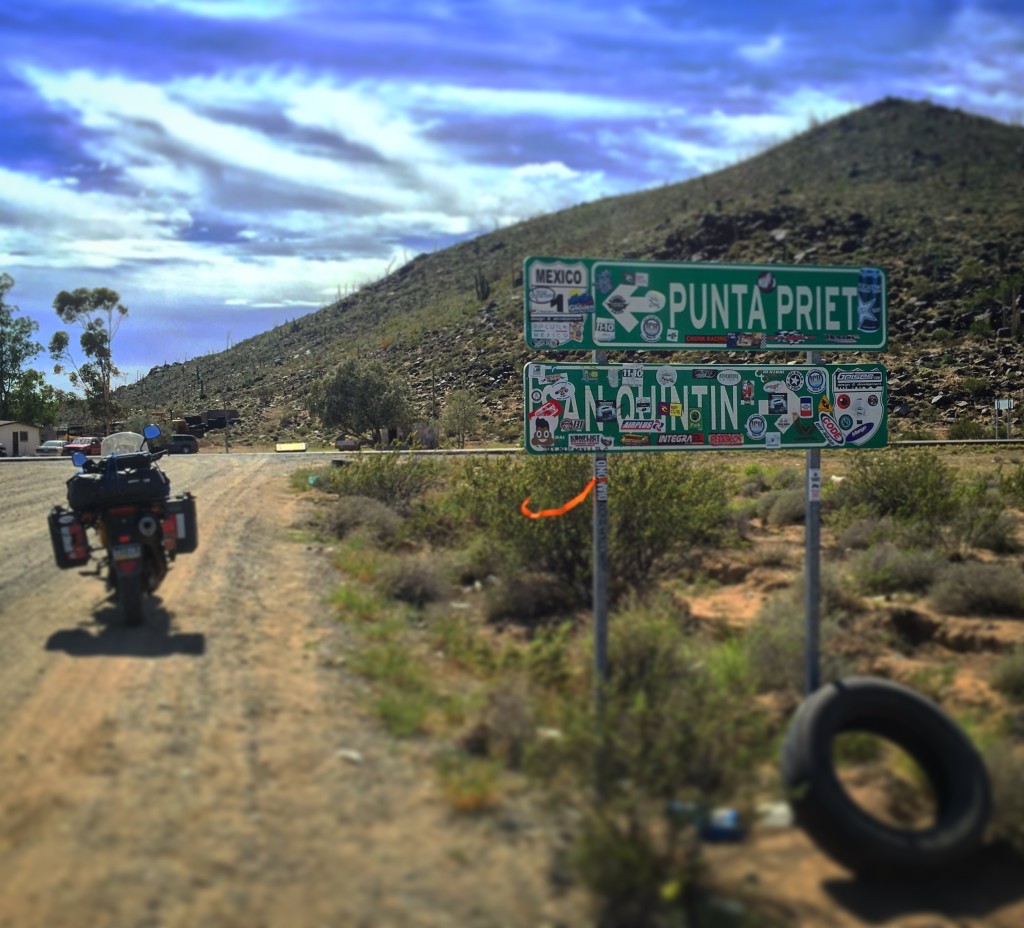 Bahia de Los Angeles was a nice small town on the water. We refueled our bikes, topped off our water supply, and picked up the dirt road to San Francisquito on the outskirts of town. Since the last dirt we had seen was in Utah it was a welcomed change of pace, little did we know the woes which lied ahead.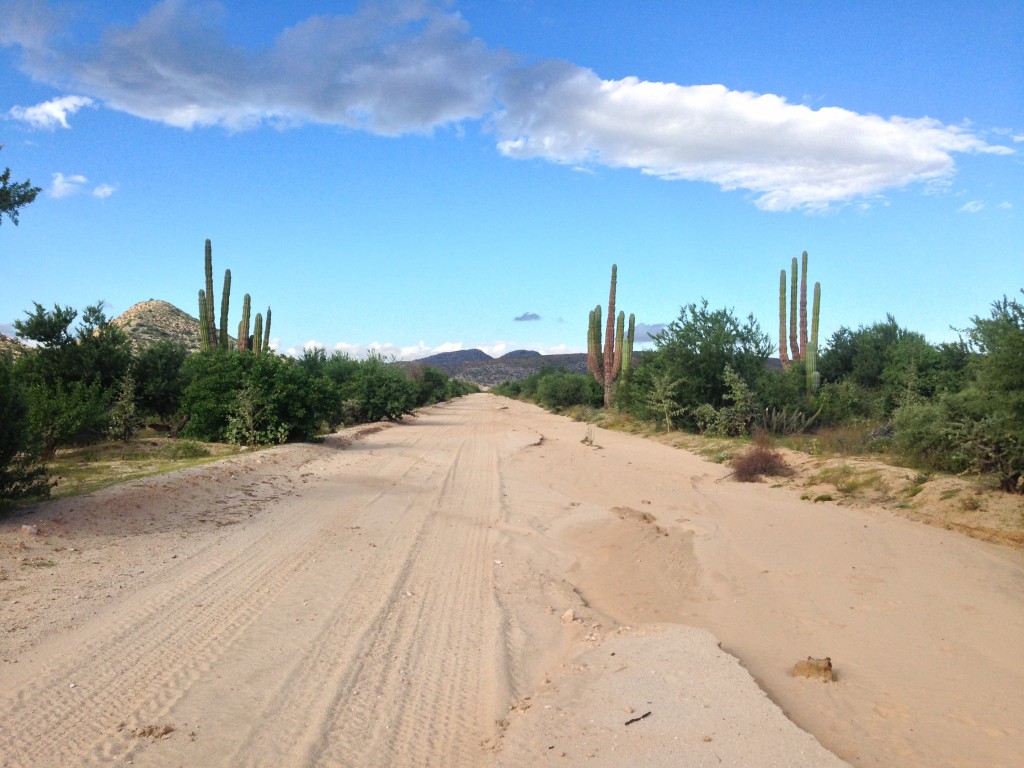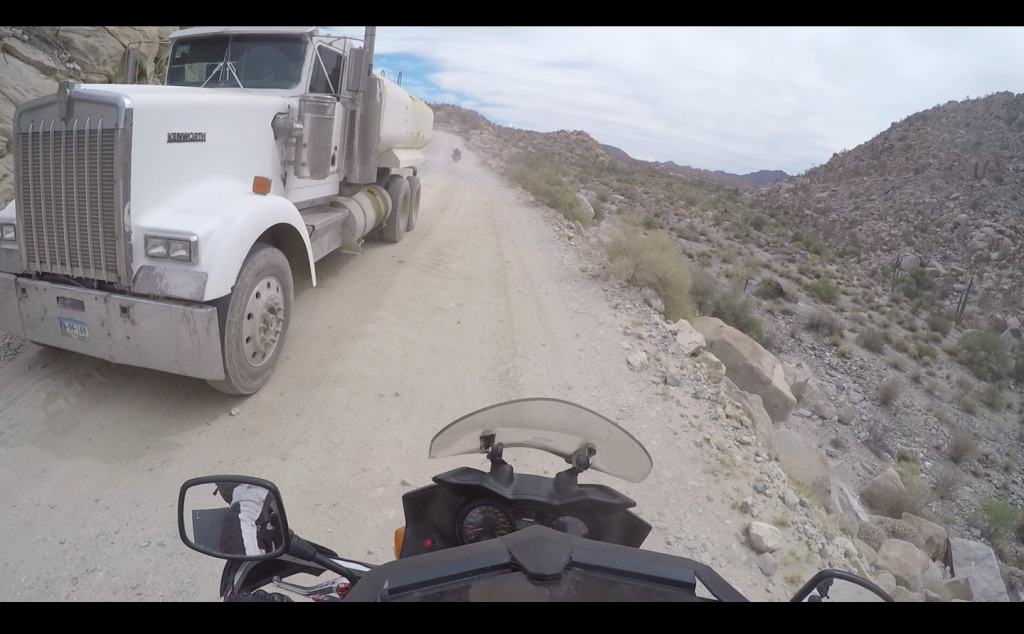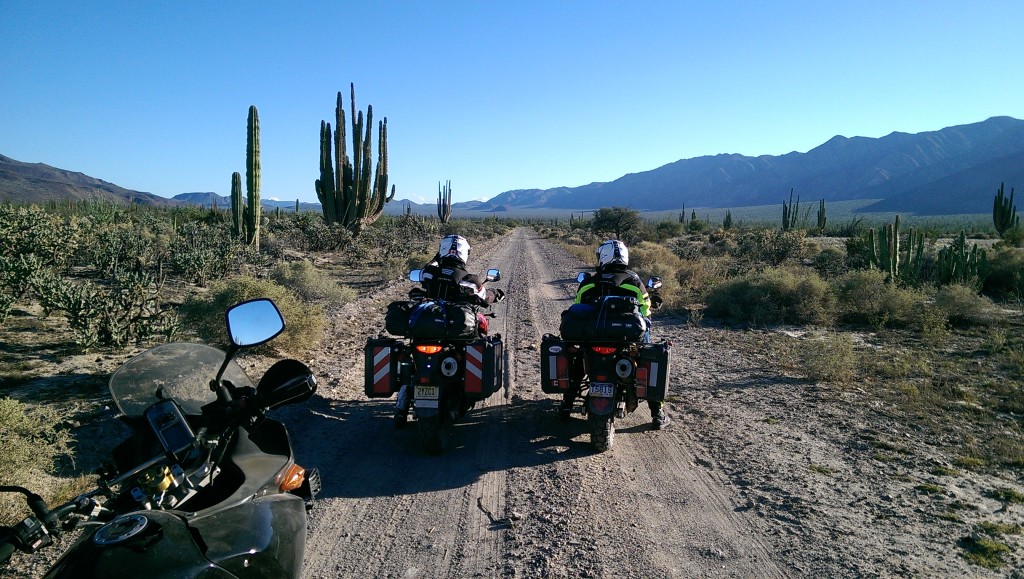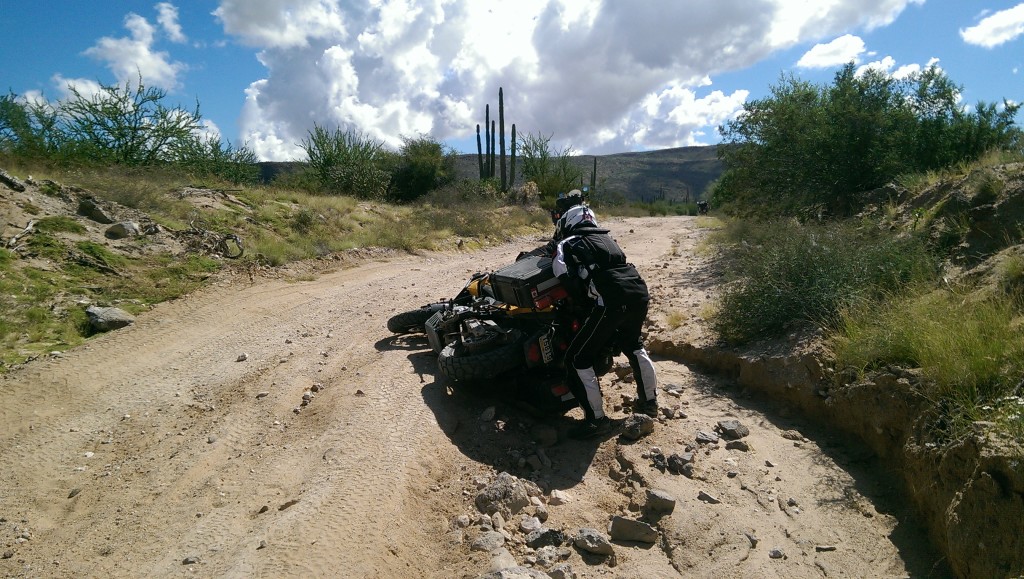 We underestimated the amount of time it would take to get to San Francisquito and were forced to set up camp on a desolate beach that appeared after a long stretch of desert. The beach appeared to have a high water line at the foot of the dunes so we set the tent up on top. Keeping with the day old tradition, skinny dipping ensued as usual. Please take a moment to enjoy that visual.
Our mealtime was joined with a plethora of bugs surrounding our headlamps, the most interesting ones being large praying mantis's. Many lives were lost as they kamikaze'd their way into the stove.
The next morning we took our time leaving camp. We all had a swim, ate some breakfast, and spent a decent amount of time unearthing our bikes from the deep beach sand to hard pack road. Naively, we hoped to make it to Mulege, unaware that the road was only going to get more difficult and sandier from this point on.
Around noon we arrived at a fork in the road sweaty, hot, and low on water. Deciding to push on we took the right away from San Francisquito and headed to the highway, another 90km away. After about a tenth of a mile and a couple of spills we found ourselves questioning if in fact this was a road and not the course for the Baja 1000. Feeling defeated we opted to continue on to the closer and hopefully less brutal San Fransiquito.The deep loamy sand continued to test both our morales and clutches. Time and distance aren't related in Baja. Two hours later we finally arrived on the outskirts of town. Matt had to stop and kiss the sign, dreaming of food and beer.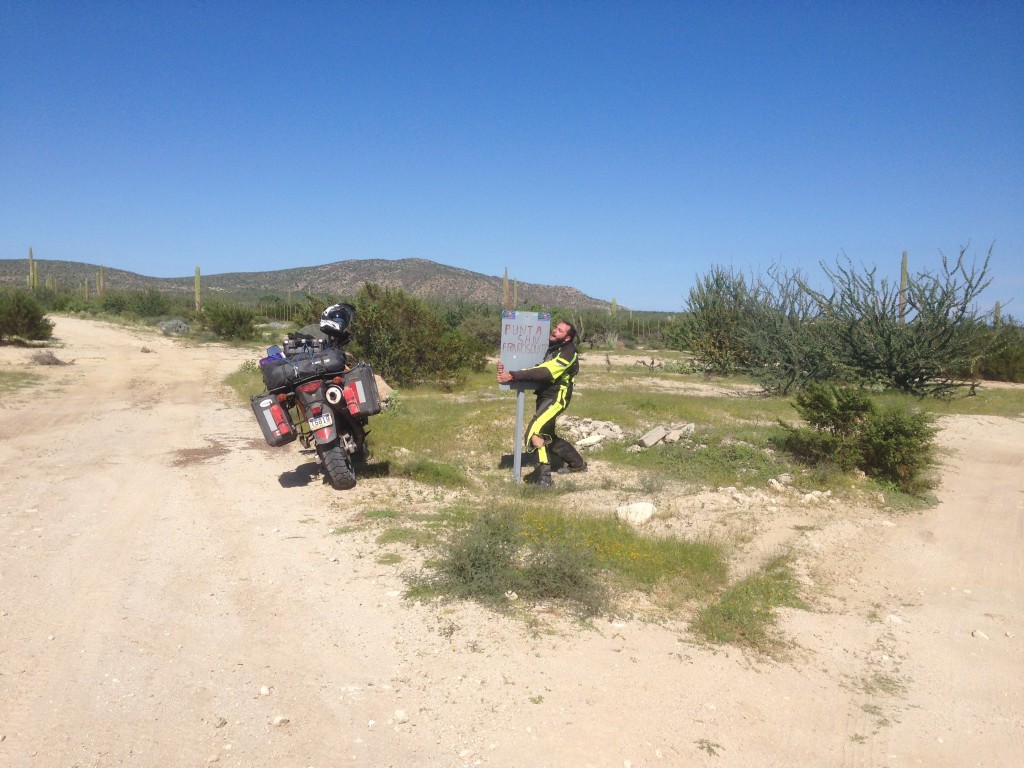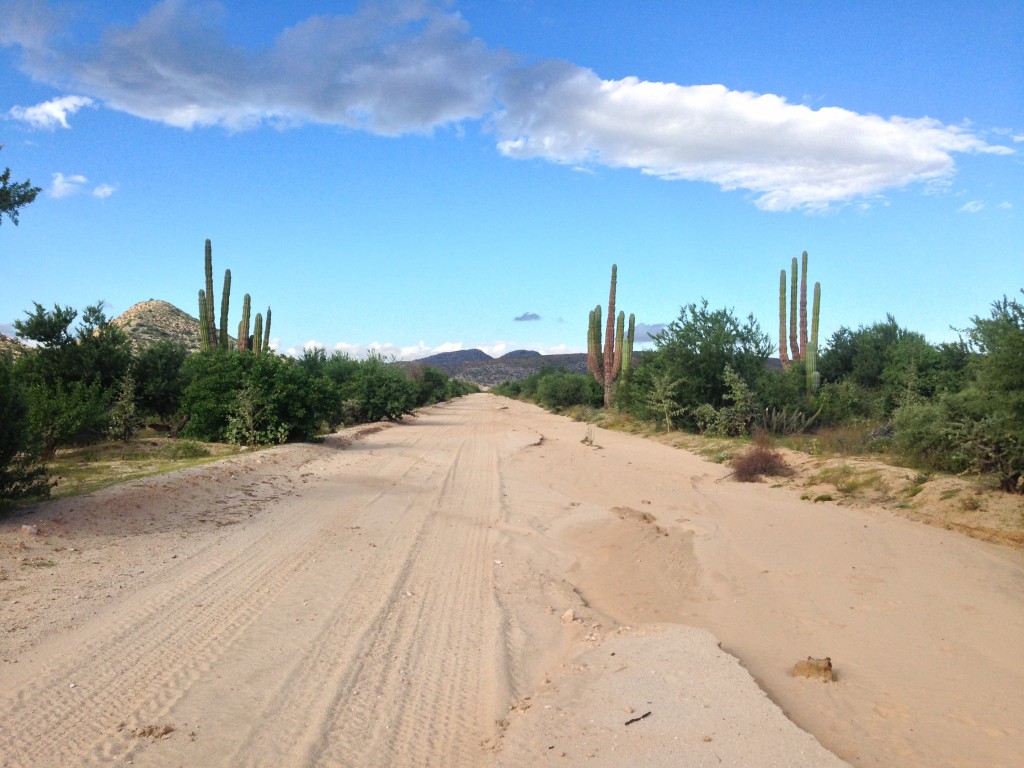 We rode up past a what appeared to be a dirt runway towards the largest building on the sparsely populated stretch of beach. The silhouettes of three people appeared under a thatched roof next to the remnants of the shell of a truck in the distance. Surprisingly we were greeted by three gringos drinking beers. They seemed equally perplexed at us but greeted us with open arms and bought us a few rounds.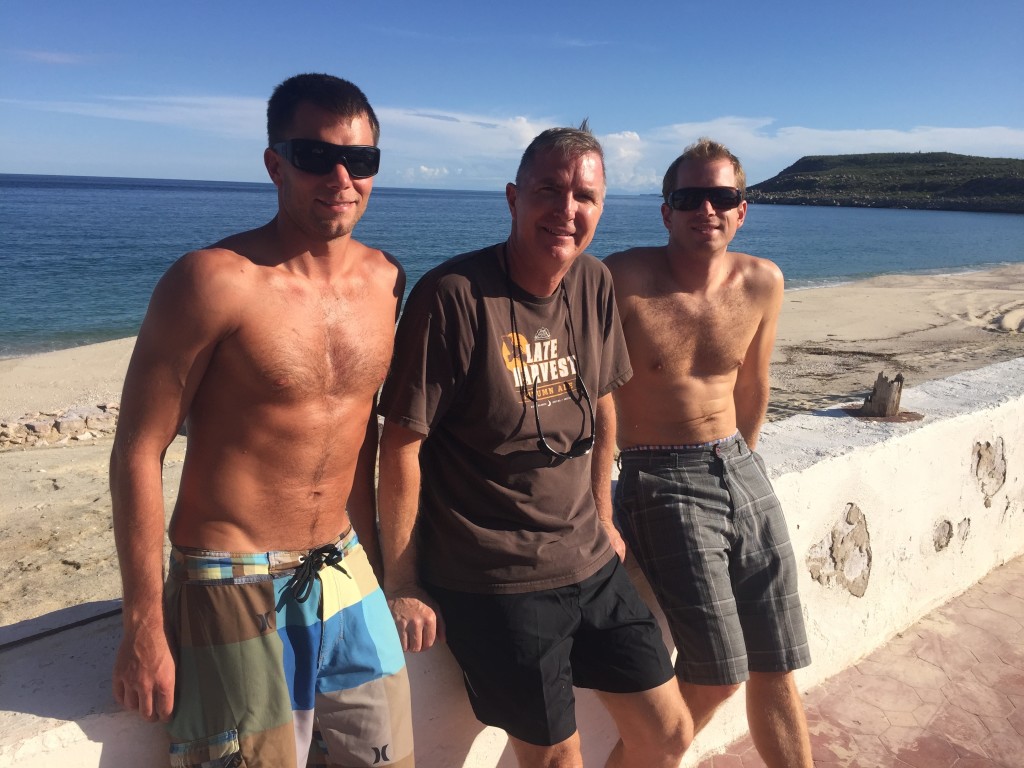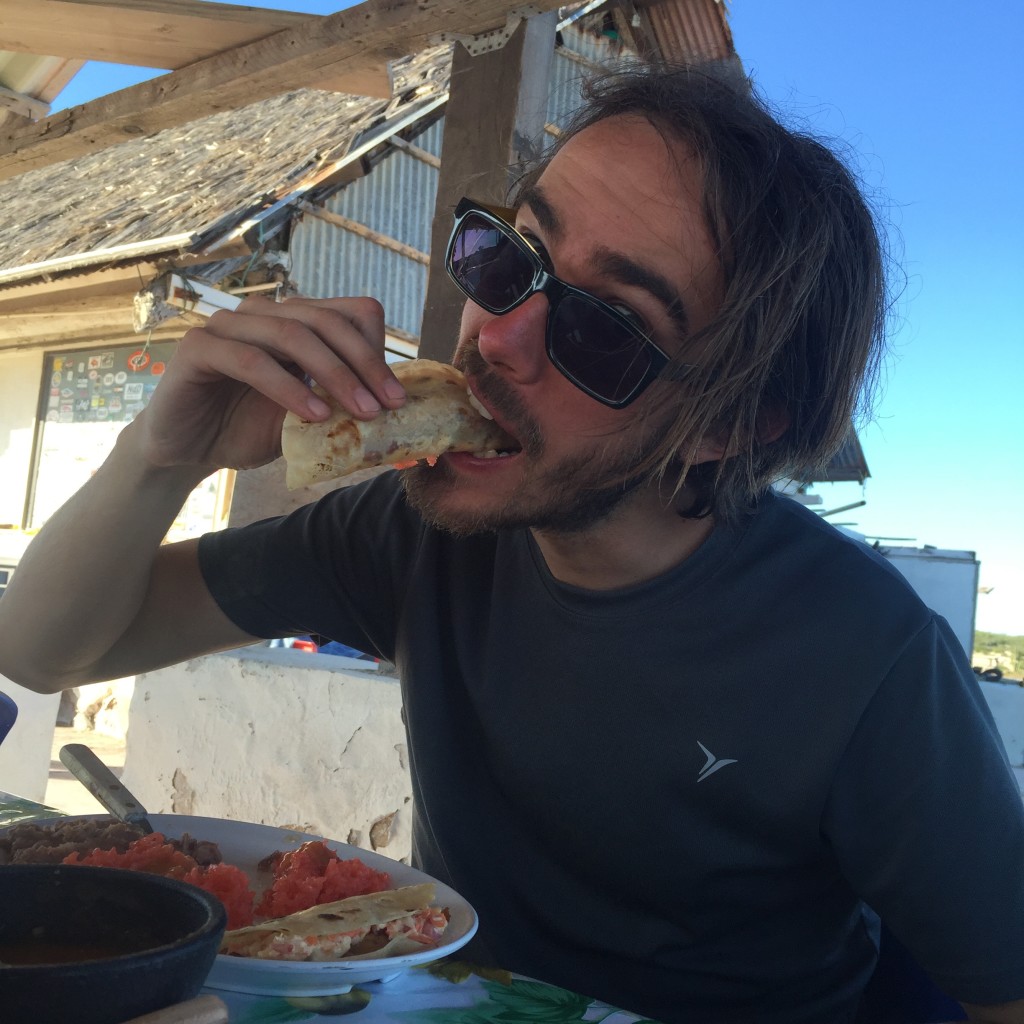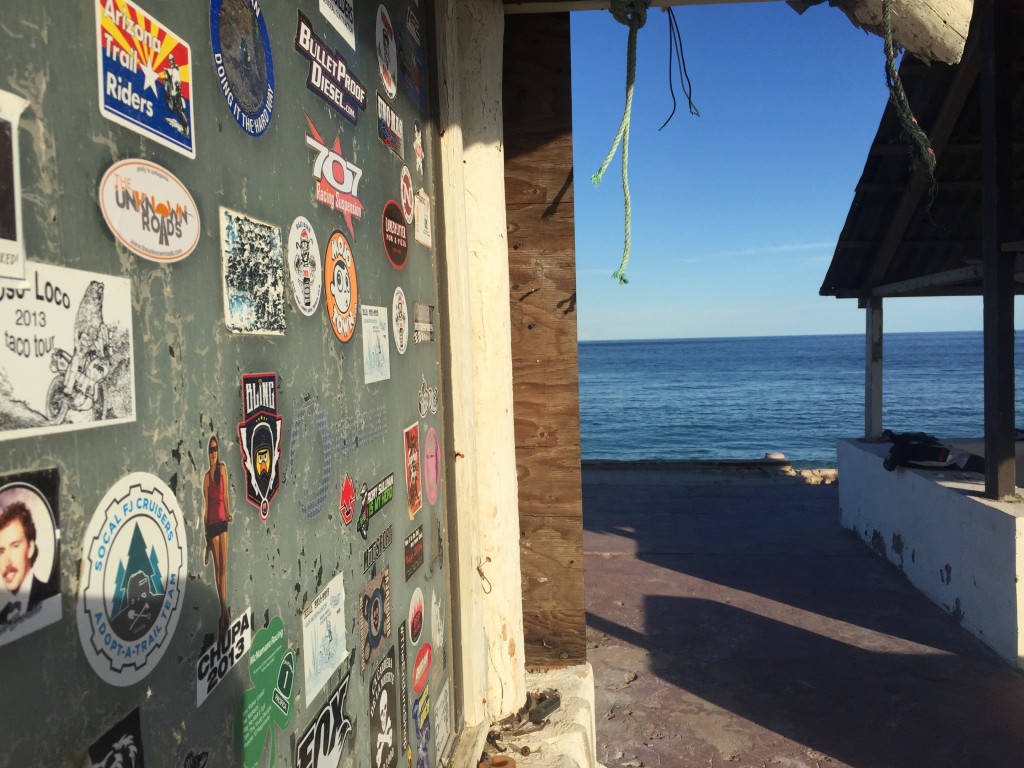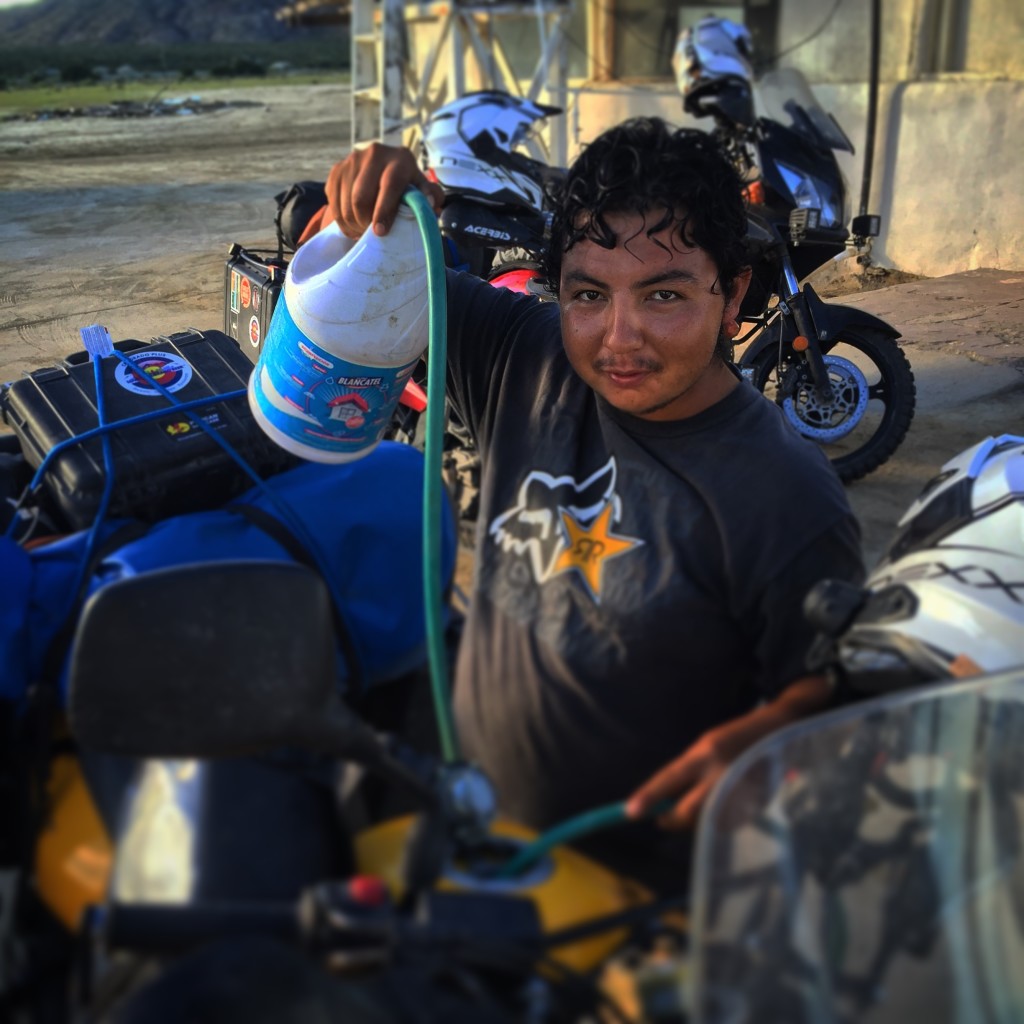 Phil, Nate, and Luke joined us for food and conversation. The topics ranged from gun control (one where I can get quite passionate) to our trip and life. Phil had been coming to Baja since the 90's by plane and gave us a good history of San Francisquito which was once a hotspot for aviators, now just a few buildings remain in varying states of disrepair.
The ocean was filled with stingrays slapping against the water, an ambiance that was eerily soothing. The water, as we had come to expect, was the perfect temperature and retained the visually appealing bioluminescence. We stayed in until all of our appendages were sufficiently pruned. Due to the remote nature of the town, they had no supply of potable water and thus it had to be trucked in. We took this opportunity to test out our filtration process which worked with no issues. Juan, the proprietor supported our decision to filter with "dos filters es mejor"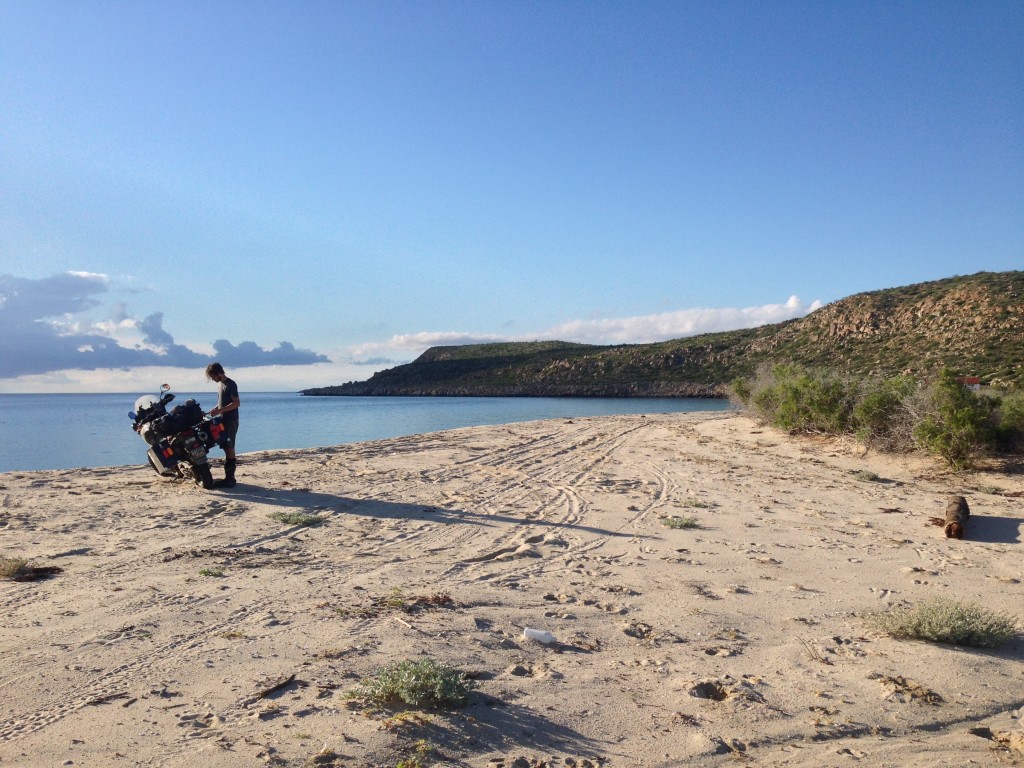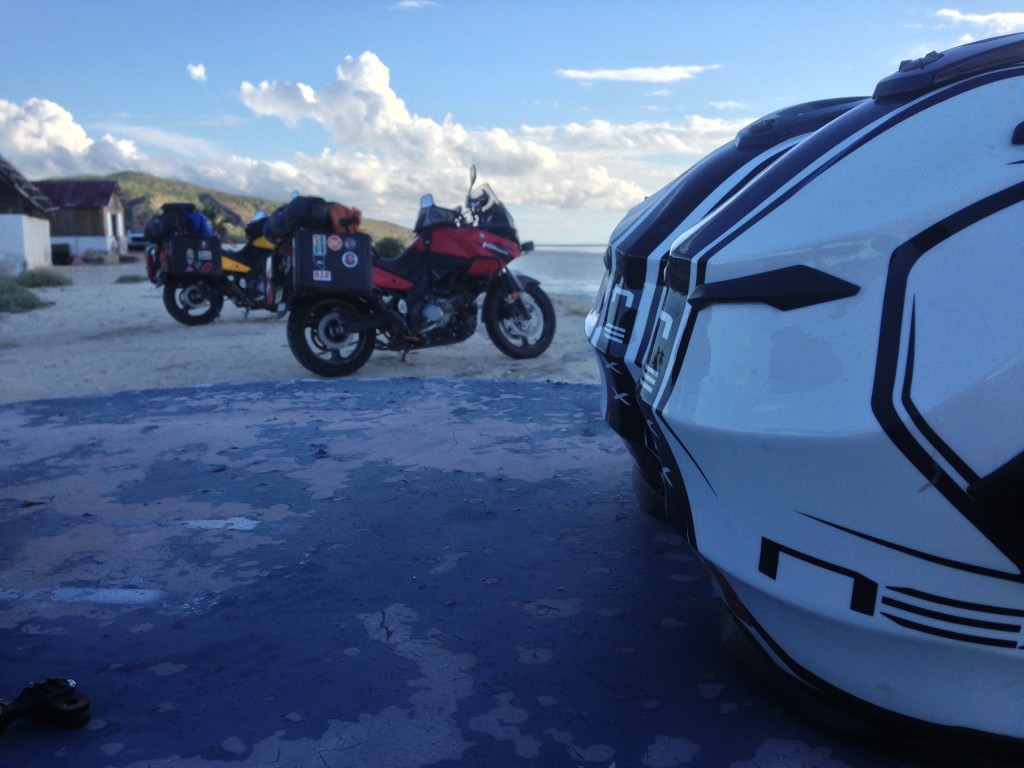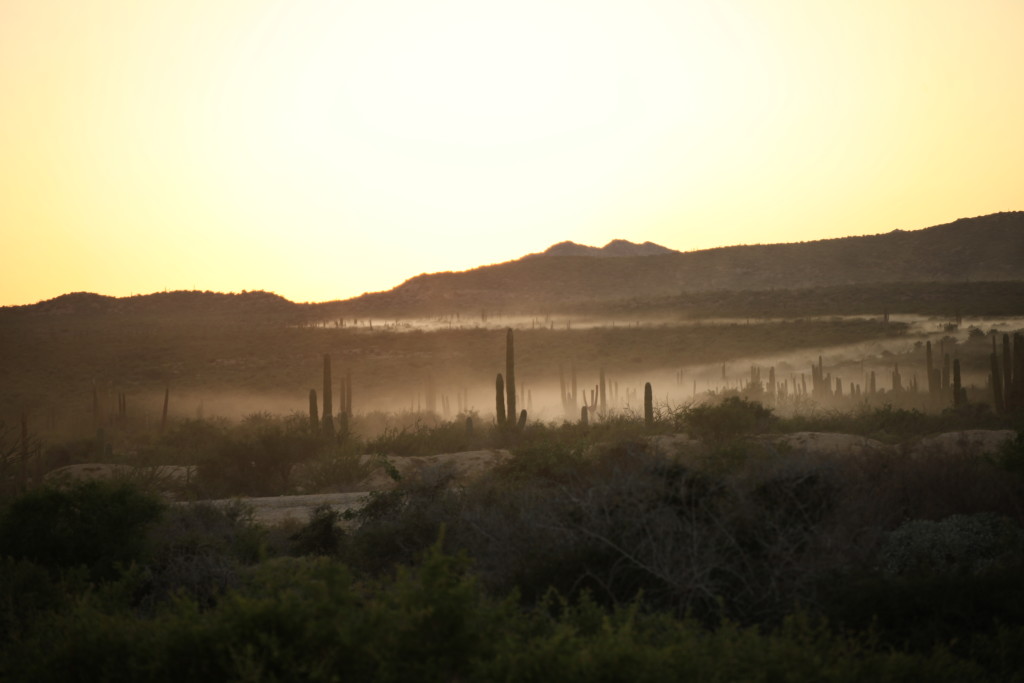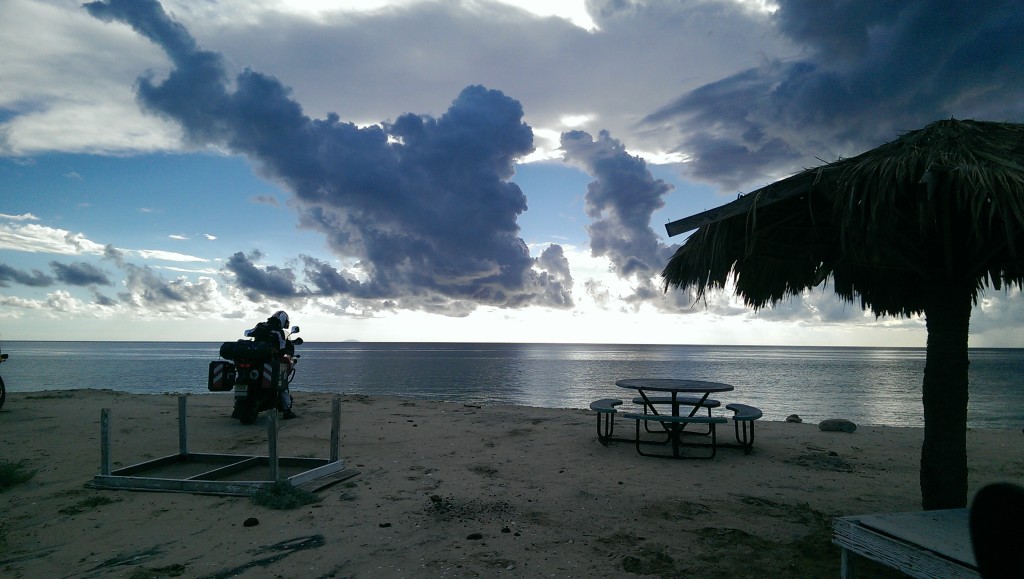 We woke up early and were treated to a delicious breakfast of eggs, beans, chorizo and coffee. This fuel would became invaluable as the day got on. We packed up and hopped on our bikes just as a caravan of overlanders rolled up. They provided us with some valuable insights on our route and left us a note on a sign at our first intersection. Everyone we've met has been awesome thus far.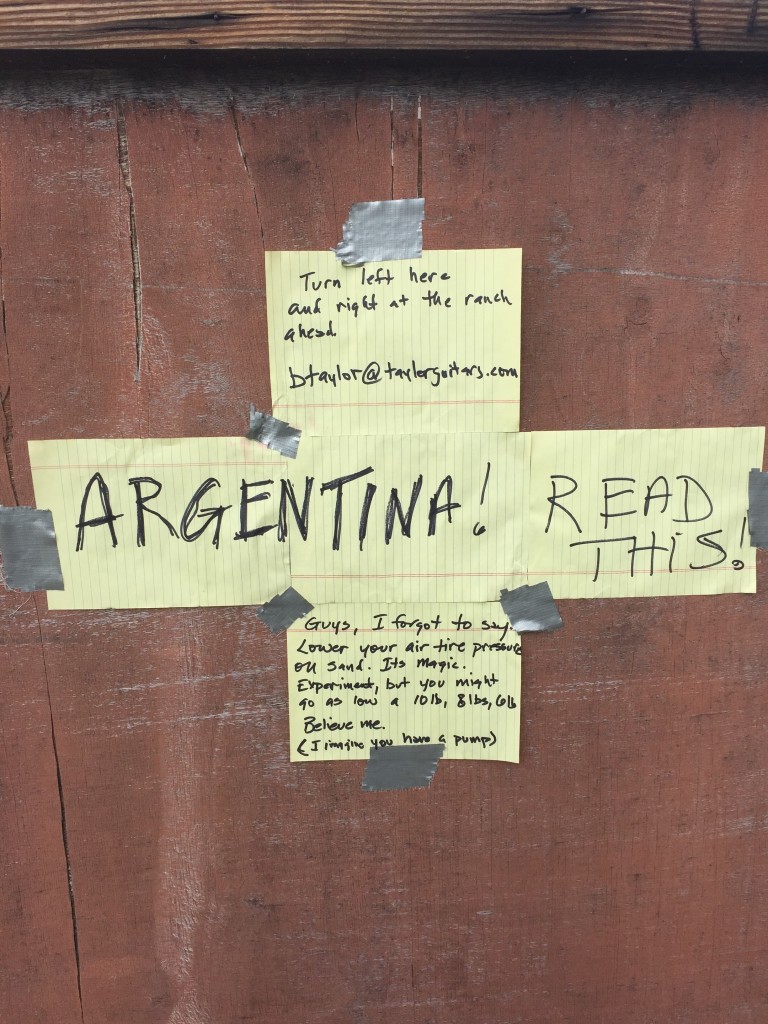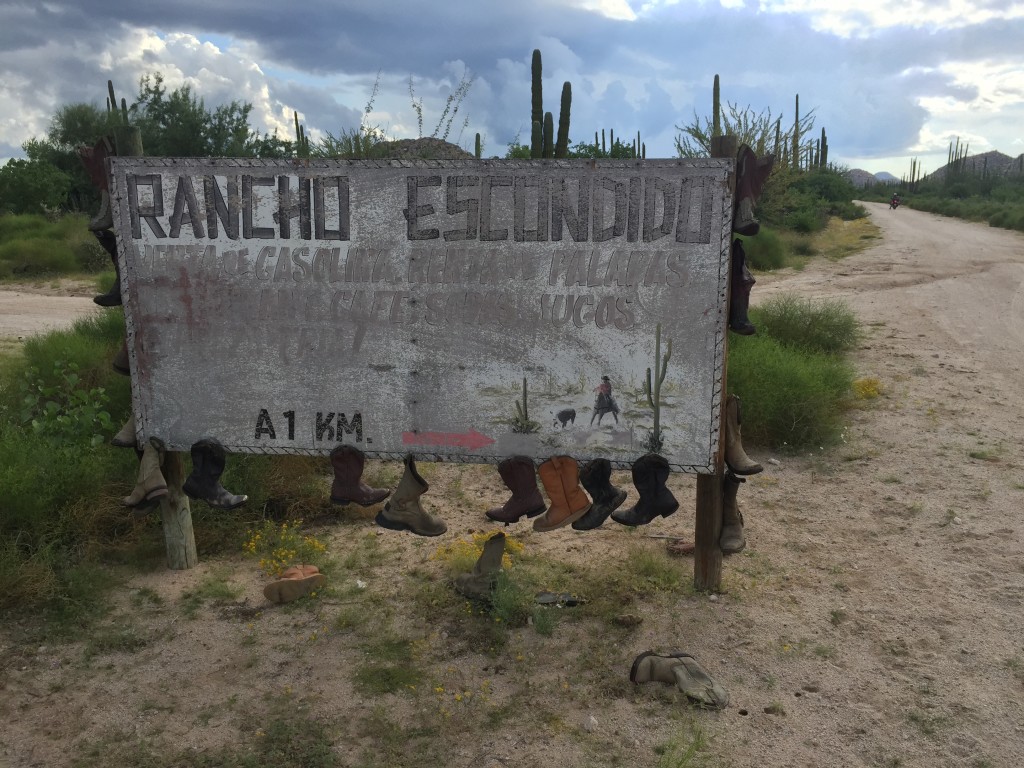 Soon after our first intersection we came to a ranch where we were to make a right. To quote the cinematic genius Micheal Bay, and Marcus from Bad Boys "Shit just got real." As far as our eyes could see and for many miles further, was the deepest most washed out sandy road we could have imagined. The cadence ensued: slip clutch, duck walk to speed, lift feet to pegs, rejoice as you follow the track forward, veer sideways and either stop or drop.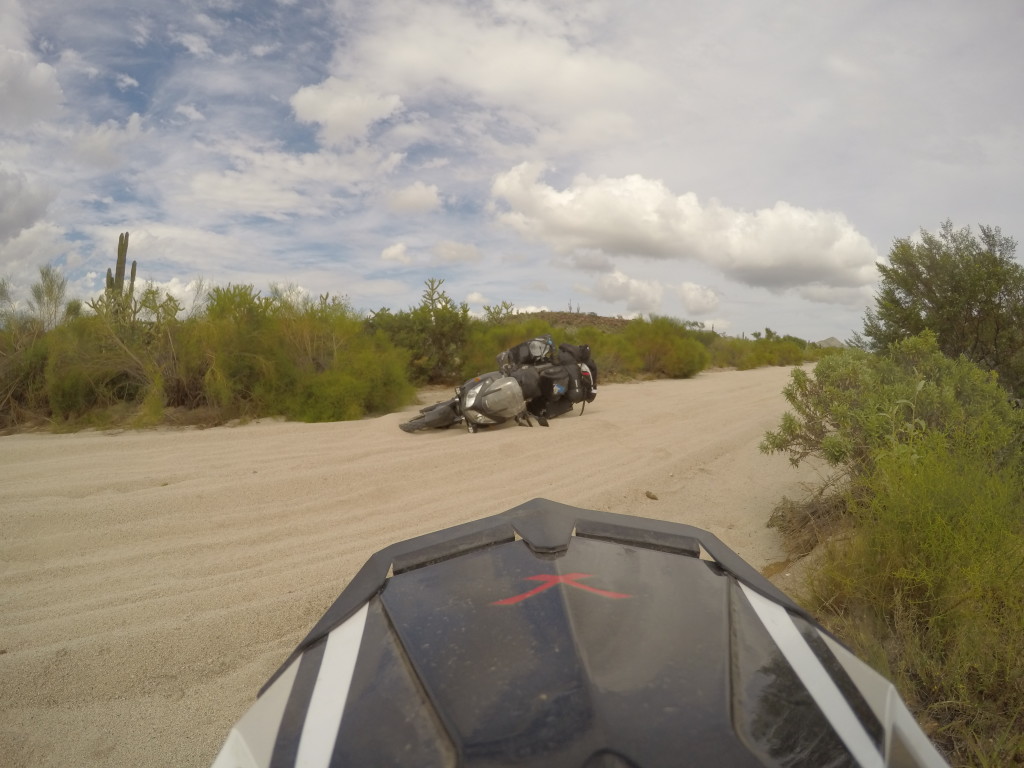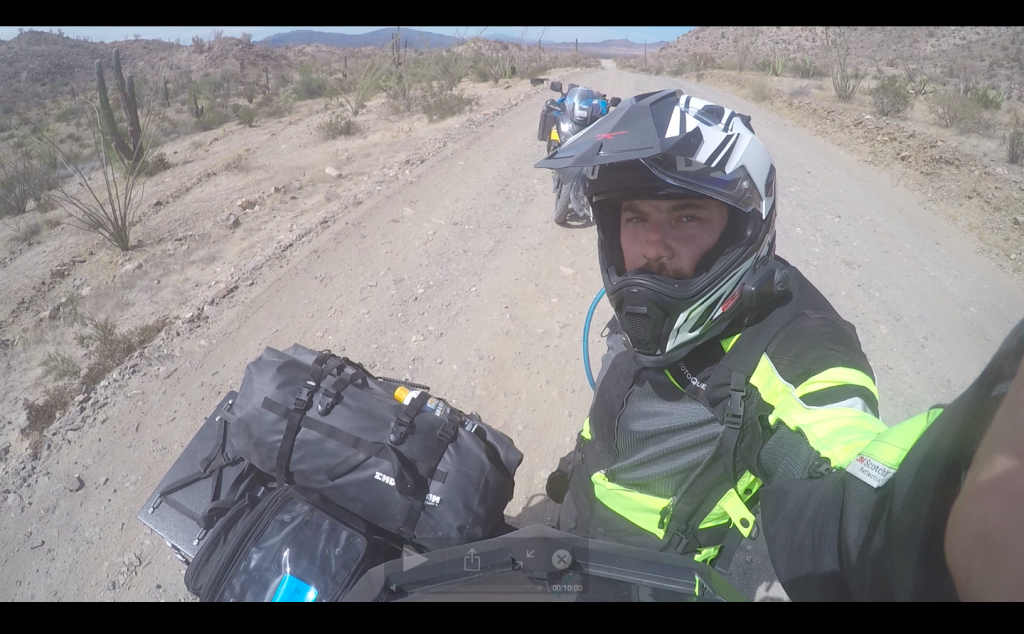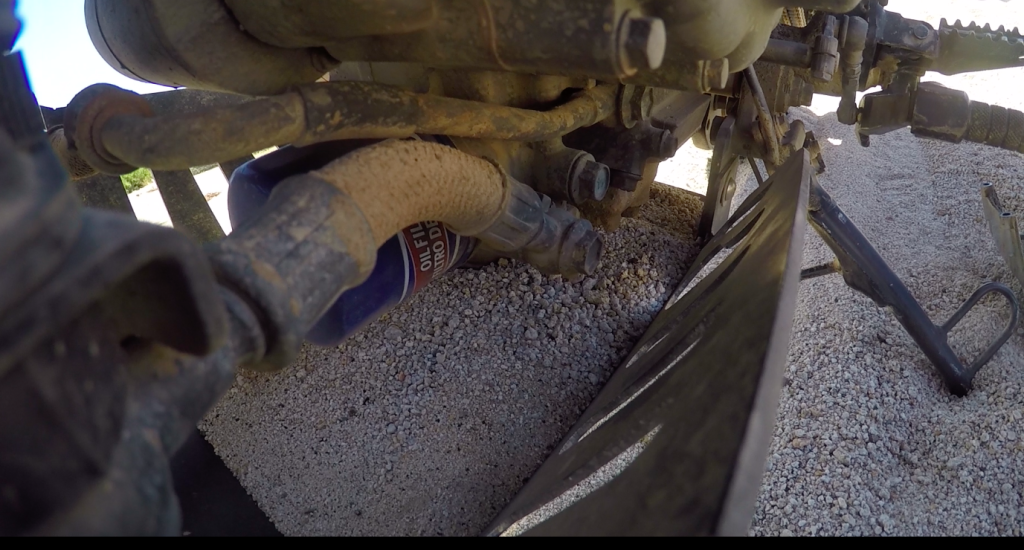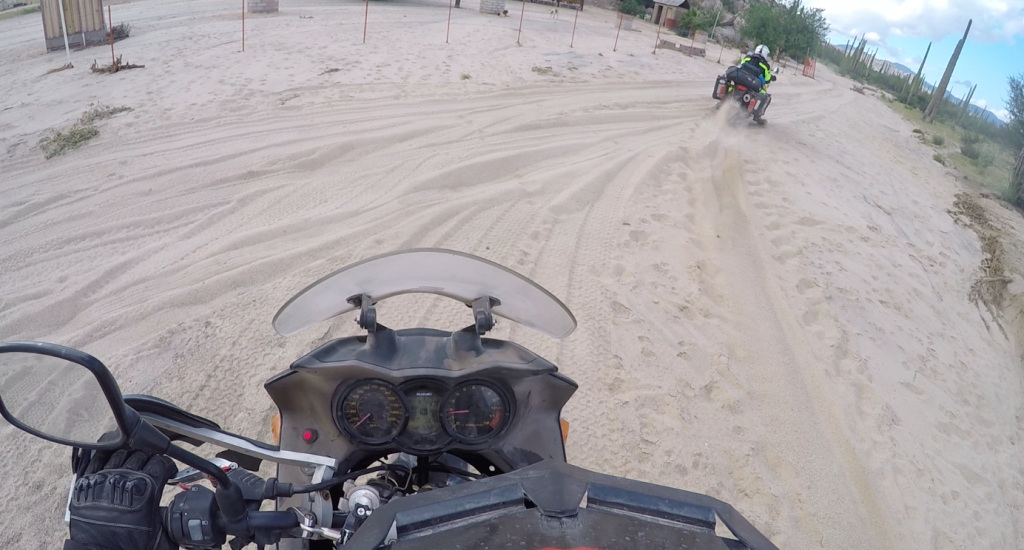 After an hour or so we had ridden roughly one mile. Our spirits lowered rapidly, talks of retreating to far away pavement were discussed but ultimately we decided to press on. How long could it possibly be this bad? Unfortunately for us, it maintained a steady level of suck for quite awhile. We ran into two dudes in a Polaris RzR who provided us with a much needed beacon of hope. They assured us it would get easier shortly.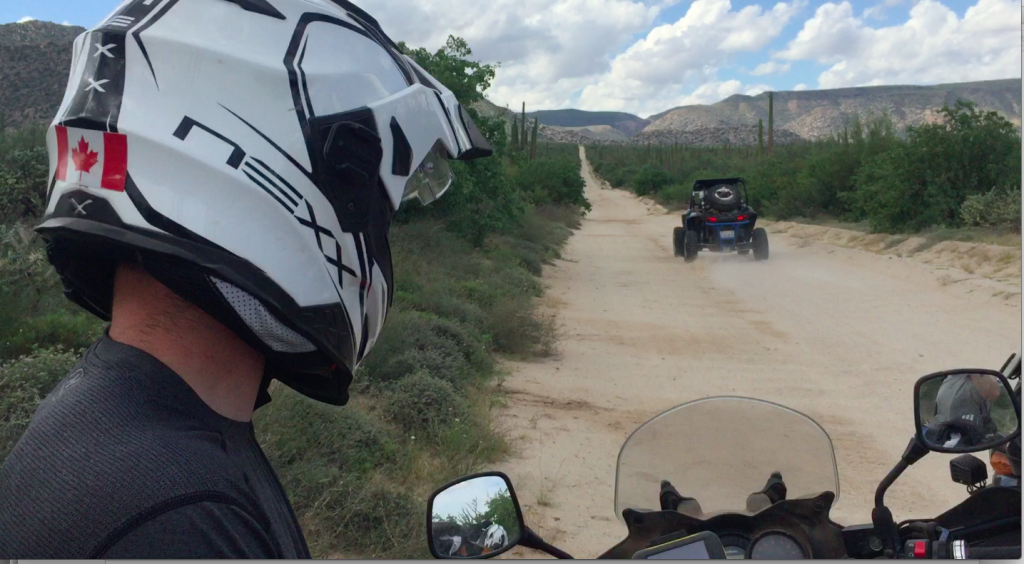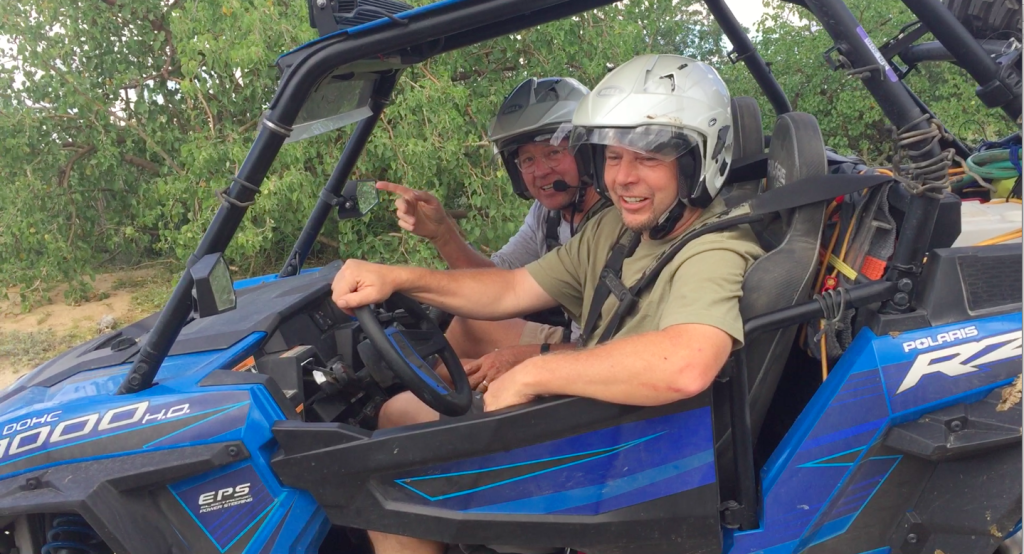 With this new found hope, our morale took a positive upswing and we motored ahead. I kept the tempo with a variety of tunes. Only the best: Alanis Morissette, Sheryl Crow, TLC, Osker, SGR, Catch 22, The Vandals, etc. The terrain did in fact get "easier". It went from deep sand to rocky hills which we negotiated with relative ease. For the rest of the day, anything that wasn't deep sand was considered easy. We did encounter a few more tough spots but apparently our skills had increased because we made quick work of them.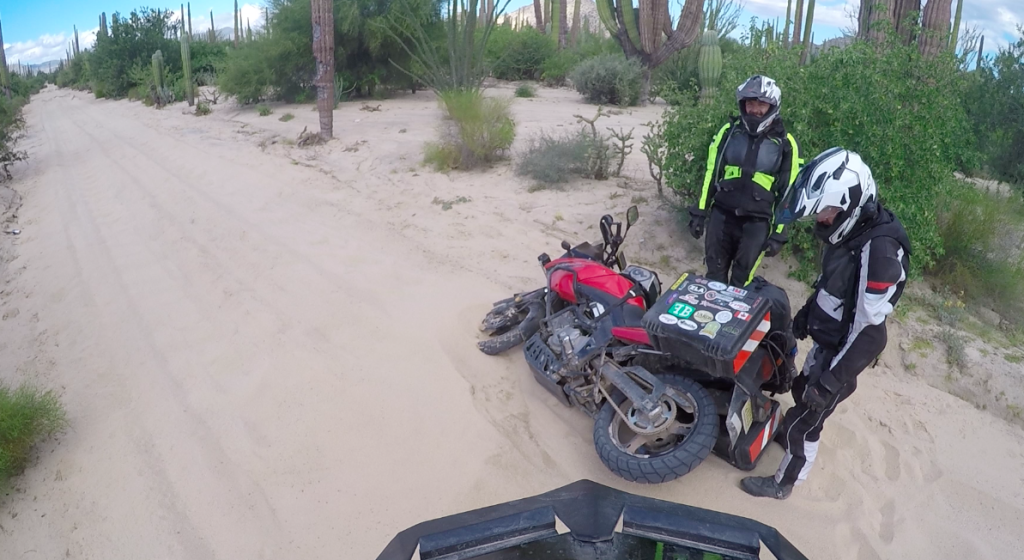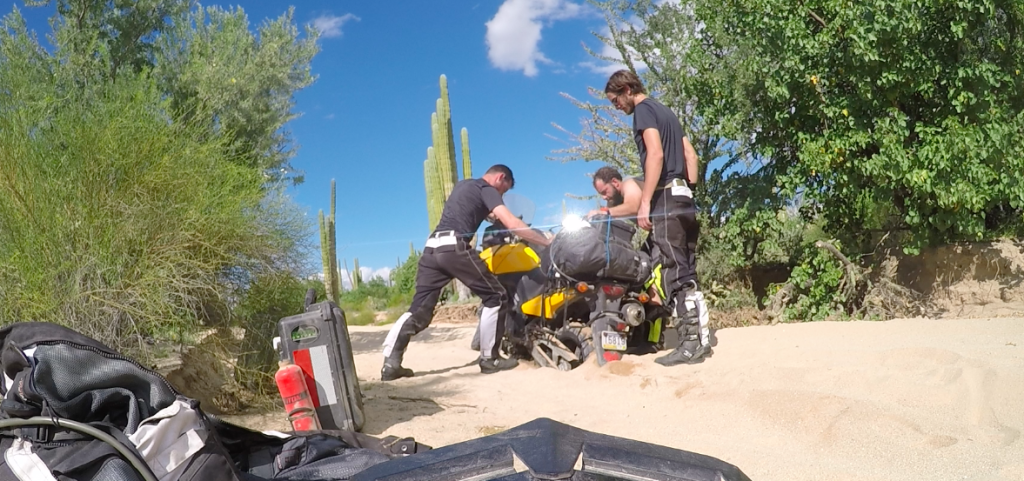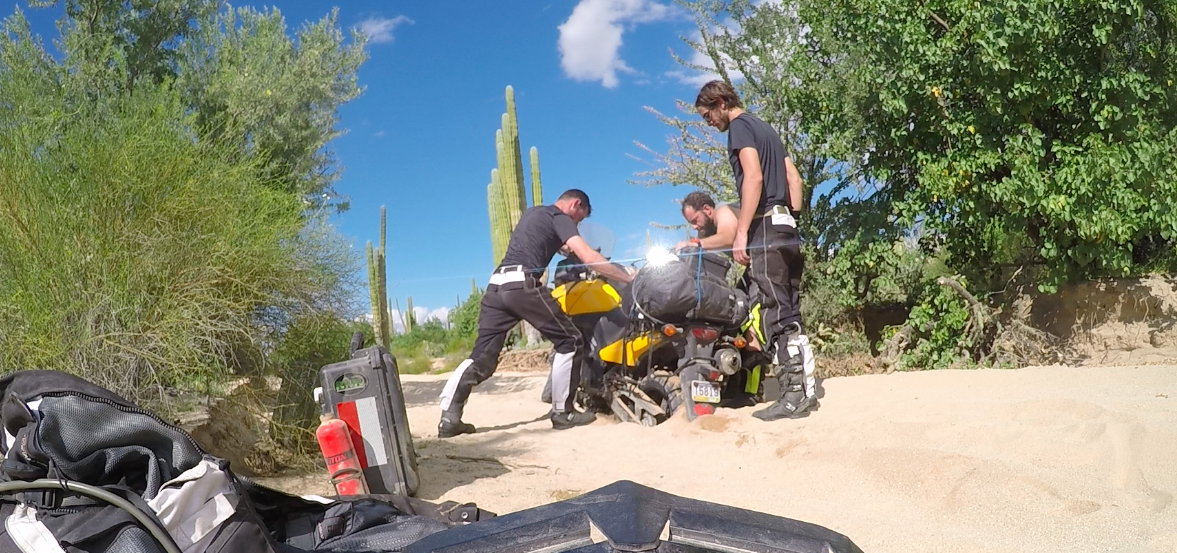 We had 44km more to go before pavement when the road turned to a very manageable gravel road that was straight as an arrow. It was at this time that I started to feel my clutch slipping. I assumed it simply needed adjustment but would later find out that it was more serious. 30 minutes later, we intersected with PAVEMENT. Matt laid down on it after looking both ways and symbolically put his lips to the ground. We aired up our tires, adjusted our clutches and hit the road.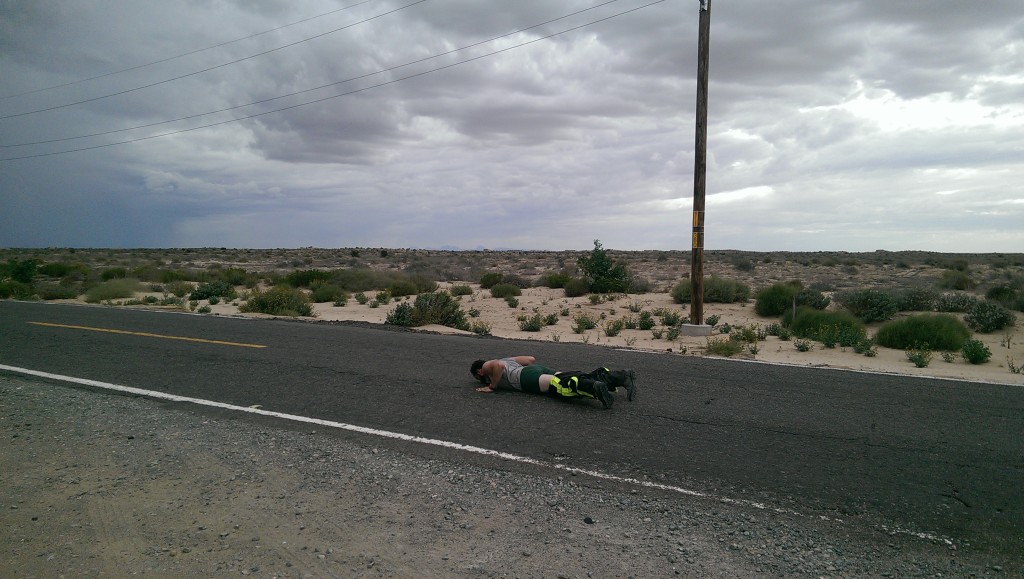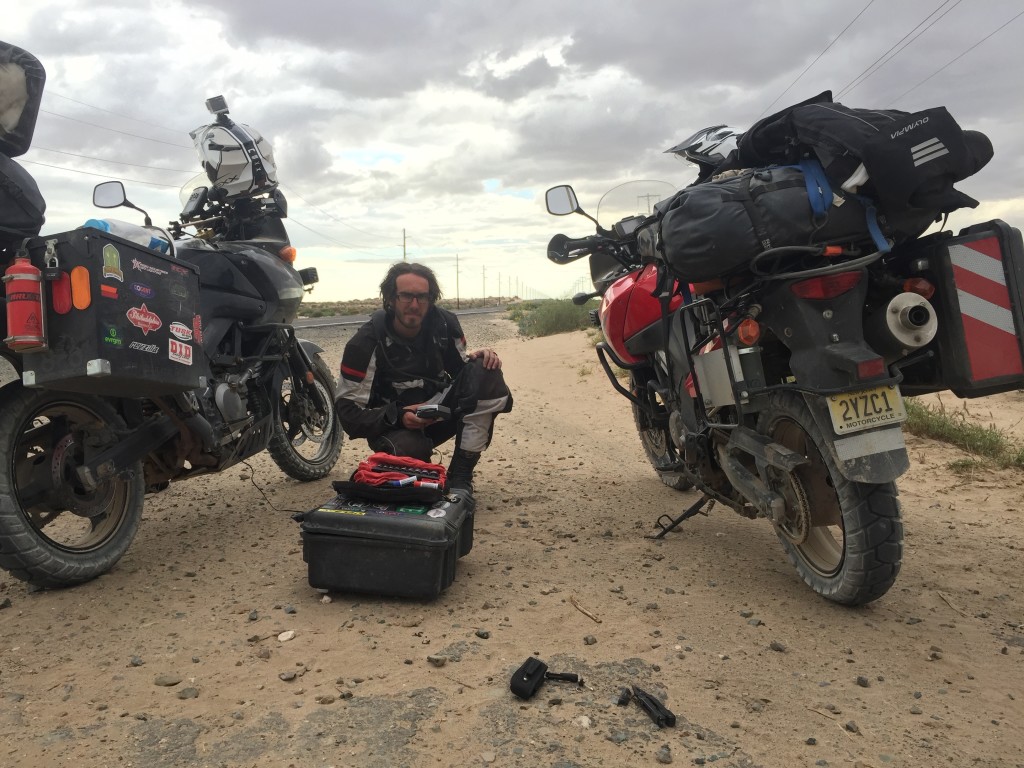 We stopped for gas and saw our first other bikes in Baja. A group of Honda XR650R's rolled up. I approached them and began talking with Ed about where I could get parts. We swapped stories and all quickly became acquainted. One member of the group had been in From Dust to Glory, our inspiration for Baja. We followed them to their hotel in San Ignacio, Rice and Beans.
The three of us joined the group for dinner which was an amazing array of Mexican fare. They proved to be an awesome group and we had a blast until we all headed to bed.
Today we woke up, grabbed breakfast and took a farewell photo with the XRR guys. Tim and I begrudgingly dug into my bike to assess the damage. No surprise, my clutch was clearly smoked. The springs had lost their temper and no longer fully engaged the plates. Obviously on Sunday EVERYTHING is closed. I scoured around looking for 12 washers in hopes that I could increase the spring tension with additional preload and temporarily solve my issue. Three guys hauling a trophy truck pulled up and had exactly what I needed. I quickly got the bike back together and IT WORKS. Next task, finding the fastest way to get parts down to Baja. Any advice?