San Ignacio to San Juanico, Baja Sur
We left San Ignacio relatively refreshed after two nights at Rice and Beans Hotel. I use the word relatively because while Rice and Beans was decent, it's an inexpensive Baja hotel and thus the amenities were not quite like home. My temporary clutch fix of 10 additional washers appeared to be working and with my parts ordered, I was feeling a bit more at ease.

From San Ignacio, we headed south to Loreto, a larger town than we had become accustomed to, complete with multiple supermarkets and even a university. The ride to Loreto was nothing short of epic. The curves were abundant and surprisingly well maintained, the views incredible, and the weather, perfect. Prior to our arrival, the area had received an immense amount of rainfall causing rockslides, washouts, and flooding. We had heard parts may not be passable but thankfully, most of the issues had been cleared by the time we made it to Loreto.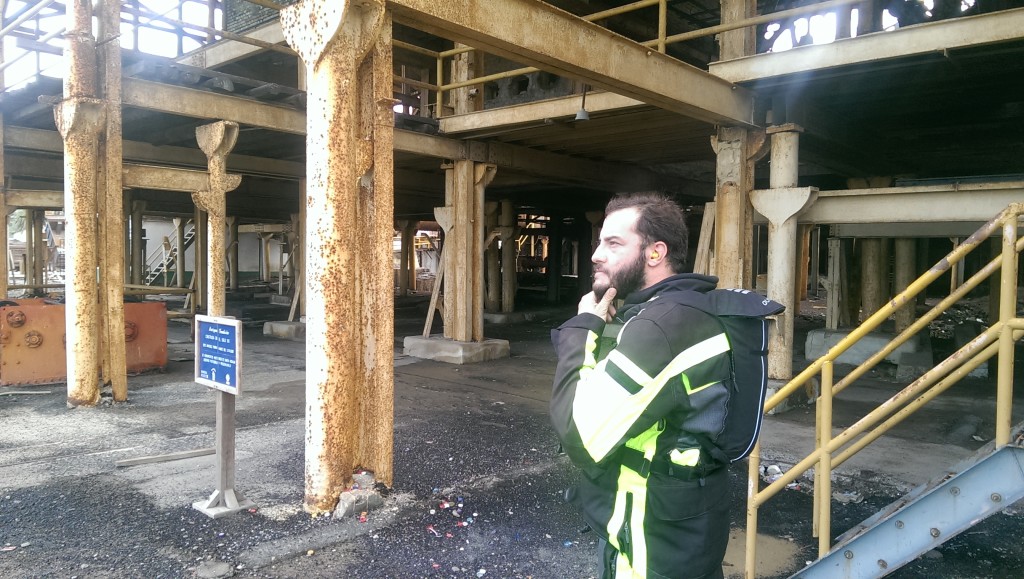 Our first stop in Loreto was for fuel. The PEMEX attendant directed us towards the nearest supermarket which we promptly headed to, needing to retrieve a few days worth of food. I chose to wait outside while Matt and Tim scoured the shelves of an unfamiliar market surrounded by foreign fare. I was somewhat shocked at the number of locals that interacted with me, testing my extremely limited Spanish.
As Matt and Tim exited the "supermercado" a guy in a yellow Ford Ranger pulled up and began chatting. Quickly he inquired as to where we planned to spend the night. When we answered that we'd be camping, he promptly told us to follow him and that we could stay at his gated shop. With no time to hesitate, we opted to accept this somewhat strange offer and headed down the road.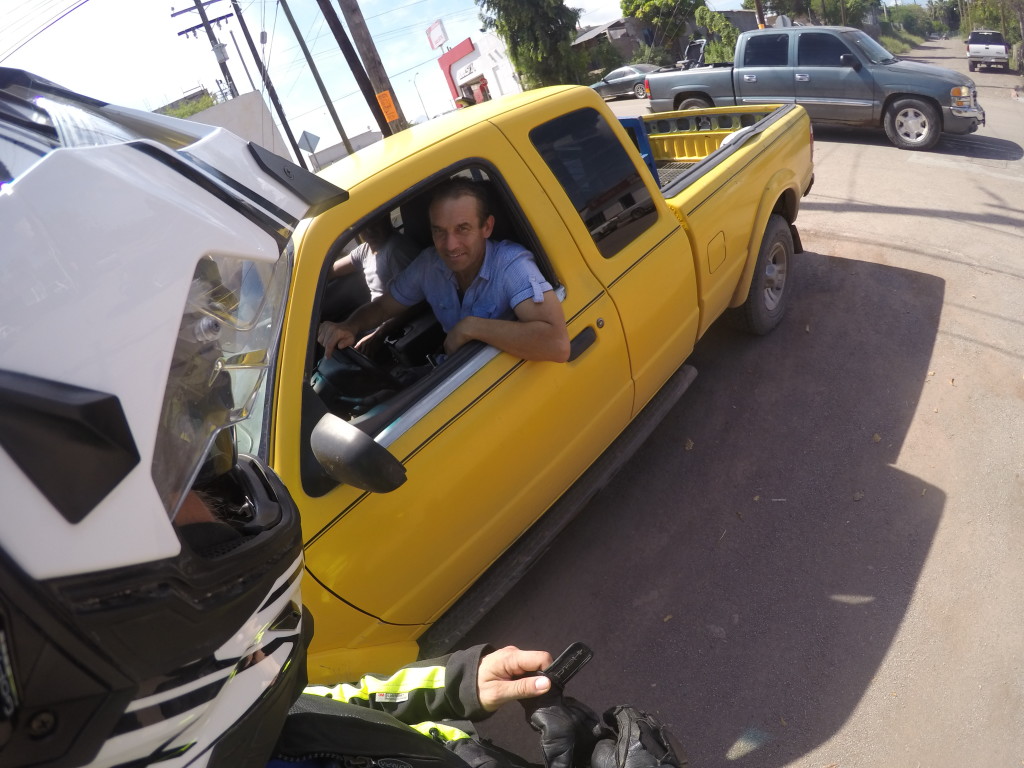 As promised, Grant took us to his shop rather than murdering or robbing us (much appreciated Grant!). We were given the grand tour and told to make ourselves at home. The shop, while a bit dirty like a shop should be, had a kitchen, bathroom, and everything else we'd need. Most importantly, the place had WiFi, so we were sold.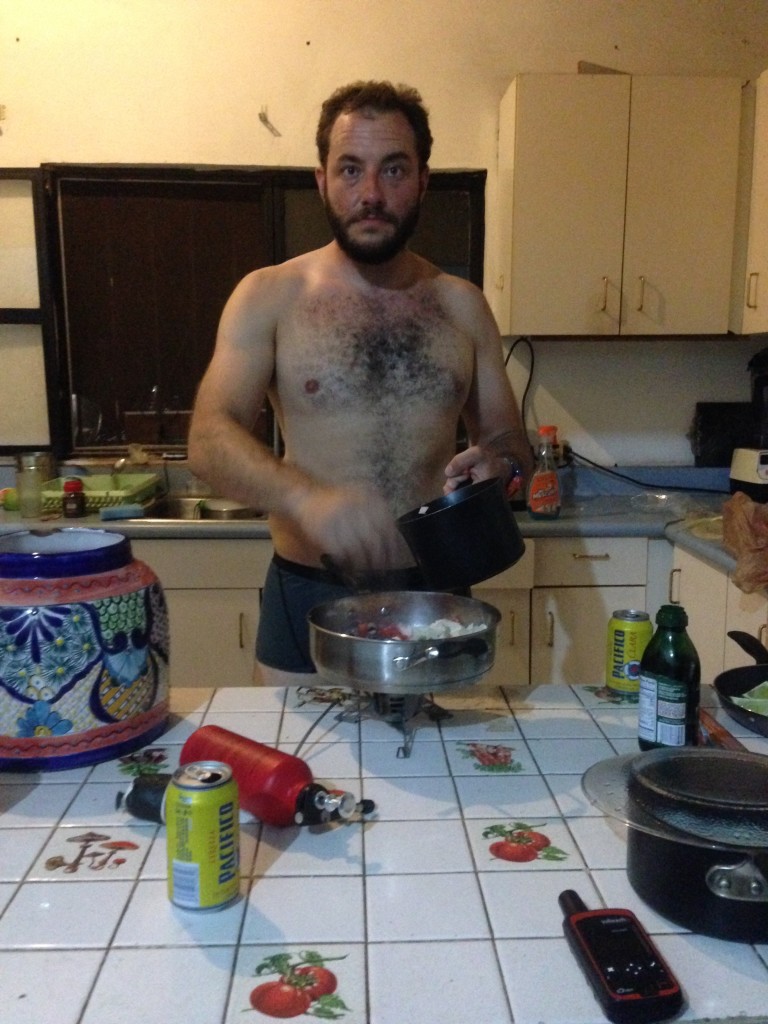 For the first time on the trip, we bought meat to cook at camp. Grant's kitchen didn't have a stove so we used ours and Matt cooked a very good, albeit very spicy meal that we ate while enjoying Paul Gandolfo's music "The Casper Sessions" (we miss you Paul!). The next day we decided to look for a welder to repair a cracked piece of Matt's racks. This is one of the many situations where having a local assist provides a much better result. Grant hooked us up with Tim at House of Stainless who did phenomenal work on the racks.
Around 2pm, we left Loreto with our compass (GPS) set for San Jaunico, a unanimous recommendation from Tim and Grant. We were even provided with an "easy dirt road" route that would make the trip more fun, more beautiful, and a bit faster. This is where we reinforced a valuable lesson "What is easy to one person is often difficult to another and conditions in Baja change daily"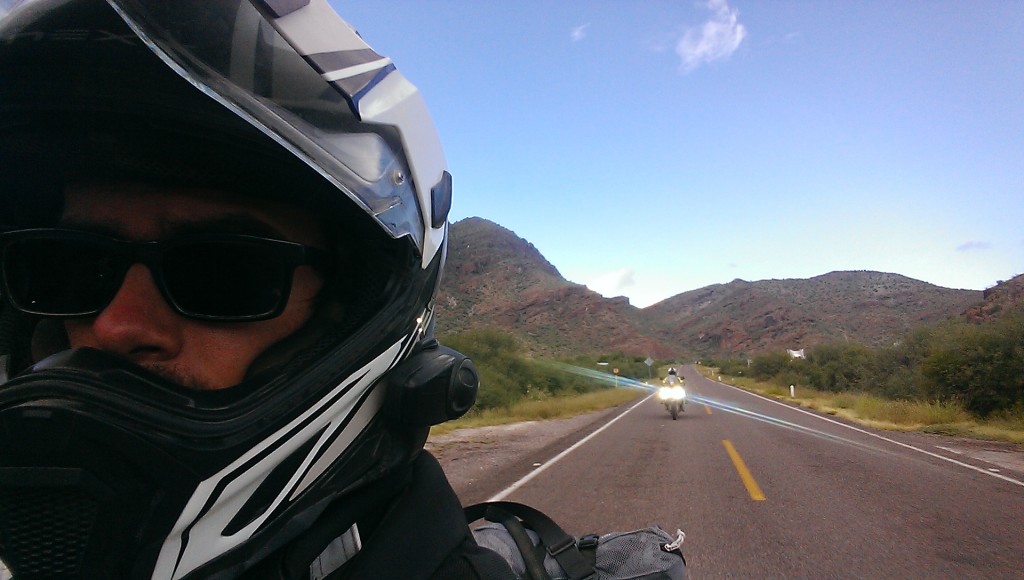 The 170+ km dirt route from Loreto to San Juanico was anything but easy. it ranged from mundane to treacherous but was rarely easy. The hill climbs were steep and rocky, the descents technical, and the water crossings slippery. Tim slid out on a water crossing, I went down after hitting a big rock, and matt had a tip over or two. Ultimately, no one was hurt, we all had fun, and only my frail aluminum luggage sustained any significant battle damage. As we made our final descent out of the mountains, we entered an entirely new landscape. A tropical jungle that bore a striking resemblance to those from Jurassic Park. Dispersed sporadically throughout were homes and a compound of someone important, or at least someone who thinks they're important. The town below appeared to exist almost solely for the 18th century mission that it contained. We took this opportunity to double check our directions.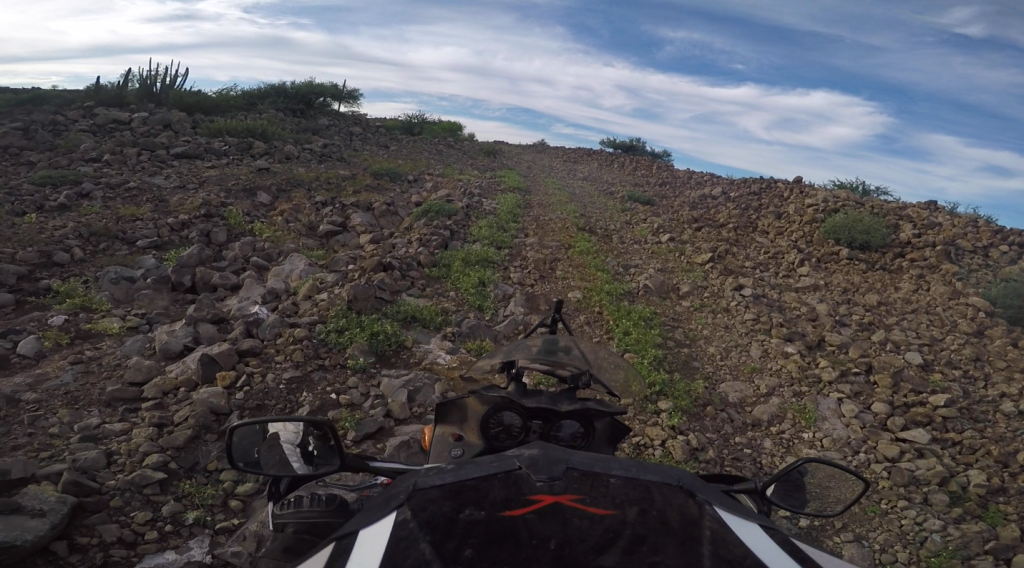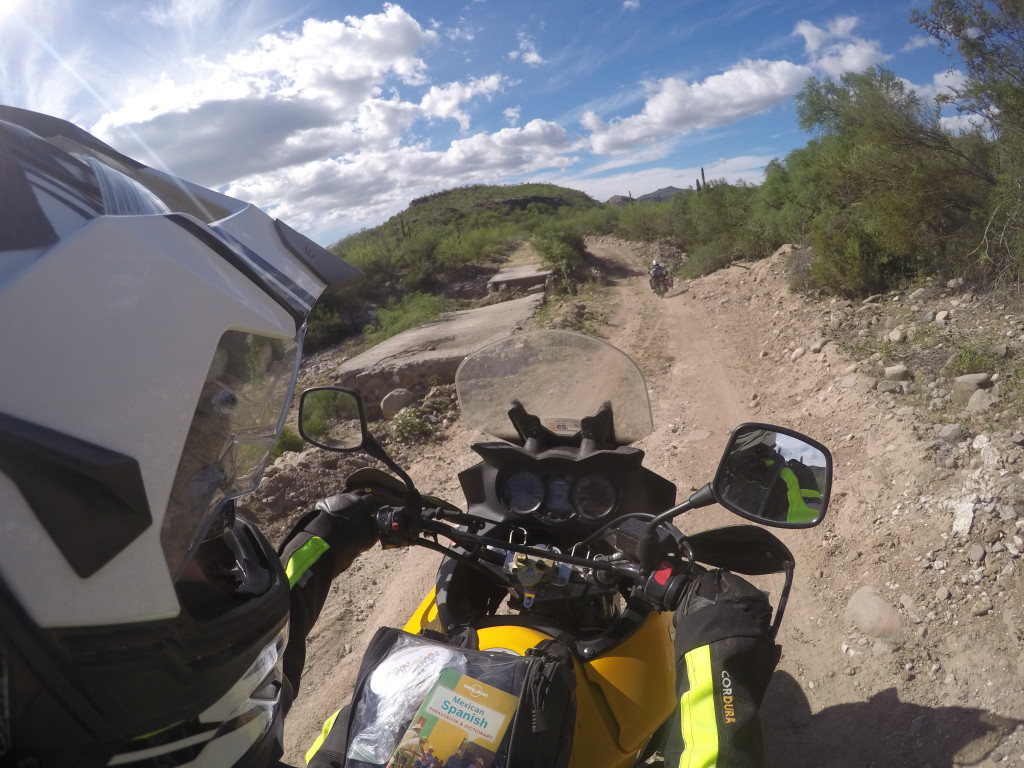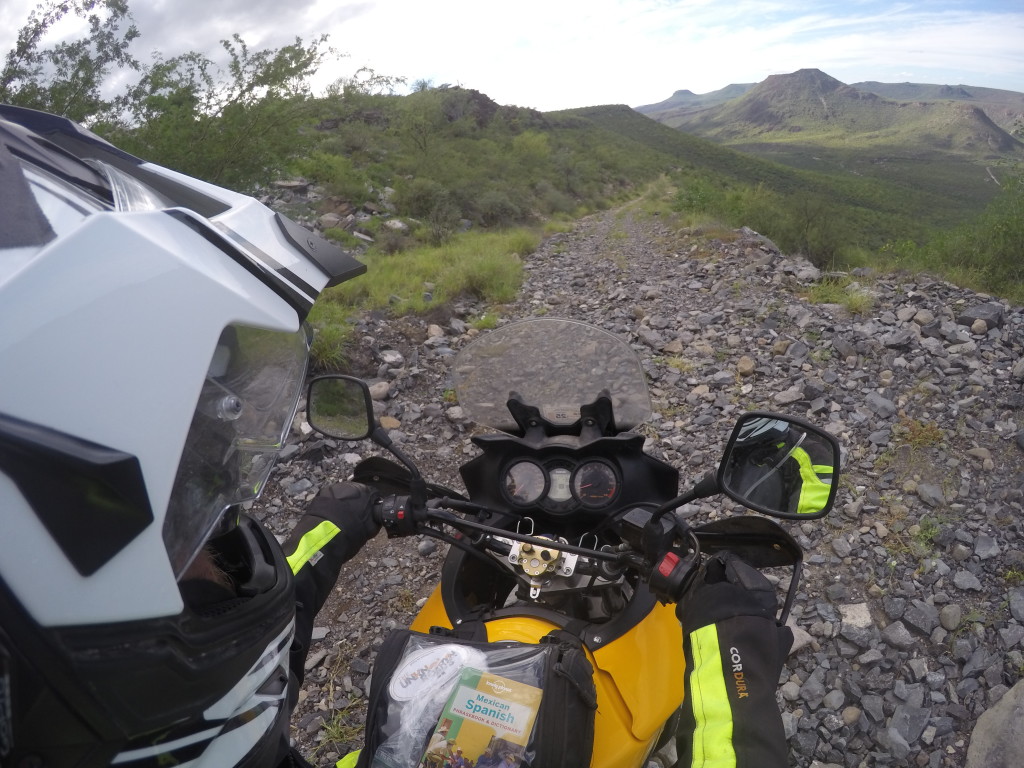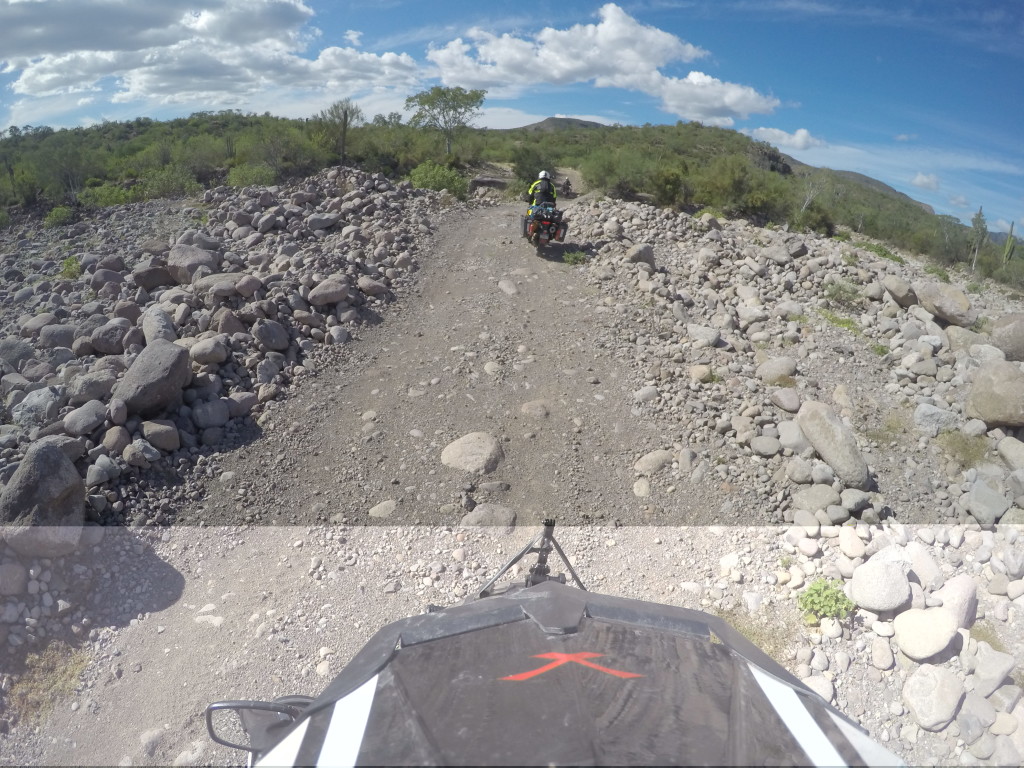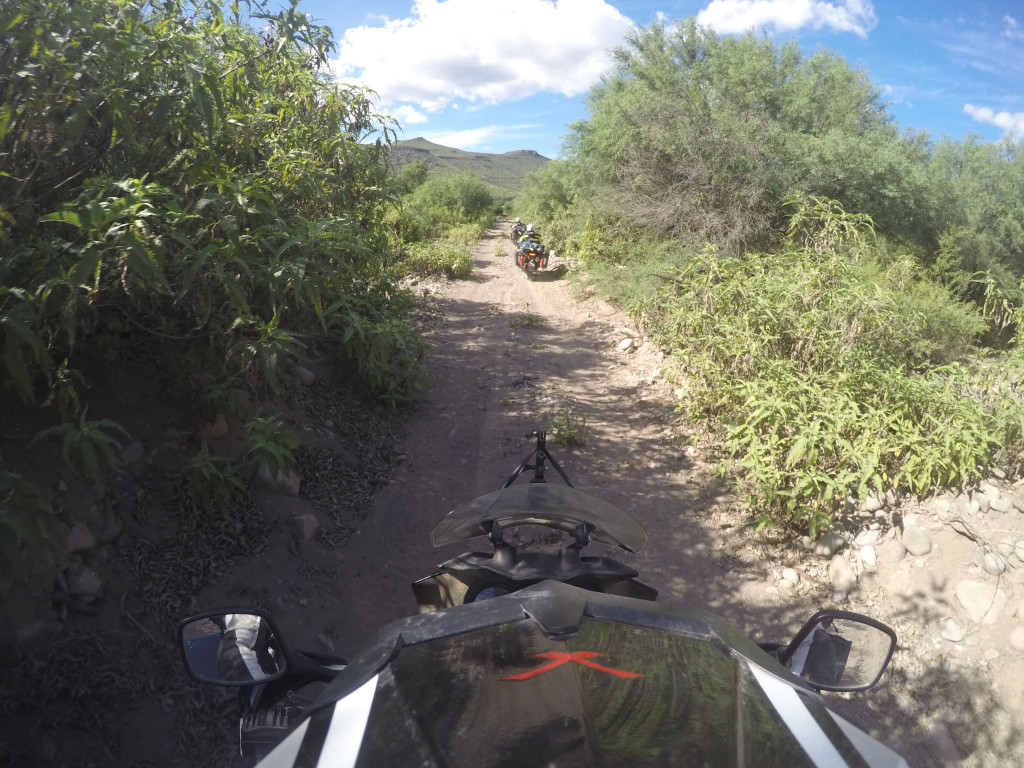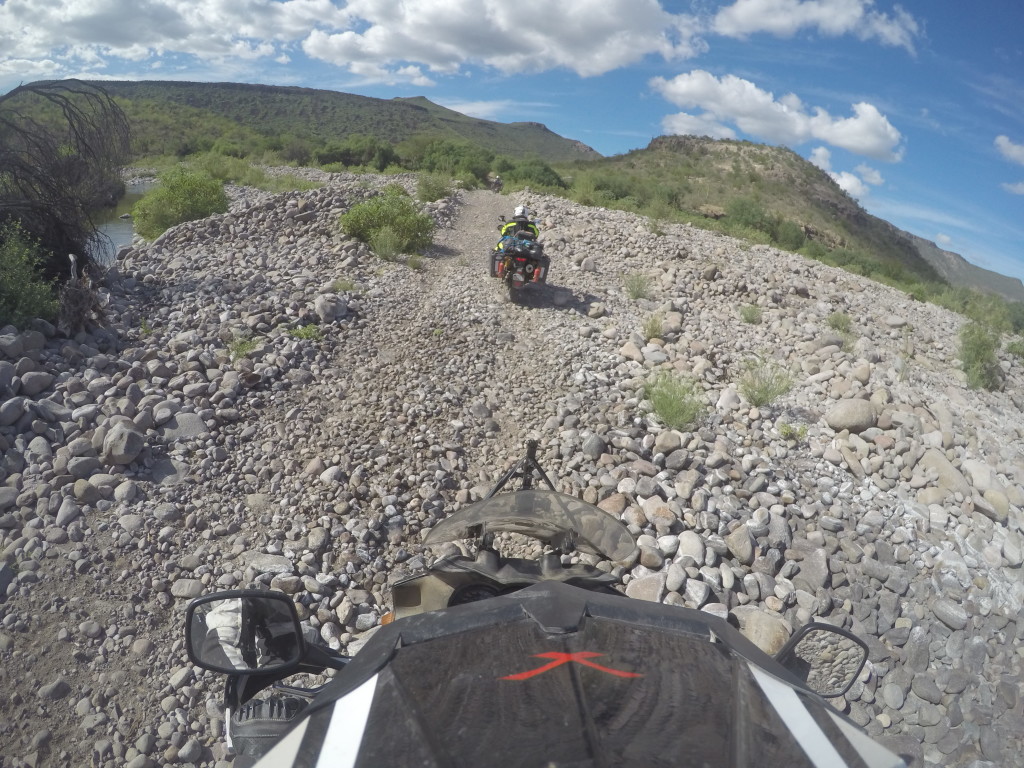 We reached pavement just before sunset and decided to press onward. It seemed unlikely that we'd make it to San Juanico but we wanted to cover as much ground as we could. Pavement in Baja ranges from pristine to nearly impassable. This stretch fell somewhere in the middle. It was laced with water crossings that could only be compared to black ice. It mattered little how quickly or surely we entered them, our exit was entirely uncertain every time. Once the river which snaked the road ceased, we were able to pick up the pace following closely behind a Dodge Caravan. Our logic told us that we'd rather have the van hit the [insert deadly obstacle] rather than us. This strategy proved to be wise.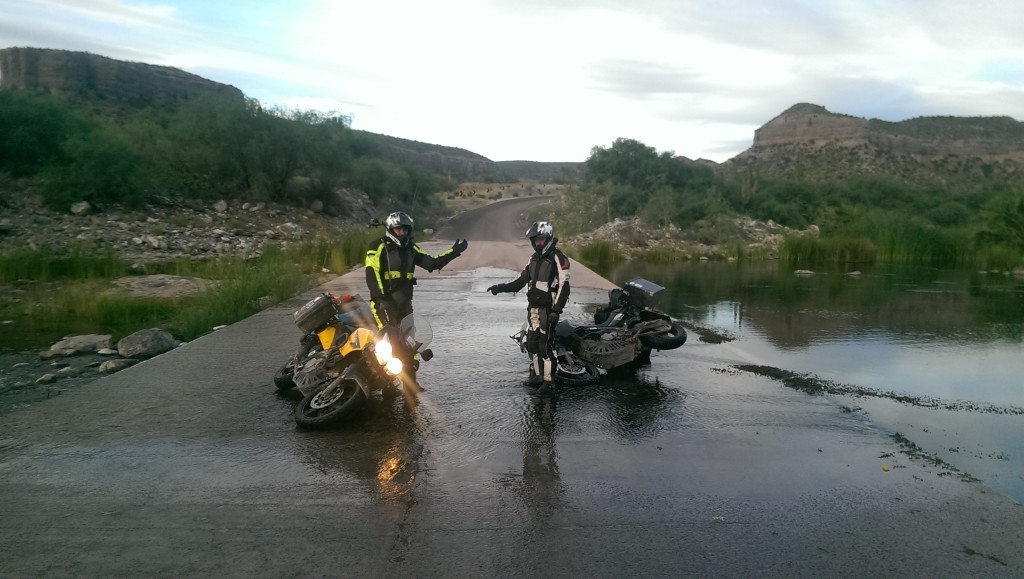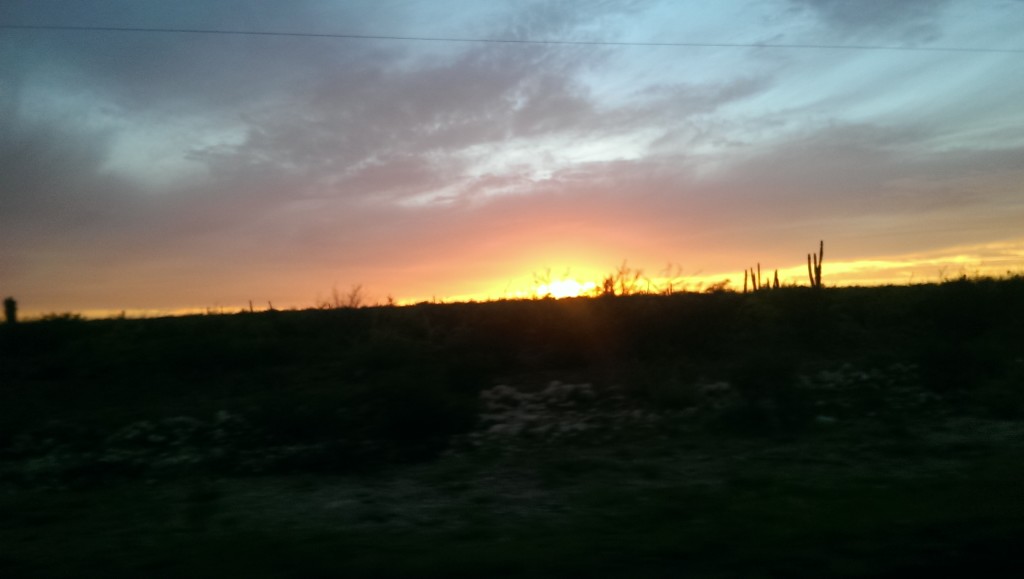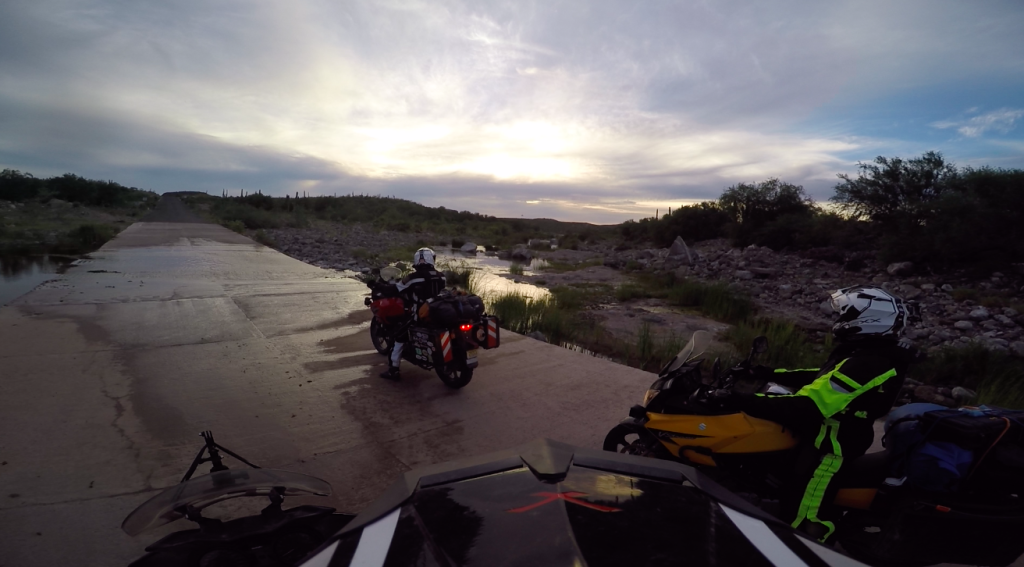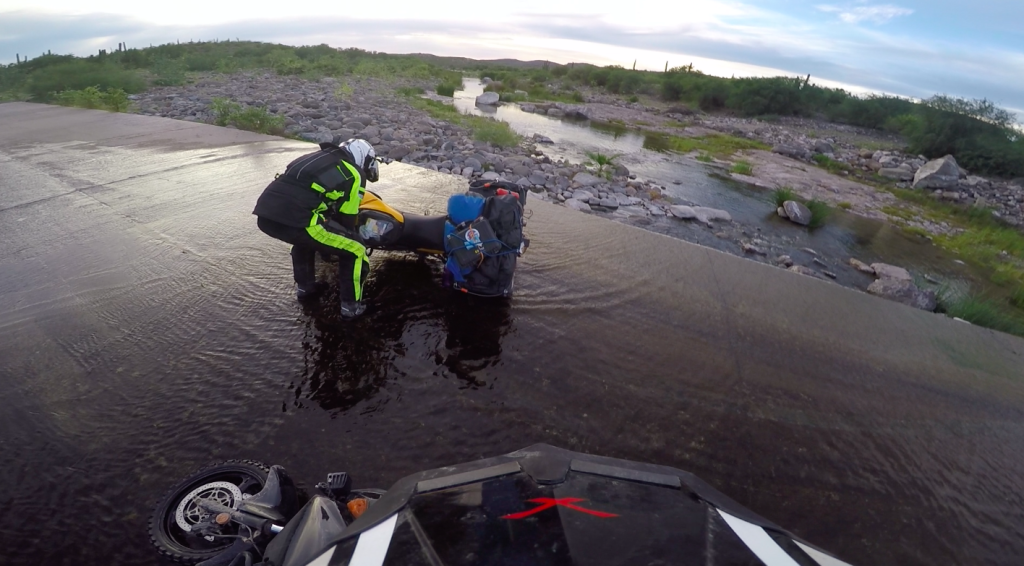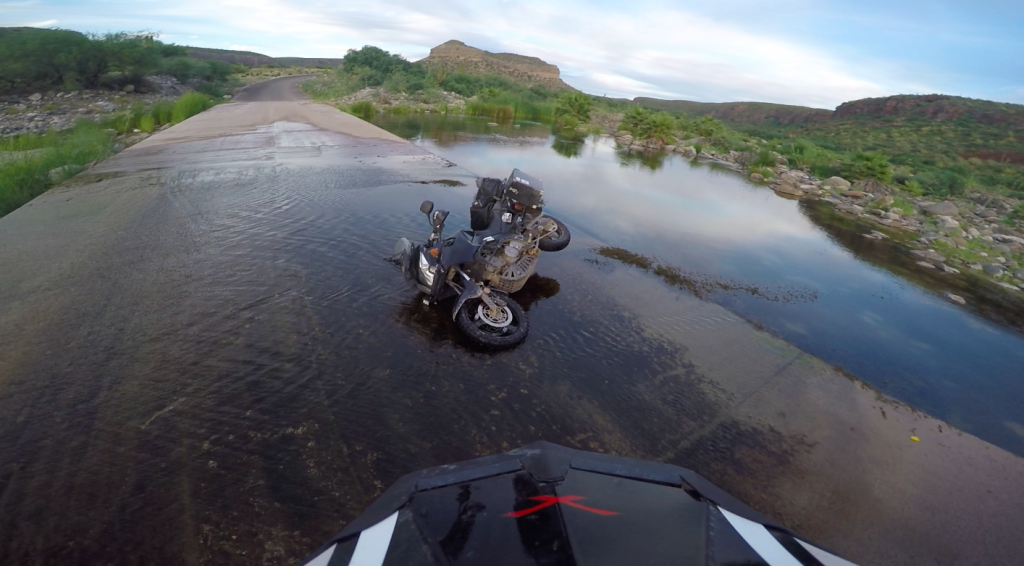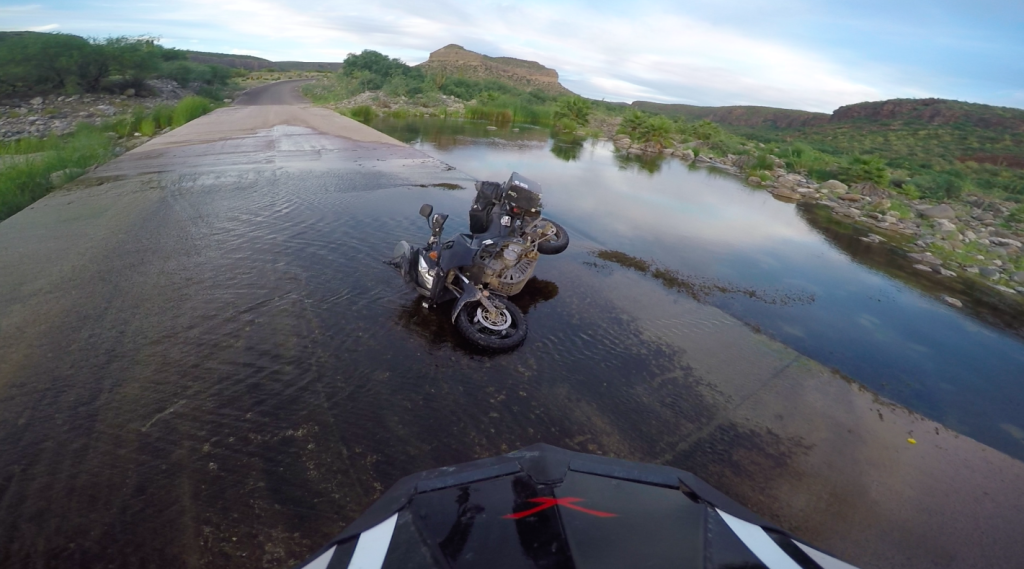 We spotted a sign ahead with an arrow pointing left, indicating that San Juanico was in that direction. This contradicted Tim's GPS and thus our technology programmed brains opted to follow the GPS. We would later find out this was a poor decision. Around 8:30pm, we came to another left towards our destination. The road began as a dirt road in good repair which lasted for all of a tenth of a mile. This is when a river decided to pass across the road, and a rather large one at that. I'd like to think we all felt a bit confused and defeated at this point. We were tired, sore, hungry, and simply wanted to be "there". Unfortunately "there" was still 44km away and this river seemed to be making that 44km increase. But we're adventurers.
Our TCX Desert boots claimed to be waterproof bearing the GORE name and it was time to test them. We walked across the fording site in unison, which felt more like an ice rink with the slick algae below. It was possible, we now knew that. It was dumb, we surely knew that. The truck that passed by gave us a wishy washy response as to the conditions ahead. In an effort to make a seemingly stupid decision slightly less risky, we decided to walk each bike across together. Tim's bike was first, clutch feathered, throttle smoothly opening and closing, no brakes, and all hands on the bike to ensure safe arrival on the other side. Matt's bike and mine followed suit and we were all across.
From here the lead position swapped between myself and Tim. The leader holds a higher level of responsibility and a corresponding level of risk which becomes somewhat wearing. This jeep trail truly contained every type of terrain within it, it tested us. There was deep sand, deep silt, rock gardens no V-Strom should enter, steep climbs, steep descents, and confused animals crossing at the least opportune of times. 20km I was stopped in my tracks by a fence that offered no obvious workaround. I radio'd the situation back to Matt and Tim who had discovered a trail off to the right. As we followed the trail, it seemed rarely traveled, which is never a good sign. We quickly found out that its lack of use was due to it being a driveway. Lights came on and the landowner emerged from his home, his wife beside him sharing equal confusion. Tim took point in negotiating the conversation. In the fewest words possible, Tim explained we were heading to San Jaunico. The man opened a gate for us containing hundreds of goats which parted like the red sea as our headlights pierced through. Once past, the man led us to the first turn and gave some hand motions and words which Tim pretended to understand. Somehow we made it out and back to the trail, likely some luck was involved.
With 25k or so left, I was feeling defeated. The conditions of the trail seemed to worsen with every turn of the wheel. My bike which had no business being on this trail (burned out clutch, remember?) had taken enough abuse for the day. I hadn't eaten much, it was hotter than any nighttime I had experienced, and our overall state of morale seemed pretty bleak. It was at this point that a horrible downhill rock garden appeared. I had already committed and thus navigated downward. Midway through my bike laid down. I'd like to think Matt felt like this was my breaking point. It wasn't far from the truth however, situations like this have a way of pushing you. We got the bike up, and we made it down. Were there tarantulas everywhere that wouldn't get out of our way? Yes!
After this it kind of became a joke. We had shirked off every piece of advice we had received. Don't ride at night, check. Don't ride at night, check. AND ESPECIALLY don't ride an offroad trail that is essentially the limit of your riding ability, at night. For no reason at all, we all laughed, we all rode a little faster, and we made it to San Juanico. Oh and I killed a rabbit with my bike which we considered eating for dinner.
We set up camp and were asleep in minutes. We woke up and took down camp which included dropping a 1 pound bag of granola on the ground (which I ate most of off the ground).We headed to breakfast/lunch at The Burro and ate burritos large enough to have their own zip code. Beach comas ensued for quite some time. On this day, we embraced some much needed R&R at the beach. It was perfect.
Later in the evening we headed back to the burro, 1 because I wanted internet, 2 because it was the only place we had seen that served food. A carload of fellow gringos pulled up and began chatting with me. Keoni, Katie, Charlie, and Claire invited us to their table and we shared good conversation over some food and drinks. I earned my second trip nickname (first was VW because I look like I should live in a van), milkshake. What can I say, most people drink booze, I drink liquid ice cream.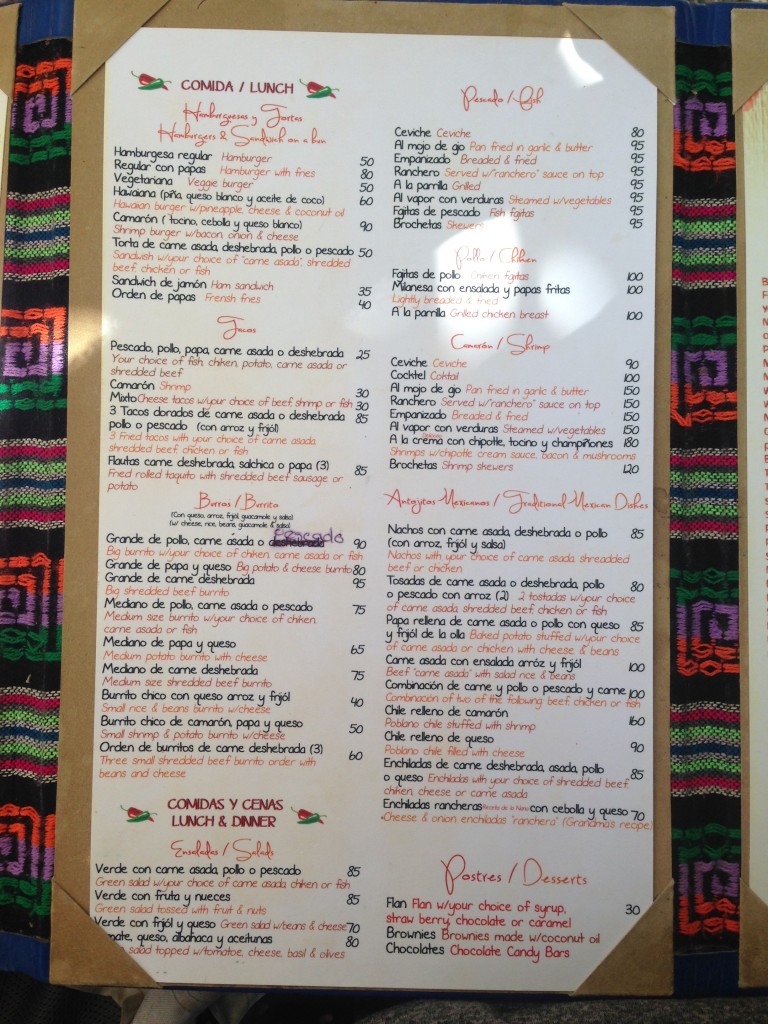 Katie decided we weren't psychotic murders and invited us to the beautiful house they were staying in. We obliged and the good times continued. They turned out to be awesome people and we quickly felt like old friends.The remainder of the night was spent providing insects to a toad on the porch, Baja's version of TV.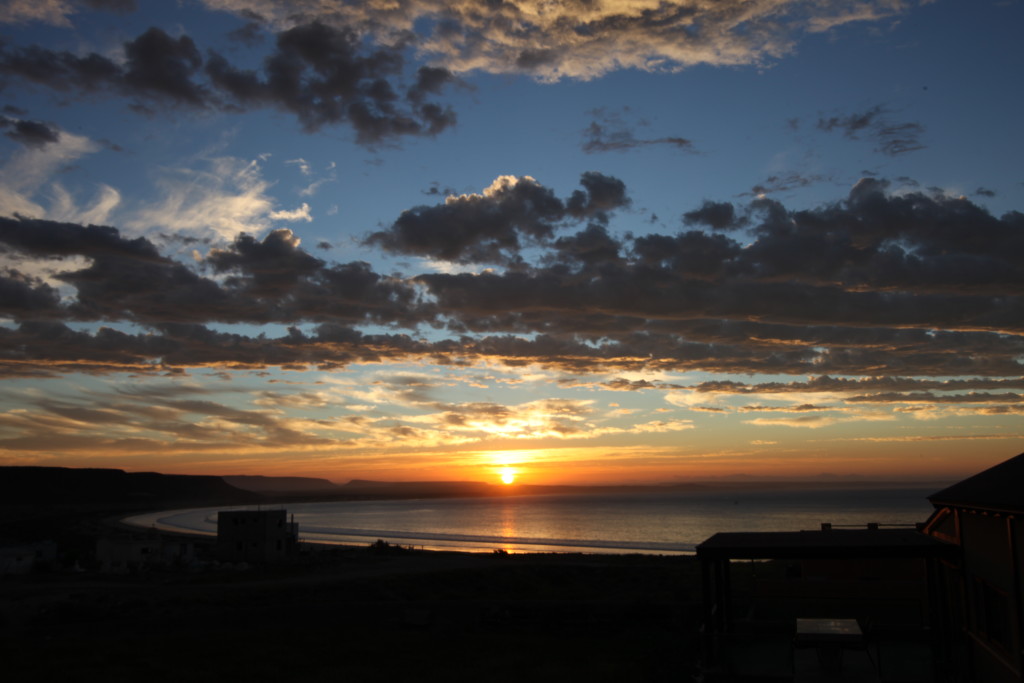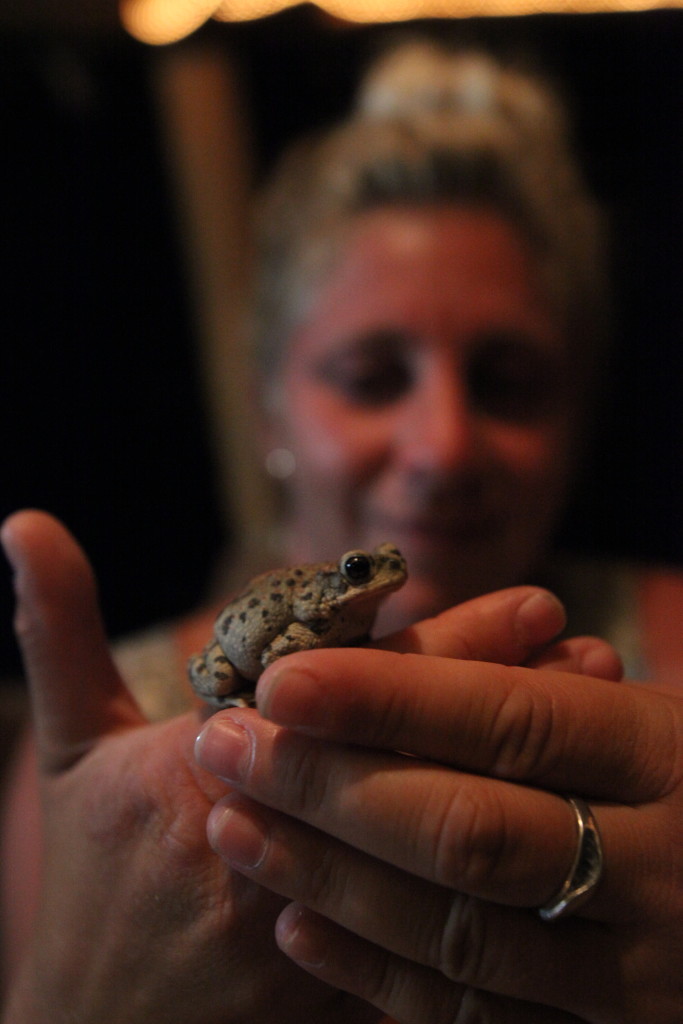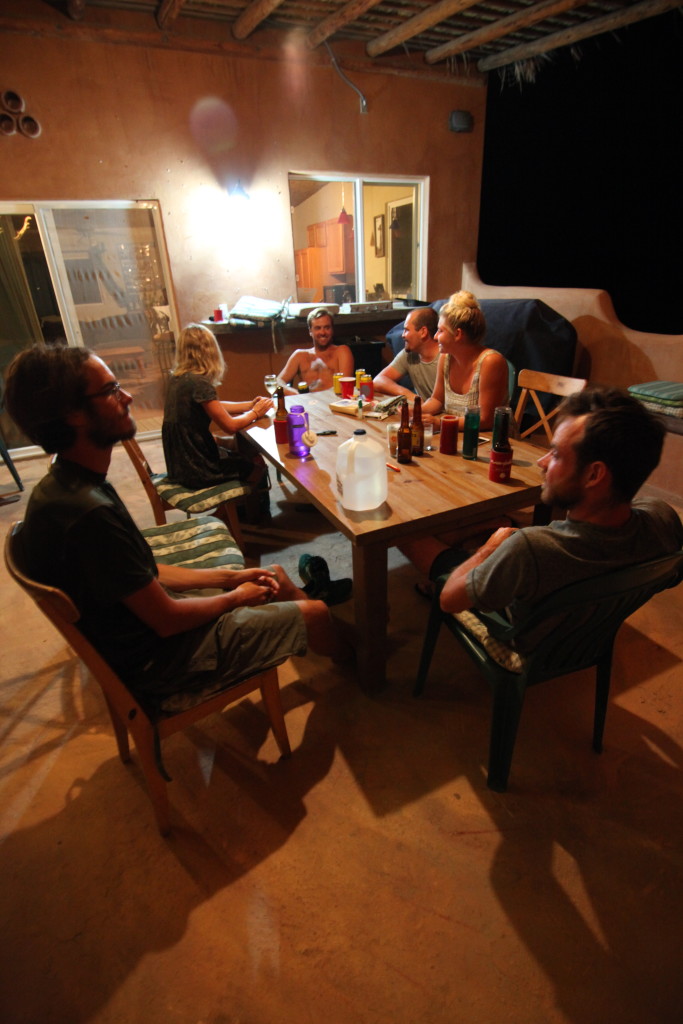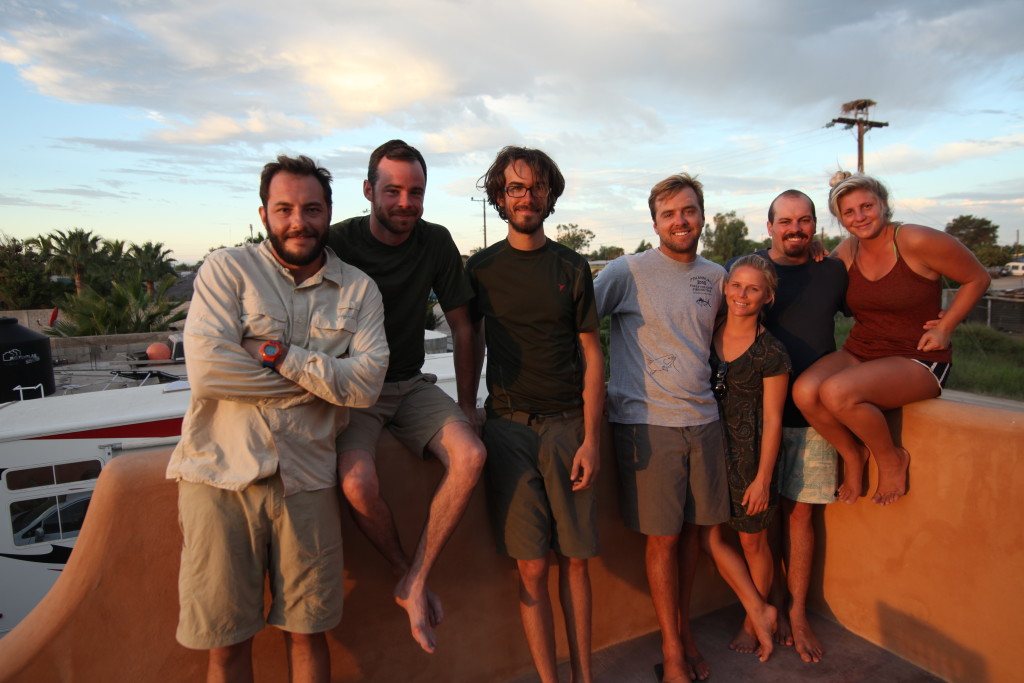 We headed out the next morning after fueling up from another unorthodox fueling station and headed towards Cabo. More to come.