We left Oaxaca all feeling that Mexico was becoming our home away from home. The people we'd met up to this point had already changed our perceptions formed over the years from straight-uphearsay.
From Oaxaca we decided to tackle the journey to the state of Chiapas which covers the majority of southern Mexico. Ultimately our goal was to make it to Palenque, a town in Chiapas known for containing a wealth of beauty that'd be difficult to match, but on this day our destination was Tuxtla Gutierrez (state capital).

The road to Tuxtla passed through many small towns and as we had become accustomed to, this meant lots of speed bumps, the only way people in Mexico will be slowed down. The condition of the road was largely acceptable but included sporadic potholes of varying size. As the sun began to fall the wind picked up. For Tim and I, it felt a lot like riding through Kansas. Our bikes leaned into the wind and the entire width of the lane was used at times. Any temporary blockage of the wind caused us to swing wildly from one side to the other. It was at this point that I began incessantly blasting my horn in an attempt to signal Tim of a flat rear tire.
We found a safe place to pull over on the left side of the road and began assessing the issue. It was almost immediately obvious, even in the dark, that Tim had suffered a huge dent in his rim from a pothole. (We'd later realize that the numerous changes in altitude changed the tire pressure) This meant plugs wouldn't fix it and we didn't have a BFH…big freaking hammer. Our best bet was to throw in a tube and hope it'd hold to Tuxtla.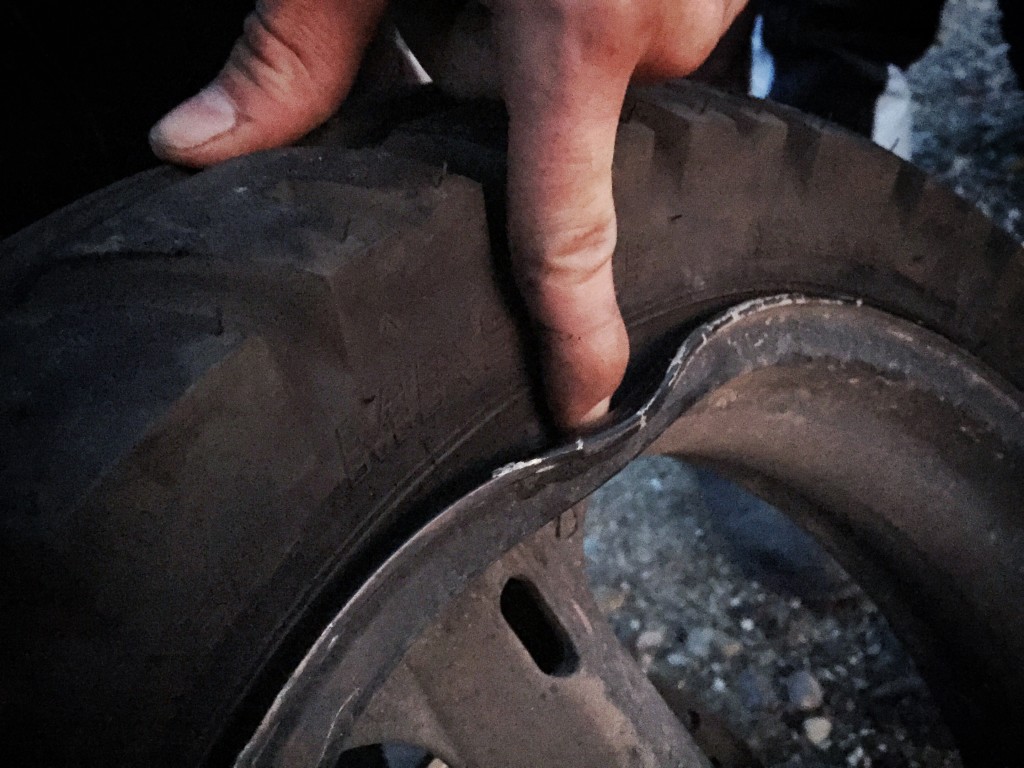 Less than two miles down the road the rear went flat again. With multiple hours of travel remaining, we scrambled. Tim waited while Matt and I headed towards lights not so far off in the distance. A couple miles down the road we arrived at a police station in a small town called Santo Domingo. We began attempting to explain the situation but were largely met with confusion and blank stares until Julio, who spoke fluent English, came to the rescue.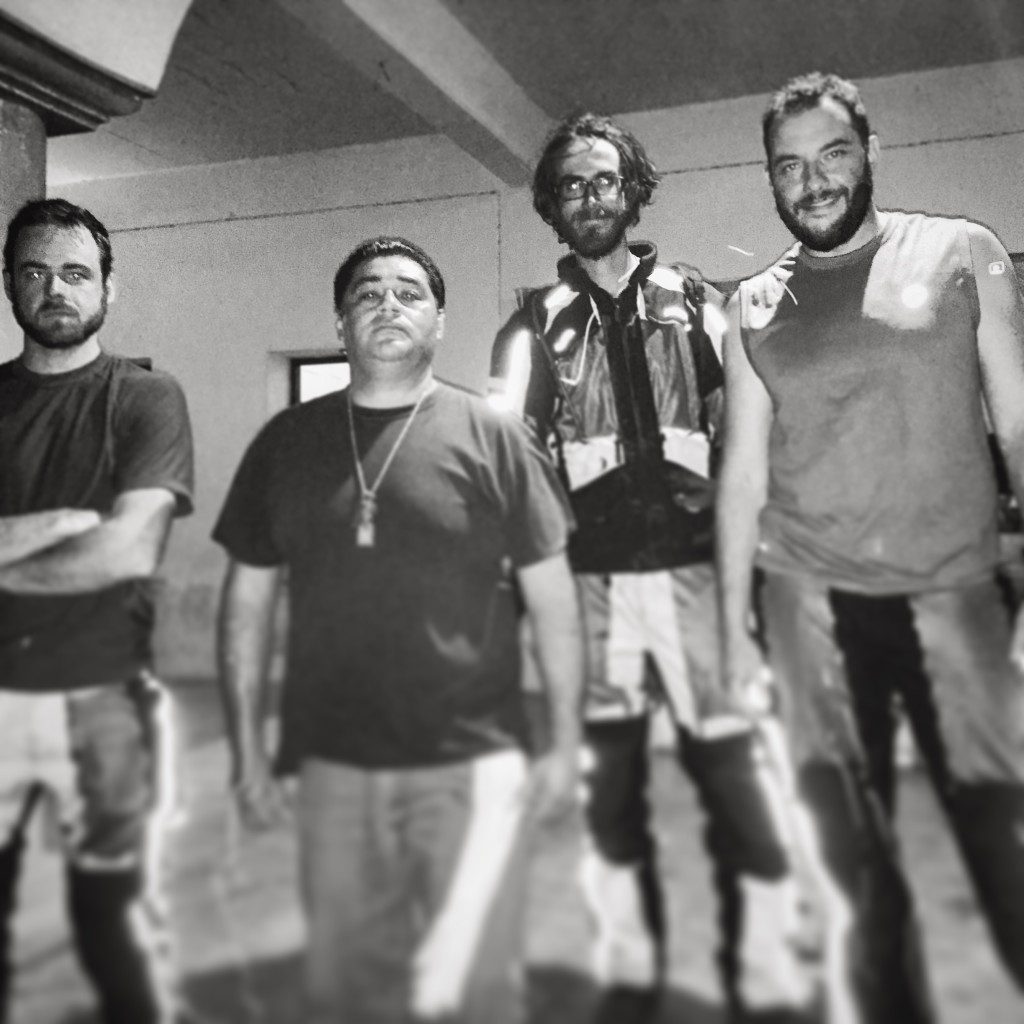 The police went off and checked with the local mechanic, when they returned they assured us he had the means to fix our issue. I headed back to the highway to retrieve Tim and we headed to the mechanic's house. A gate swung open and we were led into the mechanic's workshop where the work began almost instantly. Once the wheel and tire were off, the BFH was used to coax the rim back into shape, sealant was applied to keep it from leaking and it was put back on. This all occurred in roughly 15 minutes.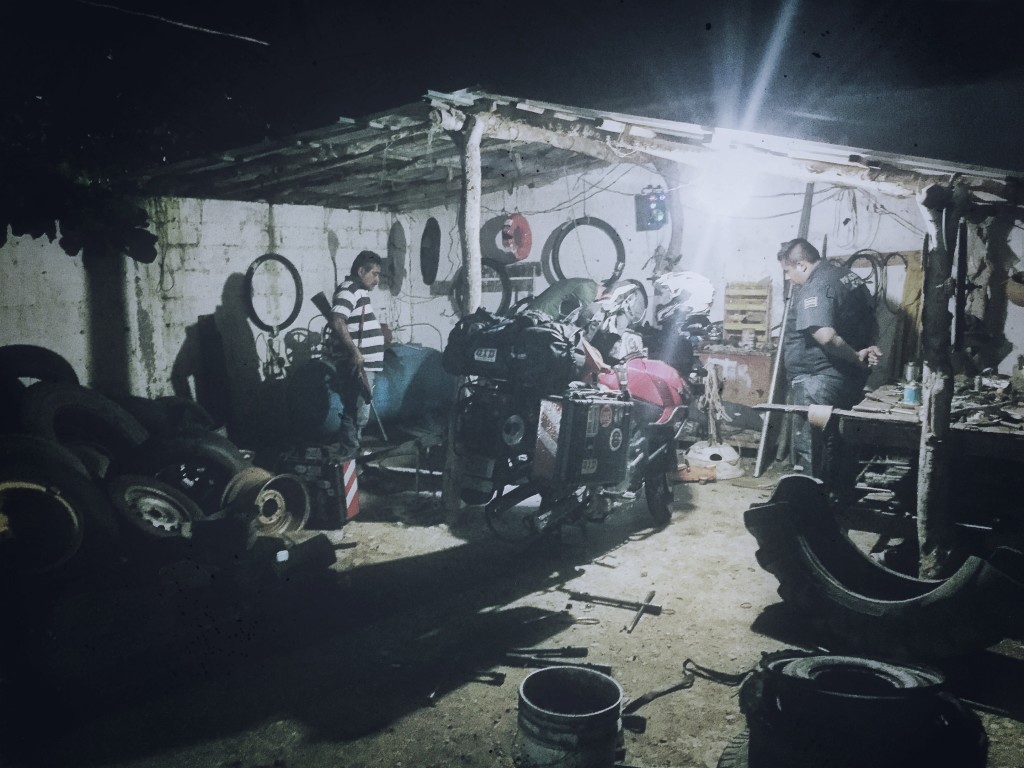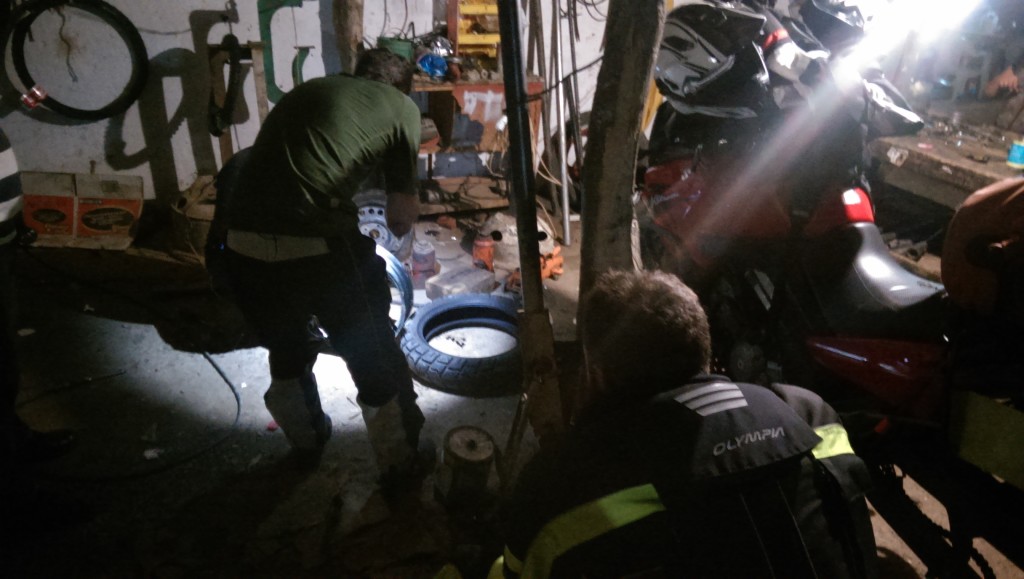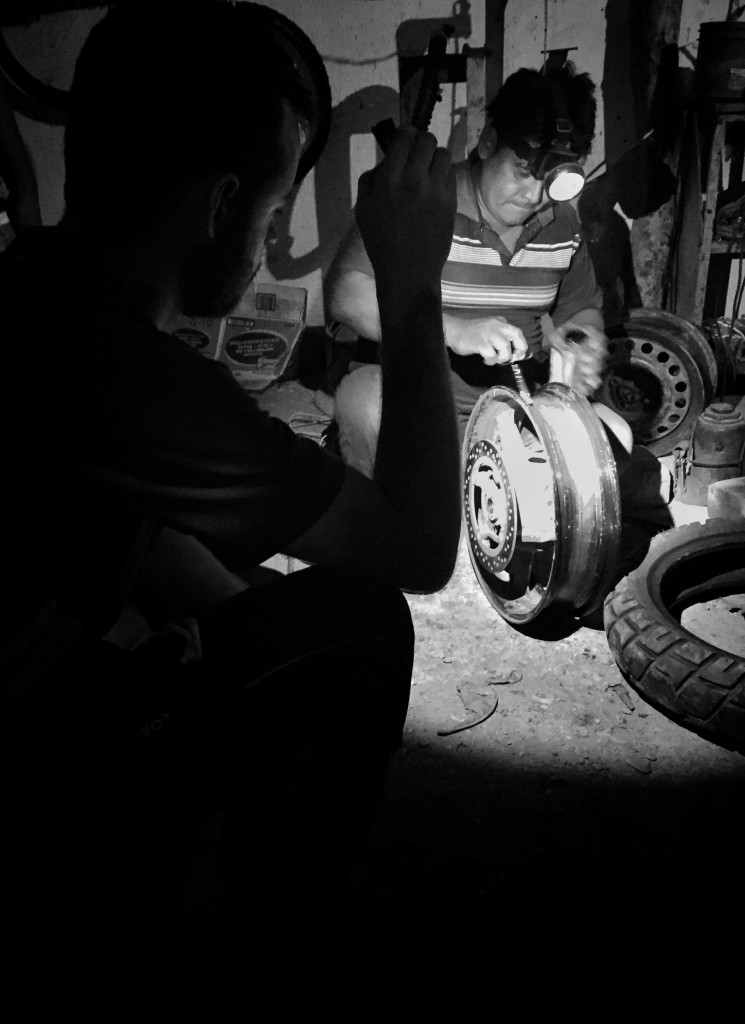 Afterwards we grabbed some tacos to refuel ourselves, took lots of pictures with locals, and headed out to start the journey to Tuxtla. Thankfully the remainder of the journey was mostly issue-free. We did hit a patch of rain that seemed to sit in the air and stick to your shield like glue but compared to everything else, this wasn't an issue.
We pulled into the Hilton Garden Inn around midnight, the staff likely wondering who the hell we were, a massive contrast from their usual guests. The accommodations there were far above what we were used to, comfortable beds, a pool, all very much appreciated. The next day we woke up and grabbed some tacos at a nearby place. It happened to also be my birthday so I vowed to eat ice cream with every meal. My birthday ended up being quite relaxing which I didn't mind one bit. We ate a massive pile of family-style meat for dinner coupled with ice cream afterward.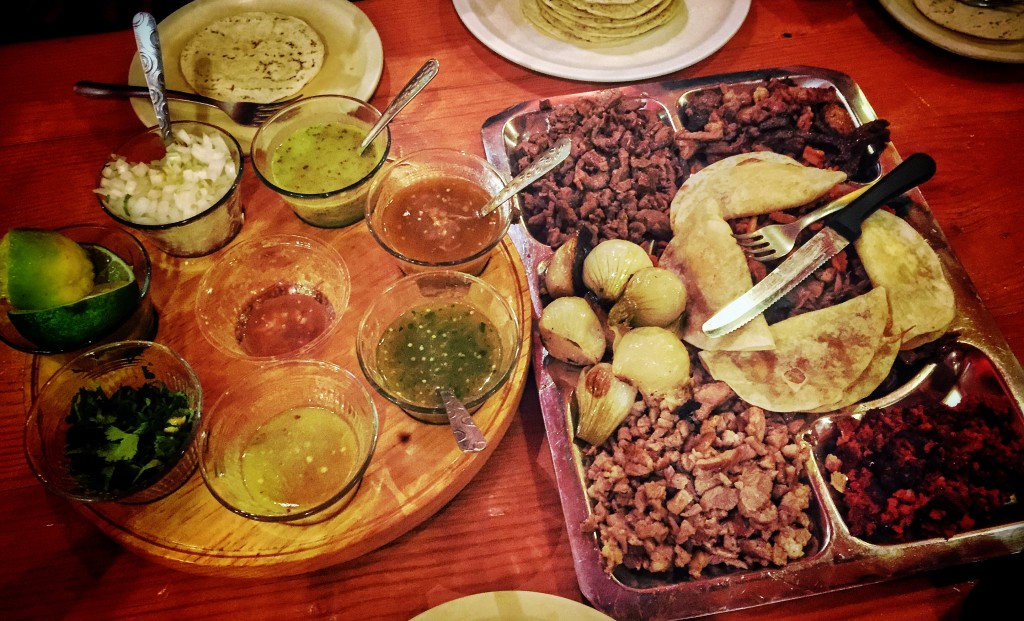 On Wednesday Matt and Tim got went to get Matt's broken chain adjuster welded while I packed up our things. On our way out of Tuxtla, we visited Sumidero Canyon which I believe is the second largest canyon in the world, after the Grand Canyon. It was extremely impressive and I could help but feeling that it's almost impossible to capture a place like that in a picture, you have to see it firsthand. We stopped for gas before heading to San Cristobal when Matt's bike decides not to start. We jump it and begin riding. A half hour later, I hear over the intercom "my gauges aren't working and the bike is running oddly." A mile down the road Matt's bike will no longer run. We jump it again, it dies another couple miles later. This time Tim takes over, he makes it almost to our destination but the bike simply won't run anymore. We hook up a strap to my bike and I tow Matt's yellow steed the last couple miles to the first decent hotel we can find.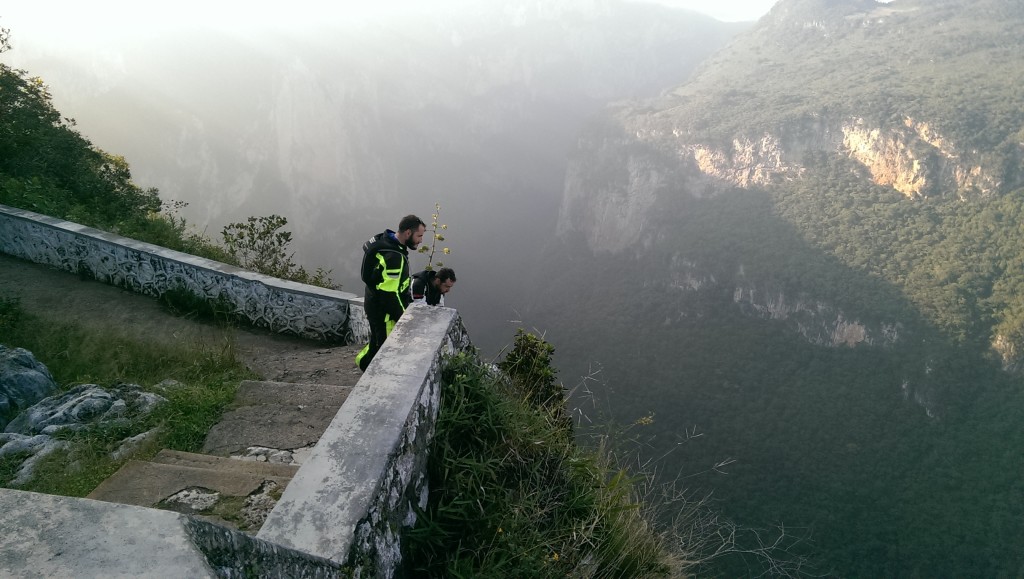 Once settled in, we opt to eat dinner at the closest place due to laziness and intense hunger. Thankfully, it turned out to be pretty awesome and pretty cheap.
San Cristobal is a small town with a neat historic vibe. Cobblestone streets, old churches, small shops and restaurants. Via advrider I realize that another traveler I have been communicating with is in town. Eric rides a KLR and was in San Ignacio, Baja while we were there. Unfortunately at that time, we didn't run into him.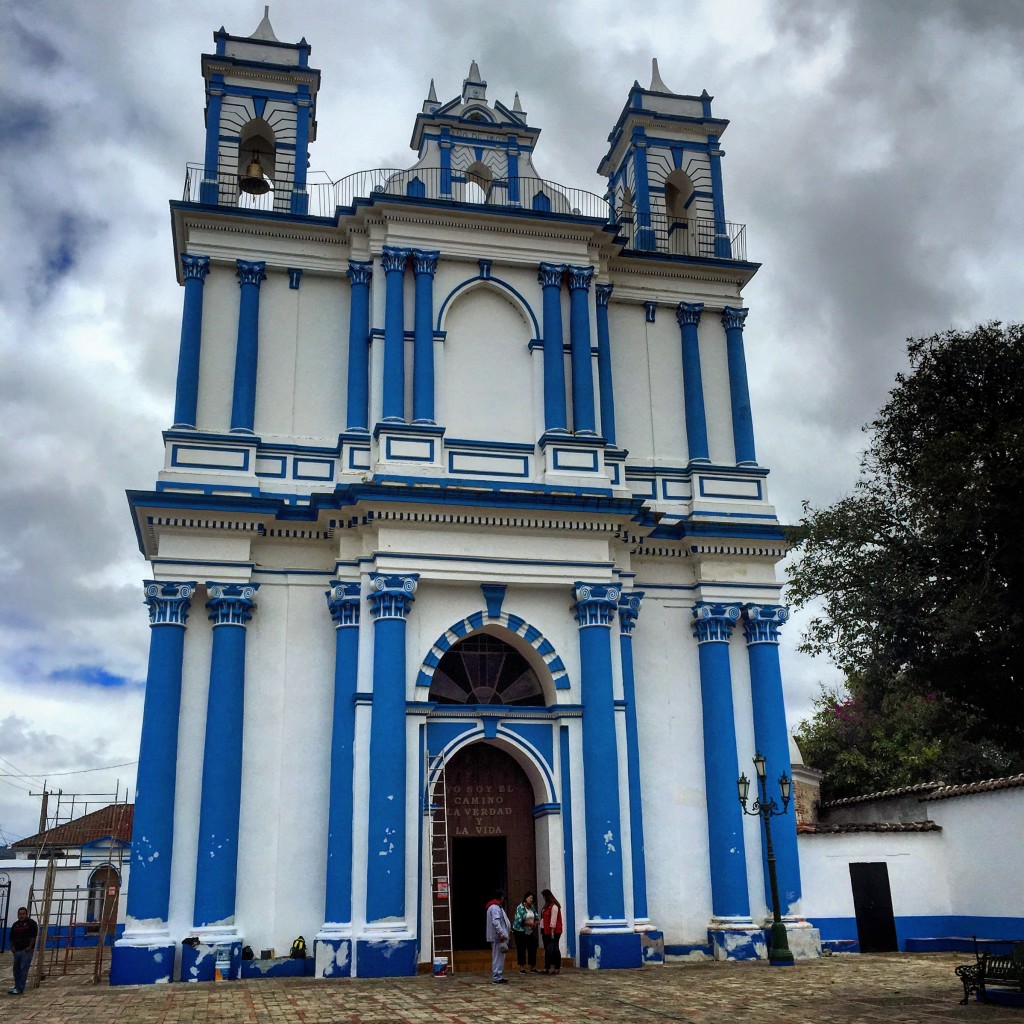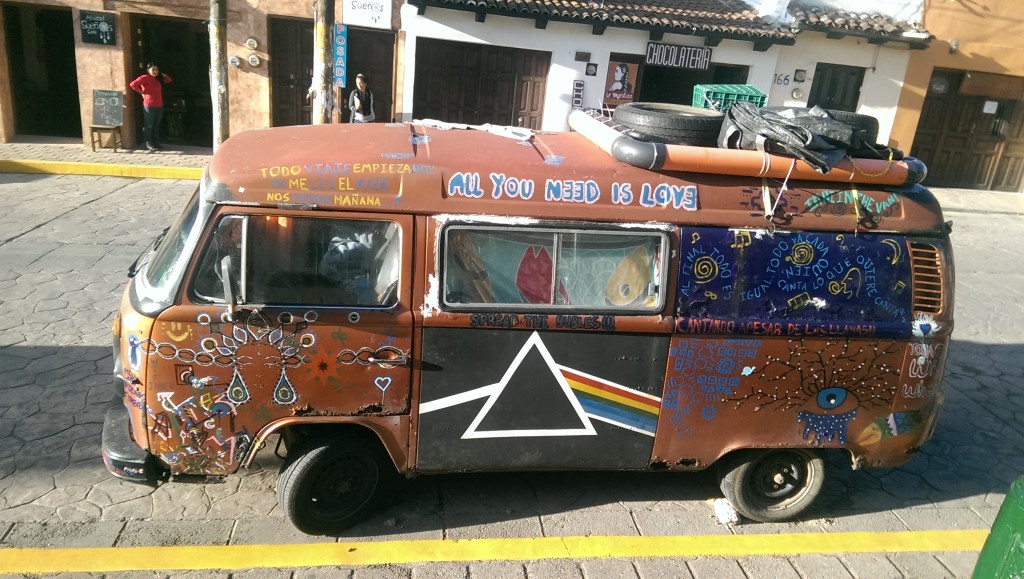 In addition to Matt's bike having some weird electrical problem, his clutch was also beginning to slip. We had ordered 2 in Baja so we had all of the parts needed (except a gasket) to fix his clutch. I got to work on the clutch while Matt went off to procure a battery. We figured it's always best to start with the easiest possible issue and a 7 year old battery was the likely culprit. Matt's battery search was facilitated by a local v-strom rider that graciously offered help to us.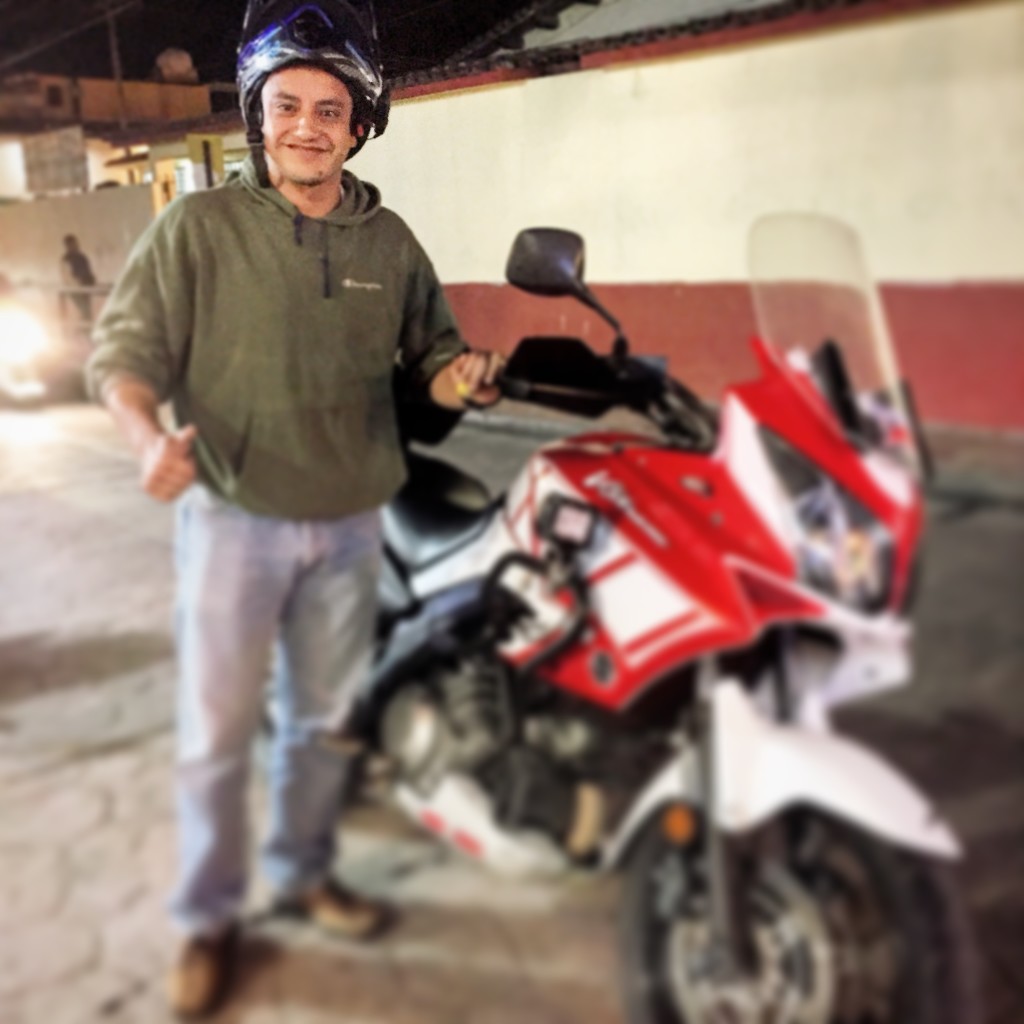 After I got Matt's clutch apart, the problem was readily apparent. The outermost friction plate had lost all of it's material and had galled the pressure plate. Most likely, the inner plates had been sticking together leaving only one plate to open and close. Since the pressure plate is a part we would have to order, Tim and Matt took the part to a local "Torno" or lathe shop and Tim manned the controls to get the part back to usable condition.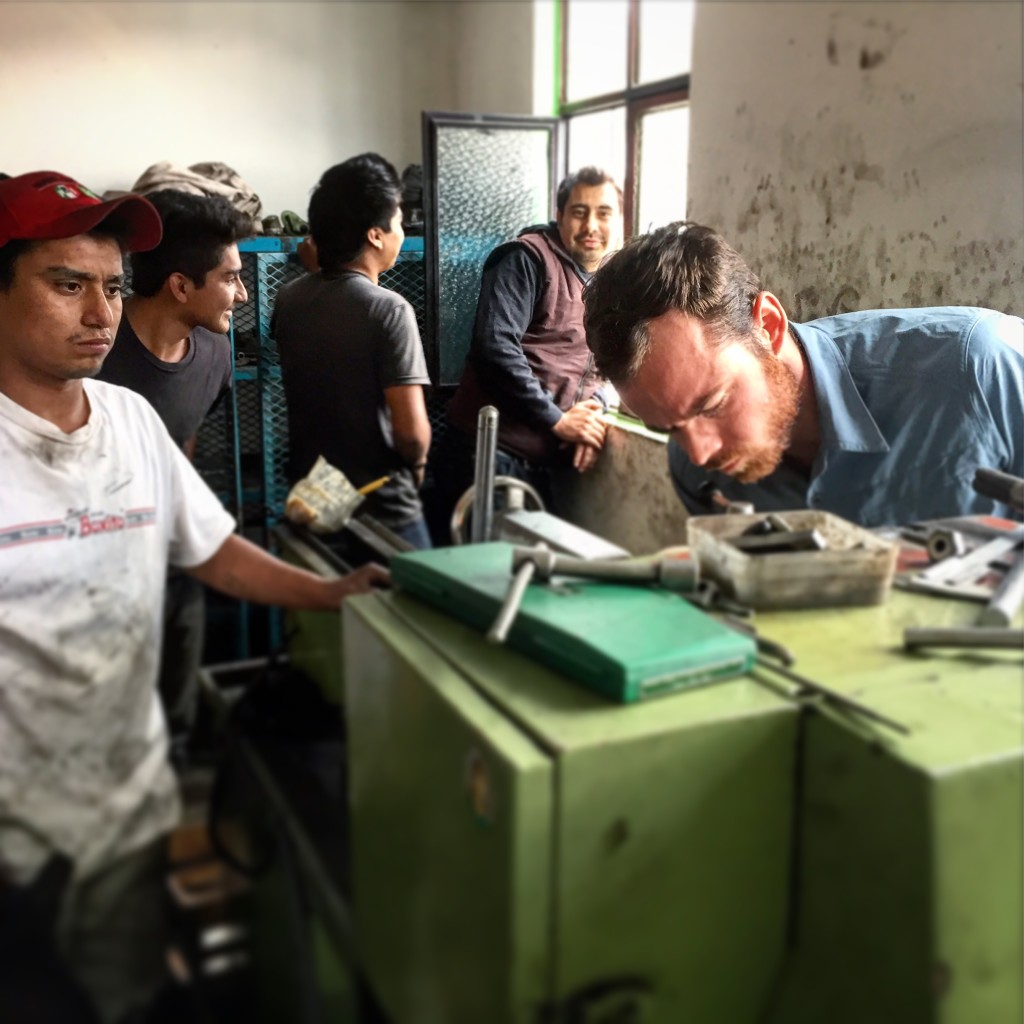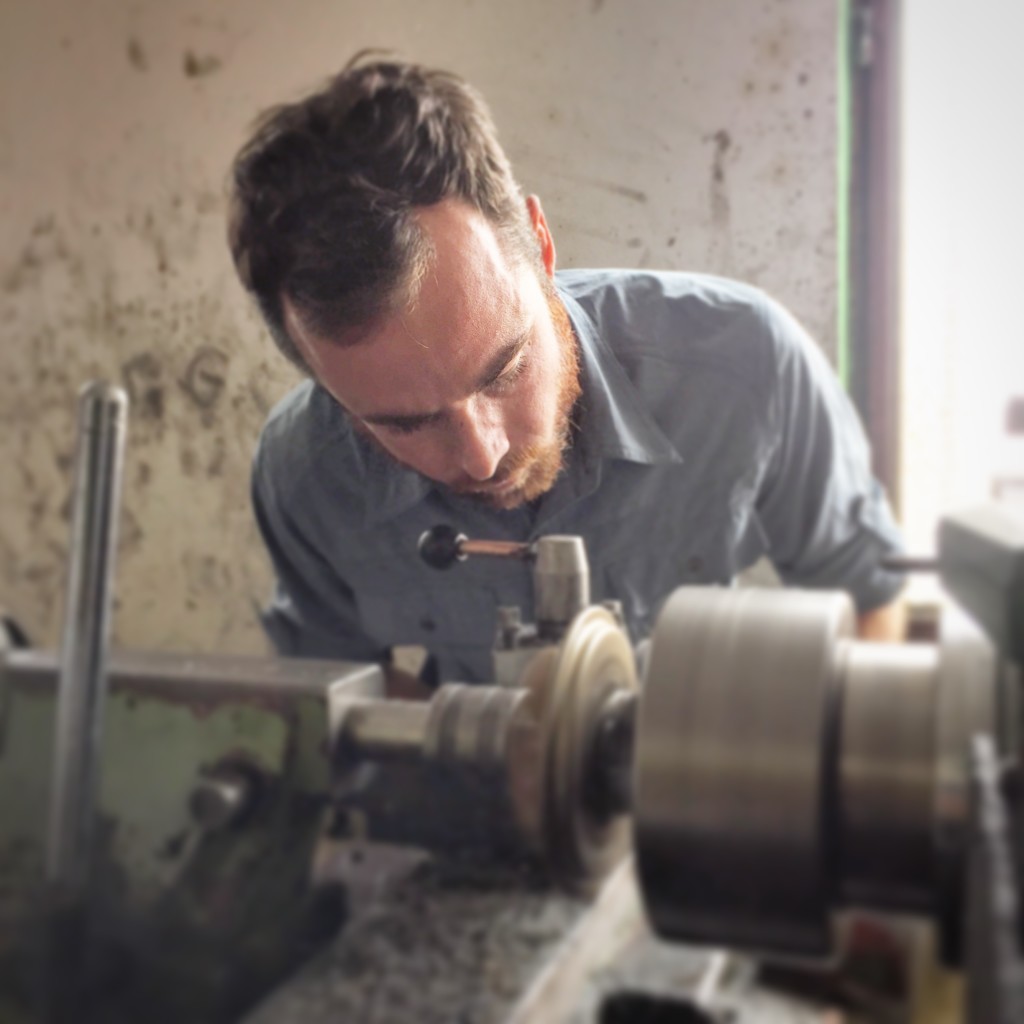 [Quick clutch lesson A clutch transmits power from the engine to the transmission which ultimately turns the rear wheel on the motorcycle. The clutch is comprised of a series of friction plates made from cork and alternating steel places. A rod operated from the left handlebar pushes the clutch open to cut power from the motor and springs opposing the plates transmit power when the clutch lever is released.]
With the clutch back together, we explored San Cristobal for the remainder of the day. On Friday we headed out early towards the Guatemalan border. The road from San Cristobal was laced with an annoying amount of speed bumps, slowing our pace. About 25 or 30k from the city, Matt's bike died again. Obviously the battery was not the culprit. We pulled off the the side and began taking the bike apart to try to diagnose the issue. Unanimously we agreed that the task of figuring out the issue would be a lot easier with a multi-meter. Matt rode off on Tim's bike after getting directions from a local to the town that would have one for sale.
At this point, a big pickup pulled up and asked if we needed help. Armando stepped out and we felt saved, he spoke nearly perfect English. Armando hooked his truck up to the bike with jumpers and we started charging the battery, we still naively hoped that the battery simply hadn't been charged long enough. Matt had successfully obtained a multimeter. We threw the bike back together and Armando followed us to his town Comitan. Unfortunately the bike didn't make it and we were forced to put it in the back of a truck.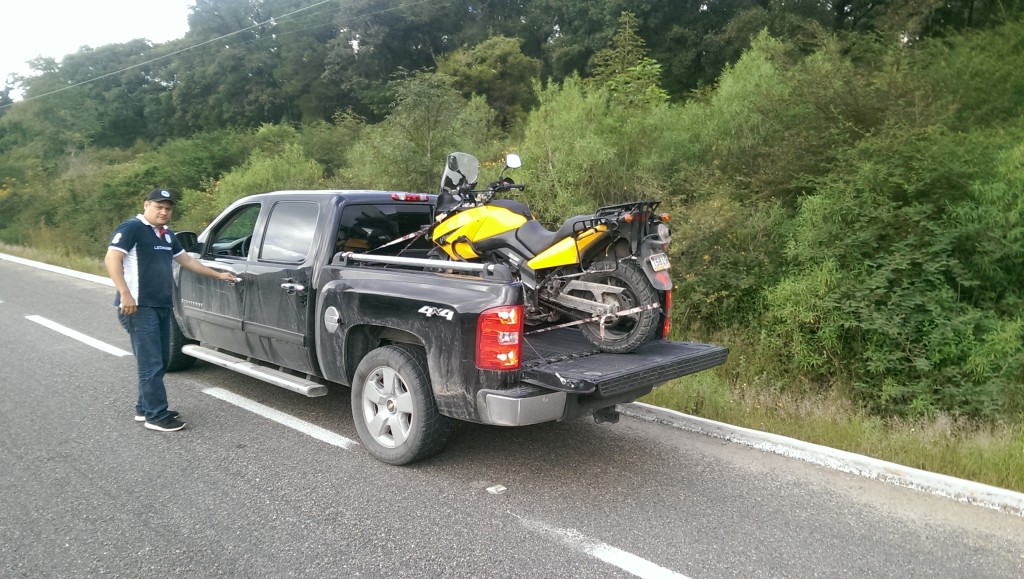 Once we made it to Comitan, Armando took us to a couple shops in an effort to solve the issue as quickly as possible. The mechanic climbed into the bed of the truck and with the bike running made the determination that the regulator/rectifier (controls voltage output from the stator) was at fault. With this information Armando brought us to a hotel he knew had wifi (and a parrot).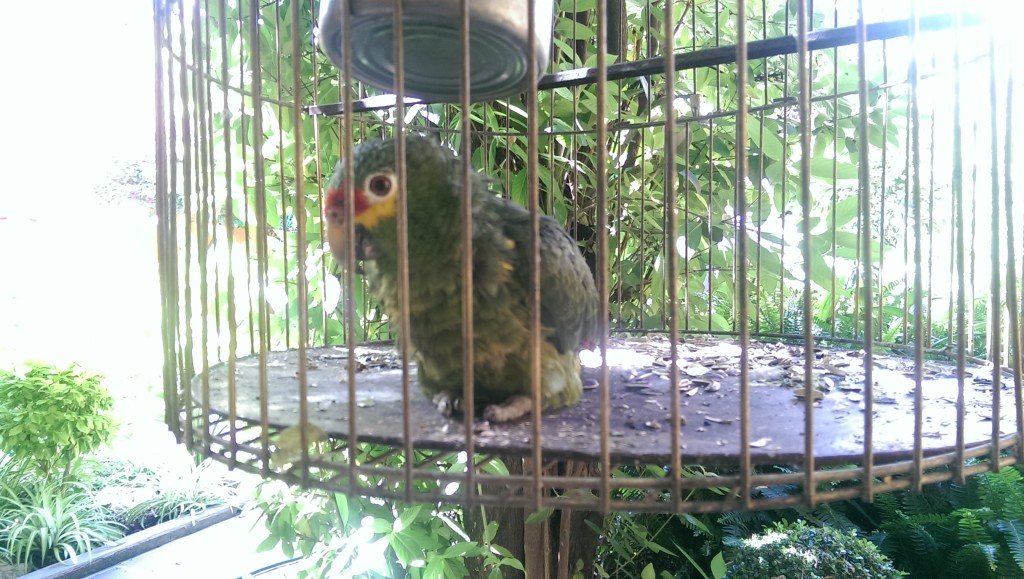 We took Matt's bike down, got out the service manual and began diagnosing everything. Our tests yielded a properly working R/R. Two main parts charge a bike's battery, the R/R and the stator. The stator is the equivalent of an alternator in a car, the difference being that it puts out a constant amount of power at operating speed, which is where the R/R comes in, to turn excess power into heat. Since the R/R tested good, we went to the most likely source, the stator. Matt's stator was burnt to a crisp. It was a little heartbreaking to see this part destroyed since we knew it would be difficult to obtain, but it also felt good to have figured out the issue.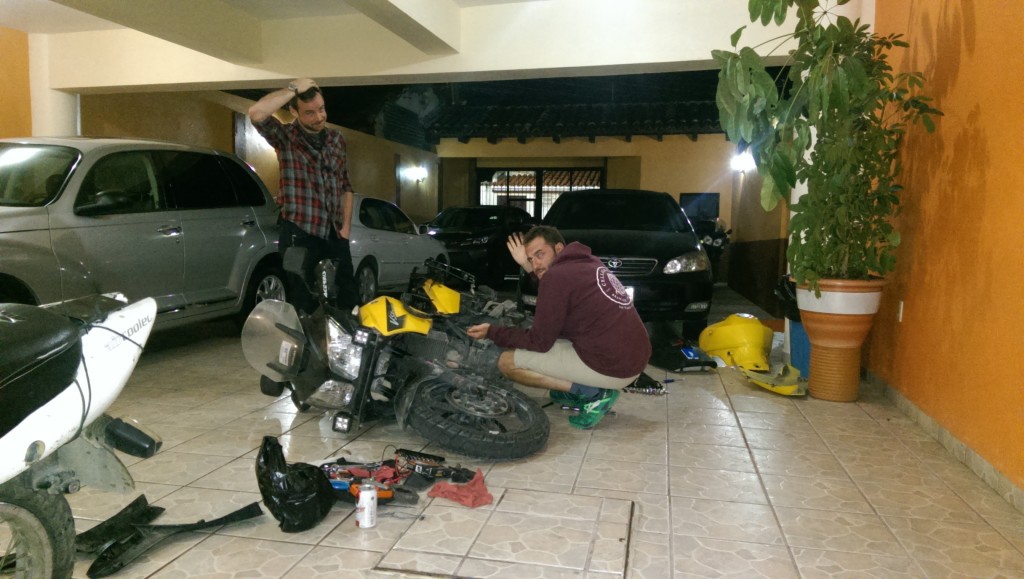 The next morning we met with Armando and his buddy for breakfast. Armando was confident he could find us a stator. After an hour or two, Armando had indeed located a stator, and it would arrive two days later on Monday. AMAZING! The shops we called all over had quoted us a week or more. The stator companies in the US quoted us almost two weeks.
We spent the rest of the day walking around seeing if someone would rewind our current stator, to have as a backup. We were unsuccessful in this endeavor but we were successful at losing a small metal clamp attached to the stator. We would worry about this later. That night Armando took us out to dinner with his family and friends to a famous local spot. We ate excellent food, had delicious desserts, and solidified a new friendship. Armando invited us to meet him this next morning at Oxxo (think WaWa) to meet his dirtbike crew.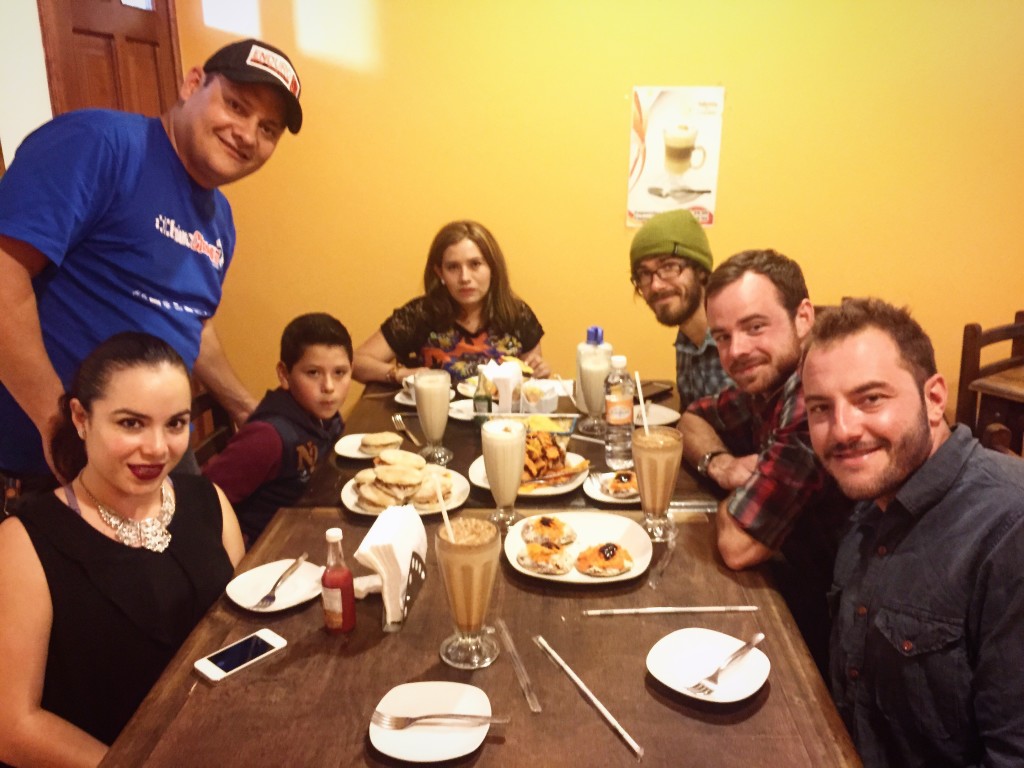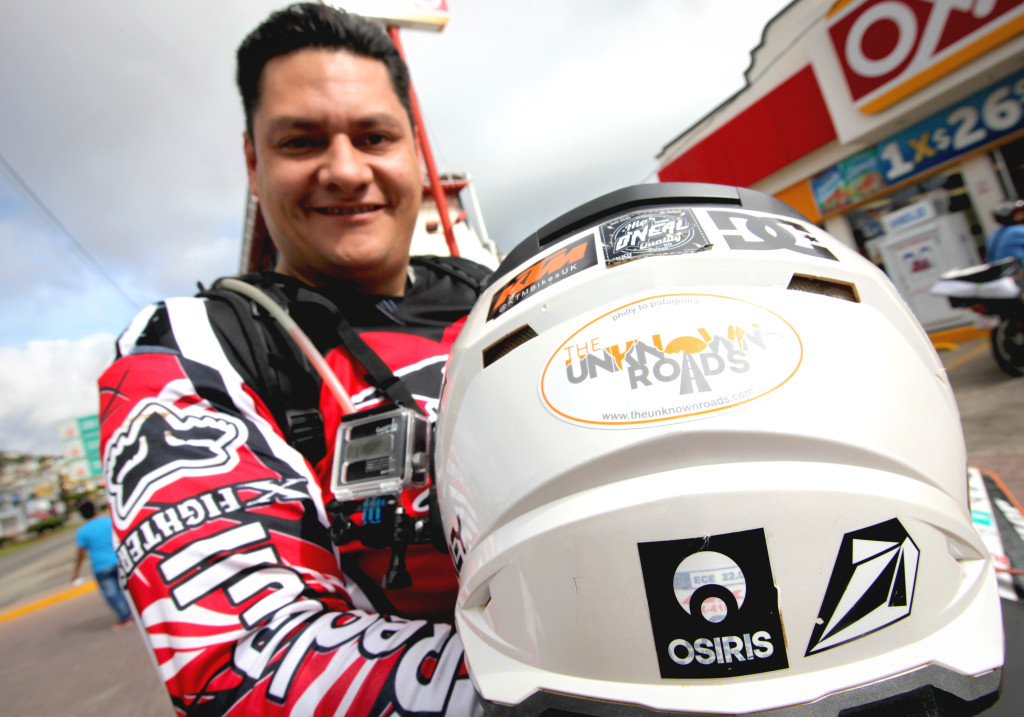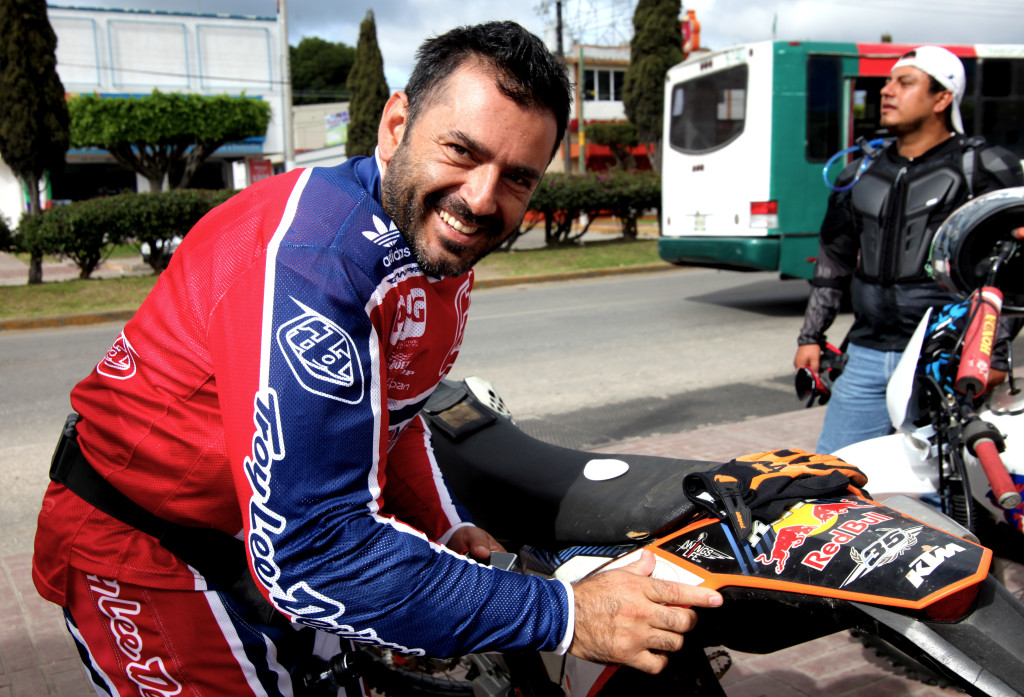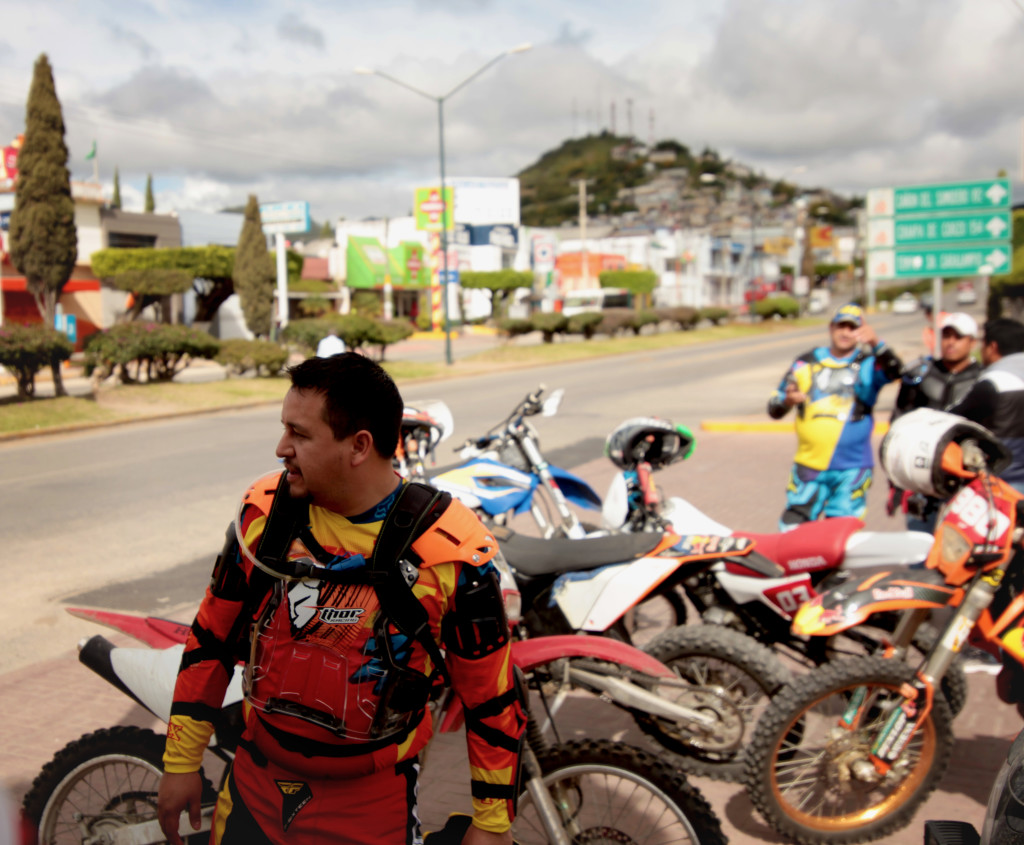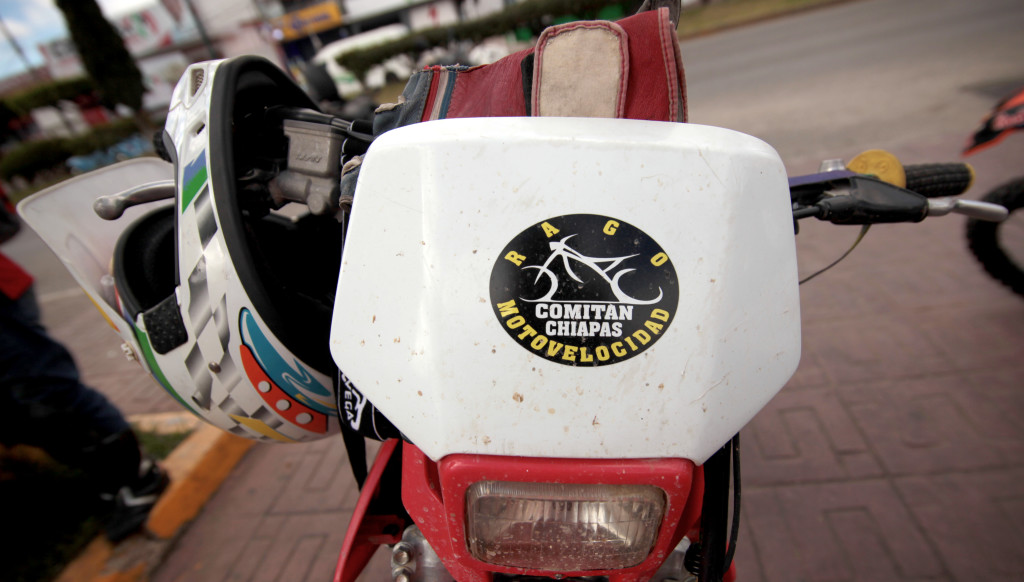 We arrived at Oxxo and 11 other bikes were there. KTM's, Husaberg's, Hondas all represented. We all exchanged smalltalk, us doing our best to speak Spanish, and them doing their best to speak English. Tim and I decided we'd join them for their ride and turn back when it got too difficult. The ride was fantastic. The trails surrounding Comitan are a dirtbiker's paradise. Technical rocky climbs, mud, ruts, descents and immense natural beauty.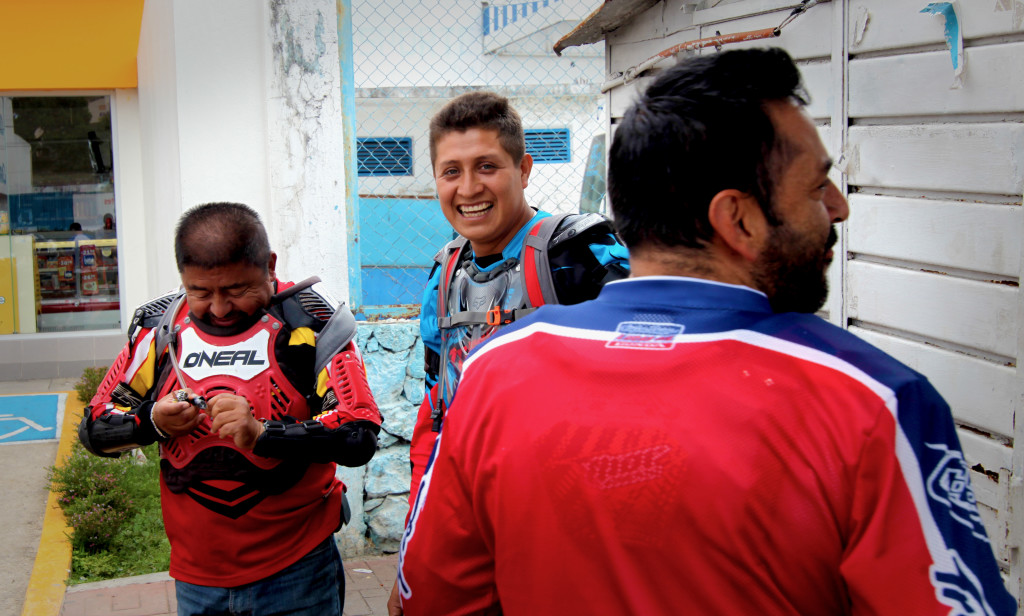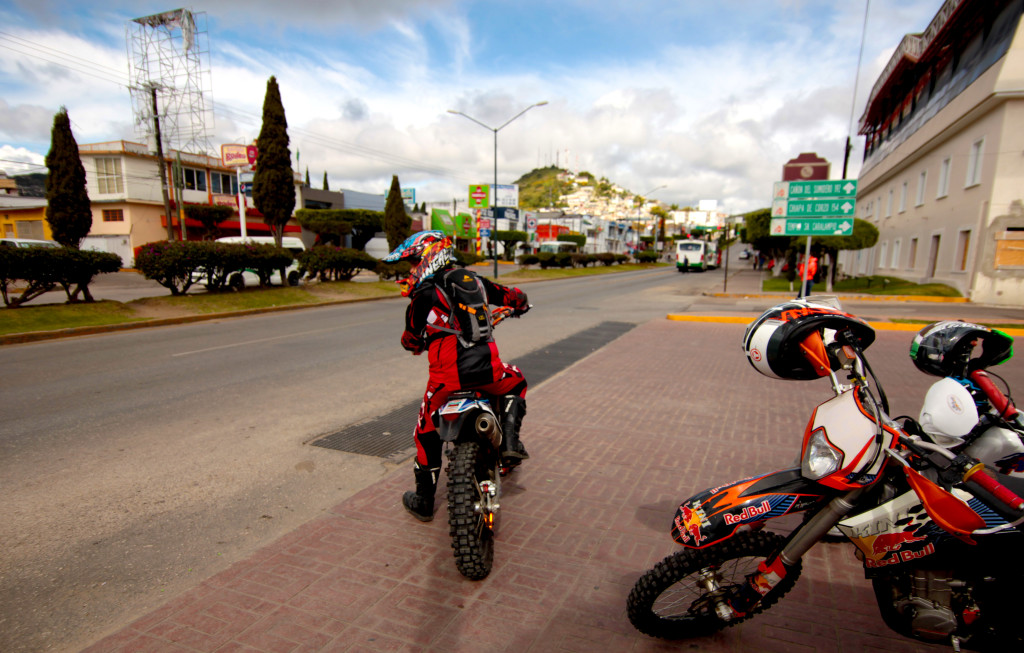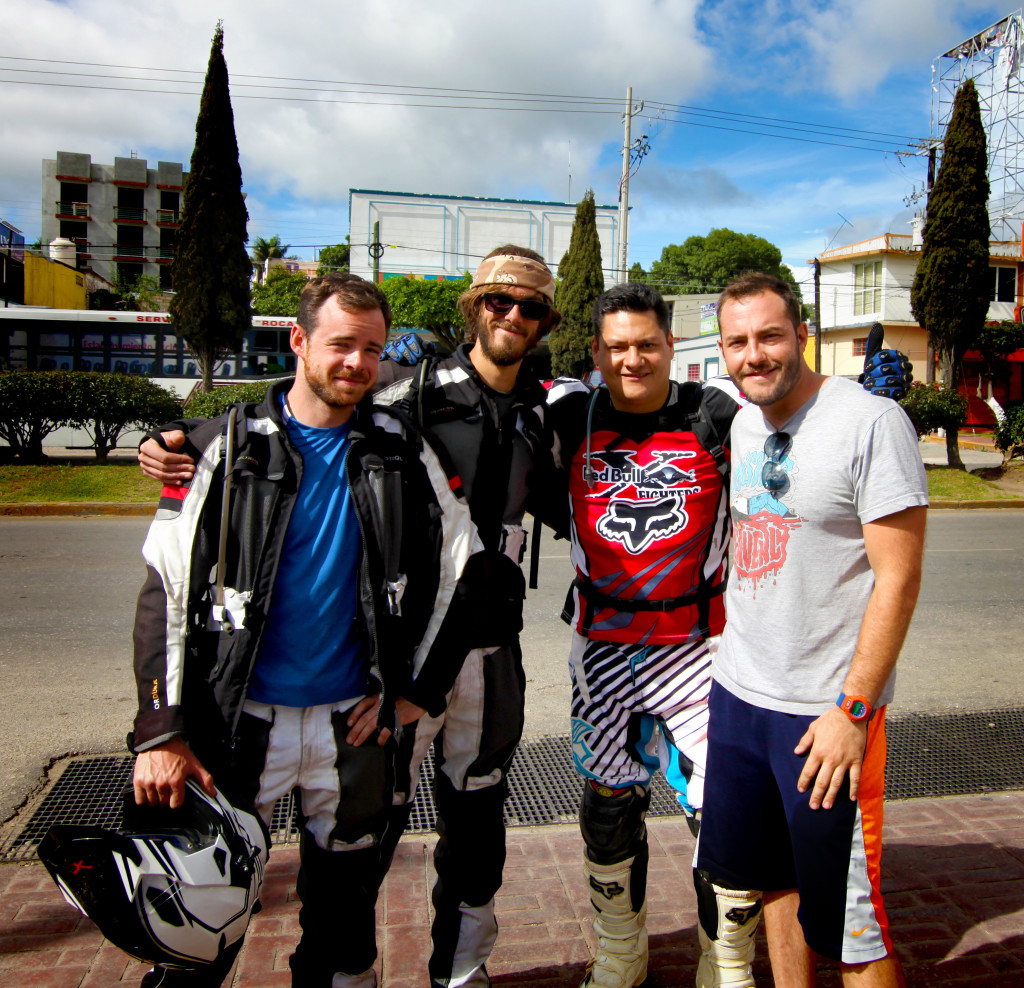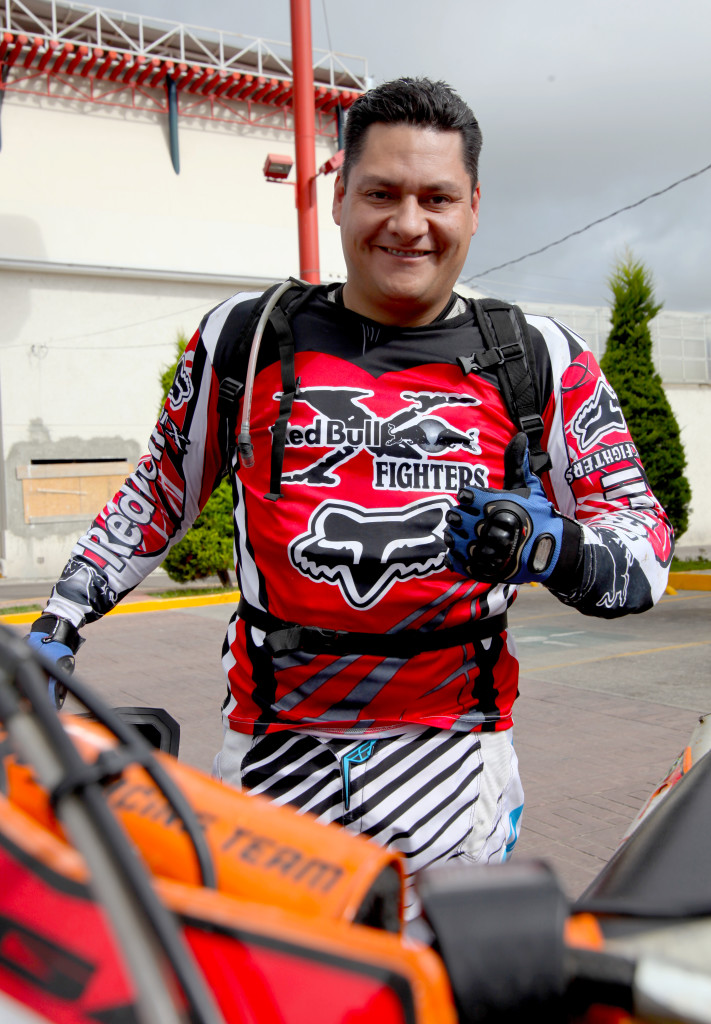 We had to beat on our poor Stroms hard in order to keep up but we did our best to preserve them for another day and to not slow down the group. It was refreshing to see these bikes being used for their intended purpose, and to see that our Mexican friends really knew how to ride them. Midway through the ride, the quad that rode with us suffered two flats (likely because he rode like an ANIMAL). We limped the quad into the town of Margarita and had the flats repaired. At this point Tim and I decided it was time to head back. While we wanted to finish the ride, we had lots to do.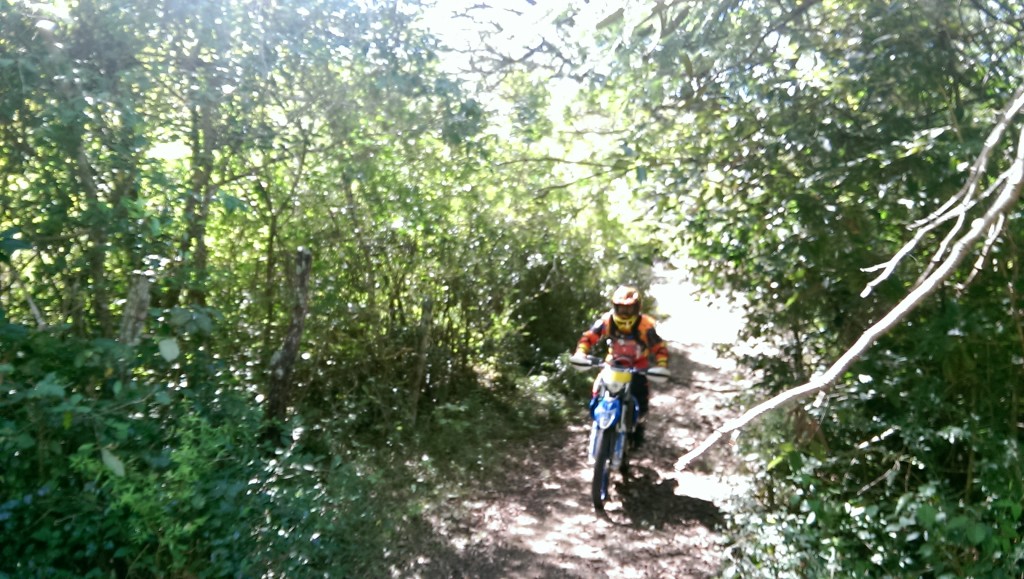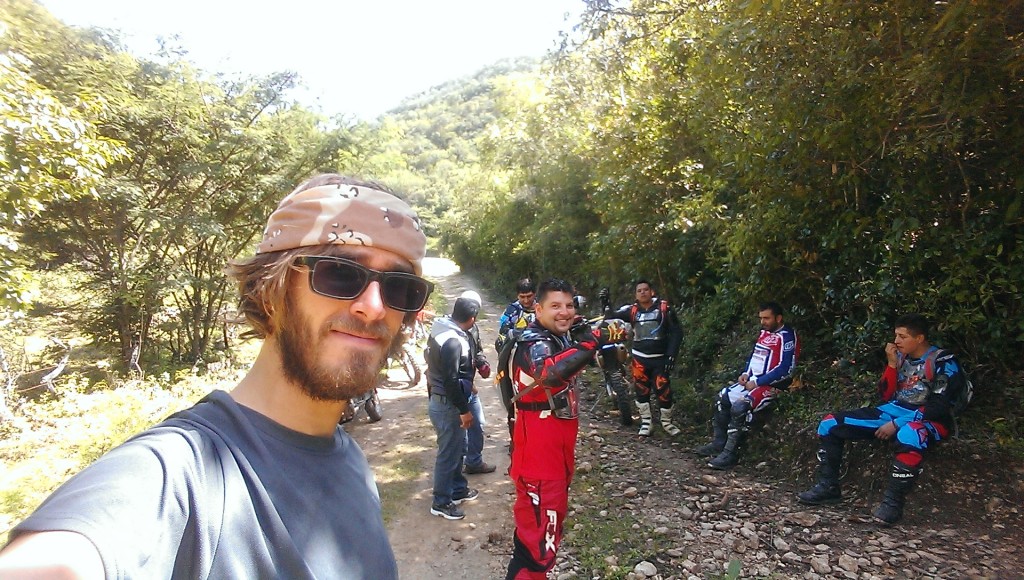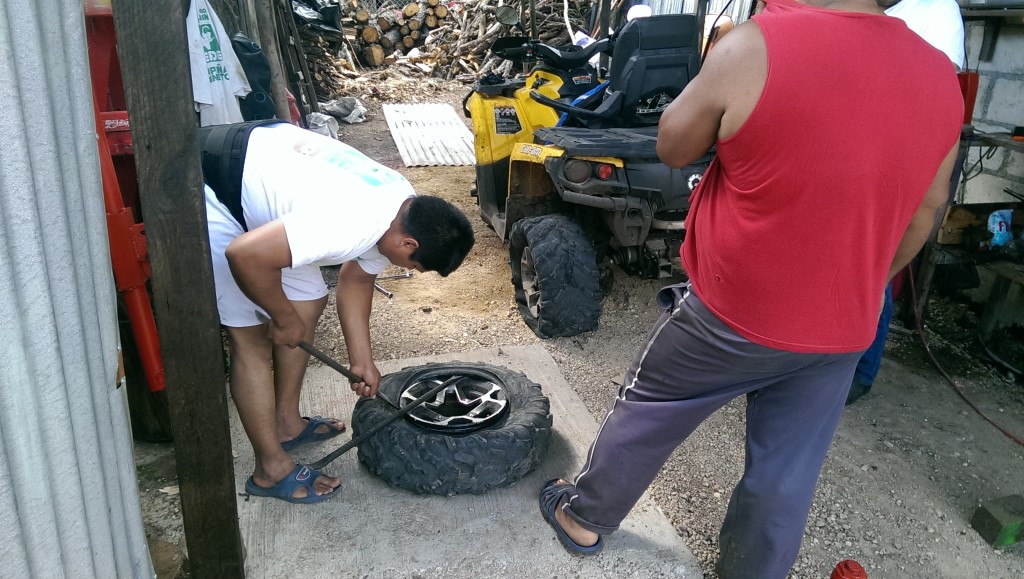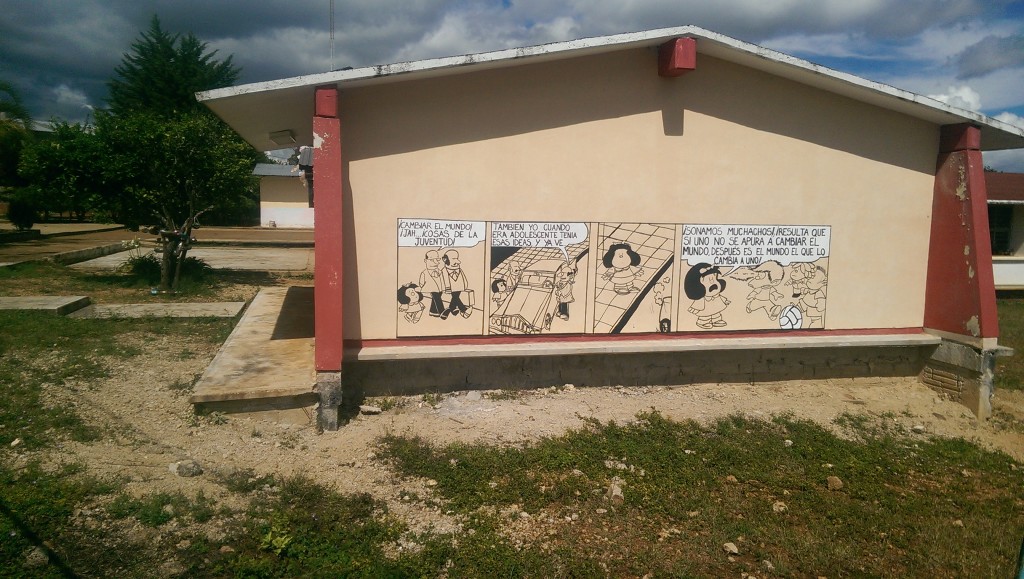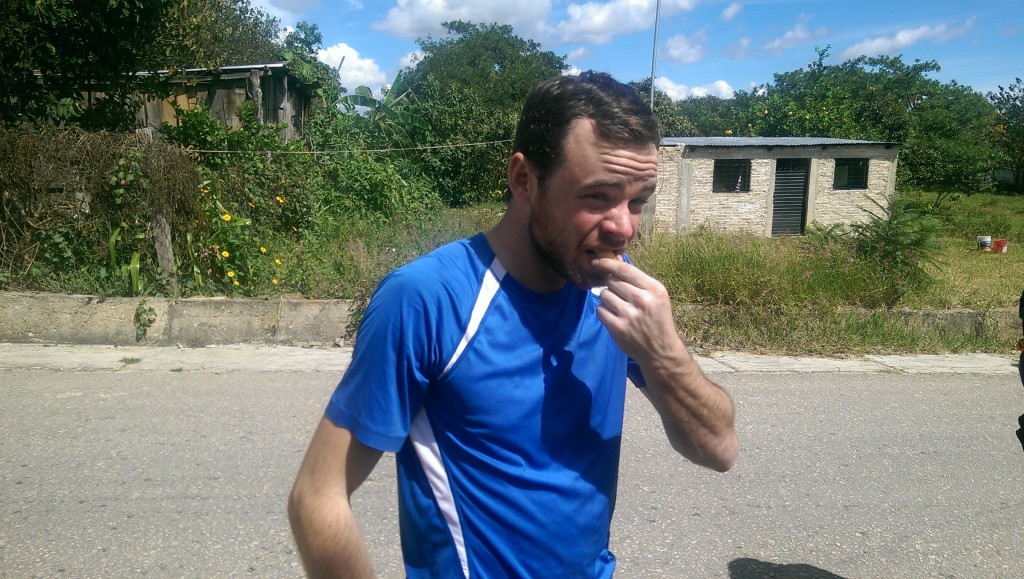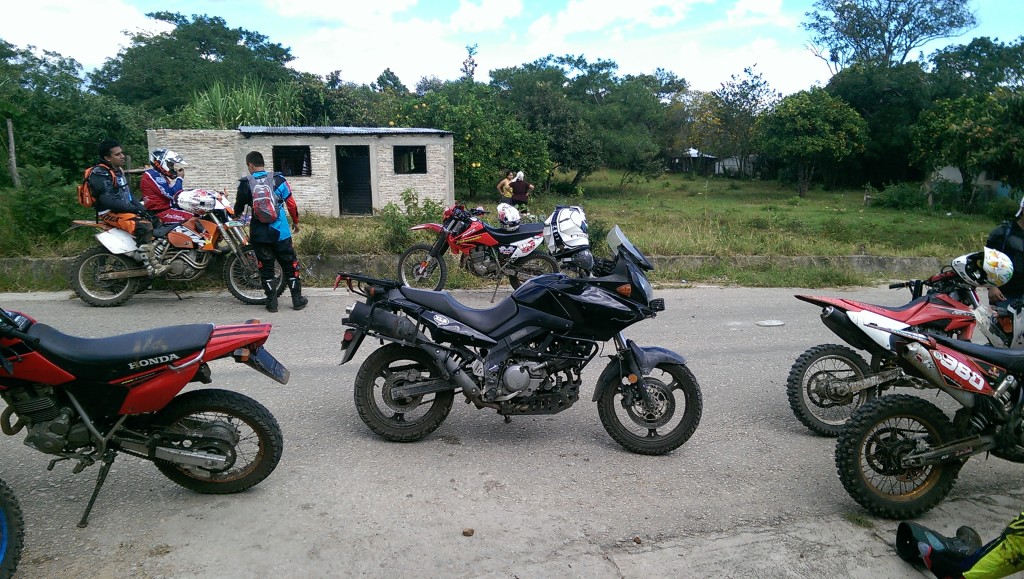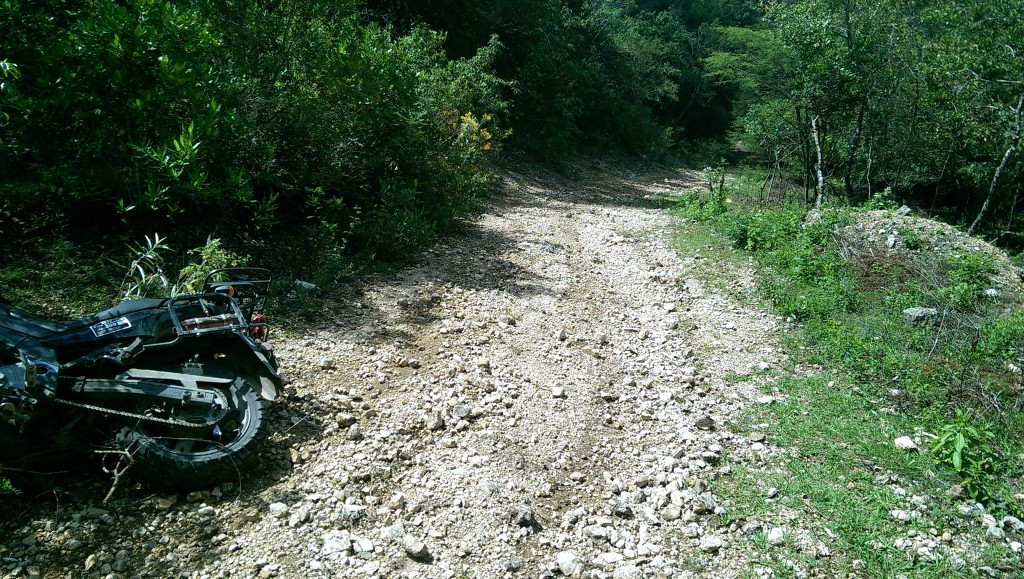 On our way back we stopped for Al Pastor tacos which ended up being absurdly spicy due to habaneros in the pineapple. A few hours later these tacos came back to haunt us with a vengeance. The pineapples which burned our lips and tongues while we ate them hurt worse coming back out our mouths and noses. Tim and I spent the rest of the night until morning in an awful hellish state of being.
Monday was D-day. Tim and I felt weak and tired from our previous night but we had to get Matt's bike fixed. The part that had been lost on Saturday had to be recreated today since despite all attempts, it was nowhere to be found. After a small verbal battle between Tim and I, Tim took the part out of his bike and they headed to a shop to get it made. Tim succeeded at making a damn near perfect copy of the part. Armando also succeeded at getting us the stator, basically he was a magician. We had the pleasure of seeing his home and meeting his tiny twins. These are the things I'll remember 20 years from now, the quick connections that can be made while traveling.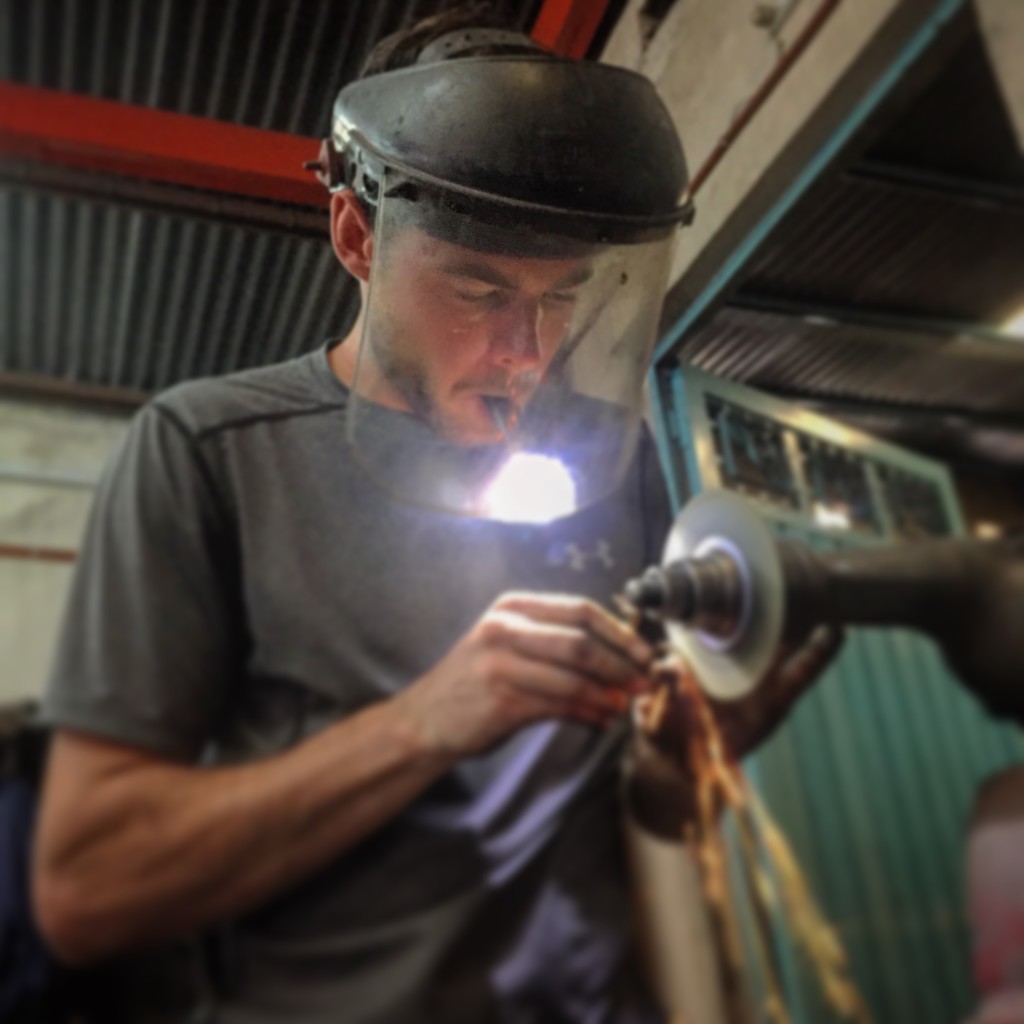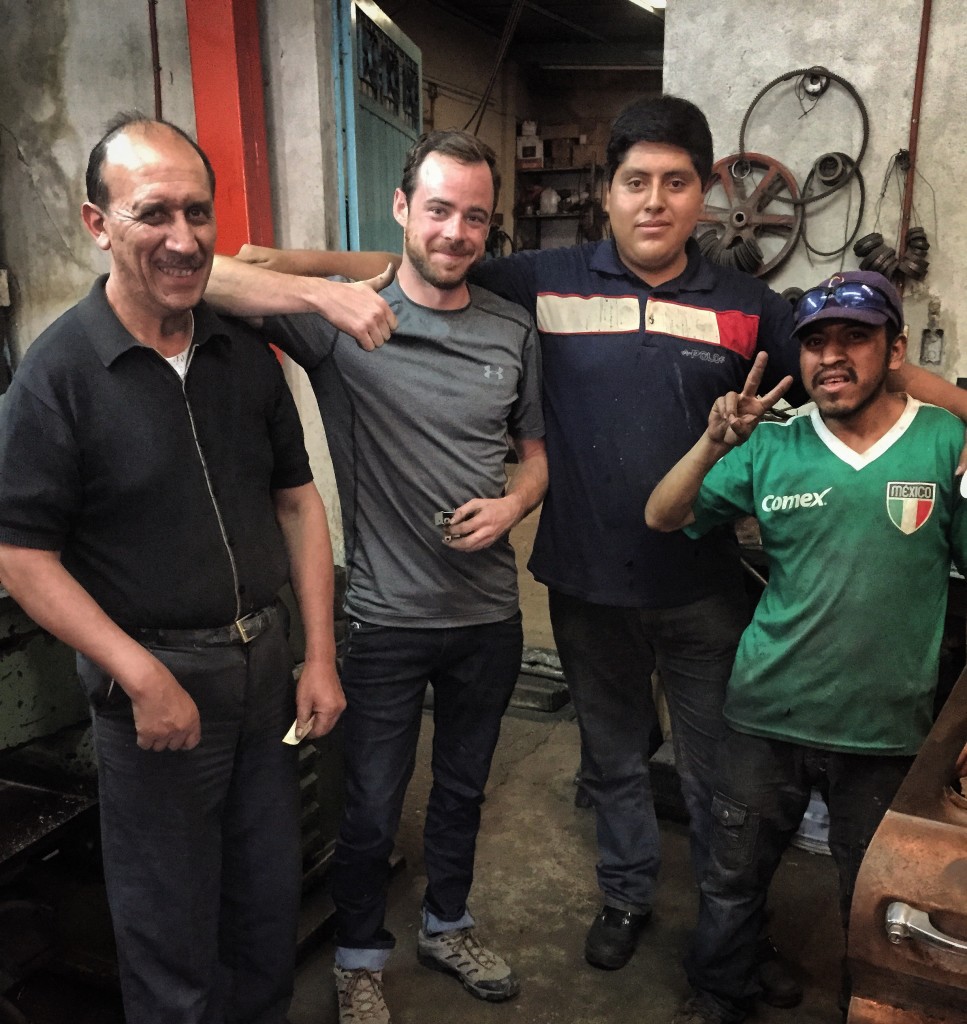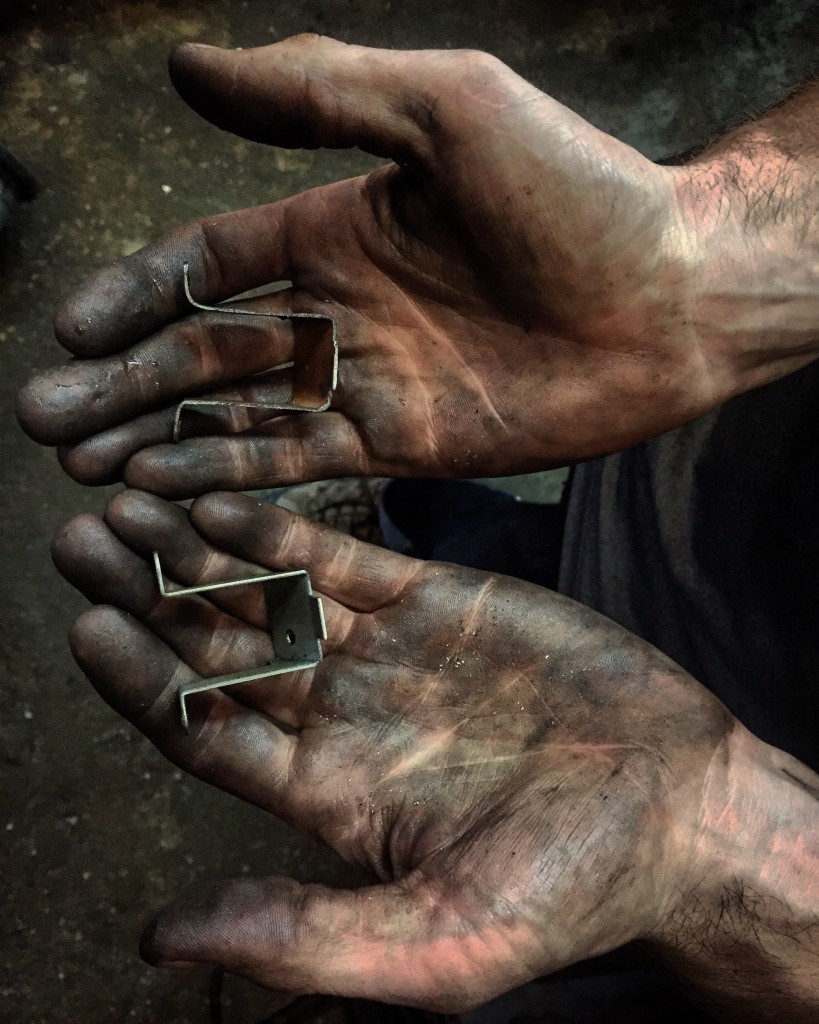 Armando and his buddy watched as we made quick work of reinstalling Matt's new stator. He commented how he would NEVER think of attempting this kind of work, especially in a hotel parking area. It had become almost routine for us. Once the bike was upright again….it worked! Thanks again for everything Armando, we hope you visit someday.
Tuesday we departed Comitan to head for the border (again). The border was supposed to be an hour or so from Comitan but we've learned not to put too much faith in time estimates here. Our short journey included massive road construction, a truck that lost its front axle/wheels blocking the road, and lots of parts of the road that turned to dirt.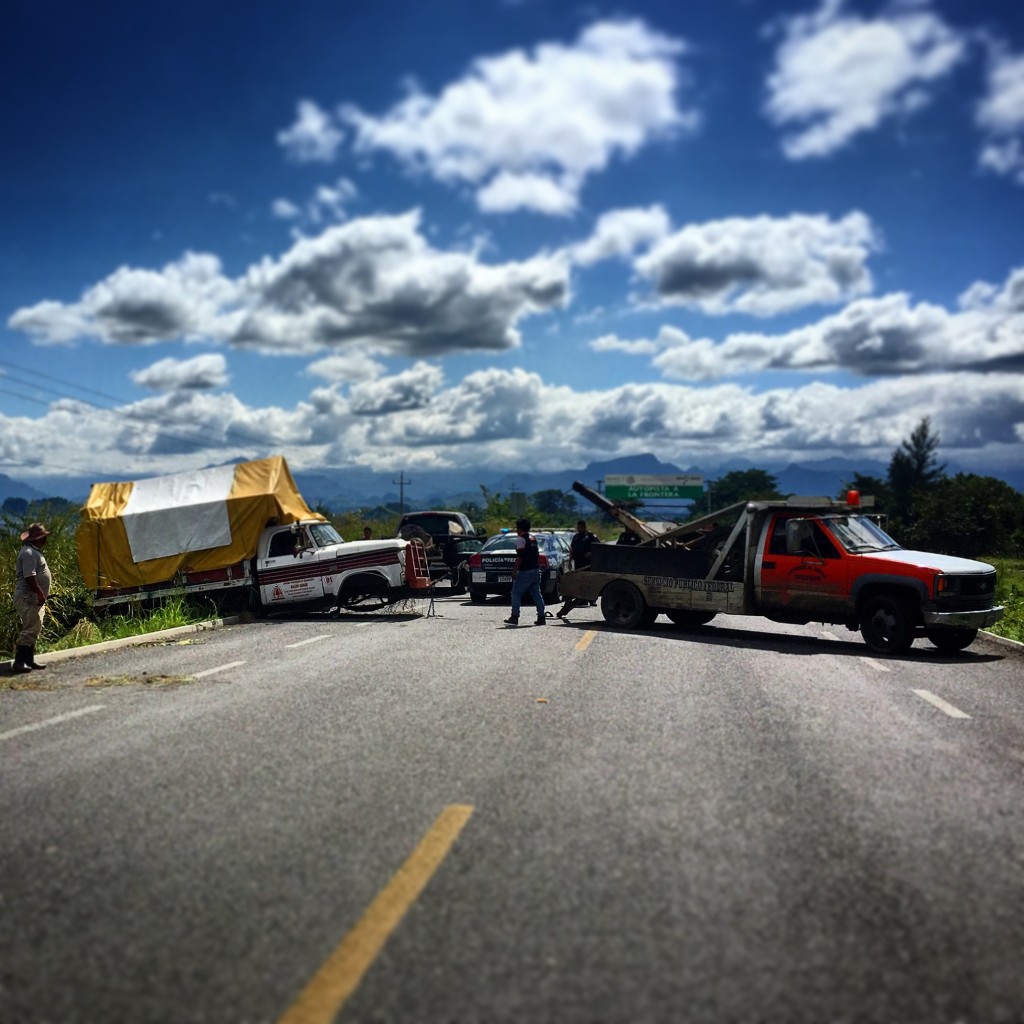 About 3 miles before the boarder we arrived at a small town. Our research told us that this was where we would cancel our vehicle permits, obtain our refunds, and get our exit stamps. Our research was correct. The border was quite chaotic. It's used as a major area of commerce between the two countries, from what we gather, you can buy just about anything you'd need here.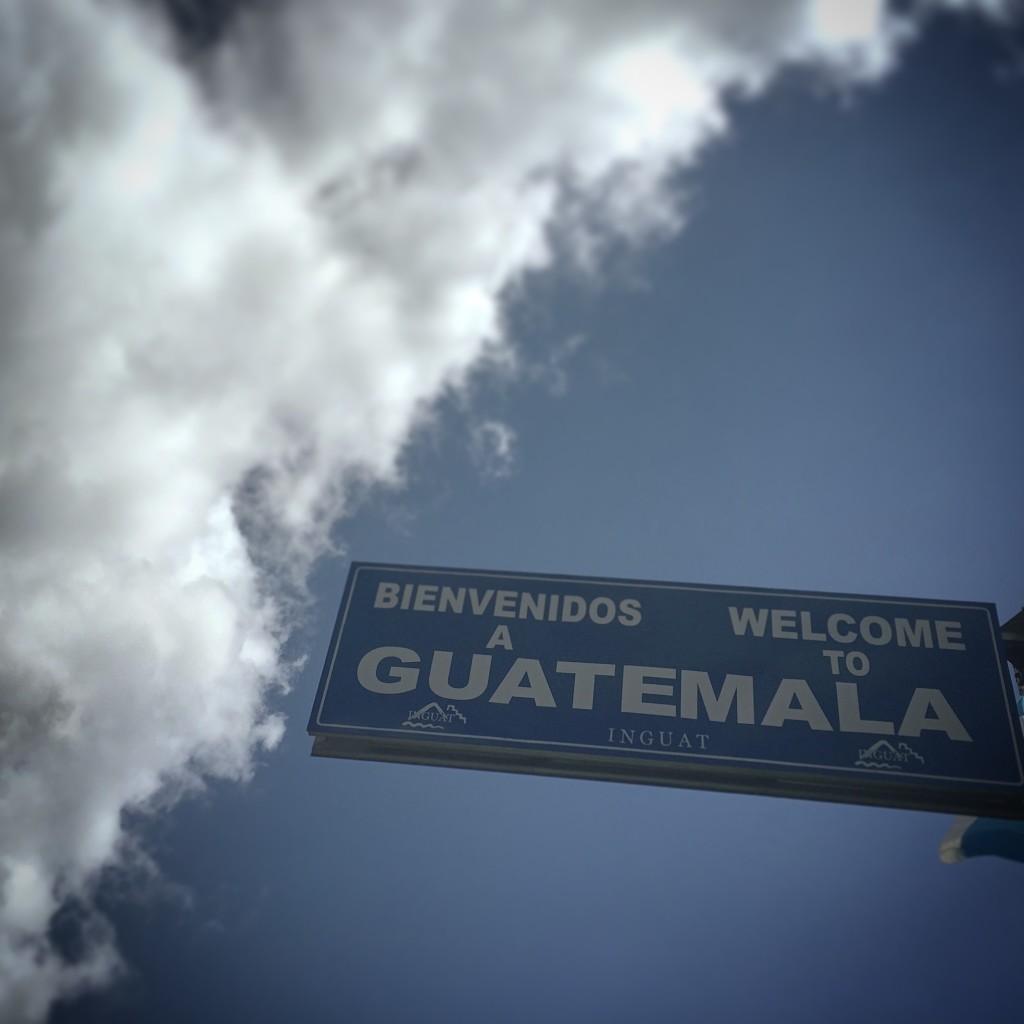 TUR Guide to Guatemalan Border Crossing:
1. Have your vehicle sprayed with random chemical
2. Pay for chemical spray (Note: no one ever asks for the very official receipt they give you, you may be able to not pay)
3. Bring all your documents (cancelled FMM, Passport, Driver's license, registration, title, etc) to office two doors down
4. Pay fee at bank next door
5. Receive vehicle permit and place on windshield
6. Ride under gate if they don't open it for you
The process took us about an hour to complete. During this time, small kids came and asked for money, asked questions about us and the bikes, and everyone seemed to giggle/smile a lot. We left the border and headed towards Xela, the first major city in Guatemala. The road to Xela is EPIC. Guatemala is like riding through a rainforest. Huge mountains surrounded the road and it was just extremely impressive. Every so often the beauty was tainted with piles of burning trash, something I found to be most undesirable.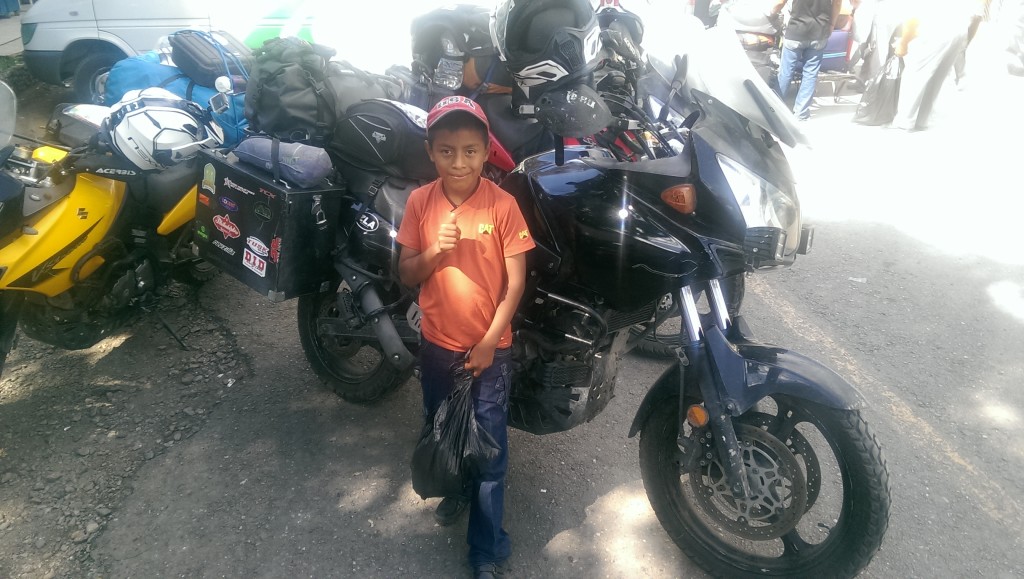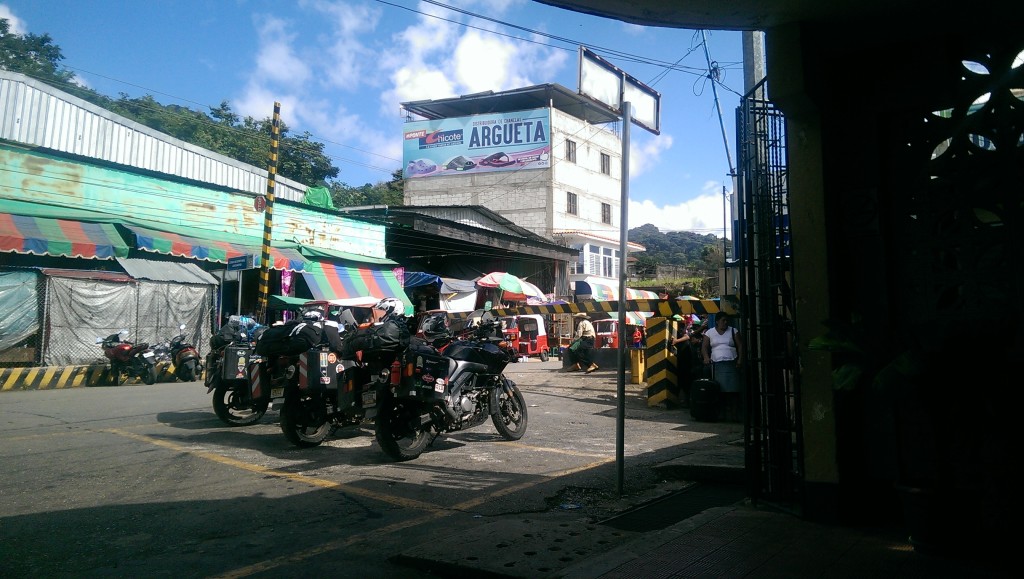 Xela is at elevation and so the temperature dropped quite a bit. Our first stop was at a McDonald's for internet as we had been trained to do. Unfortunately it is not standard practice in Guatemala for everywhere to have internet, like it is in Mexico. Confusion ensued for the next hour or so until we ended up at a local mall. I stayed at the entrance and watch the bikes while Matt/Tim went inside for internet. While waiting I felt like a celebrity. Everyone smiled and laughed as the walked by me, people would come up and ask me questions. People even took pictures with me. I'm not sure if this was because I'm white or roughly a foot taller than the average person here.
We left the mall and headed to our freshly booked hotel. We were their only guests and so we got a nice big room. In the morning we headed out in search of coffee and food. For the first time on the entire trip, we ate bagels, very good bagels. Oh and they had these little cookies just like my mom makes.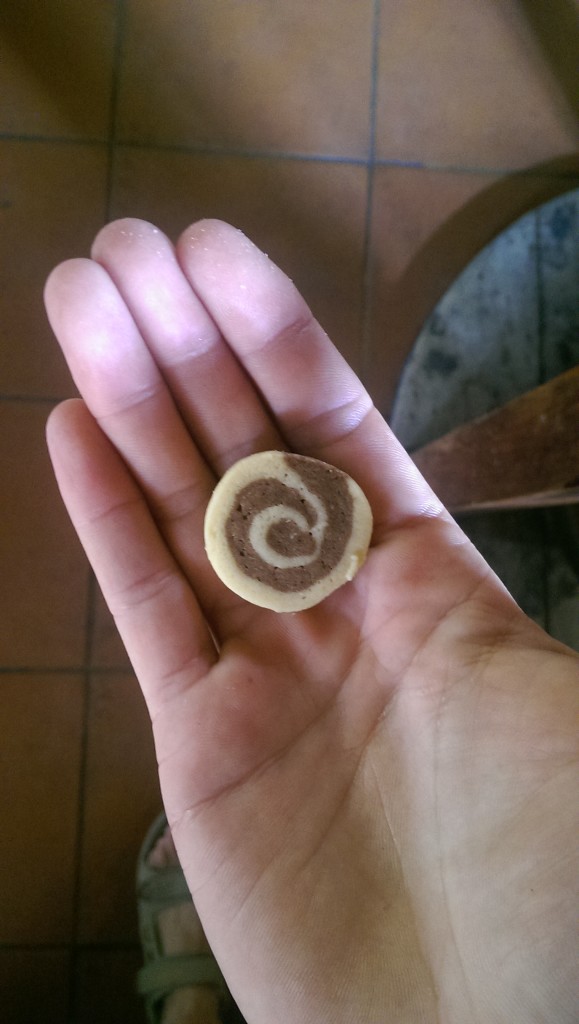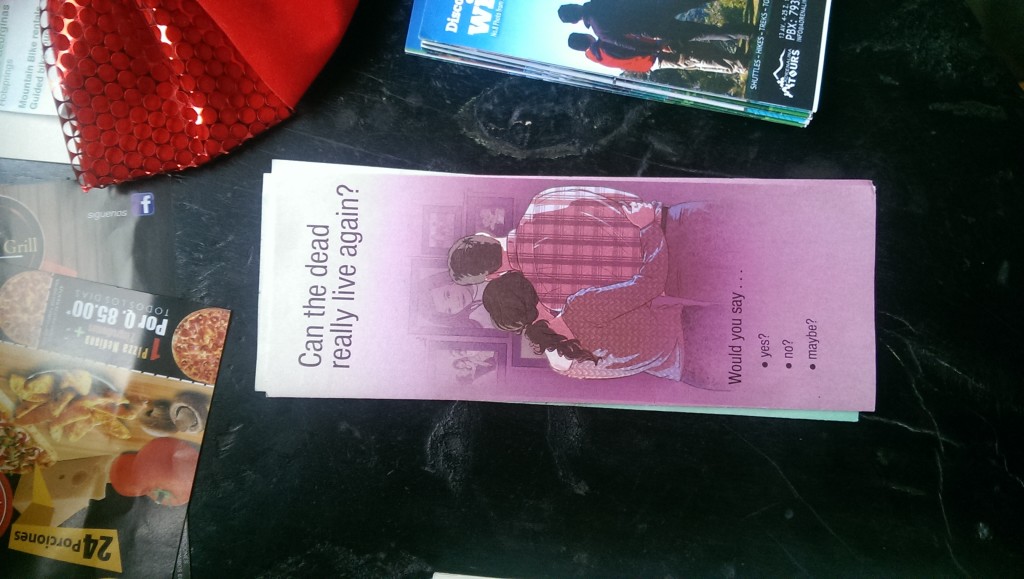 We decided not to stay in Xela, instead we'd head to Angtigua for a week of Spanish lessons. Se habla espanol?