Guatape to the border
With Medellin to our backs, Matt and I snaked our way through the early morning traffic to escape the grip of that awesome city. Guatape wasnt far, but with our final destination being Bogota, we needed an early start and a quick pace.
The twisty road from the highway led us to the town of Guatape by 9am, just in time for delicious and massive breakfast. We even shared a smoothie, how cute of us.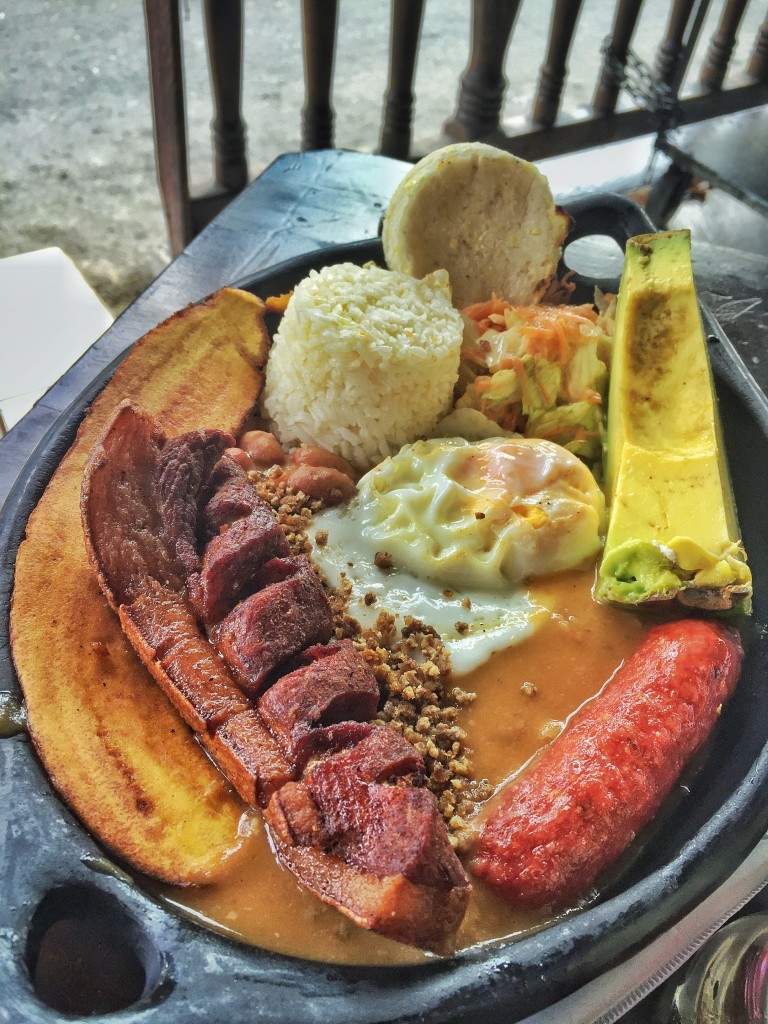 This is Bandeja Paisa, an awesome typical dish of Medellin. Breakfast…probably not…but muy fuerte and delicious!
3 types of meat, rice, beans, fried egg, an arepa, plantain, avacado and a touch of salad because… ya know it's healthy.
So what draws one to Guatape you might ask? A gigantic rock that overlooks an incredible expanse of lakes. A man-made staircase on the side of the rock brings you 740 stairs to the top where you're treated with the view we attempted to capture below. 740 stairs back down and we were back on the bikes before 11 with Bogota in our sights.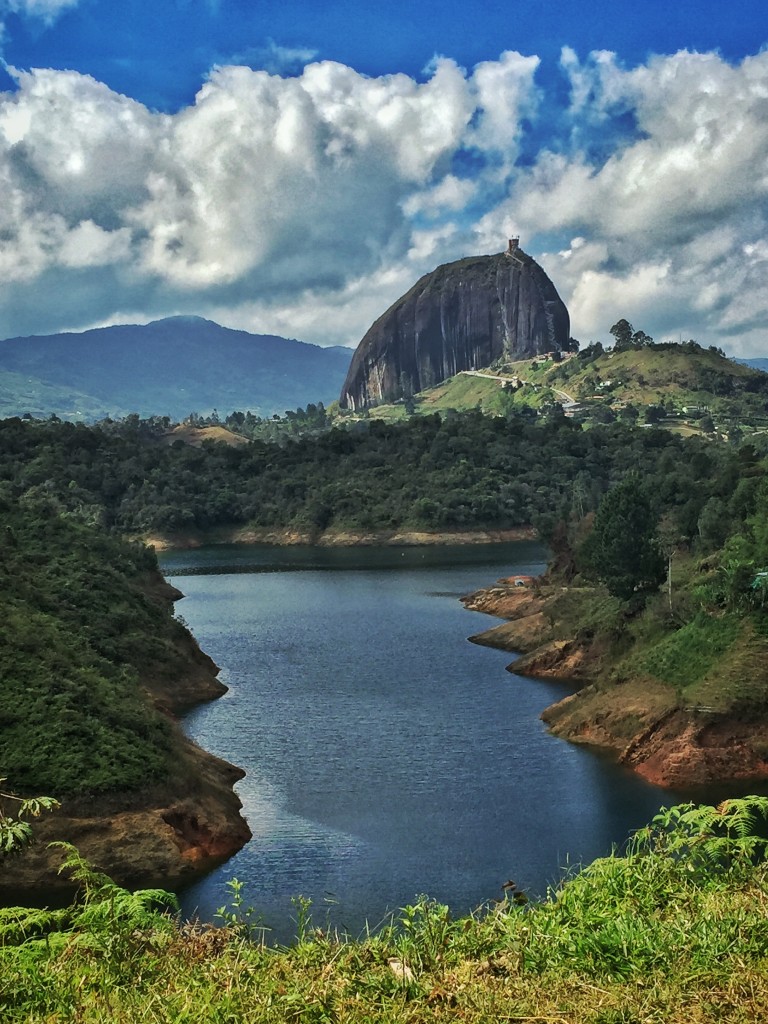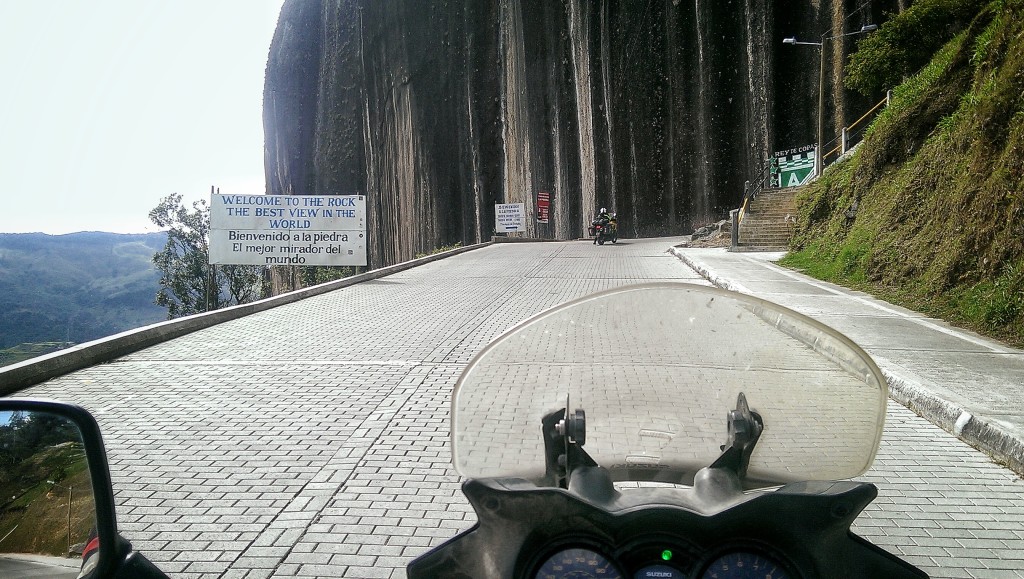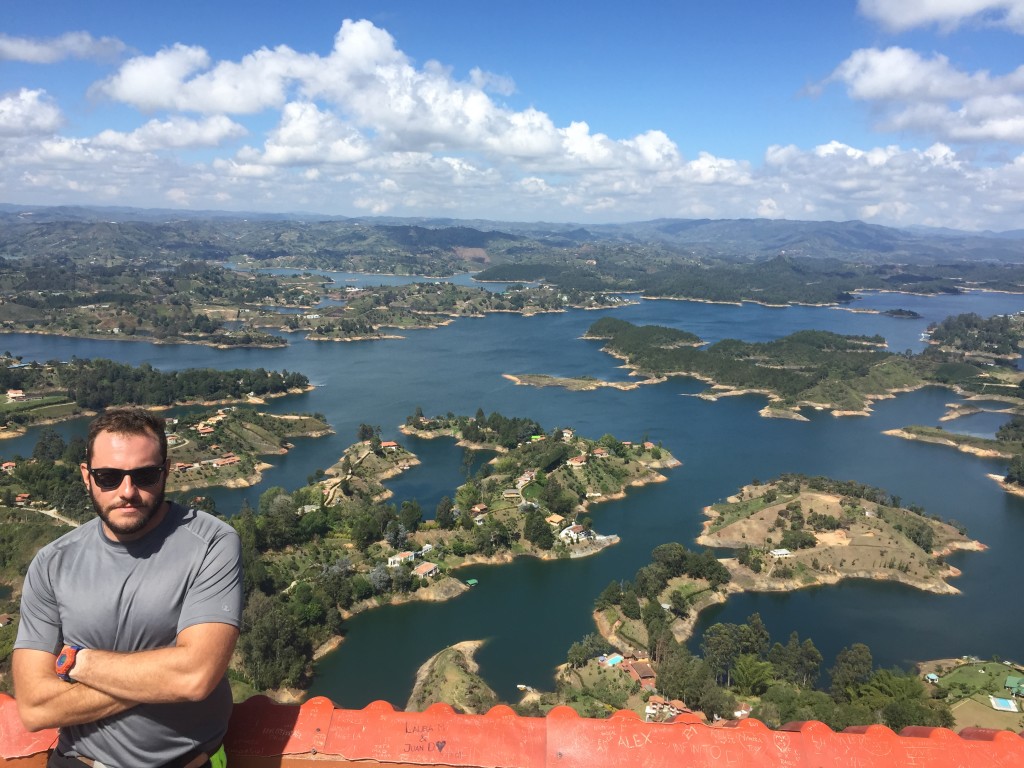 THE VIEW! After I caught my breath.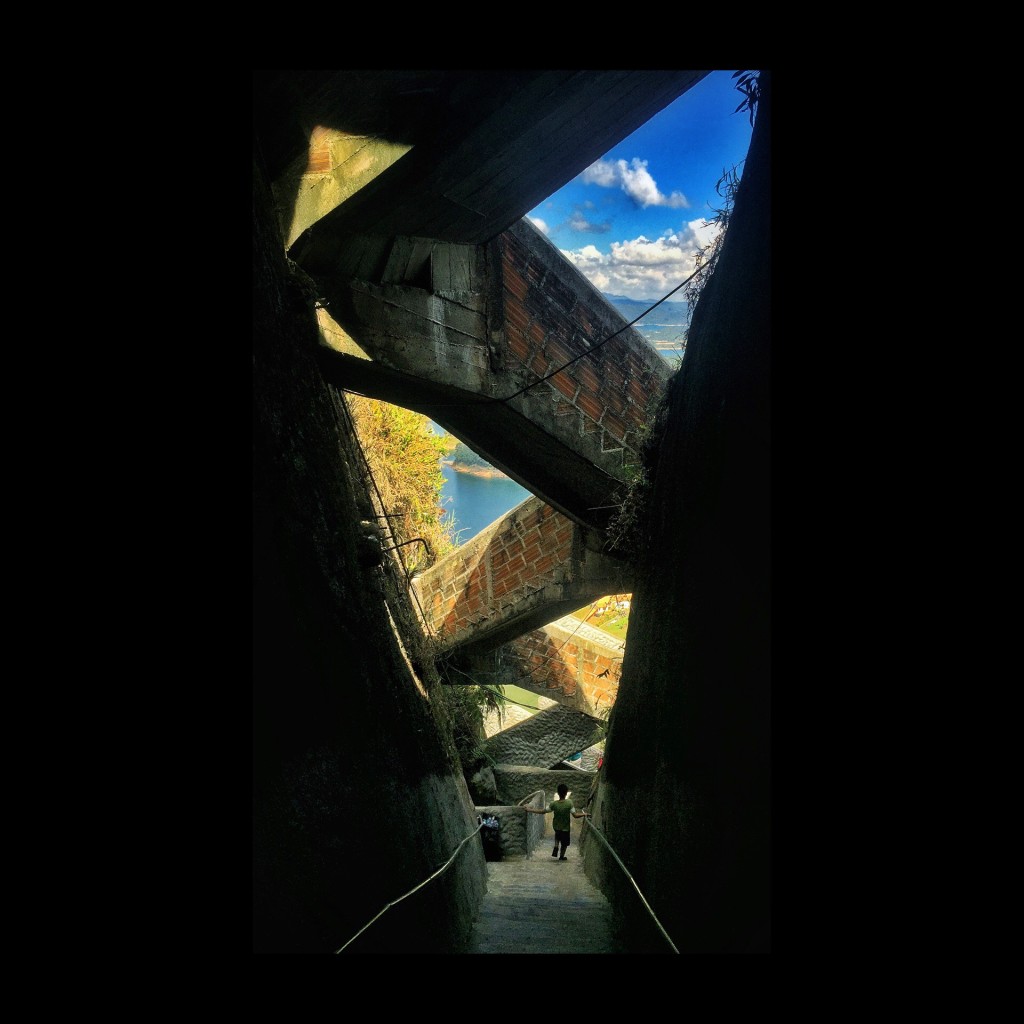 A child transversing the bajando stairs.
Thankfully the ride was mostly uneventful. No flats, no electrical issues, no rain, no nothing, how unlike us. We arrived before nightfall but about 2 miles from our hotel, we were separated. Matt went to Marriott for WiFi and eventually made his way to the Hampton Hotel (thanks PwC!)
I got super lost at first. I forgot which points Pat was planning on using, and I knew the hotel chain was not super obvious, but I said screw it and went to Marriott anyway. It was conviently located in the center of the city and they were very friendly. They said there was no reservation under McFarland, but that they had a Courtyard Marriott located near the airport. Unable to pinpoint it on my maps.me (an awesome GPS if y'll don't know it), the super friendly shuttle driver offered to have me follow him and he would show me the way. I arrived at the Courtyard just as it was getting dark on Christmas Eve. It was quiet as could be and I could see the curtains to the kitchen slide to the side as I parked on the apron and few workers stared at my large, packed motorcycle. I went in and the awesome receptionist gave me a bottle of water and let me us the wifi. I then received a message via facebook messenger from Pat with the name and location of the real hotel, not even a Marriott property. Oops – Matt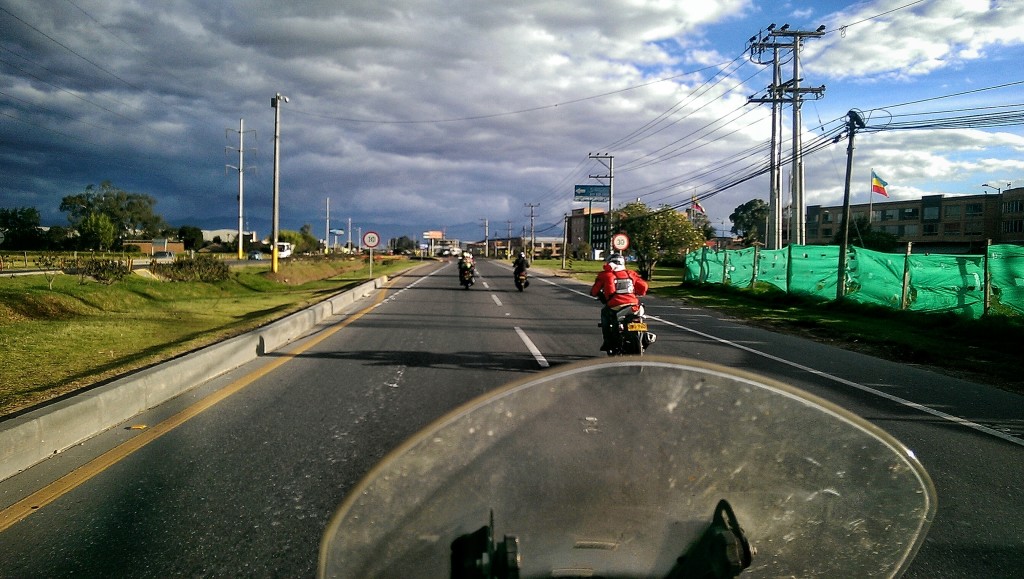 It was Christmas Eve, we had just arrived to a new city with minimal plans. Just about everything appeared to be closed. So with empty stomachs we roamed the blocks nearby to our hotel and eventually happened upon an open Italian restaurant. Neither Matt nor I really like Italian but it was a change of pace and more importantly it was open. We had a fantastic Christmas Eve dinner of raviolis and split a bottle of wine…treat yoself.
Christmas Day, even less things were open and we appeared to be the sole occupants of the massive hotel, minus the skeleton crew working. We gorged on the excellent (read: free) breakfast for quite a long time. Afterward we made the Merry Christmas family phone calls, soaked up WiFi, worked on the blog, downloaded footage, and just plain CHILLED. I repeat, everything was closed.
While hanging in the hotel, I took out my DSLR to check out some photos. To my surprise there was an error message and the camera would not take a photo. Looks like I was having shutter issues, and my expensive camera needed to be repaired. Merry Christmas to me. -Matt
In the afternoon we decided to head to La Chorrera, a supposedly magnificent waterfall a short distance outside of the city. We followed the route my GPS plotted without looking at how it was taking us which is always a mistake. It wasn't long before we found ourselves cresting a mountain pass on a ridiculous dirt road. By the time we made it to pavement, it was too late to go to the waterfall, and so defeated, we rode the epic and twisty road back to Bogota. Oh and we got pulled over for accidentally going the wrong way down a street, Matt didn't have his documents and ended up buying the officers' kids some extra Christmas gifts (or they just got drunk). Either way, we paid our first bribe.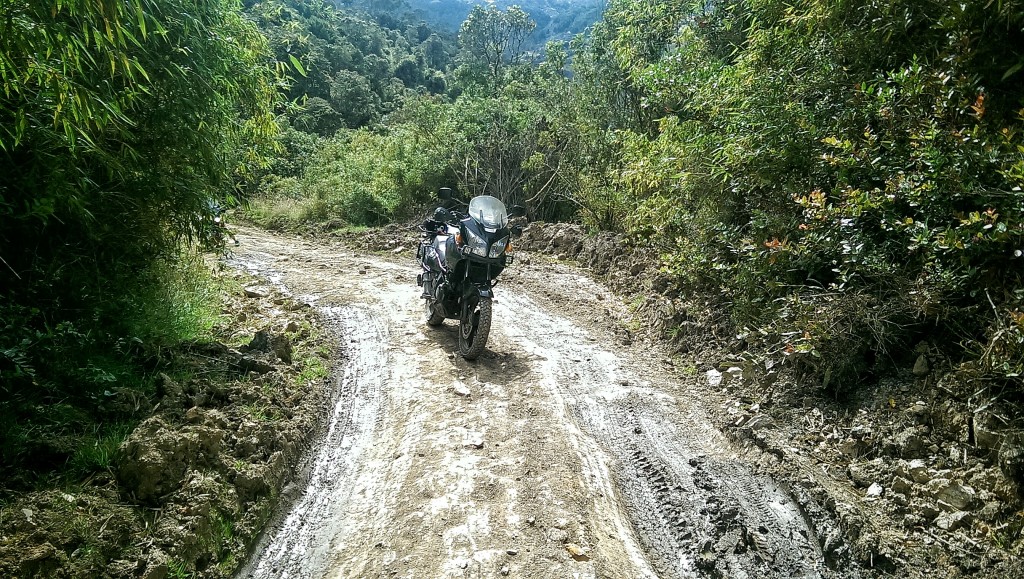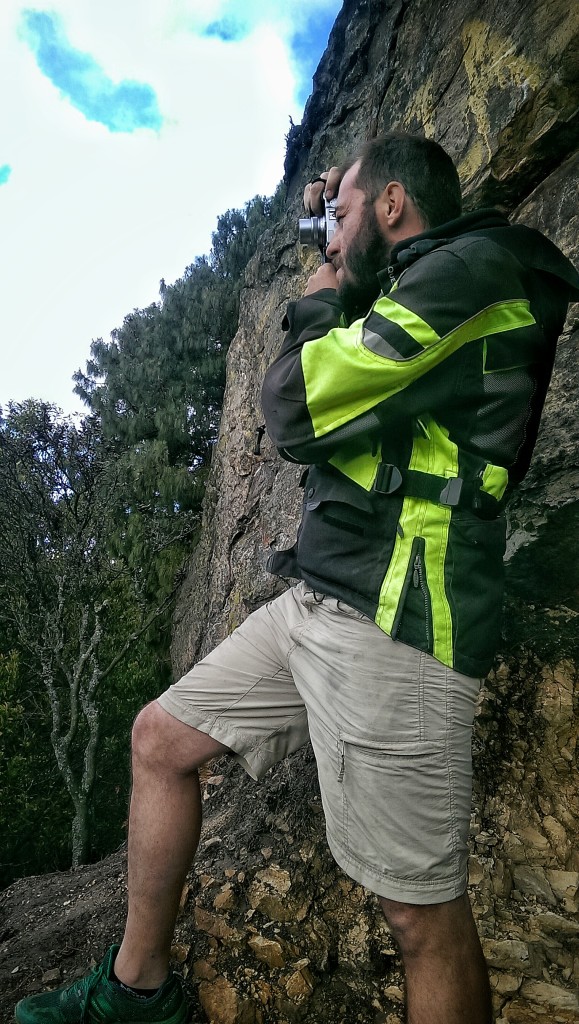 December 26th, the city came back to life and we headed to the Salt Cathedral of Zipaquira. Everything we had read and everyone we had talked to said that while it was touristy, we had to go, so we did. It was indeed beautiful. The amount of work put into making the different religious monuments and rooms was impressive. I was in awe until the tour guide told us that they completed the cathedral in 1995. It had been built entirely for the purposes of tourism and was also not officially a Catholic church since it had no bishop. I tried not to let that overshadow the beautiful place I was in but it was difficult. We opted to take an additional Miners Tour which took us a bit deeper into the mine and gave us more insight into the conditions the miners were exposed to back in the day.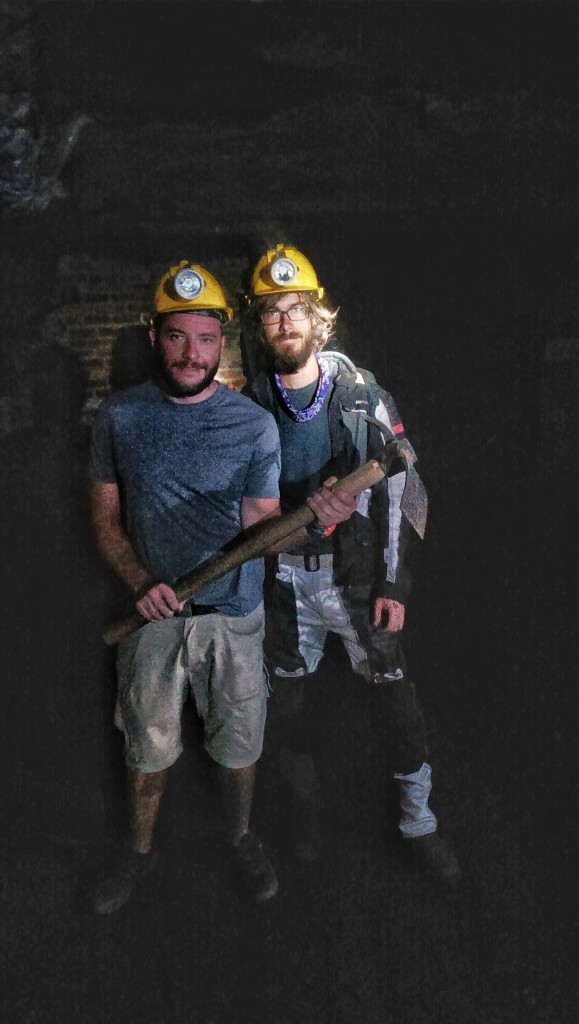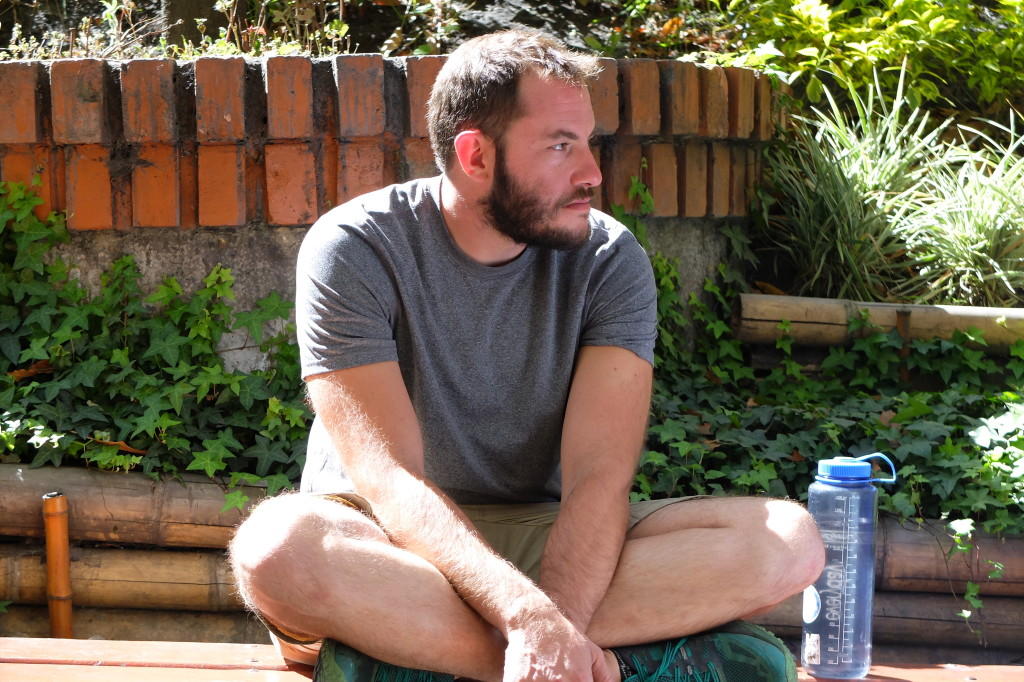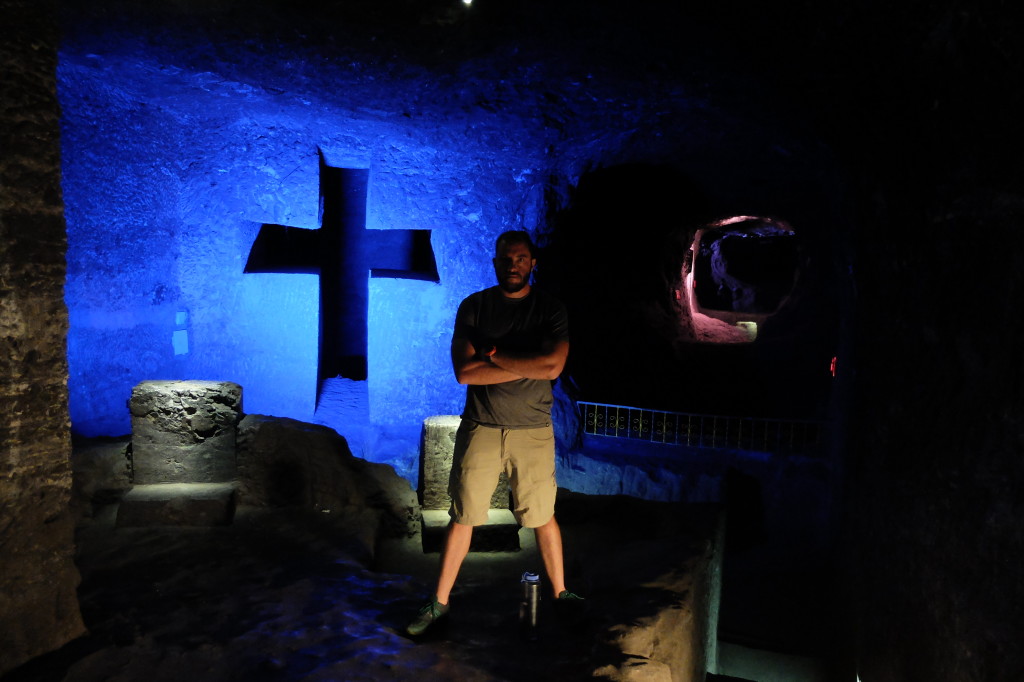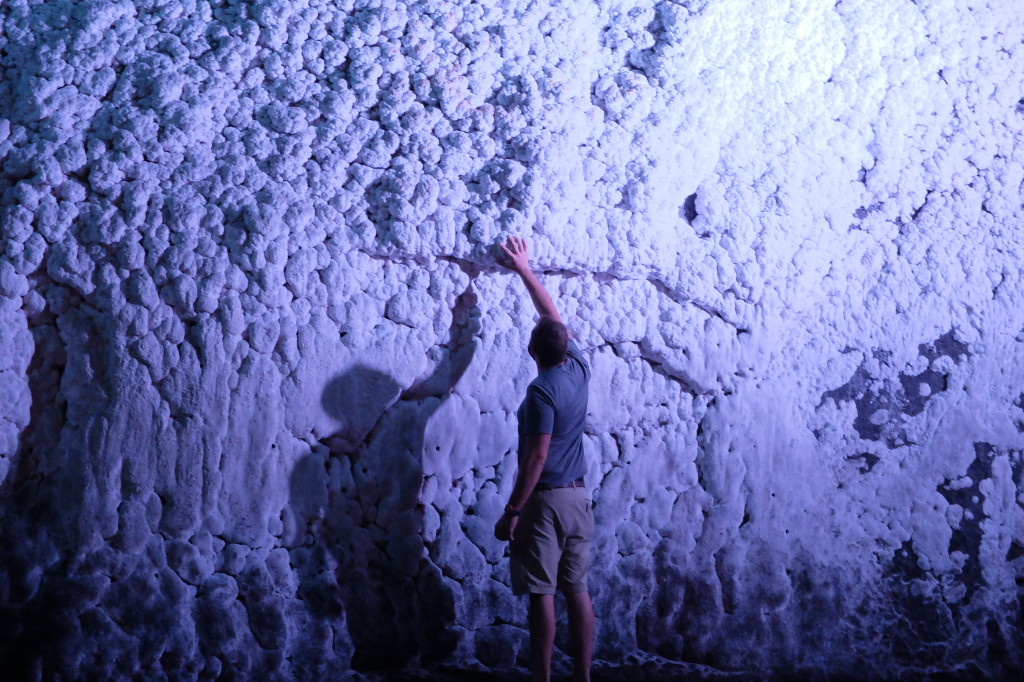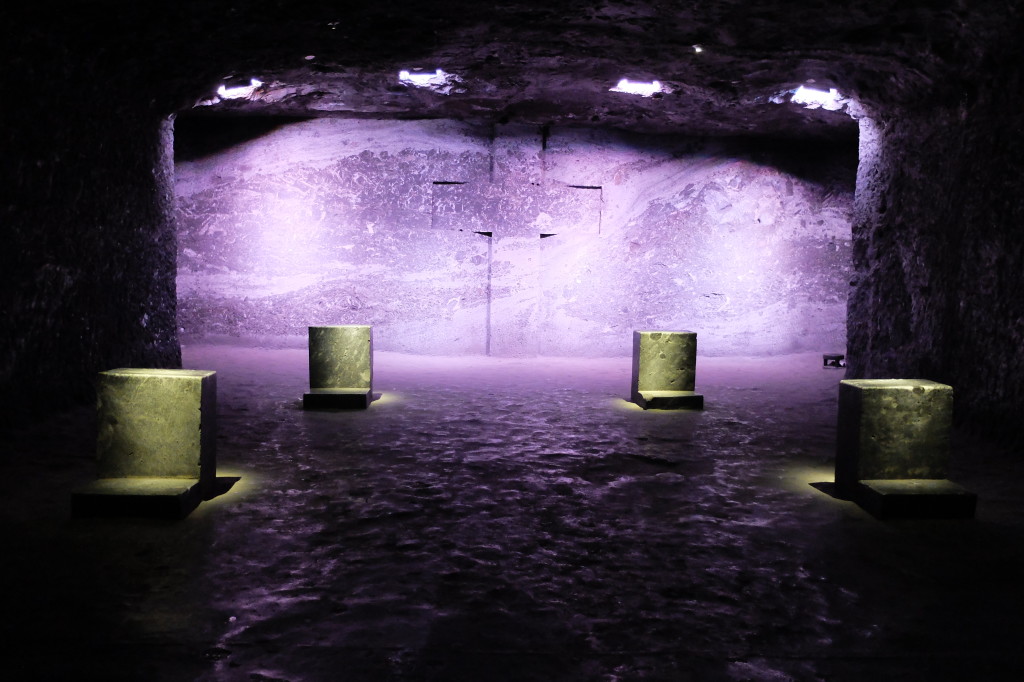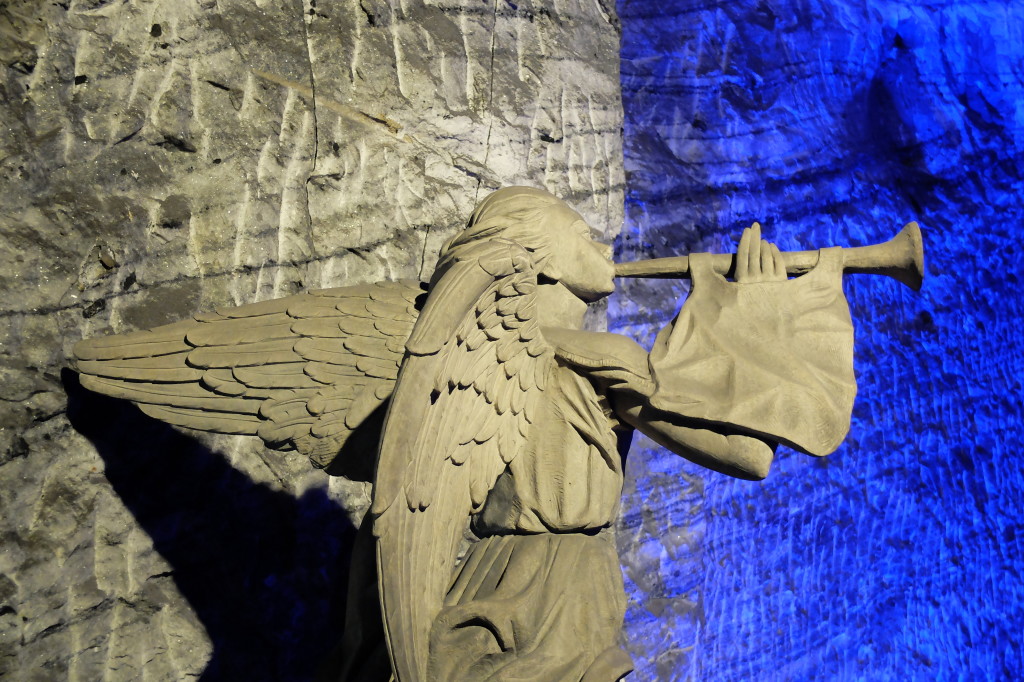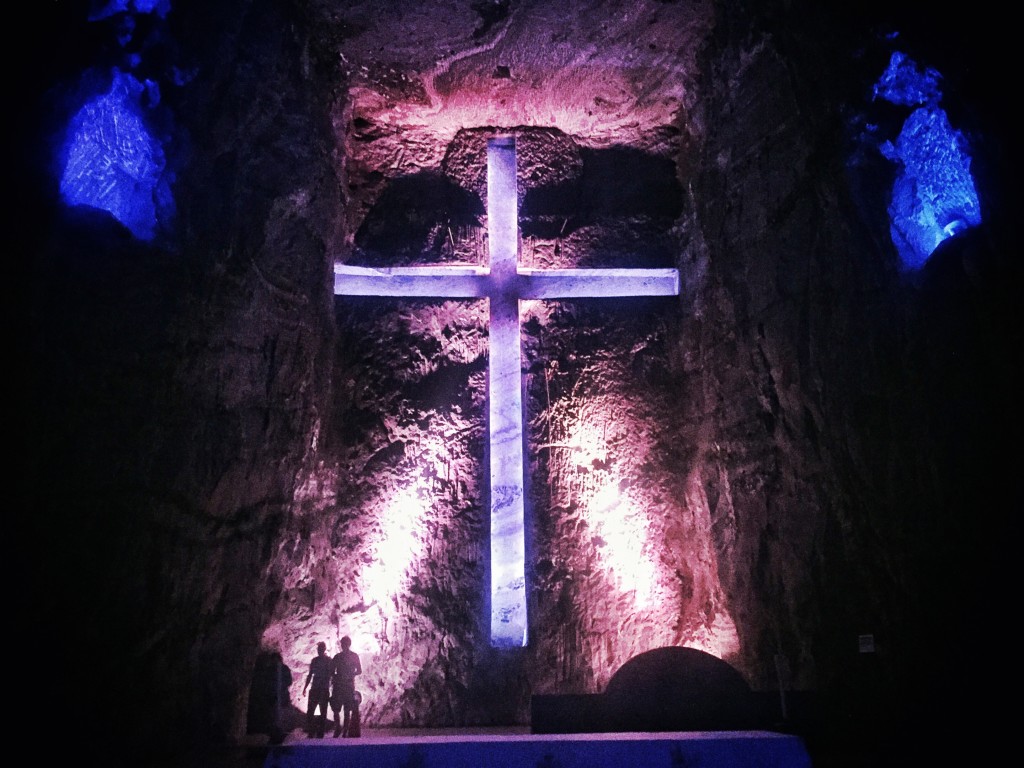 Afterwards we feasted on a pile of meat too big even for our massive appetites. We were lured in by the gigantic meats being smoked outside, best marketing campaign I've seen at a restaurant.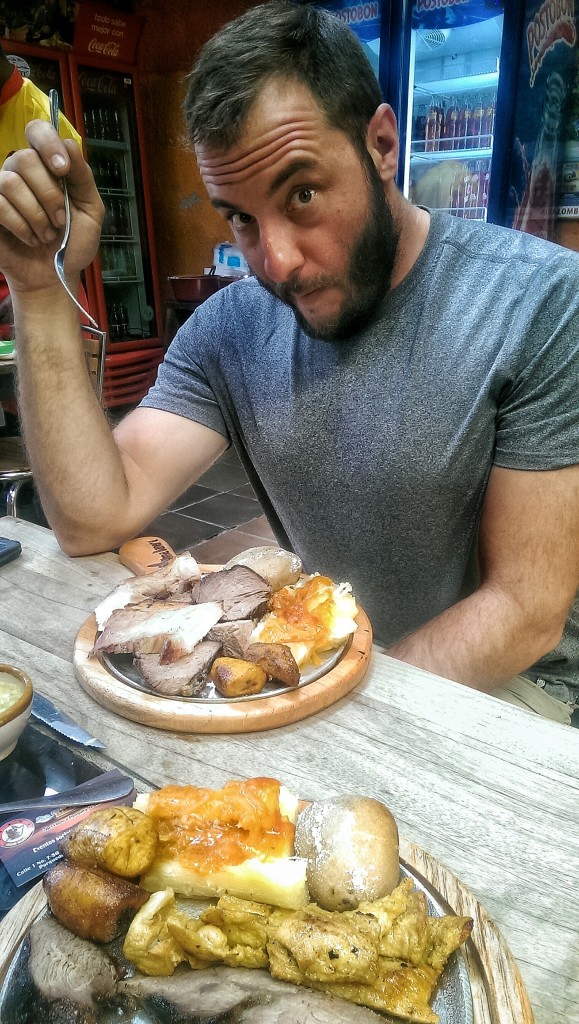 Our ride home was in typical The Unknown Roads fashion. Instead of taking the perfect highway, we found some dirt, some train tracks, and wound up in a small amusement park. Explaining to the guards that we arrived via the train tracks and did not want to buy tickets was fun.
In the afternoon, I went to get my cell phone repaired with the assistance of a newly made friend. This endeavor included ice cream, of course. The cell phone repair guy said my new screen would be ready the next day. As I was leaving, I forgot I had locked my back wheel and proceeded to break my left footpeg. The excitement never ends. In the meantime, Matt went to get the shutter fixed on his camera.
The next day our time at the Hampton Hotel had come to an end. Thankfully they granted us a late checkout of 6pm, which seems unheard of to me. We spent most of the day planning out what we'd do in Bogota and beyond. Then we finished and sent out a blog post. I booked us three nights at a hostel in La Candeleria, the hip part of town. Upon arrival, I gasped in horror. It was a borderline crack den. I'm quite confident one of the guys in the lobby had just finished shooting up heroin. Right as I was about to say adios, the owner says we have a brand new hostel that were just finishing, but was still under construction and no one has stayed in it, but it had a garage. Duh. We promptly moved our bikes there, and found out Tim and Savannah were right down the street.
Imagine staying in the set from Home Alone 2, Trapped in New York, that was our hostel. No wifi, no hot water, but plenty of paint cans, and you name it to sabotage the wet bandits. -Matt
We walked over to their hostel and Savannah gave us the news that her and her family wanted to treat us all to to a fancy dinner, something we clearly wouldn't turn down. We did something foreign to us and got in a taxi headed to the best restaurant in the city. The menu was so expansive it was downright confusing. We ordered a bunch of different things, the waitress said it was too much but she clearly didn't know us. We ate all of it. Afterwards we went back to our respective hostels, ours contained just us and the caretaker who was extremely nice.
This is part of the spread from Andres Care De Res. While I wouldn't call it the "best" restaurant in town, the food proved to be amazing, the portions American sized, and the experience was downright delicious. It had a very party atmosphere but we just ate, had a few margaritas and bounced. Thanks so much Abel-Smiths!
On Monday the plan was for me to get a footpeg, get my phone, get tires, and maybe squeeze in a bit of fun somewhere. We first went to the Suzuki dealer. Since both Matt and I had our clutches fail, it made sense for Tim to get one just in case. To our surprise, they had it in stock. They also had more V-stroms than I'd ever seen since they were the repair shop for the city's police bikes. After we went in search of tires which led us down the rabbit hole of going from shop to shop. Eventually it got too late and I had to go get my phone/footpeg. I stopped at 5 or 6 shops before finding one that was willing to sell me a cheap peg from a different bike. They also let me use a grinder to get it to fit, all for less than $3. Matt and Tim found VeeRubber tires for $50 at an awesome motorcycle market, score.
Tuesday the four of us got breakfast and then made our way to La Chorrera via pavement this time. The road was perfect, twisty and maintained. I went ahead a bit to give the bike a bit of a workout. 10k or so from the waterfall, the road turned to dirt and then got steep. A couple Canadians joined us on the hour long hike to the falls and two dogs led the way. When we arrived at the falls we were all a bit disappointed. Since it's currently the dry season, the water streaming down over 1000 feet was nearly a trickle. Still impressive nonetheless.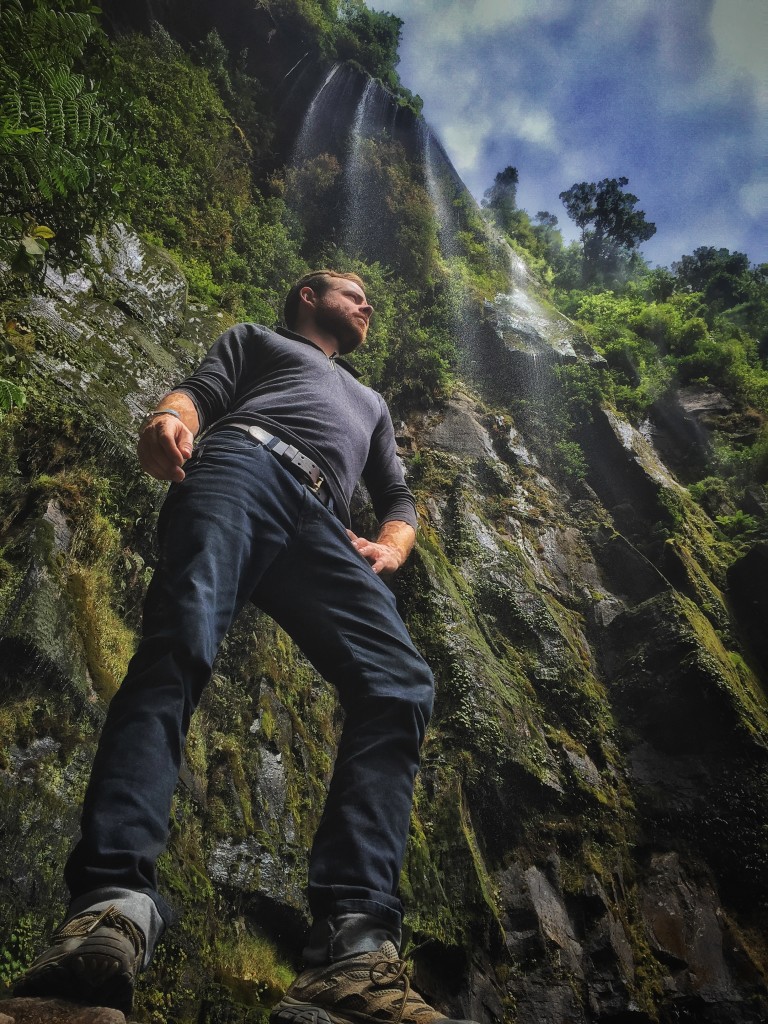 Tim's epic pose in front of La Chorrea.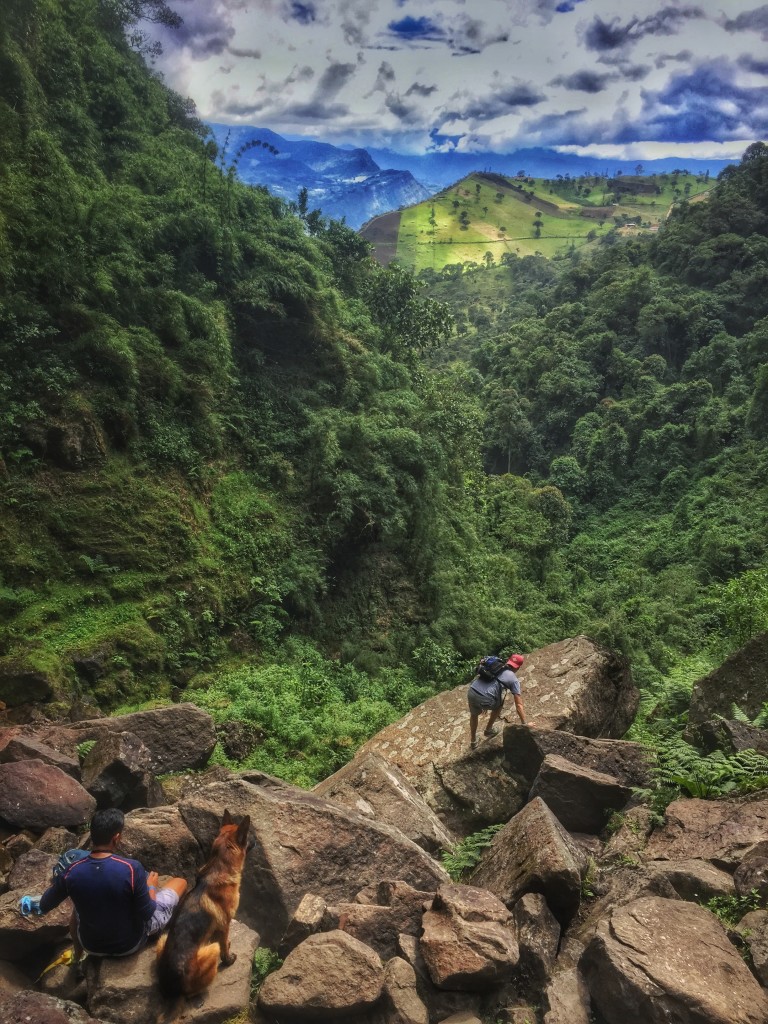 The Canadians and our tour guide taking in the view.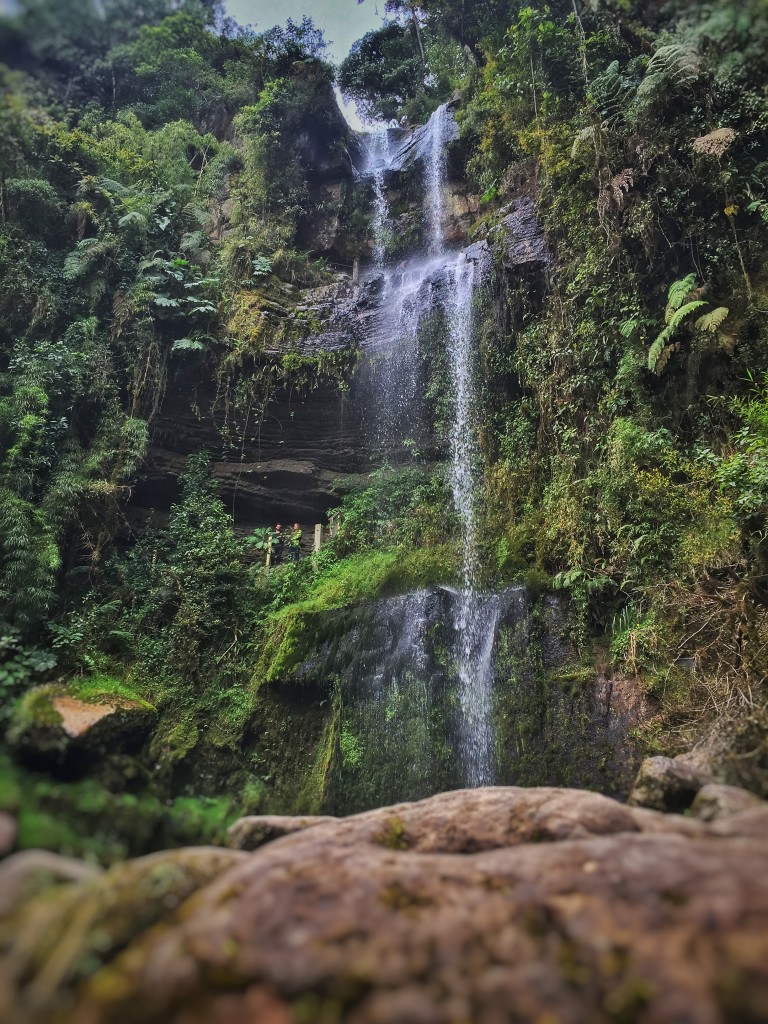 Another waterfall, el Chiflon. If you look you can see Tim and Savannah standing behind the water.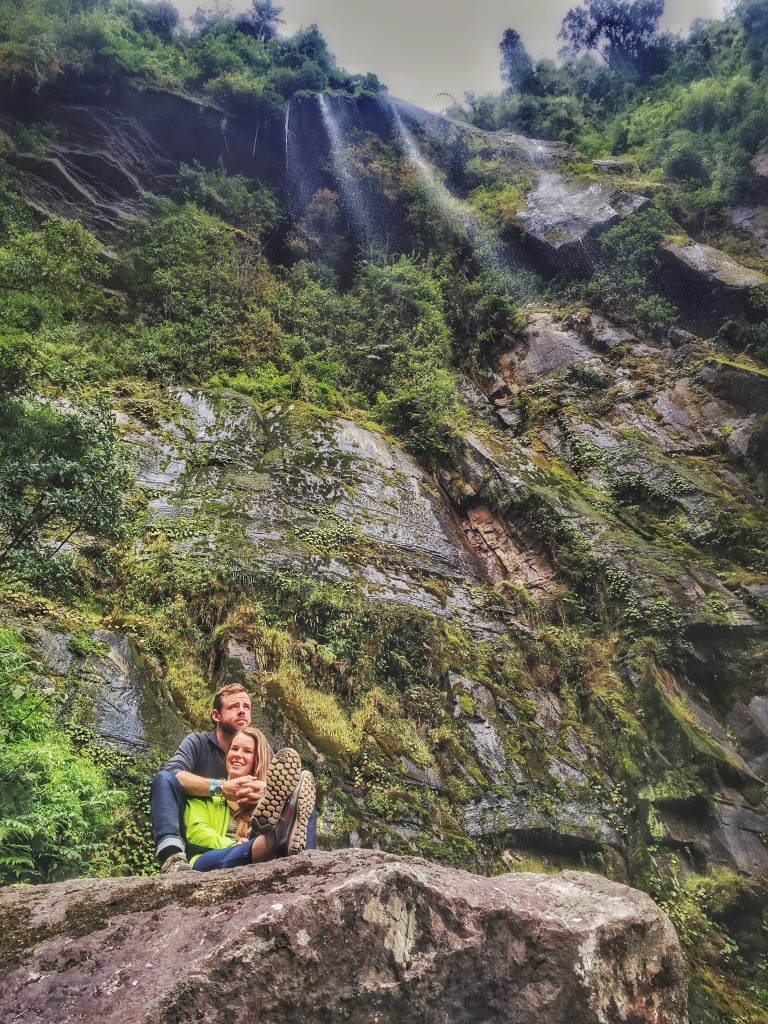 I swear I wasn't hired to take Tim and Savannah's engagement photos.
On the way back we searched for lunch but ended up getting burritos in La Candeleria.
The next day Savannah headed back home after a month on the road. It was also the day that Matt was supposed to get his camera back. We rode in the direction of the camera shop and I split off to the motorcycle market. I got the same tire Matt and Tim had gotten. Then I searched for a used brake rotor. When I couldn't find one, I had mine repaired. Not perfect but it worked.
I headed back to La Candeleria and searched for dinner. I ended up at the same place as Matt and Tim who had just finished playing Tejo, a game where you throw a steel ingot at a clay target with explosives on it…while drinking. To my disappointment, Matt informed me that the camera would not be ready for another 6 days. At that moment I made the decision to continue on ahead solo. I went back to the hostel, packed up my things, cleaned my air filter, and went to sleep. While I felt bad to leave, it was something I had to do.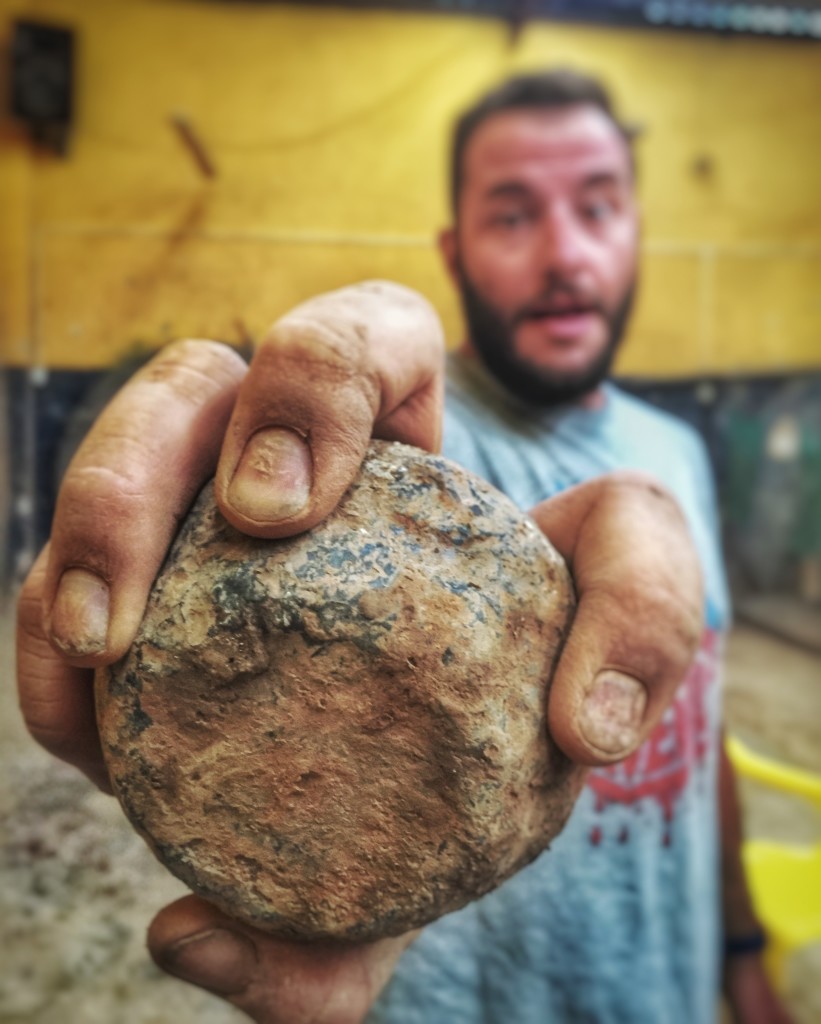 [The following section will have writing from both Patrick and Matt]
Patrick
I woke up early and got ready to hit the road, solo. My destination would be me Pitalito, a small city where I thought itd be fun to spend New Years Eve. The road twisted and wound its way through many small towns. I only made one stop for lunch, which cost just over $1. As the afternoon rolled on, the festivities in the towns started getting really interesting. People were covered in foam, throwing water balloons, parades. People down here truly know how to celebrate. As I passed through the small town of Garzon, the fun looked out of control. I really considered stopping to join in but since it was only 5 o'clock, I pressed on to Pitalito.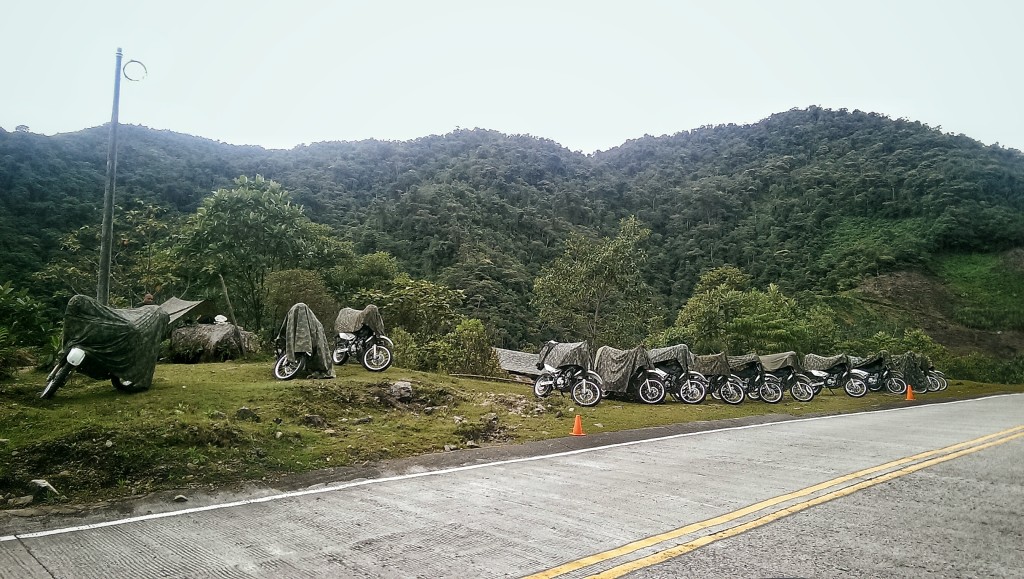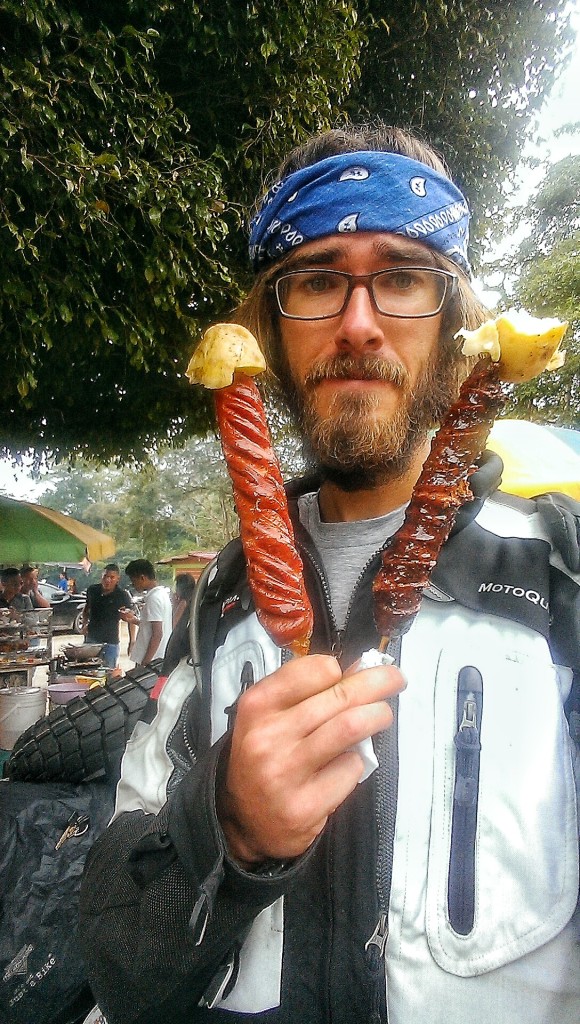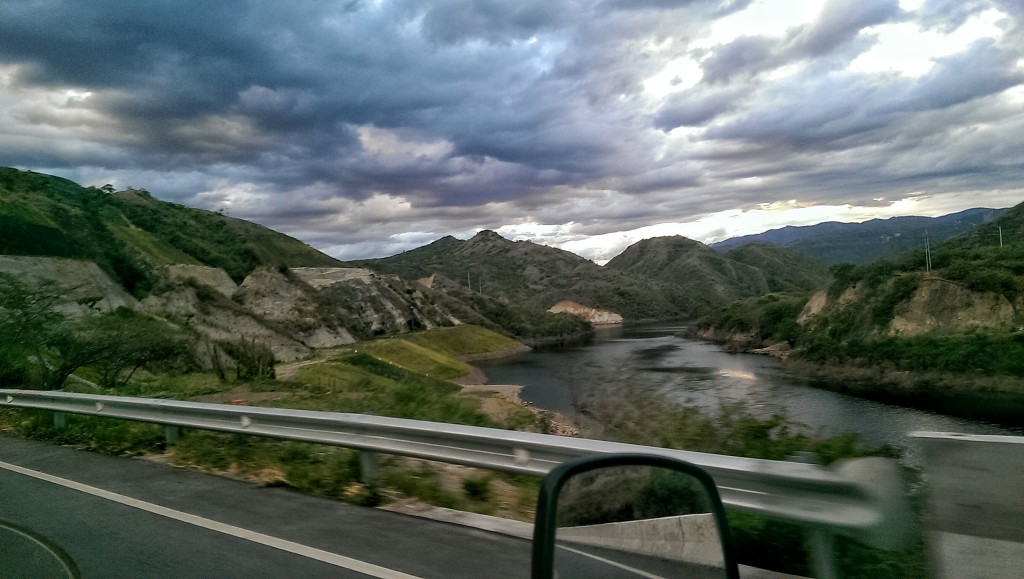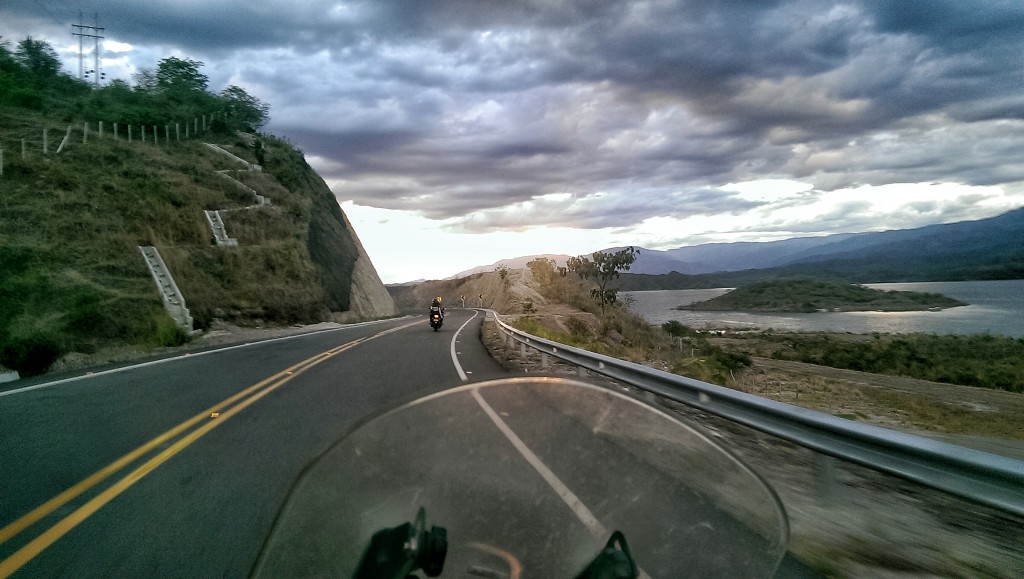 Pitalito was bigger than Garzon but still small. I went to the center square and right off the square was a nice hotel for $18. The bed was enormous, I felt like Kevin McCallister in Home Alone when his parents disappear. I even cleaned my belly button. I went out in search of fun but the town that was happening just an hour earlier was a ghost town. So my NYE consisted of some pastries to satisfy my sweet tooth and some internet. No midnight kiss for me this year.
In the morning I ate the included breakfast and then mapped out my route to Pasto, a town just two hours from the border of Ecuador. I hit the road around 9am and continued along Route 45 until the town of Mocoa. In Mocoa I grabbed lunch and then started on Route 10. At the time I didn't know it but the locals call Route 10 Trampoline of Death. The best word to describe the road is dangerous. Its narrow, incomprehensibly twisty, and completely unpaved. It includes many water crossings and every corner seems to have at least one cross or shrine on it. It's Colombia's version of the Bolivian death road except they still allow big trucks so every blind turn could should be approached with caution.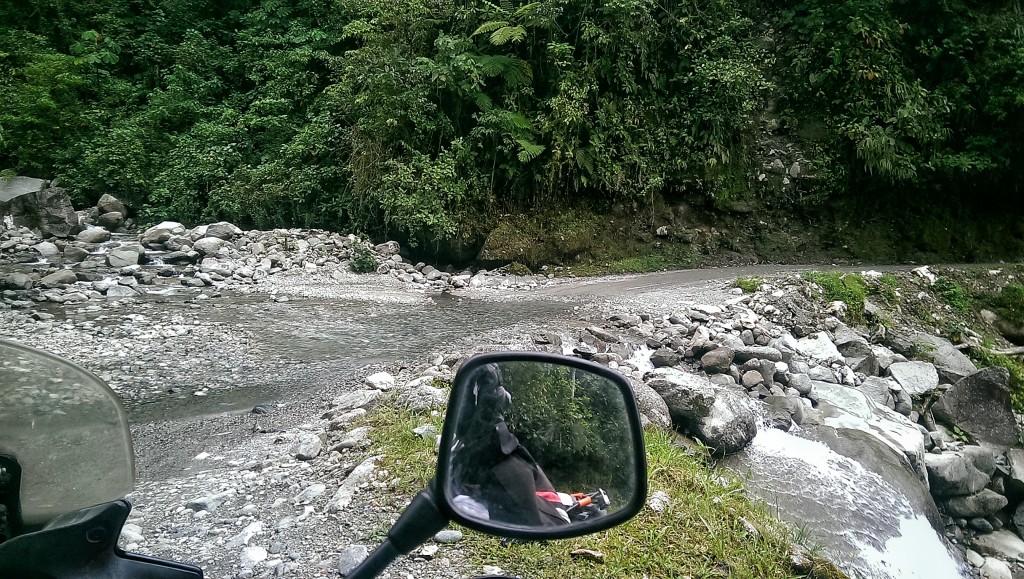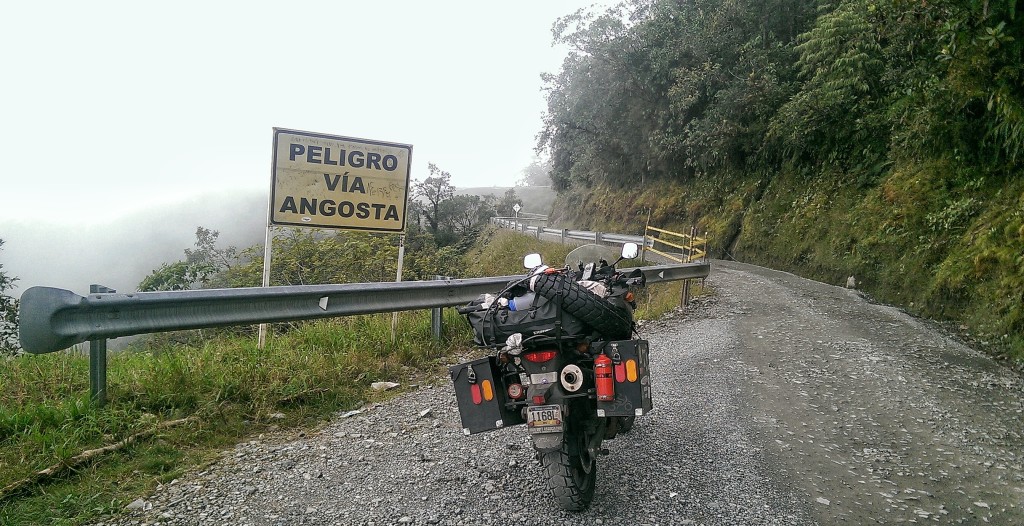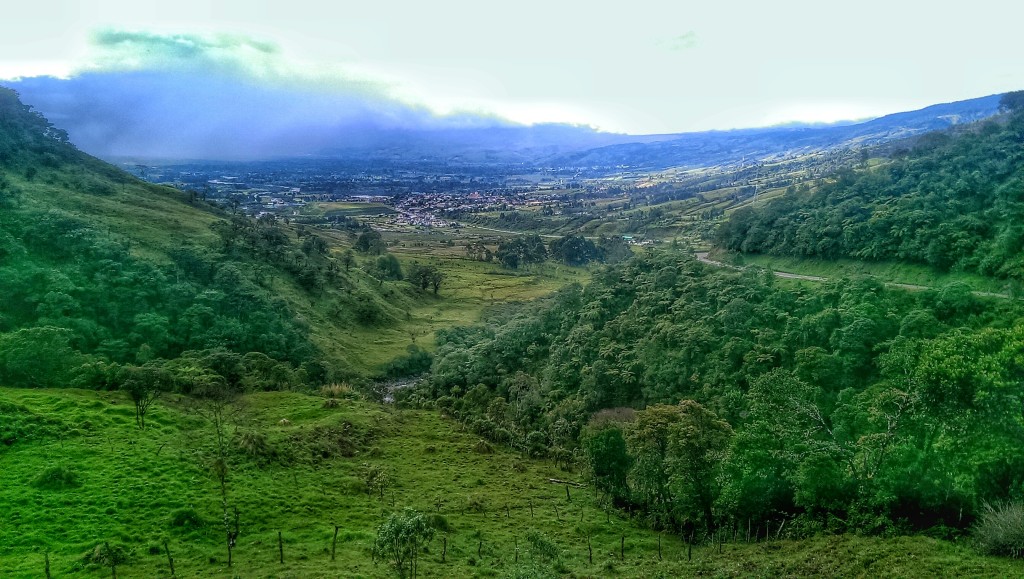 At the start of the road I was told there would be cheap gas on the other side so I decided to risk it. With 2 bars showing on my fuel gauge I would be cutting it close. I stopped often to take pictures and simply take in the amazing sights. The road was worth the risk. It went on for about 5 or so hours until it gracefully descended into the town of Sibundoy. I arrived with my fuel gauge flashing and every station said No hay gasolina, perfect. Finally I pulled into one and despite the sign, they agreed to fill up my tank, and it was indeed the cheapest I had gotten on the trip at less than $2.
A half hour or so later, I was in La Concha, a town on the edge of a beautiful lake. I knew I had to find a place to camp but no one seemed to have much advice. I enjoyed a gigantic trucha (fried trout) while surfing the internet. Lots of locals took pictures with me and the bike, and I was barely able to eat in between the many questions posed to me.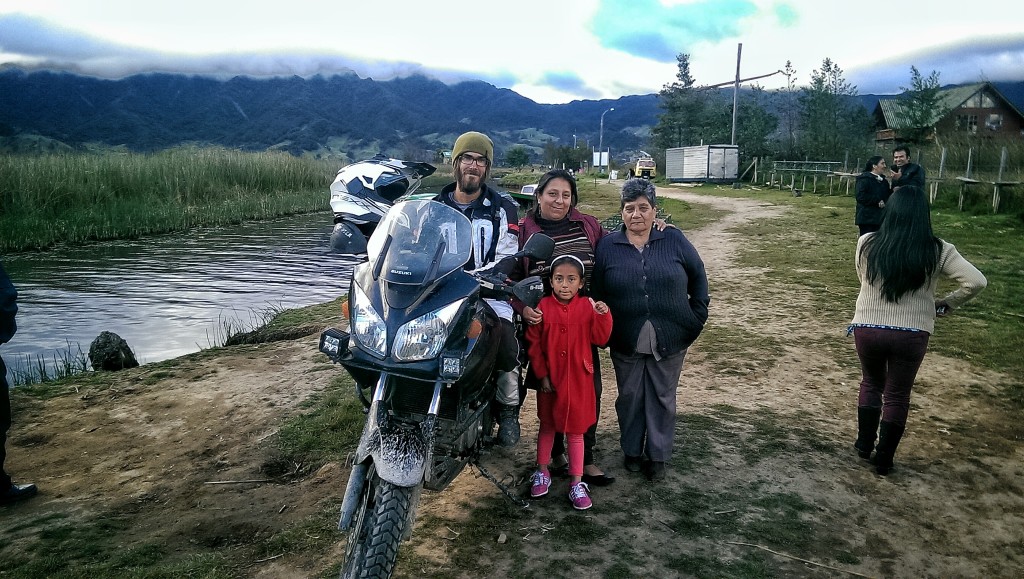 After dinner I rode to a dirt road I had found on the map and followed it until it turned to a small path. The path became narrow with a steep drop off on the left down to a river. I negotiated it carefully and on the other side I emerged to a field with three houses. When I asked if I could camp, they kindly agreed and said I could come in for a soda if I wanted. I slept well that night.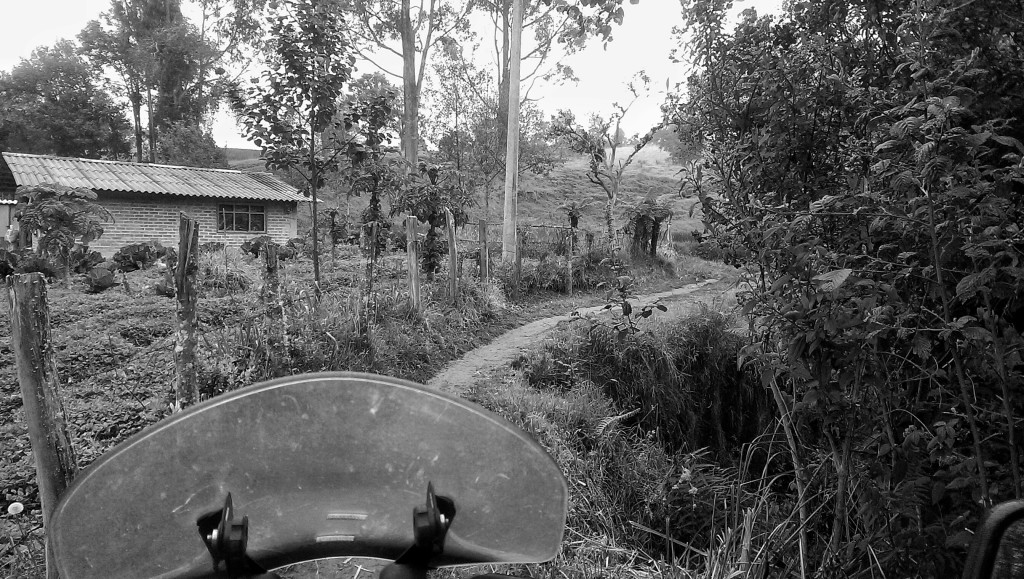 I rode to Pasto in the morning and despite it being a popular backpacker town, I didn't see the appeal so after a quick bite to eat, I made my way to the border. Ecuador awaits.
MATT
Ok hit rewind.
Back to Tejo.
After passing the many street vendors, the children testing virtual reality games, and numerous musicians at the main square in Bogota, Tim and I weaved through a small market before arriving at the unassuming Tejo building.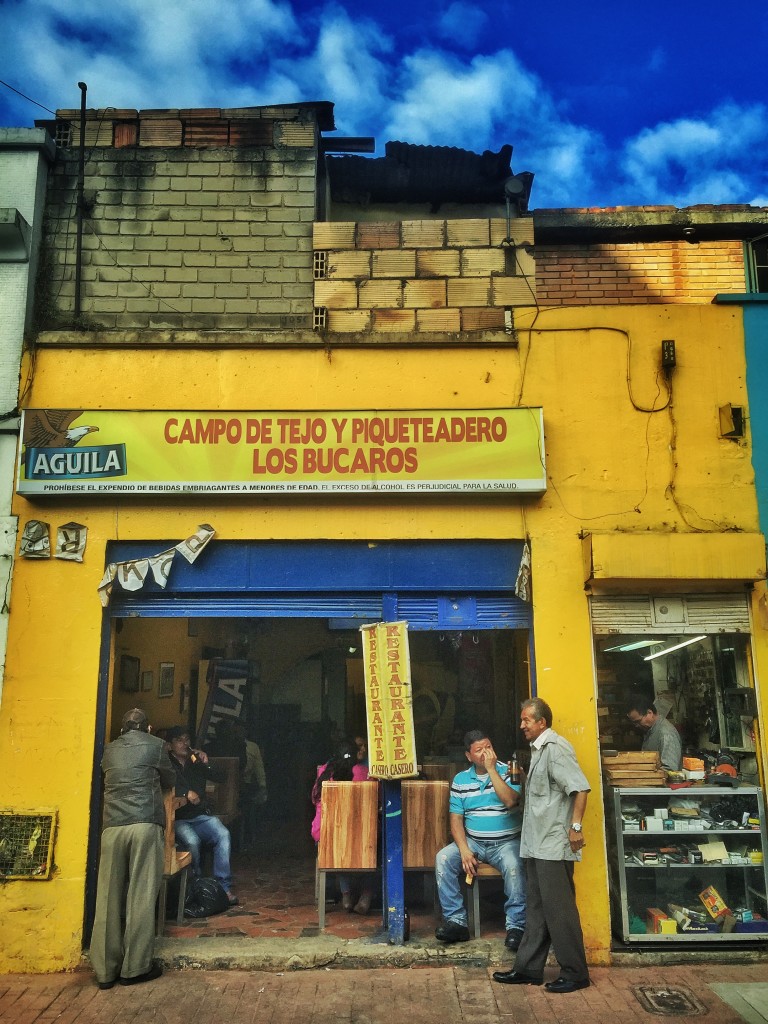 Our guide, Ceasar lead us through the front of house which appeared to only be a few old souls drinking beer and snacking on meat. Through the back door the building opened up to a large dirt floor, warehouse with a metal roof. Ceasar then explained the rules. You stand around 50-60 feet from the target and get one toss per round. You are aiming for the center of the clay target. 3 points if you hit the center. 2 points if you explode one of the gunpowder triangles and 1 point for closest tejo on the clay. You play until 21 and winner of the last round throws first. Oh and you have to drink beer. At that moment a case of POKER, a local cerveza arrived, bottles were popped and the games began. I had a feeling I was going to like this game.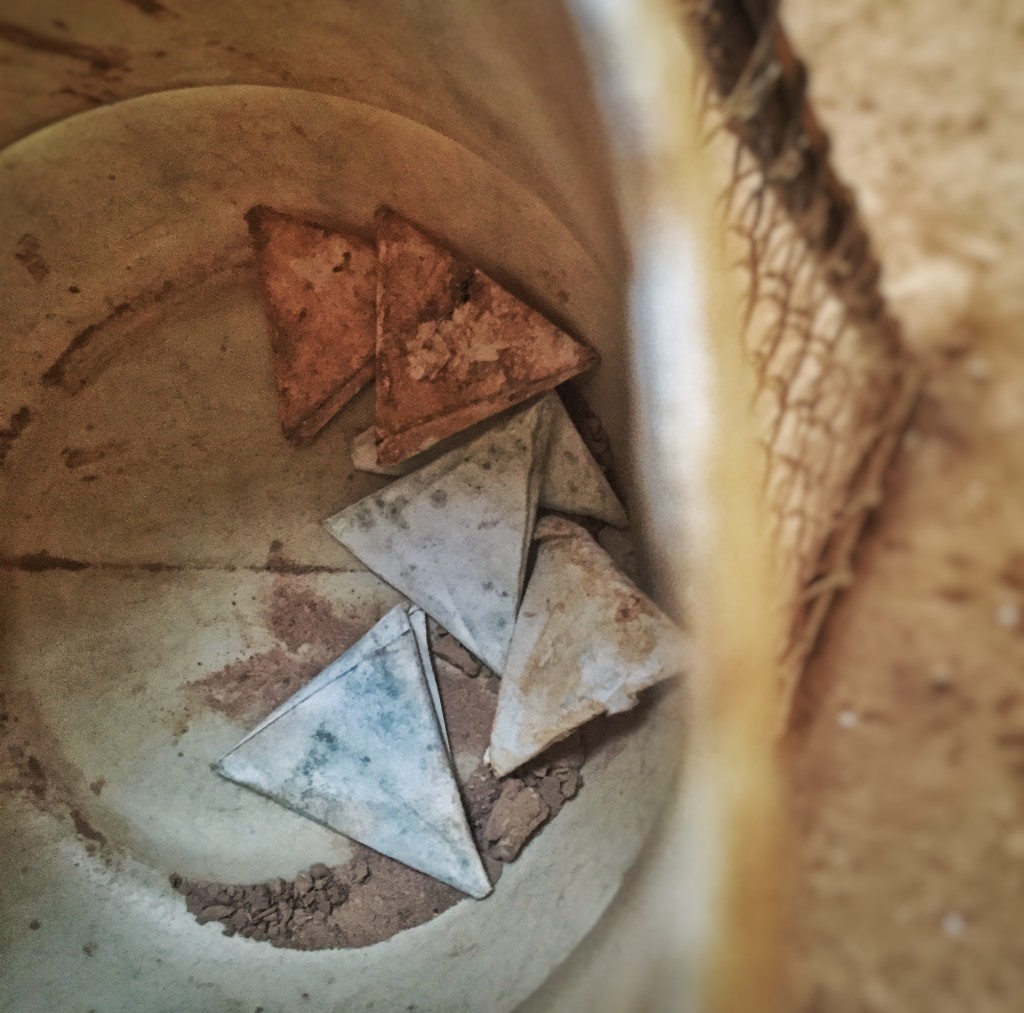 The gunpowder triangles you line the center of the target with.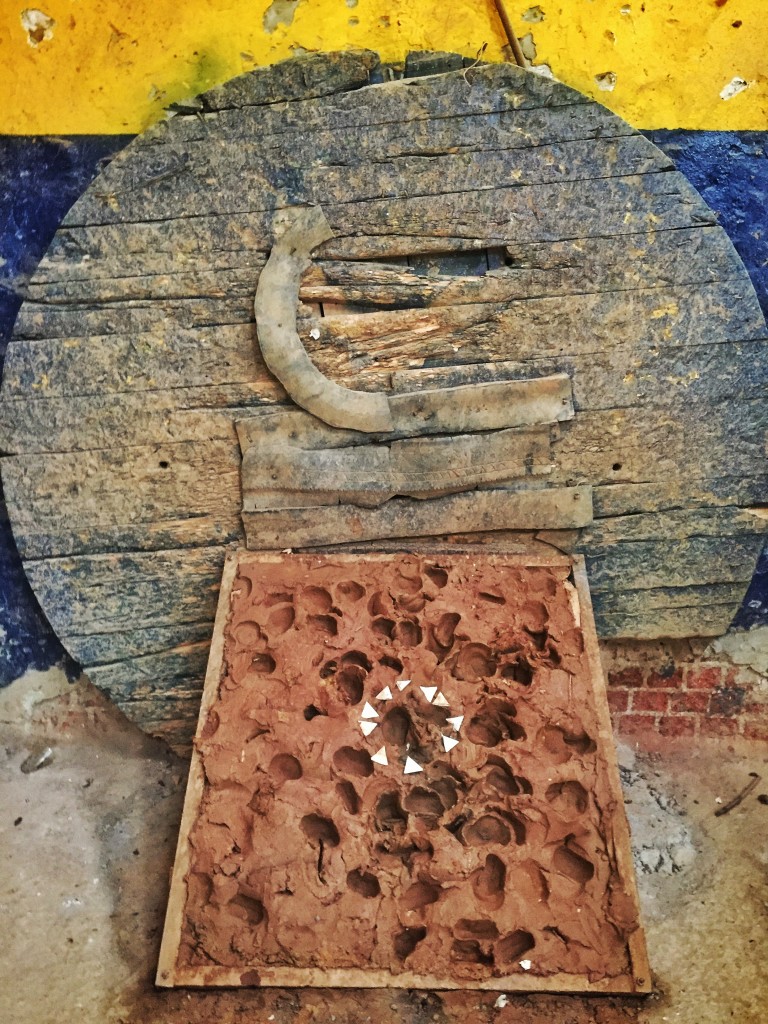 The clay target wand backstop.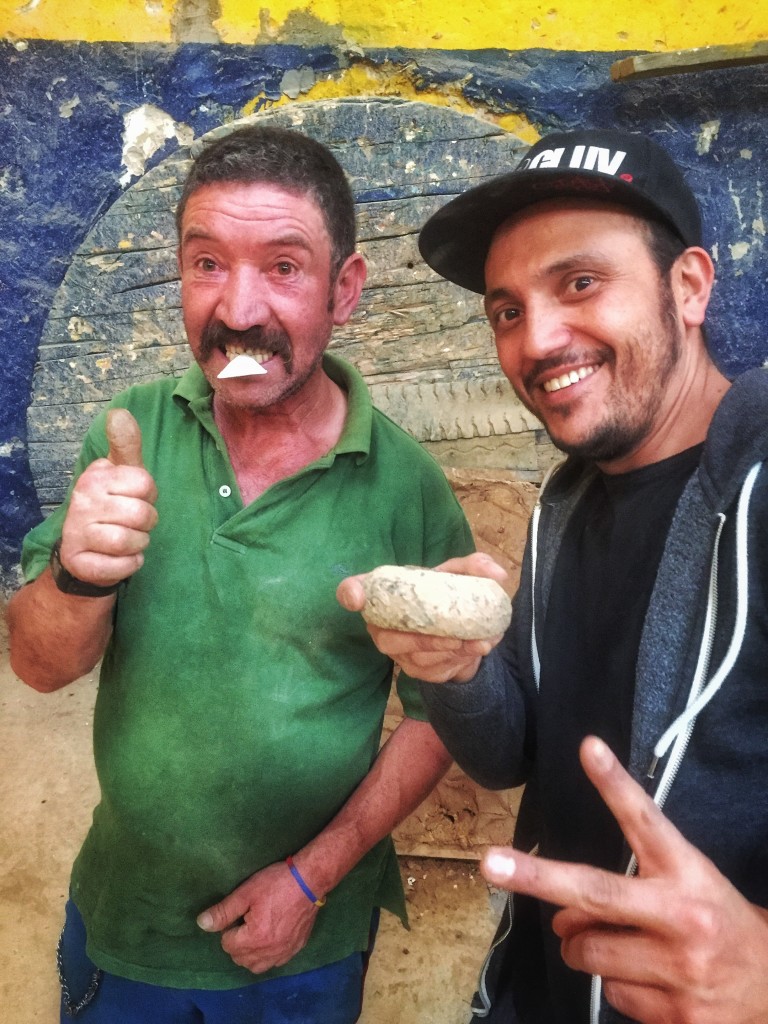 Ceasar and the kind man who worked there.
After countless beers, 3 maybe 4 games, our Tejo time had come to an end. This was truly a memorable experience and an all around fun time. Tim put a few triangles in his pocket and we headed back to La Candelaria in search of more beer and food.
Later that night we decided to check out Statua Rota Cerveceria. This was reccomended by a girl Pat met. I expressed my disappointment with Bogota Beer Company, and she said this was really the only true craft brewery in the city. The thing about beer in most of the countries we are traveling to, is it's all light pilsner. Water flavored beer is typically the only option going south, so I admire that Bogota Beer Company is trying different styles, but its a chain and and their styles are nothing new and nothing exciting.
Filling the void of exciting, daring craft beer…enter Statua Rota and its head brewer/co-owner Alejandro. We had the pleasure to hang out and talk nerd with the Artist/Brewer extraordinair. He has traveled the world, and pulls inspiration for his eclectic ales from Europe and America. He even shared some of his favorite literature and recipes from Mikkeller. We hung out and drank the amazing Russian Imperial Stout, AK-47, and an interesting ginger wheat beer that quenched the thirst and cleaned the pallet. He also continued to pour us shots of vodka as we hung late into the night and discussed, passion, travel, and life with him, his awesome girlfriend Laura, and eventually the entire staff after they closed. He even invited us to spend New Years Eve with him and his family. Eventually, Tim and I stumbled into a waiting taxi and headed back to La Candeleria.
The next day we awoke with severe hangovers, intensified by the altitude. We did little besides mope around and eat, and surf the newly installed wifi in our hostel. One bonus of being the only people in a work in progress is, the lightning fast internet similar to home. Crippled and bed ridden we couldn't make it out of bed to have a celebratory sip with Alejandro's family, and spent the night watching Netflix instead. Strangely, the midnight fireworks lulled us to sleep.
The following day, the city was a little sleepy. Alot of places were closed and the streets were fairly empty when we ventured out for breakfast around 9am. We figured it would be a good day to do the Bogota Graffiti Tour, and much to our surprised their was at least thirty people waiting, apparently other folks didn't tie one on either. We followed suite and walked around all of the Candelaria, checking out a ton of amazing street art and learning about its artists, their motivations, their messages and their backgrounds. I was personally moved by the amazing, often simple art of artist DjLu. Alot of the street has a political message, but DjLu's was aggressive, poignant, and striking.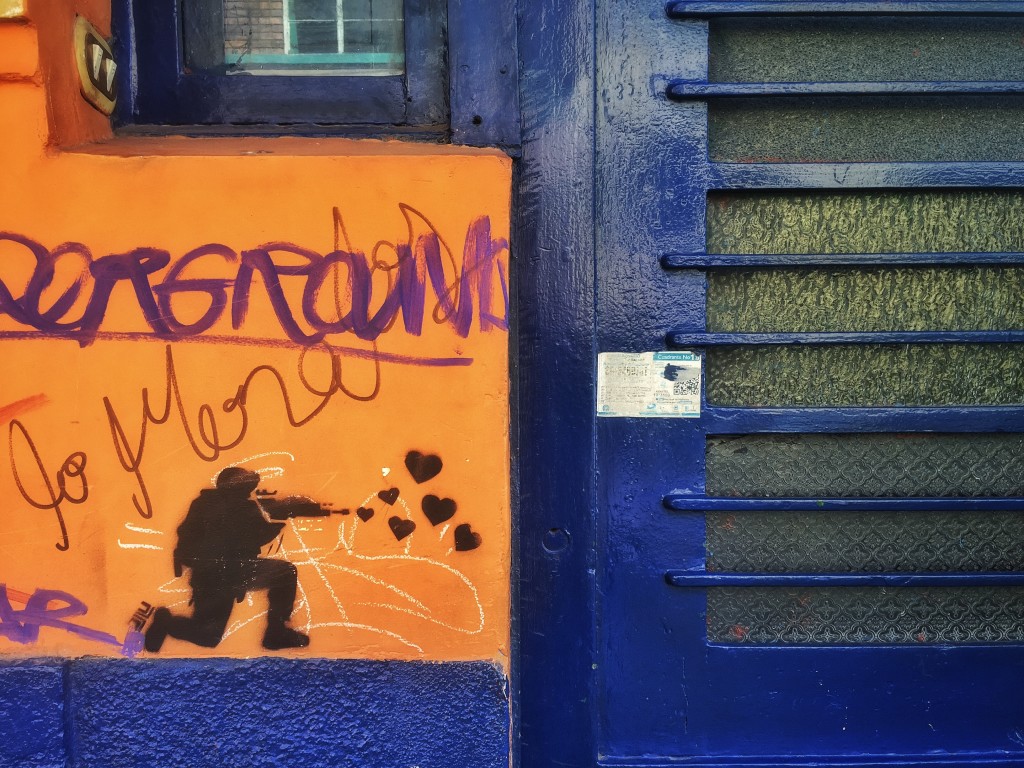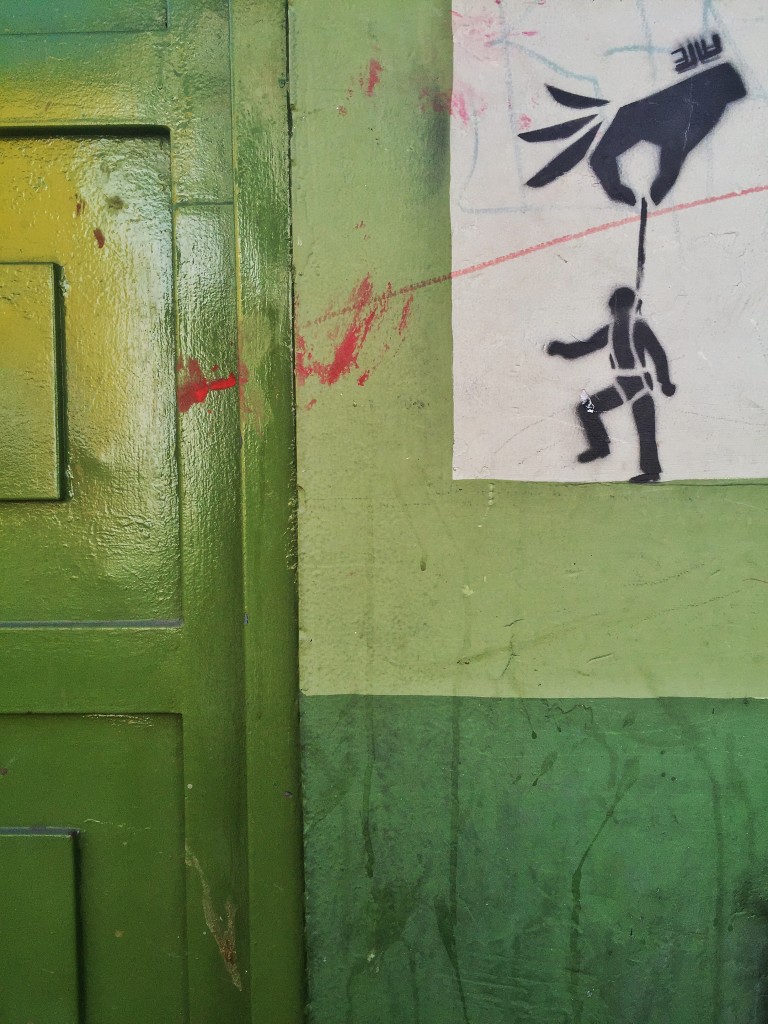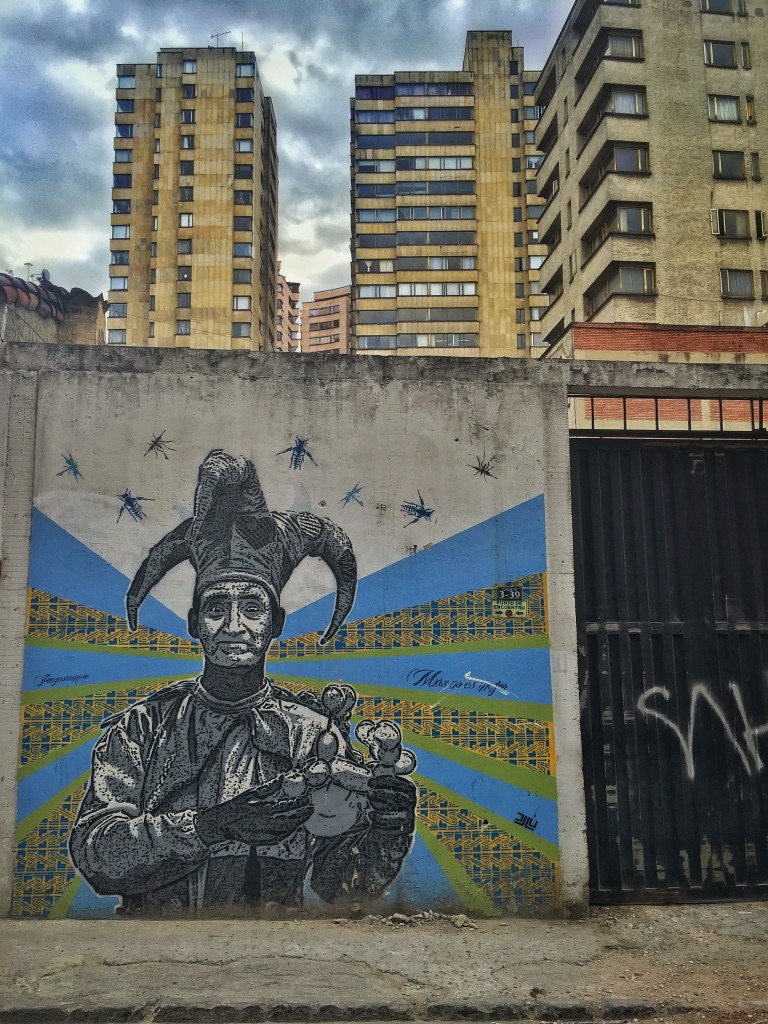 More Is Not Better
We walked around and marveled at even more incredible street art throughout the Candelaria. The thing is though, it's not just this neighborhood that is beautifully adorned with artwork, it's the entire bustling city. Every inch of Bogota is engulfed in bright vibrant colors, political messages and the visual voices of the amazing artists that inhabit this city.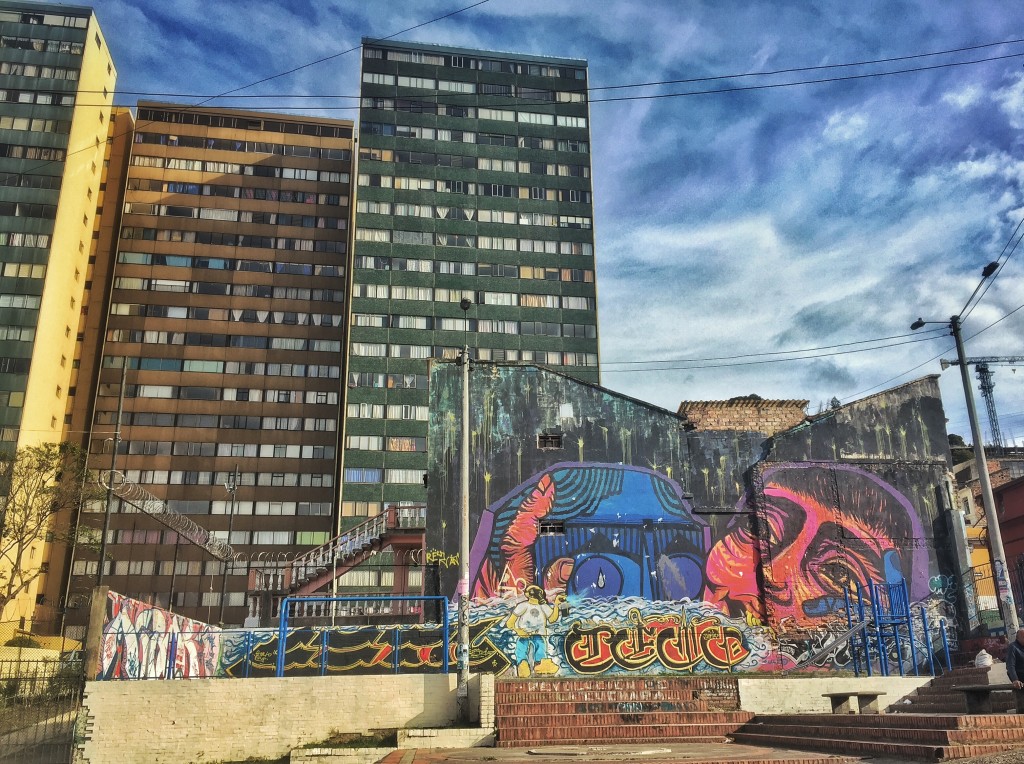 I also think it's interesting to frame the art within the context of the city, the buildings, the trash, the realness surrounding the art.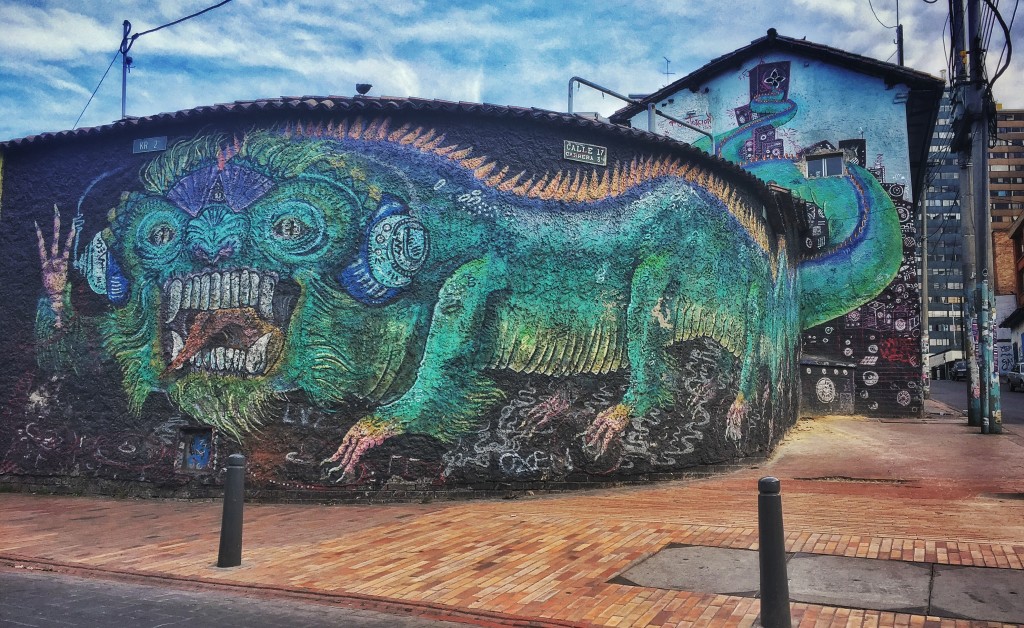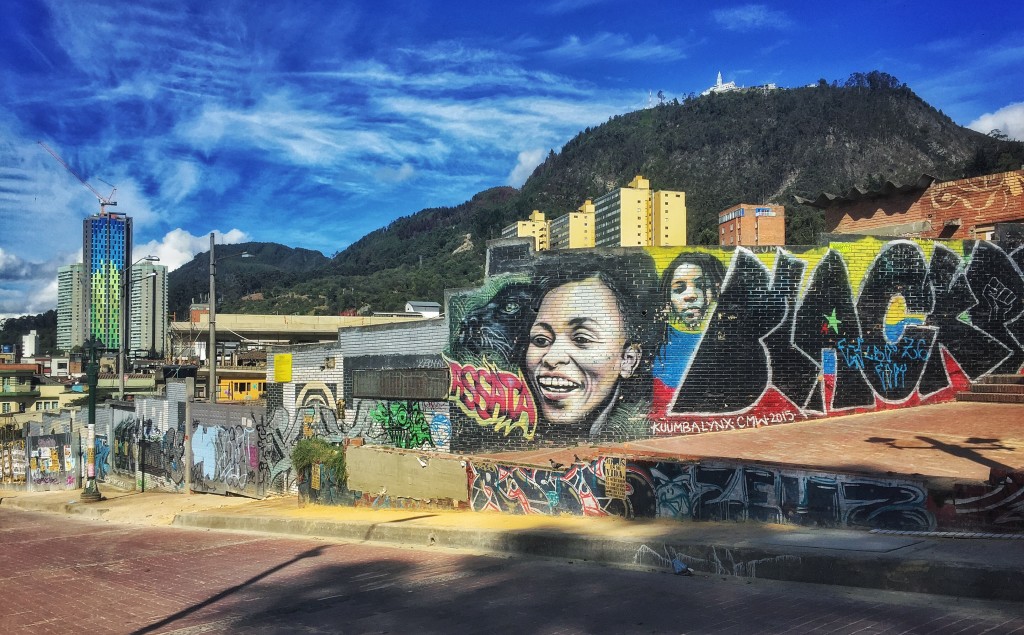 You can see famed Monseratte on the hill in the background.

After resting up and having a fairly tranquil day soaking up the street art we decided we should get our legs moving and do a hike the following day.
After Tim did some research we found a short day hike to three lagunas high in the paramo forest about an hour outside Bogota. We rode over the mountains surrounding the city, and further out on some dirt roads, eventually finding the elusive Chingaza national forest.
.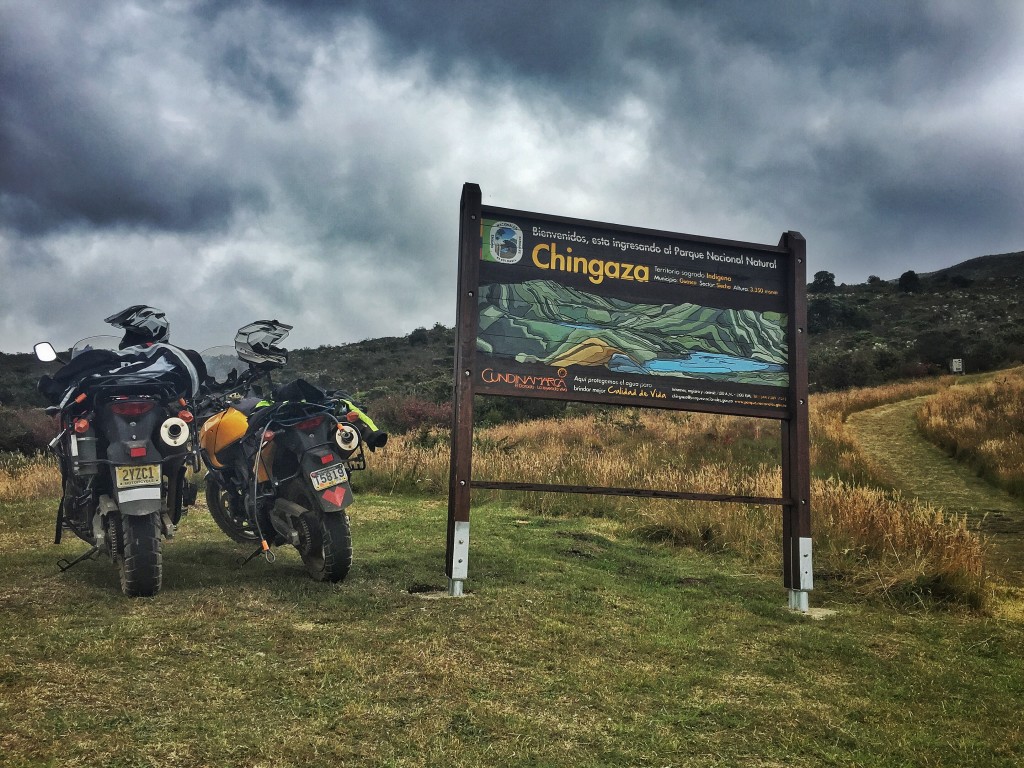 Notice those bald tires, perfect for dirt! (they didn't get changed until Peru…oops)
The hike was easy, not too far in length, but at a significantly higher altitude than we were used to around 11,000 feet. We climbed up to the beautiful lakes, but ventured off the typical path, through a small mud cave and up to a gorgeous view at around 12,000 ft.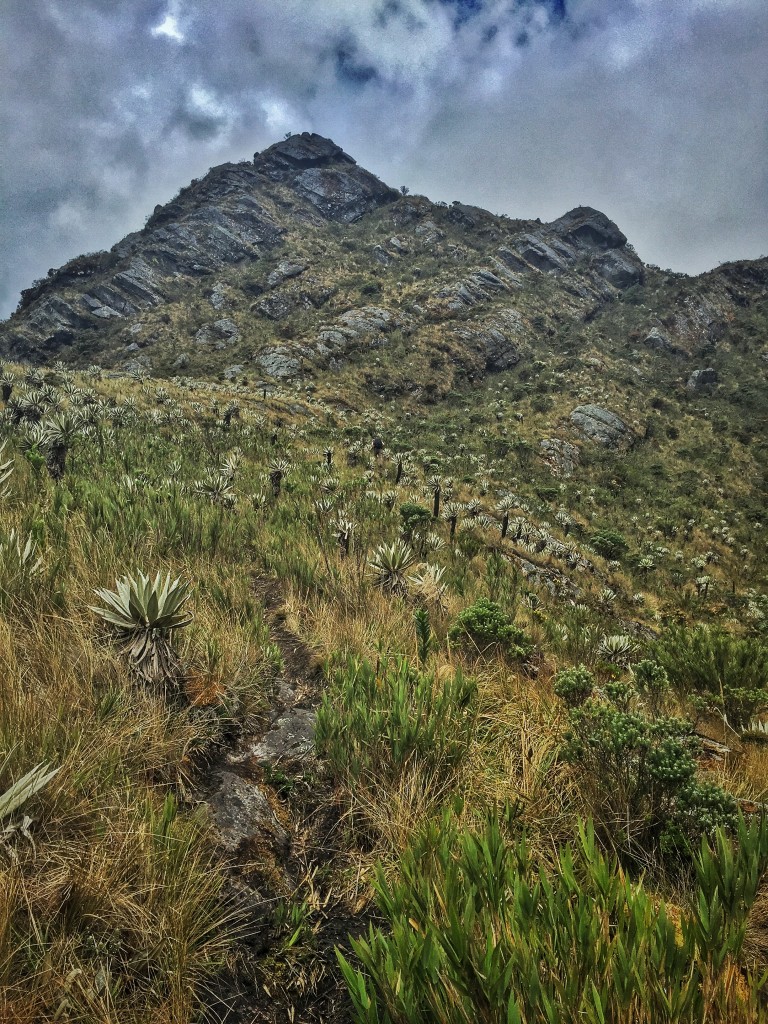 Tim deep within the Paramo…can you see him?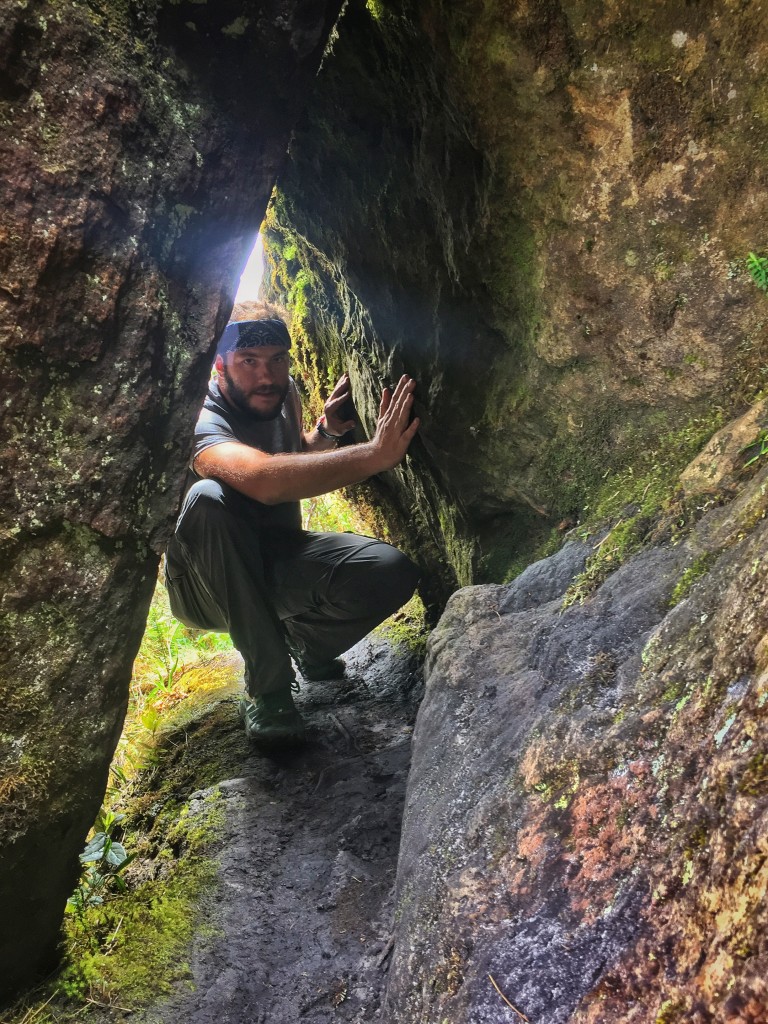 This wasn't the mud cave, but a quick obstacle for those of us at 6ft

Tim takes in the view at 12,000 ft. The Andes seem to stretch on forever.
The next day or so was spent sourcing parts, and doing bike matineance. Eventually I got my camera back from the Canon Authorized Repair place and Tim and I set our sites on our final destination, Cali. It was a full days ride, but we were on our way to a friend of the family's, Alvaro.
The day spent riding Tim and I transversed the highest point in Colombia, La Linea, and we also encountered the worst traffic we had seen. On the single lane two way mountain road connecting Bogota and Cali there was a major accident involving an overturned tractor trailer. The cops had set up a road block a few miles from the accident directly outside of the first town it impacted. We sat and waited for five minutes, then said "to hell with this" and blew by the police. After the town the traffic picked up again, and we started passing everyone in the oncoming lane. Suddenly a couple other motorcyclists were coming at us, we pulled back into the traffic to them pass, but they frantically waved us on. Back into the wrong lane we rode for another few miles before coming upon the carnage. At the scene, there was a small patch of dirt on the turn next to the cliffside, just wide enough for motorbikes to fit. So we slide on by and passed anoter 8 or so miles of traffic on the other side. These poor suckers in trucks and cars were never getting by.
As he sun began to fade we entered Cali. We stopped for some Papas Rellenos (Potatoes stuffed with rice, meat and an egg, then deep fried) and scoured for some internet to contact Alvaro. We didn't find any, but posed for a few pictures with some locals then left in desparate search of a cafe. We found one, caffiened up, and were instructed to a mall near the mountains where Alvaro lived. He told me to go into the mall and call him from the phone store. Mildly confused I wondering around the wall, and with my terrible Spanish skills I eventually found the store. Unfortunately the very uninterested teenage girl behind the counter wasn't super motivated in helping me, or the other man waiting beside me. He turned to me and asked me a question in Spanish and motioned to his phone. Totally unsure of what he said I looked and the phone and saw an email I had written…it suddenly clicked and I said " Alvaro?". "Matt?" Funny enough he was in the same store attempting to ask the girl how to send a pin on a map. We made quick friends and Tim and I followed him up into the hills and to his beautiful home on the hillside.
Immediately, Alvaro and his lovely wife broke out the hospitality. We shared ice cold beers on his porch, and eventhough we weren't super hungry they insisted on feeding us the most amazing empenadas of the trip….no joke, we told them this not just to be polite…they were incredible. They also served us amazing cheesed stuff plantains. Time doesn't even like plantains and he couldn't put them down. We talked and talked and eat and eat. Then we hoped in the car and Alvaro took us downtown and gave us the cliff's notes tour of the city. As we drove he pointed everything out, and we got the most understanding in 1 hour in the dark of night, than most people get with multiple sunny days. We shared a pizza on a beautiful hilltop overlooking the city.
The next day Alvaro treated us to an great breakfast and an super interesting tour of his property. He showed us his woodshop inspired by his father, his beautiful outdoor kitchen, and then all of the numerous beautiful plants he and his wife were growing. We sample the delicious fruits, we met the parrots and took in the vast compound.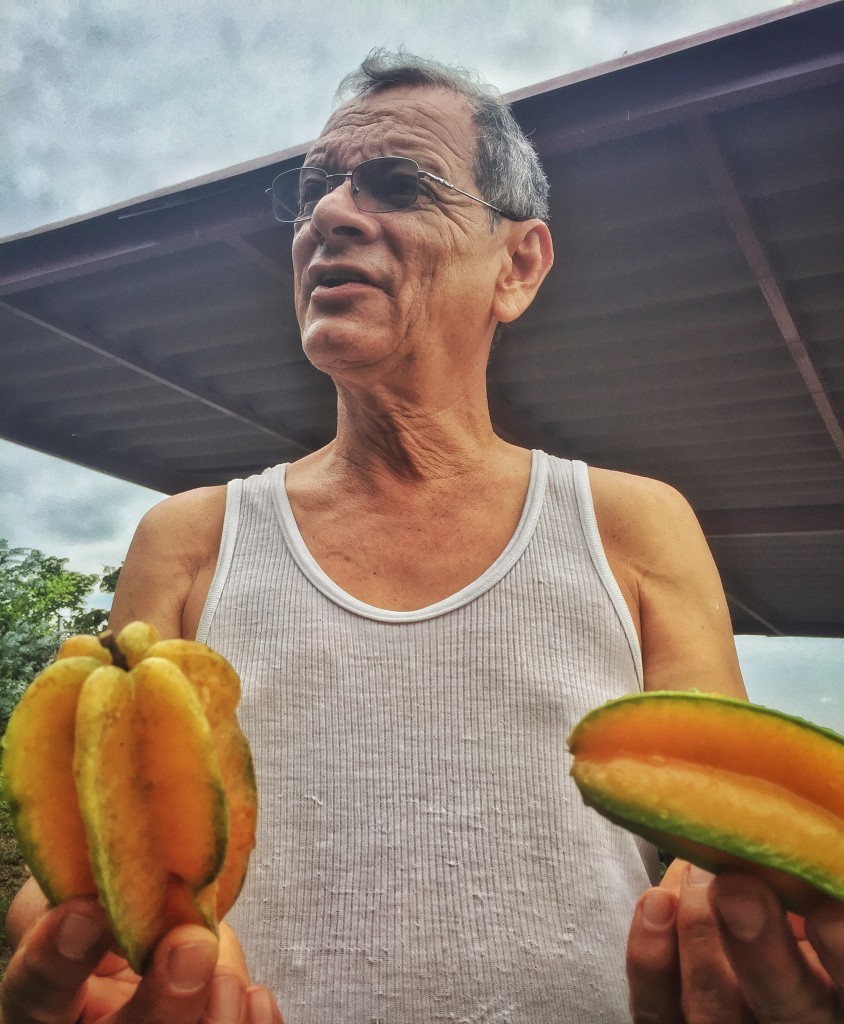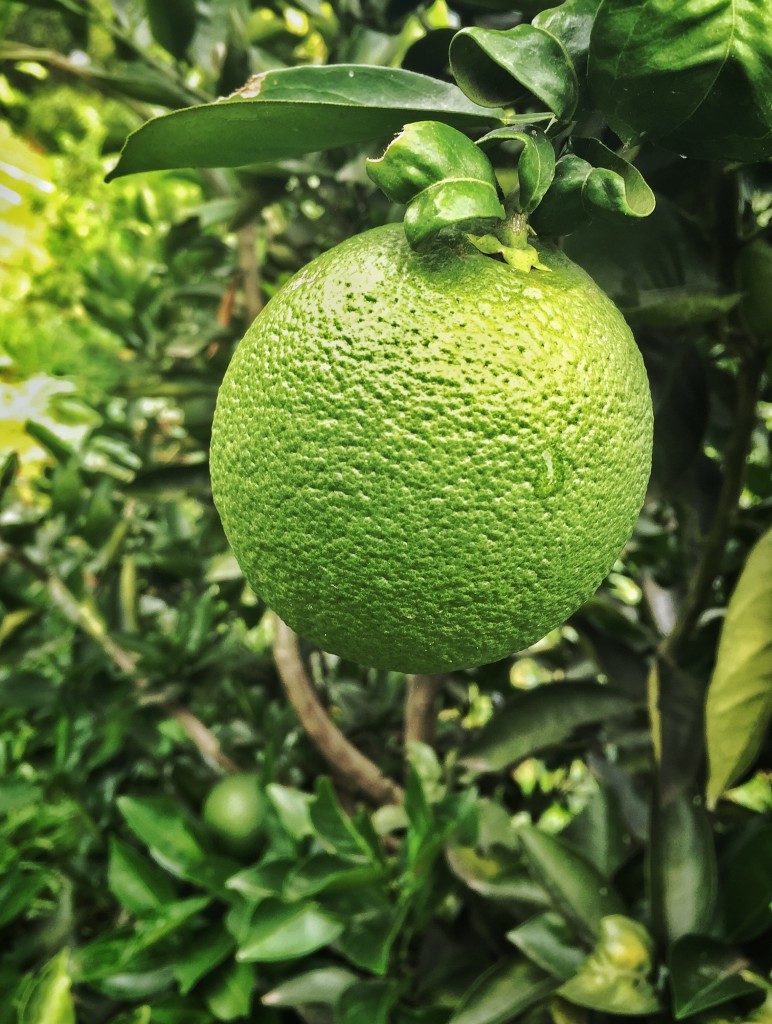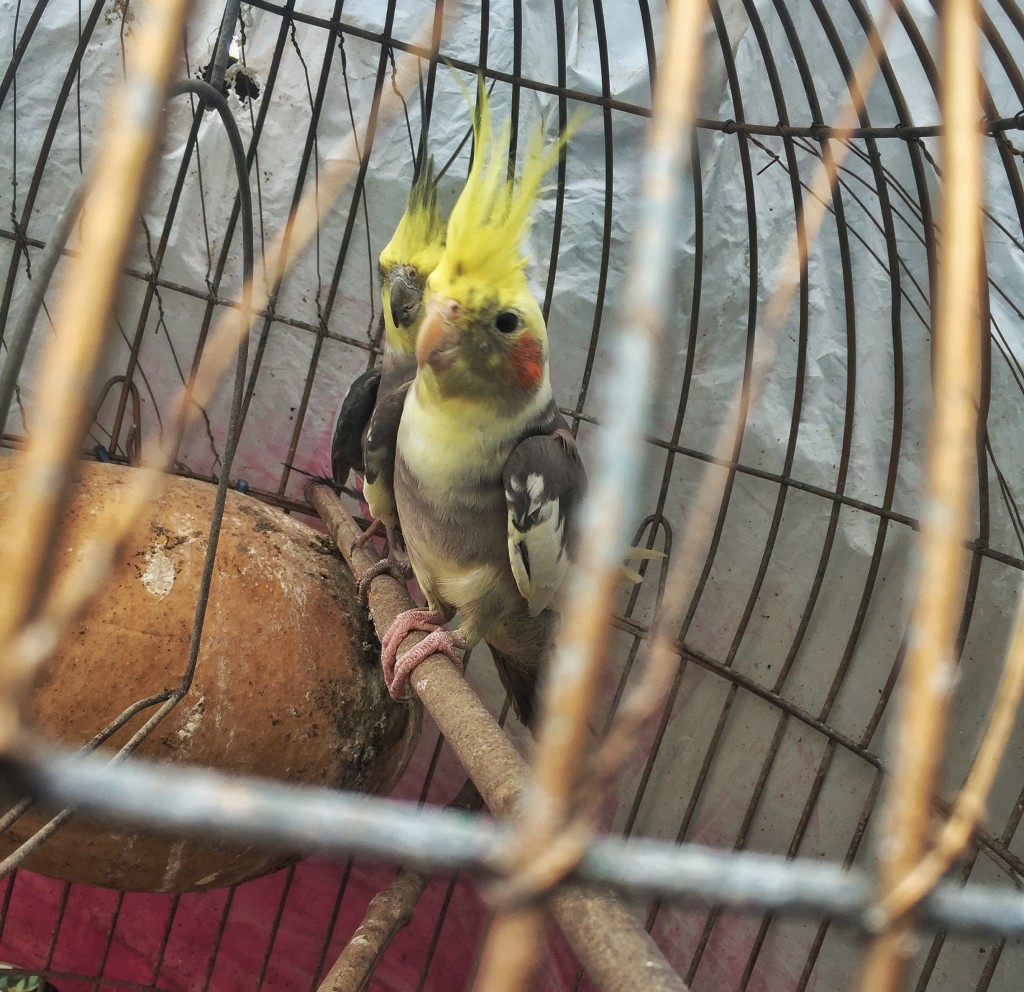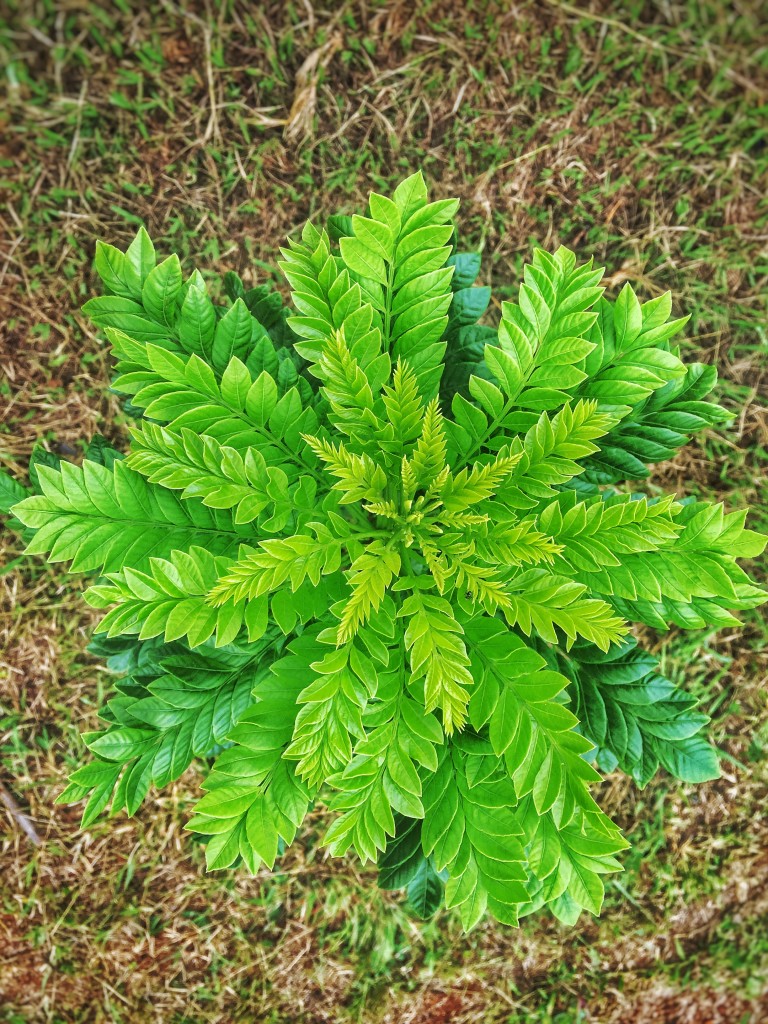 Spending a day with Alvaro and really learning and understanding the people of Cali and greater Colombia was very moving and interesting. It was the perfect way to end the incredible time we spent in the beauty country of Colombia. Oh Colombia, if I came back tomorrow it wouldn't be too soon, mi amor.