The Darrian Gap Crossing
Sasha carried us to shore where our first contact with Colombia was on the least sturdy dock I'd ever seen. Olaf, Hans, Anita, Matt and I parted ways with explicit instructions to return the following day for paperwork. Shortly into our walk to the hostel, Captain Ludwig passed by hilariously on a small scooter.

It was strange to be without our bikes, only our feet to propel us. A small bubbly girl welcomed us to our hostel, we set down our bags, soaked up some WiFi, and began to explore Cartagena.
Matt and I were in the heart of the city, behind the historic wall. It was vibrant, filled with outsiders, and was hotter than hell.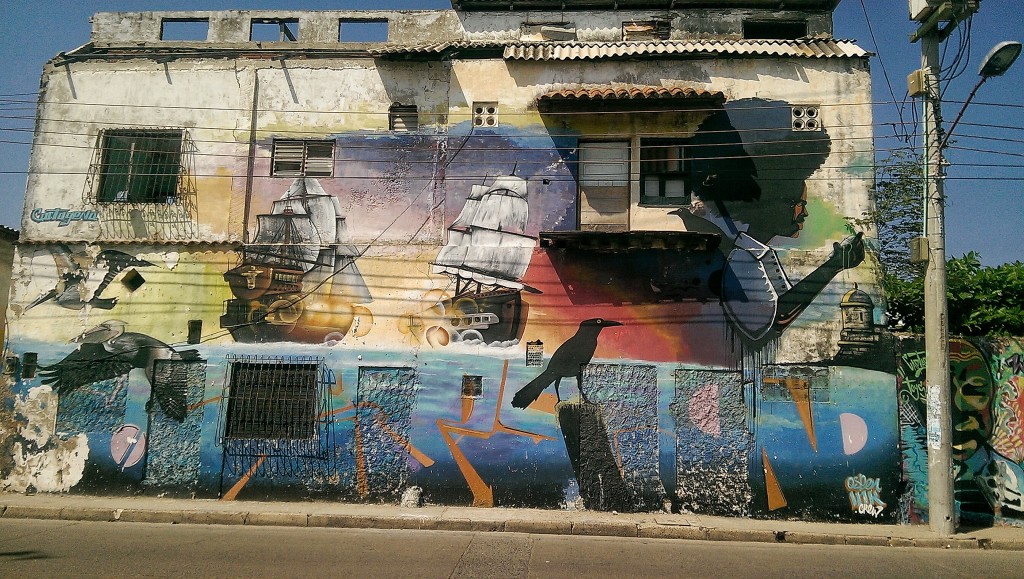 As we roamed the streets, we searched for ATMs to collect some new currency. The inside of the bank was cold, a drastic contrast from the sweltering heat behind the door. With money in hand we looked for cheap eats and found them in the form of smoothies and meat filled pastries.That night we walked around and took in the sights, and obviously I searched for/found ice cream. Galleta de mi Abuela, delicious.
We awoke early the next morning expecting we might receive word about our bikes from Ludwig. Word arrived later that we didn't need to do any paperwork, it would be handled the next day.
We did the touristy thing and walked the length of the wall, gave a good view of the whole city and kept our glutes in shape. We also attempted to visit a castle but they charge a gringo fee and so we opted not to. In some confusion, they gave Matt $6 too much change back, 🙂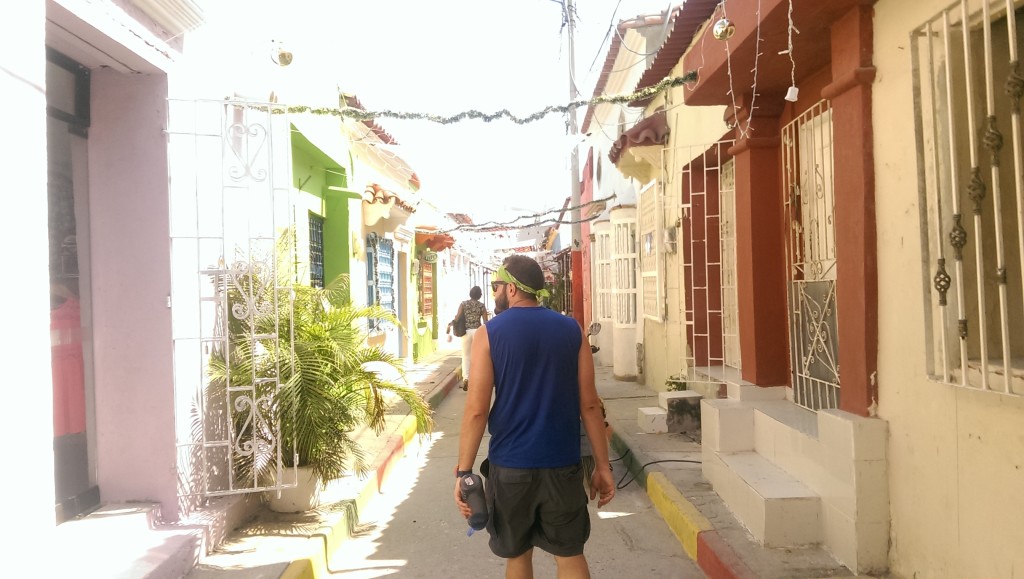 We met up with Olaf later in the day at a cool Russian themed bar where the waitresses dressed in costume. We grabbed dinner and then they went on for beers while I roamed the city a bit.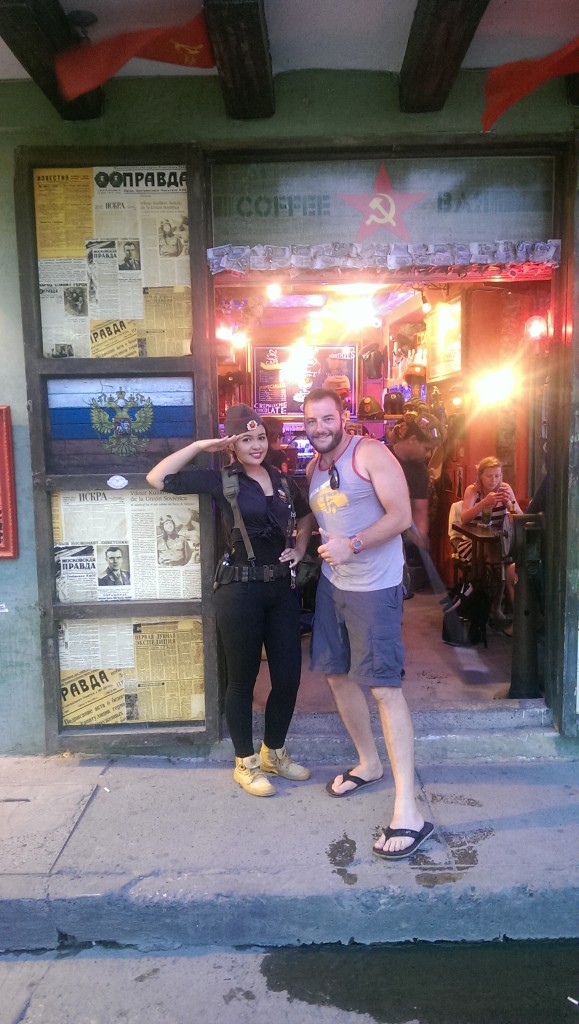 Then it was finally bike collection day. We did paperwork at the government building and then boarded the ship. It wasn't long before the harbor patrol stopped us and boarded the ship. They rallied us to the front and then picked three bags to search. 2 were mine and 1 was Matt's. All was well and they left, shortly we arrived to the port. We had thirty minutes to unload the bikes so an assembly line was formed and we worked in quick fashion. Three people had forgotten their keys so they'd be waiting for a bit while the rest of us left for the SOAT to get insurance.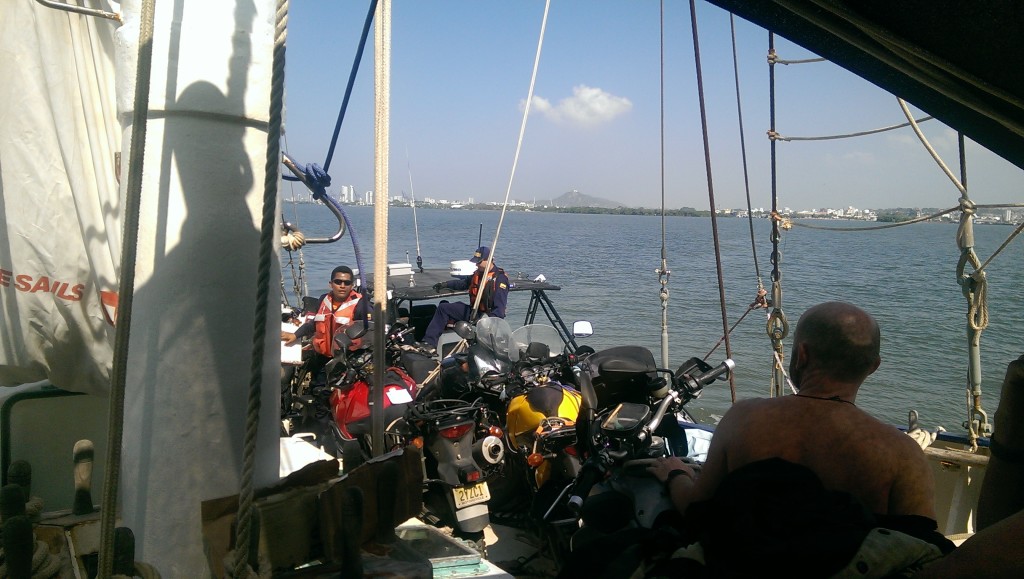 At this point our bikes were legal. It felt good to be back on the bike. Back to the hostel to park the bikes and then off to the movie theater for Star Wars. It took us a couple tries to find a place playing it in English. Afterward we met up with Tim and Savannah before heading to bed.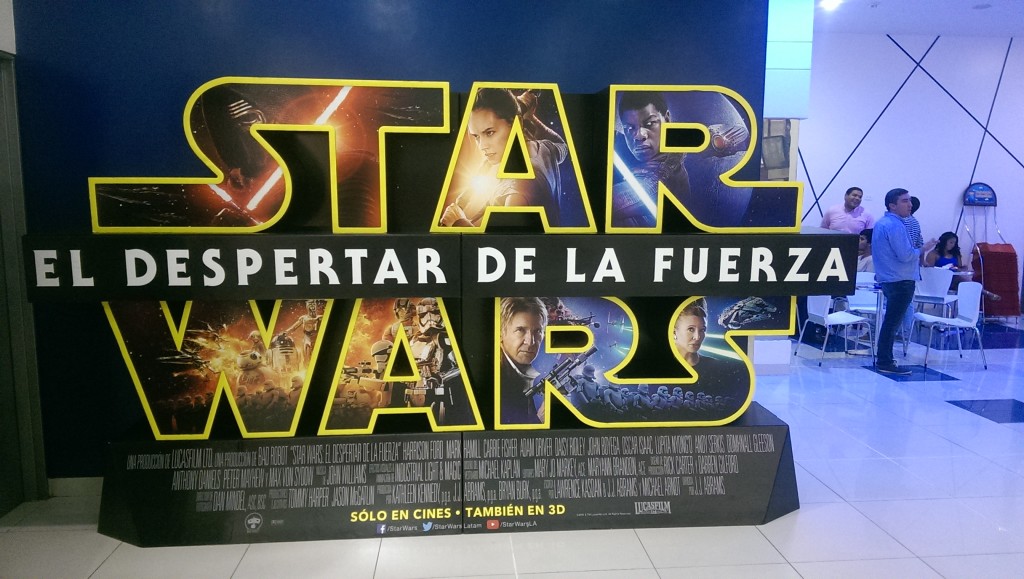 In the morning Matt and I began the 600+ km ride to Medellin. We could have split it up over two days but instead decided to just crush it. It turned out to be a very long day of riding. Mileage in these countries isn't related to time, there's just too many variables. Afterward we recommended to Tim that he make it a two day trip.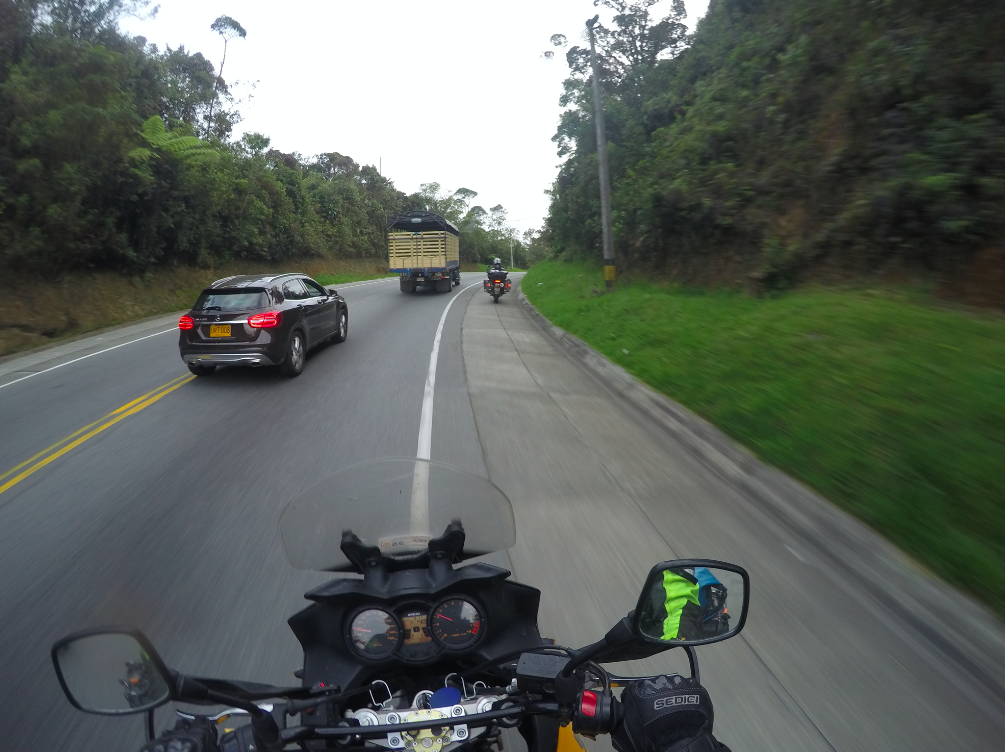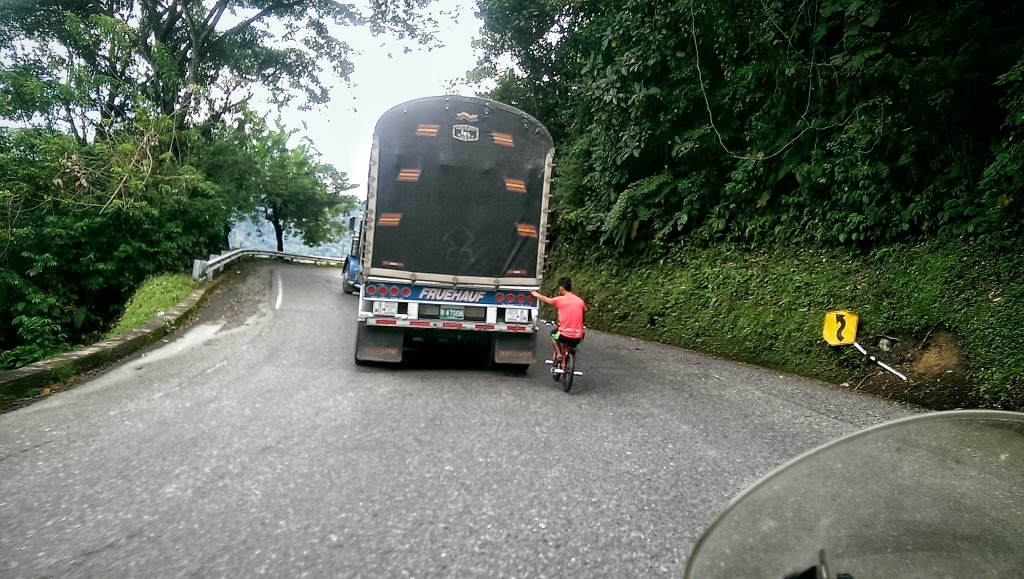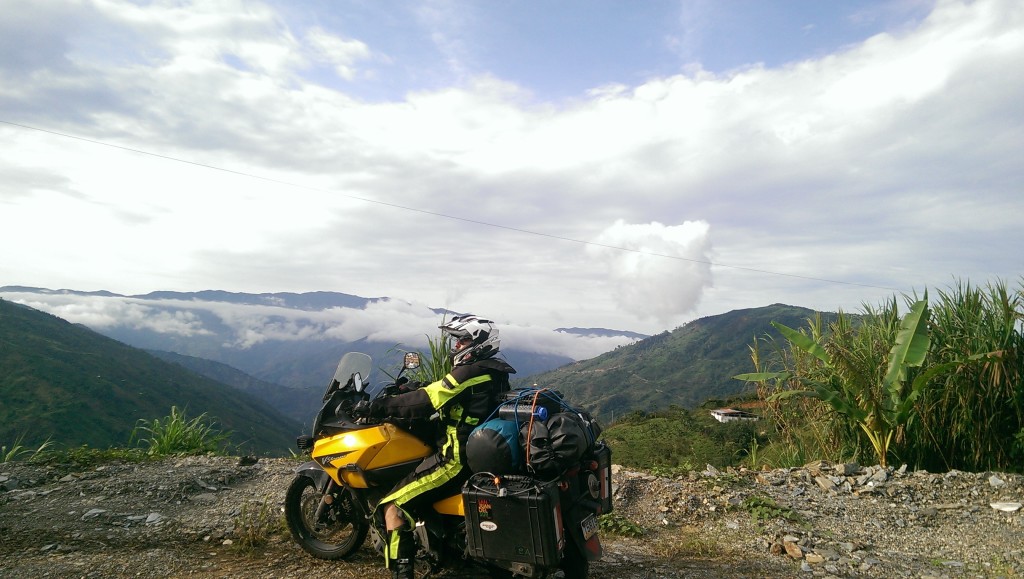 Medellin appeared before us after nightfall. It was chaotic with construction abundant, traffic, and a minimal idea of where we were going. After a quick stop in the median to reroute to the hostel, we were on our way.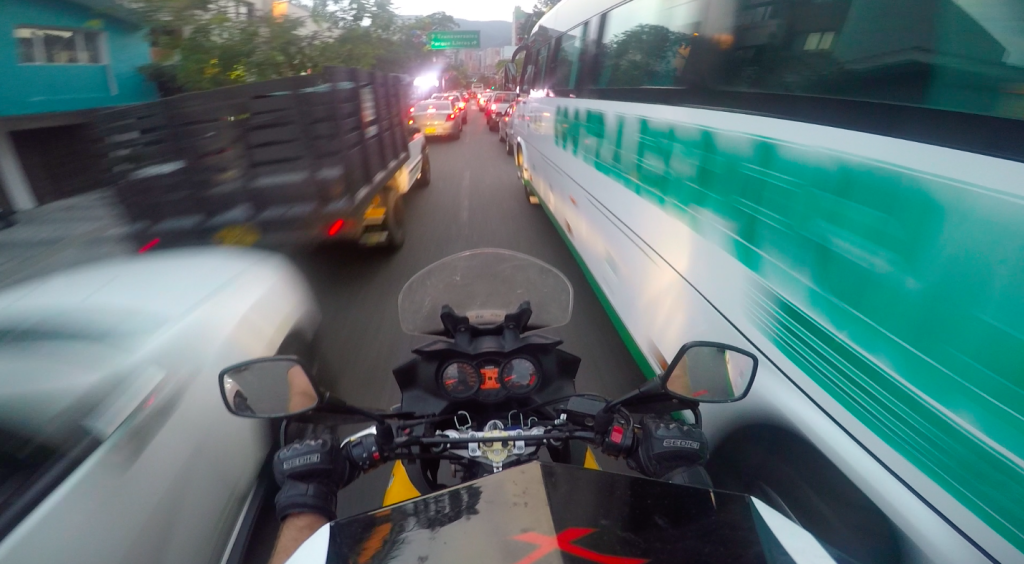 Happy Buddha was the name of our hostel which upon entering we quickly learned was a bit of a party hostel, albeit new and nice. After unpacking we indulged in some much needed nourishment at a nearby Indian restaurant, quite a change of pace.
The next day was Sunday. We roamed around in the morning , did some planning, and I searched for some bike parts. Then I tackled a major job on top of a stump in front of the hostel, during a huge soccer match. It was an interesting experience being sprayed with foam by dudes in futbol jerseys while the front end of your motorcycle is entirely apart. Eventually after a trip to the hardware store, some creative thinking, and a few hours, my bike was back together and leak free.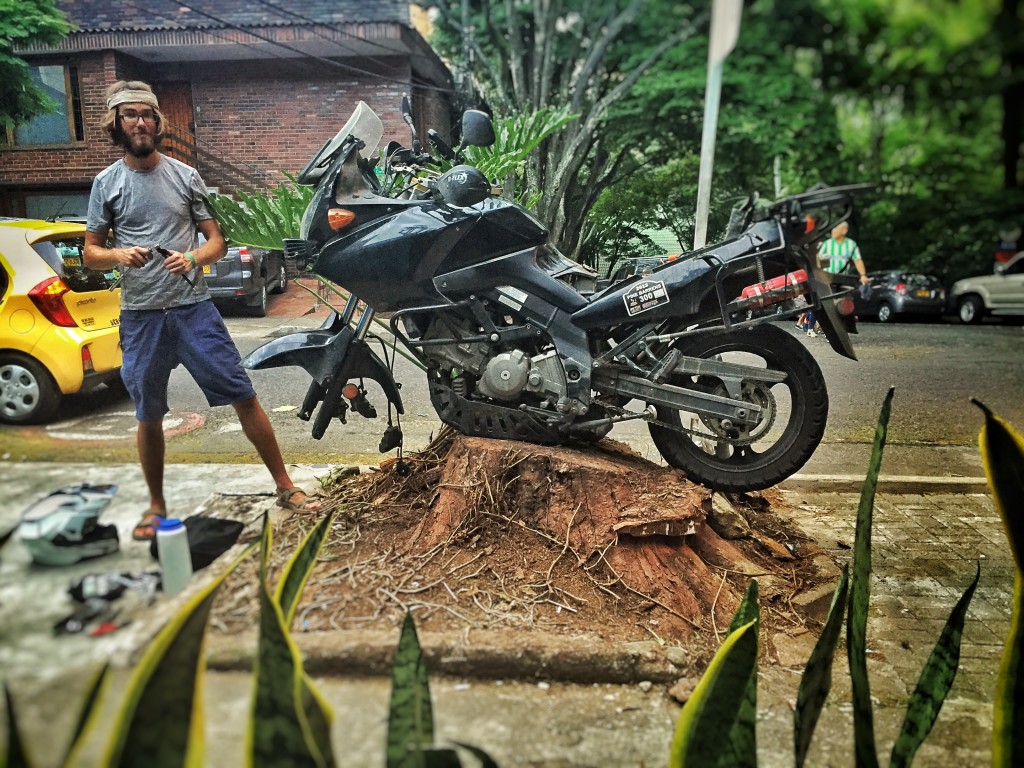 Monday we got up early to go on a tour, an exotic fruit tour. We were supposed to meet at Minorista station but we didn't really know where that was. After a confusing conversation with some cops, casually walking down the bus lane, and a real-life game of frogger, we found the group and went from wait list to IN.
We entered Minorista market with our tour guide Diana, the market was filled with people, vendors selling everything, and thin walkways meandering throughout.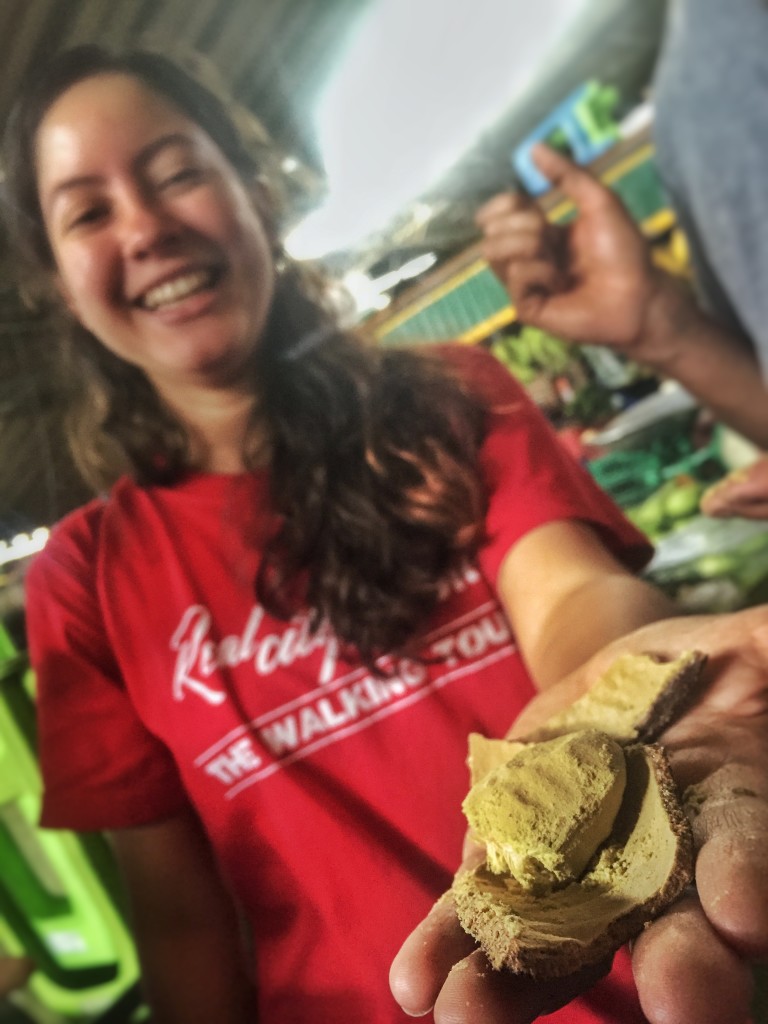 We tried a plethora of fruits I'll never remember the name of including the entire passion fruit family which took the prize for most delicious. The people within the market were amazing to watch and equally as amazing for Matt to photograph. They had all refined their craft to a level where it was second nature.
Snapping away I was immediately smitten with the vibrant colors of the Minorista market. The people, the food, the smells, the movement attacked my senses. As I stopped each busy person, to ask permission to take a photograph, I couldn't help but sense a small amount of shock as each person paused what they were doing. As they looked into my iphone camera I also sensed pride, pride in their work and pride in their country. This was the moment I began to fall in love with the people of Colombia. – MATT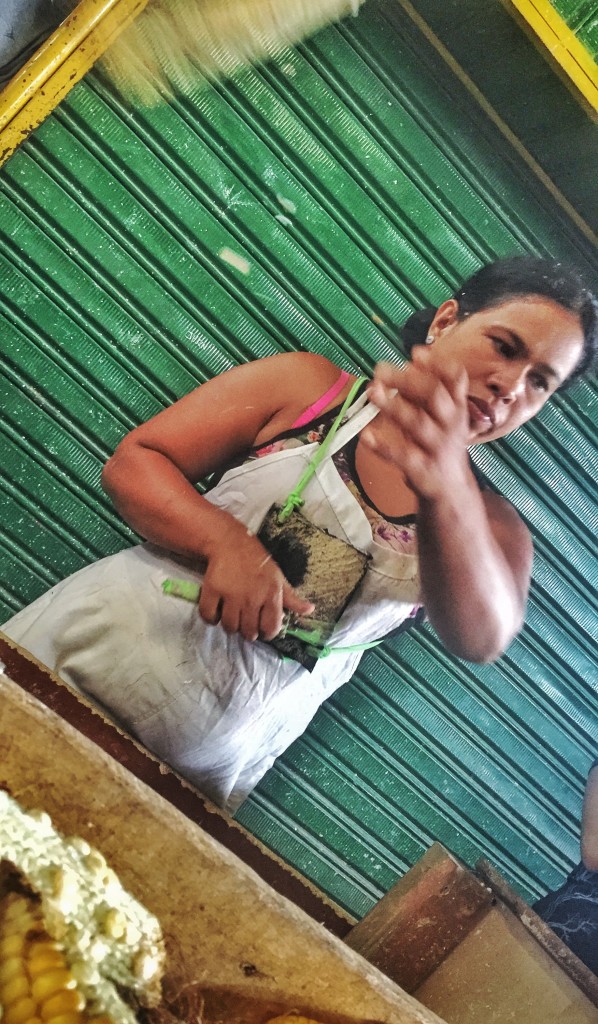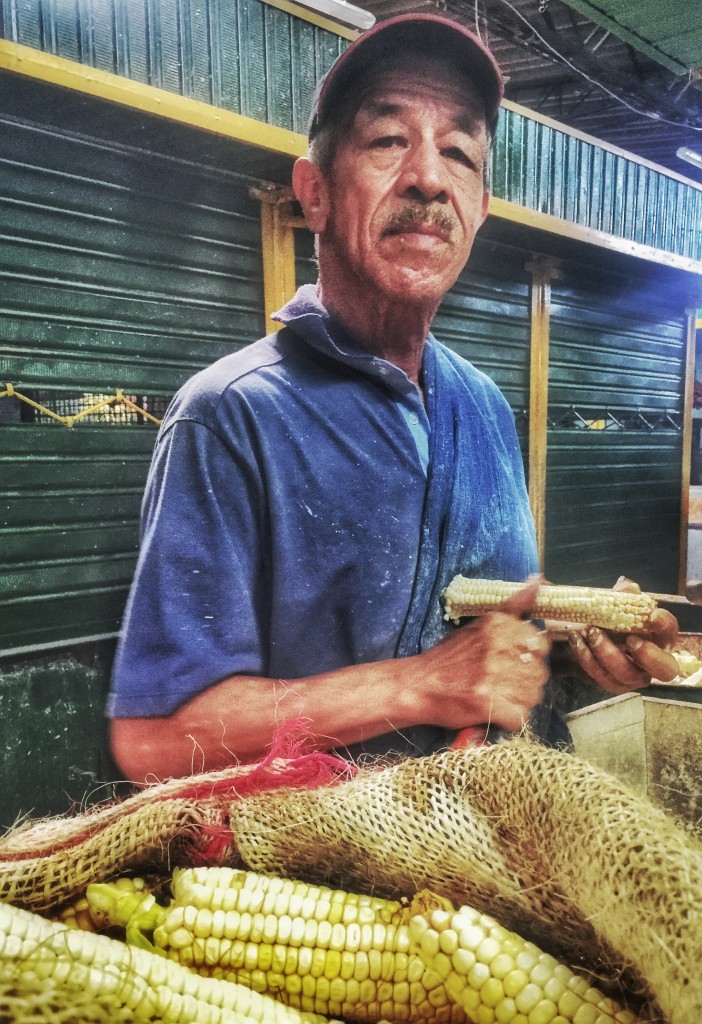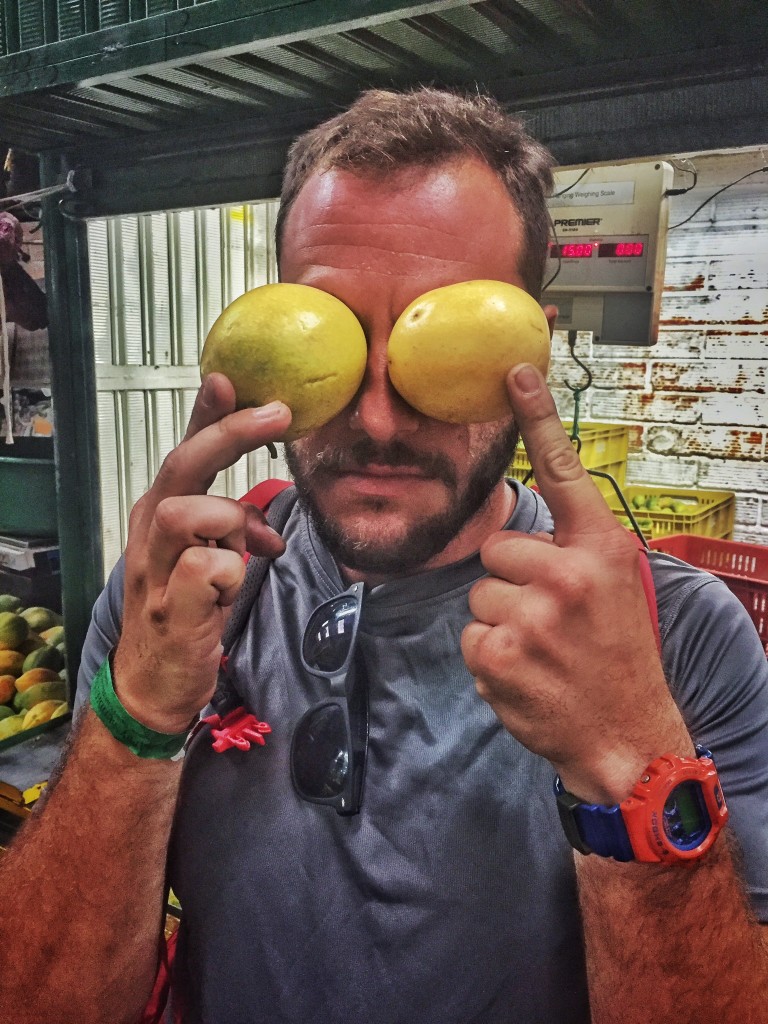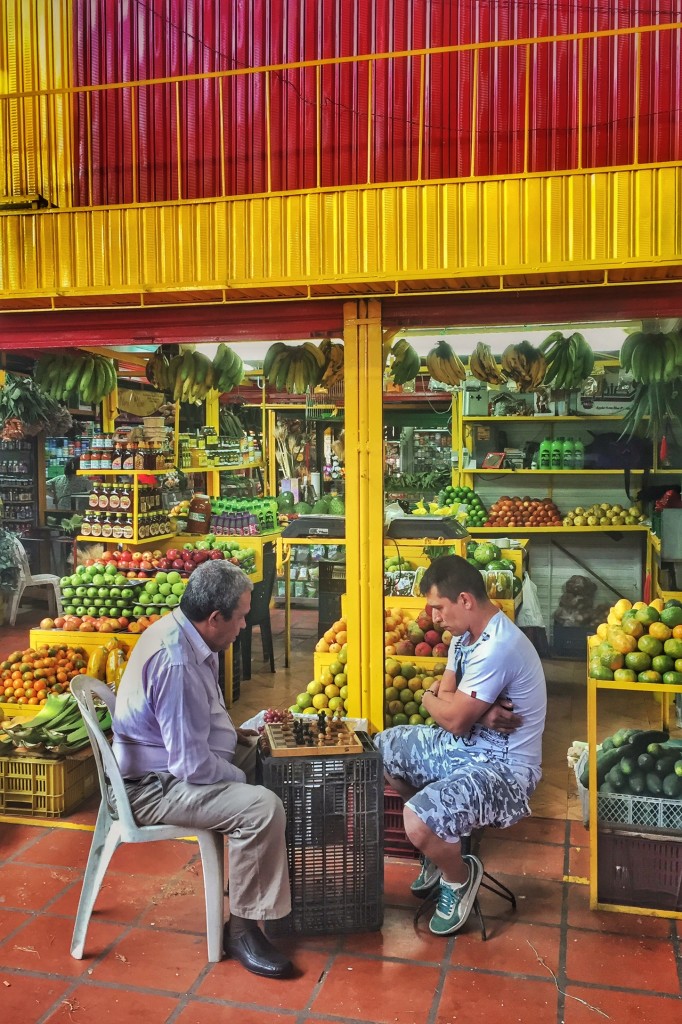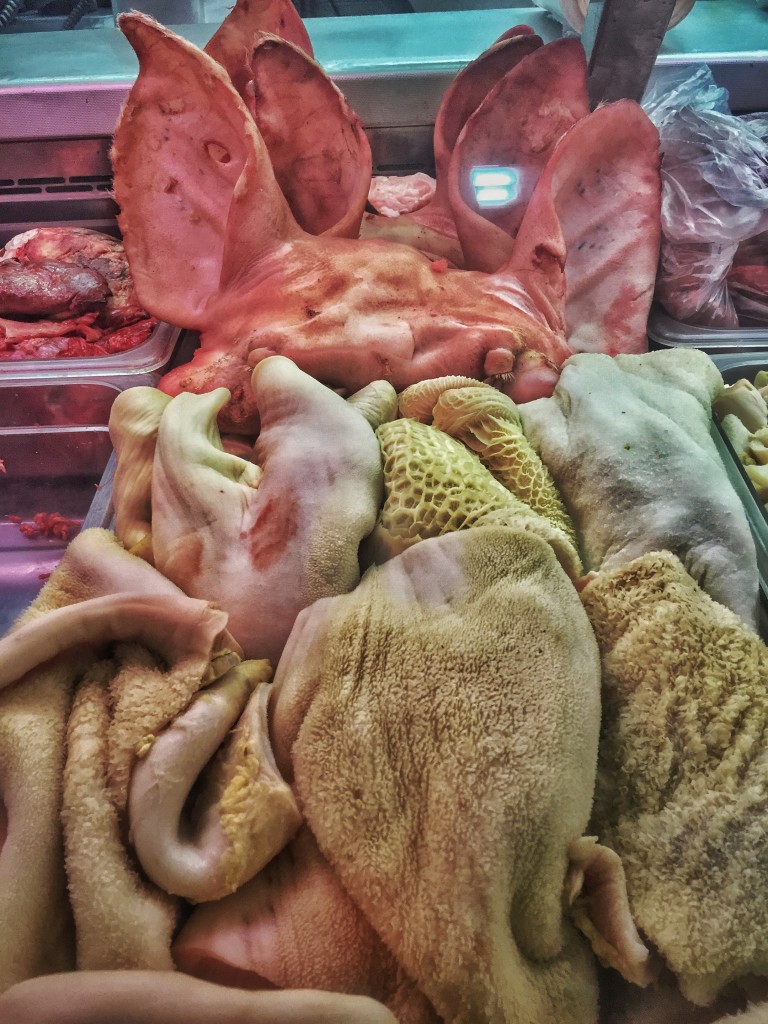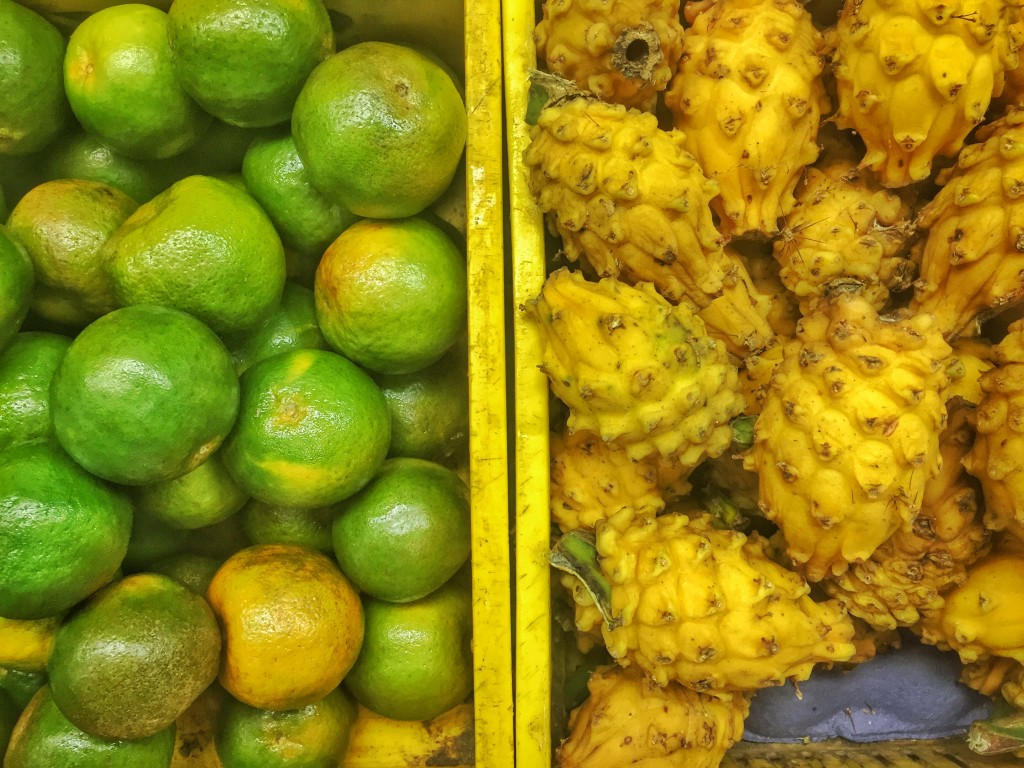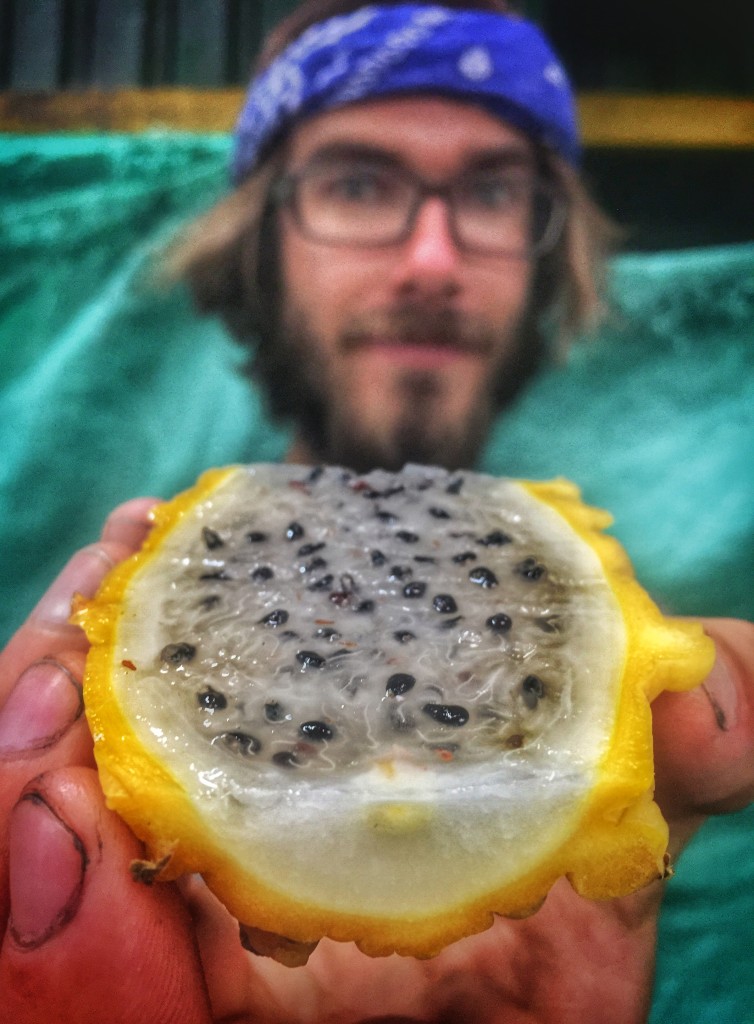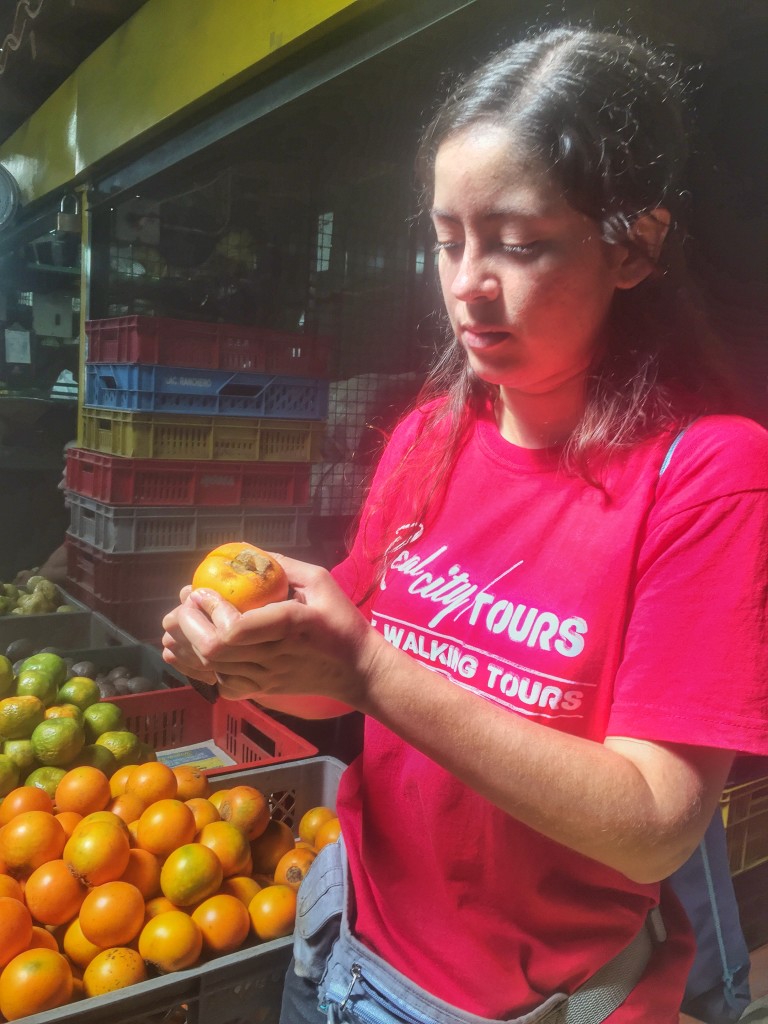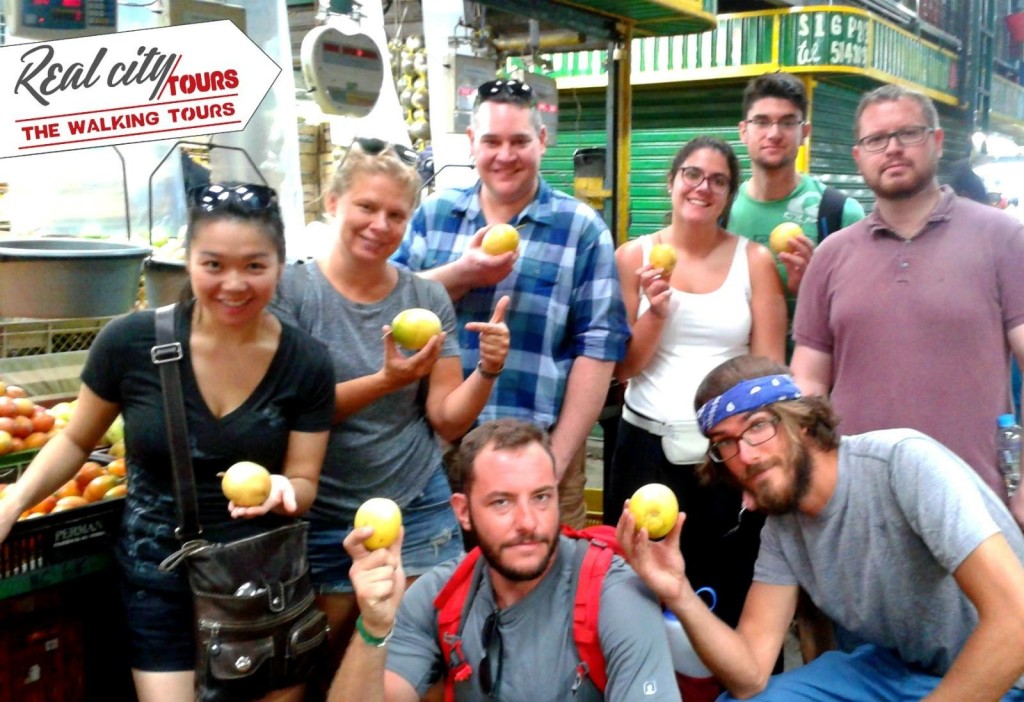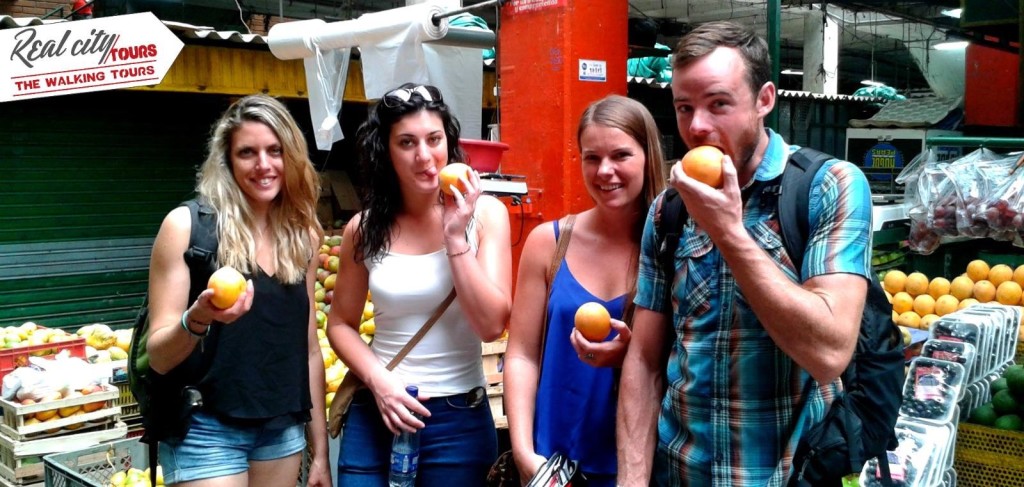 Tim and Savannah did the fruit tour as well!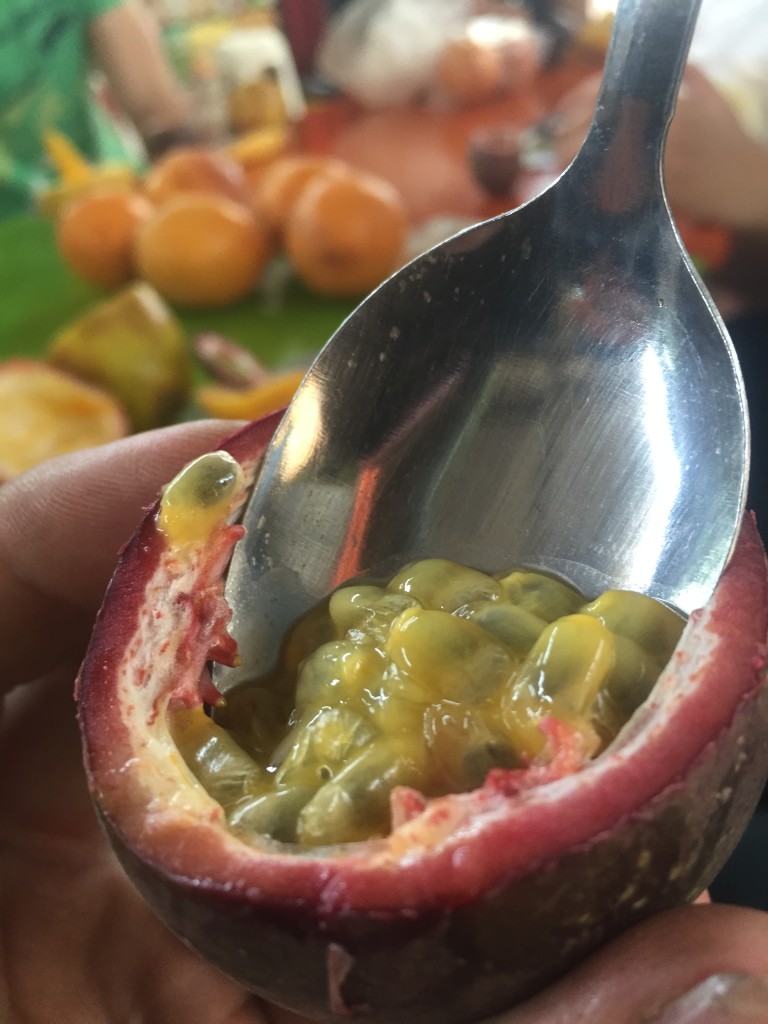 ONE OF THE PASSIONFUITS – MMMMMMMM
After the official tour, Diana showed us around the rest of the market where you can buy or fix just about anything. Need a seat for your turquoise 70s toilet? Need a screen for your old Panasonic laptop? They probably have it. Many things were repurposed, our personal favorite were the car rims turned into grills. Eventually Diana left us to our own devices so we indulged in some market lunch, I bought a couple cheap butterfly knives, and we peed in an outdoor urinal for the sheer novelty of it.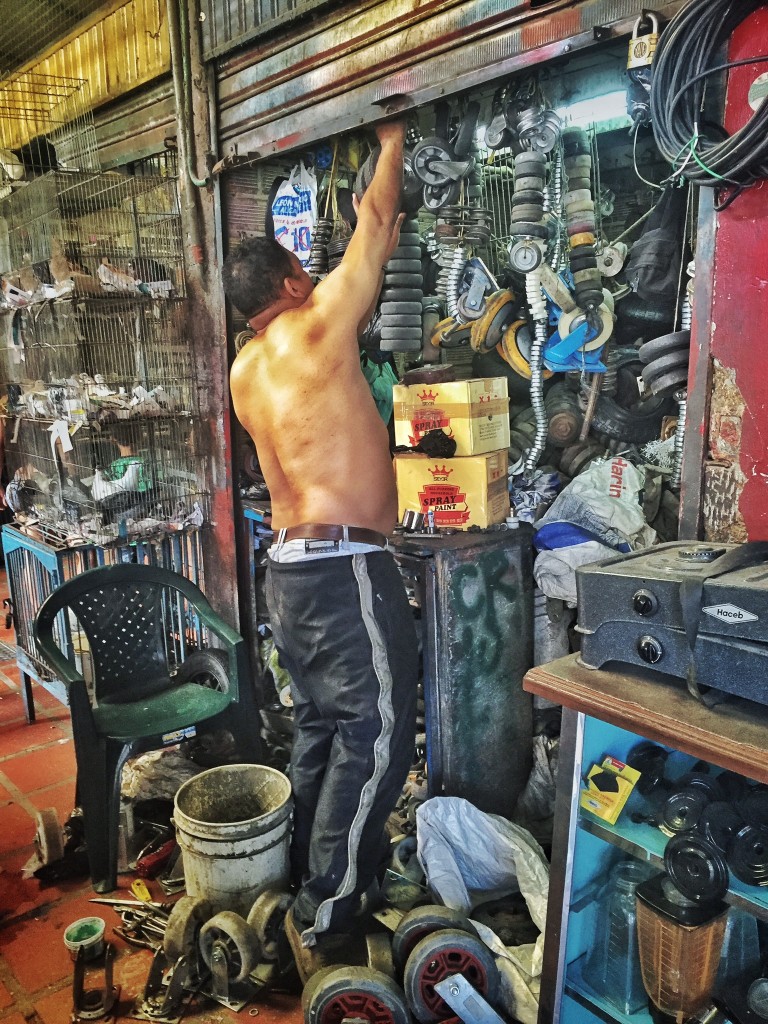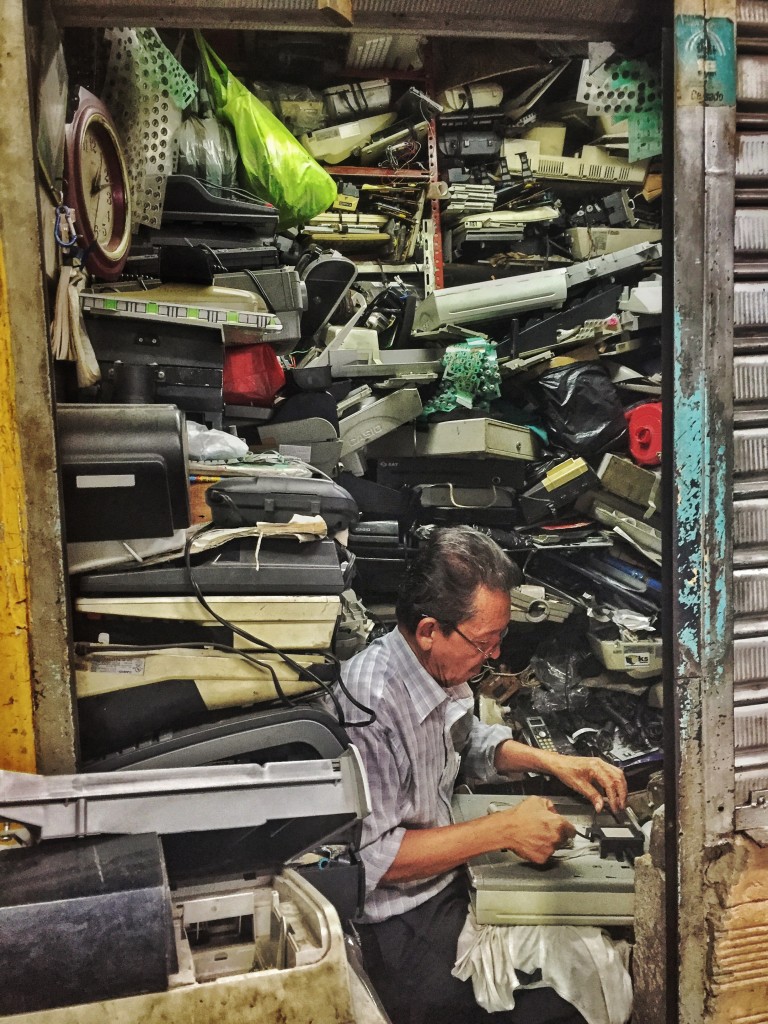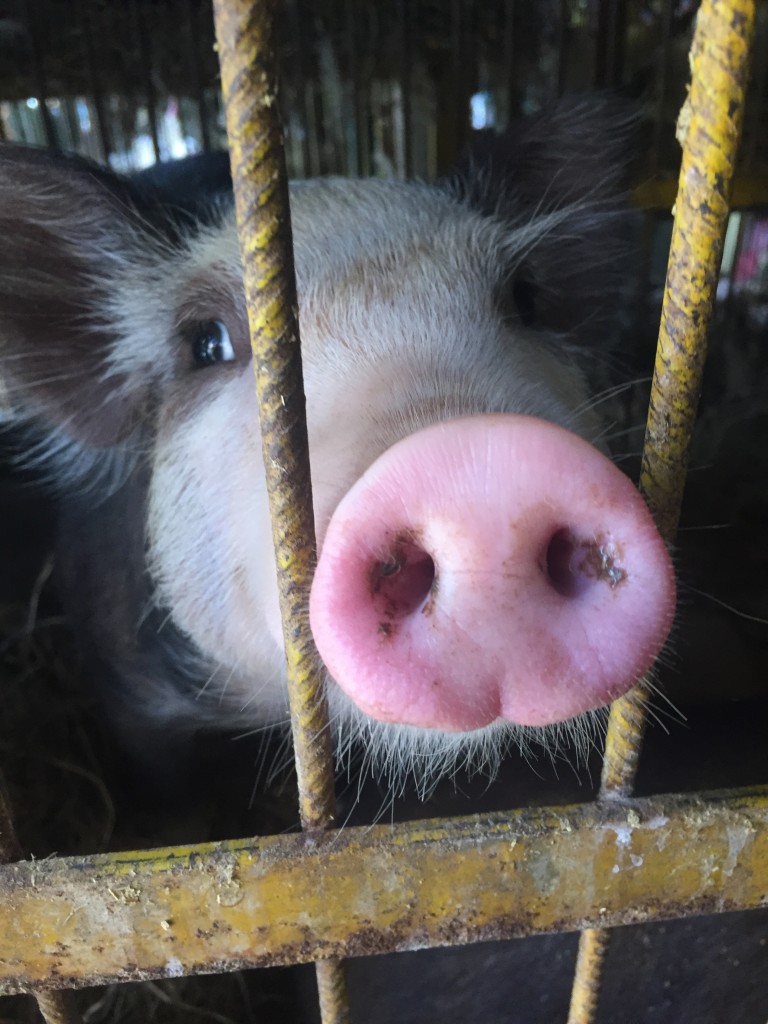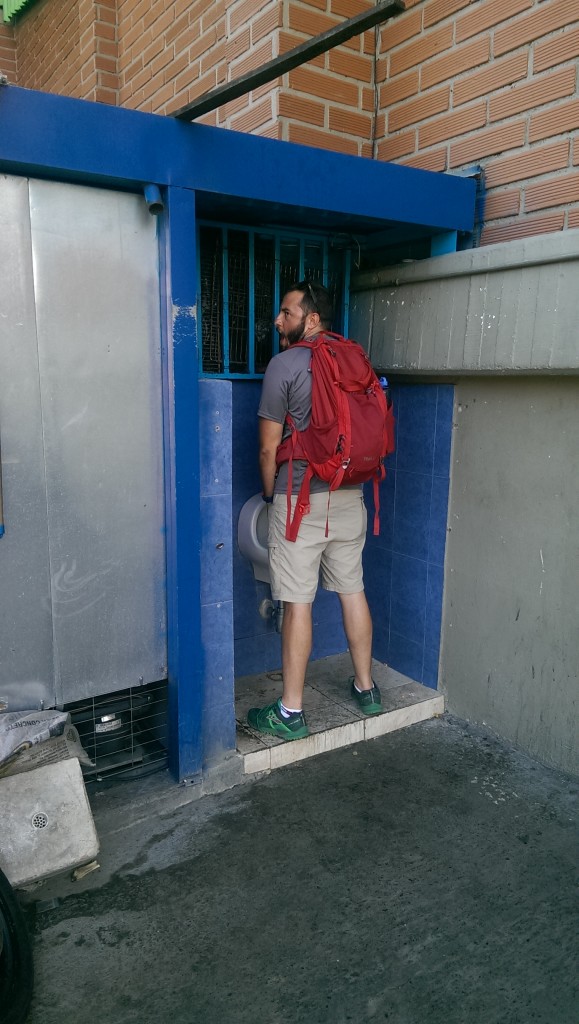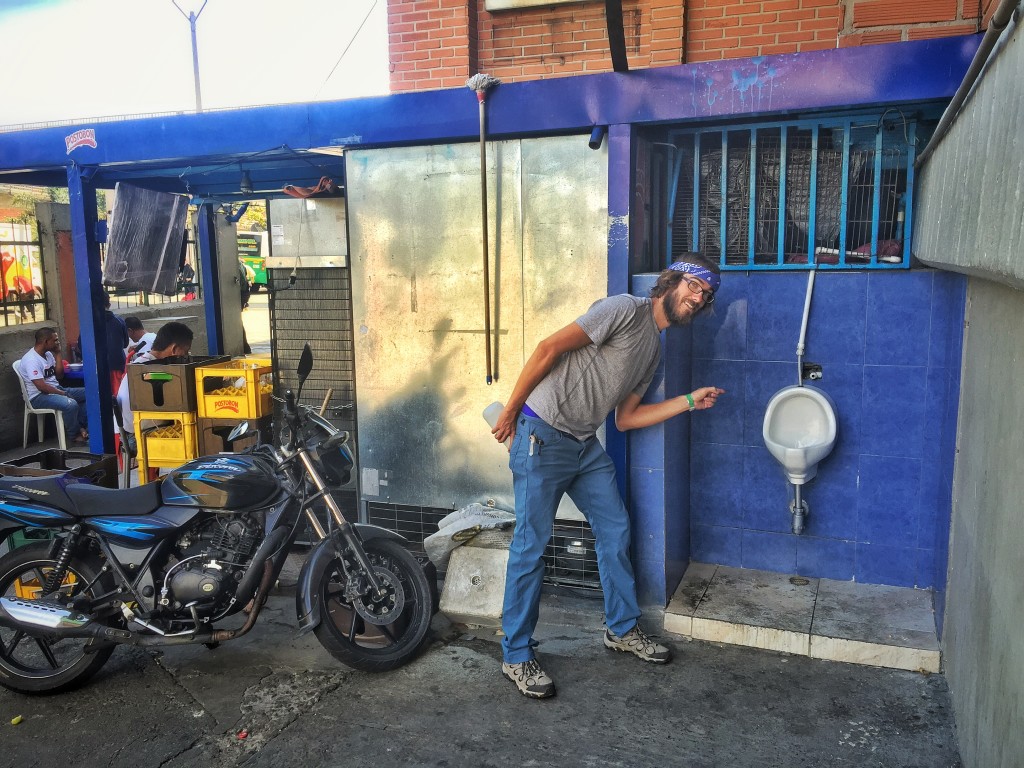 We spent the rest of the day cruising around the city, taking in the sites, and of course, eating. We also signed up for a tour for the next day. We rode out to the gondola and headed to the to the barrios. The gondola is an integral part of the city as it allows the people in the mountains to make a livelihood in the city. At the top we ran into our new friend Brian who was staying at our hostel. We hung out with a couple kids and took pictures of the city below.
Taking a ride up to the barrios in the sheer hillside of Medellin was an incredible experience. It seemed normal and touristy at first, but it offered us a glimpse of another corner of the vast bustling city. It wasn't until we started conversing with some locals that it all began to make sense. Speaking with some kids, and a young man, we learned how important the gondola truely was. It literally connected two different economic areas, and now some of the city's premiere libraries were popping up in the barrio. On our way back to the station to begin our descent, a few local children offered to tell me a quick oral history of the area. They told me how just a few years ago the area was a haven for violence and gangs, and now it was adorned with parks, street vendors and the occasional tourist. I tipped the kids, and and headed into the station. – MATT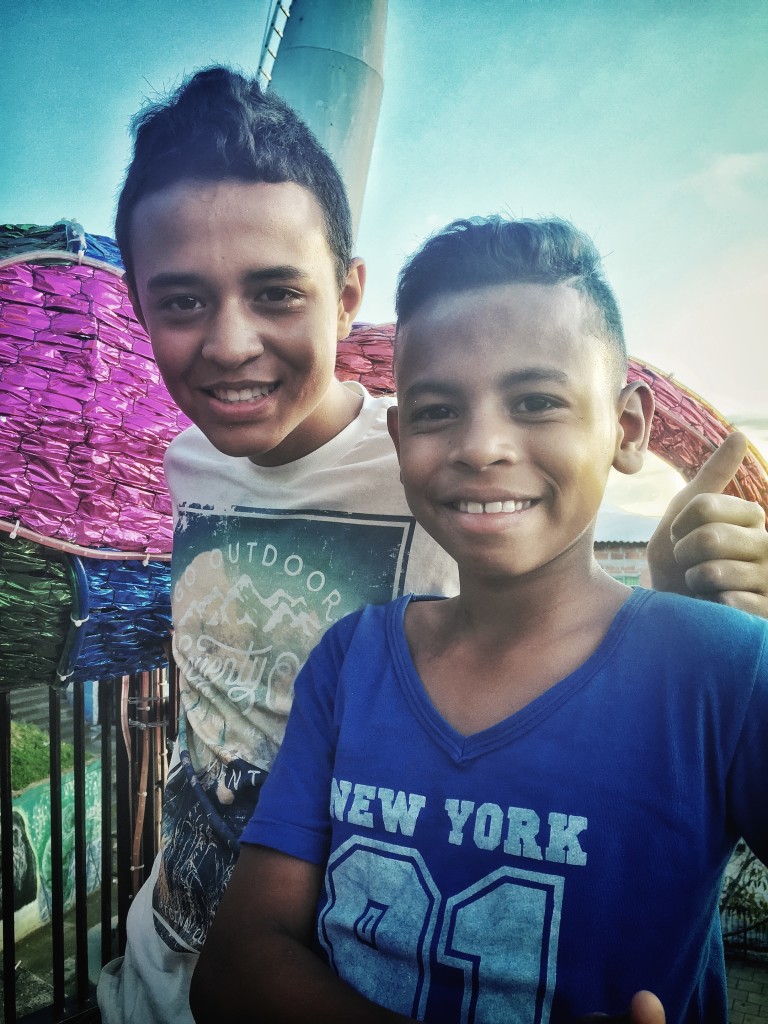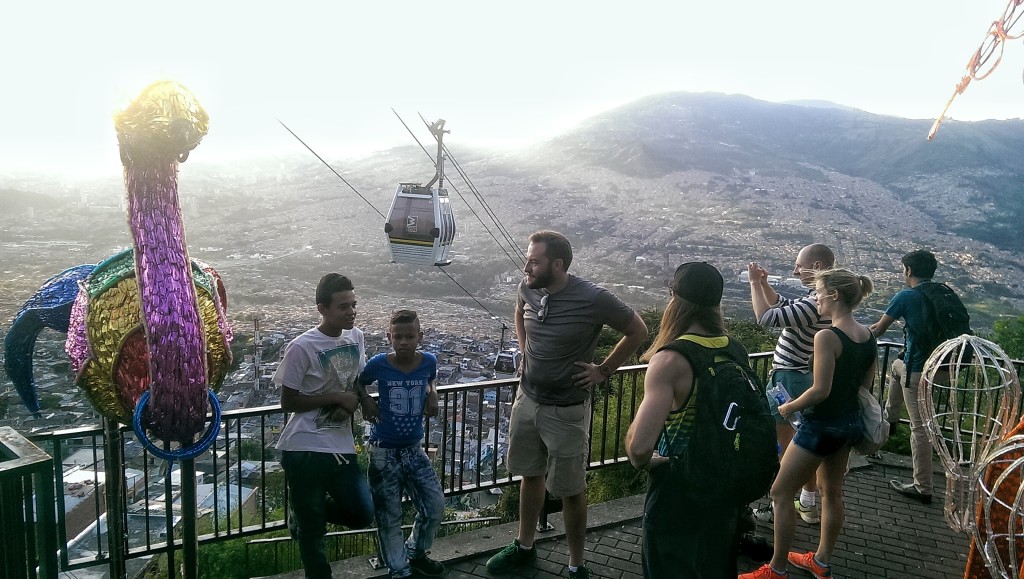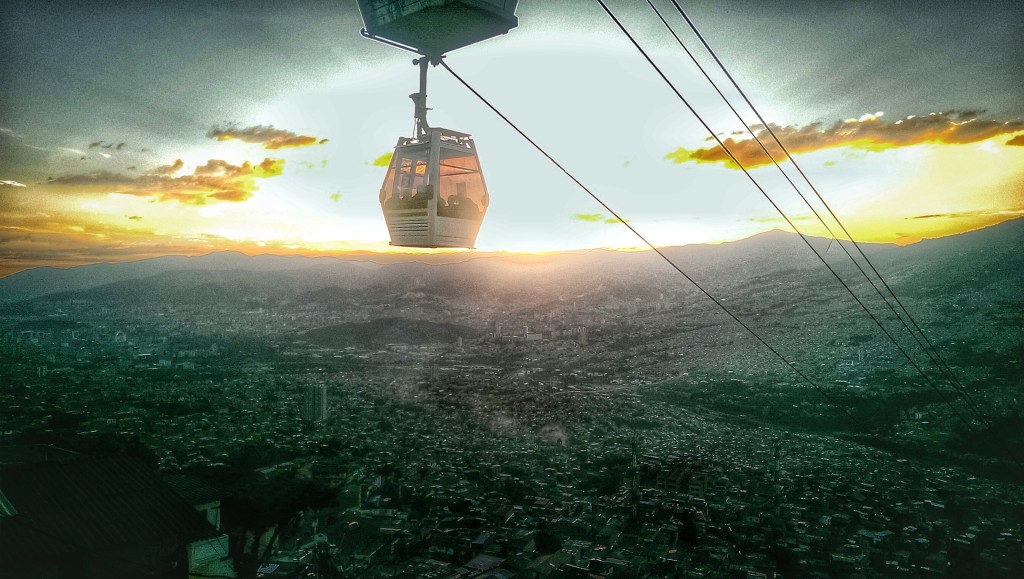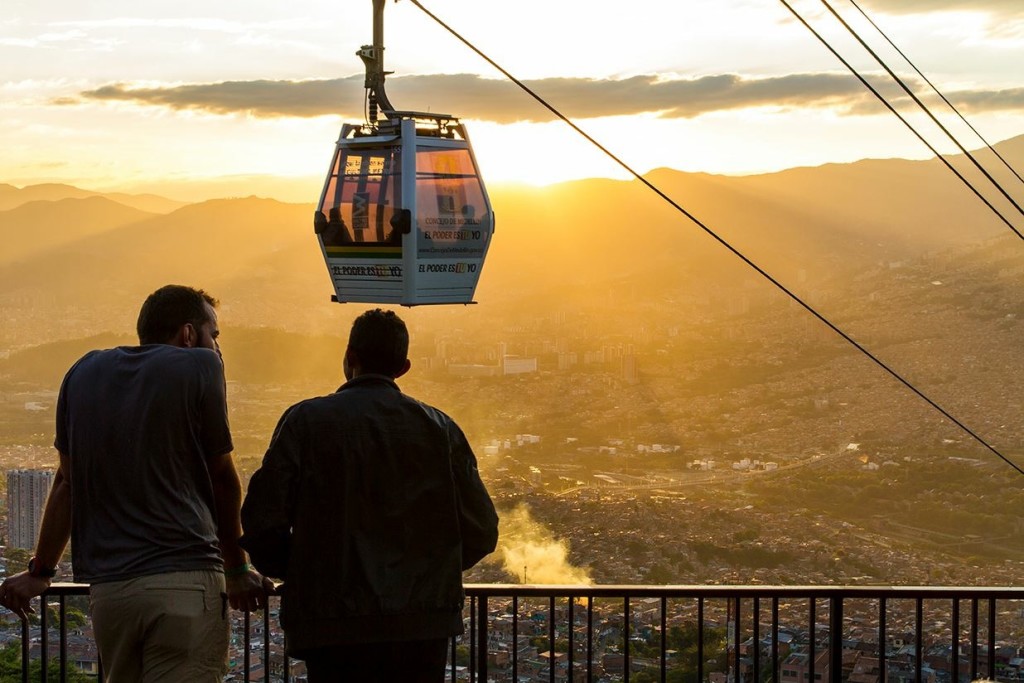 PHOTO BY : BRIAN COWART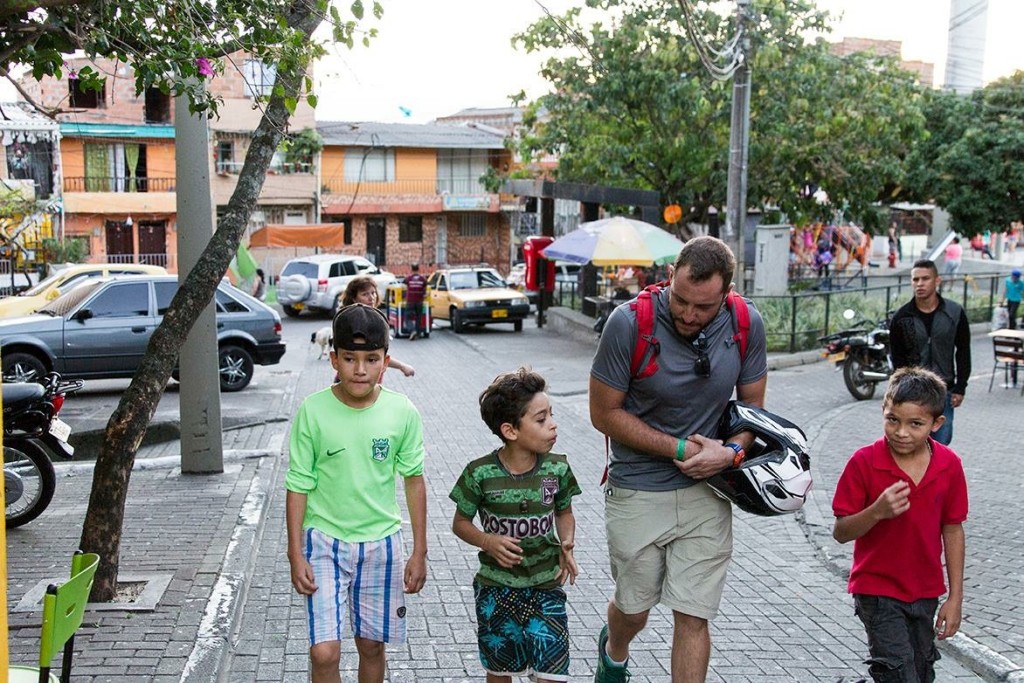 GETTING THE ORAL HISTORY FROM THE LOCALS
PHOTO BY: BRIAN COWART
Tuesday we woke up early in order to make it in time for our Real City Walking Tour. After breakfast we hopped on the bikes to meet them. We didnt have to go far but unfortunately we missed our turn. Acting like locals we decided to make a u-turn over the median, something we had done a hundred times before. Suddenly to my left, I saw two transit officers on a bike next to me signaling to pull over, then they passed and blocked me. At this point we were missing our tour. They asked for our documents, mine were back at the hostel. Matt tried his best to plead with the officers to let us go but they werent having it. They allowed him to go back to get my documents, insisting that the alternative was my bike being towed. While we waited, the tow truck pulled up. At the last possible minute, Matt pulled up with documents in hand, in return we were graciously given two tickets equating to roughly $100 each.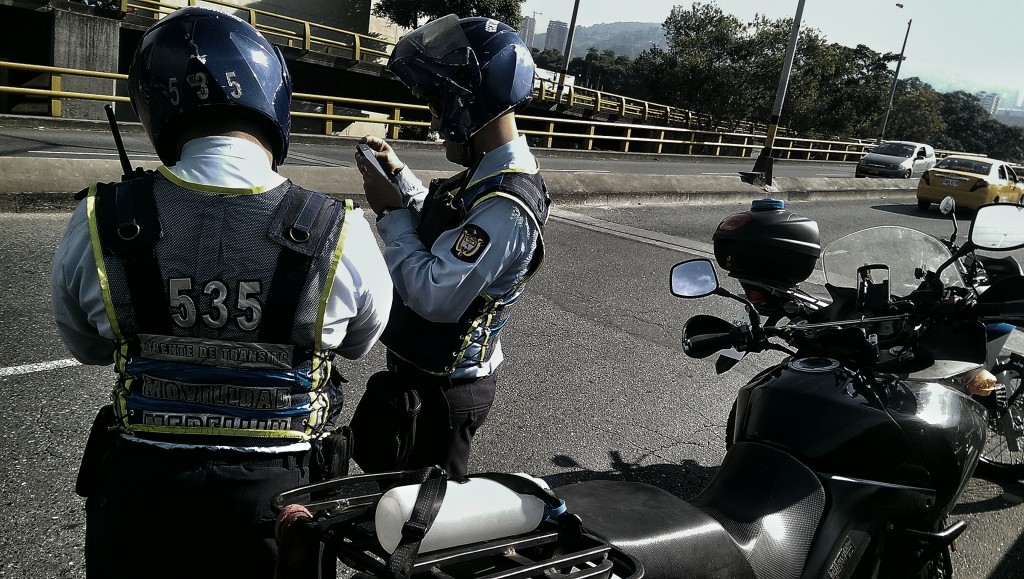 Since our plans for the day had been altered, we opted to head back to the hostel and regroup. My bike had failed to start in the morning so I had a battery to purchase. I went out in search of a battery which included stopping at half a dozen shops to finally find the right one. When I finally found one, I spent a half hour explaining the trip and showing pictures on our website, the entire crew of a dozen employees stood behind me as I manned the computer.
When I returned to Happy Buddha, we decided it was time to pay our newly acquired tickets. This meant going to a place similar to the DMV. Now going to the DMV in your own country is confusing enough, try it in a foreign country. They kept sending us to different places. Ultimately we ended up in a place for drivers education. Our options were either to pay the full ticket or take a 1.5 hour course and have it cut in half. Matt decided he would pay the ticket and go paragliding, I stayed for the course. Less than 30 minutes later, I was a safer rider. Did I understand the course, no, but they didnt seem to care. I went to pay my ticket but was told it wasnt in the system yet and that I had to come back. Typical DMV. At this point I would have went paragliding but I didn't know how to get there.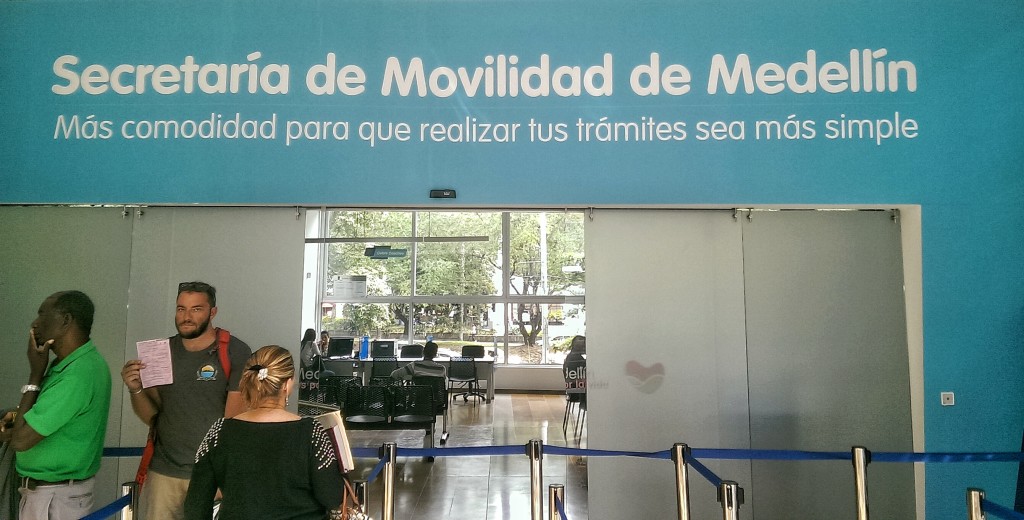 Paragliding was a surprising and relaxing experience. The adventure started in the ride up to the launch spot. It was about an hour outside downtime Medellin and involved steep climbing through what seemed to be the "hood". The road turned into a single lane and was adorned with numerous "via cerrado" signs. Choosing to ignore the signs, I pressed on and eventually came to the highway that ran alongside the mountains. A couple miles up I met up with Ruben the instructor and a couple other stoked paragliders. We took turns running off a cliff and gliding peacefully over the norther part of Medellin. Below you could see farms, waterfalls, and the city skyline engulfed in the Andes. Paragliding was super relaxing and "tranquillo". Ruben was a super nice guy, and I would recommend the activity to anyone. – MATT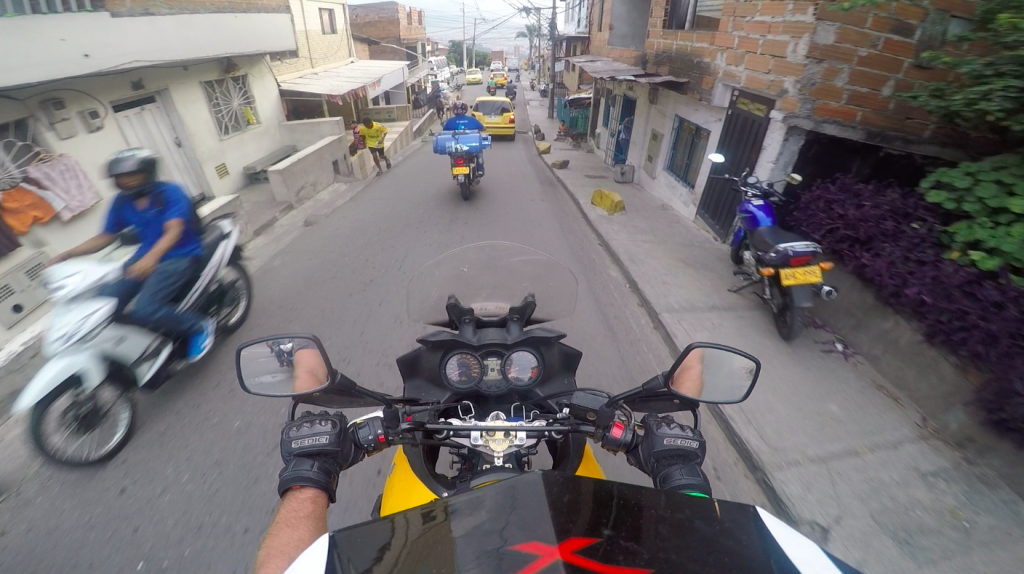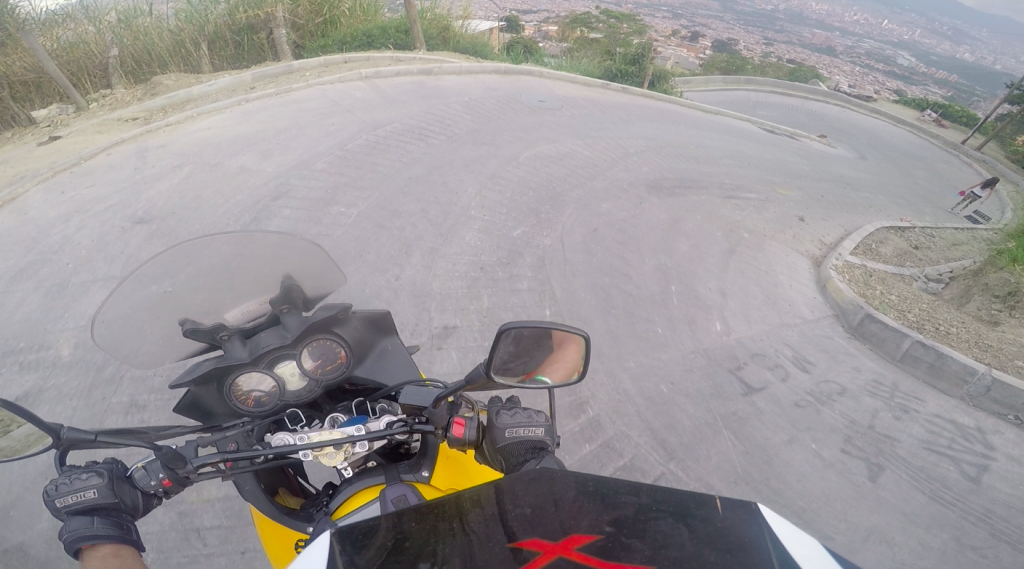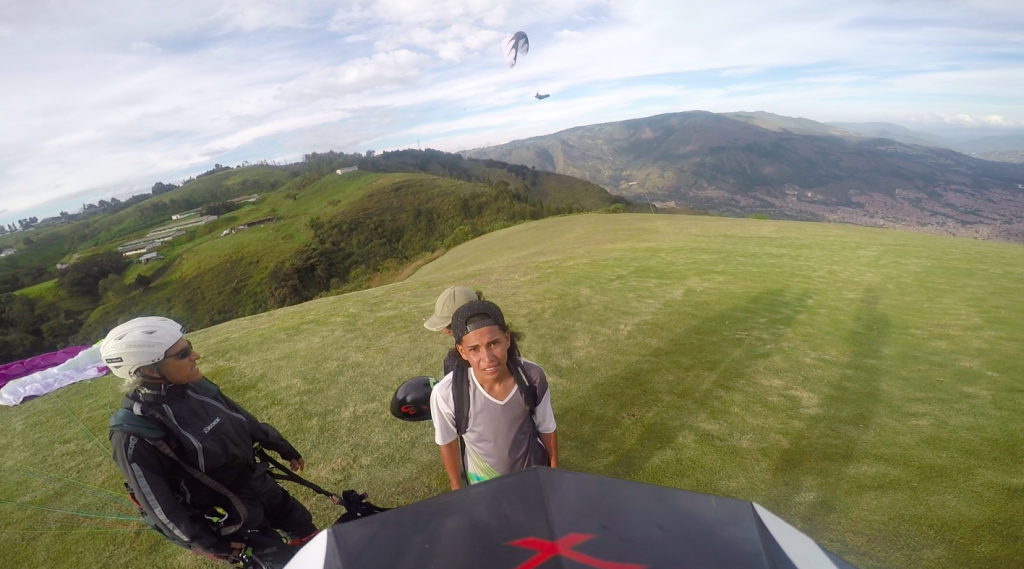 RUBEN AND HIS CREW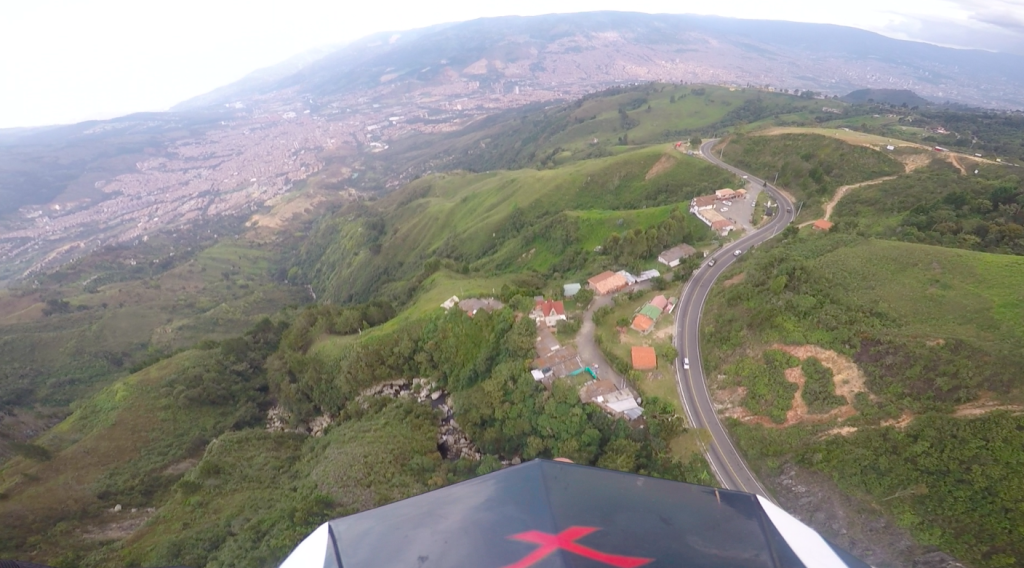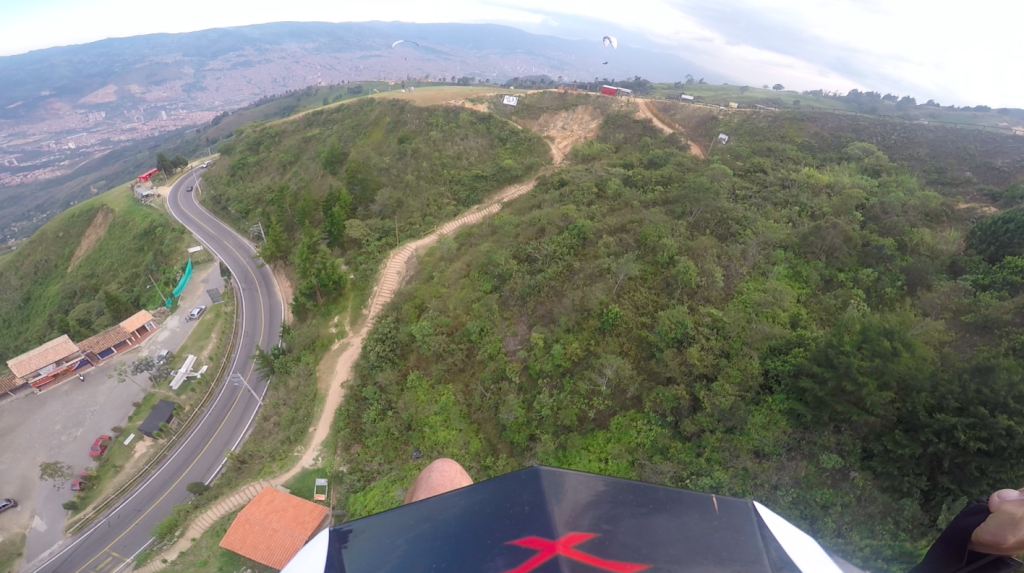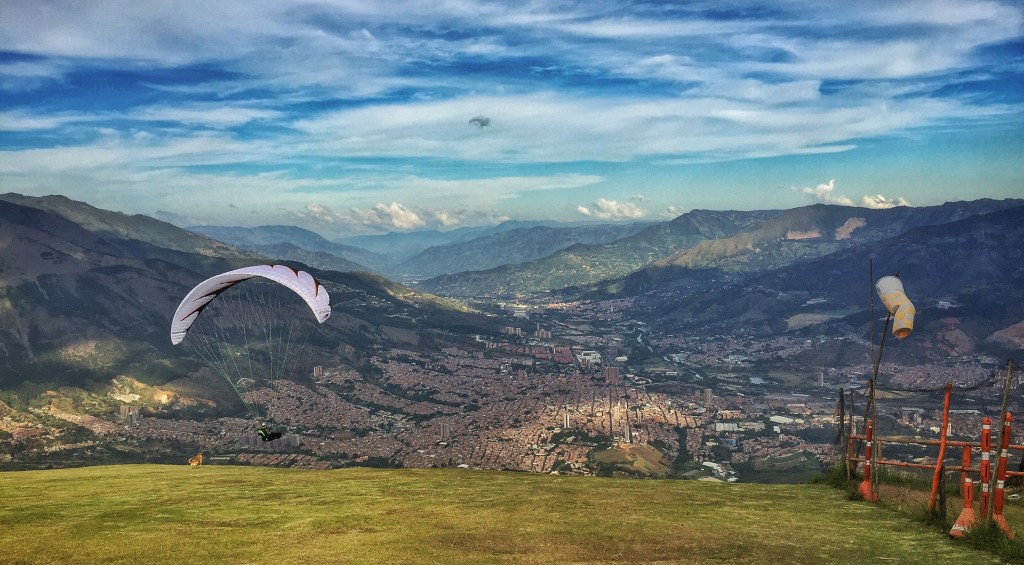 Late in the afternoon Matt arrived back at the hostel, and then Tim and Savannah joined us. The four of us rode up to the hills of Medellin to have ourselves a fancy dinner. The restaurant provided a fantastic view of the city and also filled our stomachs with some excellent food. The dolled up group of women next to us also had a photographer with them and it was hilarious to watch their ridiculous poses. We made a plan to leave the next day to ride to Guatape before saying our goodbyes.
Wednesday we were on a mission to actually make it to the Real City Walking Tour. Brian had also signed up so the three of us ran to the subway station and made it just in the nick of time. Pablo, our tour guide and owner of REAL CITY TOURS, immediately impressed us by remembering every single person's name in the large 22 person group. Then we began walking all around Centro, an area that just a handful of years ago was dangerous and riddled with violence, but today is vibrant. Pablo did an amazing job of telling the true story of the city from his perspective. It was a great chance to interact with the city and some of its inhabitants.
I was truely touched by my experience during the Real City Walking Tour. The beautiful city of Medellin exuded culture, history and a warm welcoming population of amazing people. I took this opportunity to snap a ton of iphone portraits of the people, the proud Paisas, who had so much more to offer, than a brief drug riddled past of a criminal who beared the same name as our tour guide. – MATT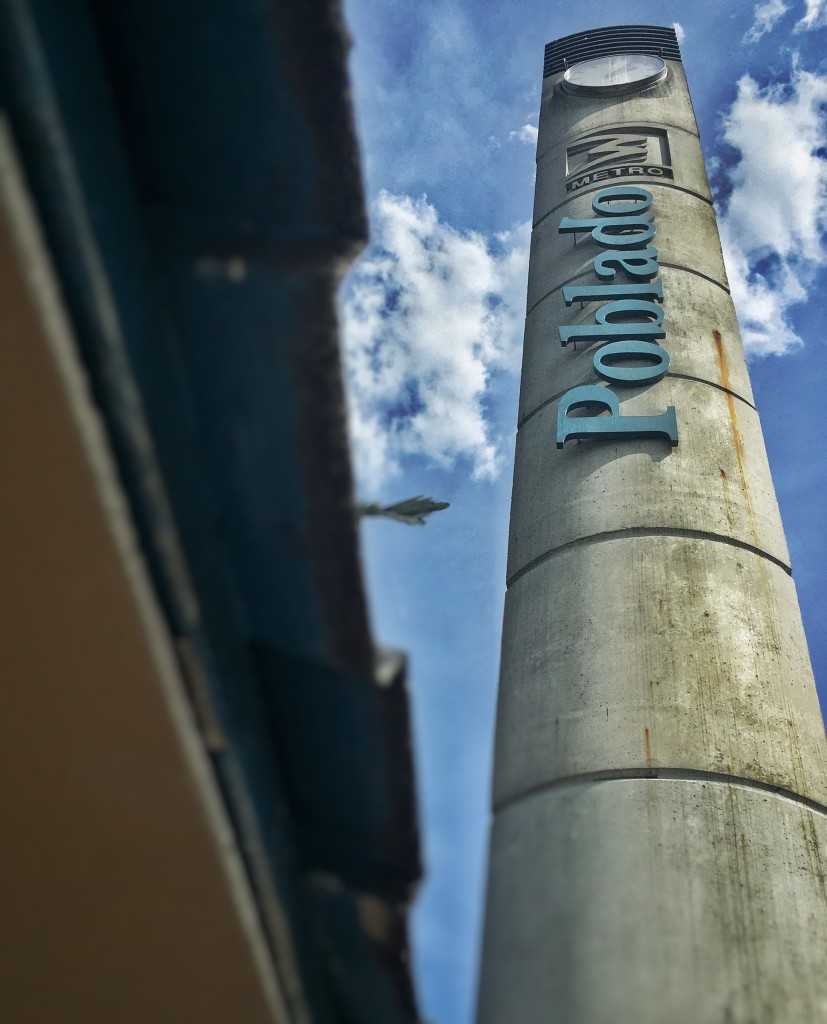 THIS IS THE POBLADO METRO STATION WHERE OUR TOUR STARTED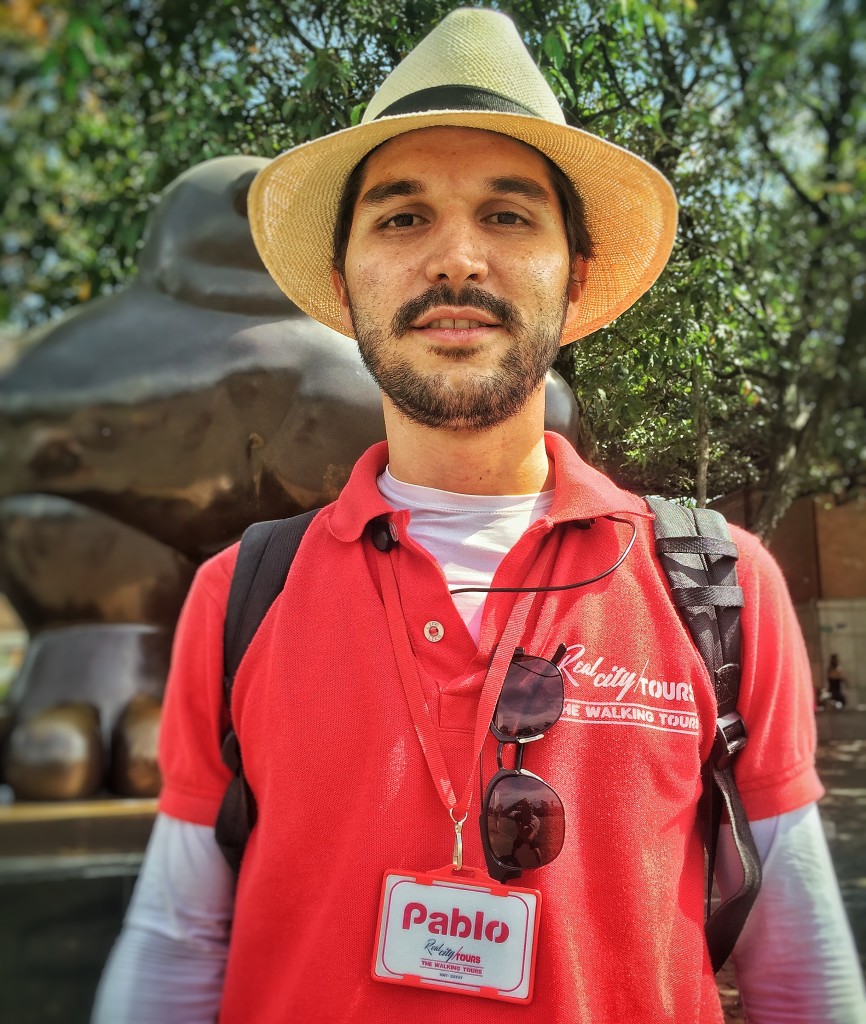 PABLO – the man with the best walking tour on the planet!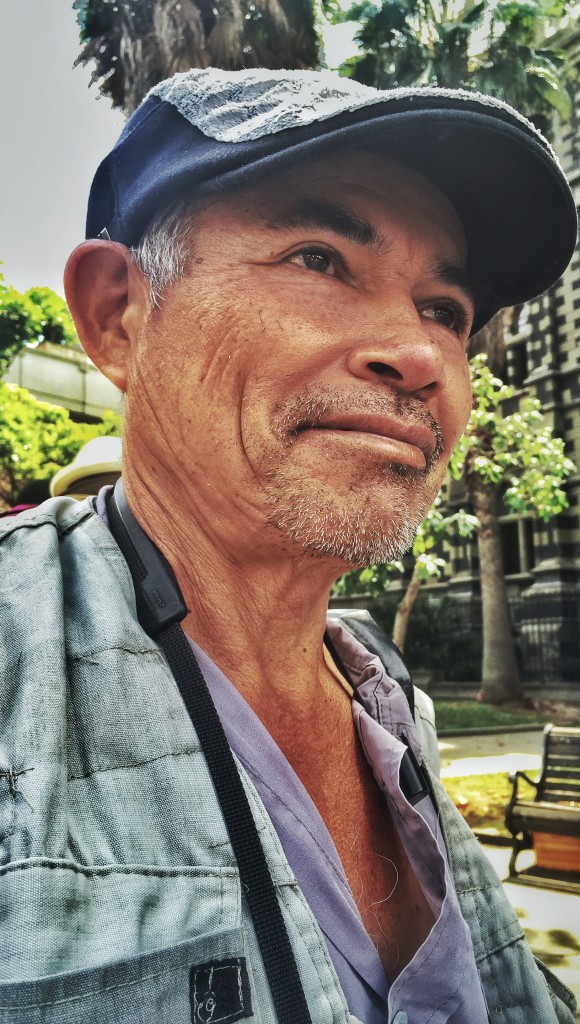 PHOTOGRAPHER 1 – All these guys were very surprised when I turned the camera on them.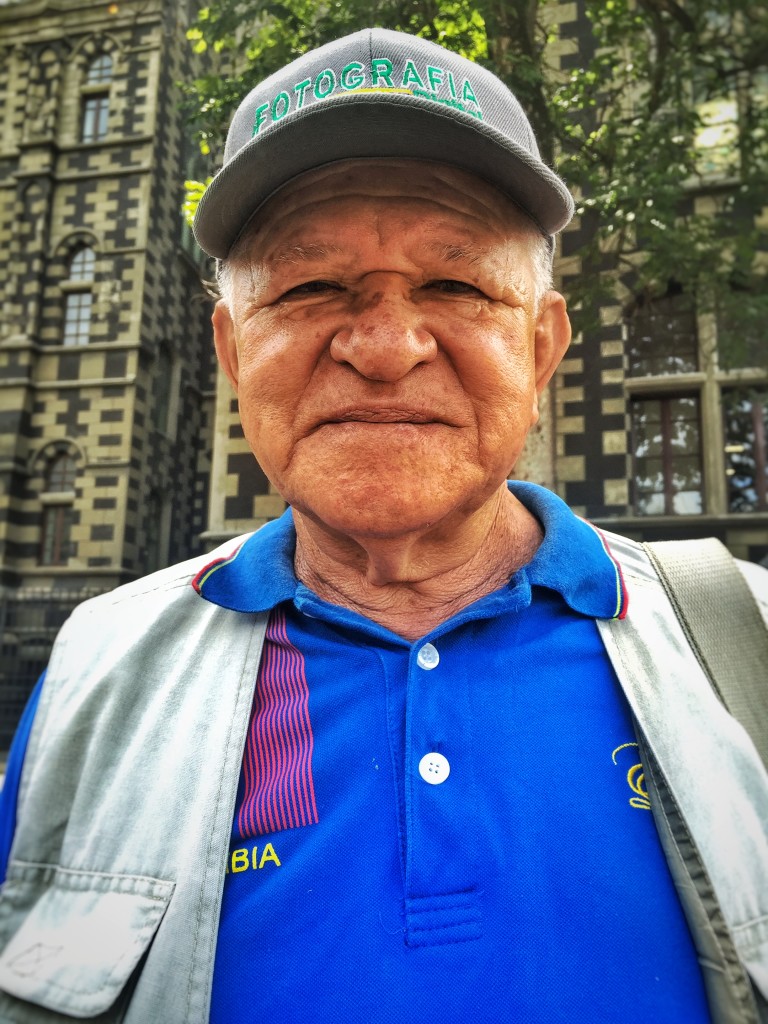 We learned things we otherwise wouldn't have, like that the prostitutes lineup near the church so men can absolve themselves of their sins afterward. Id recommend the tour as the single thing to do in the city if you could only do one thing. After we went to lunch with couple we met on the tour and Brian. Good, cheap eats at a nearby panaderia nestled in the expensive part of the city.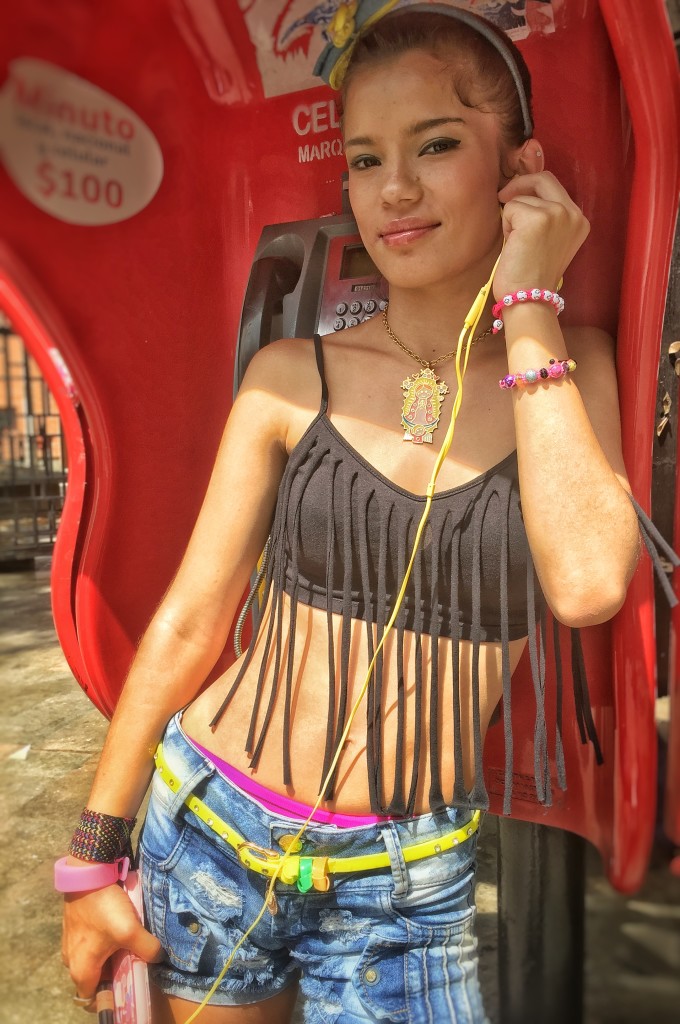 A YOUNG PROSTITUTE OUTSIDE THE CHURCH – she even wore a confident proud expression.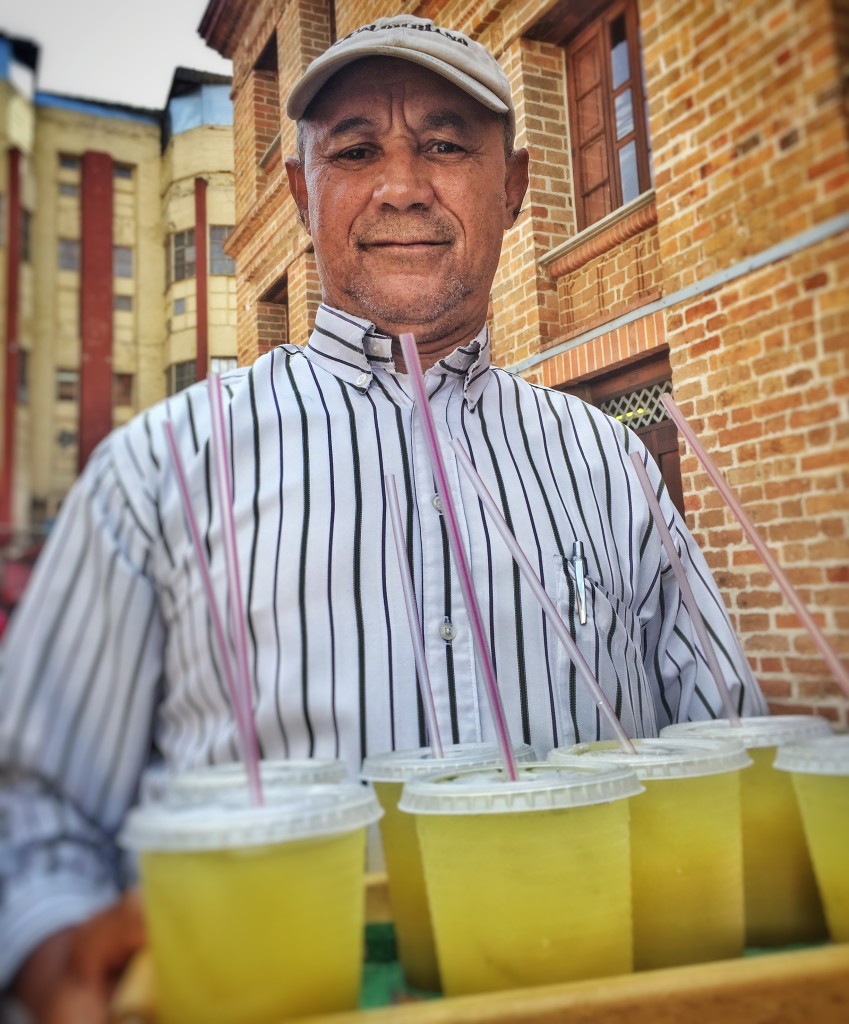 A MAN SELLING SUGAR CANE AND LIME JUICE – This stuff is incredible. TRY IT! DRINK IT! LOVE IT!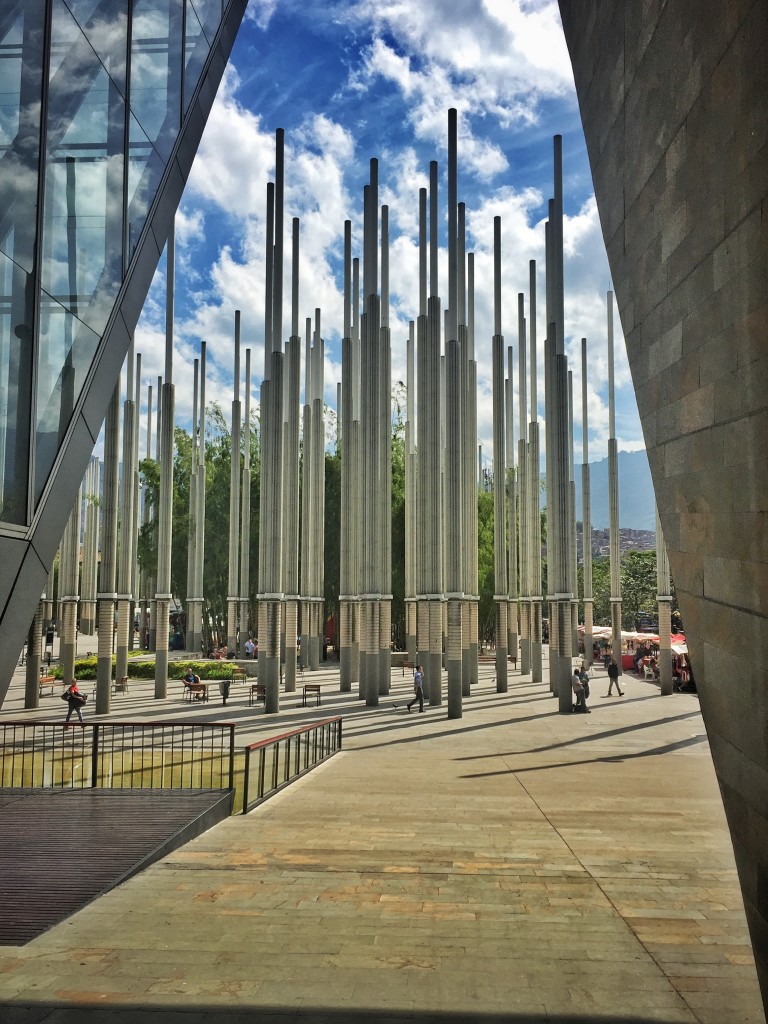 THIS IS THE PLAZA DE LUZ WHERE THE MOST DANGEROUS MARKET USED TO BE, NOW THIS BEAUTIFUL PARK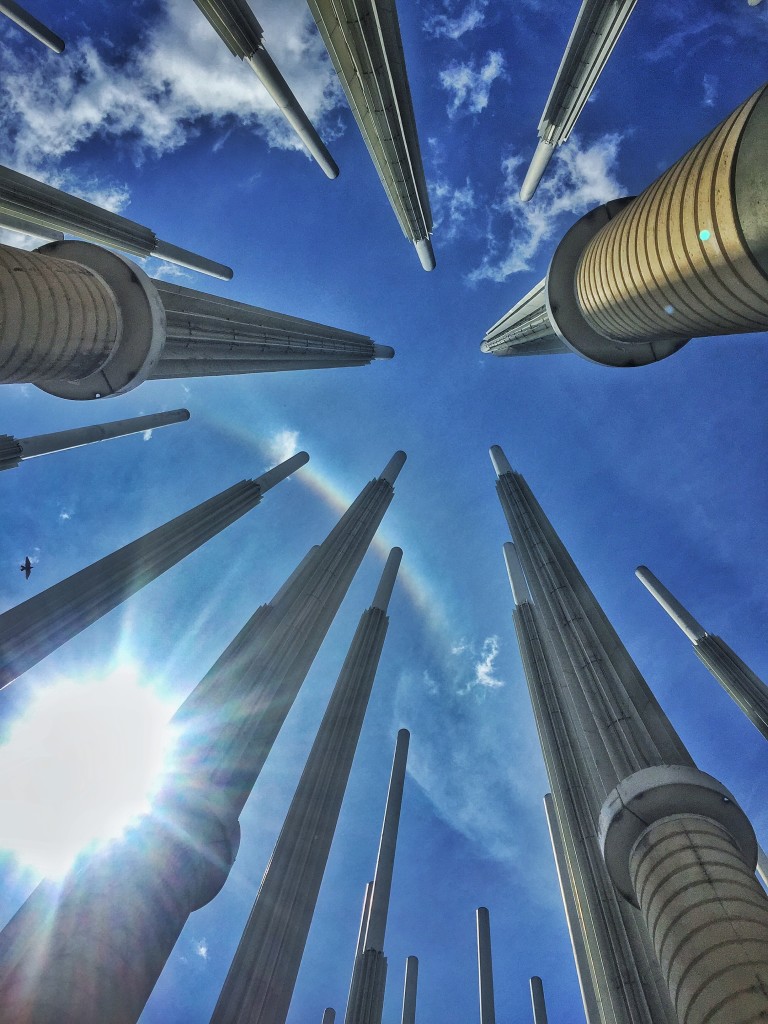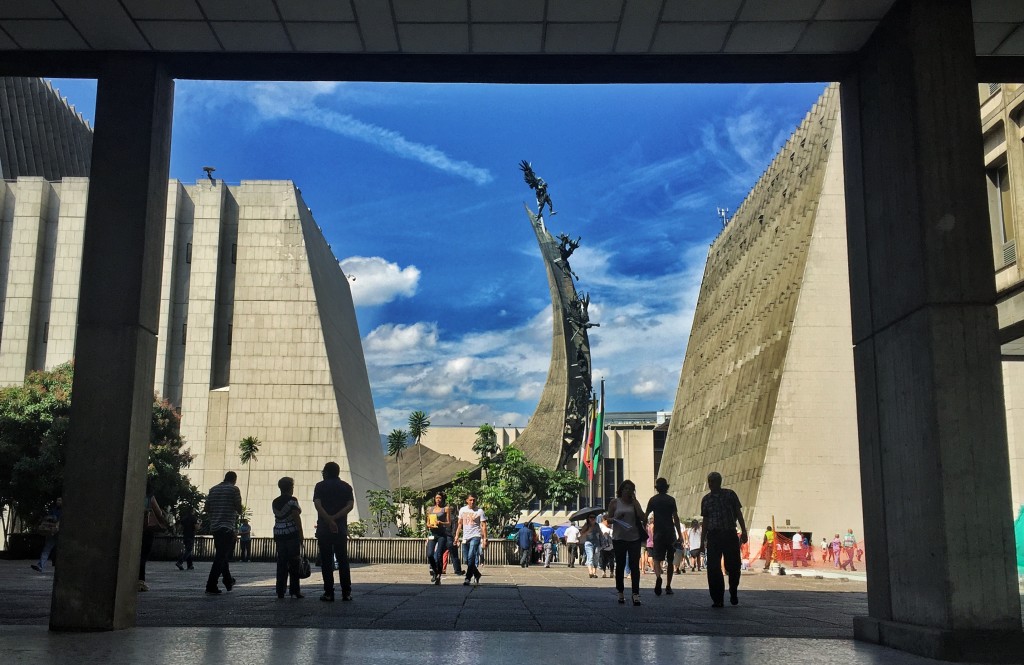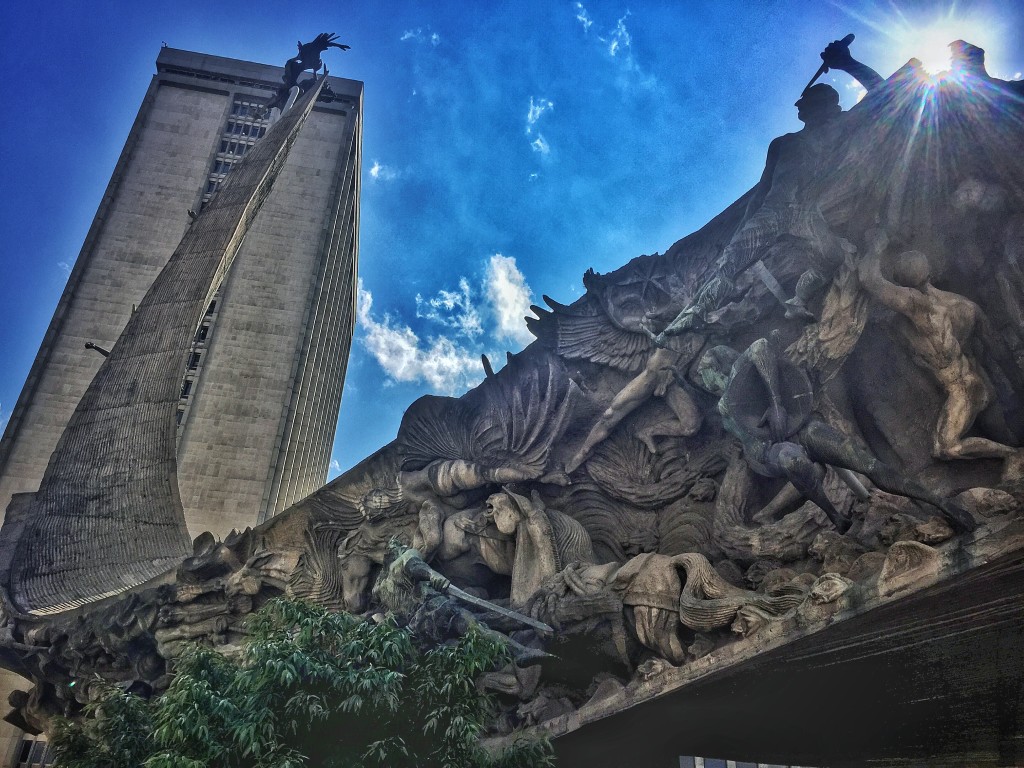 A SYMBOL AND HISTORY OF COLOMBIA'S HISTORY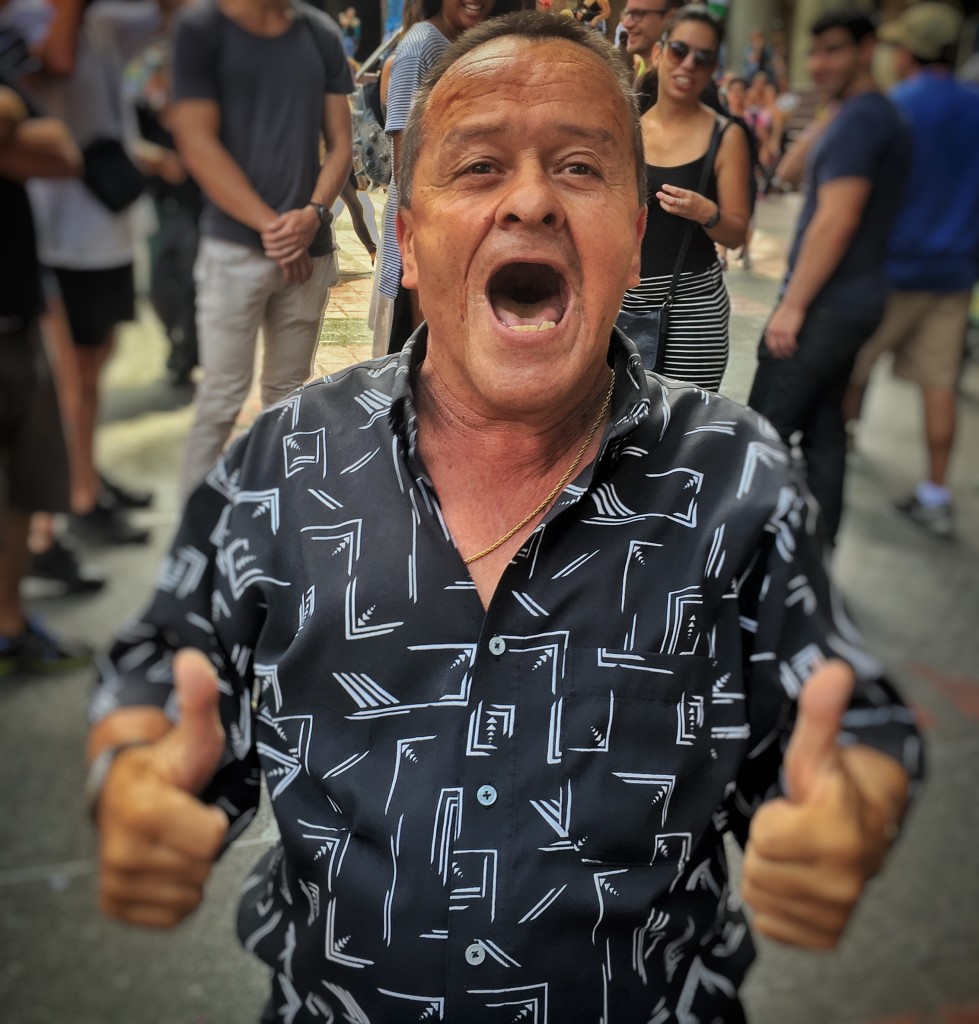 THIS IS DON GUILLERMO – AWESOME DUDE THAT SAID "HI!" TO EVERYONE. IT MIGHT BE THE ONLY ENGLISH WORD HE KNOWS.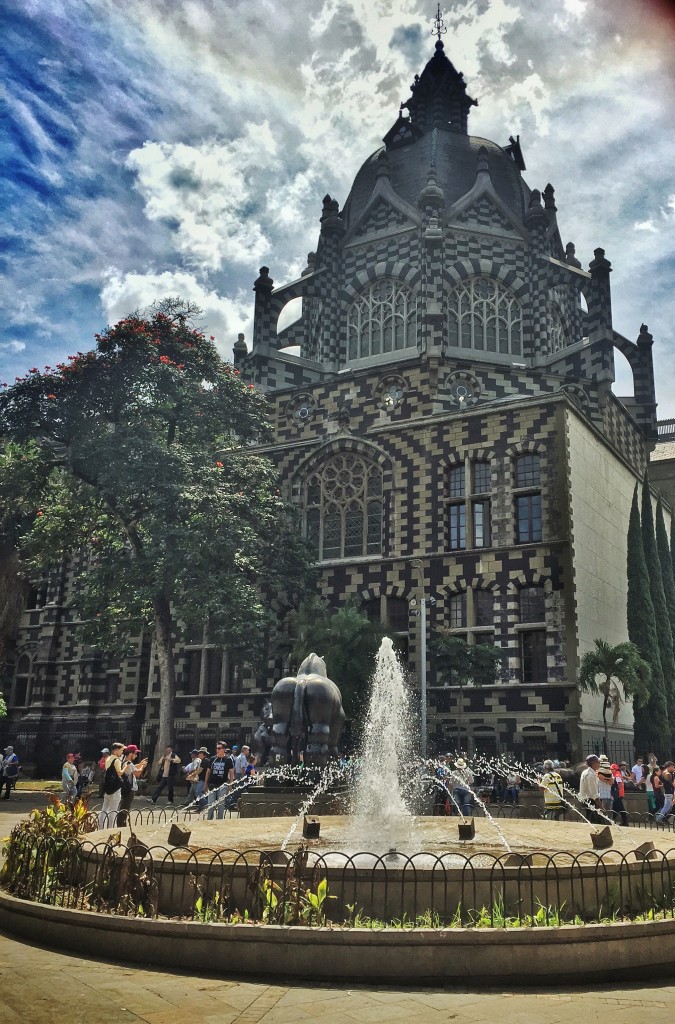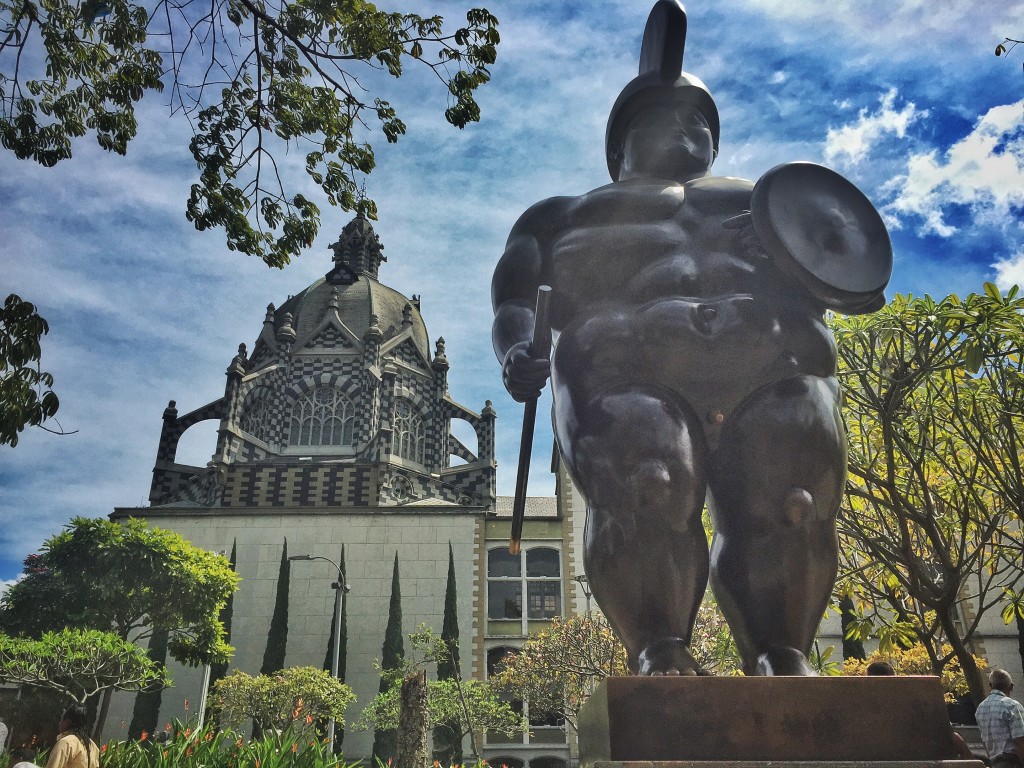 THIS IS ONE OF MANY OF FAMED MEDELLIN ARTIST/SCULTURE BOTERO'S WORKS FOUND THROUGHOUT THE CITY.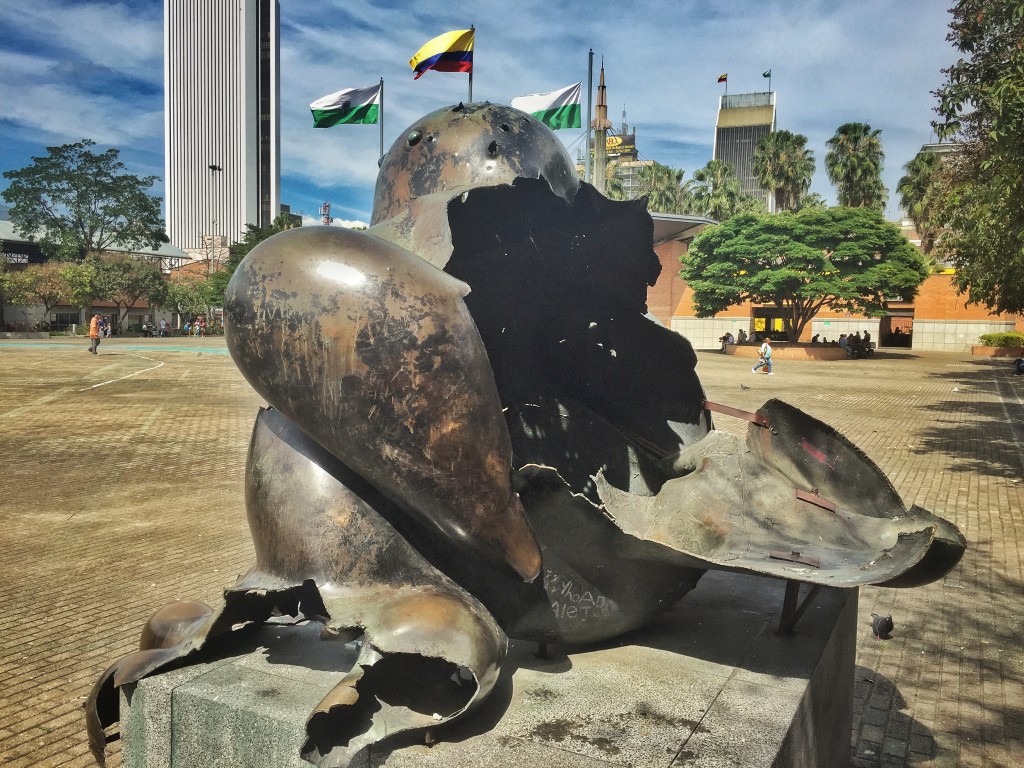 THE TOUR CONCLUDED AT THIS BOTERO SCULPTURE THAT HAD BEEN DAMAGED BY A BOMB. THE GOVERNMENT INSISTED IT BE REPLACED, BUT BOTERO REFUSED, STATING THAT WE CAN NEVER FORGET WHAT HAPPENED.
Throughout the tour a main theme was Medellin's Metro. It is the only city with a metro in the entire country and acts as its lifeblood. Unlike the many metros of New York, Philly, and other large cities, Medellin's Metro was pristine. It was clean, and no homeless people or beggers were found on it. It didn't smell of piss and was graffiti free. Pablo explained how the Metro is a symbol of pride and progress for the Paisa people. They may have a subtle superiority complex but after the tour I can almost see why. – MATT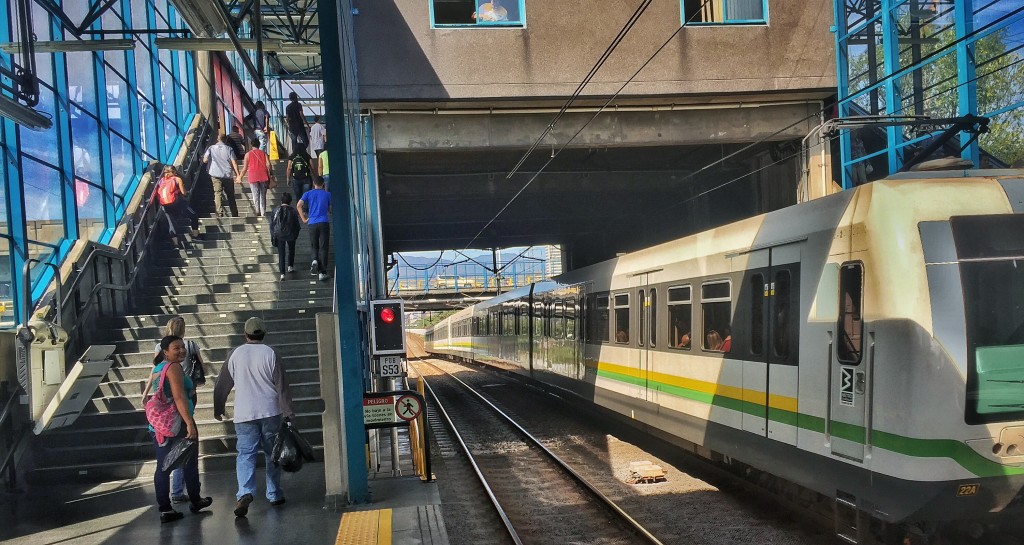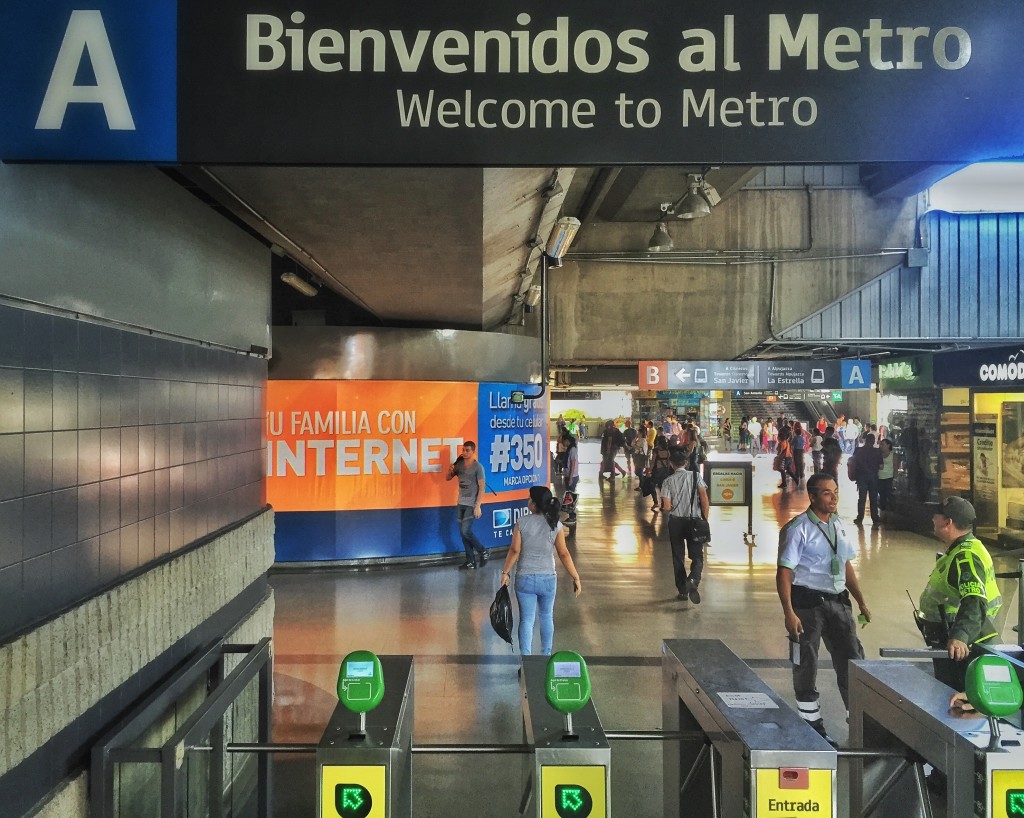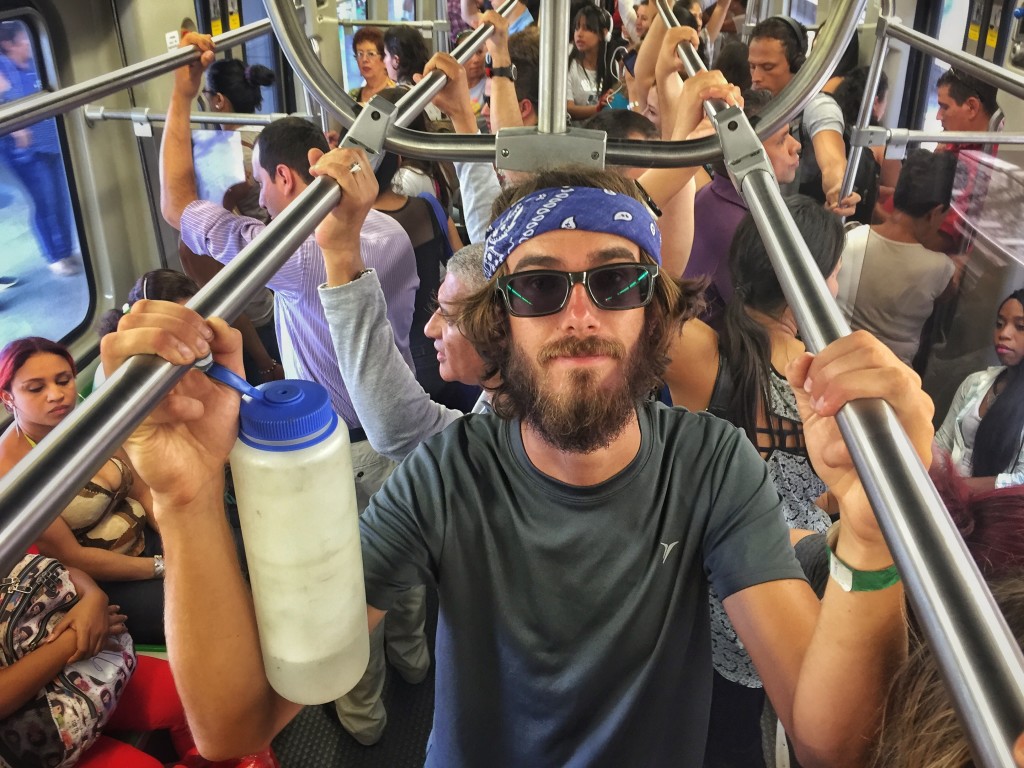 By the time we finished it was too late to leave so Matt and I opted to spend one more night in the city. Tim and Savannah decided to go on to Guatape.
Our hostel was booked for the night so we switched to a place called Bamboo Glamping, Id recommend this hostel, it had a chill atmosphere and in the one night we spent there, we hung out with more people than the previous nights at Happy Buddha. Diana, the exotic fruit tourguide invited me out for food, and we went to this weird place where all the food is served in flour or corn cones, Kono.
Tomorrow, Guatape.
Leaving Medellin was hard. It was the first city on this trip where I think I could maybe live. It was exciting, mountainous, and oozing with culture. Something about this city and it's people touched me. Each day I fall more and more in love with my South American mistress, "Colombia". As Pablo said after the tour in regards to how he ended up doing this instead of Engineering "Cuando el viento cambia necesito que a su vez la vela."Or "When the wind changes, you need to turn the sail into it." Maybe one day the wind will blow towards Medellin again. – Matt